going bespoke in the japanese capital

The Japanese are known for their dedication to — and sometimes obsession with — exceptional artisanship and design. This commitment is evident in the national penchant for meticulously studying a craft — such as distilling whisky or weaving denim — and adapting its principles to the distinctive aesthetic of Japanese culture. Today, this mastery extends to eyewear, bespoke cocktails, tailored clothing and shoes as well. Long a destination for high fashion, Tokyo hosts a budding number of tailors and shoemakers who are refining lessons learned abroad and returning home to produce exceptional menswear. Here are three ateliers you'll want to visit on your next trip.
Sartoria Ciccio
When Noriyuki Ueki, formerly a tailor at the cult Japanese menswear brand Ring Jacket, wanted to further develop his skills, he moved to Naples, the mecca of sartorial expression. After working for the distinguished Sartoria Dalcuore and tailor Antonio Pascariello for nearly four years, Ueki returned to Tokyo in 2015 and opened a shop in the Minami Aoyama neighbourhood, where he hand cuts and sews suits and sport coats while listening to jazz music. As you would expect with a Neapolitan education, the suits feature high armholes, softly rounded shoulders, and wide lapels. "We don't use shoulder pads," Ueki says, "It's more natural." Slightly more structured than typical Neapolitan pieces, his style delivers a trim, minimalist suit that wears equally well on business occasions and evenings out. Prices start from US$5,200 (S$7,100).
Yohei Fukuda
Up a narrow flight of stairs in an understated building in the Aoyama neighborhood is Yohei Fukuda, one of the most sought-after shoemakers in Asia, if not the world. A smiling, thoughtful man with a neatly trimmed beard, Fukuda trained at Edward Green in Northampton, the epicenter of English shoemaking, before working at George Cleverley, one of London's best-known bespoke footwear shops.
He began his company in 2008, making shoes at home, and in 2011 opened his store in Aoyama. Fukuda now has four apprentices and a two-year waiting list for his coveted shoes. "I wanted to do something a little different from English shoemaking," he says. That means a house style that, while grounded in English tradition, is not slavishly derivative but rather based on the needs and preferences of his customers.
"We prepare a fitting sample first," he explains, "since some customers want shoes to be snug and others want them loose, and we don't know which just by measuring feet." Above the showroom is the workroom, where Fukuda carves wooden lasts. Bespoke shoes cost about US$4,400 (S$6,000) per pair; for the less patient, the shop offers ready-to-wear models that are lasted and welted by hand for US$2,100 (S$2,870) per pair.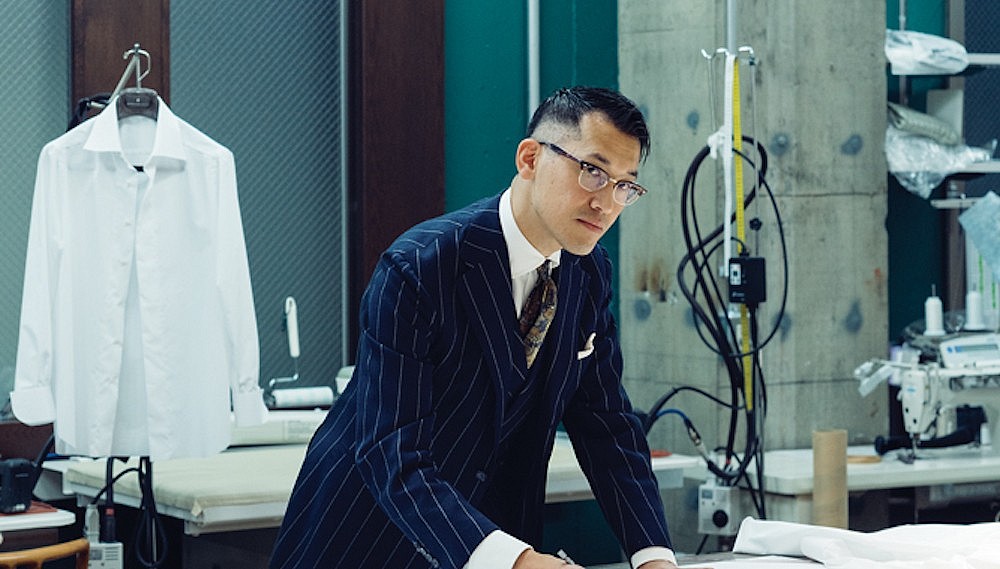 Strasburgo
Founded in Osaka in 1990, Strasburgo is one of Japan's top sartorial men's stores. It features Italian artisanship with a sense of flair from celebrated companies like Kiton, Lardini, and Rota. In 2015 the establishment opened a "tailoring laboratory" on the top floor of its spacious Minami Aoyama location — a relaxed, airy setting that provides respite from the intensity of street life below. The cutting tables for its handmade shirts form the central attraction. Overseen by Masanori Yamagami, the tailors at these stations turn out meticulously made shirts. The process requires two fittings, and the average price per garment is US$450 ($615). "We don't have a history of bespoke shirts in Japan," Yamagami says. "I studied on my own."
Trained as a designer and pattern cutter, he bought shirts from around the world to see the best examples of technique and style. He incorporated those techniques into designs that now set the standard for excellence in Japan. He delivers a range of shirts, though the elegant models in white Swiss cotton are preferred by local clients. On the other hand, his signature model, which has a slightly gathered sleeve, is beloved by devotees of the Neapolitan style.