(He)art and soul
The gastronomy scene is one locals are familiar with. We've the Michelin guide and food apps on our phones. Even our conversations inevitable revolve around food. But just how much do we know about the chefs behind them? What do they do in their free time? Do they have other passions? Would they still choose to be chefs if given the chance to decide?
We speak to two chefs who each share a similar love for art. We're not referring to the dishes they've created during working hours, but instead, what they do out of work. While Gabriel Fratini, owner and chef of Domvs by Gabriel Fratini at Sheraton Towers Singapore is a recognised painter, Leong Chee Yeng, executive chef at Jade, The Fullerton Hotel Singapore, continues to hone his craft as a ceramic artist and dough sculptor.
Gabriel Fratini, owner and chef of Domvs by Gabriel Fratini at Sheraton Towers Singapore
I've always been an artist, even before I became a chef. I started painting when I was about 12. Bear in mind, there was no telephone or Nitendo at that time, we had to find ways to keep ourselves entertained.
My father wanted me to be a bricklayer or mechanic, and my art teacher encouraged me to go to an art school, but that meant I had to study other subjects too. I wasn't skilled in the academic department, instead excelling only in sports and painting. My family was also too poor to send me to college. I thought to myself, 'I won't have problems feeding myself if I learn how to cook'. And so I went to culinary school when I was 14.
After graduation, I worked in various countries; Switzerland, France, UK, Italy and Hong Kong. I made the move to Singapore in 1988 to open Domvs (as it was known then). I did a collection of six paintings for the restaurant, and we made prints of them as 'thank you' gift for diners. A year later, when Sheraton renovated the rooms, they took 20 of my original paintings, reprinted them and placed them in the 400-odd rooms. The prints are now gone, but they kept two paintings, which are still hanging in the lobby.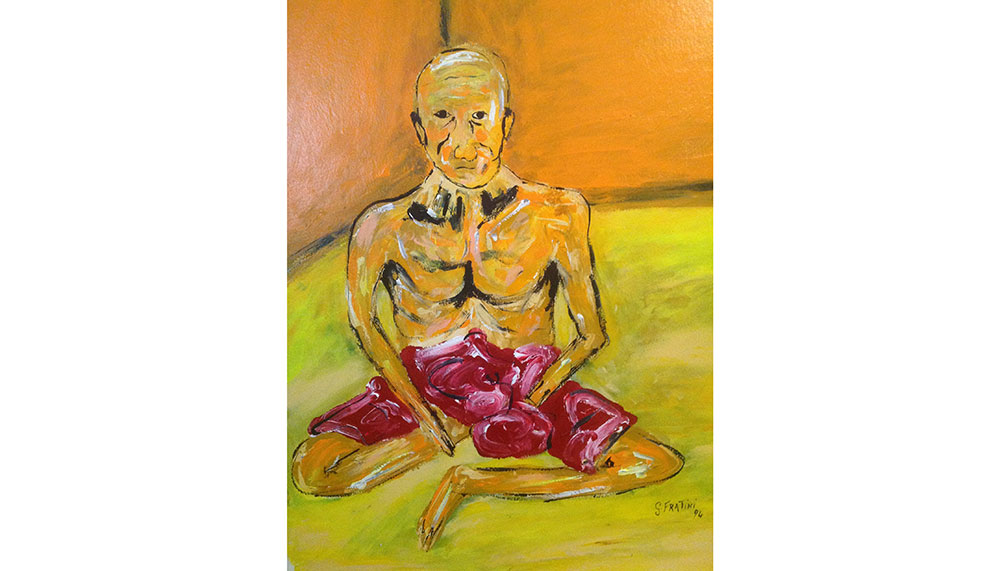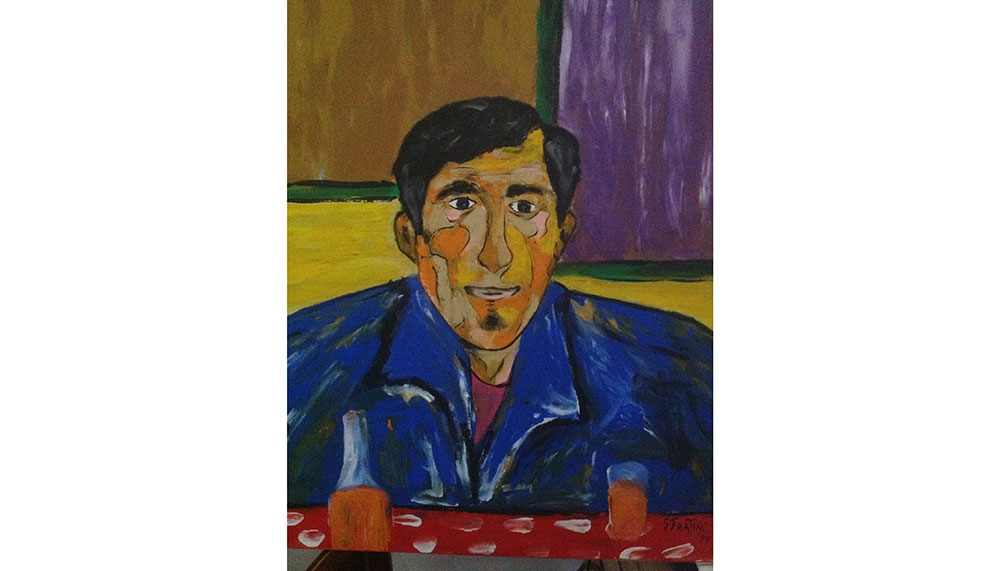 When I first started painting, I wanted to mimic Van Gogh's work. He was my favourite artist. But as time went by, I painted whatever I felt like. Today, I paint everything, from faces and houses to sceneries. I don't even use brushes. I take the acrylic paint with my fingers and paint. Sometimes, I use plaster to add texture. I guess I'm allowed to explore all forms of painting because it's not my occupation. If I had to do it for a living, then perhaps I would specialise in something. Funnily enough, while I treat my plates as canvases, I don't paint food and dishes I've created.
I've probably painted over a thousand paintings, and I don't know where most of them are as I've given many away. But it doesn't matter to me. I keep the ones I love. My favourite painting to date is kept at my house in Italy. It's a painting of my grandfather when he was still alive, I did it in 1991. He has passed on, and the painting is how I remember him.
The paintings you see in the restaurant [now Domvs By Gabriel Fratini] are all done by me. I wanted to fill the restaurant with my paintings. I'm thinking of adding more pieces to make it look like a gallery. But I'm not in a hurry.
The art scene in Singapore has really grown in the past 40 years. I'm looking forward to see what the artists think of and create. Of course, given that art is subjective, there will always be people who'll critique it. But I always ask the buyer, 'Why do you care, as long as you love it? Who cares about how much it costs?' Buy the painting because you love it, not for the name of the artist.
Leong Chee Yeng, executive chef at Jade, The Fullerton Hotel Singapore
I grew up in a family of artists. My brothers are all artists, and being the youngest, I always looked up to them and followed what they did. Having studied in a Chinese school, we learnt Chinese calligraphy and used ink, brushes and paper.
Somehow, I always knew I would be a chef one day. And my art skills were surprisingly transferable as a chef. I used my calligraphy skills to 'paint' on plates. By then, I had learnt to make sugar, butter, ice and dough sculptures.
I also picked up pottery. It started when I represented Pan Pacific hotel at the Food & Hotel Asia exhibition in 1990. In 1993, I decided to make my own plate to showcase my petit four dish. One of my brothers who went to pottery school then taught me how to make my own plate. It turned out looking like the sole of a rubber shoe, and I didn't end up using the plate for the competition.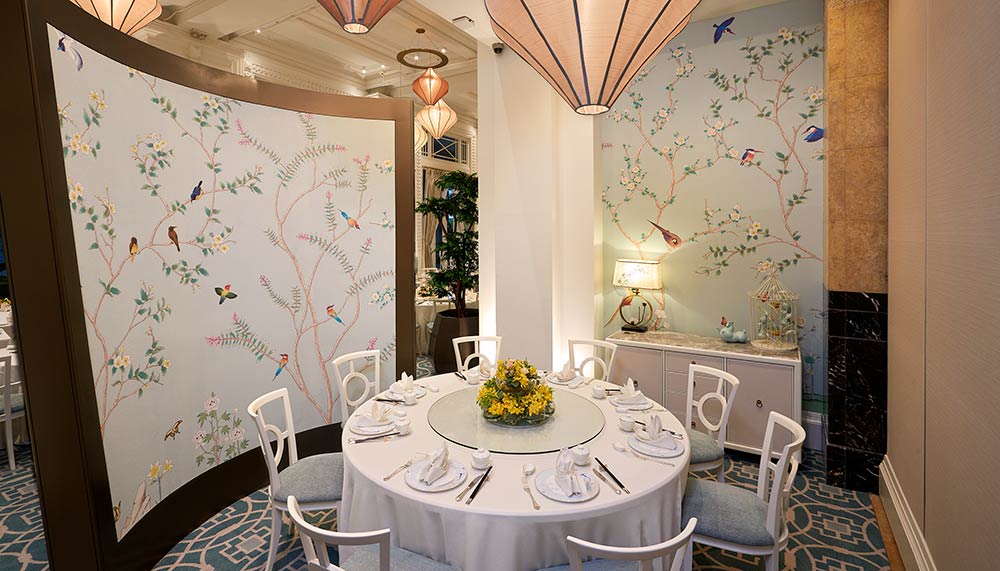 But that got me hooked and once I started, I couldn't stop. I even bought a kiln for my home. I made teacups, bowls… everything. I did want to go for pottery classes, and I found one in Kampong Glam Community Club. I'm now a member there! I go around twice a week, it's part of my life. I go there to sit and create my work.
I enjoy making pottery that has texture. I found another method of making texture on my pottery. When I run the clay under water for a quick second, it cracks. Some methods of painting are also difficult as some types of paint don't stick on the clay. Painting is also another transferrable skill. I've painted on paper, plates, and now, I paint my ceramic work.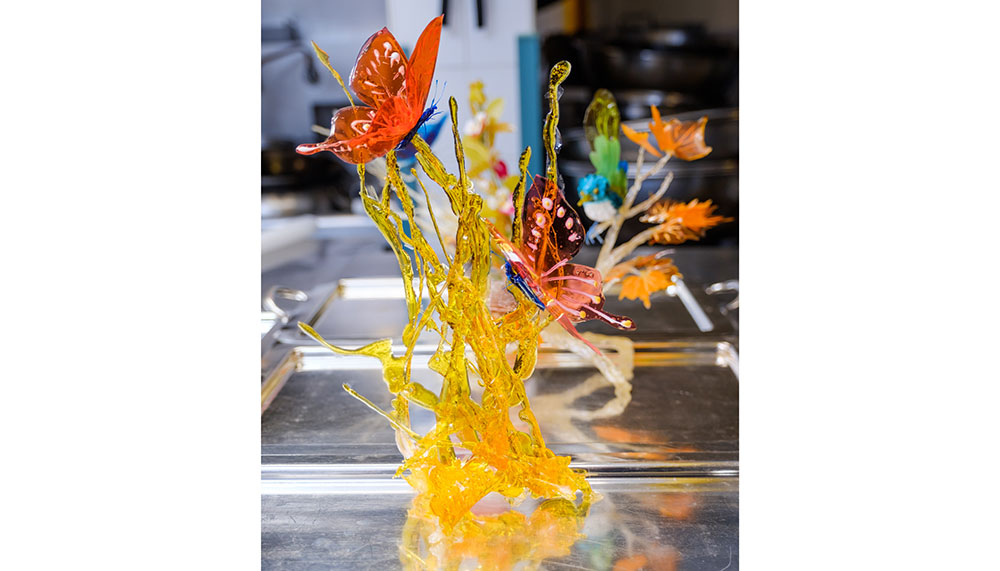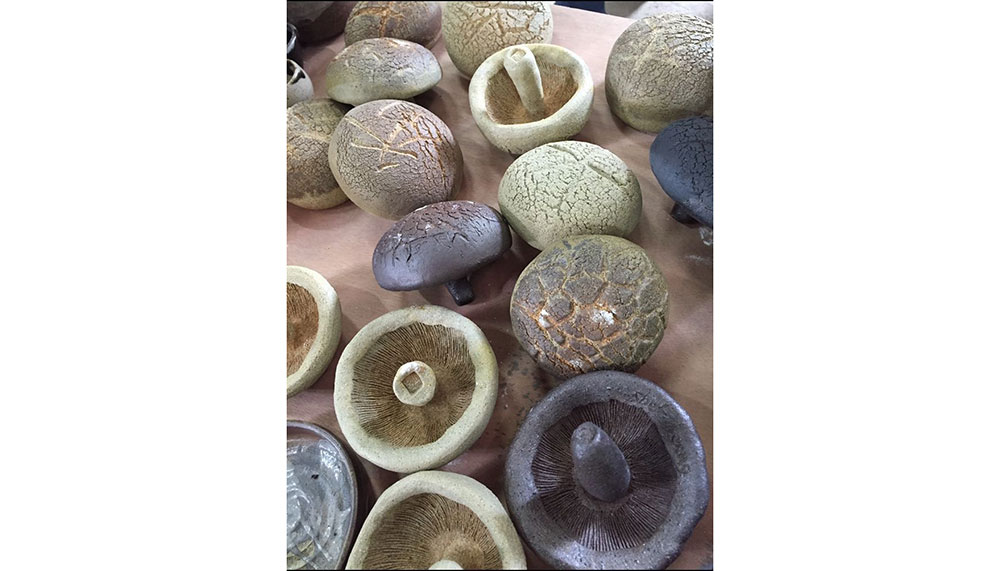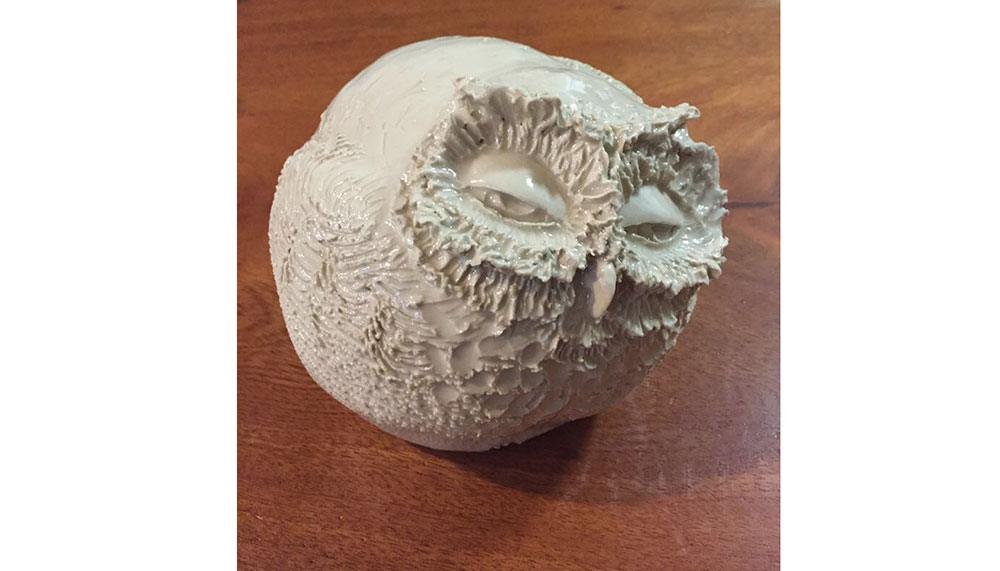 I've made over a thousand pieces, and my most treasured piece is one I've made for my daughter. It has Chinese words, which mean 'double happiness', and I've designed the characters to represent a boy and a girl. The mountains in the background mean 'I have the mountain, and the mountain has me'. I want my daughter to know that she will always have me. I am the mountain that she can lean and rely on. This will be a gift for my daughter when she gets married. She is still young and doesn't know I've made this for her.
Pottery is part of my life now, it's not just a hobby. I once considered being an artist, but it's a greater sacrifice than being a chef. It's more difficult to earn money, you spend even longer hours than a chef. Of course, you have freedom, and greater satisfaction. It really depends on what you want in life.