In
Versilia,

Forte dei Marmi and its neighbours are untouched, fiercely Italian hideaways dripping with authenticity

Editor's note: See other Escape Plan stories here.
It's the Amalfi Coast, upgraded.
Ask even the most seasoned travellers to find Versilia on a map of Europe, and they'll struggle. The 12-mile strip on Tuscany's coast, a short drive from Lucca, is an unadulterated high-end hideaway minted at the height of Italy's dolce vita fame. It resolutely refuses to bend to trends or chase attention.
"Those of us who love it, we love it more for the traditional, old-style things that have always been here," says Sara Maestrelli, whose family owns one hotel here and will soon open another, and spent much of her childhood in the area. "We are such nostalgics."
Squint slightly, and it's easy to understand Maestrelli's point. The area has a timewarpish glamour, one that makes it easy to imagine Gina Lollobrigida or Franco Nero at their sexiest idling over an espresso somewhere even now. The waterfront is quilted with private beach clubs distinguished by sports team–like colour schemes emblazoned on their loungers, umbrellas, and chairs, and allegiances are fierce among regulars. Their curlicue typeface names—such as Bruno, Marco, Anetta, or Principe—haven't changed since I first began coming here each summer in the 1970s.
I meet Jennifer Schwartz, a Florence-based Travel Master and co-owner of Authentic Explorations, for lunch at one of those bagni or beach clubs. She brings her young daughter, who's as keen as I once was to spend an afternoon digging around in the sands.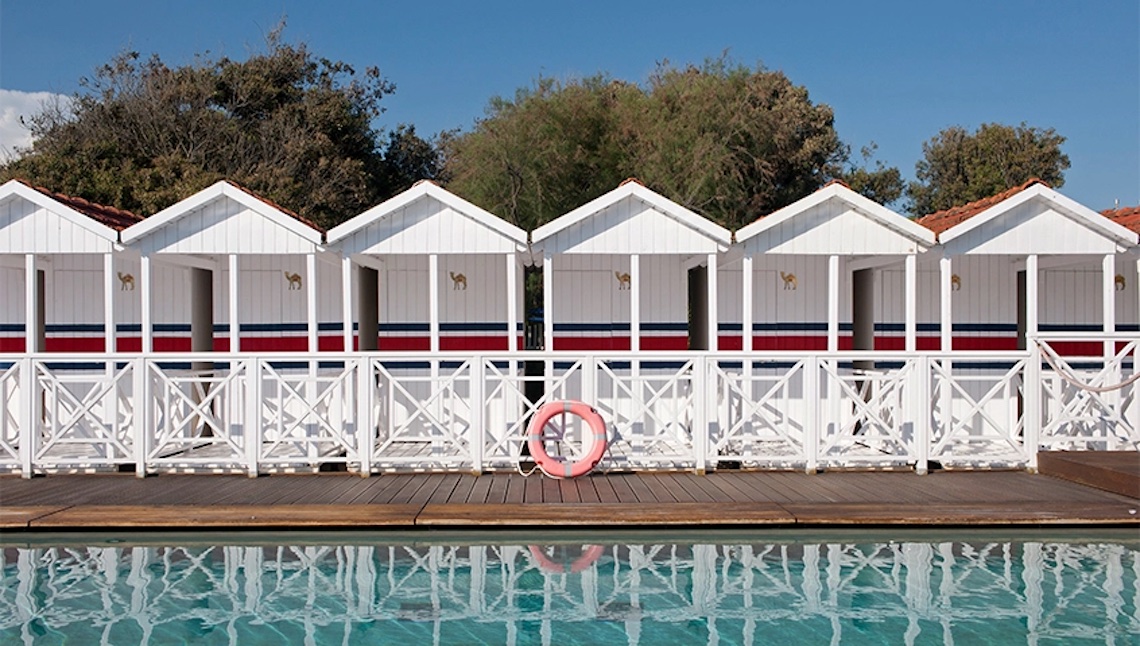 "If you like authenticity, the Italian way of life in summer—bella vita at the mare—come here," she says. "It's about relaxing and recharging—you're not supposed to be doing stuff."
She recommends spending a third of any vacation in Italy idling in Versilia, taking three or four days for VIP R&R. Just make sure to ask for a tenda, the Italian word for a pair of deckchairs and a beach umbrella, close to the sea, she warns. "There's a whole hierarchy, the closer you get to the mare," she continues. "The beach club is like the local equivalent to the golf course because it's where a lot of deals are done over the summer."
Bagno Piemonte is a standout, still family-owned, discreet, high-end hideout, while Piero is where old, moneyed families have always had a lounger on hold.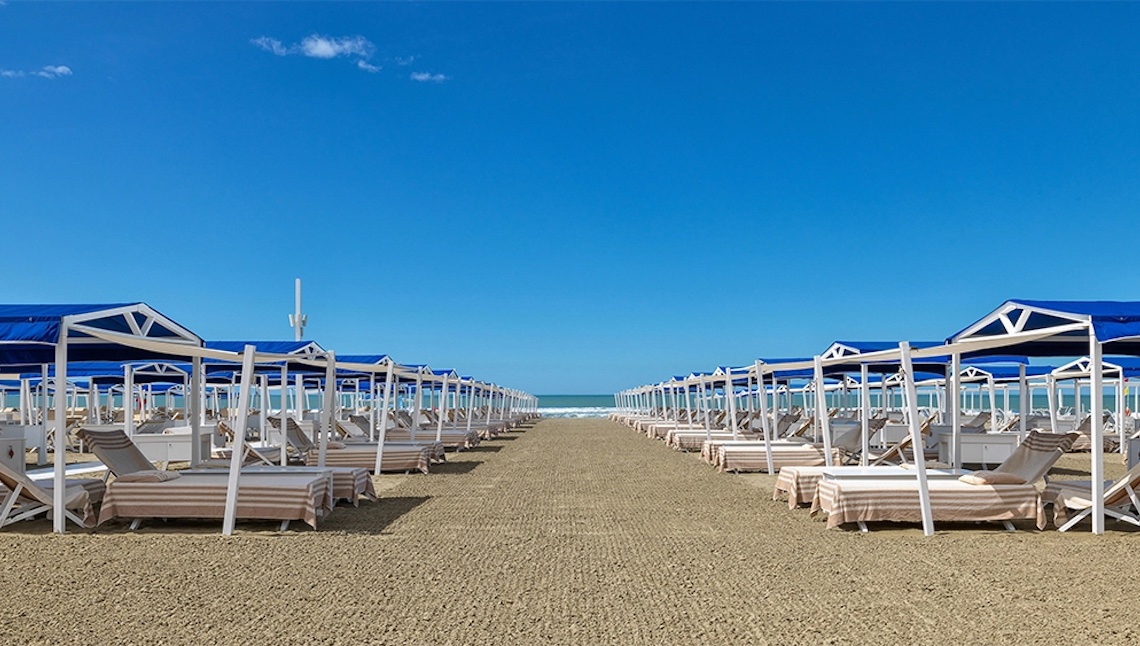 The crowd here is overwhelmingly Italian, mostly longtime visitors from the north. The friends I made on the beach each summer were the children of Milanese executives who'd moved their families to Versilia for the entire summer. And what beaches they are: near-endless, wide, golden swathes of sand, Jersey Shore–broad but Palm Beach–clean (take that, pebbly, hard-to-reach scraps in Positano and co.). When the wind blows, the salty air is mixed with the smell of pine trees, forests of which crowd the nearby landscape, shading the mansions from the sun, and forming patches of parkland. To a five-year-old like I was, they seemed to shut out the sun at the pineta di Ponente; its Central Park-like amenities, whether mini golf or ice-cream kiosks, made it catnip on a summer evening.
A necklace of communities sits strung together by the water, each of them distinct from the last. Brassy, ballsy Viareggio is the busiest, a Belle Epoque town that's become best known as the world's superyacht-building hub; Marina di Pietrasanta is the arty, offbeat alternative, the oceanfront counterpart to Pietrasanta, a short drive inland up into the Apuan hills and which has long attracted creatives from around the country (have an aperitivo at Pietrantese bar in the main square for the best glimpse of the crowds).
Then there's Forte dei Marmi, or fortress of marbles—so named as it started as a port town where the stone quarried from nearby Carrara for Michelangelo and his Renaissance rivals was exported. It's Forte that is the jewel of the coast, the ultimate luxury resort where the streets are filled with a Worth Avenue's worth of boldfaced names, from Fendi to Off-White, each housed in oversized boutiques. Two chairs sit outside most of the stores all day, where a staffer can sit, part security guard, part carnival barker. Don't ignore the lesser-known names, though: La Cestaia del Forte, for instance, is a treasure trove of high-end homewares, both vintage and brand new.
The crowds here are kept to a minimum by logistics. Parking is scarce so a day-tripping salvo is unlikely (another reason why most locals opt for a bike). There's no marina, either, so daily charters aren't easy. Exploring Forte by day, then, is insiderish, only open to those who live locally, whether full-time or just for a chunk of the summer. Idle with them over a sundowner at Pesce Barraca on the water—keep an eye out for the paper cones of fried fish, passed around as bar snacks, or at Le Boe nearby. Book a table for supper at an upscale Bistrot or channel Forte's glitziest era with the 80s-inflected Orlando. In the centre of town, Lorenzo is a fish-heavy restaurant where every perch is a power table. Stay at the Hotel Augustus, rimmed by high hedges to telegraph its discretion that I remember as filled with twinkling fairy lights every evening as a child. The complex of buildings that straddle the road here, and form the hotel's cluster, incorporates what's now known as the Augustus Lido. It began as a waterfront mansion built for the Agnelli family and has just been extensively renovated.
It's true, though, that Forte dei Marmi struggled slightly in the last decade. Call it guilt by association: Its reputation as an insider's alternative to Saint-Tropez lured a large contingent of Russian visitors, a mainstay of the Med for the last twenty years. They were courted in particular by Flavio Briatore, the playboy F1 boss, who wanted them to splurge on tables and bottles at his nightclub. In Versilia, Twiga is the buzzy spot, staying open later into the night than much of Italy, and Viareggio's Mamamia nightclub is among the country's best LGBT+ venues.
Of course, the war in Ukraine has thinned out their numbers over the last two summers and helped restore the sense that Forte dei Marmi is a secret that Italians want to keep for themselves, a luxury resort that's all too happy to let Amalfi grab headlines. This summer, more than ever, the locals are happy that so few can pinpoint their home on a map.