There's no reason why Asia should play second fiddle to the Caribbean or Mediterranean
If there's a more relaxing or luxurious vacation than kicking back on the deck of your own sleek yacht in the warm azure waters of Southeast Asia, then we've yet to find it. With an area three times the size of The Mediterranean, there's no shortage of beautiful spots to discover in the region, be it under the waves through snorkelling or mini submarines, or maybe just relaxing with sundowners and sunset as backdrop.
Throw in uninhabited islands, lush jungle, picture-postcard beaches and of course incredible cultural diversity to make this the vacation to end them all. These yachts are some of the very best that money can buy — or rent — while for bragging rights on Instagram and elsewhere, it doesn't get any more exclusive.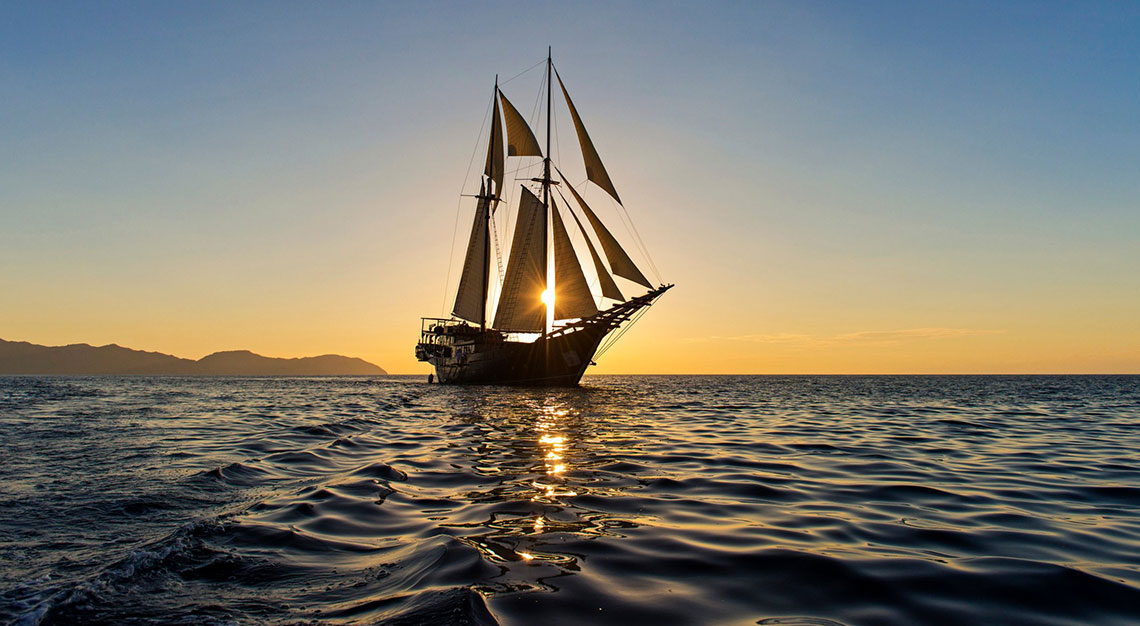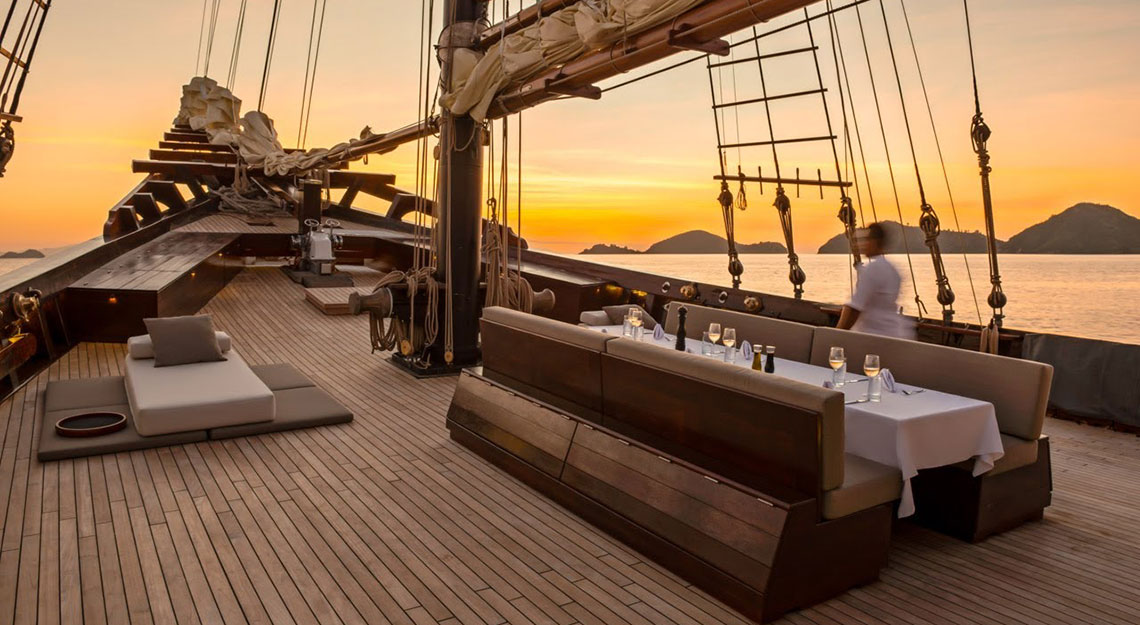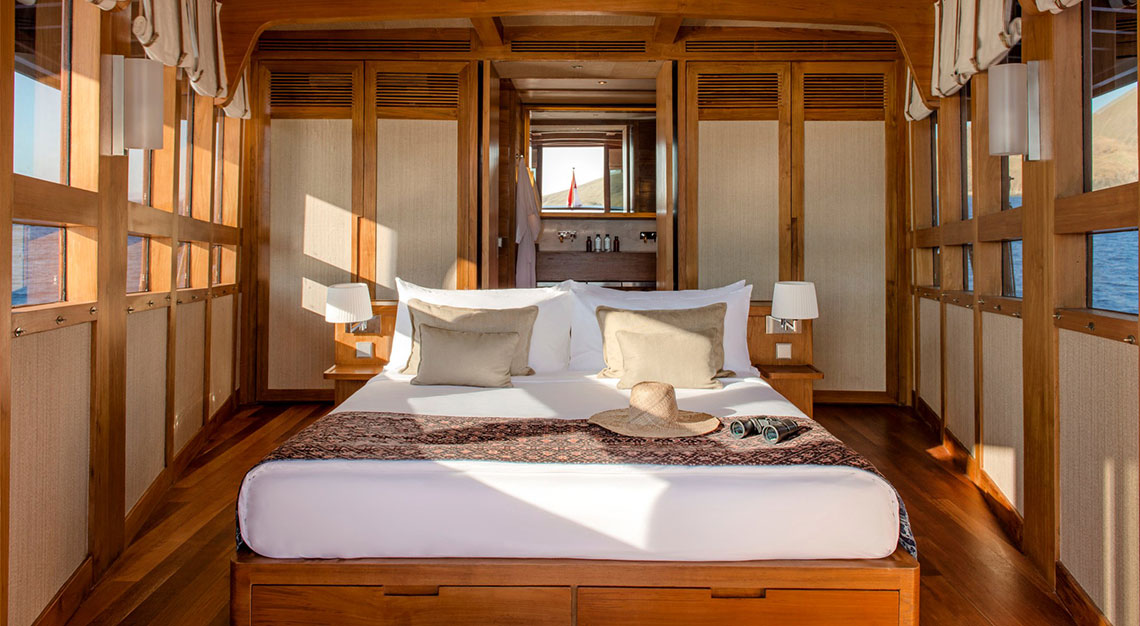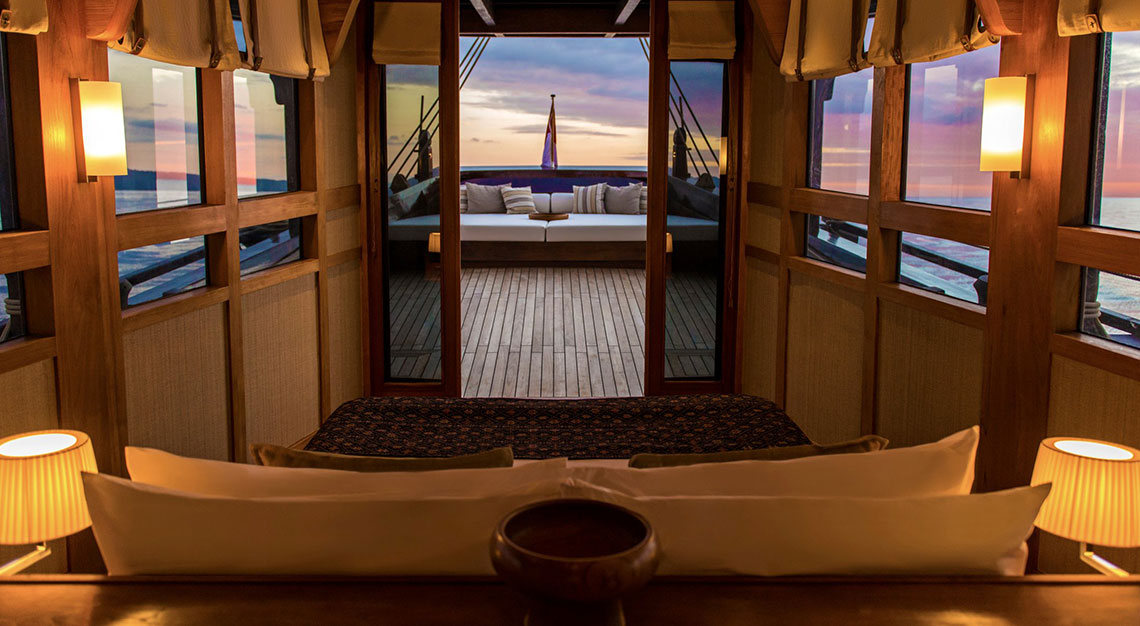 Amandira
Built by members of the Konjo tribe, the 52-metre Amandira is a traditional phinisi vessel that plies the waters of Indonesia, including Komodo National Park, Spice Islands and Raja Ampat. She also sleeps up to 10 in three king cabins and two bunk cabins, each with ensuite showers. The king cabins in particular come with a living area, coffee table and writing desk. A crew of 14 – which includes a chef, dive master, and massage therapist – will see to your needs.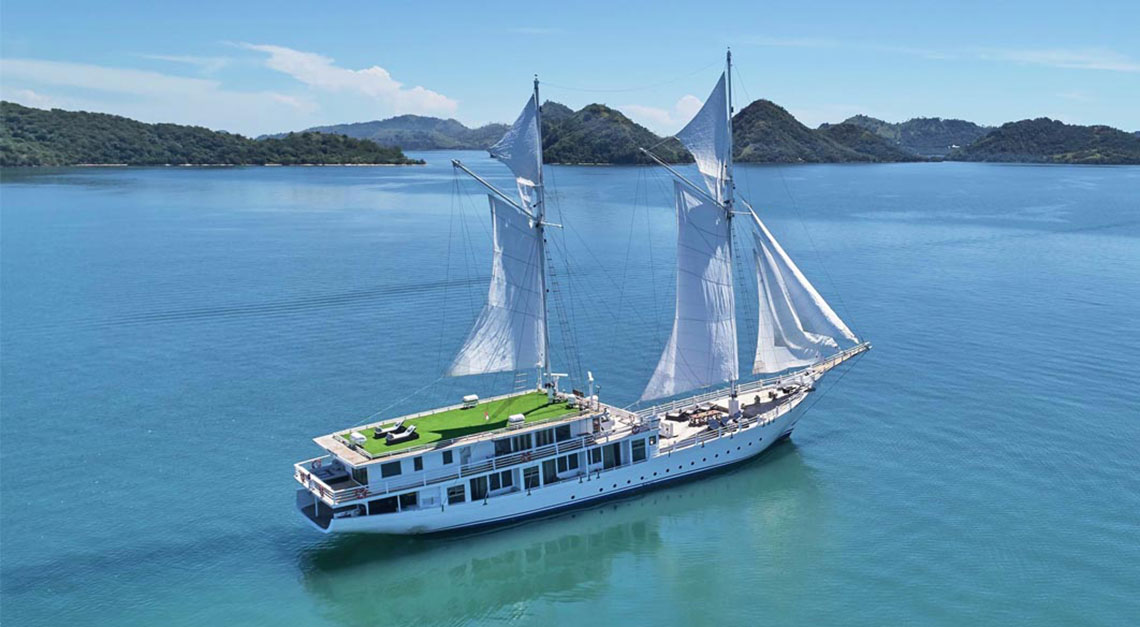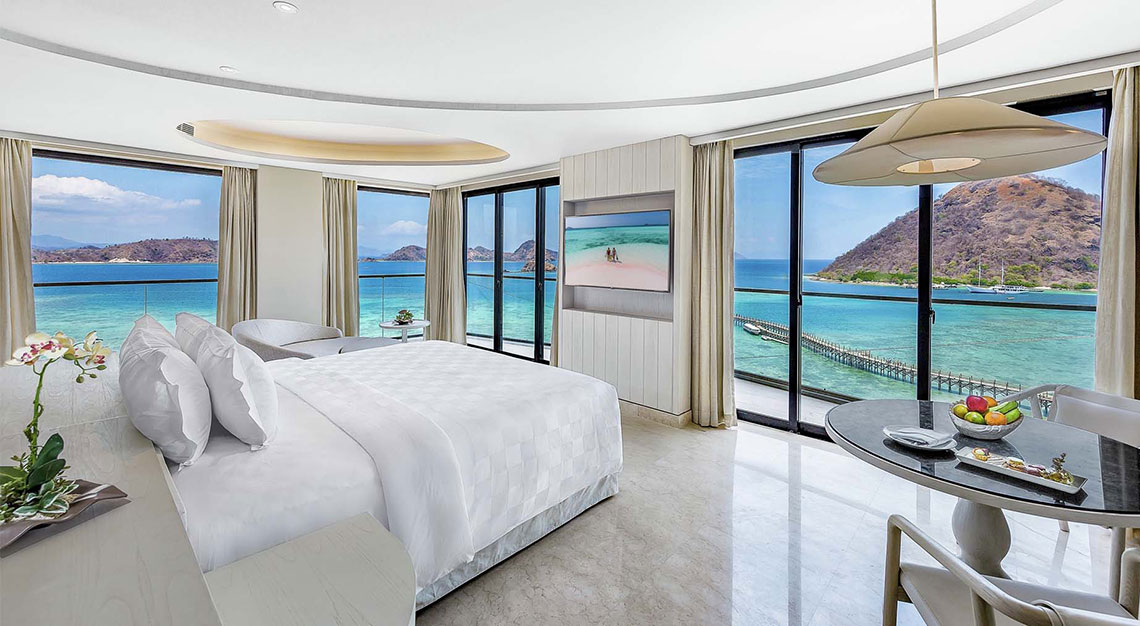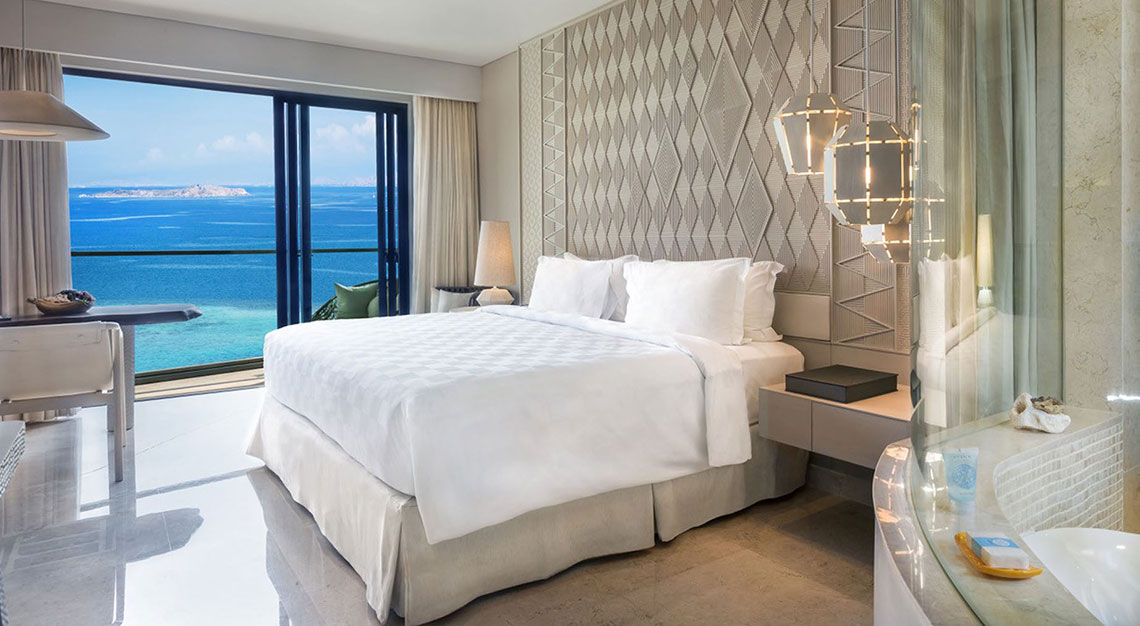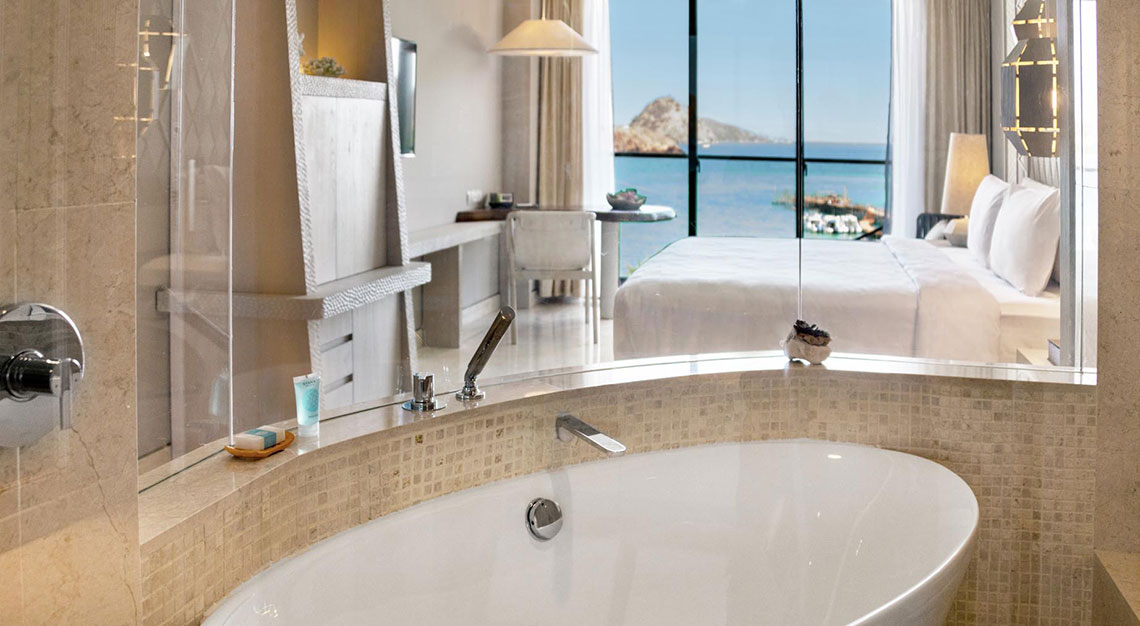 Ayana Lako Di'a
Said to be the largest Phinisi to have been built from scratch, Ayana Lako Di'a sleeps up to 18 guests in nine ensuite cabins. Charters are encouraged, and prices start from US$19,000 (S$25,000) per night, though guests are welcome to join planned journeys through Komodo, along two, three or five-night excursions.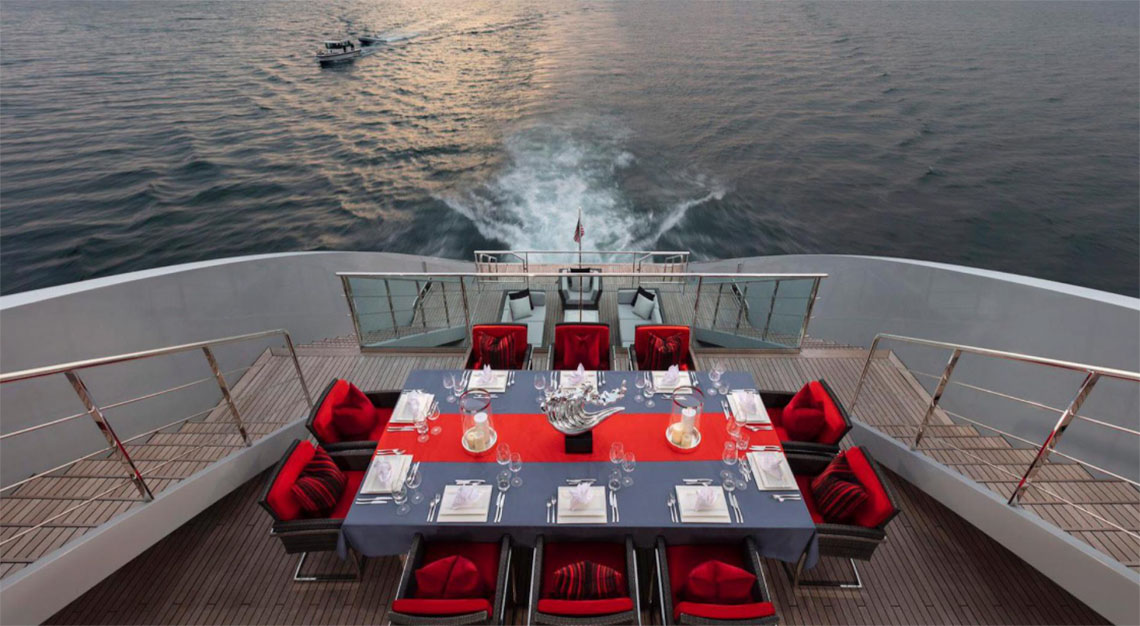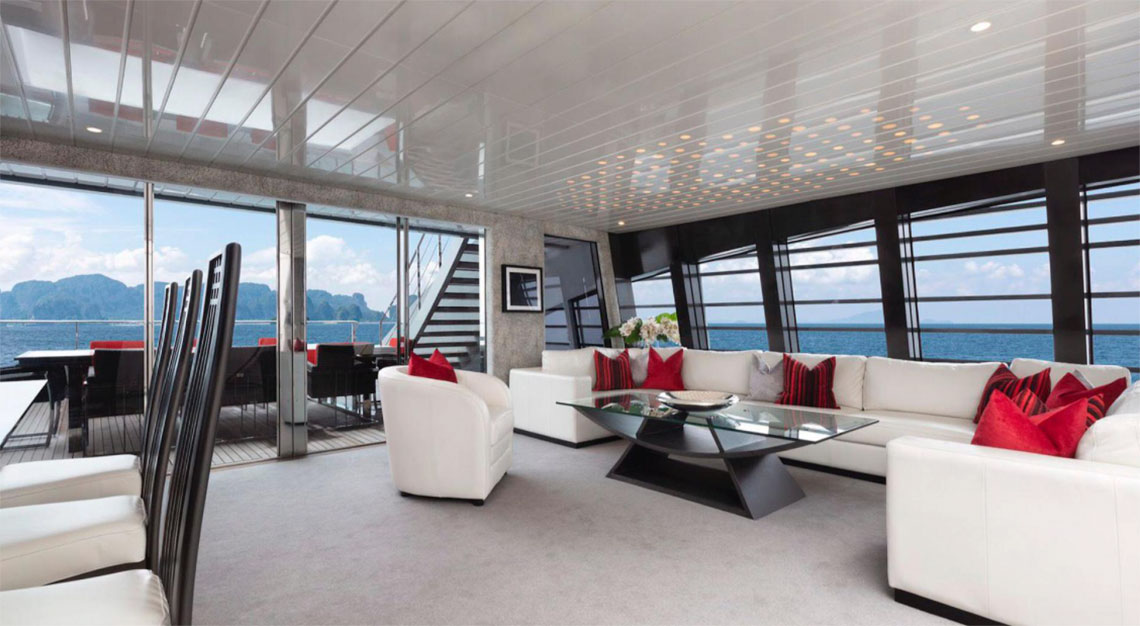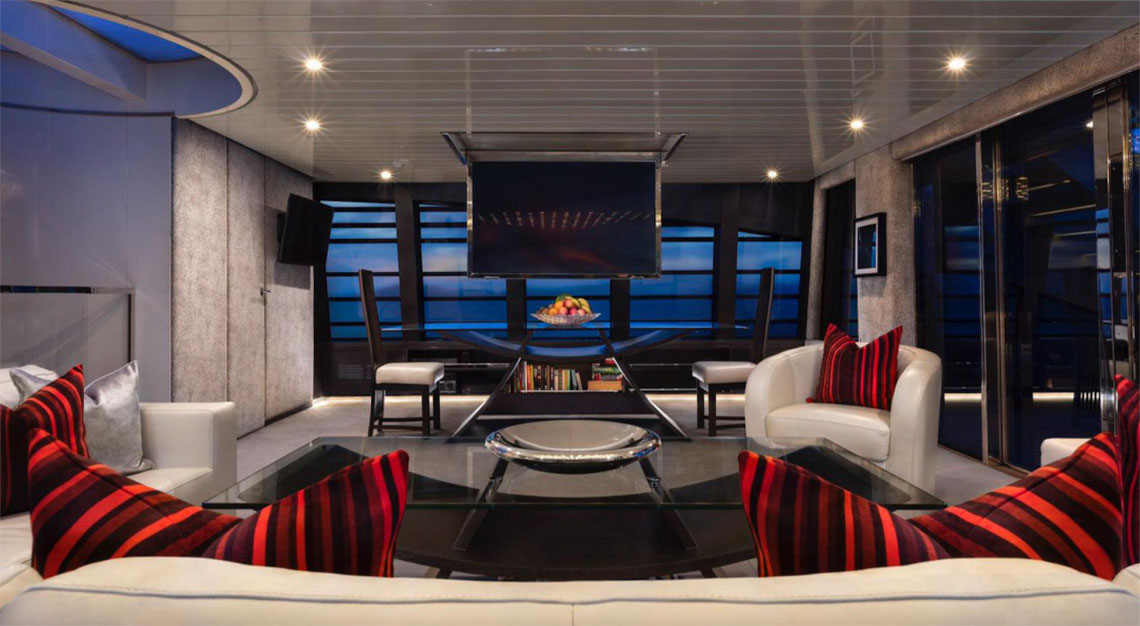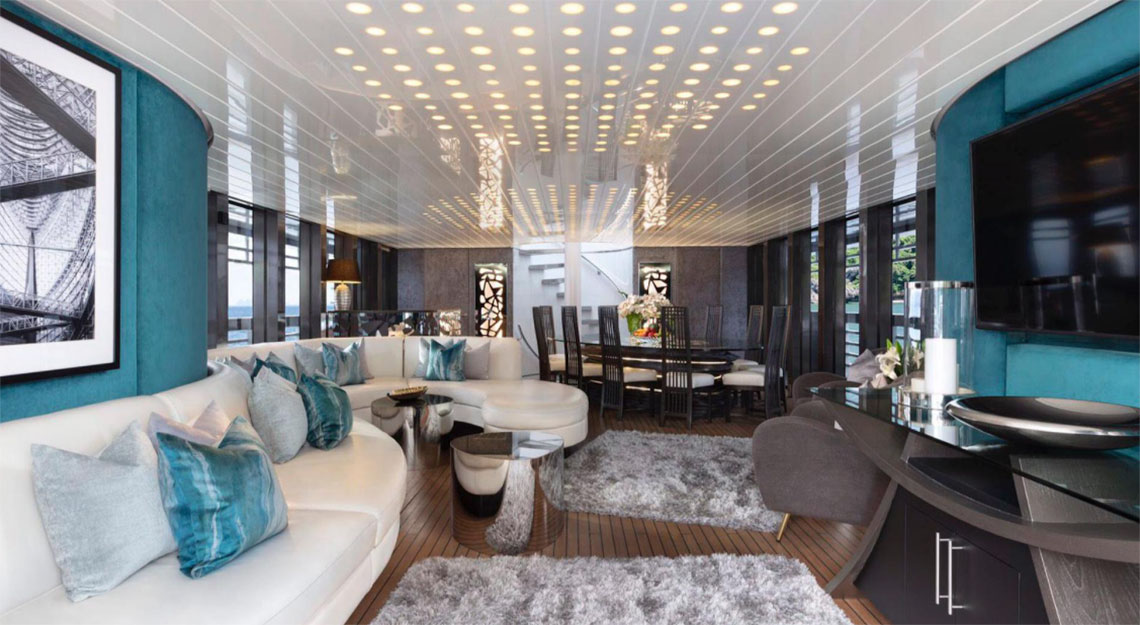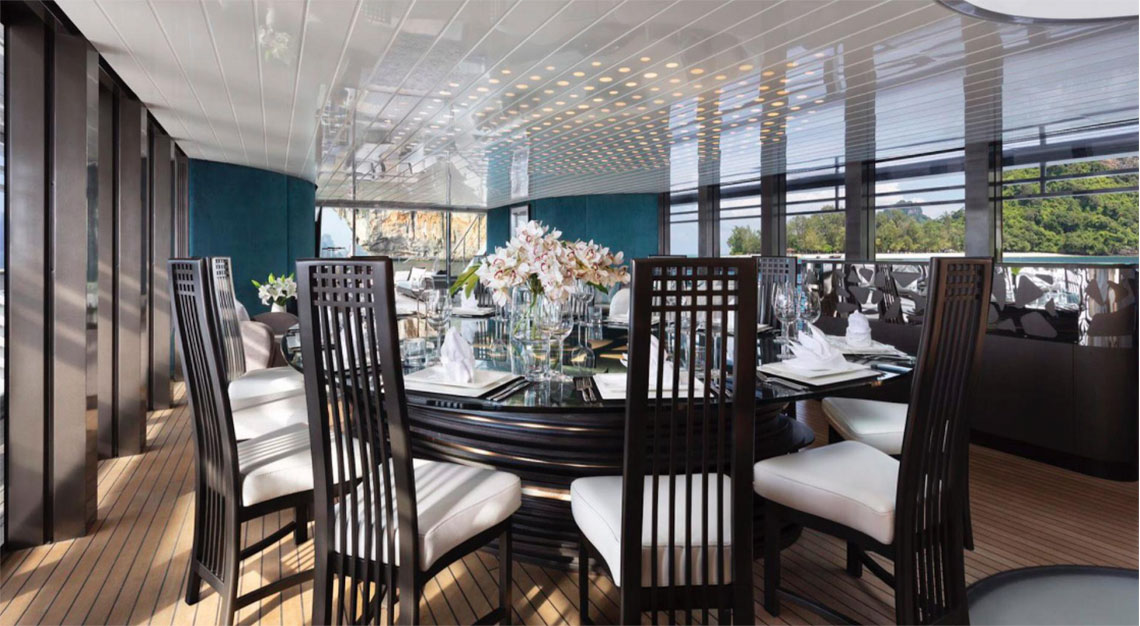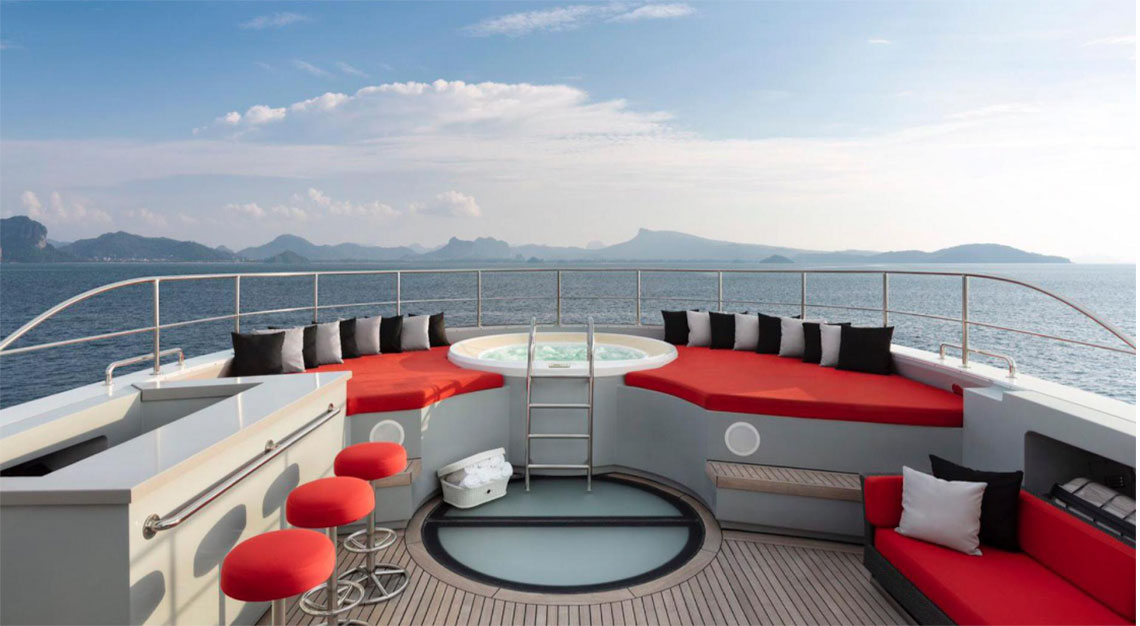 Ocean Emerald 
If you're after a boat to stop people in their tracks, then the custom motor yacht Ocean Emerald is hard to beat. That's because at 41m, her beautiful and unusual exterior is the work of globally-renowned architecture and design practice, Foster & Partners.
She sleeps up to 12 guests, waited on and looked after by nine crew who ensures that socialising, dining and relaxing are all you need to worry about. With a maximum speed of 18 knots and a range of 2600 nautical miles, you can also get to see much of The Philippines, Thailand and Malaysia in serious luxury.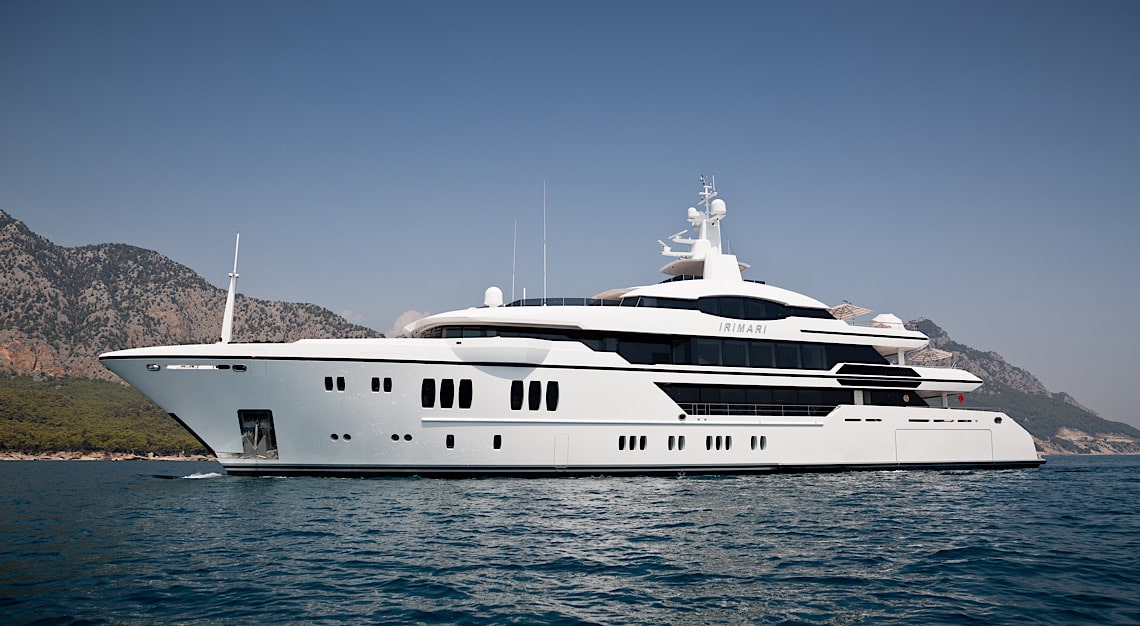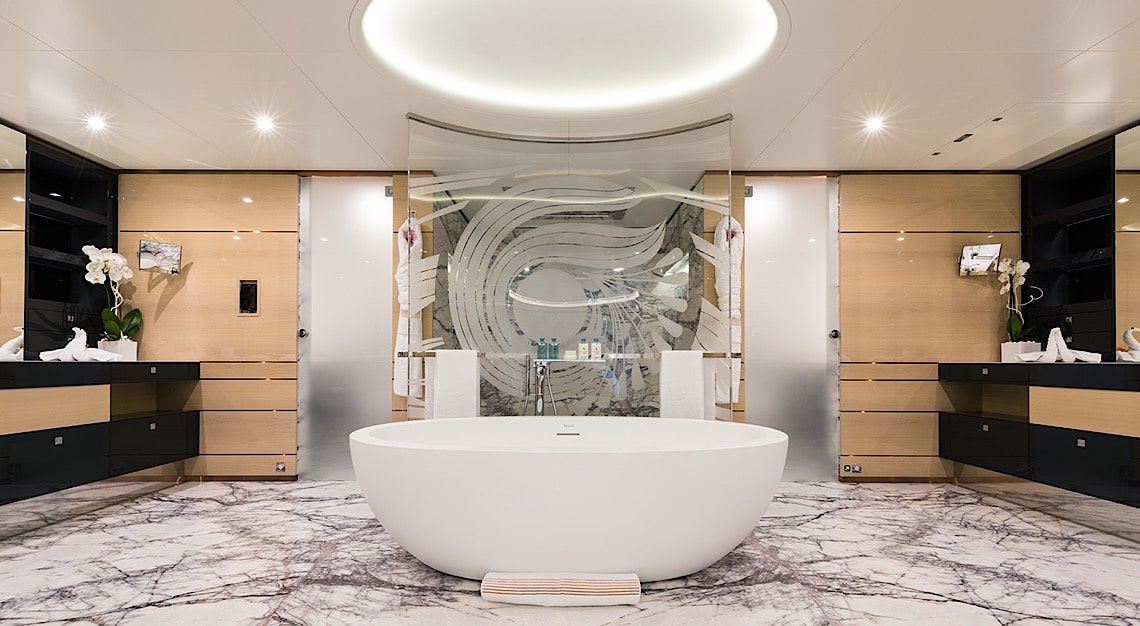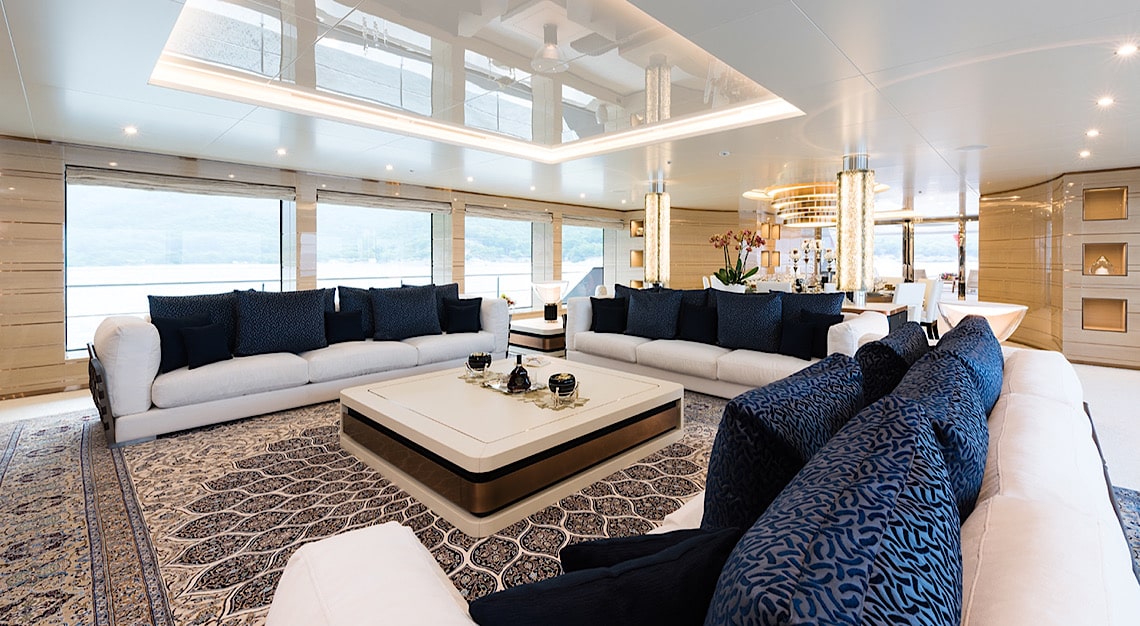 Irimari
Irimari sails the Mediterranean Sea from €460,000 (S$742,709) a week. She's also up for sale and has an asking price that starts from €55 million (S$88 million). It accommodates up to 12 guests in six cabins. Families can combine the owner's suite and VIP cabin to form a large apartment. The two guest staterooms can be transformed into a second VIP suite.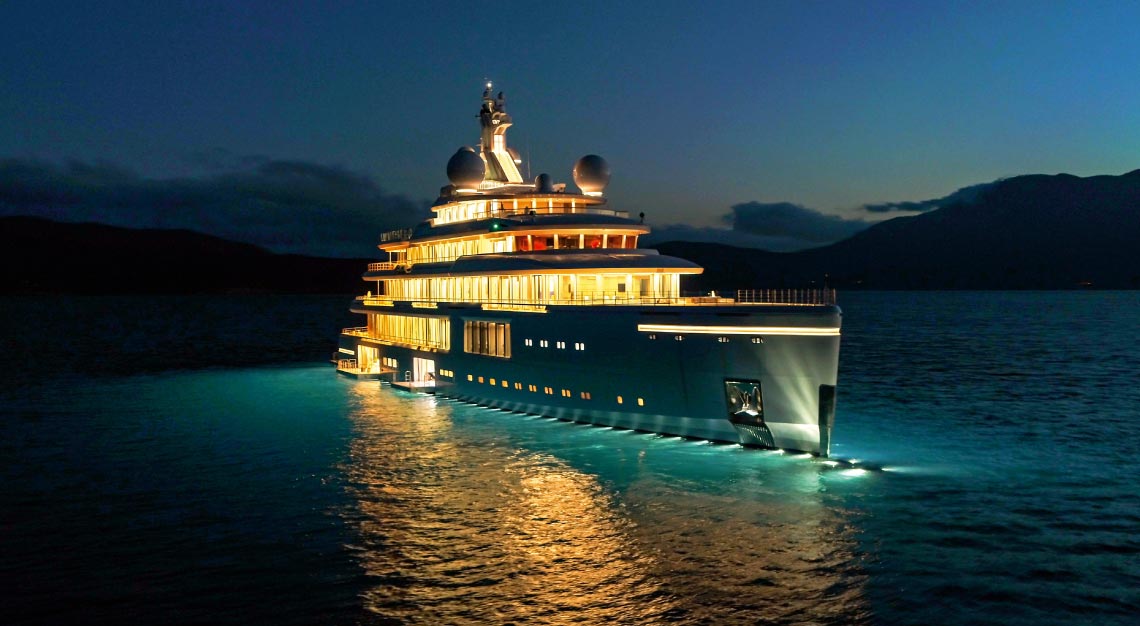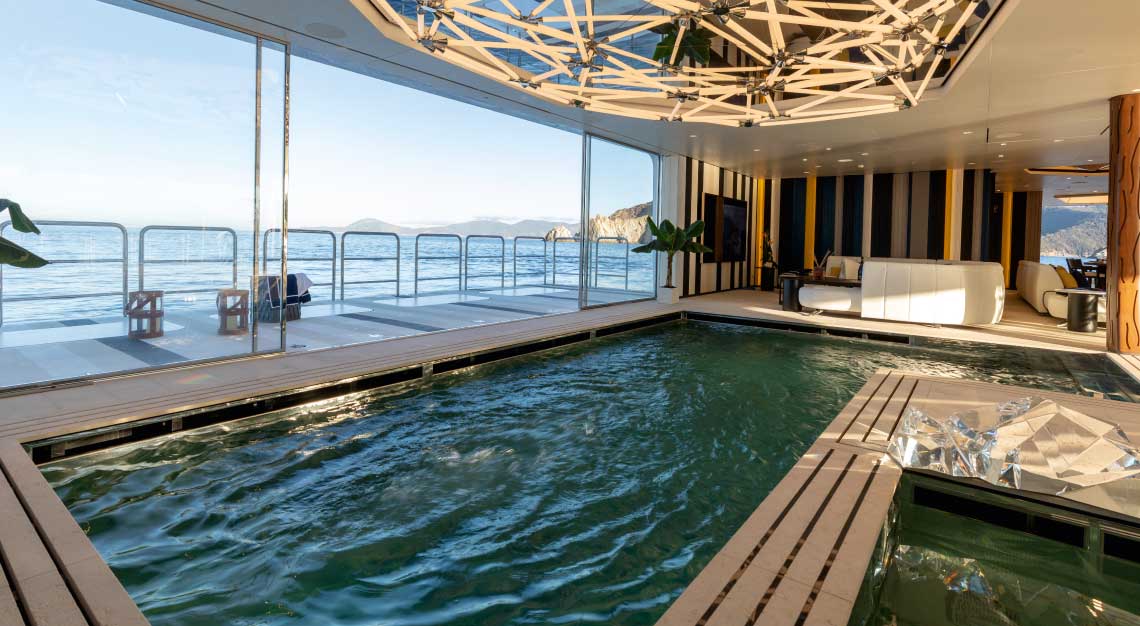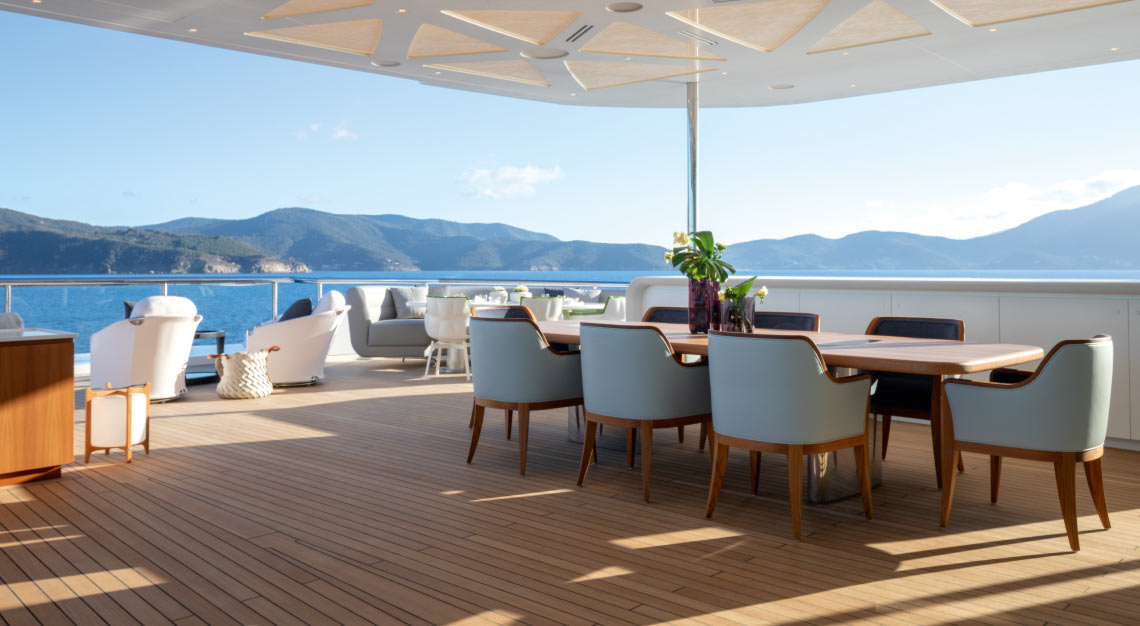 Luminosity
The yacht is once again up for sale and can be purchased for €225 million (S$358.9 million). Facilities include a commercial-grade helipad, purpose-built conference room, a hospital, and a 'moon lounge' where guests can stargaze. Luminosity is able to accommodate up to 27 guests across 12 staterooms, which include a sizeable owner's residence. It can also carry up to 37 crew in 22 cabins.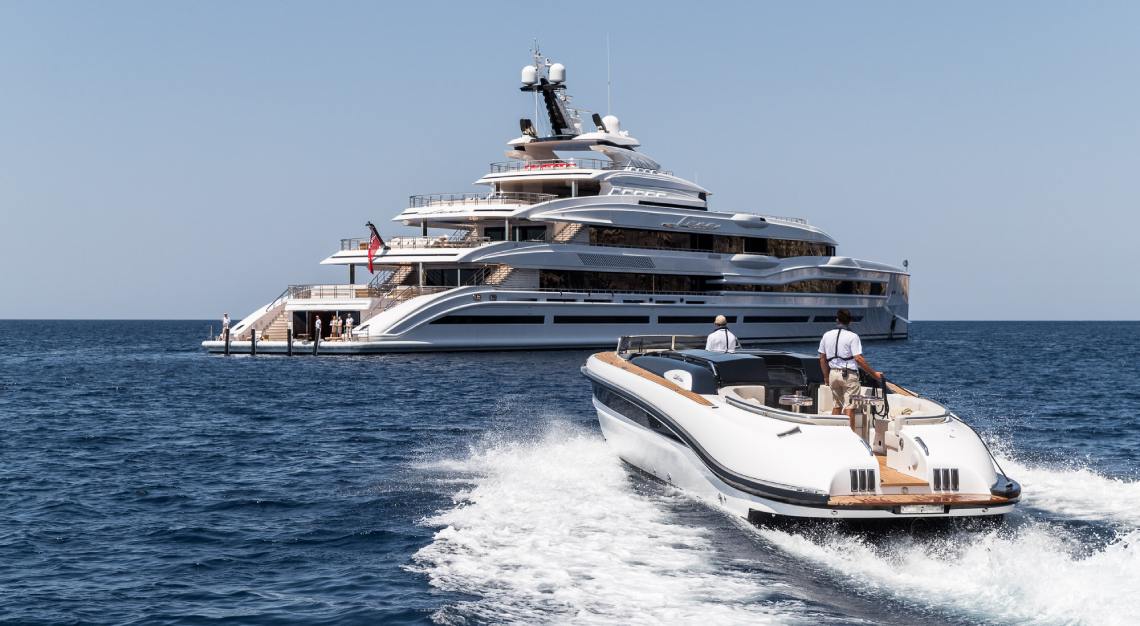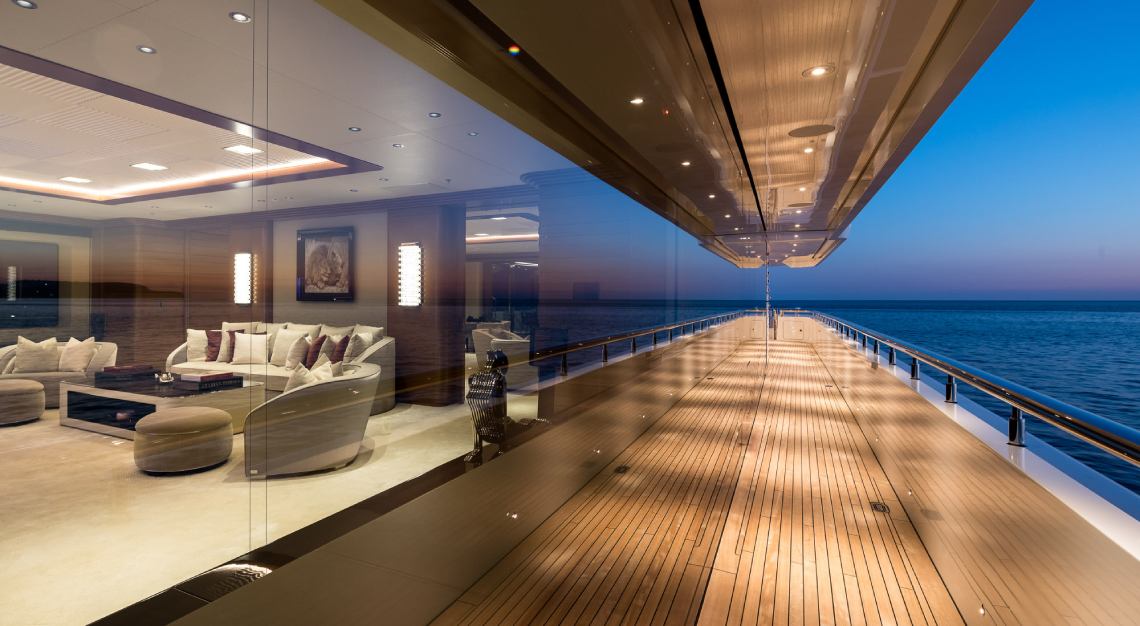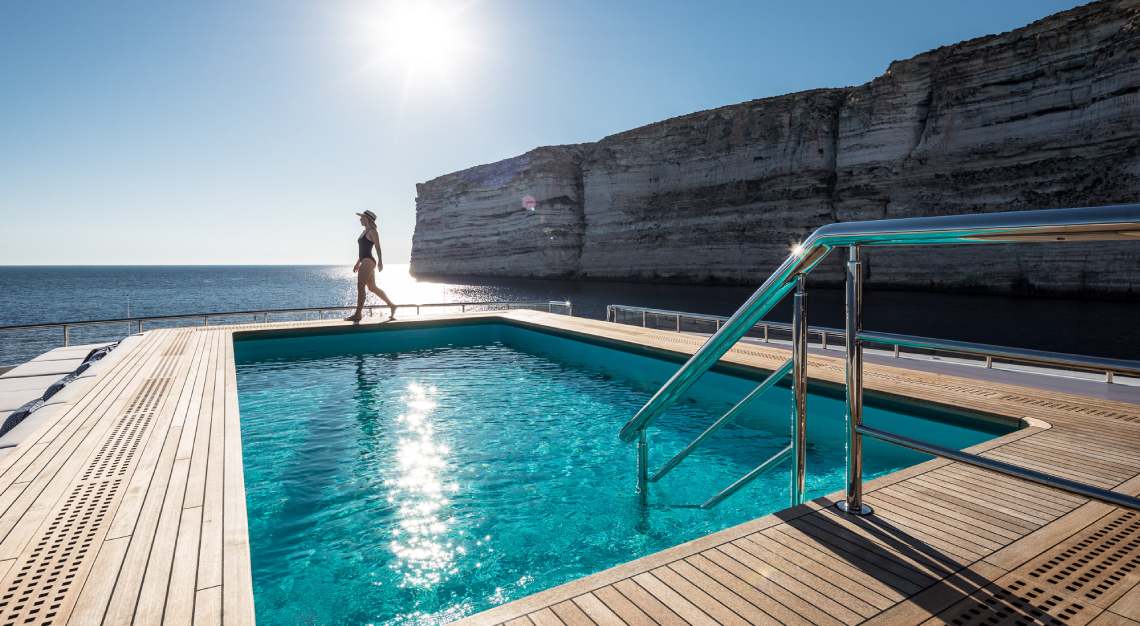 Lana
When it comes to yachts, there is merit in the phrase 'bigger is better'. After all, sizeable yachts have the capacity to house tons of luxury amenities. Case in point: Benetti's 107m gigayacht Lana, which has a lengthy 14.4m beam and is one of the largest yachts on the market. Available for charter exclusively through Imperial Yachts, Lana currently sails the Mediterranean Sea, and is set to cruise the Indian Ocean from December to March for €1.7 million a week.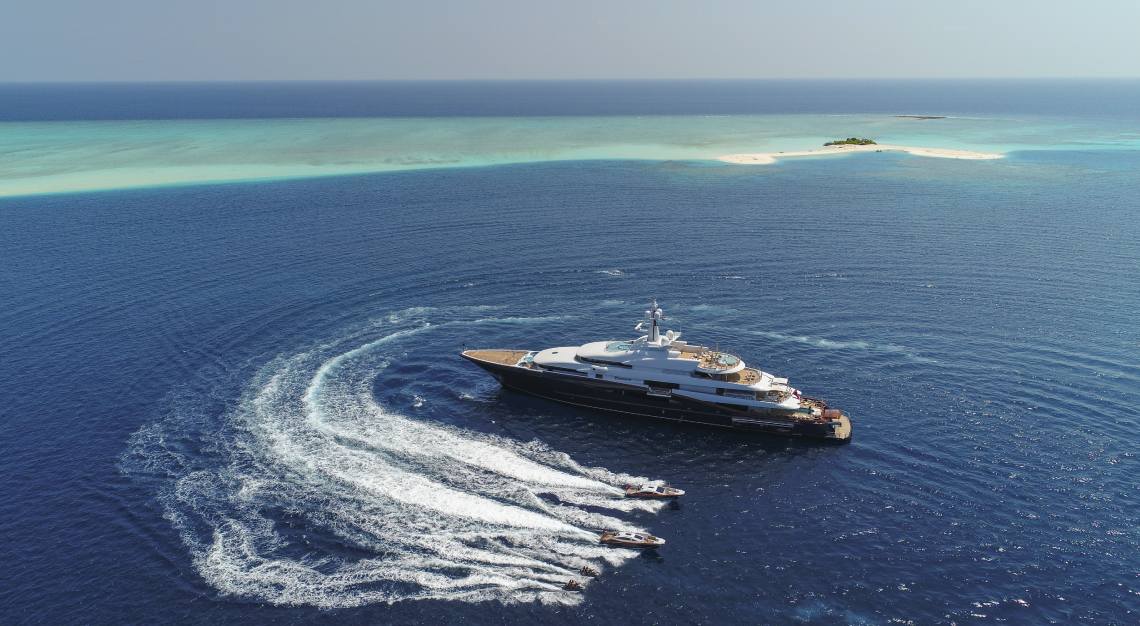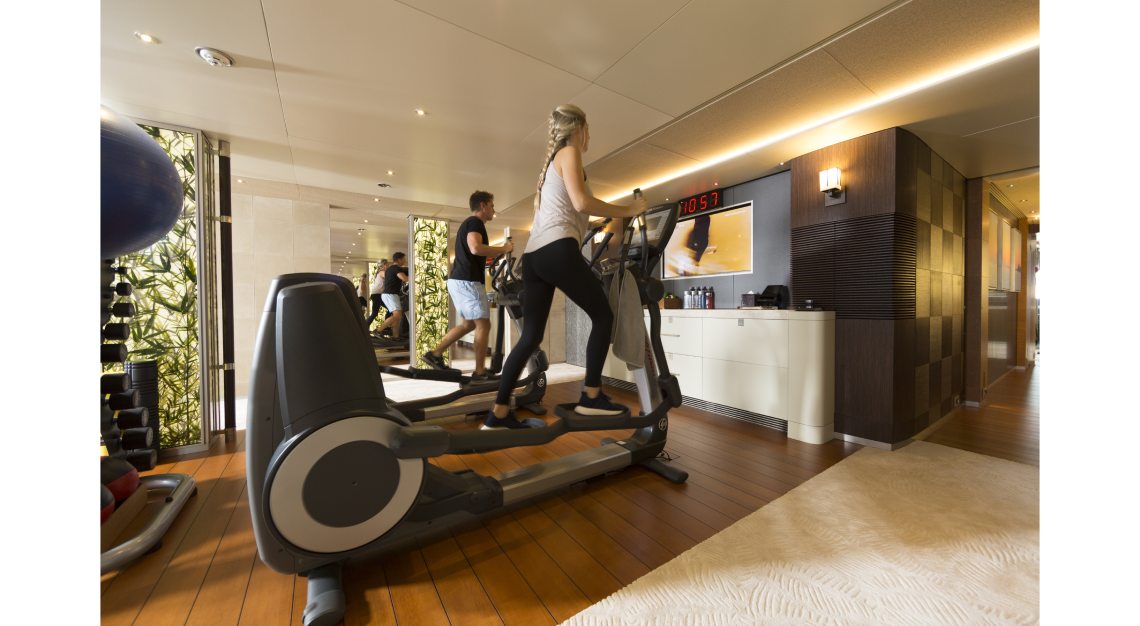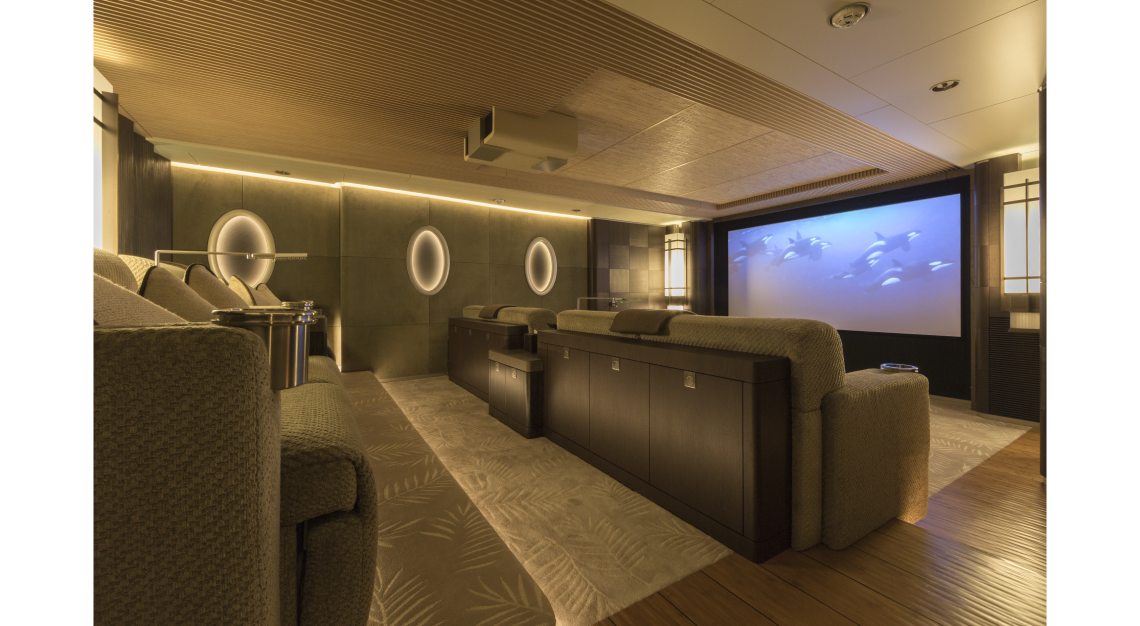 Nirvana
Talk about an appropriate name. The 88.5m superyacht Nirvana, built by Dutch shipyard Oceanco, is the definition of a luxury escape. Her interiors are inspired by the Earth and the rainforest, with materials such as teak, woven bronze, silk and onyx used throughout.
Despite its massive size, the layout and design make the vessel feel intimate and rather Zen-like. It's easy to get to all six decks, thanks to the six-person glass elevator in the central. Be sure to allocate ample time for the game room, gym, massage room, sauna and plunge pool. Need something? Its 28-man crew will happily oblige. Psst: the 7.5-meter swimming pool converts to a dance floor, too.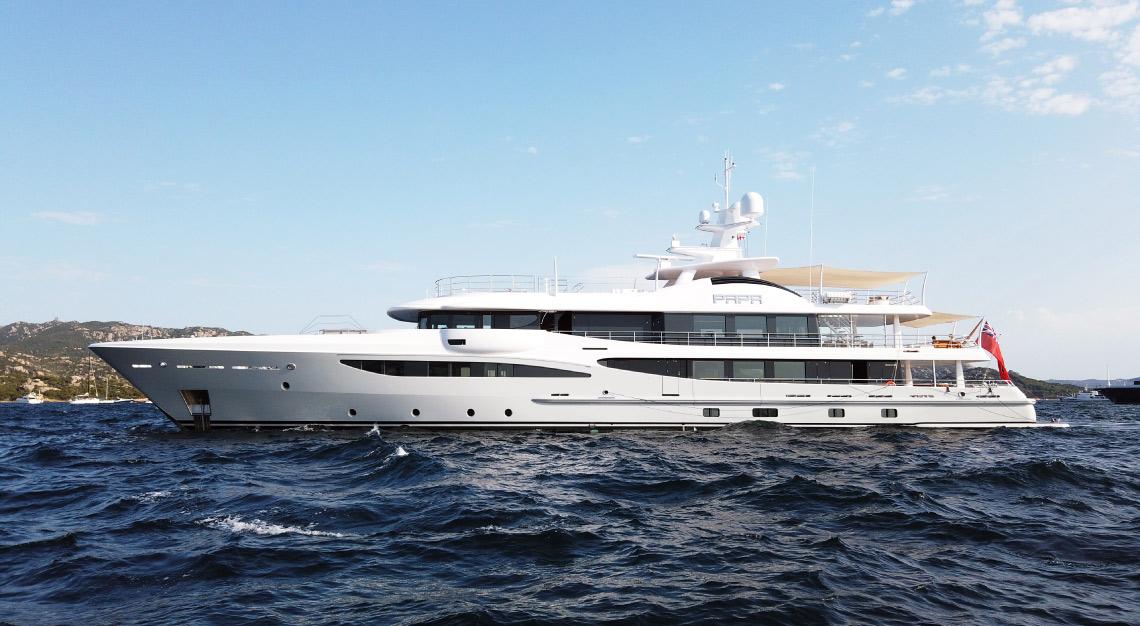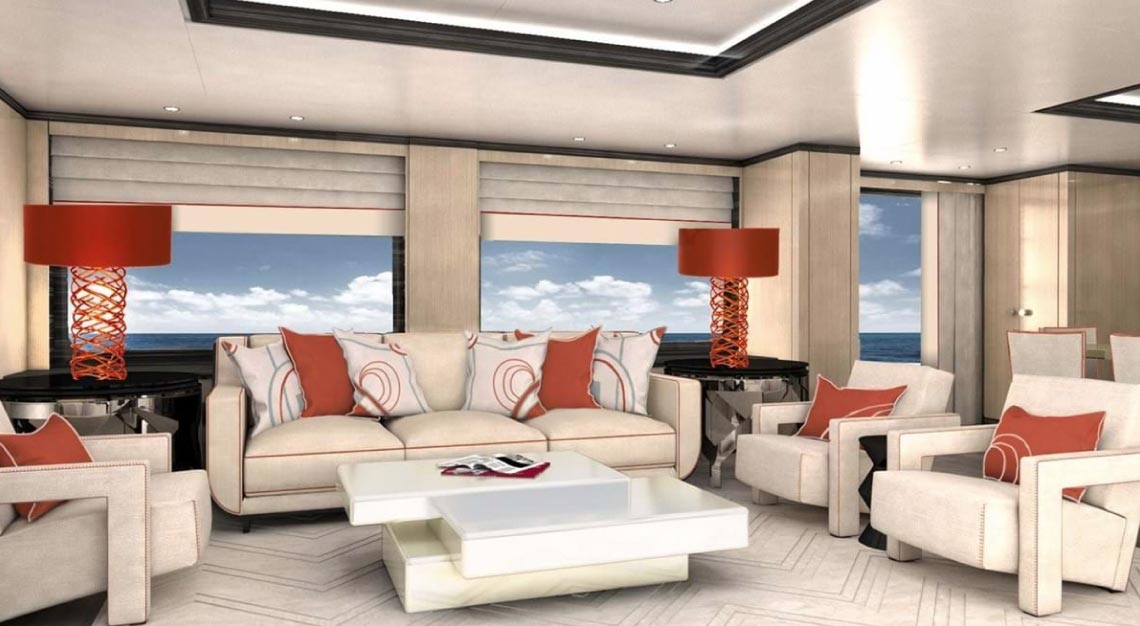 Papa
It's not enough to have beautiful cabins and top-of-the-line design elements on a yacht. A great charter must also have abundant exterior spaces and al fresco dining options to keep guests entertained while enroute to your destination. This is where PAPA excels. The 55-m Amels Holland-built yacht, which can host 10 guests across five cabins. The entertainment lounge on the upper deck comes with a custom foosball table, and can be converted into
a theatre come nightfall. Wish to have a cinematic experience? The sun deck doubles as one too. Foodies in particular will love the Teppanyaki bar on the sun deck, as well as the al fresco dining area on the bridge deck.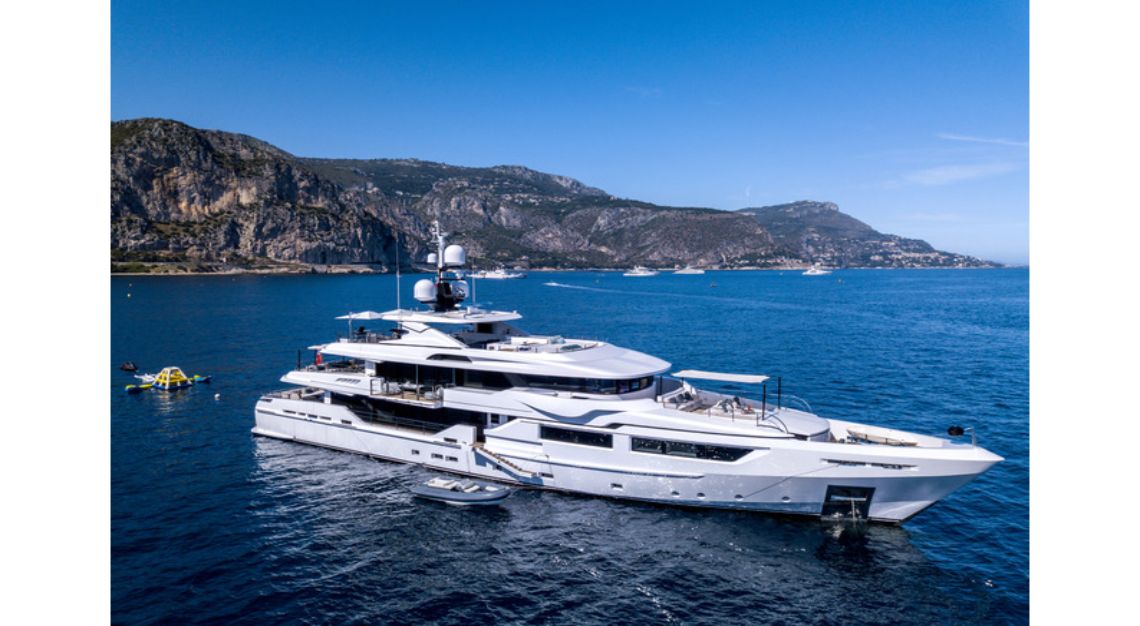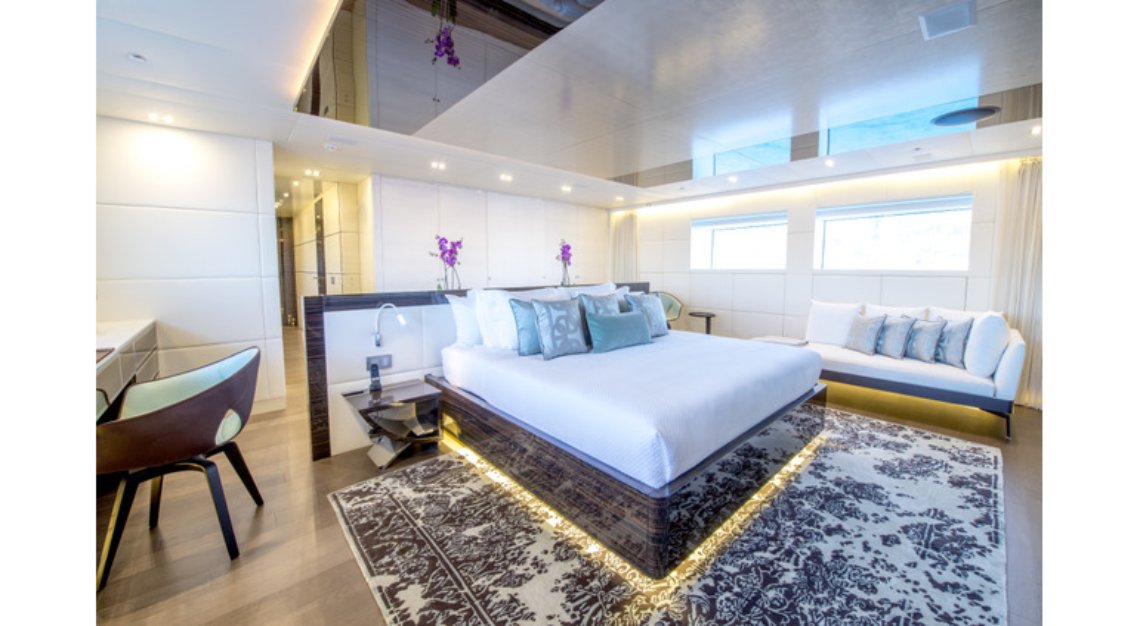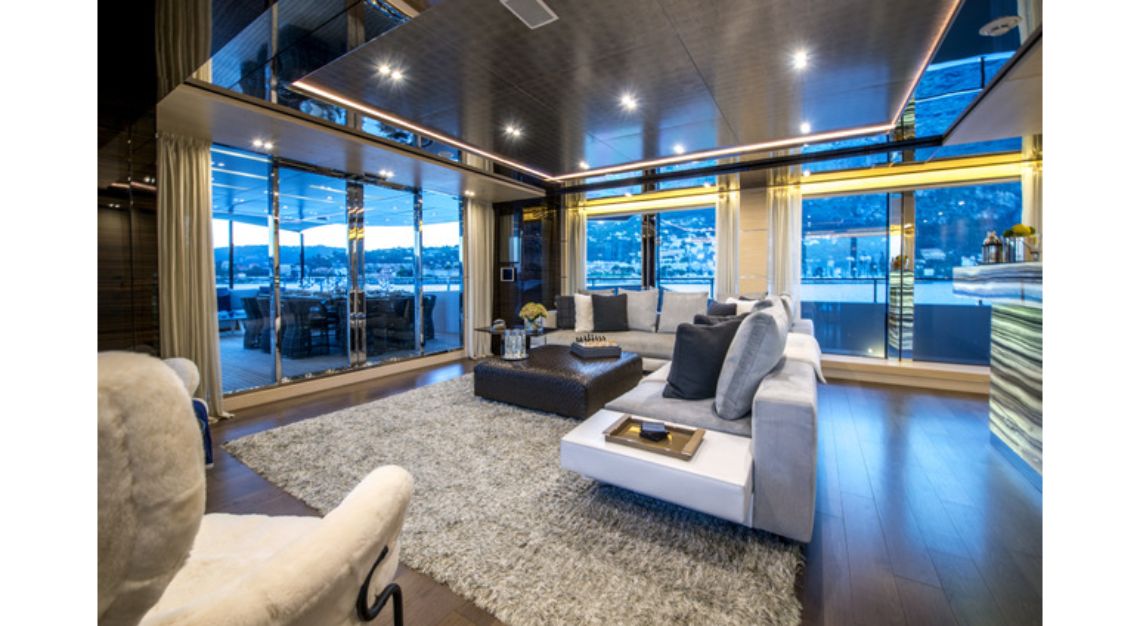 Petratara
At just under 47m, superyacht Petratara impresses even the most seasoned yachting aficionado. Built by Italian shipbuilder Admiral Yachts, the tri-deck motor yacht is kept sophisticated. Apart from the use of contemporary materials, the use of large windows help open up the space and allow plenty of natural light to flood the rooms.
 There are five luxurious staterooms that can comfortably host 12 guests, including a lavish owner's suite with a private gym and Turkish bath and steam shower. Explore smaller islands with its 10-m chase boat and water skis, and makenfull use of its trove of water toys including a fly board, wave runners and an inflatable jungle gym.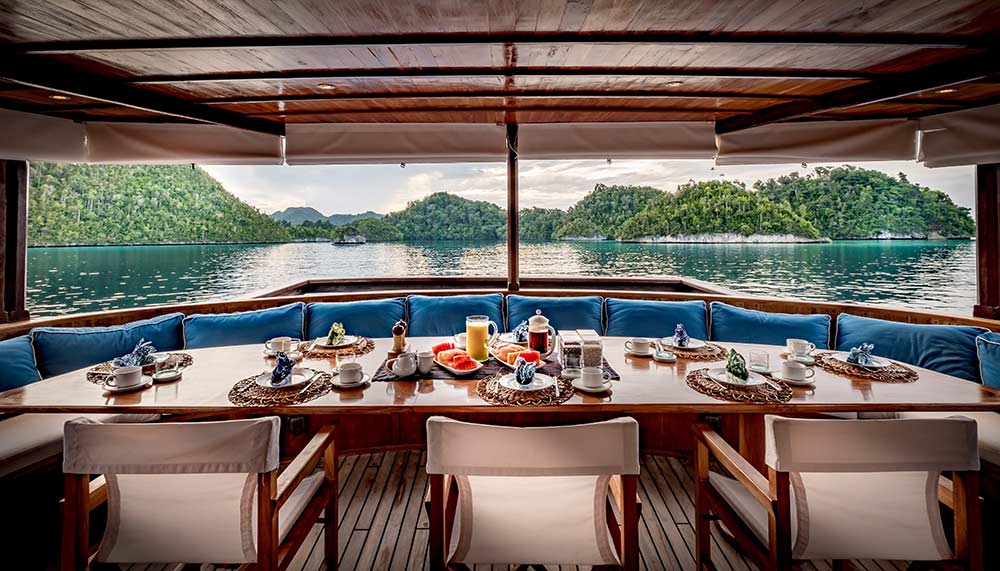 Rascal
Another option when it comes to unique food experiences on the waves comes in Indonesia's remote and stunning Komodo and Raja Ampat regions. It's home to Rascal, a contemporary and luxurious phinisi motor yacht. Redefining laidback luxury, its decor is kept to a minimum, with shades of white and blue complementing the teak structure. Beneath its unassuming exterior, Rascal can house up to 10 adults in five over-water ensuite cabins, and is equipped with two dining areas, a bar, and three sundecks.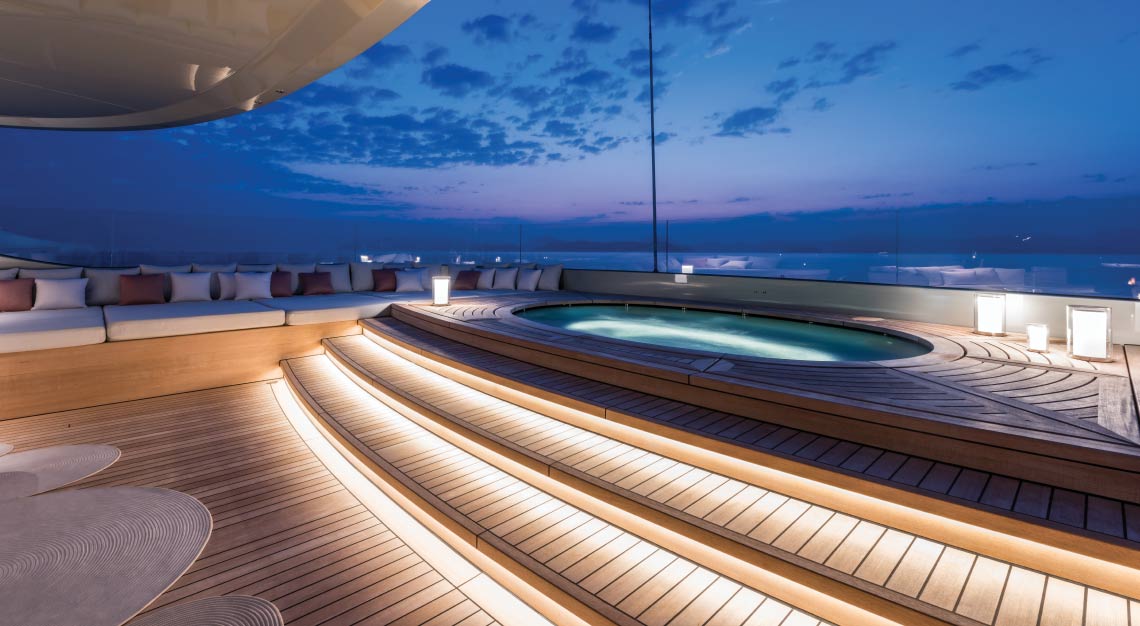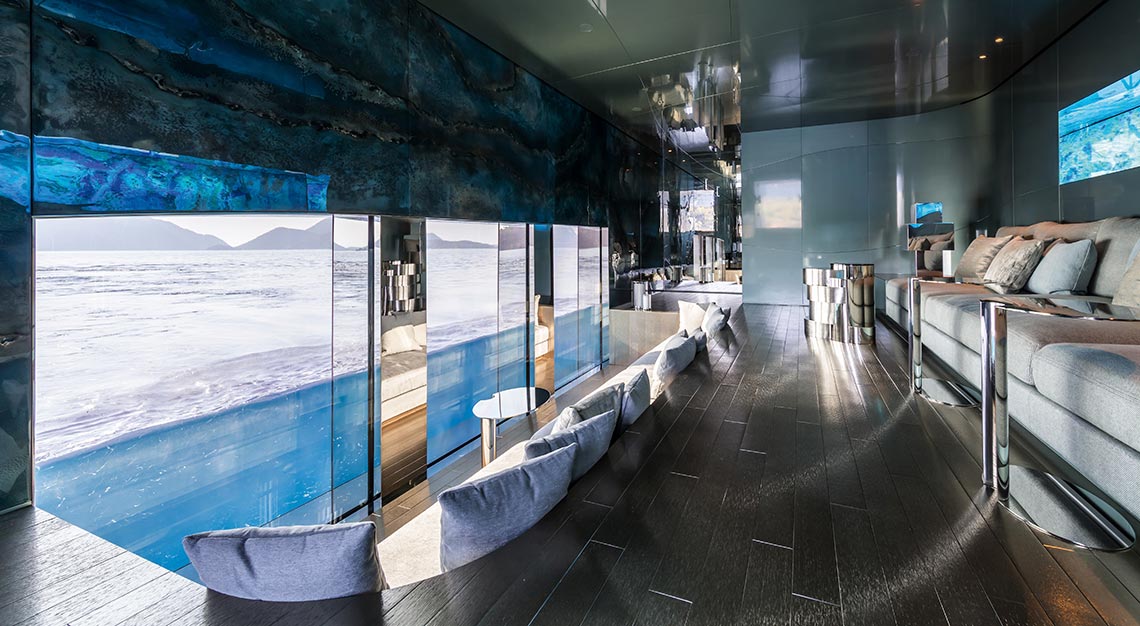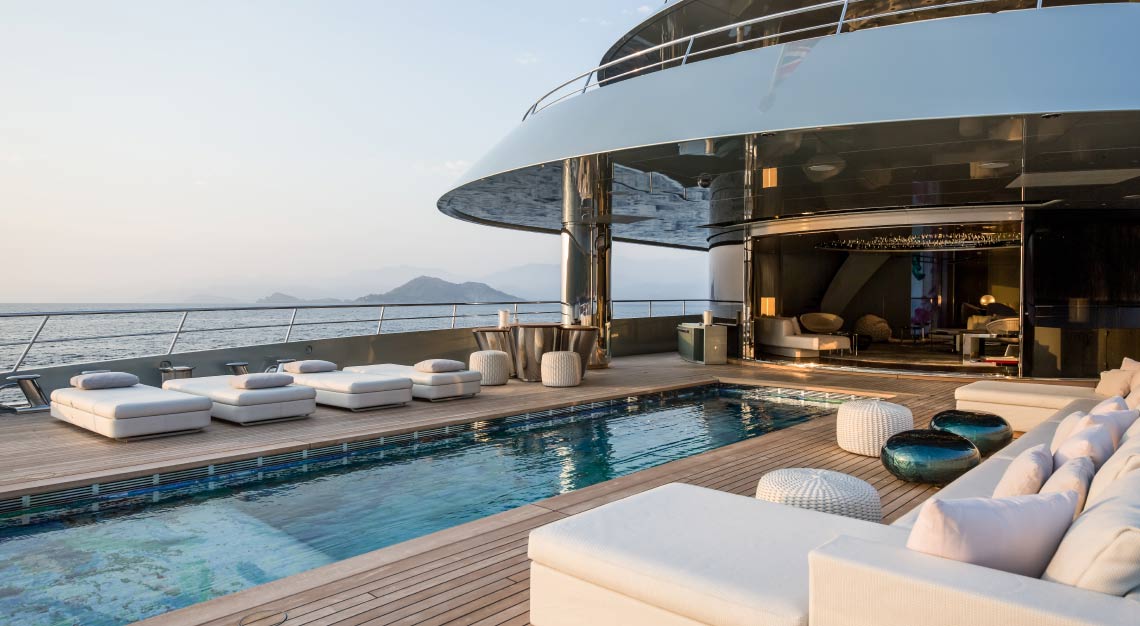 Savannah
Here's what we're dreaming of: boarding the award-winning Savannah, an 83.5m Feadship hybrid yacht with exteriors and interiors by Cristina Gherardi Design. The four-deck superyacht can be regularly seen in The Mediterranean, cruising around The Balearic Islands, Almafi Coast and Portofino.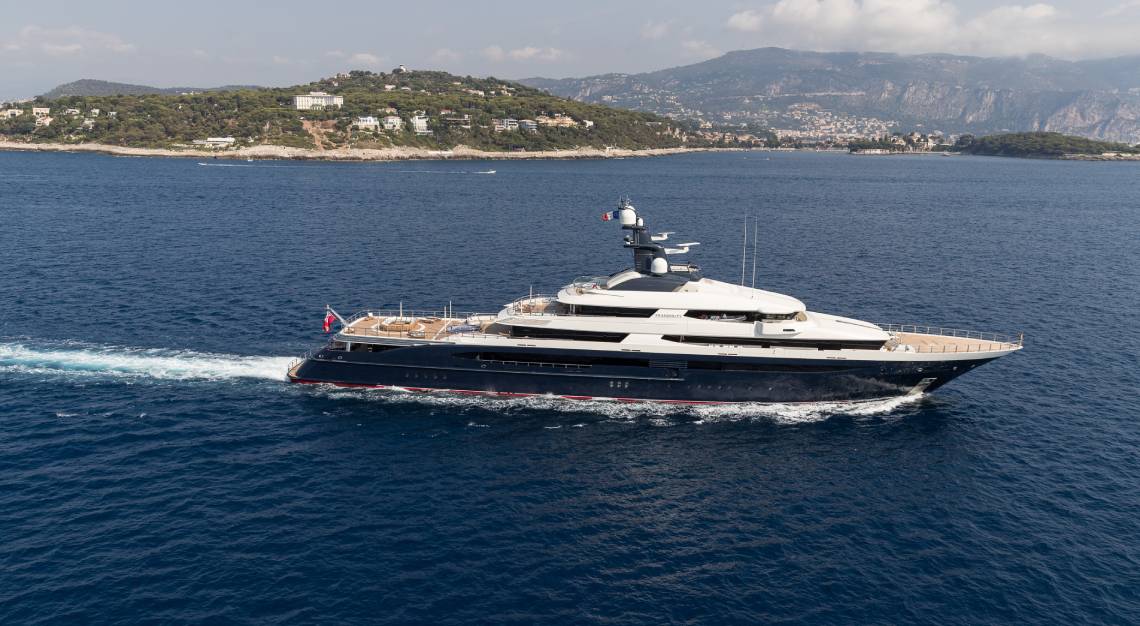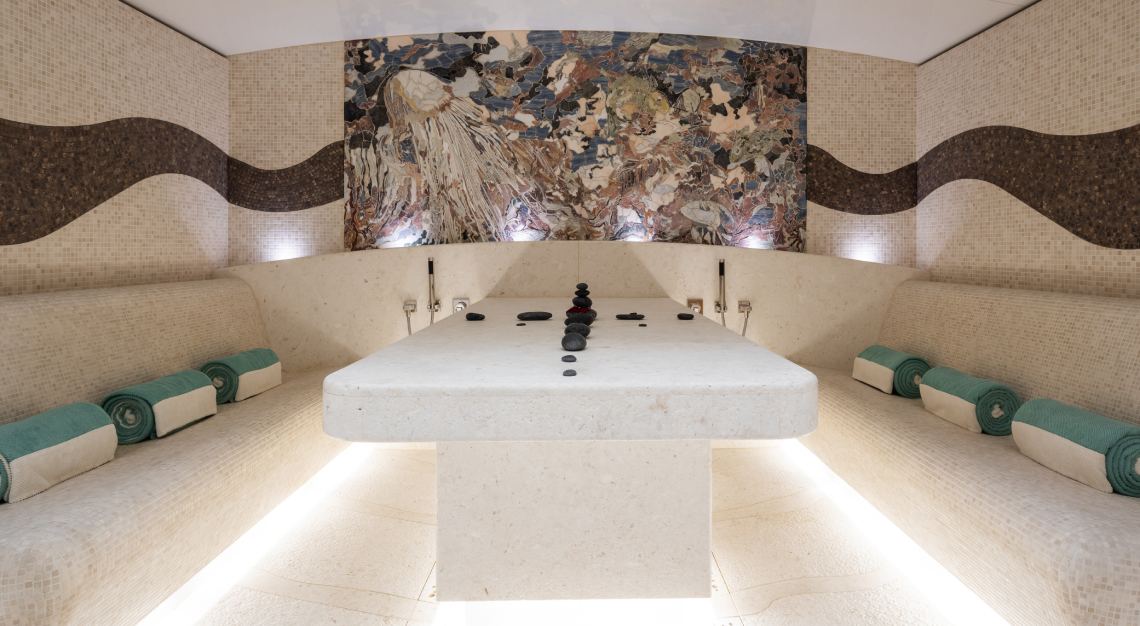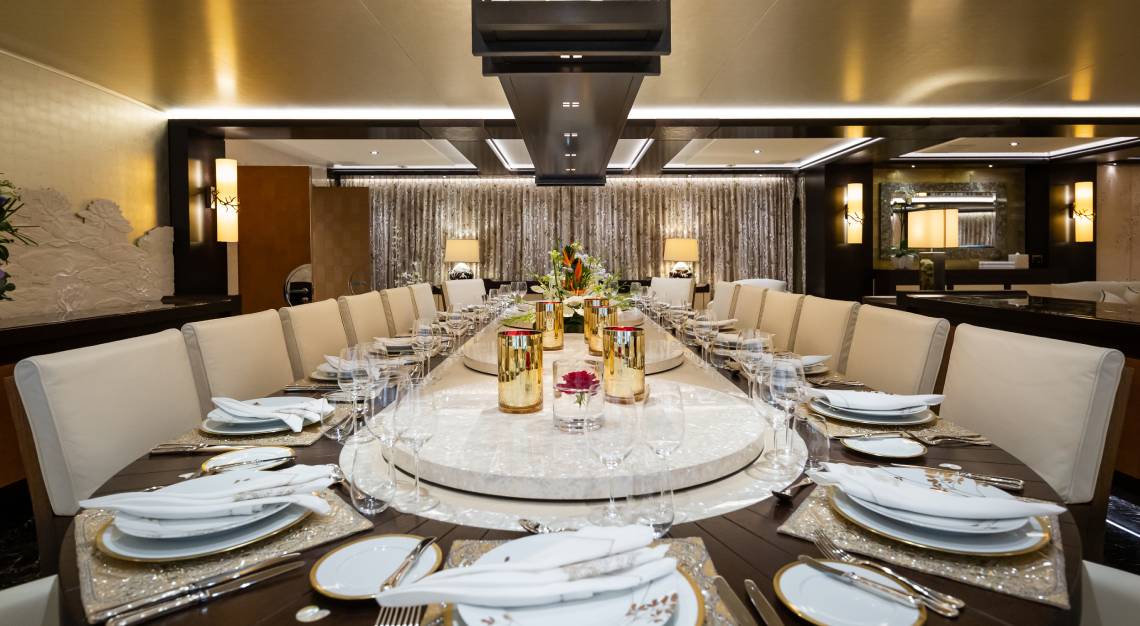 Tranquility
Think that the 91.5-meter M/Y Tranquility has a unique layout and stunning design? You aren't alone, given that she has won several awards. Her capabilities also speakfor herself: she has a 5,000-nm Trans-Oceanic range, zero speed stabilizers, Ice class and PYC compliant capabilities, making it possible for her to take you just about anywhere in the world. 
The 11-cabin yacht sleeps up to 22, with a crew of 31 to ensure everything runs smoothly. It's a rather herculean task given the yacht's size. Oh the many places one can choose to spend the day at, our favourite is the exceptionally spacious upper aft deck, with a circular Jacuzzi pool, a large seating area, sun loungers and, most importantly, an outdoor bar.