In visits to Dromoland Castle and the ruins bearing his family name, Robb Report editor Josh Condon encountered more than just his ancestors' stories
Editor's note: See other Escape Plan stories here.
I'm having this dream. I'm in a field, gazing up at the ruins of an old castle. My father is there. We head for the tower through the wind and tall grass but all of a sudden, we're surrounded by the castle guards. They're on all fours, staring at us, mute and beefily immovable—the guards are cows. I turn to my father, to ask what he makes of it all, but he just snaps a few pictures on his phone and says, "I thought it would be bigger." A car honks on the road behind us and I realise I'm not asleep, I'm standing with dad in a dairy pasture in County Cork, Ireland, in the shadow of Condon Castle, the ancestral home going back over 500 years—not that you'd want to spend the night. There's no heat or roof, and the cold, stoney toilet is nothing more than a gravity-fed chute.
Heritage tourism is the new old thing. Various DNA databases have been around since the mid-2000s and make it easy to learn precisely where in the world you're from, while a proliferation of ancestry sites provide a crowdsourced way to climb, branch by branch, back up your family tree. But those are just chromosomes and coordinates. What every story really needs is a journey.
Dad had always boasted about being "all the way Irish," but he could never prove it; the family history, such as it was, had faded entirely after a few generations. I knew he was curious about the backstory but had little by way of details. Over the years he'd gifted me a number of small heirlooms—a gold pocket watch, a fountain pen, a diamond pinkie ring from the early 1900s that I resized and used to propose to my wife—typically bestowed, impromptu, in his bedroom closet where he'd just pulled something from a shoebox on a high shelf. "Isn't this cool? Your grandfather gave this to me a long time ago," he'd say. And then, after a solemn pause, "I don't remember why."
Then one day I realised that my drawerful of keepsakes had stopped growing, that there were no more little nuggets of history coming down the pipeline, and that it would soon fall to me to impart them. Before that happened, I wanted to give something back to my father. It couldn't be an heirloom—those only flow downstream—so a story, instead. The one that tied all those heirlooms together. The family story.
So I contacted Lorna Moloney, the resident forensic genealogist at the five-star Dromoland Castle resort hotel in County Clare, Ireland. Moloney helps guests trace their ancestry in the Emerald Isles, and for several weeks she tramped through cemeteries, interviewed clerks, pored over 18th-century Gaelic poetry and cross-referenced the various certificates of birth, death and taxes that punctuated life in rural Ireland, sending updates along the way—census records, tithe applotments, parish baptismal rosters scrawled in ink and Latin. A story about Sir Walter Raleigh scheming to steal the ancestral lands. Burial sites and the family crest; the location of a long-abandoned castle. Until, finally, it was time for dad and me to go see it all for ourselves.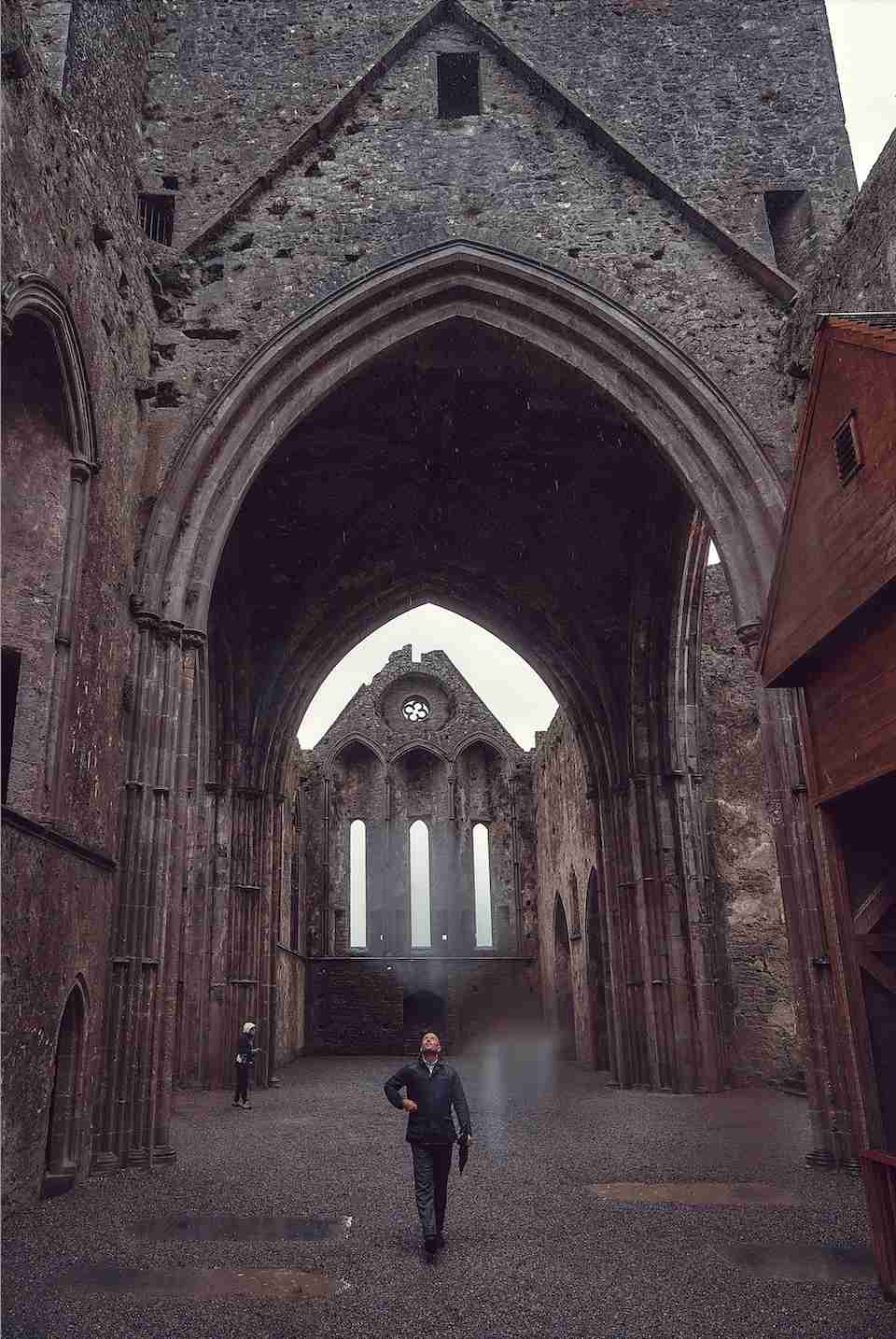 Dromoland Castle dates to the start of the 11th century, a stronghold held by the O'Brien line of Irish King Brian Boru. The modern, High Gothic incarnation is the result of a rebuild in the early 1800s by the Pain brothers, Irish acolytes of John Nash, the famed London architect who designed Buckingham Palace. Its blue-limestone exterior, quarried on the grounds, illuminates in the cool sun reflected off the small lake to the north. It was sold to an American industrialist, who transformed it into a luxury hotel in 1962, and the castle has since hosted the Beatles, Muhammad Ali, Johnny Cash and the 2004 EU-US Summit. There's clay shooting, falconry, archery, a championship golf course and whimsical landscapes created from designs by André Le Nôtre, the man behind the gardens of Versailles.
This is where we meet Moloney, a petite woman with bright blue eyes and a laugh like a starter pistol, for high tea. For two hours she fans out documents across the starched tablecloth, piecing together 700 years of Condon family history, starting with Nicholas de Caunteton, a warlike Anglo-Norman who arrived during the 12th-century invasion of Ireland and claimed a fertile stretch of land later known as the barony of Condons and Clangibbon, now part of modern-day Cork. The story ends with a sepia-toned picture of nine men and two women, all relatives, who ran the Condon Brothers & Company shoe factory in Brockton, Mass. All the men have their arms crossed and everyone regards the camera solemnly; the image is from 1910, when creating a photograph was a serious, meaningful event.
Before she leaves, Moloney hands us her hefty report, including locations of familial significance—mostly cemeteries and churches—along with our driver's contact information and a bag of strong black tea, a gift for dad. "Be careful with this now, Richard," she warns. "None of this after lunchtime, or your son will be calling and telling me you've been up for two days straight."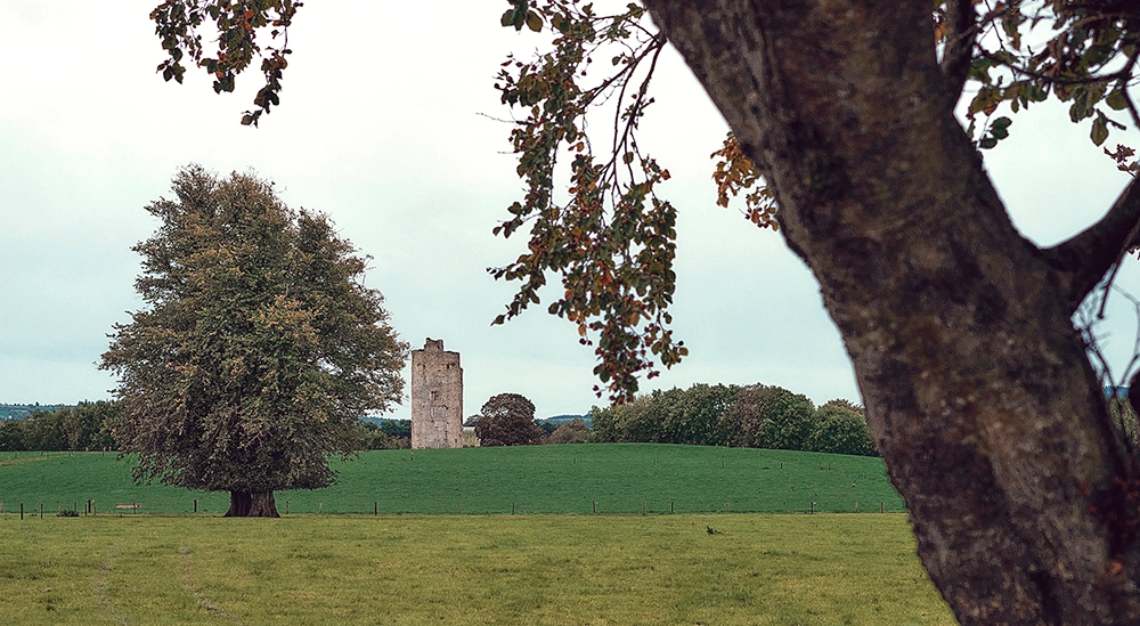 It's gunpowder tea, designed to combat the bleak Irish weather, and it comes in handy. We start early the next day under a heavy grey sky that clings to the hilltops like a wet sheet. Condon Castle, in Moorepark, also known as Cloghleagh Castle, is a simple stone fortress that rises seven stories above a low motte overlooking what was once the main Cork-Dublin road. It has rounded corners, to mitigate cannonball damage, a perpendicular assortment of narrow shot windows and a spacious murder hole, used to shower invaders with molten lead, arrows and large rocks. Come for the ancestry, stay for the castle vernacular: A belfry is a tall tower on wheels used to fire over walls during a siege; an oubliette is a dungeon reached by a trap door; and, before it meant unrequited love, a forlorn hope was a feudal-era military term for the luckless vanguard whose job it was to storm a kill zone. To "muster a forlorn hope," then, meant to assemble a suicide squad; a murder hole is where they went to die.
Dad and I are newly familiar with such morbid terminology. Condon Castle, according to Moloney's report, was a notoriously bloody address in the 17th century. In 1643, a massacre there—38 men, women and children executed when a pillaging force of over 1,400 Royalists overran the castle—kicked off the Battle of Cloghleagh, an early Confederate Irish victory in the Eleven Years War. It wasn't to last, and when the Protestants under English King Charles I finally prevailed and the Catholic landowning aristocracy found itself stripped of everything but its Catholicism, it marked the beginning of the end of Condon Castle—for the Condons, at least.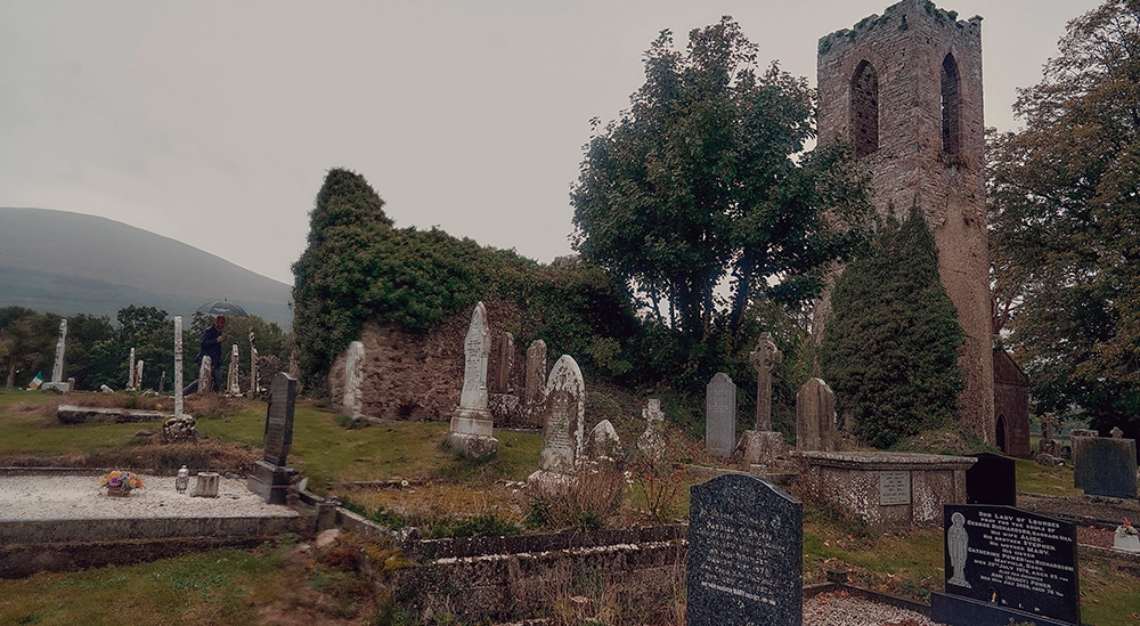 The rest of the day dad and I spend ducking into cold, empty churches and hunching in the rain trying to read nubby gravestones that jut from the ground like old teeth. We walk the narrow, stone-walled lanes of Fermoy and Ballylooby, but no matter where we look, we don't see our name. In Ballyporeen we stop at a small church that has seen Condon baptisms, weddings and funerals going back generations; the headstones mostly read O'Brien and Power. Around the corner, we finally stumble onto a small graveyard, tucked behind a closed mini market with a Buddha in the window, that has a Condon marker.
The only other living person in the plot, a man with a white mane of hair and a starburst nose, corners me and starts pointing to gravestones, recounting their stories one by one: the local teacher who, everyone knows, died of heartbreak; a young notary hit by a bus. And who is it that we're looking for now?
"Condon?" Yes. "There was a newspaperman here by name of Condon, but he moved in from the city—not from here originally, you see." I see. "When did you say they left, your family?" The late 1800s. "Ah, well, I suppose no one told you this cemetery was built in 1950, then?" No, actually, we just wandered in and started reading headstones—we're American, you understand, everything looks old to us.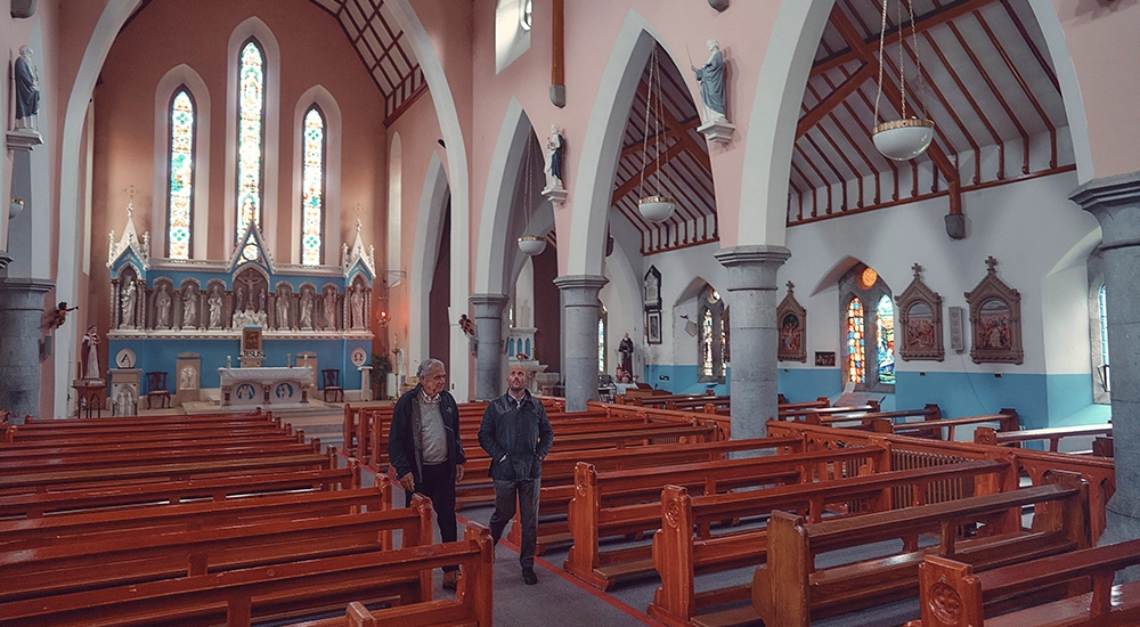 In Shanrahan Cemetery, in Clogheen, we find the grave marker for Father Nicholas Sheehy, a local Catholic priest who was hanged, drawn and quartered in 1766. The brutalisation inspired a number of protest songs and poems, including John Condon's "An Elegy on the Death of Fr Nicholas Sheehy," which opens with the line "Do chuala geoin ag slóite ar thaoibh cnoic" or "I heard a cry among multitudes on a mountainside."
But the multitudes are gone. Everything is closed and empty. In our excitement, we've managed the cardinal sin of strolling into rural European villages on a Sunday, wondering where everyone's gone. What should feel reverent is instead just damp, like walking into a family reunion to find torn streamers and cigarette butts drowned in flat beer.
And, it turns out, the family really did get together and throw a party without us. Scrolling in the drizzle, looking for yet another village church, I discover a recent piece from a local newspaper, the Avondhu: "Condons Sought for Family Gathering." Apparently everyone got together a month ago at the Firgrove Hotel in Mitchelstown and had a fun, celebratory to-do about what a big mercantile deal we used to be along the high street. Now there's a single Condon store left on Lower Cork. It's also closed for the day, dark behind displays of discount school uniforms and gauzy, jewel-toned women's blouses, and no one appears when we knock.
I wake to discover that a forlorn hope of cocktails has breached my skull and axed my brain in the night. Castles are stoney, disagreeable places for a hangover. The geometry is all wrong—disconcertingly high ceilings kaleidoscope in the distance, bed posters sway and lunge at you, and everything is far away and seems too precious to be sick in.
The dead had given us a cold reception, so dad and I decided to hang out with the living instead. In a castle full of stiff, quiet Americans and a contingent of stiffer, quieter Germans, we somehow found ourselves in a late-night drinking session with the only locals in the place.
My final unredacted memory of the evening is our raucous last stand in the castle's wood-panelled cocktail bar, the howling laughter as dad hits the punchline of the story where Punky Benson goes running home crying with a dart in his cheek, just as the cleaning crew's vacuums encroach into view across the threshold.
There are dolmens hidden out here in the jagged ramble and sobbing wind, ancient monoliths built by pre-historic farmers.
The recollection, like all thought and movement, comes at an eye-watering price. But then I step outside and watch as the grey curtain rises on a land of such vivid, heart-wrenching beauty; pale sunlight dazzles across waves of grass, and for a moment the bitter fog evaporates. Revived, we set out for the morning's whiskey tasting.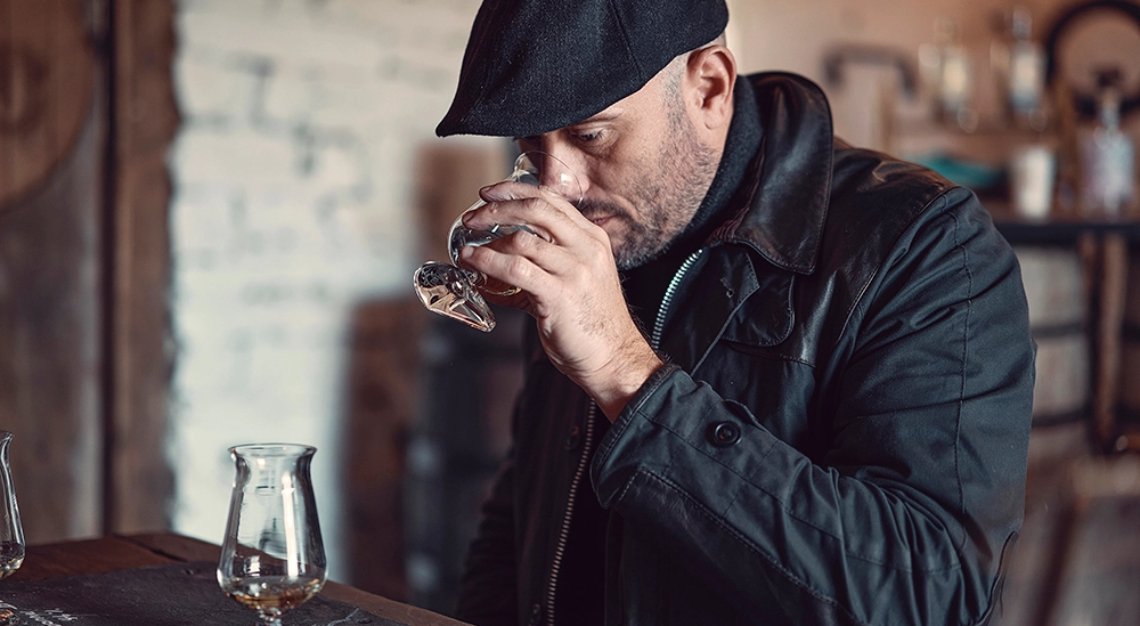 At its heart, whiskey is an agricultural product, subject, as it ages, to the whims and dictates of temperature, pressure and precipitation no different than plums or cured ham. Adventurous distillers from more sedentary climes have now taken to maturation techniques bordering on the surreal, from blasting barrels with Metallica to sending casks around the world exposed on the deck of a ship.
They could have just positioned their rack-houses on the face of a high hill in Cooraclare. In the unpredictable microclimate of Ireland's Wild Atlantic Way, the J. J. Corry warehouse can see wind, rain, chill and hot sun in the course of a single day, and founder and master blender Louise McGuane tends to her product according to the weather, like a farmer's daughter, which she is: The operation is located on her parents' farm. She is also a veteran spirits-industry professional, having done stints at Diageo, Pernod Ricard and Moët Hennessy, and today creates custom blends for clients including New York City cocktail bar the Dead Rabbit, named the top drinking destination in 2016 by the World's 50 Best Bars list.
I record the names scrawled in chalk on the staves—Vanilla Ice, Nutty Cashew, Pure Joy—as dad de-bungs a cask and inhales. In a 400-year-old stone barn, we sip golden drams and taste for the land and the weather: a touch of brine carried in on the ocean breeze; proof heat from a cask warmed by summer sunshine. The unpeated whiskey is sweet, glossy and mineral like a wet stone, and we toast to the country that created it, and to all the products of Ireland.
The Burren. Sprawling square kilometres of immense stone slabs, uncountable tonnes of shale and limestone pulled across the landscape in psychedelic patterns that burst, each spring, into wildflowers. There are dolmens hidden out here in the jagged ramble and sobbing wind, ancient monoliths built by pre-historic farmers. No one quite knows how—imagine trying to arrange several Volvos in a lean-to shape in a time before the wheel—or why. Likely they were burial sites, evidence of that peculiar human imperative to linger beyond death, to tap future generations on the shoulder and say: We were here. Remember us.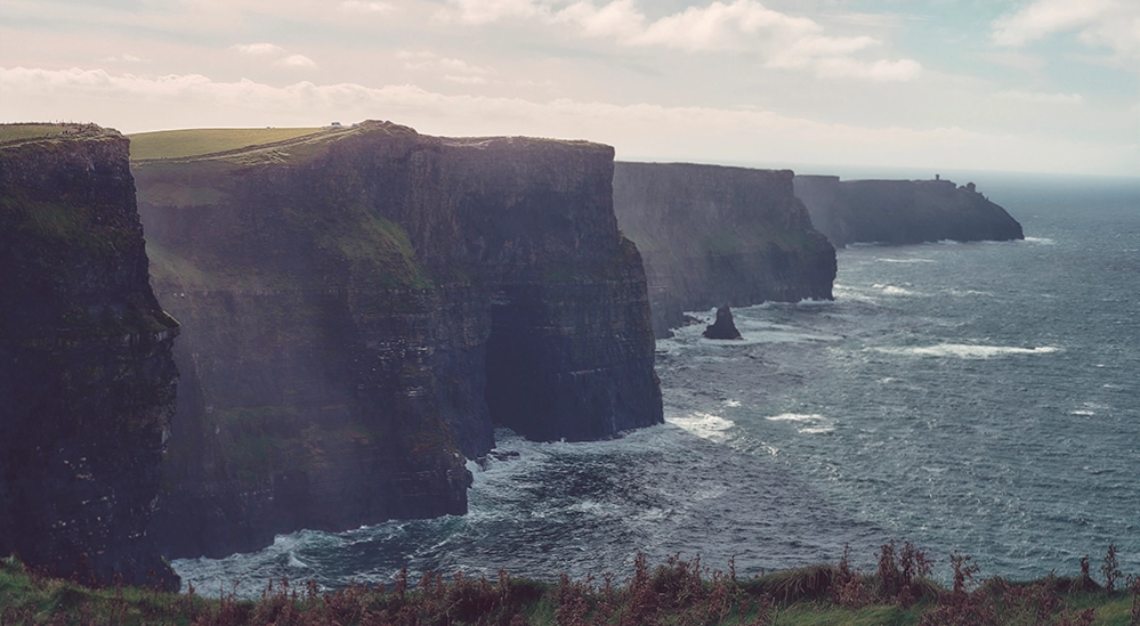 It's all about stories and time. On the Cliffs of Moher, where the wind blasts ocean spray up 200 metres of rock, dad and I look out over the crashing water, to the shades of the Aran Islands in the distance to the north, and beyond them, to the west, across the cold, dark curve of the Atlantic, down past Nova Scotia and along the rocky coast of America, to Massachusetts. It's the same journey faced in 1880 by Catherine Condon, widowed by a horse accident, when she gathered her large family on a boat to America. It's a story that spans 700 years in the Emerald Isles, through war, plague, famine and religious persecution—and through birthday parties and communions, weddings, baptisms and Christmas mornings. An end, and a beginning.
Here, on a clifftop in Ireland in the land of our ancestors, I'm not thinking about the past but the present and the man standing next to me. Everything he's seen, all the stories I still haven't asked him to tell. And I'm thinking of this adventure, a tale we'll soon bring home with us, from Ireland, to America. The family history folding back on itself. Time mostly obscures stories, but sometimes, stories illuminate time.
This article was first published on Robb Report USA