Nadodi whisks diners on a whirlwind tour of a side of South Indian and Sri Lankan cuisines rarely seen in this region
The words 'journey' or 'voyage' are often used to describe tasting menus, but never is this more apt than at Nadodi in downtown Kuala Lumpur. Meaning 'nomad' or 'wanderer', Nadodi pays tribute to the ancestors who settled in Southeast Asia through their migratory influences on Keralan, Tamil Nadu and Northern Sri Lankan cuisines. Ingredients typical of these regions are showcased in unexpected ways. Where else can you find kalpasi (black stone flower spice), koppara (dried coconut kernels), or murungai keerai (moringa or drumstick leaves) expressed as espumas and foams or accompanying sous vide-style meats in degustation menus?
Consider, for example, the Pesarattu Masala Thosiai, part of the trio of starters in the nine-course Magnolia menu. In a single mouthful, this bite-sized green moong cone with potato masala, sambar and chutney encapsulates the intensity of flavour, distinctiveness of texture and sheer imagination in every dish to come. Then, look at its partner: Corn Fritters Pie Tee, starring white corn fritters seasoned with tamarind and finished with yoghurt mousse and pomegranate seeds, heaped like ikura atop the delicate tart. Paired with crisp Piper-Heidsieck, the fluid swing from warm and spice-forward to cool and creamy starters exhibit Nadodi's wide range and dexterity in upending expectations to keep diners on their toes.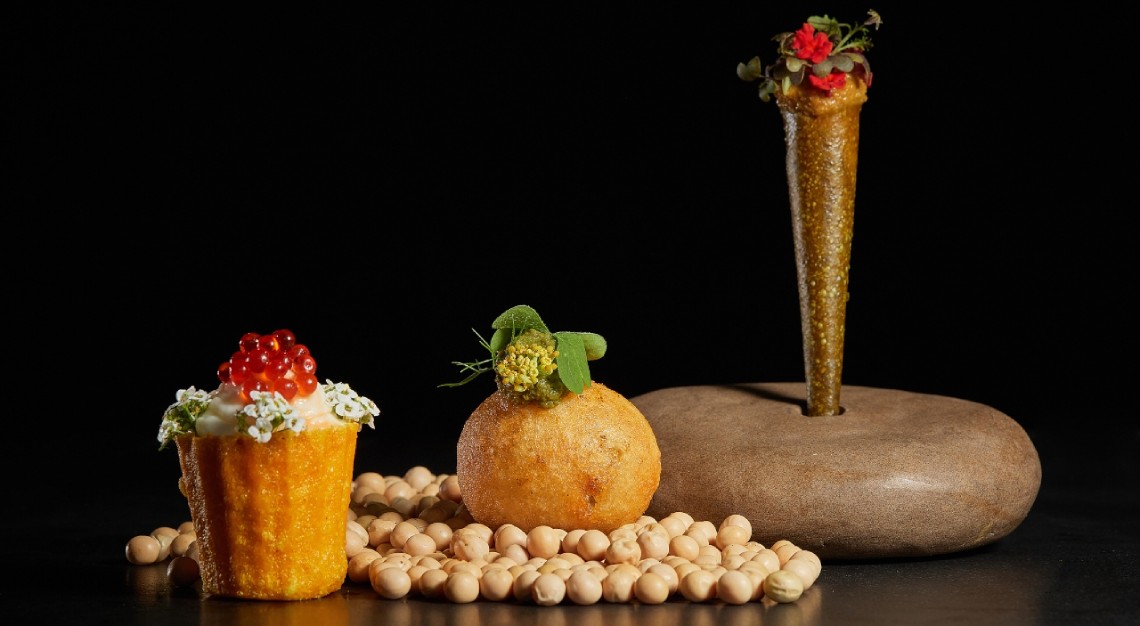 Our recommendation? Surrender. Give in to the experience. Soak in the attentive service, the unerring wine pairings, and the unpredictability of this culinary parade. After all, could you have imagined that the enigmatically titled Beetroot Opaline refers to a beetroot shell taco and patty seasoned with spices and packed with ricotta, chai mousse, and sini (onion) sambal?
Or take the ingenuity of the seafood entrees. Squid Game sees skewered hotaru ika (firefly squid) presented on a grill, its heavy smoke, pungent curry leaf and garlic glaze gentled by wild red rice bisi bele bhath with carrot puree, koppara and the cool crunch of cucamelon. I Am So Prawny flaunts freshwater king prawn flecked with coriander dust and crowned with Kaluga caviar, served with a zingy sweet-and-sour ambarella espuma. In a timeless pairing, crisp citrus notes and the acidic finish of Craggy Range Sauvignon Blanc play with the salinity, sweetness and piquancy of the dish's components.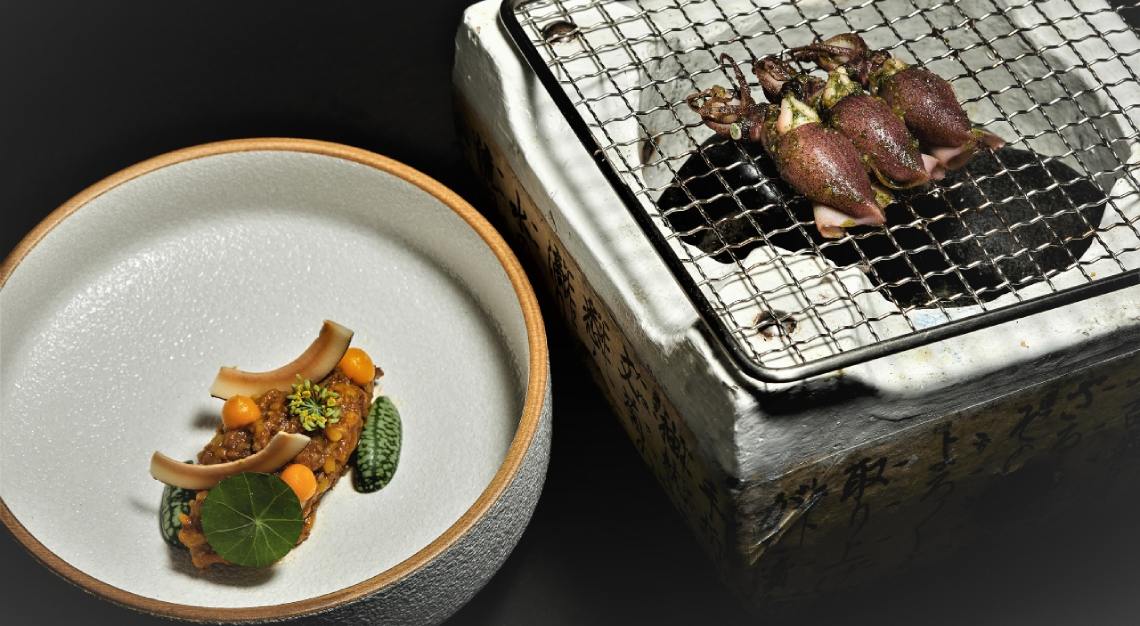 There's something for every inclination here. Crab? Check. The cheeky Cut the Crab layers lobster claw salad, a tangy fermented idli-like rice cake, and tempered crab meat, dressed with fiery sea crab curry and droplets of moringa oil, for an intriguing medley of textures. Fish? The namesake Japanese black cod in the Codsome is firm and flaky, but it is the rasam it swims in that steals the show. This Nadodi signature is a punchy dashi-based broth that owes its natural sourness not to tamarind, but to oven-roasted and first-pressed momotaro, heirloom and beefsteak tomatoes, freckled with puffed quinoa to mimic the bite of mustard seeds.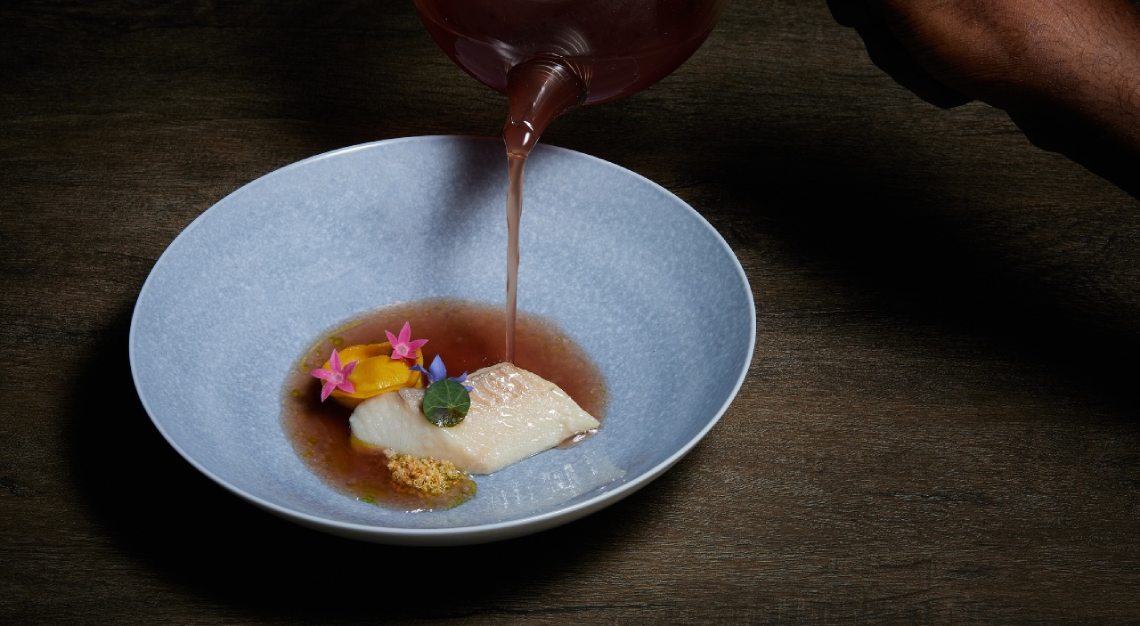 Red meats are represented in the Koji-Aged Duck and Pyrenees Lamb. The first is served with a Malabar duck mappas curry thickened with earthy black stone flour, best mopped up with honeyed and seeded bread; while the sous-vide lamb—not even a whiff of gaminess evident—features a spice-laden Chettinad pepper sauce and root vegetables.
Save room for dessert, even if you typically snub this course. Murukku and Chai will revolutionise the way you view Indian desserts, with none of the cloying sugariness typically associated with them. This favourite teatime combo is reinterpreted as a divine murukku mousse with carom seed butter cookies and ginger ganache, served with aromatic chai ice-cream on ginger 'soil'.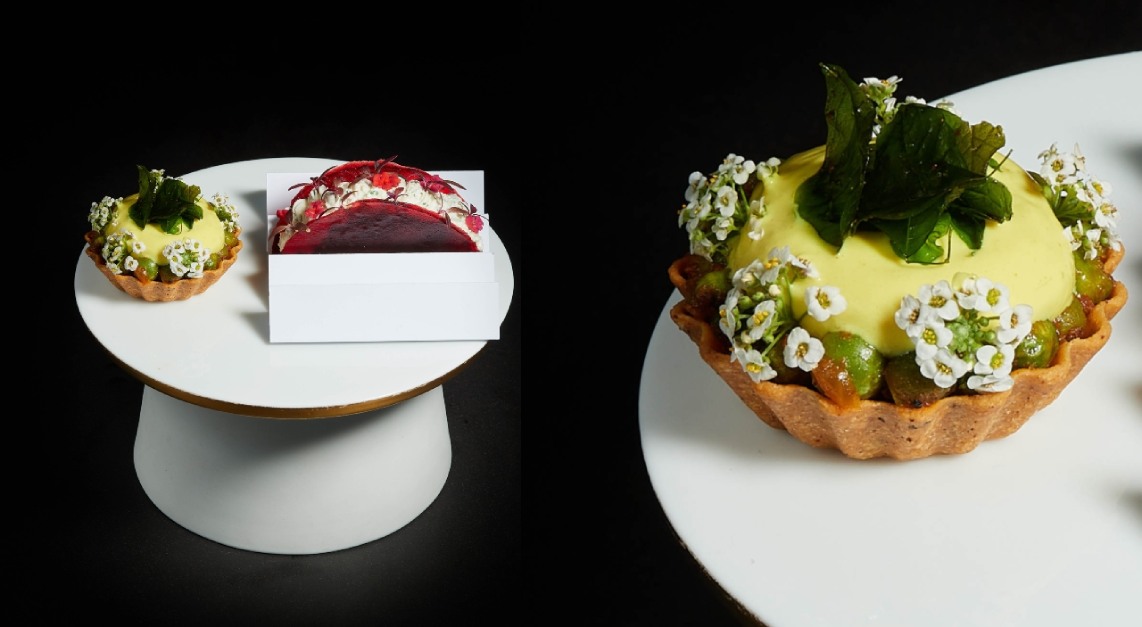 From beginning to end, Nadodi whisks diners on a whirlwind tour of a side of South Indian and Sri Lankan cuisines rarely seen in this region. It's also the first restaurant in Asia to serve this fare in a degustation-only menu. Refined and creative while still remaining true to its roots, the Cinnamon Group's star restaurant has undoubtedly earned its many accolades and place on Asia's 50 Best Restaurants extended list. You would be hard-pressed to find a better dining experience in Kuala Lumpur if you're in the mood to splurge or impress.
The Magnolia menu is priced at RM690++ with wine pairing at an additional RM290++. This story was first published on Robb Report Malaysia