The Royal Caribbean has a new convert
Editor's note: See other Escape Plan stories here.
I was always adamant that I wasn't a "cruise person". My conviction was not to be swayed by the fact that I had never actually been on a cruise before. I knew what I liked, and it wasn't to be stuck on a glorified party boat. Yes, stuck—because there was simply no flattering way to describe a situation where the only way out was to jump to certain (salty and very wet) death.
If I had to traverse seas, I preferred the idea of chartering a sailboat, yacht, or catamaran. I'd have the whole vessel to myself, save for a small crew and a private chef to cater to my every whim.
But life doesn't like to oblige, so instead, an invitation to experience the largest cruise ship in the world landed in my email. Named Wonder of the Seas, it measures an impressive 362 metres long and has a gross tonnage of 236,857. Forget having an entire ship to myself; with the vessel's maximum guest capacity at 6,988, I would potentially be sharing space with 6,987 people.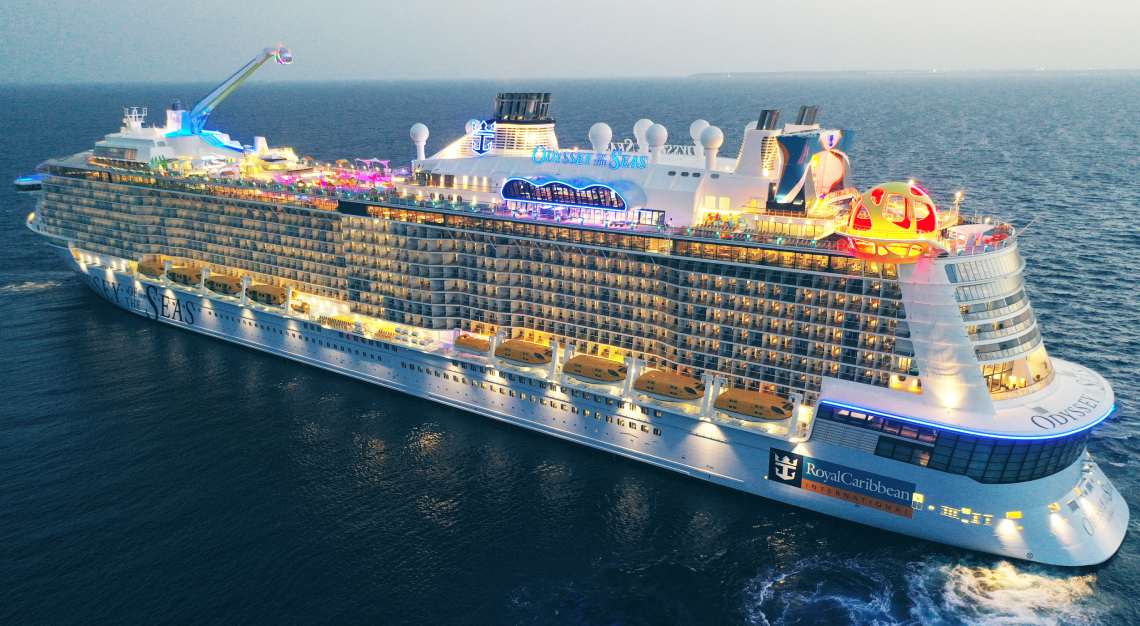 Wonder of the Seas is one of the two newest additions to Royal Caribbean's fleet, with the other being Odyssey of the Seas. My itinerary was to begin with two nights on board the former, and would continue on the latter with a nine-night Greek Isles Cruise.
The Royal Caribbean team had no inkling of the prejudice they had invited on board. But try as I might, I could not find fault in the first impressions presented by Wonder of the Seas.
Right off the bat, I noticed that it didn't take effort to keep a safe distance from the 6,987 strangers I was so reluctant to sail with. That's because the vessel is an Oasis Class design, which is what Royal Caribbean calls the unique layout that divides its larger ships into neighbourhoods. Each neighbourhood serves a different function or caters to a different demographic, so that the guests are never all at the same place, at the same time.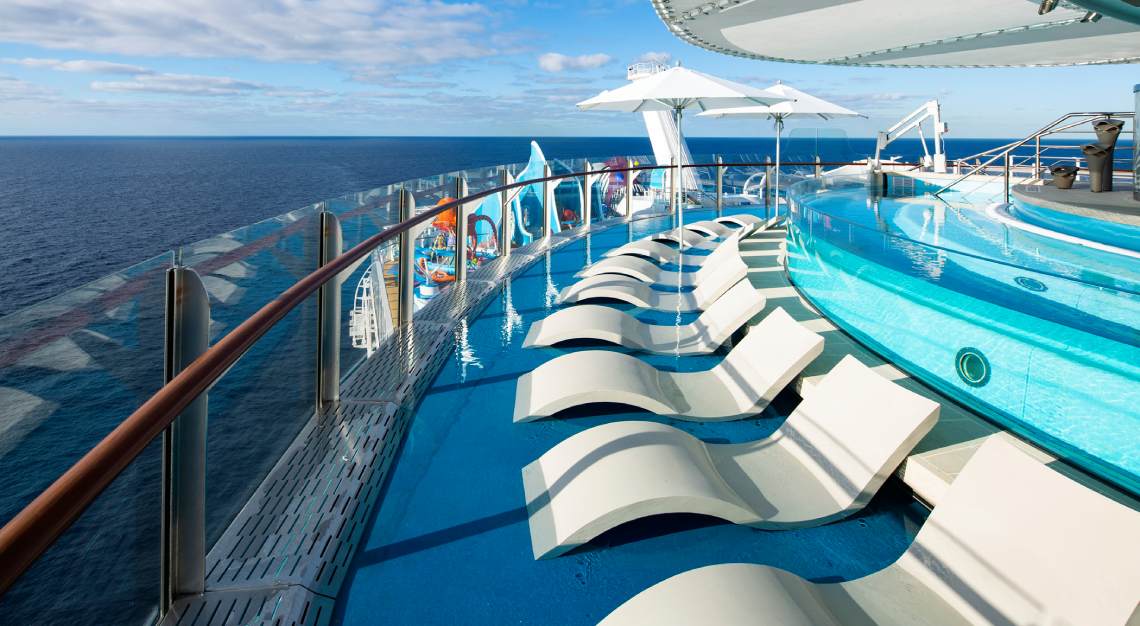 The most exclusive neighbourhood on the ship—and the one that comes closest to the private charter experience that I can't seem to shut up about—is undoubtedly the Suite Neighbourhood. Located on the highest points of Wonder of the Seas on decks 17 and 18, it's a private sanctuary that keeps the suite guests away from the hoi polloi (and vice versa).
Besides the 48 suites, this is also where facilities accessible only to suite guests are located. There's the Suite Lounge, Suite Sun Deck, and Coastal Kitchen. The Suite Sun Deck features a plunge pool, its own bar, and generous views of the ocean. Coastal Kitchen is the private dining room reserved for only suite guests. It has a Mediterranean-inspired menu and an extremely accommodating team who could be convinced to whip up any off-menu dish your heart desires (no promises, though).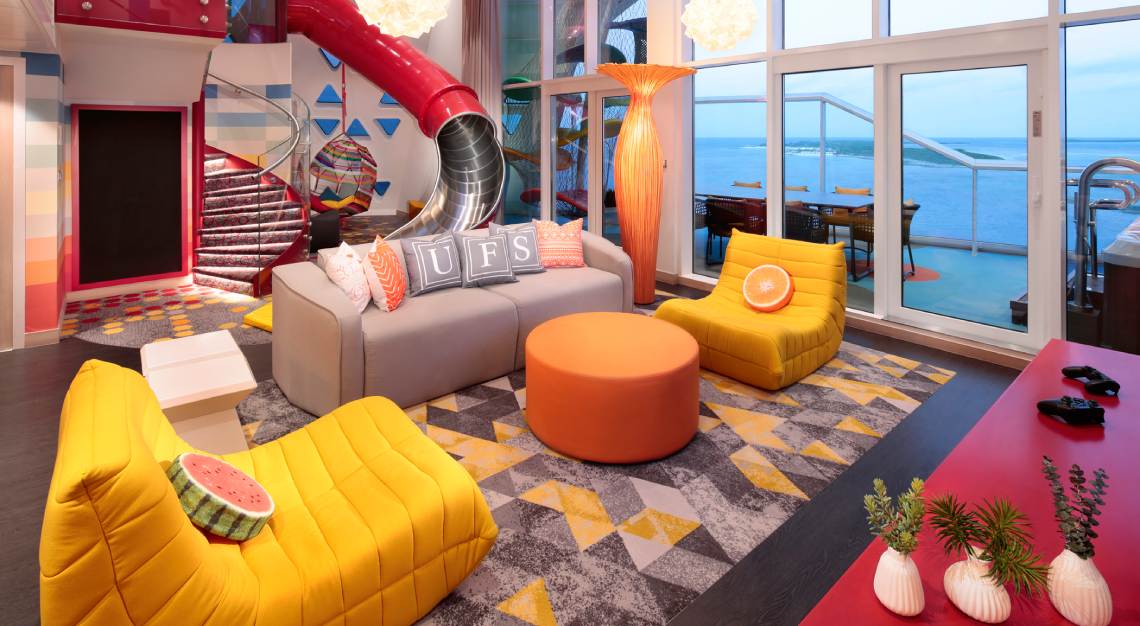 The biggest suite is the Ultimate Family Suite at 105 square metres (125 square metres if the balcony is included). It's a three-bedroom, three-bathroom, two-storey space that can sleep up to 10. It's clearly a suite that puts kids first, and resembles more a kindergarten than a stereotypical hotel room with its bold colour palette of reds, oranges, yellows, and blues. Instead of walking down the stairs, the kids can opt to take the slide that connects their bedroom on the second floor to the living room below. The suite also boasts a cinema room, an air hockey table, a table tennis table, and a jacuzzi.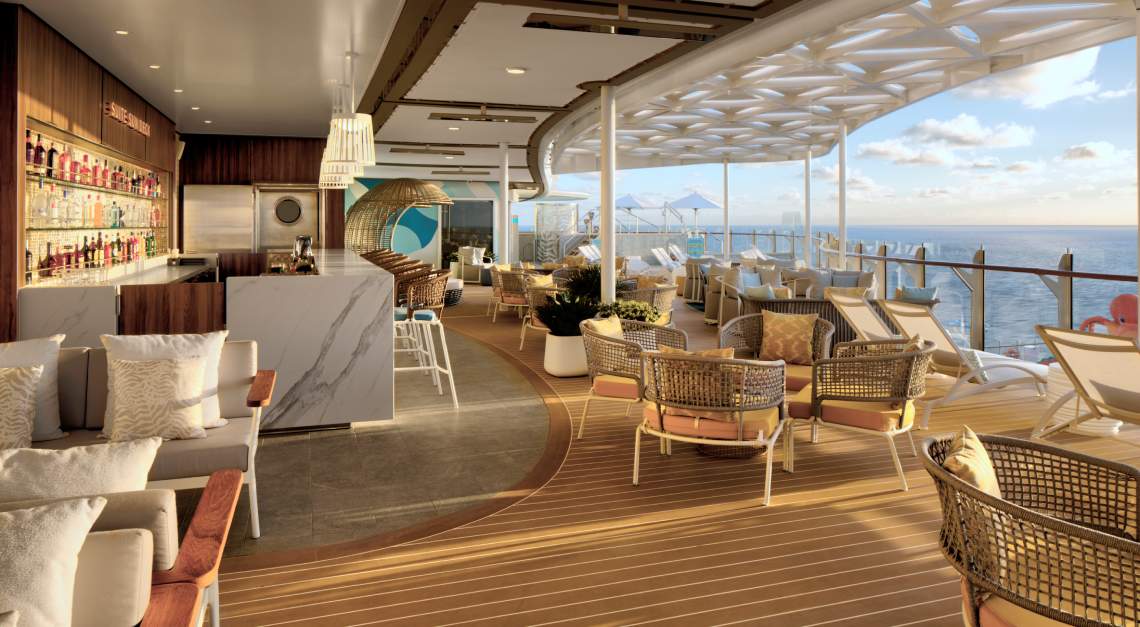 Now, about the imaginary small crew on my imaginary private charter that would cater to my every whim: Royal Caribbean has an answer to that in the form of a dedicated Royal Genie (private butler in plain English) for every suite. This is the person to go to for front row seats at shows, having your coffee delivered to you at the same time every morning (there's a Starbucks on board), and any unusual requests that may crop up.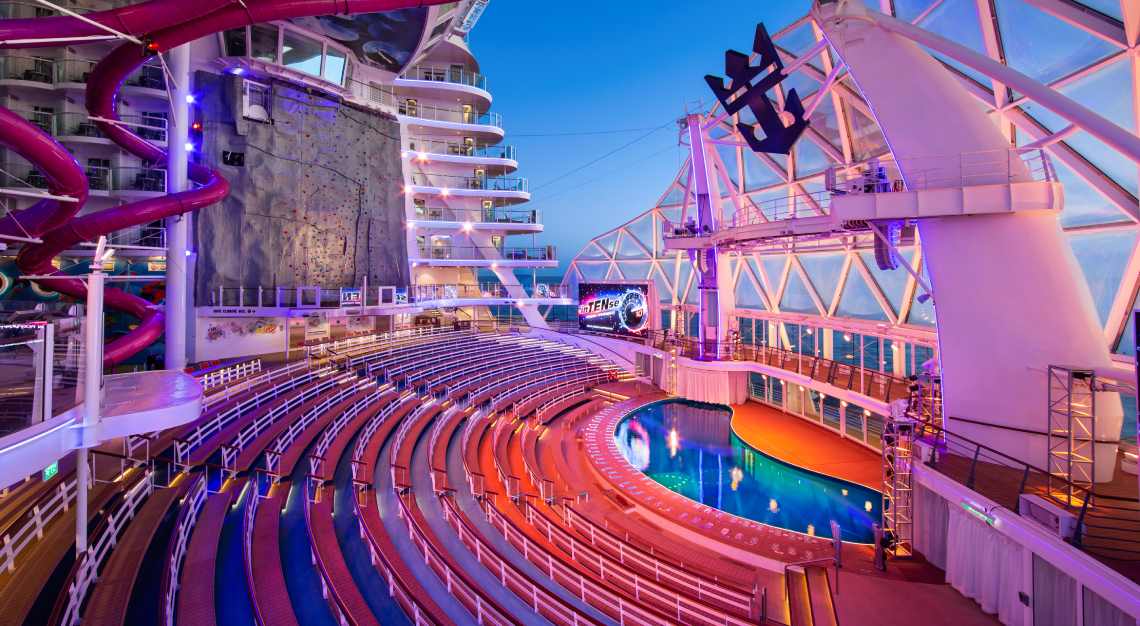 Two nights on board certainly wasn't enough to fully explore a ship as big as Wonder of the Seas. I managed only two dinners at Japanese restaurant Izumi (expect American-style sushi and you would not be disappointed) and steakhouse 150 Central Park (textbook perfect cook on the meats).
Royal Caribbean prides itself on its entertainment, but I found time for only one show, a headlining production called Intense. It started out looking like it was going to be a synchronised swimming routine but quickly ramped up into a thoroughly enjoyable 50-minute mash-up of high diving, slacklining, and aerial acrobatics, all done over water at the AquaTheatre.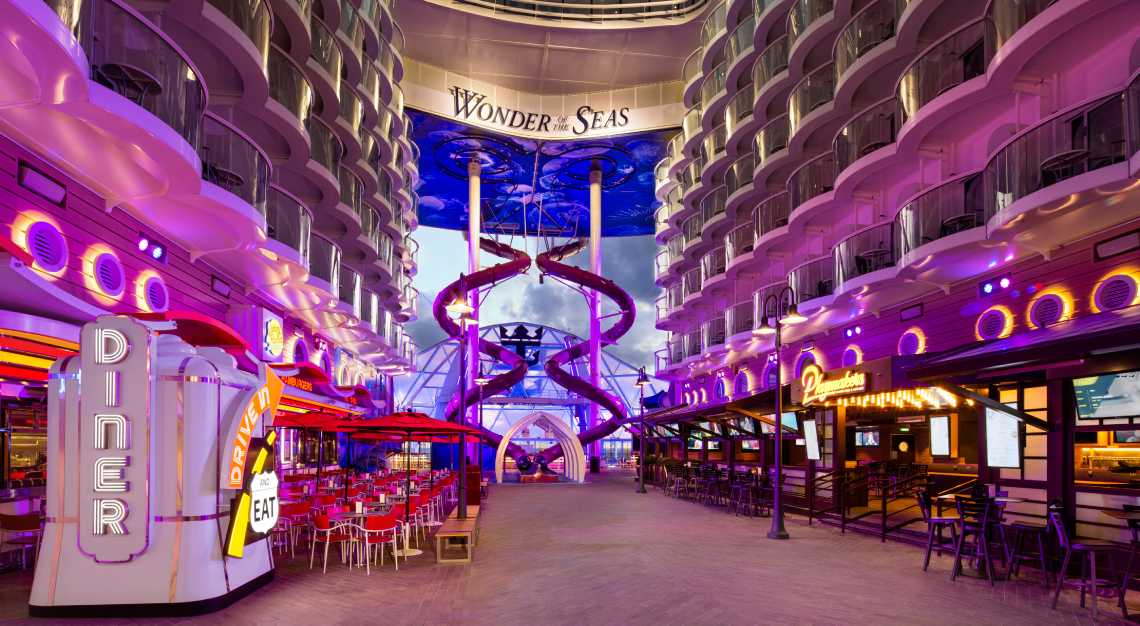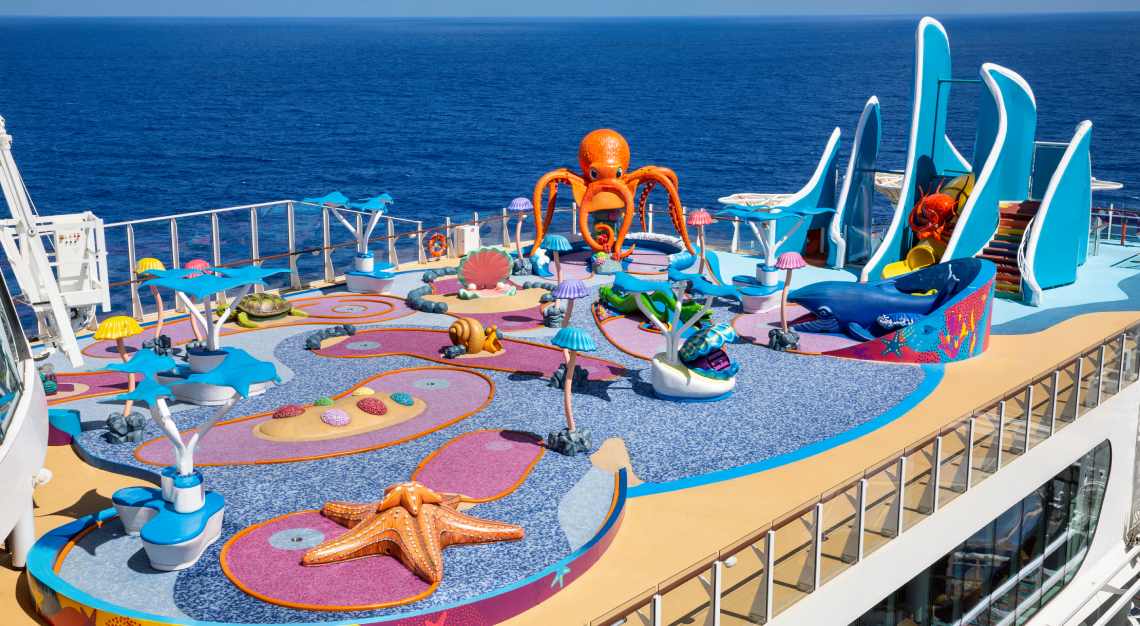 Decks 15 and 16, where the main pool and several activity areas are, are where the fun is at. Here is where you'd find the FlowRider surf simulator, the zip line, mini golf course Wonder Dunes, and Ultimate Abyss, a 10-storey slide touted to be the longest at sea. It's a veritable wonderland for kids, too, with Wonder Playscape, the playground; Splashaway Bay, the water park; and the Perfect Storm waterslides. Frankly, to my judgemental adult eyes, the colourful plastic structures in these areas looked a tad tacky, but their below-12 clientele didn't seem to mind.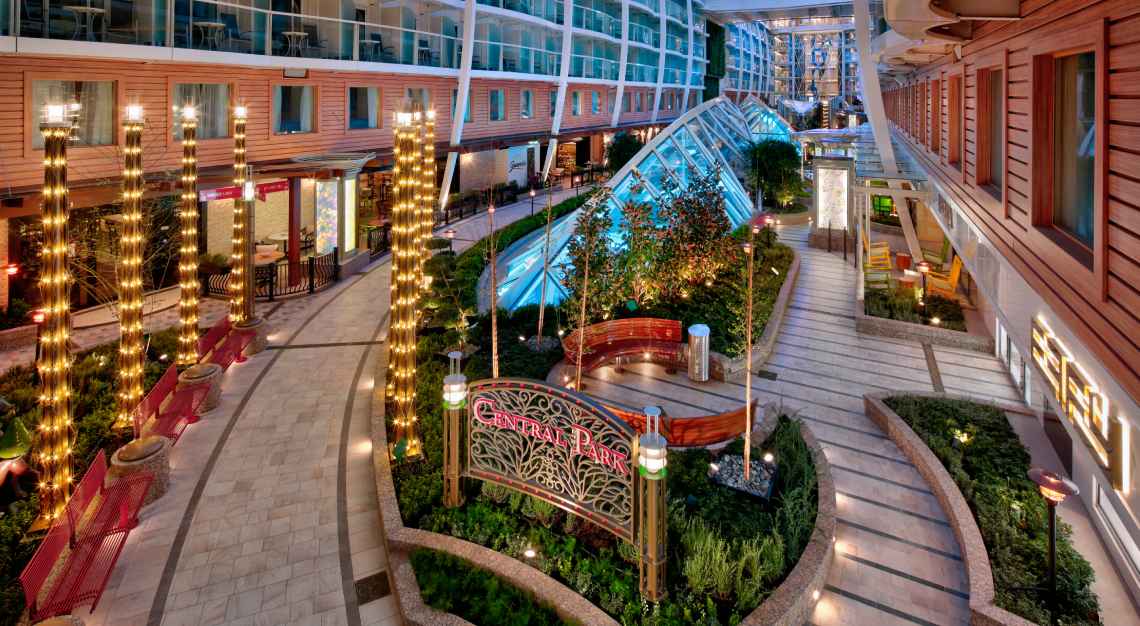 Central Park, on deck eight, was much more my cup of tea. As its name indicates, it is a garden of sorts, with benches strategically placed around manicured greenery. Bordered by shops and the alfresco seating areas of speciality restaurants and bars, it makes for a very nice stroll and window shopping experience.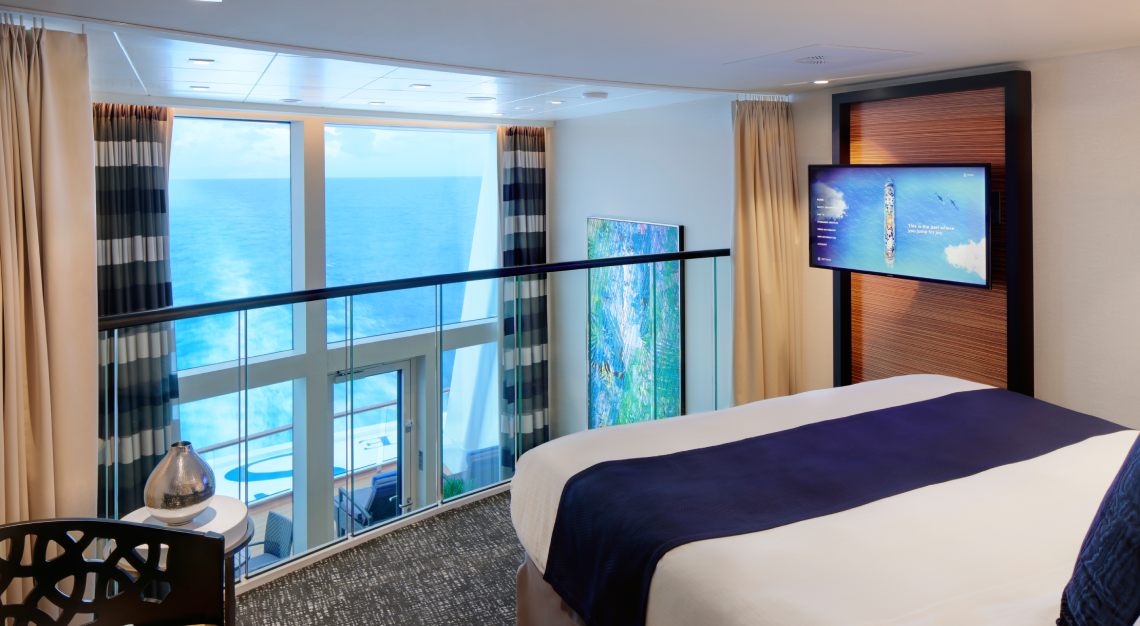 What I did not have time to experience on Wonder of the Seas, nine nights on Odyssey of the Seas more than made up for. The ship shares quite a few similarities with Wonder of the Seas, mainly in the dining concepts and the fact that it, too, has a Suite Neighbourhood. It's a slightly smaller vessel measuring 347 metres long with a gross tonnage of 167,704 and 16 decks designed to accommodate 5,510 guests.
The nine-night Greek Isles Cruise took me on a whirlwind tour that started in Civitavecchia in Rome, and continued with port days in Naples in Italy, Santorini in Greece, Kusadasi in Turkey, Mykonos in Greece, and Chania, also in Greece. My advice would be to use the cruise as a tool for shortlisting destinations you may want to explore in-depth at a later date via conventional overland travel—with eight to nine hours being the average duration we spent at each port, there was seldom enough time for a proper exploration of any of the destinations. The pace was a little more hurricane than whirlwind at times.
I did, however, appreciate the convenience of never having to pack up and unpack every time we headed to a new destination; the ship was a hotel that moved with me.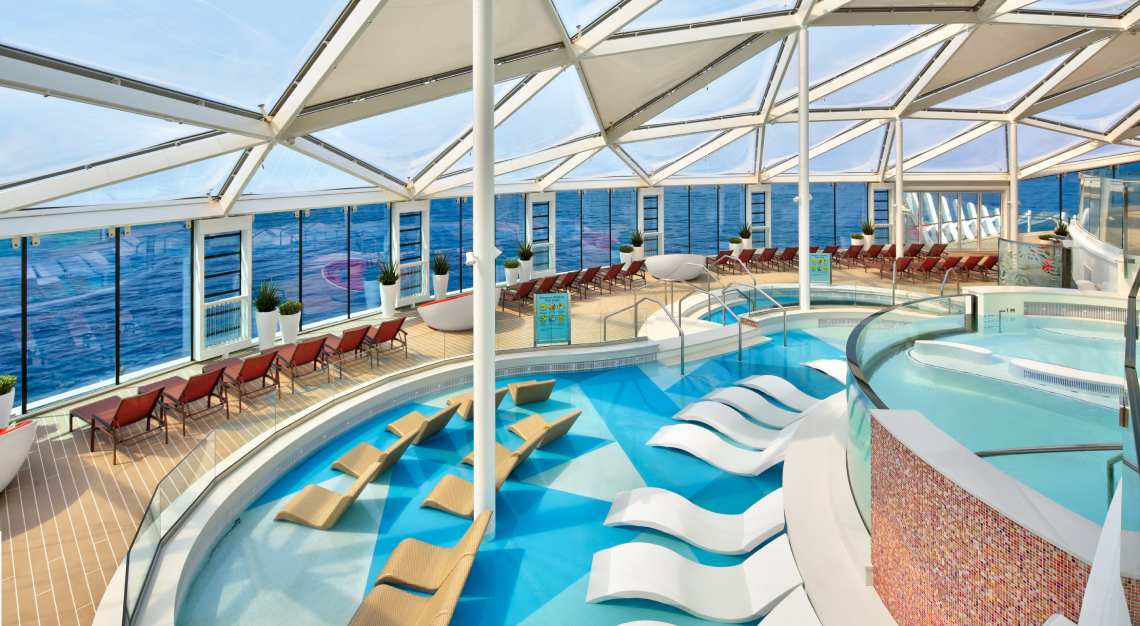 Sailing days (when the ship didn't moor) was simply euphemism for lazing days. I slipped a little too quickly and comfortably into my new identity as a regular beached whale at The Solarium on deck 14. Also a feature on Wonder of the Seas, it's an adults-only climate-controlled pool area with its own bar and bistro. Climate-controlled in this context means fully glassed-in, akin to a greenhouse—a design I was grateful for, because spring time in Europe wasn't always warm enough and it often got windy out at sea. "Adults-only" implies peace and quiet, which The Solarium delivered.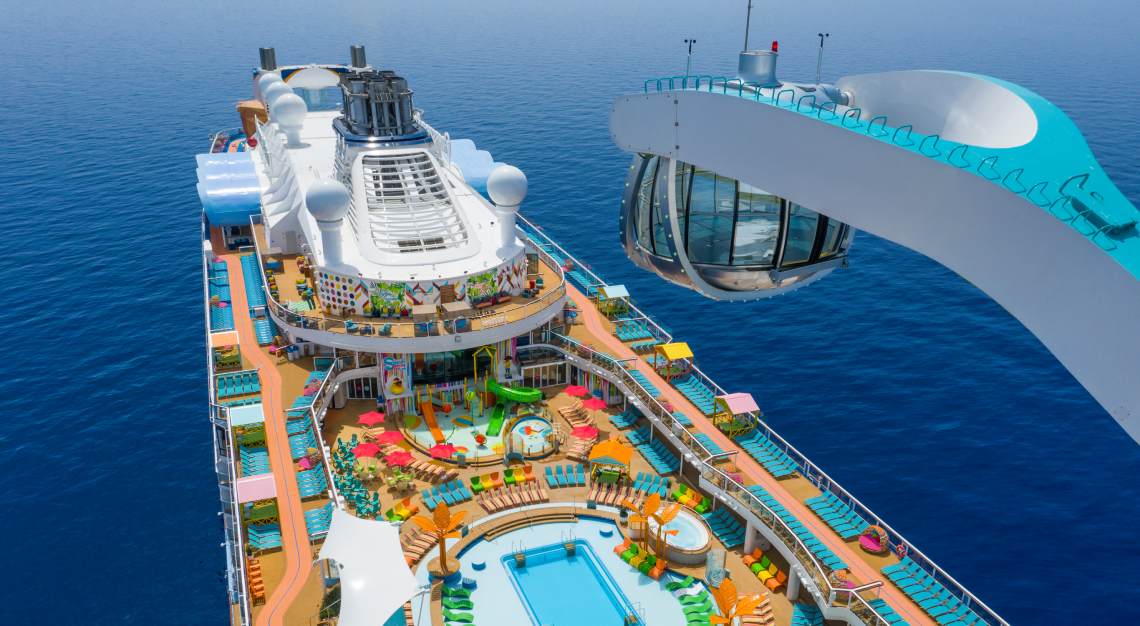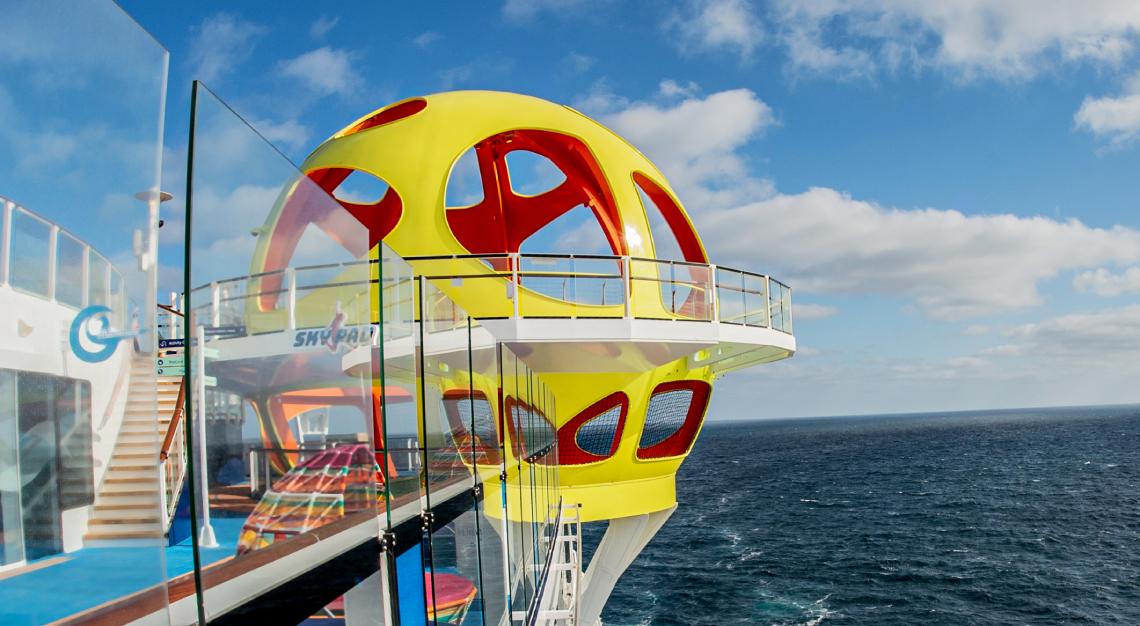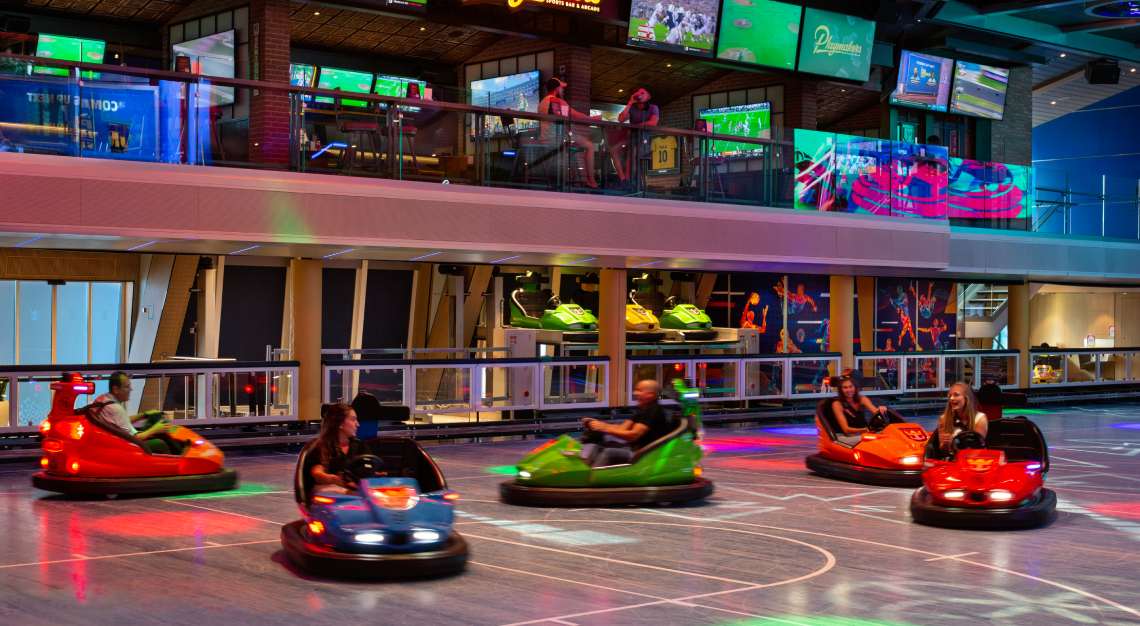 A stand-out facility on Odyssey of the Seas that Wonder of the Seas does not have is North Star, winner of the Guinness World Record for the tallest viewing deck on a cruise ship. Located on the ship's highest point at deck 16, it is essentially a crane arm with a capsule attached at the end that takes its passengers 91 metres above sea level for a bird's eye view of the ocean and the ship. Other must-try activities include the RipCord by iFly skydiving simulator, bumper cars at SeaPlex, and bungee trampolining at Sky Pad.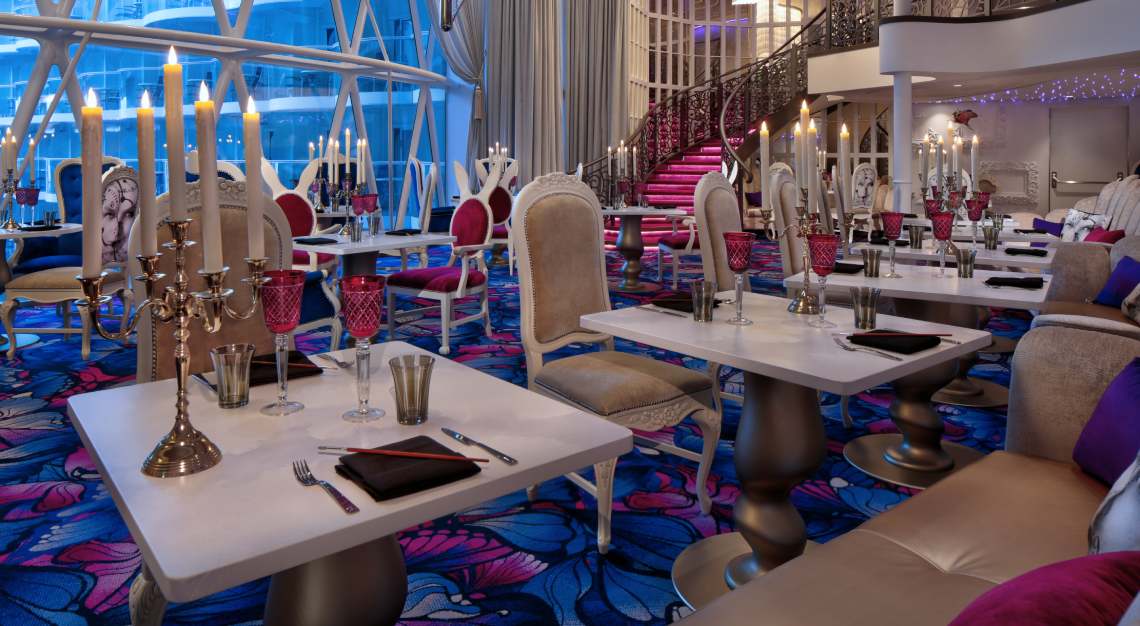 A nine-night voyage meant a lot more time for many more meals. Many dinners were taken in the main dining room, where things were kept interesting with different specials every day. I gave three speciality dining venues a go: Giovanni's Italian Kitchen & Wine Bar (moreish comfort food), Chops Grille steakhouse (textbook perfect cook on the meats, again), and molecular dining restaurant Wonderland (it's not Heston Blumenthal, but a whimsical experience, nonetheless). All three dining concepts are also found on Wonder of the Seas.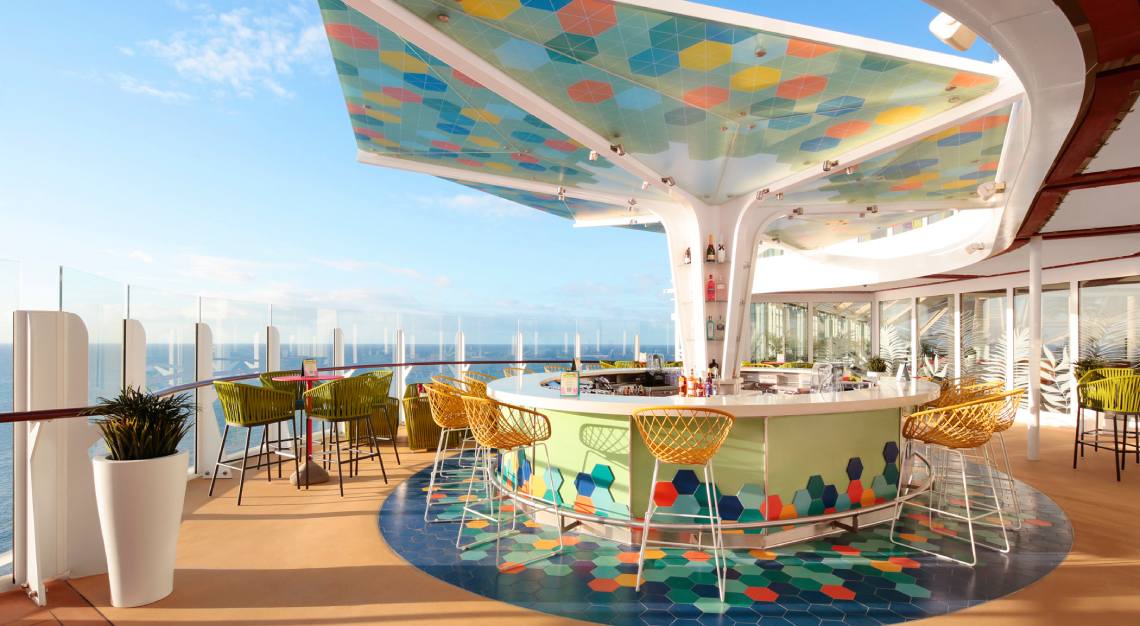 I was under the impression that I was on a journey of the Greek isles, not of self-discovery, so the revelation of how little self-control I really had in the face of unlimited alcohol, which is what you get with the drinks package, was a rude surprise. Both Wonder of the Seas and Odyssey of the Seas have more than 10 bars on board, where the bartender—including the robot manning Bionic Bar—can whip up any concoction the heart desires.
The few nights I didn't spend hours at dinner overeating, or at a bar drinking too much were occupied by shows. The Book takes the audience on a trip around the world through dance, music, aerial acrobatics and digital projections. Showgirl details the history and imagines the future of showgirls through costume changes and dance. In Hector is Magic, illusionist Hector Ruiz commands the stage with his humour and skill.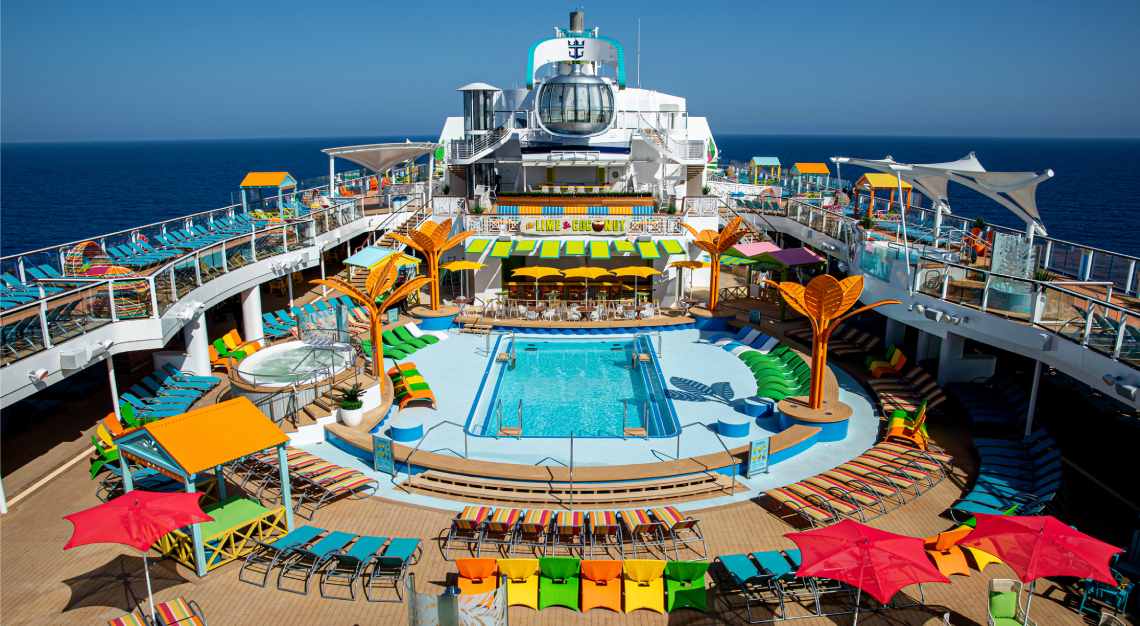 As a fellow journalist invited on the same experience succinctly put it, Royal Caribbean's cruises are buoyant versions of the Las Vegas strip. It's tacky, but that's part of the fun. I still think they are glorified party boats, but I must have gotten a serious case of Stockholm syndrome by the end of the cruise because I no longer thought about the extremely salty escape route.