Spoiler alert. Our Raving Reporter, Andrew Leci, has a few (cynical) things to say about Aladdin the Musical. Enjoy
I remember going to see a stage production of Dirty Dancing a few years back. It may even have been at the MBS Sands Theatre – it was so memorable, I forget. Like me, I suspect that most of the audience members were only there to hear the song Time of My Life, and the fact that it was right at the end of the production kept us all in our seats, probably for longer than we would have liked. It was an anaemic performance of an even more bloodless production.
The song itself, which picked up an Oscar, a Golden Globe and a Grammy, was just about worth waiting for, as is A Whole New World in the current production of Aladdin at the Sands Theatre, which runs until 1 September 2019. Overall, it is shining, shimmering and splendid, as the song says, and it will garner a legion of fans around the world for whom bright, sparkly things are important and delightful.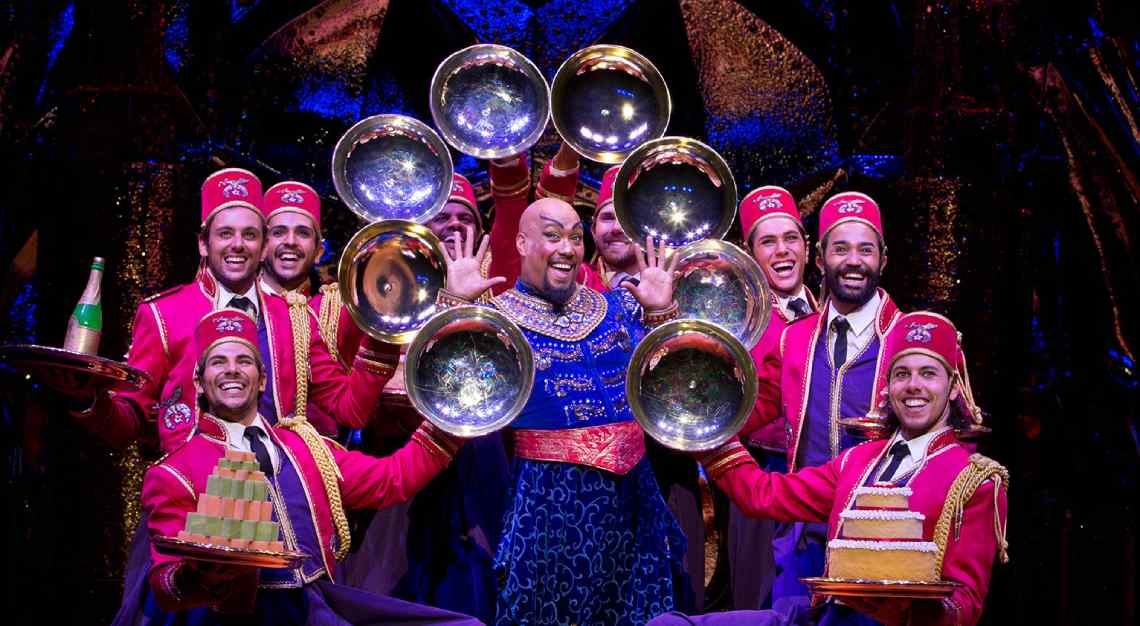 Grant me three wishes
If Genie – redoubtably made manifest by Gareth Jacobs' stage presence and his deft transitions from camp to macho and back again – could grant me three wishes, here's what I would ask for: A better balance in the relationship between Aladdin and Jasmine (she could eat him for breakfast, and probably should have) and more consistency of performance in the acting.
Darren Yap as the Sultan looked uncomfortable throughout (it could have been the splendid, shimmering costume, I suppose) – scarcely capable of overacting his way out of a paper bag, and this had a knock-on effect to the rest of the cast, who struggled to respond in kind, and rightly so.
I'm being harsh, perhaps, but some performances just jar, and Darren's contrasted sharply with Rob Mallet's Kassim – one of Aladdin's three kakis (not seen in the original 1992 cartoon version) who was studiously on point throughout. He was engaging, and a great example of a minor role played to great effect and with consummate professionalism. He was the heart of the corps.
For my final wish, I would have liked the production to be less pandering to the zeitgeist. This probably sounds highfalutin for what is essentially a glorified (albeit shining, shimmering and splendid) pantomime, but let's just go with it.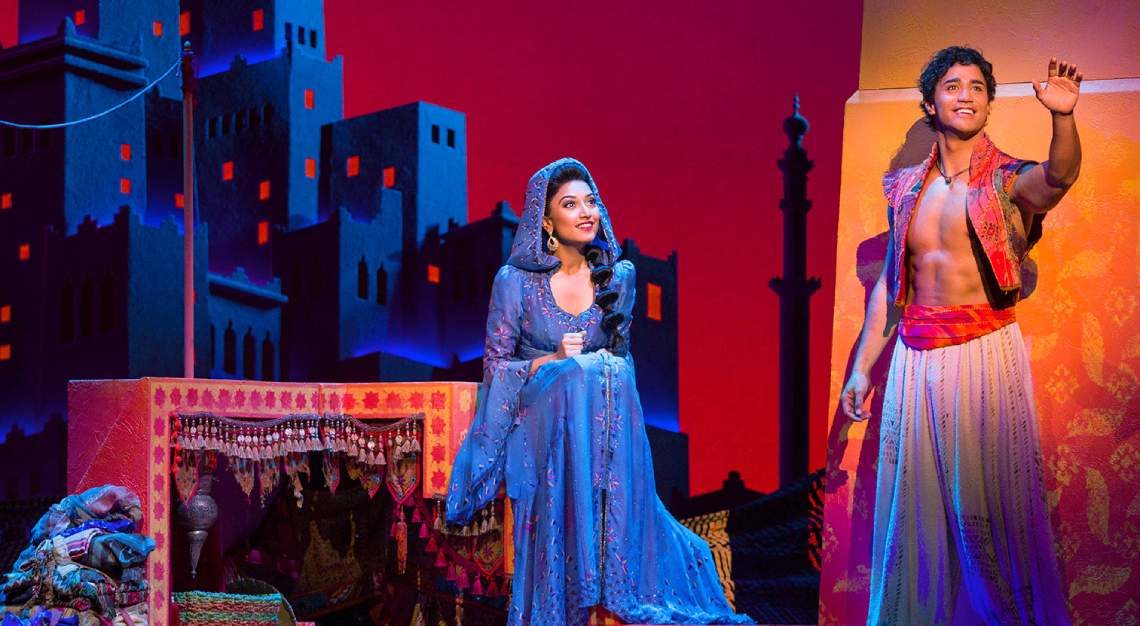 A one-sided relationship
Jasmine is a strong, independent woman, and the first 'Disney princess of colour' when she tooned in 27 years ago. Women's rights have come a way since then, and yet this production, while trying to bring the issue forward – screaming into the second decade of the 21st century – assumes that little has been done in the interim. It creates a relationship between Aladdin and Jasmine that is almost token and a tad one-sided. He's a charming 'street rat' with smarts who gets lucky – but then, character is fate and all that – while she knows exactly what the 'whole new world' will entail, and it won't be with Aladdin wearing the sirwal.
It's all a little too obvious, with Shubshri Kandiah hitting her marks and notes with an empowering conviction that Graeme Isaako's Aladdin seemed to be marvelling at… during the performance. Their rendition of A Whole New World was at a register better suited to her voice than his, deliberate perhaps, and Jasmine stole that particular show, as may have been the intention. Who doesn't want to look forward to a new world in which women take control of their own destinies and aren't forced into marriages with feckless suitors born with silver spoons in their mouths?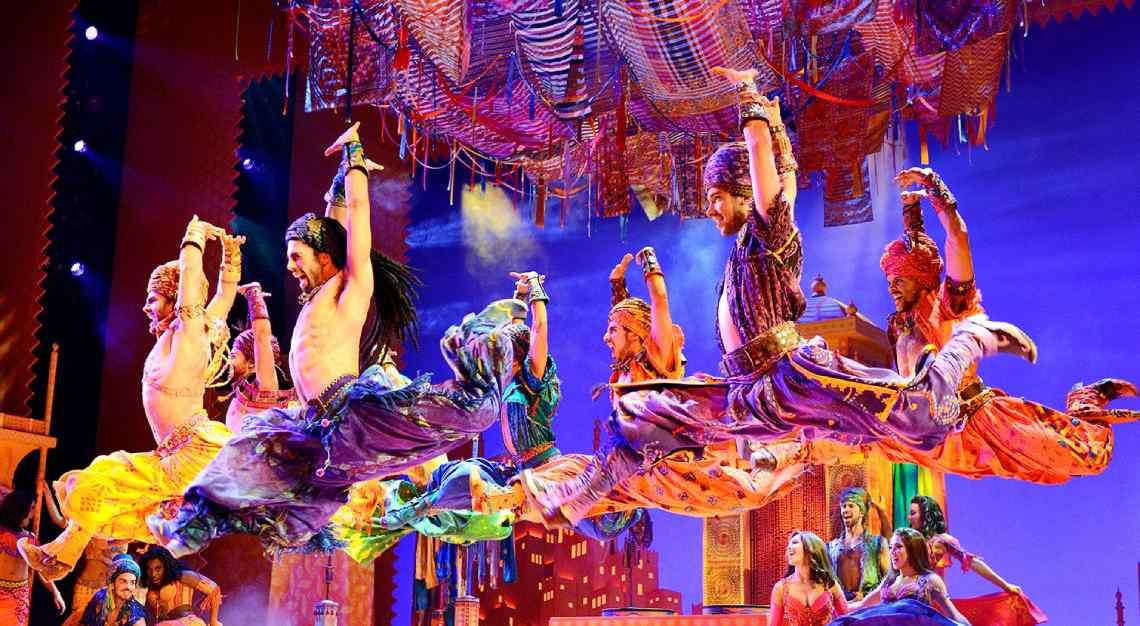 Enough chilli crab
So we get that. We get the diversity inherent in the high-performing cast, and the necessity to localise. There were far too many mentions of chilli crab in the performance (the ushers should have been handing out mantou to better enable the audience to lap them up) because that's how, apparently, as a cast and a company, you get your audience involved, and on your side. Just throw in a couple of local references to a local dish and / or landmark, and gain instant respect by lending respect. This production didn't need that, because it genuinely is shining, shimmering and splendid, with superb sets, technological wonders (how did that mattress actually fly?) and very effective lighting for what is a difficult, grand-scale space.
And there were some commendable performances, especially from Shubshri Kandiah, whose stage presence was compelling and whose understanding of musicality – nothing flashy, just crystal bell clarity – lent her the quality of a siren. The chemistry between the villains – Jafar, played by Patrick R Brown, and Iago, wonderfully brought to a different state of animation by Doron Chester – was excellent, with nary a hair's breadth between cue and uptake in their exchanges. Harsher critics than I may have hoped for a heightened level of malevolence from them – you know, just for a bit of dramatic tension – but this wasn't that kind of show.
In conclusion
Aladdin is, first and foremost, great fun, and I would add, 'for all the family', except that the media kit insists it's more geared towards being enjoyed by the 'young and old'. I struggled with the distinction at first, but I get it now. The show has something for everyone and is an uncompromising visual feast – the technical equipment alone must have been a nightmare to bring in and coordinate, but hey, you get what somebody else pays for.
Unlike this curmudgeonly, cynical reviewer who could pick holes in a string vest, leave your critical eye at home and enjoy the production with the enthusiasm that most of the cast mustered. It's an honour for Singapore to be the final destination for the company's hugely entertaining production of a much-loved series, one that is unlikely to lose its shining, shimmering… I'll leave you readers to fill in the rest.