The Maldivian experience for travellers is given an update for the new decade with Patina's diverse restaurant offerings
Editor's note: See other Escape Plan stories here.
For guests of Patina Maldives, the experience starts as they arrive at Velana International Airport in Male. Friendly porters quickly help them onto the resort speedboat, and a mere 45 minutes later—coupled with dolphin sightings for those in luck—they find themselves on Patina, one of the four parts that make up the Fari Islands archipelago. At this point, all it takes to slip into vacation mode is a warm greeting from the hotel's essentialists: "Welcome to paradise."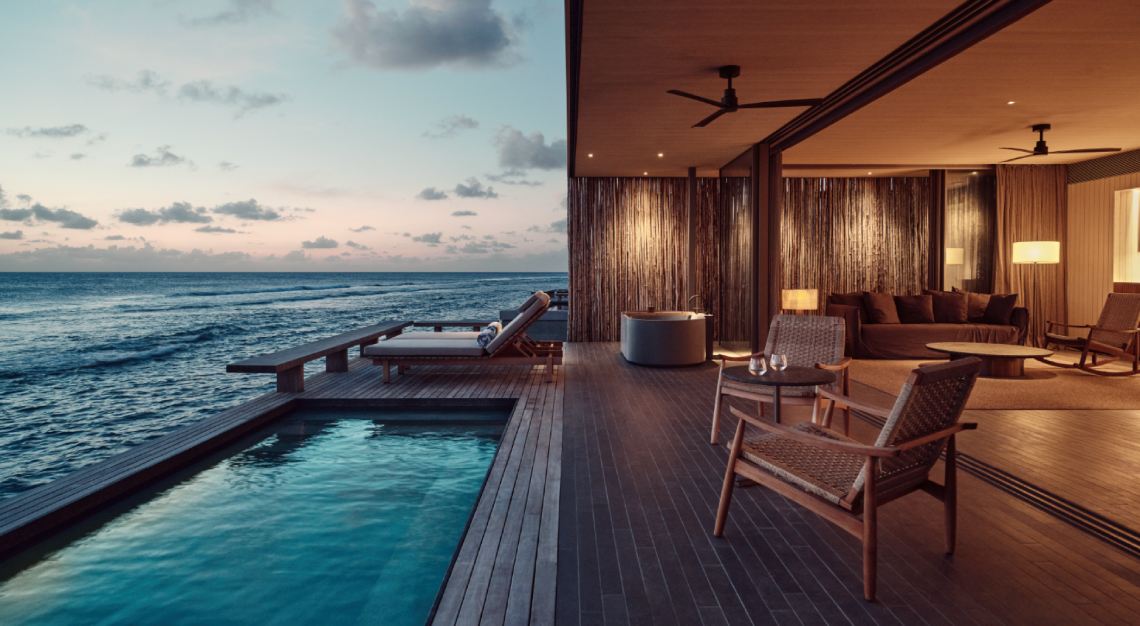 The Maldives has, since the late 1970s, represented a tropical island idyll with its clear aquamarine waters, swaying palms and white sandy beaches. This gave rise to the idea of barefoot luxury—being cast away on an island with endless days of communing with nature, especially the gloriously blue skies that turn into a sea of stars at night.
What has changed in recent times is the idea of getting people to return to the Maldives once they've been through that experience. For luxury real estate developer and hotel owner Pontiac Land, the solution lay in the establishment of Fari Islands, with Patina Maldives as its nexus. Evan Kwee, who is the vice chairman of Capella Hotel Group and head of hospitality and design for Pontiac Land, is an avowed fan of the Maldives, having visited since the 1990s. "My family liked coming here, but we also realised that people now want something more progressive—not just to sit on a beach all day with a book," he says.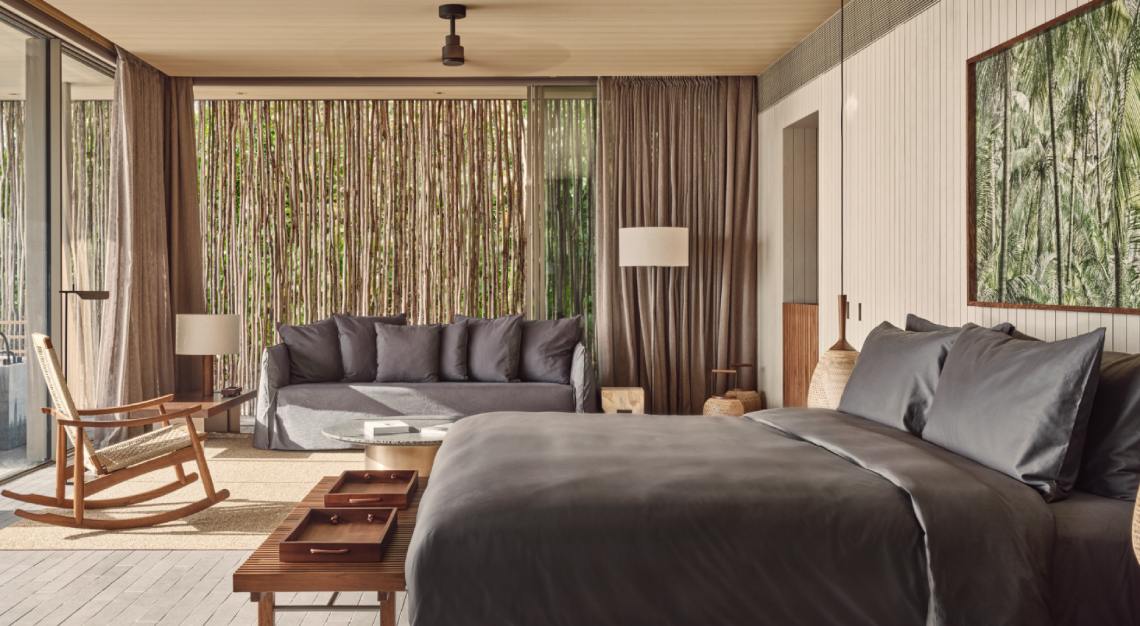 In May 2021, Patina Maldives opened following three years of reclamation and construction, a phenomenally quick time frame due to the use of prefabricated material, which greatly reduced the environmental impact to the natural lagoon in which it sits. In collaboration with Studio MK27, founded by Brazilian architect Marcio Kogan, the biophilic accommodations at Patina Maldives are designed to evoke the feeling of being at a stylish friend's home—with its conscious use of grey Frette bed linen (as opposed to the standard whites), artistic prints on recycled plywood, and architectural cues that open into an endless vista of blue seas and open skies.
In the time since, Patina has also gradually ramped up its F&B offerings, culminating with a dozen restaurant concepts towards the end of last year. This came just in time for the Maldives' traditional peak season, which runs till March, when Patina's 90 villas and 20 Fari Studios see high occupancy rates.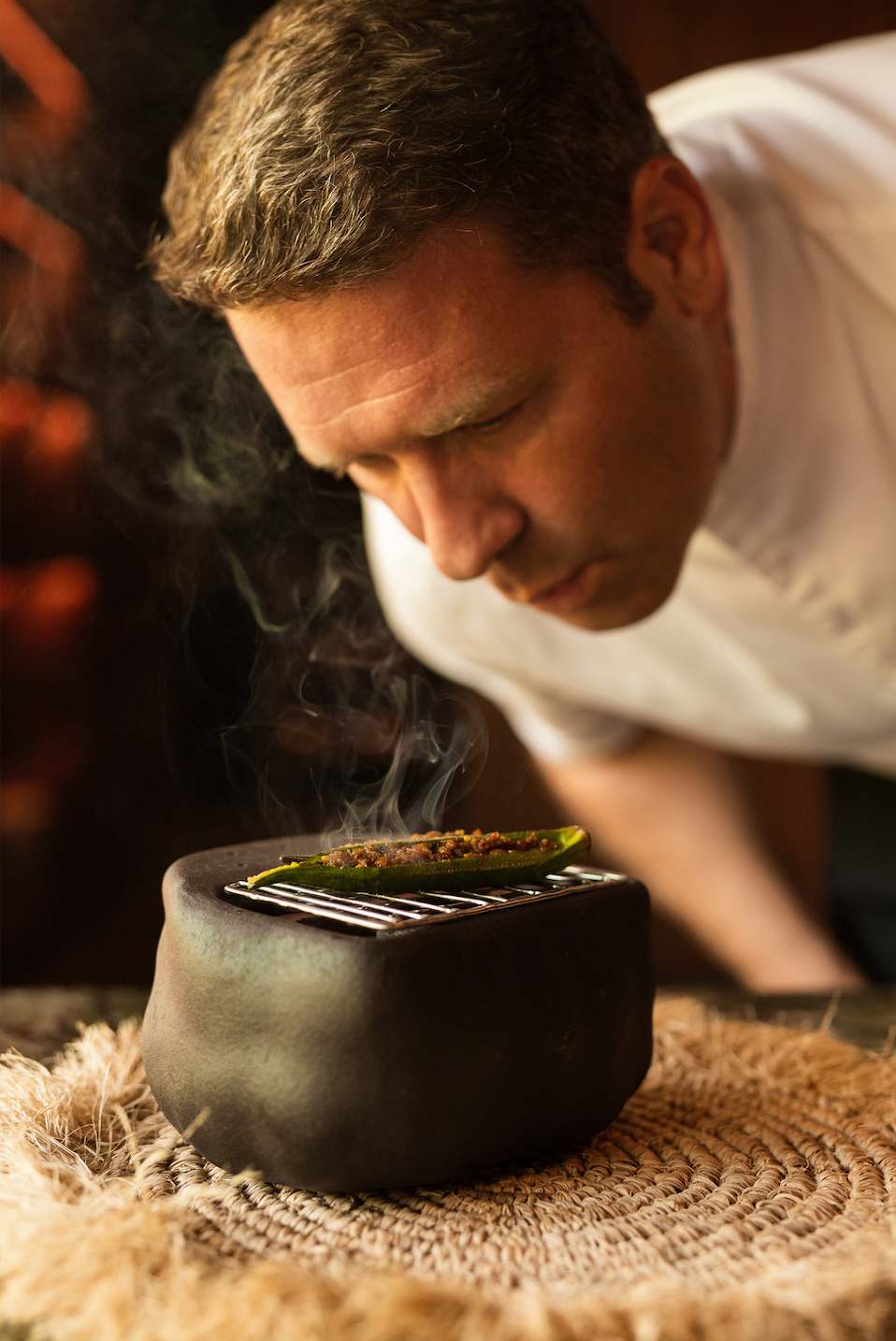 For Patina Maldives' director of culinary John Bakker, the thought process behind these 12 restaurant concepts is that guests can be spread around and have a comfortable dining experience as opposed to the 'default Maldivian buffet'. "When you reach a certain capacity, your outlets are unable to cope," he says. "At Patina, guests have the luxury of choice, so it's important that we make these concepts as distinct as possible."
In the light of the morning sun, where island time is an hour ahead of the Maldives, guests arrive at Portico, the de facto breakfast and all-day dining option, which overlooks the main beach and pool. It is here where one would invariably get their introduction into the fascinating array of dishes which Patina is able to conjure up, starting with Maldivian staples of mas huni (a tuna omelette with onion, grated coconut and local chilli). Breakfast is an extensive affair with the requisite cold cuts, cheeses and pastries seguing into dosas, curry chicken, congee, waffles and ending with cold-drip coffee if you so wish.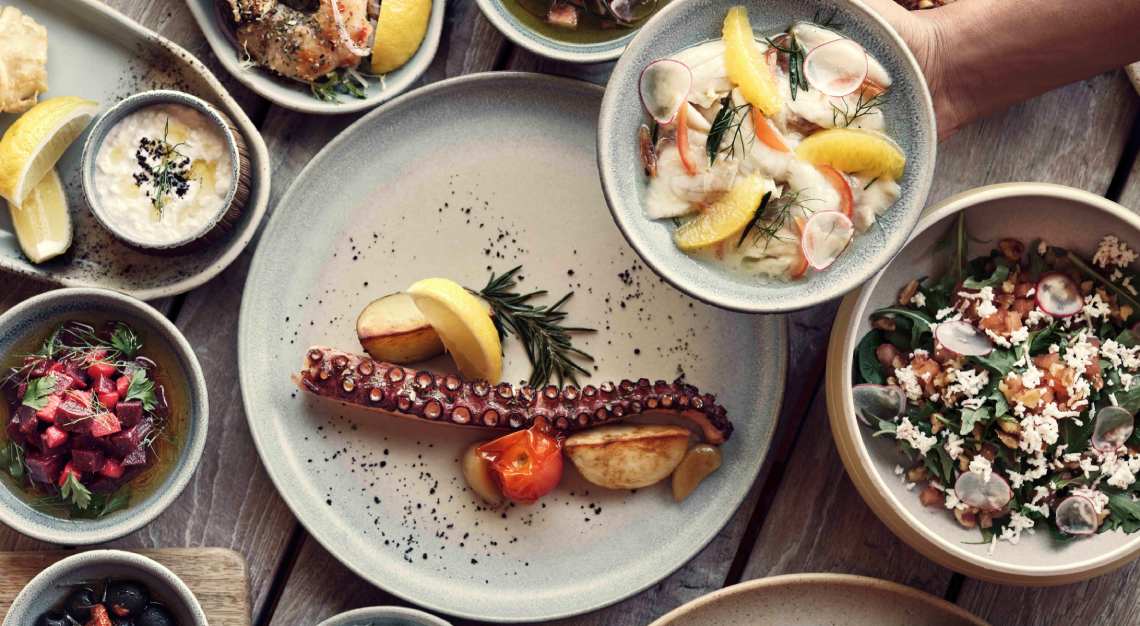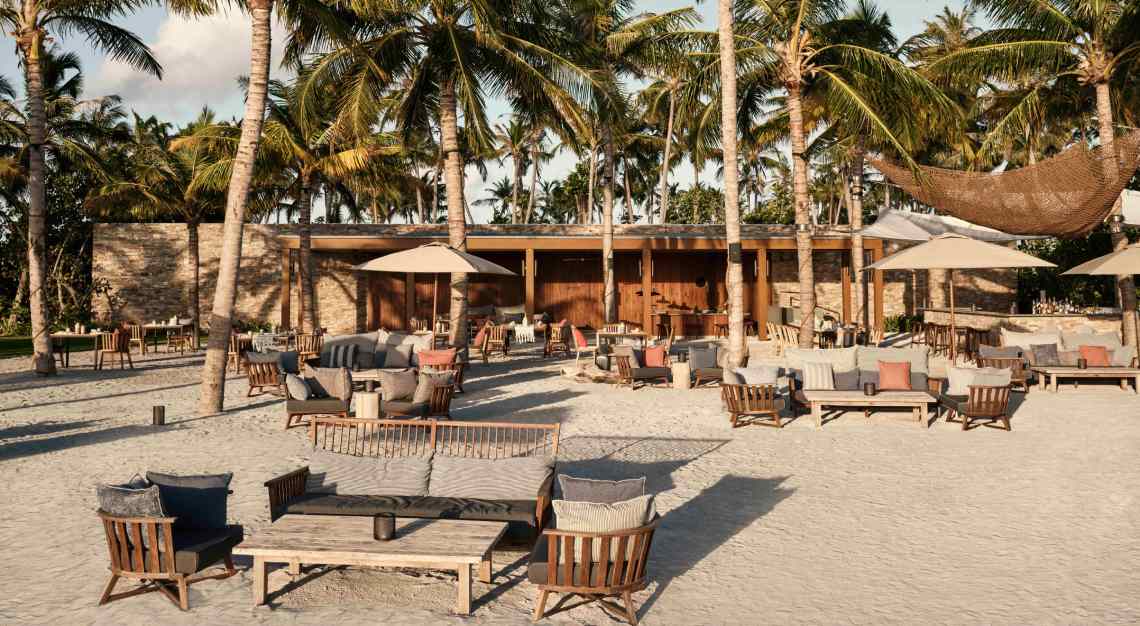 For a change, you could head to the beautiful beach across the island where you'll find  Helios, the resort's Aegean kitchen. The team led by Turkish chef Haluk Centiner puts on an incredible breakfast of fried haloumi, cracked Kalamata olives, menemen (scrambled eggs with diced tomatoes and green peppers) and a selection of cheeses; feta, ezine and the stringed civil peyniri. Most memorable of all is bal kaymak, a delicious dip made of buffalo milk, with the consistency of mascarpone, doused with honey and paired with a selection of delicious pastries.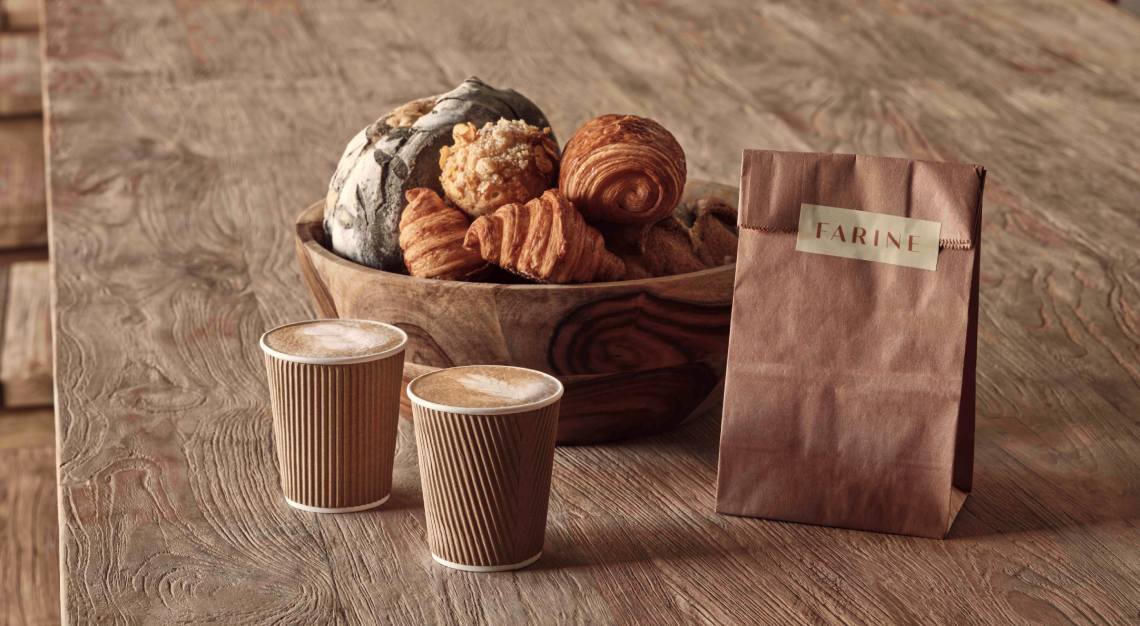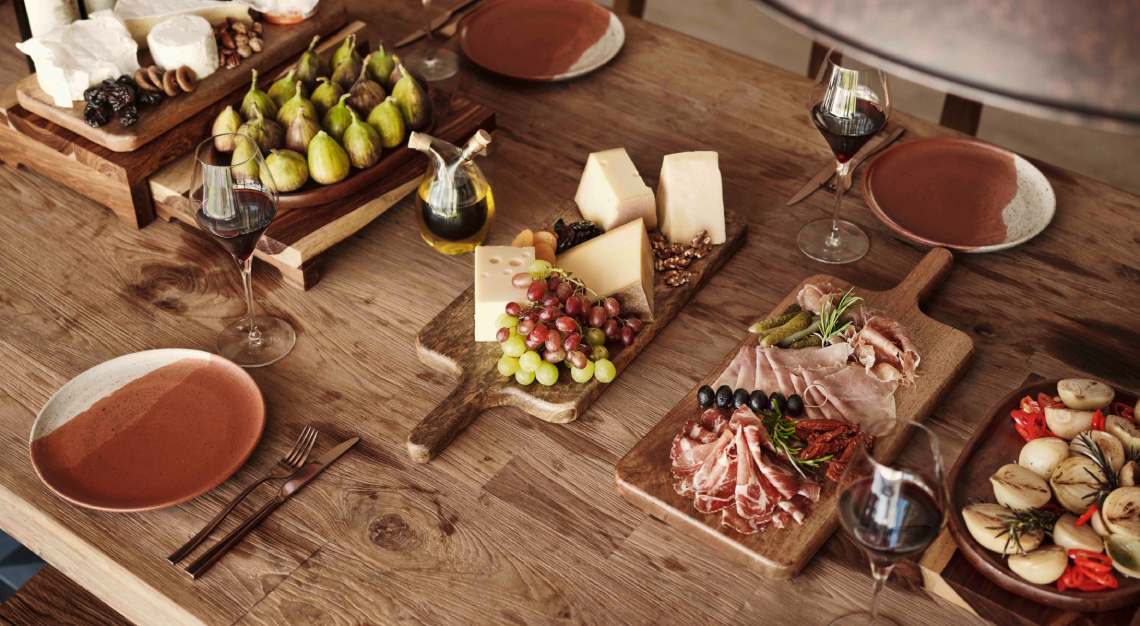 A third alternative to breakfast comes with Farine, a contemporary European bistro where the scent of freshly baked breads welcomes you. Here, the artisanal spirit to its cuisine extends to morning sessions where guests may partake in rolling their own croissant, and enjoy it soon after with an antipasti of cold cuts, cheeses and big breakfasts. In the evenings, the space is transformed to offer Italian-styled cuisine, with an enviable wine cellar on standby.
On a morning expedition to Male, the ebullient Bakker points out the reef fish, amberjacks, red-speckled snappers, trevally and tuna that come into the market fresh off the boats. "Everything here is sashimi-grade," he attests. The Maldivian fishing industry is founded on sustainable methods, using a single bait, line, hook or pole for each fish. For the latter, the fishermen line themselves at the back of the boat, and dip a three-metre-long pole into a school of swimming fish, hoisting it onto the boat. "We get our fish from the fishermen who bring their catch direct to Patina," Bakker says, crediting the local fishermen for supplying 95 per cent of the island's seafood. The remaining off-island ingredients are sourced and accredited by the International Pole and Line Foundation or EarthCheck to ensure best practices in the supply chain.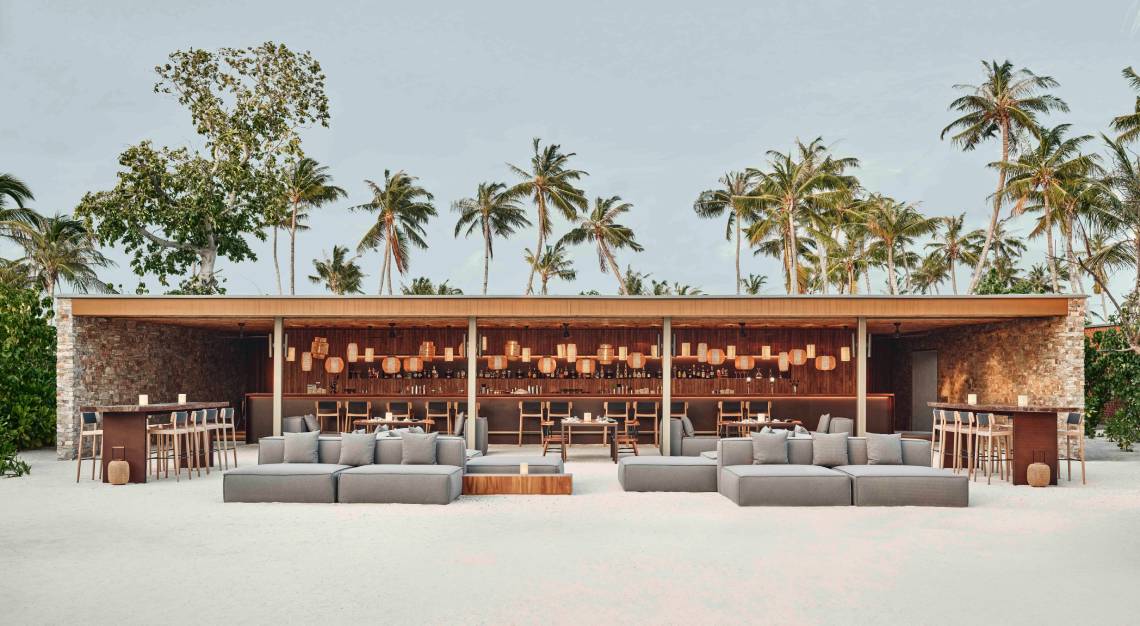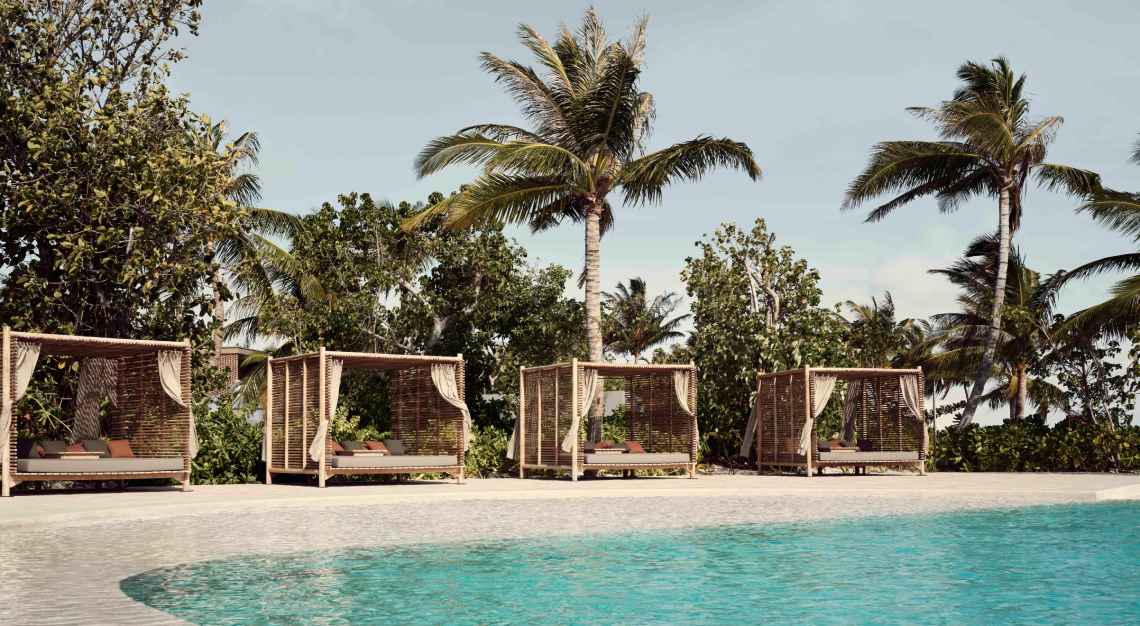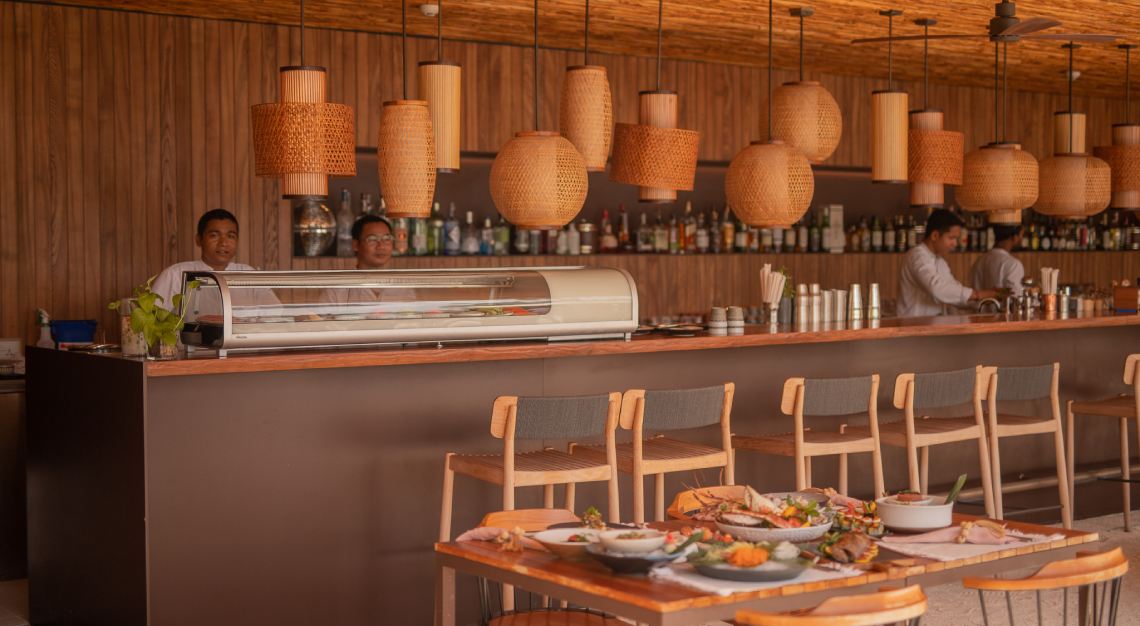 Back at Portico, a cooking class showcases the use of ingredients from the morning's market visit. Kandu Kukulhu is what Bakker describes as a Maldivian roulade, where a two-day aged tuna is combined with coconut cream and aged curry paste. The paste in question is Havaadu Masala, a base of desiccated coconut, with its masala mix composed of over 100 ingredients. These dishes feature at Portico's Taste of the Indian Ocean dinners where regional specialities from Southern India, Sri Lanka and especially Maldivian cuisine form the menu's highlights.
On easy, lazy days—at Patina, all days are—kick back at Fari Beach Club to servings of fresh oysters on ice, crispy prawn dumplings, Japanese okonomiyaki, and amazing caramel butter with freshly baked breads. Or grab a juicy Wagyu burger from the adjacent food trucks of GoGo Burger and complete the meal with a delicious sorbet from Tuk Tuk Gelato. Just a short bike ride away, past the ethereal James Turrell-designed Skyspace Amarta art installation, Veli Bar offers Instagram-perfect views with light bites and zero-waste cocktails. Among them is Oleo-Saccharum, where syrup is extracted from citrus husks, and ingredients are both pickled and fermented to minimise surplus.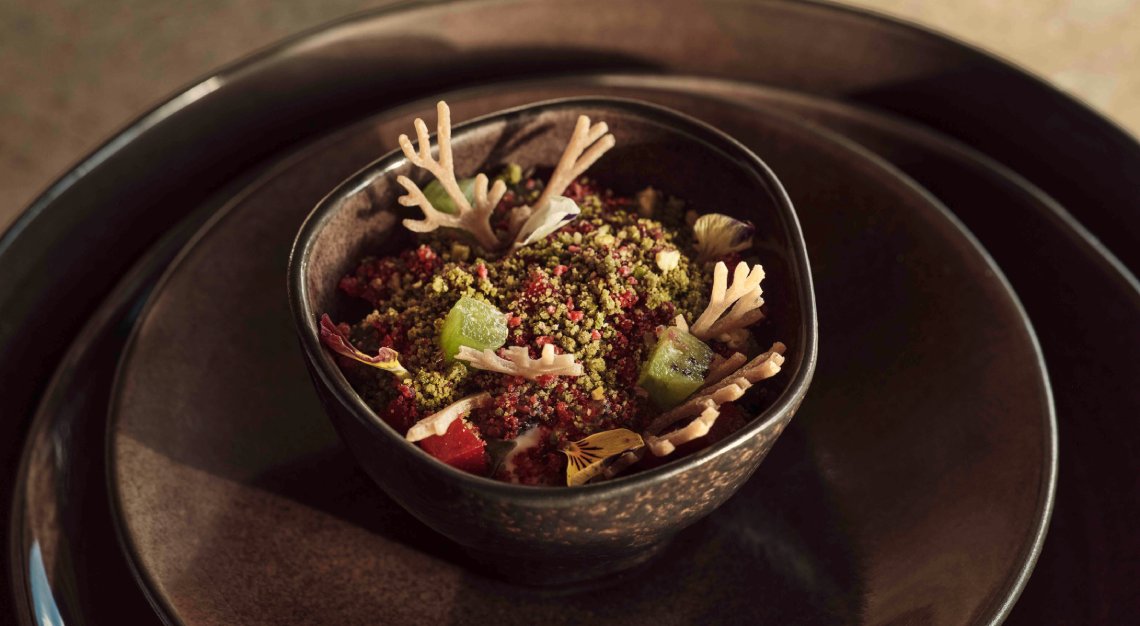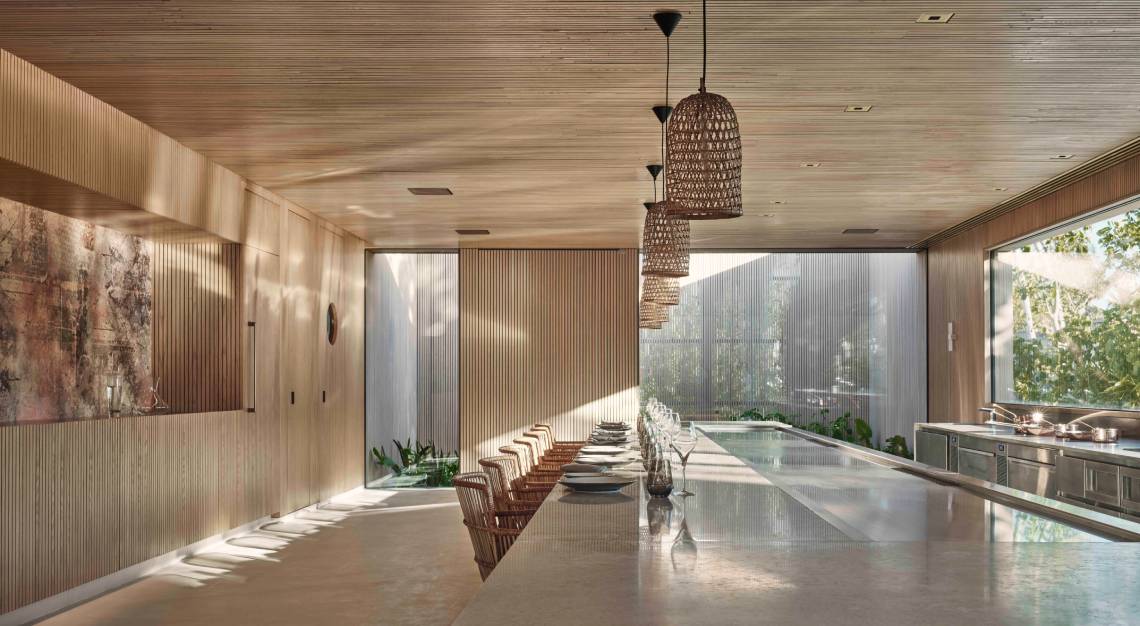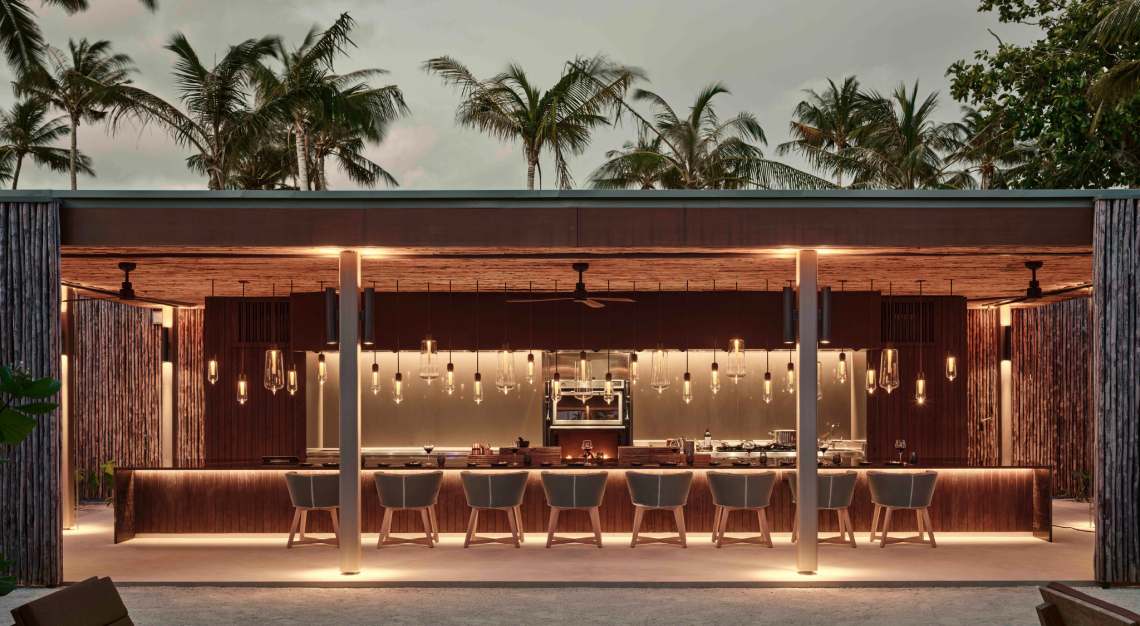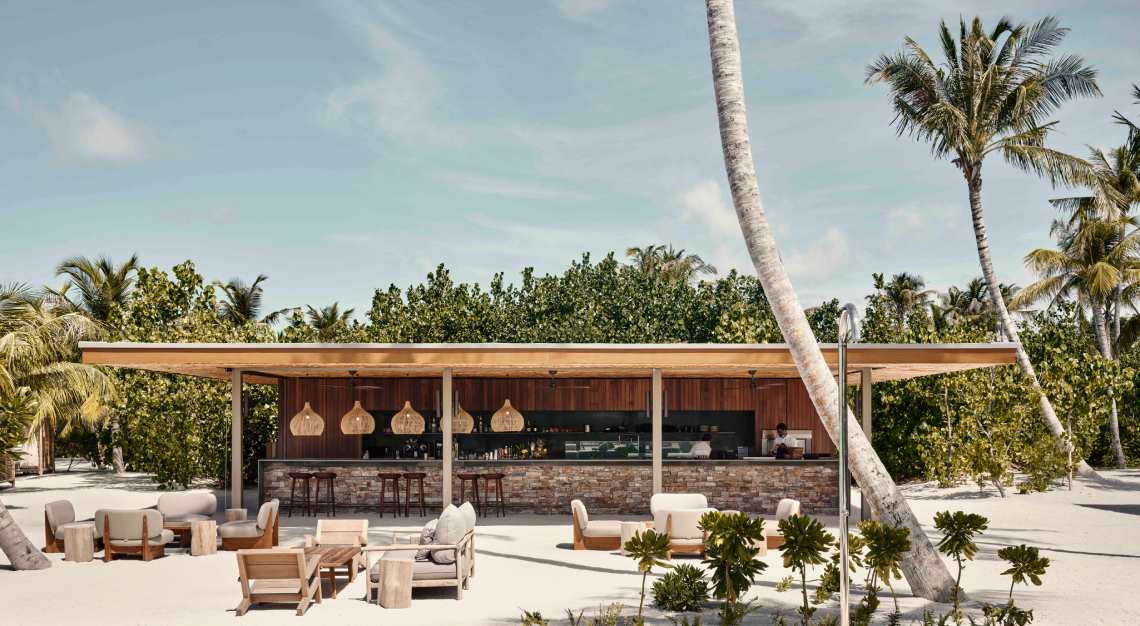 As the sun sinks into the azure horizon, the lights come up at Fari Beach Club, revealing other exciting dining options. Brasa steakhouse is led by Peruvian chef Nicholas Madueno, who builds a seven-course tasting menu through open-fire cooking, an expert play of flames and some really great meat. Meanwhile, the Zen-like space that is Kōen bridges Japanese culinary art with Scandinavian style across a 10-course signature menu. Seafood, Japanese Kagoshima A5 Wagyu and Iberico pork belly meet heady lingonberry and porcini puree, while an optional sake pairing includes eight different expressions.
For a taste of the orient, the kinetic Wok Society pays tribute to China's food cultures and provinces, with chef Zhang Sichuan at its helm. Options of steamed xiao long bao, black pepper beef as well as handmade noodles are the start of a variable menu, with the chef whipping up something on the fly following his interactions with diners. "We want that authentic sense of home, which is why our head chef is such a personality as he comes out and asks what you want – and he will always have something," Bakker says.
For a resort that prides itself on conscious cuisine, its greatest culinary triumph exists in the middle of the island, where its permaculture garden has been established. This organic garden was a tour de force, considering that the entire island is coral. "You don't just throw a lemon tree there or grow tomatoes because you're standing on millennia of smashed coral," Bakker says of the endeavour. "You have to add everything, which includes introducing the right pollinators."
The effort would seem to have paid off as the resort has been able to harvest, since September last year, a wide range of fruits, vegetables and herbs including 94kg of watermelons, more than 200kg of aubergines and 50kg of okra. It is also here where the resort's most innovative dining concept takes place. Roots, an al fresco vegan dining experience, allows diners to enjoy avocado mousse, tomatoes fermented in their own juice, vegan cheese, and watermelon tataki in which the fruit is compressed and flavoured with Japanese spices.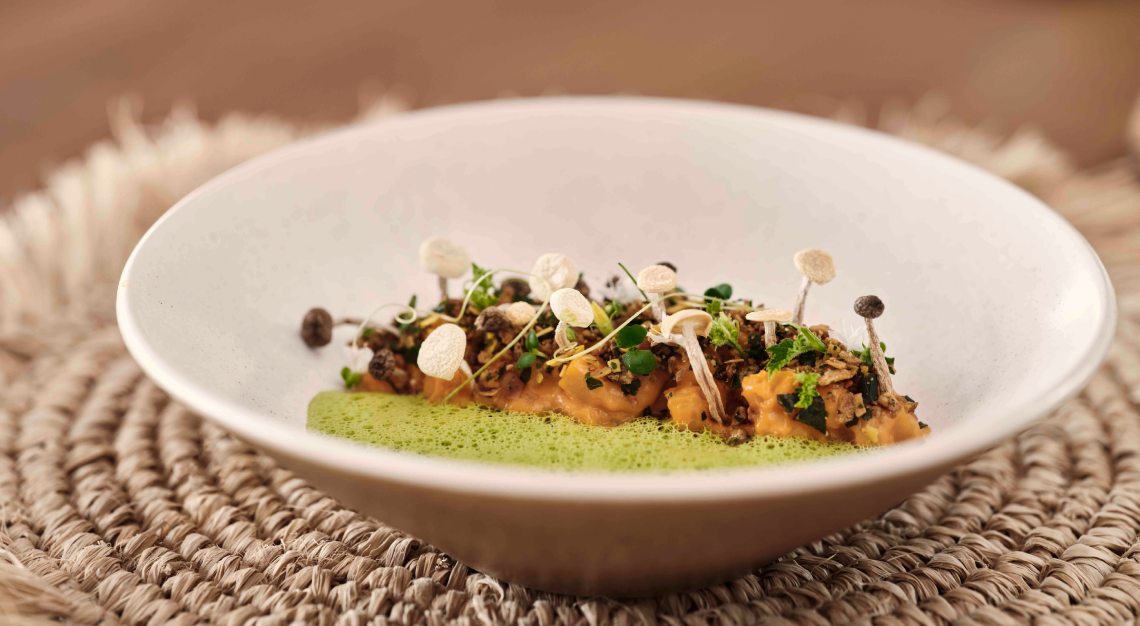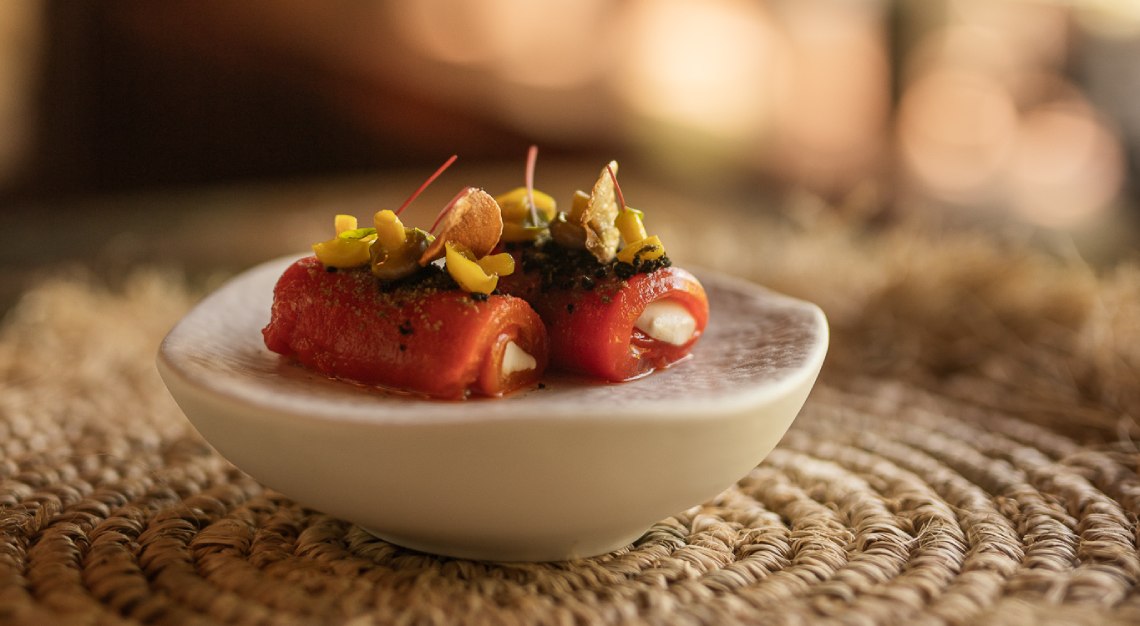 Under a waxing moon and at a stone table doubling up as a planter with lush grass, the dining sensation becomes wholly original and rather surreal. This, coupled with the melodious strains of a singer strumming her guitar, singing a traditional song about fishermen going to sea, turns the evening into a real production of what it means to enjoy the Maldives in time to come.
"We need the quality of the culinary experience to be super high," Bakker says when asked about the incredible effort and investment at Patina Maldives. "We are swimming with some really big fish here–international brands with great concepts and big names with pop-up outlets. So the thing is to get it right. It's not just the sand, sun and moon anymore. People will come back because they know the food's going to be amazing."