It's a collaboration that pleases both the palate and the eyes
Like two old friends picking up where they left off as if no time has passed, Bowmore and Aston Martin are back at it again with another collaboration. Following the success of last year's partnership, this year's joint effort has yielded five whiskies under two collections, Designed by Aston Martin and Bowmore Masters' Selection.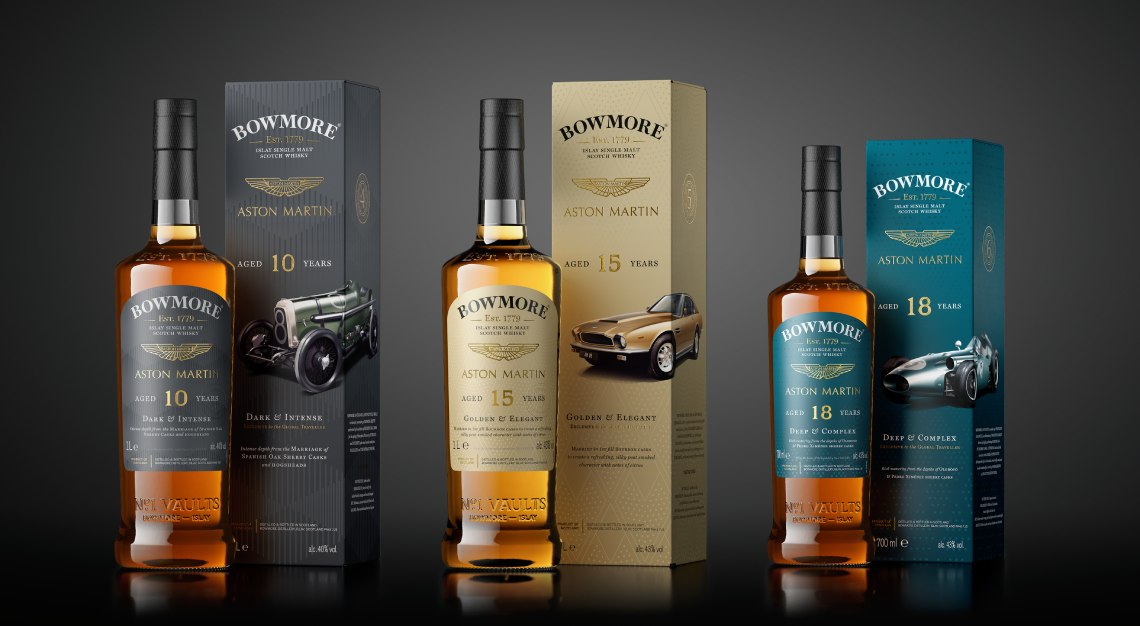 As the name indicates, Designed by Aston Martin is a celebration of Aston Martin's automotive design. This year's collection introduces three new visual stories on three limited-edition whisky bottles, each inspired by a car that has been pivotal to Aston Martin's evolution.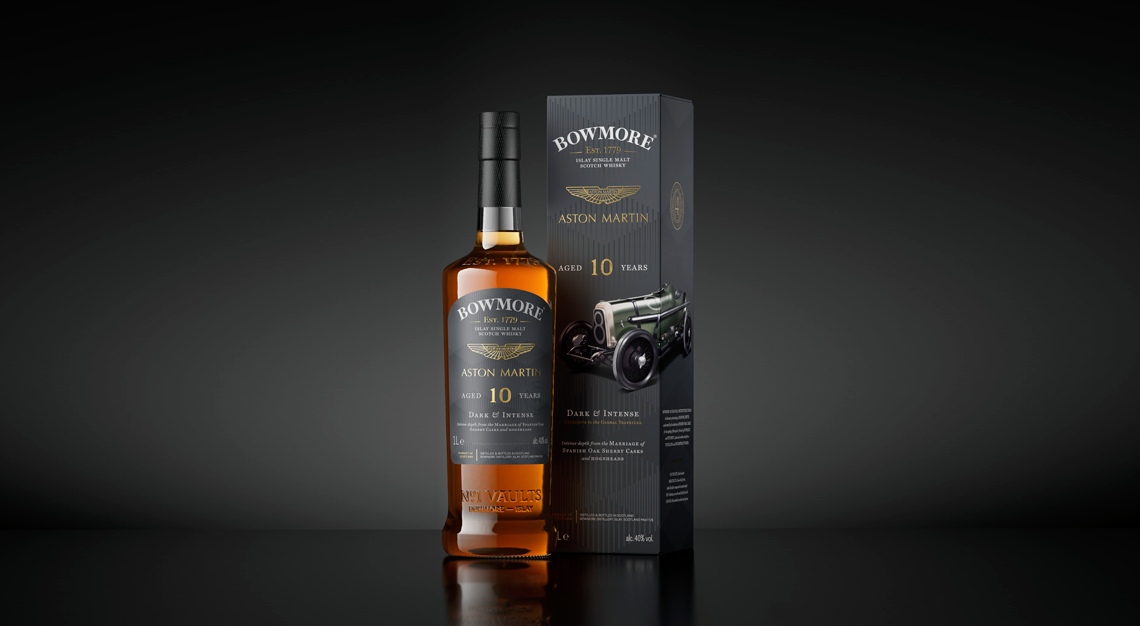 Bowmore 10 Years Old
The bottle for the Bowmore 10 Years Old single malt references the Aston Martin 1922 GP 'TT2'. Engineered for the sole purpose of taking part in the French Grand Prix, the car is the very embodiment of commitment and vigour, two qualities that are reflected in the Bowmore 10 Years Old. Matured in sherry oak casks, the whisky has a remarkable depth.
Nose: Sun-dried fruit, baked Seville orange and toasted maple
Palate: Sultanas, sea salt, and dark fruit oils.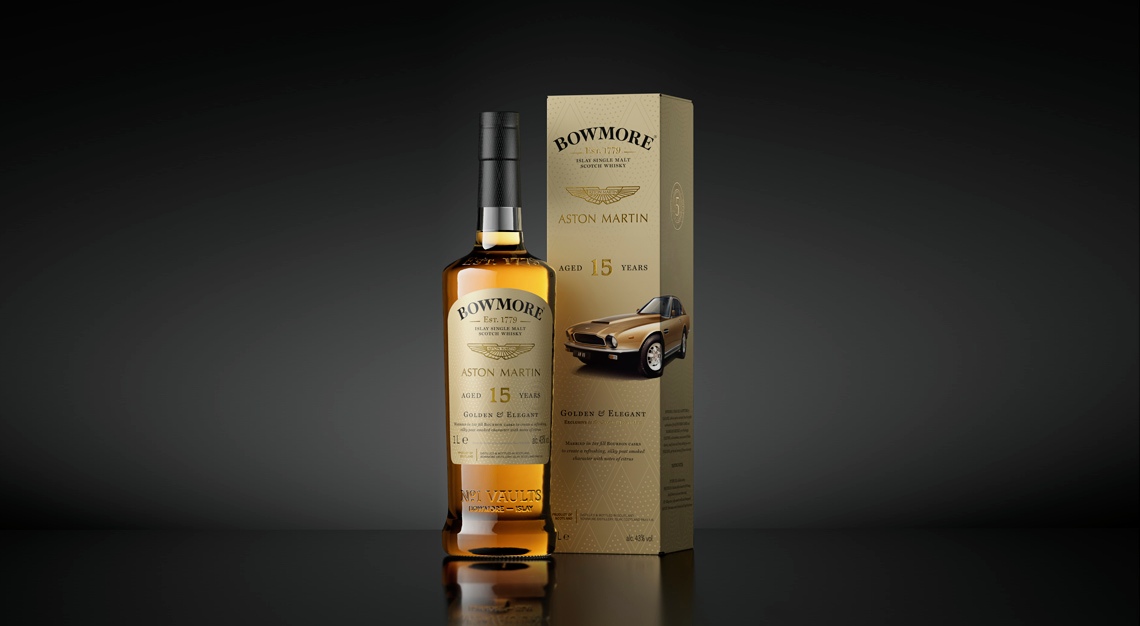 Bowmore 15 Years Old
Paired with the Bowmore 15 Years Old is the Aston Martin AM V8. The whisky, a perfect combination of first fill bourbon and hogsheads, has a refined character that perfectly matches the elegant lines of the AM V8, which, for Aston Martin, symbolise a definitive chapter in the evolution of its signature style.
Nose: Amalfi lemon and sweet tobacco leaf.
Palate: Silky citrus, salty-sweet vanilla and honeycomb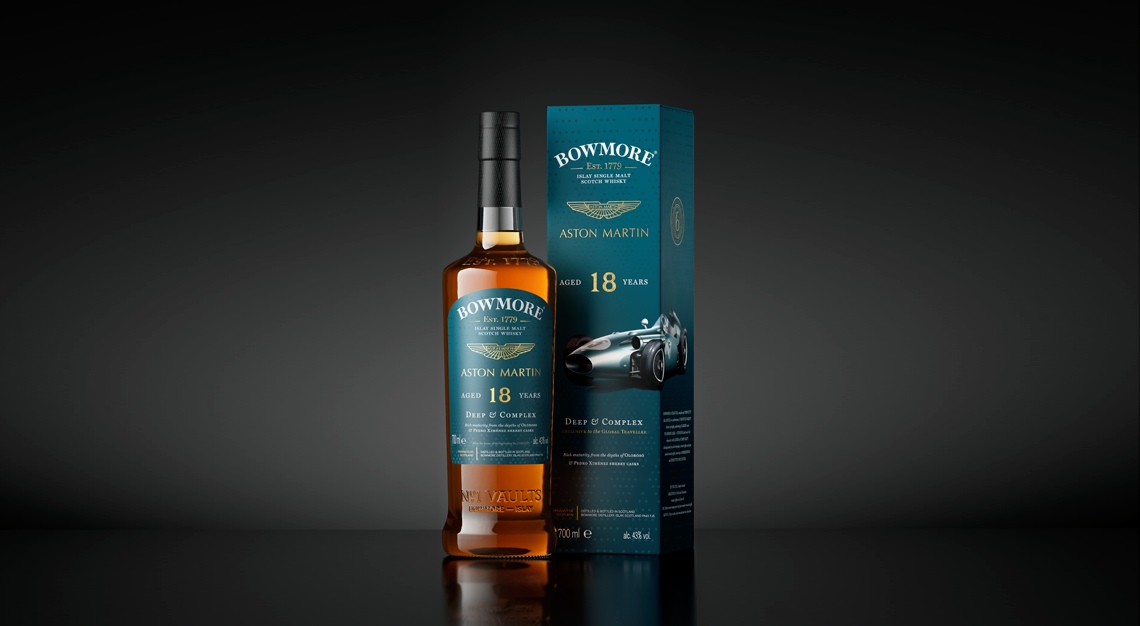 Bowmore 18 Years Old
Coming together in the third pairing in the Designed by Aston Martin collection are the Bowmore 18 Years Old and Aston Martin 1959 DBR4, connected by their embodiment of optimal performance. The DBR4 marked Aston Martin's ambitious entry into Formula One motor racing; Bowmore's 18 Years Old carries the dignified character of high performing Oloroso and Pedro Ximenez sherry casks.
Nose: Rich dark chocolate, treacle toffee and date oil.
Palate: Bitter-sweet orange peel and peat-smoke roasted coffee.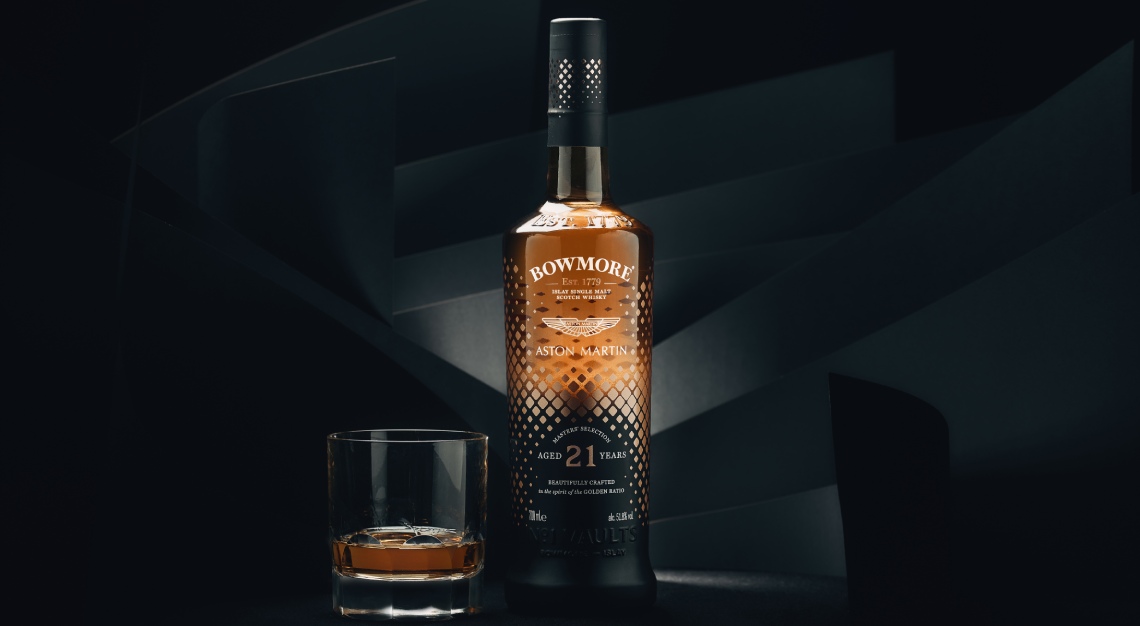 The Bowmore Masters' Selection presents the ultimate indulgence. So named because it was created by two masters – Bowmore's master whisky blender Ron Welsh and Aston Martin's executive vice president and chief creative officer Marek Reichman, the collection celebrates the coming together of two distinct worlds that share a mutual respect for each other.
Here, the golden ratio, which guides Aston Martin's approach to the design of every car, has been used in the blending of the whiskies.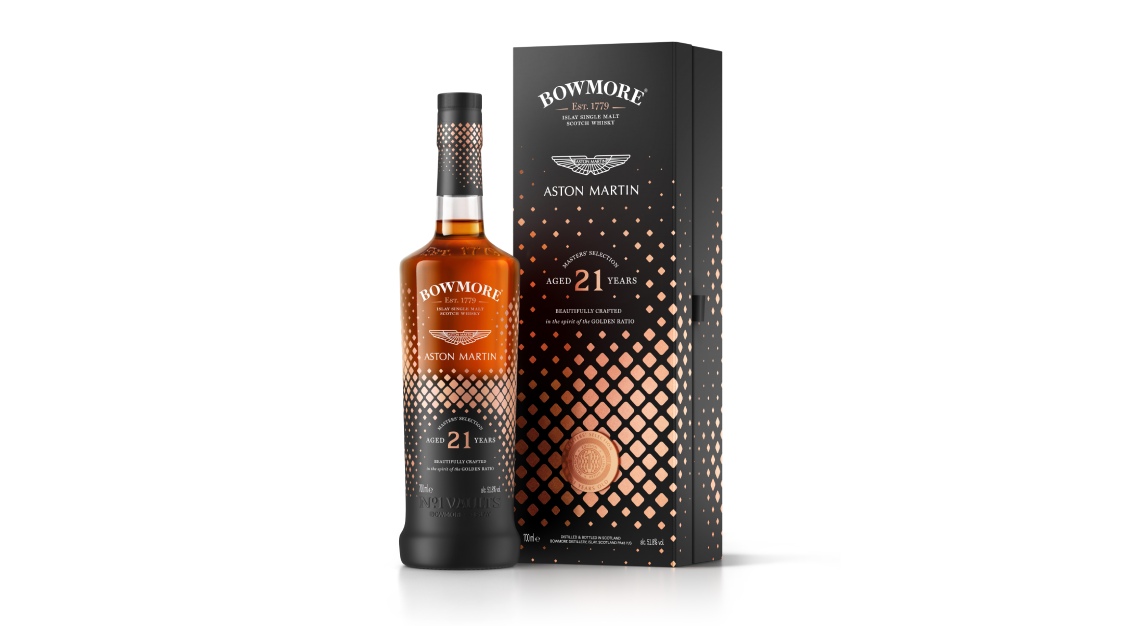 Bowmore Masters' Selection 21 Years Old
The whisky has a base of a 21 Years Old matured in first fill Pedro Ximenez and Oloroso sherry casks. The remainder comprises a blend in an exact ratio inspired by the golden ratio, including a Bowmore aged for more than 35 years.
Nose: Sweet and nutty with notes of manuka honey, maple syrup, praline, and grilled hazelnuts. This is combined with aromas of freshly tanned leather, cigar tobacco, liquorice root, dried thyme, and heather blossom.
Palate: Rich sherry merges and raw Islay peat, complemented by dark chocolate, black pepper, butterscotch sauce, vanilla and coffee beans. There's also a hint of fruit defined by Morello cherries and papaya.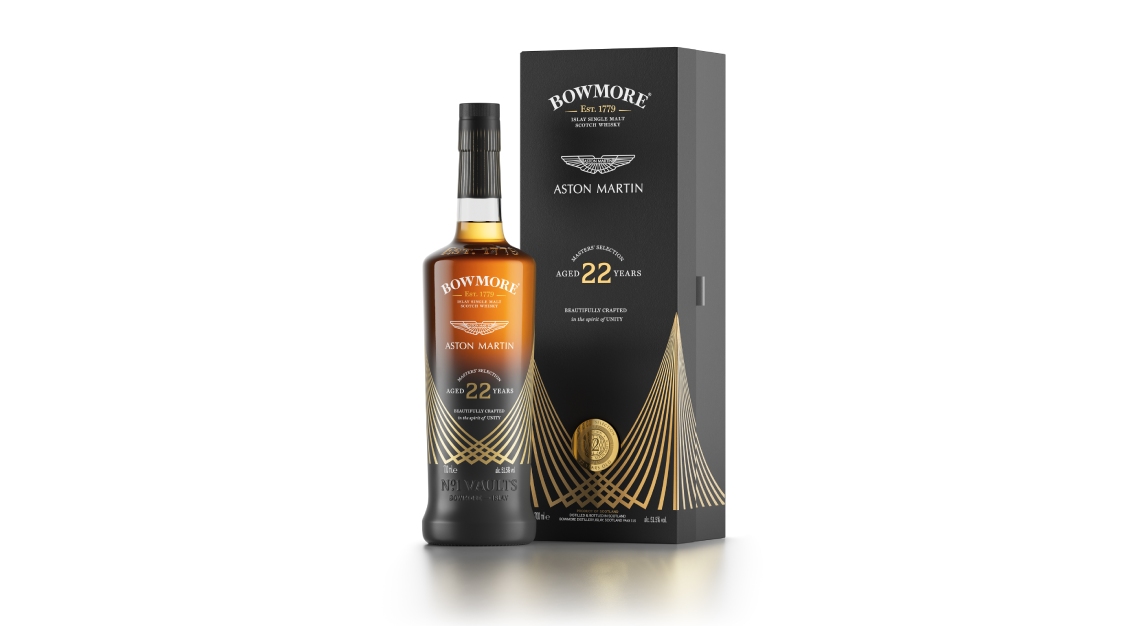 Bowmore Masters' Selection 22 Years Old
Car-making and whisky-making are from two very separate worlds, yet in this collaboration, Aston Martin and Bowmore have managed to find common ground in their shared pursuit of perfection. The Bowmore Masters' Selection 22 Years Old captures this unique pairing by merging two different casks, American oak hogsheads and sherry butts. In addition, it blends whiskies from two different millennia – 1997 and 2000.
Nose: The whisky begins with fragrances of honey peach and apricot, before evolving into bolder medicinal aromas with fresh tobacco, cloves and eucalyptus with a hint of red berries.
Palate: Maritime notes give an initial salty taste before evolving into a touch of honey sweetness and an intriguing note of oysters, calling to mind Islay.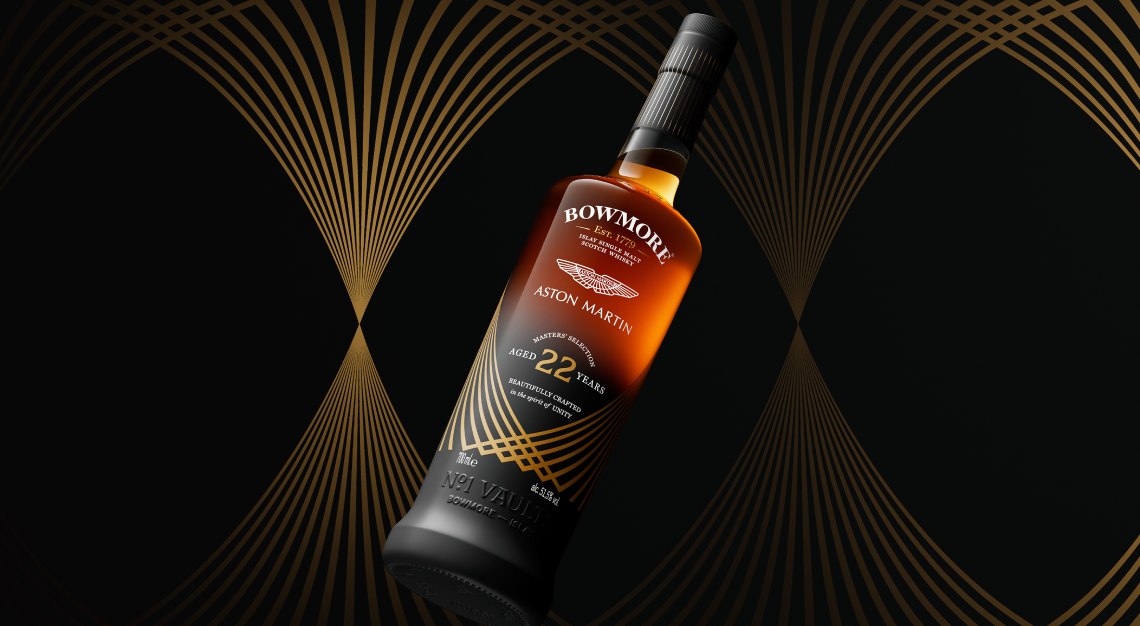 Locally, the Designed by Aston Martin range is exclusively available at Lotte Singapore Duty Free. An in-store activation event, titled Movement of the Senses, will be held for the whole of this month. Featuring interactive audio-visual installations, it will showcase how two very different brands from two separate worlds have been united by a single vision to create a unique product.
As for the Bowmore Masters' Selection whiskies, you'd find them at The Whisky Distillery. The 21 Years Old is currently available while the 22 Years Old will be available later this year.