The EGOT-winning singer and his model/food writer wife are moving to a bigger place – but look at what they are leaving behind
When most modern urbanites declare they "need more space", they're likely thinking of something along the lines of jumping from 46 square metres to 93. But when you're musician and EGOT (Emmy, Grammy, Oscar, Tony) holder John Legend and his model/food writer wife Chrissy Teigen, the base is naturally much, much higher.
They've already secured the keys to a new-build of more than 929 square metres. That means the couple's 792-sqm, 50-year-old Beverly Hills home is up for sale for a cool US$23.95 million (S$32 million) – a prestigious listing held by property agent Marshall Peck of Elliman in Los Angeles.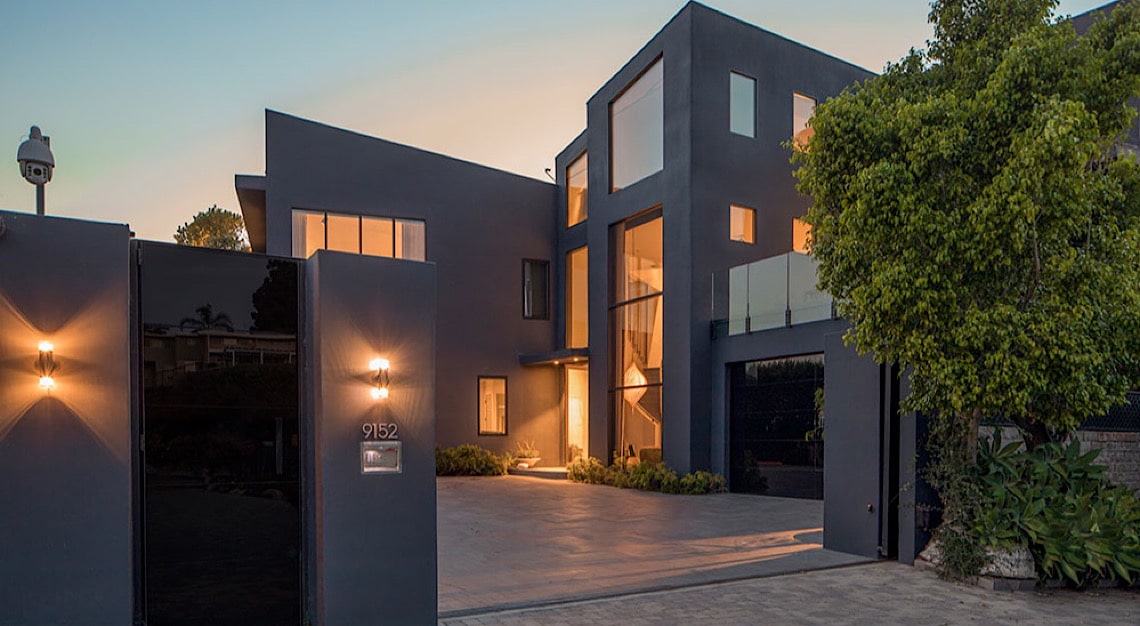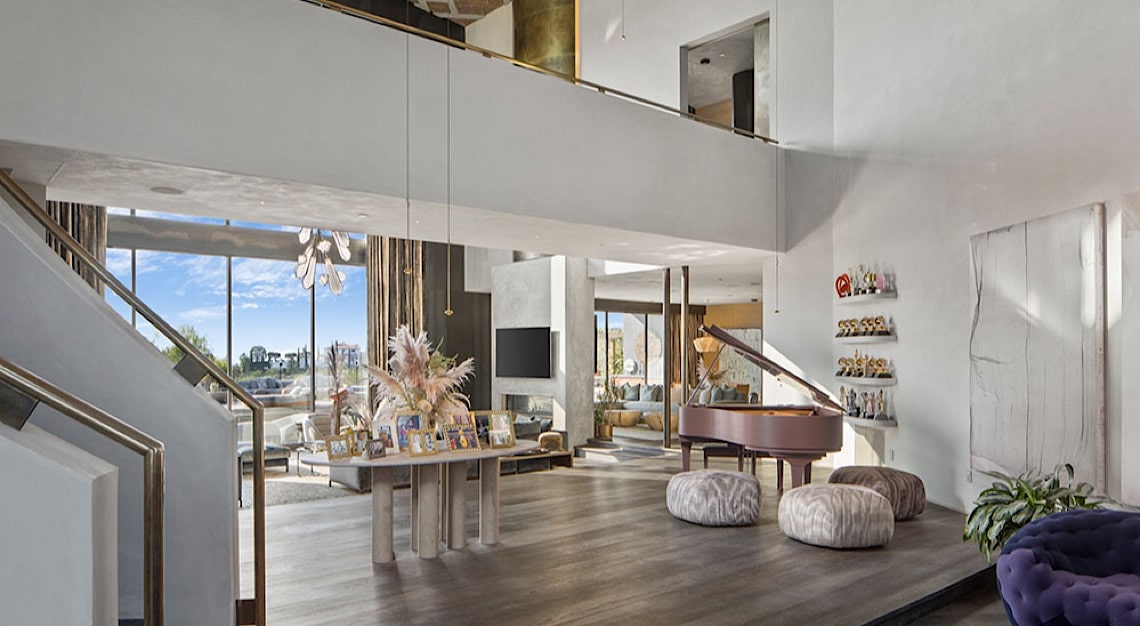 At one time owned by Rihanna and bought for US$14.1m (S$18.8 million) in 2016, Legend and Teigen tapped Desiderata Design's Don Stewart, to "reimagine" it according to The Wall Street Journal. Stewart dotted the solar-powered home (supplemented by a 70-kilowatt generator) with Southeast Asian accents that reflect Teigen's Thai heritage and culinary flair – she's a bestselling cookbook author – as well as spaces that speak to Legend's award-winning music career.
The seven-bedroom, eight-bathroom, open-concept home welcomes visitors with a dramatic entrance, highlighted by a 10m ceiling that hints at what's to come.
The entry leads into the main living room with a floor-to-ceiling glass wall offering a sweeping canyon view, but also serves as the perfect summary of the design aesthetic at play: a carefully calibrated balance between modern and vintage; between bold metallics and neutral tones; and between the chic and the functional.
A sculptural, curving staircase leads to a catwalk that overlooks the living room, accented with brass and bronze fixtures that can be found throughout the house. Overhead is what can best be described as a statement ceiling: a bespoke, hand-carved, mandala-patterned wood ceiling imported from Thailand, above ebonised, aged-oak floors. Floor and ceiling are separated by clay and steel-rolled walls, and Legend's mauve grand piano sits amid it all. No word on whether Legend wrote the Oscar-winning Glory here.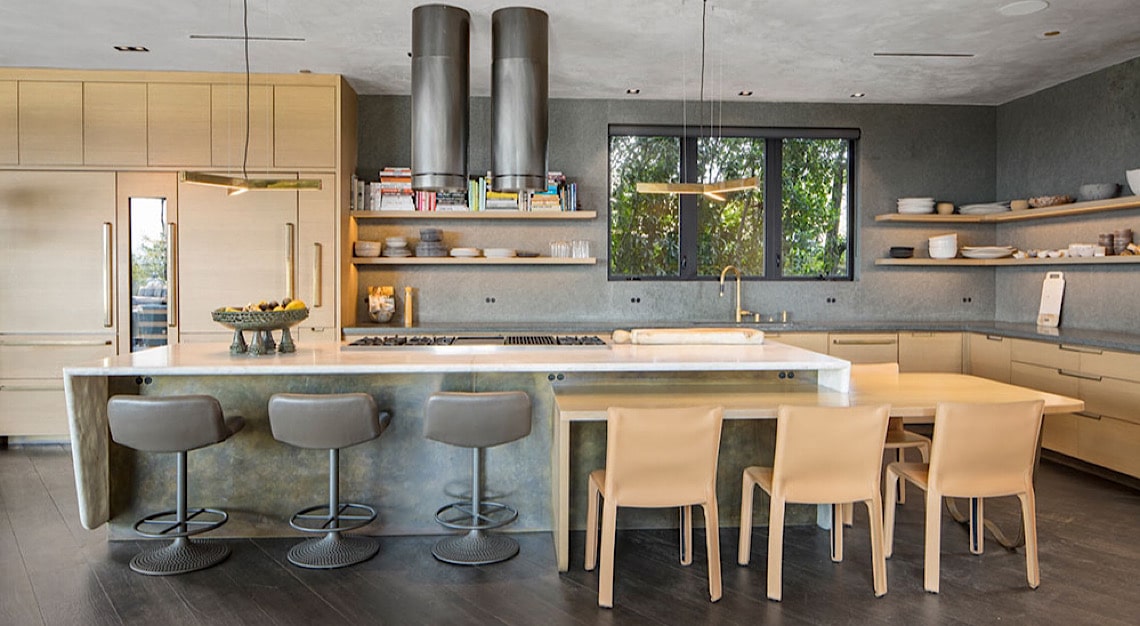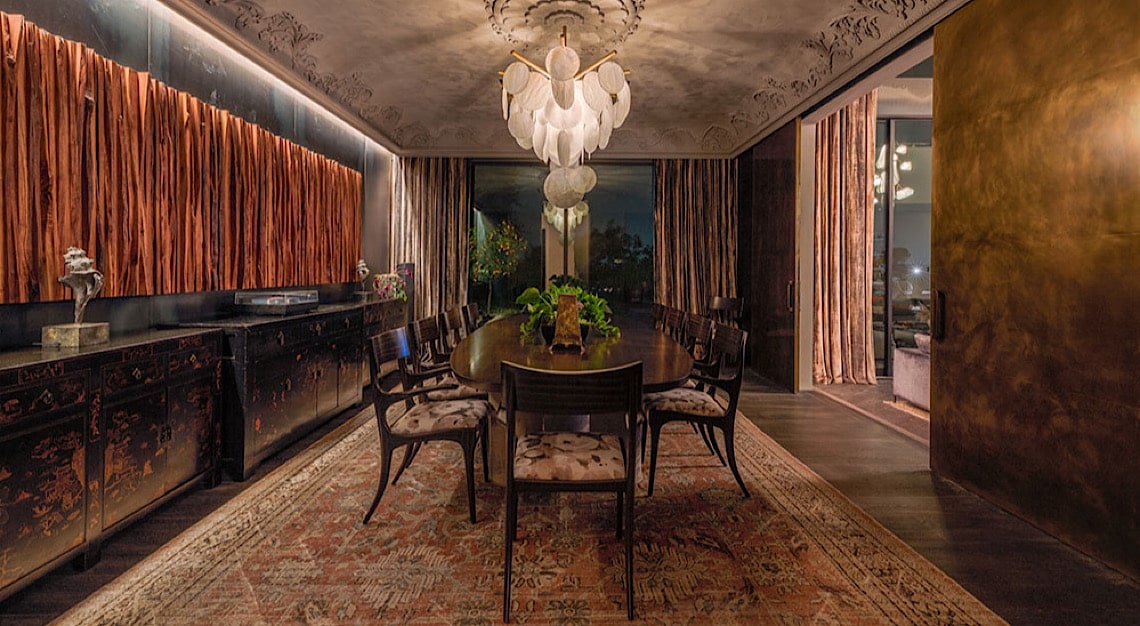 Sticking with the ground floor, oversized sliding brass doors demarcate a formal dining room, accessorised with low, intimate lighting, and Asian storage and decor motifs, and finished with classical reliefs around the ceiling and central chandelier. The dining room leads to the kitchen, which has Teigen's fingerprints all over it. This is likely where she tested many of the dishes featured in Cravings: Recipes for All of the Food You Want to Eat and its sequel, Cravings: Hungry For More.
The professional-grade kitchen is equipped with state-of-the-art appliances and fixtures and a wealth of Italian quartz worktop space, but it's also built to be the beating heart of the home, with plenty of seating for young and old alike: it's bright but cosy, durable and engaging. A casual family room sits a few steps away, tied to the kitchen by complementary tones and metallic accents.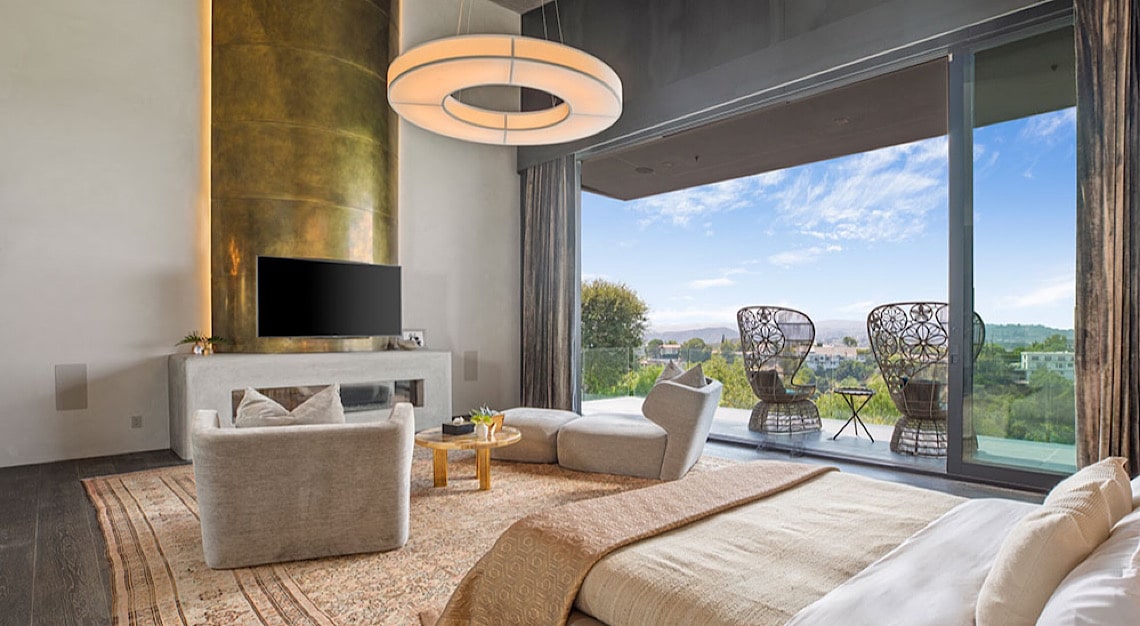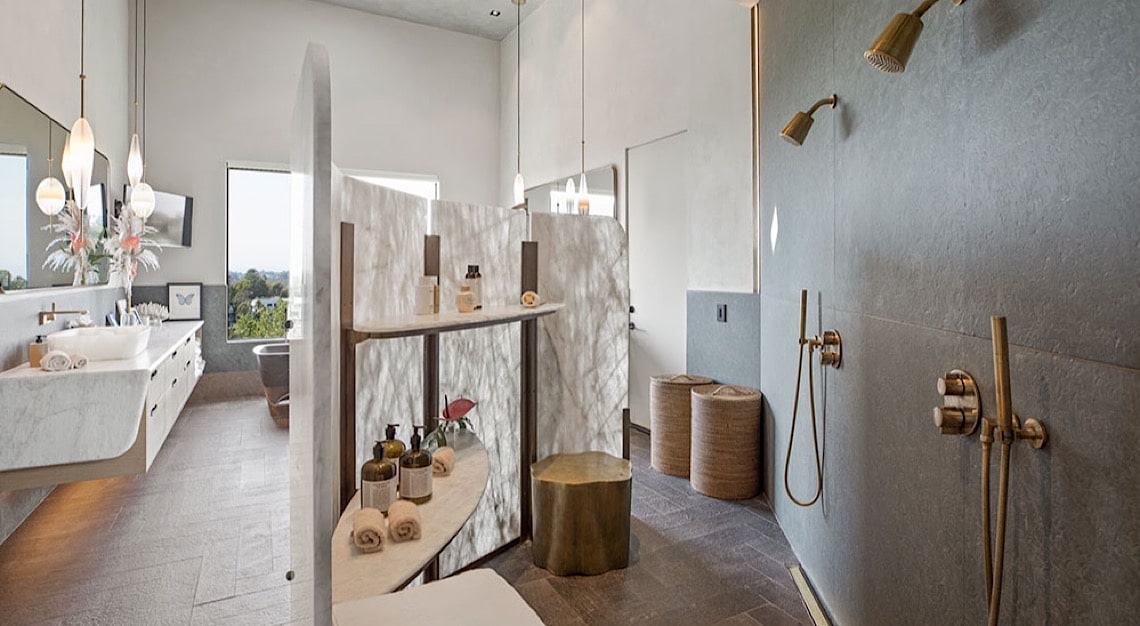 The second-storey master bedroom was created to be a place for both relaxation and respite as well as dolling up for a night out – perhaps at one of Legend's awards ceremonies. A brass and concrete fireplace anchors the sitting area at the foot of the bed. Muted shades of clay and natural browns bring the greenery beyond the balcony inside to create a low-key haven within the house from the lights of Los Angeles beyond.
Off the bedroom lie a clutch of rooms fit for the couple's superstar lifestyle. First up is the en suite bathroom, fitted with an open concept double shower with brass fixtures, a Teuco marble bathtub at the garden-facing window, onyx basins and pendant lighting.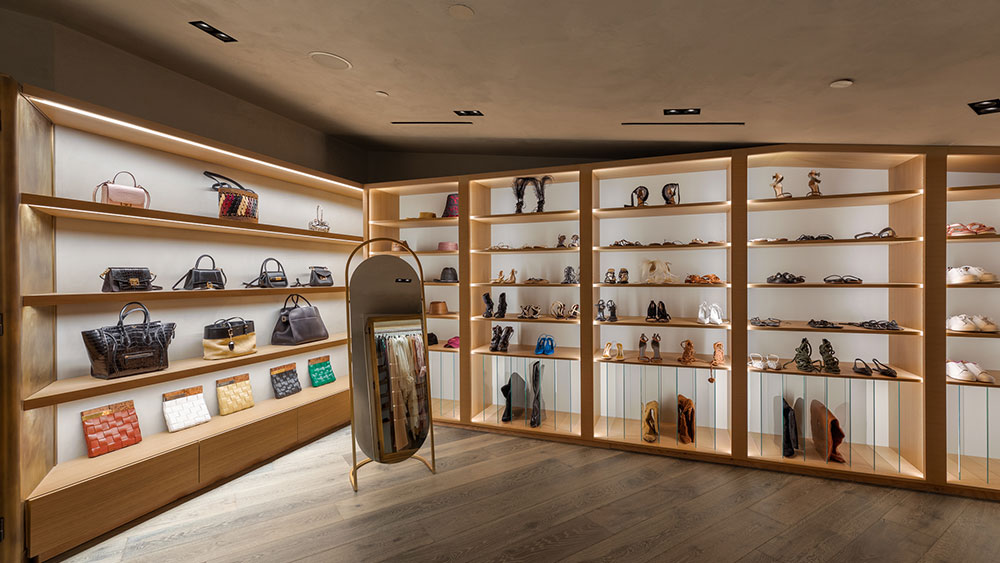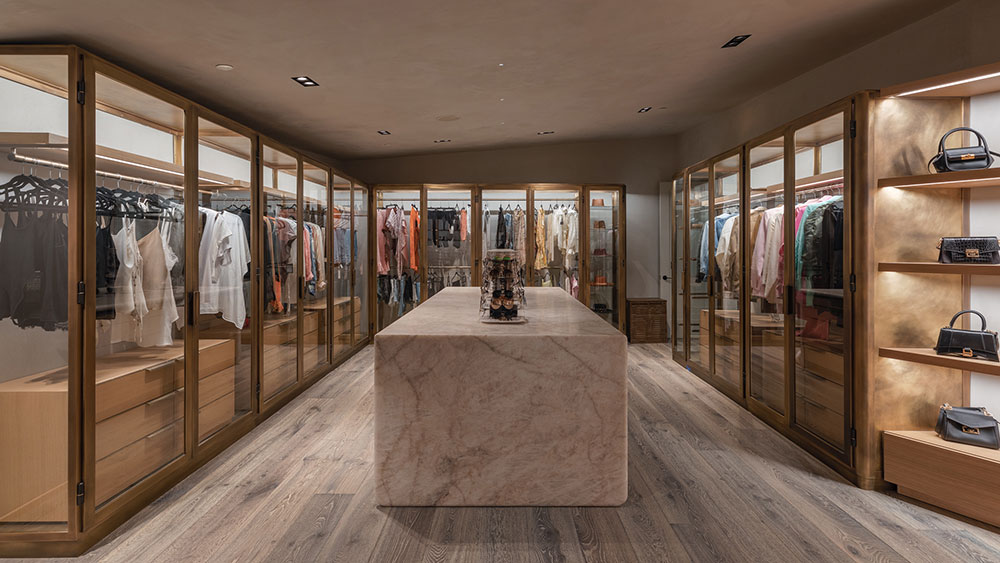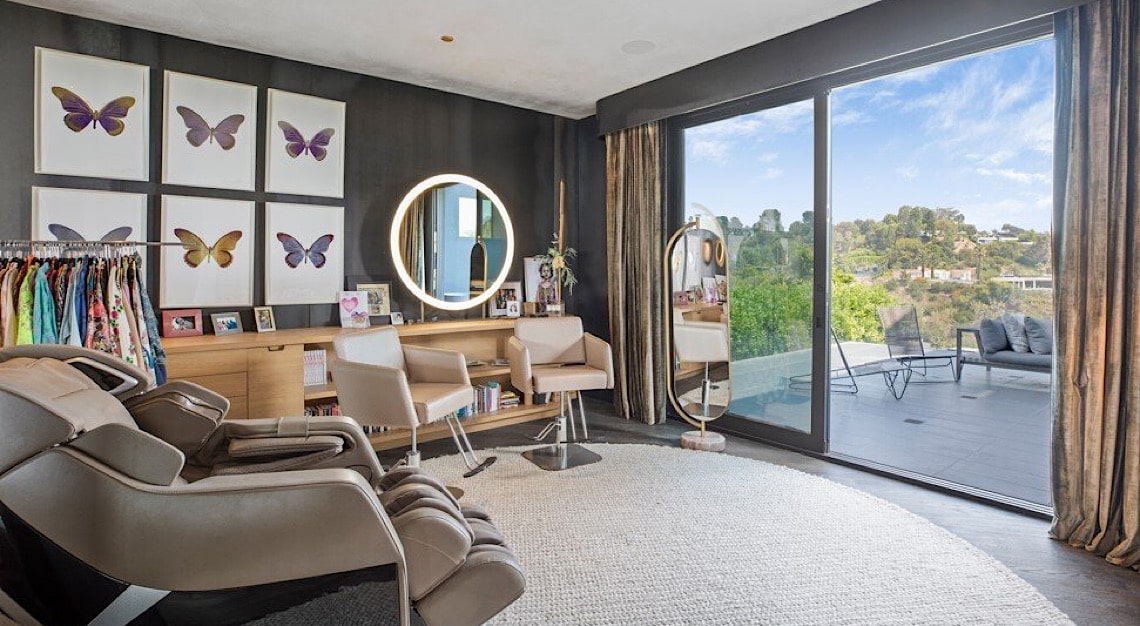 From there, newly customised his-and-her dressing rooms beckon. Essentially walk-in wardrobes, the sprawling spaces more closely recall Prada showrooms, accented with marble cabinets, spotlight shelving for accessories and Rodeo Drive-style storage. Capping it all off is the Italian-inspired glam room, complete with make-up stations, massage chair and another canyon-facing balcony.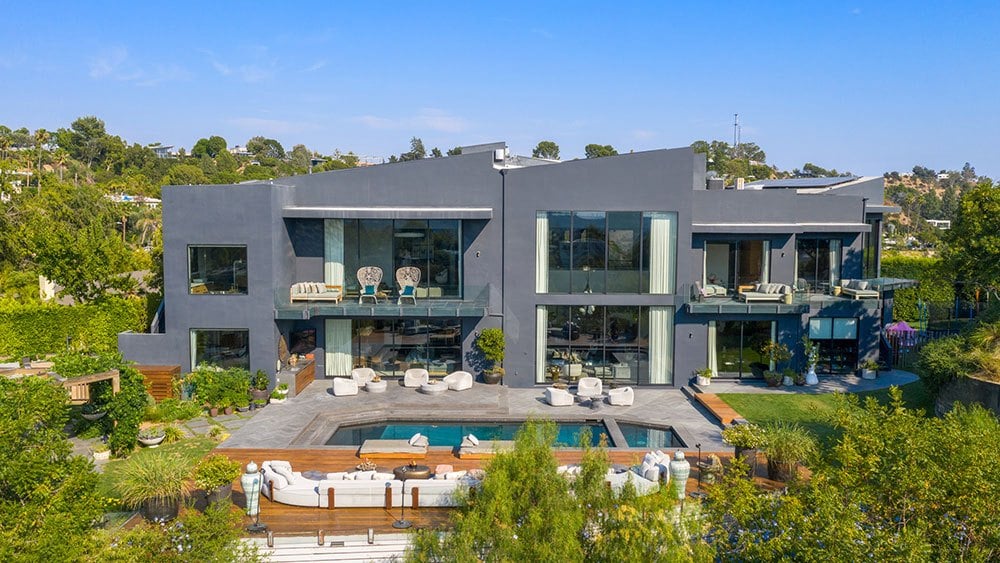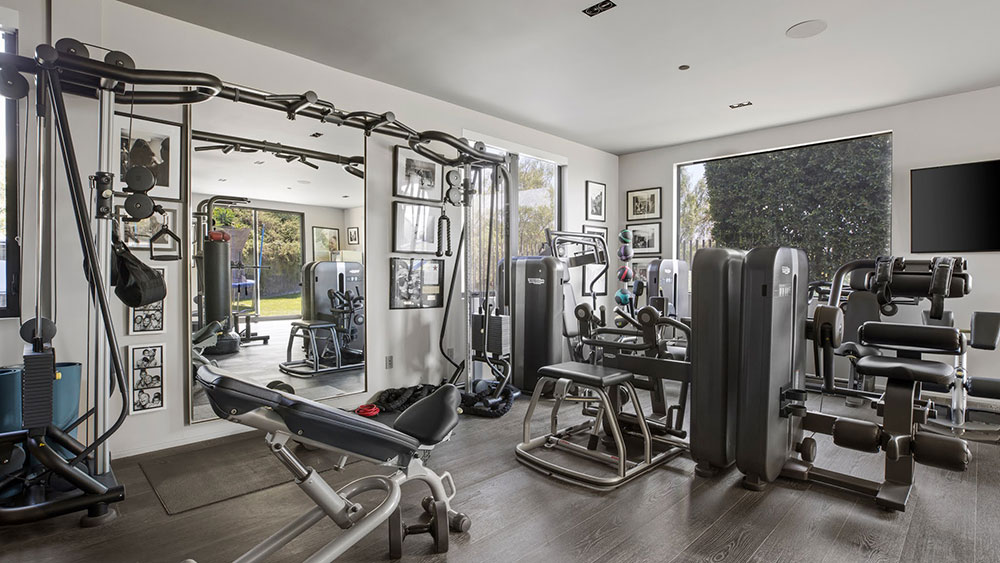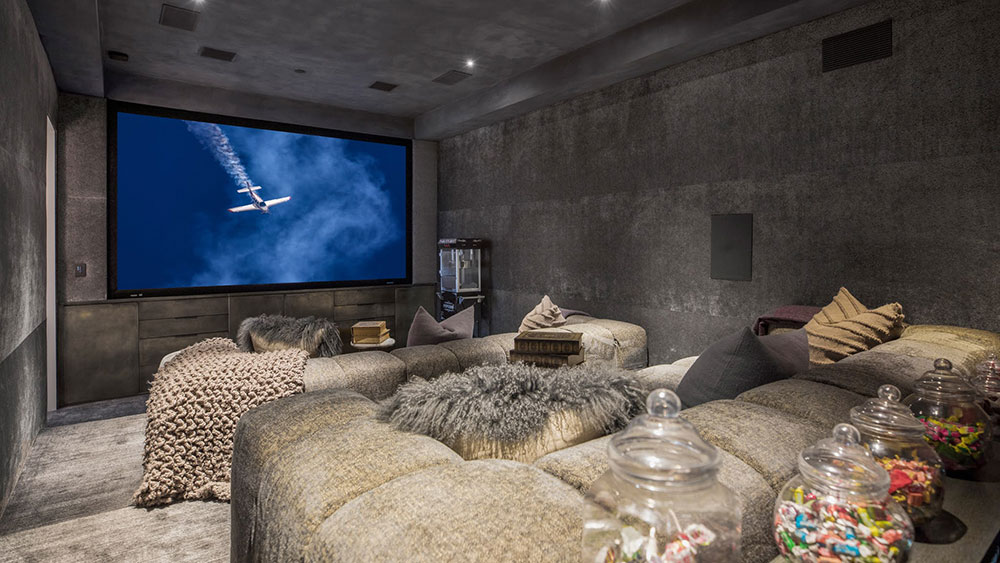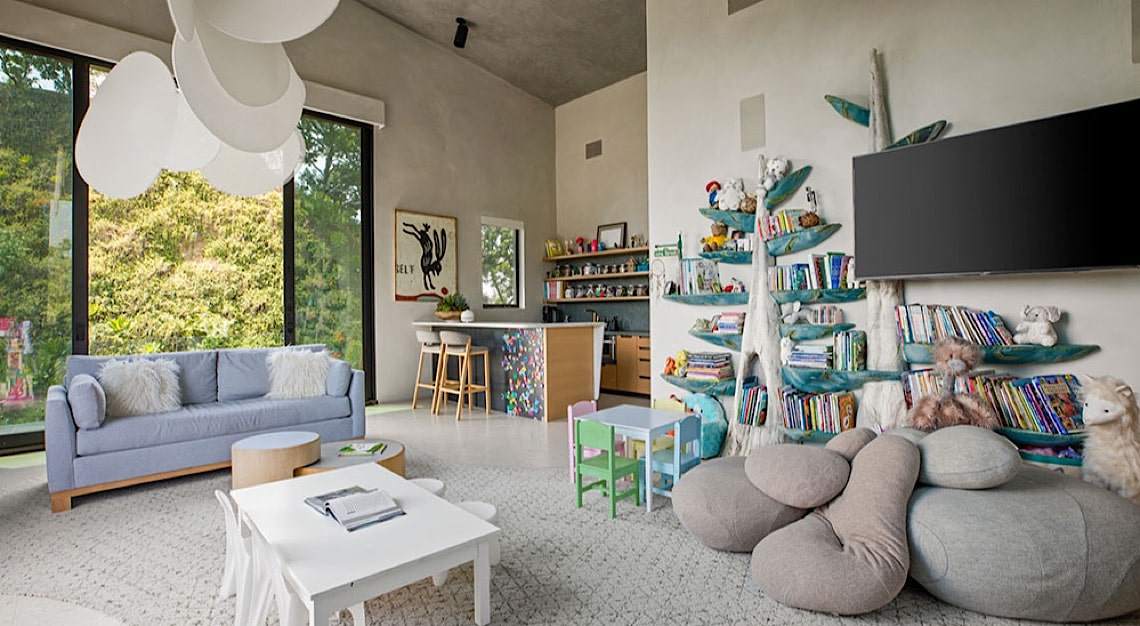 Outside, an entertainment area mixes greenery with natural stone and welcoming woods on the heated saltwater pool and jacuzzi terrace. Beyond the terrace, a grapevine-covered pergola provides shaded alfresco dining space, and is outfitted with a chef's grill and wood-fired oven. The backyard also offers the best view of the house's irregular geometric architecture.
Tucked in among the understated opulence are kid-friendly spaces decked out with soft furnishings, education, art and media spaces and an inspiring play area, a modern home gym and – perhaps most decadent – a plush home theatre. Whether curling up for a romcom, bouncing around during live sports, or cowering at a horror movie, the cinema works for any audience. It even comes with a built-in popcorn machine.