Plus, CEO Karl Friederich Scheufele dishes on which industry heavyweight is an admirer of the company's sapphire crystal-cased minute repeater
At Cannes, Chopard is widely recognised not only as an event sponsor but the provider of some of the festival's most extraordinary jewels, as the maison debuts its latest high-jewellery creations each year on high-wattage celebrities. But this year, the company chose to also shine the spotlight on two very important haute horology pieces: the L.U.C. Full Strike Sapphire and the Flying T Twin, both decked to the hilt in black-tie ready sapphires. The Swiss jeweller unveiled the two at its annual gentlemen's evening, where the company creates a soiree for men because so much of the attention of the festival is centred around women and jewellery (although of course, women are most welcome at this night, too). The idea, however, isn't intended to compete with its jewellery for the red-carpet attention. "A watch will never be as visible as a pair of earrings," CEO, Karl Friederich Scheufele, told Robb Report at Cannes. "It's more discreet. The world of collector's watches is taken a little bit differently."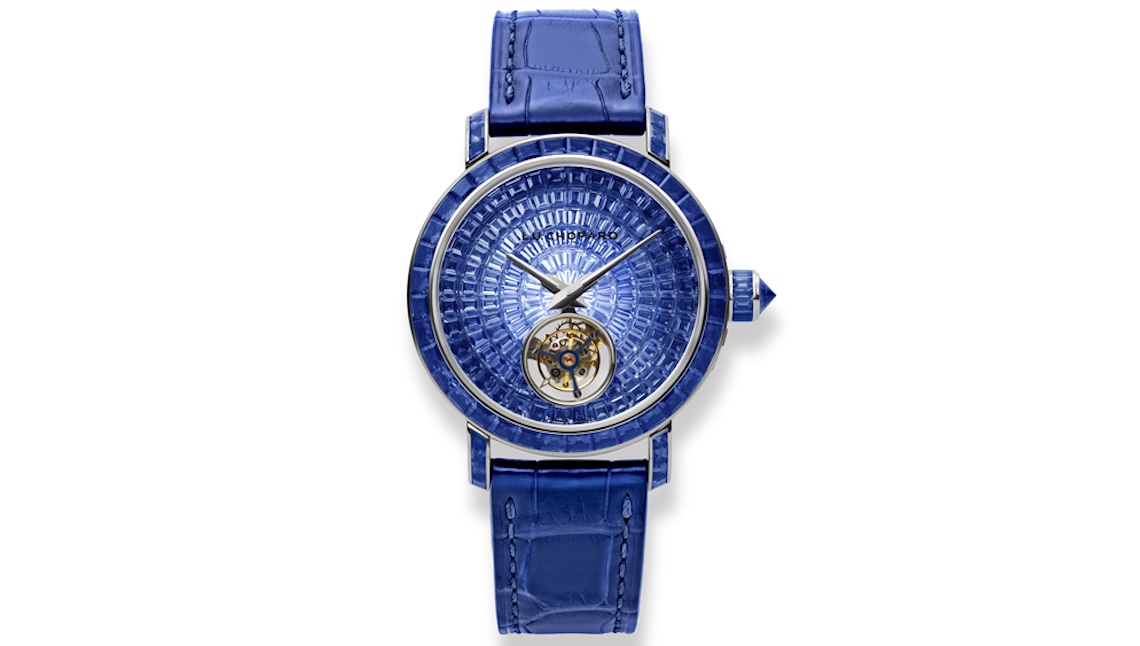 That said, there is hardly anything discreet about this year's offering. The Flying T Twin features a flying tourbillon (as its name suggests) at 6 o'clock surrounded by hundreds of baguette-cut sapphires in a gradient of deep blue set in an 18-karat ethical-gold case. It took 106 hours for Chopard artisans just to set the stones. With more and more gents wearing gems on their wrists, lapels, and even their necks, opulent gem-set pieces such as these are increasingly having their moment in the spotlight (just check Phillips' recent top lot auction results from Geneva for proof). To further accentuate the richness of colour on the dial, it comes on a hand-sewn blue alligator leather strap, lined with a brown alligator leather to drive home the message that this 42 by 9.72mm watch is only for a rare handful of collectors—just eight will be delivered in numbered editions.
But for movement connoisseurs looking to score an ultra-serious piece of high horology, the latest L.U.C. Full Strike should elicit another level of lust. The piece was first introduced at Watches & Wonders in April of last year in a clear sapphire crystal case and won accolades, including a nod in our Best of the Best issue and, in its earliest iteration encased in 18-karat pink gold, the GPHG's top Aguille d'Or prize (the Oscars of watchmaking). This year at Cannes, it was introduced in a blue 42.5mm sapphire case and, like its blingy Flying T brother, it comes on a hand-sewn blue alligator leather strap to match.
The case encircles a full view of the movement and is more than just a funky design feature—the crystal gongs of the minute repeater strike the crystal case to elicit a crisp sound that was inspired by the clinking of crystal wine glasses. "As you know, I'm a wine aficionado, so I said as we were sitting around a table, 'If we could convey the sound of crystal, this would be a great innovation,' says Scheufele of when the idea for the piece was originally conceived. "The sound is usually more metallic [in traditionally-cased minute repeaters] and not always so great or it is hidden in the case and not coming out. And then we thought of crystal, we thought this could be the material of the case, sapphire crystal. There have been some innovations [in minute repeaters] but they were always around the case of the watch and not with integrating the crystal which is the most important part, as it turned out."
The effect is so impressive it caught the eye and ear of fellow independent watch titan, Thierry Stern of Patek Philippe. When it was unveiled at Watches & Wonders last year, he swung by the Chopard booth to hear it himself. According to Scheufele, he was so impressed he scheduled a meeting with Chopard and the Patek development team to collectively come to check out the piece. "Later in the year, our development team was contacted by him and I was asked if it was OK if we could meet all together and I had a listen to our respective minute repeaters. I said, 'Yes, that's a great idea. Why not? Invite them over,' says Scheufele. "So, we all had a meeting with about 10 or 15 people and there was a lot of listening going on and it was a very nice and friendly atmosphere. Everyone kind of knows each other or has heard of each other—the head of Patek's development team started his career in our company 30 years ago."
Needless to say, if you want to get your hands on the latest version you are likely already too late. Like its predecessor it will be limited to just five pieces and while we haven't confirmed pricing on the blue sapphire version, last year's clear sapphire crystal iteration came with a US$450,000 price tag thanks to the difficulty of the movement and case construction.
Scheufele declined to elaborate if versions in other colours would appear in subsequent years ("I'm not going to tell you that," he said, laughing) but did acknowledge that sapphire crystal can be created in several hues (hint, hint). "It's a very complicated process," says Scheufele. The material is not only difficult to machine but is further complicated when colour is added due to the difficulty in getting of achieving uniformity. "All sapphire crystal is Swiss-made," he adds. "This is part of our philosophy. We won't go for anything else."
This article was first published on Robb Report USA