We don't mean to burst any bubbles here, but this Veuve Clicquot x Yayoi Kusama collaboration won't be around for long
Even in the face of absurdity (read: this wretched pandemic), life is too precious to be lived pointlessly, without meaning, without love and without hope – which is just what we need for strength to carry on.
Embodying this spirit is Veuve Clicquot and Japanese contemporary artist Yayoi Kusama. Toasting to hope, optimism and better beginnings, Kusama has created something quite special as a tribute to Madame Clicquot, "la grande dame" of Champagne.
This isn't unfamiliar territory for Kusama. The artist, who's said to share an affinity with Madame Clicquot, first breathed new life into an original portrait of the latter for charity back in 2006. This latest collaboration, on the other hand, wants to breathe new life into a battered world. It comes as a reinterpretation of the House's La Grande Dame 2012, a pinot noir-forward wine with great minerality and ageing potential.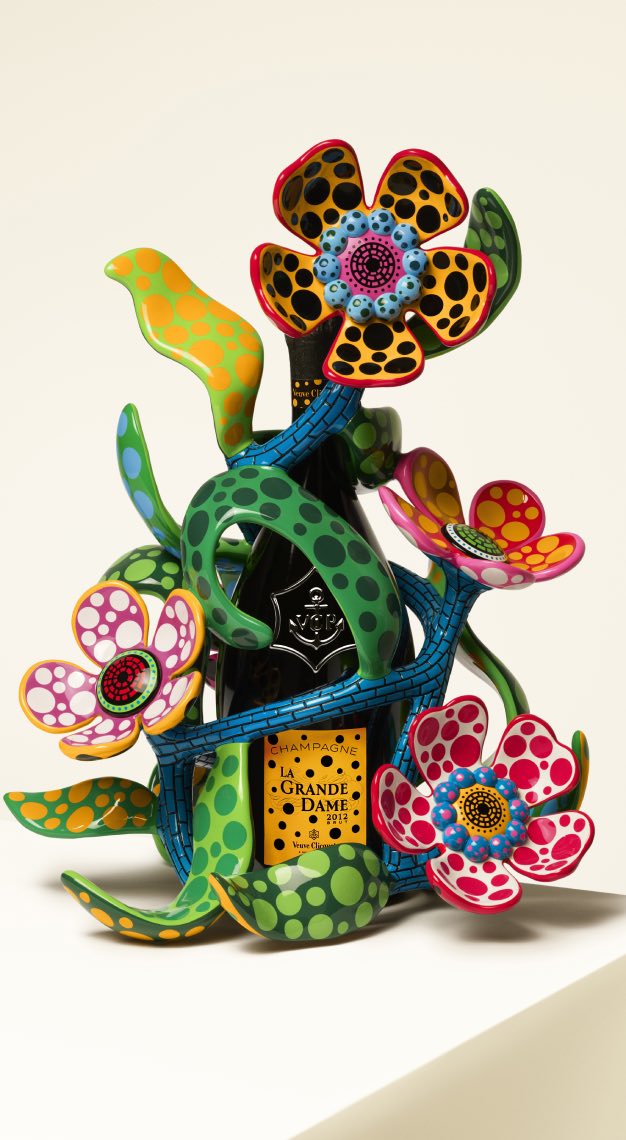 Titled My Heart that Blooms in the Darkness of the Night*, it includes a limited-edition floral sculpture which comprises five flowers, each bearing Kusama's signature psychedelic polka dots (we know, the resemblance of Champagne bubbles is uncanny). Symbolising "vital energy, love and celebration of life", the resin-copper sculpture is designed to wrap around a magnum of La Grande Dame 2012 and is only limited to 100 pieces, each available upon request for US$36,000 (S$48,496). The same floral motif can also be found on a 750ml case of the 2012 vintage, which can be bought here for S$268.
*My Heart That Blooms in the Darkness of the Night
From all my heart,
the life of flowers flew away.
My everlasting affection for the flowers,
flew off beyond the universe
to show its vitality,
to gaze at the extremes of life.
– Yayoi Kusama