Is cycling one of the most 'complete' hobbies ever? 
From the looks of it, cycling certainly is one of those rare activities with broad appeal and the potential to soothe or invigorate both body and mind. It speaks to the competitor within you; the gear enthusiast, the fitness fanatic, and the social animal. The best part? They don't have to be mutually exclusive. 
We've all heard from friends sharing their new introspective hobbies. And they run the gamut of diverse pursuits, ranging from the enticingly delectable like baking to the deliciously offbeat, like building custom mechanical keyboards. 
Cycling is one of those hobbies that has thrived in the last two years. It isn't just an outdoor activity, and you don't need to participate in triathlons to be taken seriously. If the idea of the relentless scorching sun wreaking havoc on your skin doesn't sound appealing, spinning or indoor cycling might just be up your alley. While it sounds like a 'safe' version of road cycling, it's practically the opposite—think a 45-minute, high-intensity exercise session carried out on a stationary bicycle. This also means it's a ready-made alternative for wet days, so you don't miss out on your regular cycle.
The elephant in the room is that Singapore roads are not tailor-made for cyclists, and we're all too familiar with news reports about altercations between cyclists and motorists. Fortunately, these incidents are not representative of the everyday cycling experience. But it does beg the question: how does a new rider get started on the right footing?
"New riders should tag along with a team—as a group—and not alone," says Felicia Choo, an employee at RS Works. "Experienced riders will guide you along. There are no selfish riders in cycling, so don't worry about that and just go for it; give it a try."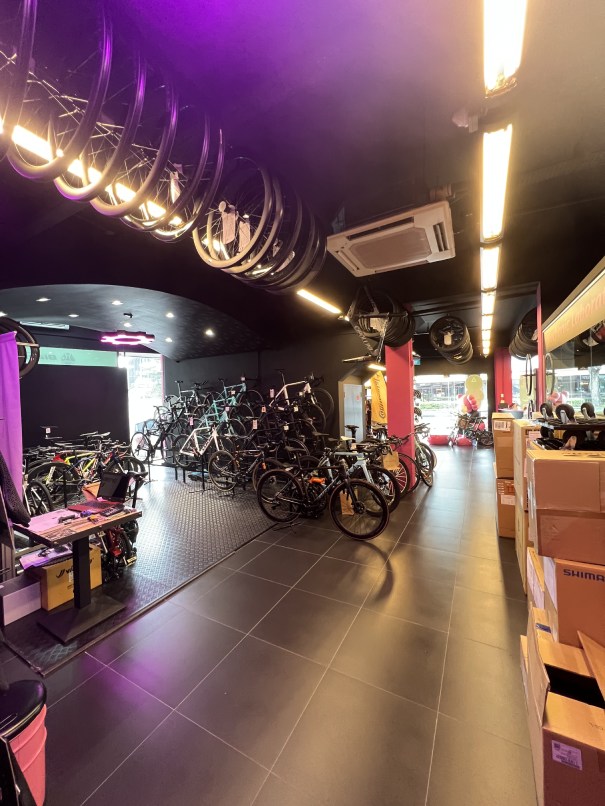 RS Works is a relatively new retailer on the scene, having started up during the pandemic despite the challenging business landscape. Aside from being a one-stop shop for all things bicycle-related, including professional repairs, it also established a spin studio called RS Cycle. By their account, they made headway in the market on the strength of their repair services and success in their distributorship of high-end Factor bicycles. That, along with little touches like bringing customers who are new riders around to show them potential routes.
Choo adds that they will add new riders to their group chats, which consist of customers and riders of all levels of interest and experience. It is an easy way for new riders to get information quickly and to join up with other enthusiasts for rides. Furthermore, with travel restrictions easing up, riders can look to revisit popular cycling trips to neighbouring countries like Thailand, Brunei and Malaysia.
"It's how you get the hobby to be interesting; having friends like yourself to go out and cycle together, and at the same time, maintain your health and fitness." She adds in jest: "If you go to a gym, you might be talking to the equipment only."
It's a distinction that also adds to the depth and breadth of the hobby. You can choose to be a grease monkey, spending time fine-tuning your well-oiled masterpiece of carbon and titanium, pushing the limits of materials science and mechanical engineering. Or, you can devote yourself to test your physical limits with like-minded friends on the road; urging each other to achieve better times and a more consistent pace, which you can only achieve through collective effort.
To answer the question at the start; yes, cycling could well be the most complete hobby you can pick up. There are so many ways to go about it, and stores like RS Works are an example of how the community can help you jump on the saddle without much effort. Always remember: the hardest part about about learning to ride a bicycle is the road.