From the heavens
The De Bethune DB28 Kind of Blue Tourbillon Meteorite may not be the first watch sporting material from outer space – Jaeger-LeCoultre's Master Calendar and Parmigiani Fleurier's Tonda 1950 Meteorite predate it – but it certainly is the most striking so far.
Crafted from a meteorite unearthed in Santiago del Estero, Argentina, the unique colouration of the space rock yields a new timepiece that is startling. A portion of the same rock – called Campo del Cielo, or Field of Heaven – went into De Bethune's Dream Watch 5 Meteorite from 2016, and there was enough left for the one-off DB28 Kind of Blue Tourbillon Meteorite. And unlike other timepieces utilising otherworldly materials (generally using the Widmanstatten technique of etching a cross-section with weak acid), De Bethune has opted for a different style here.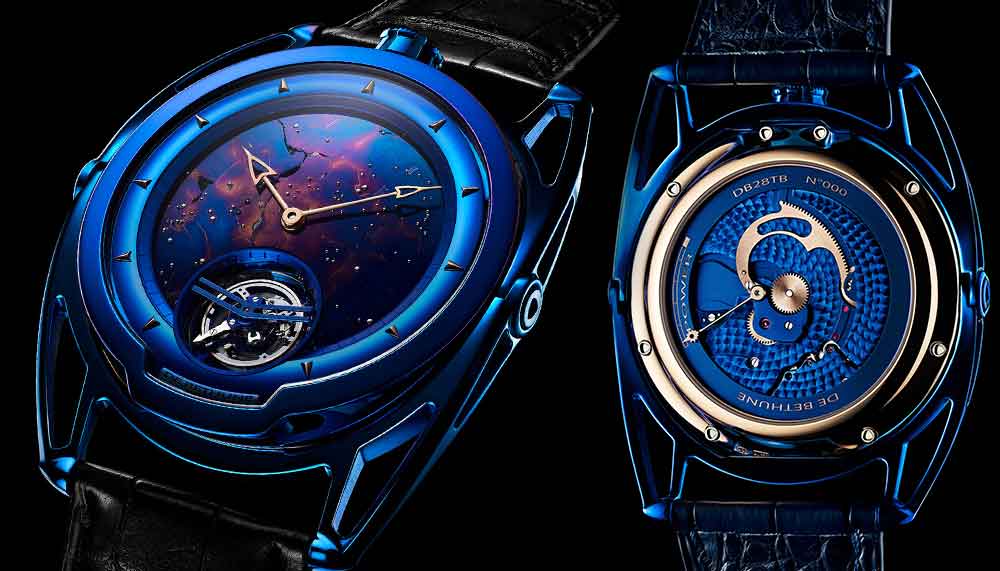 First, a thin sliver of the meteorite was cut off to the form the dial. When heated, the slice turns a deep shade of blue due to high proportion of iron, while other metals create a shimmering iridescence reminiscent of oil sheen. After polishing, tiny holes were drilled, into which tiny spheres of white gold were embedded, a representation of stars in a night sky, a signature motif of De Bethune. Surrounded by mechanical elements made of blued titanium, there is a touch of contrast in the javelin-shaped hands and arrowhead-shaped hour markers done in pink gold.
The DB28 Kind of Blue Tourbillon Meteorite is powered by De Bethune's DB2019v3 30-second tourbillon caliber running at 36,000 beats per hour, offering a power reserve of five days when fully wound. The unique piece is priced at SwF280,000 (S392,000); an astronomical price, perhaps, but this is literally an astronomical watch.