Distilled at a time of social transformation and left to age for 55 years, the selection comes paired with
10 different images of legendary lensman Norman Parkinson, who captured the mood of the 'Swinging Sixties'
Some of the world's most collectible and coveted whiskies are from distilleries that no longer exist. Such are 'ghost distilleries' that have long been gone, but their legacy lives on in the precious liquid left behind. Once that's gone, you know it's time to give up the ghost for good.
From the Lowlands of Scotland is Ladyburn, both a lost gem and holy grail. Considered technologically advanced at the time, the small-scale, modern distillery was equipped with stainless steel washbacks for hygiene and efficiency, and an on-site maltings facility for quality control. It produced spirit exclusively from malted barley for a brief nine years from 1966 to 1975, making it the oldest Lowland whisky on the market and one of the rarest single-malt Scotch bottlings of today—there are reportedly less than 200 casks of their treasured output left in the world.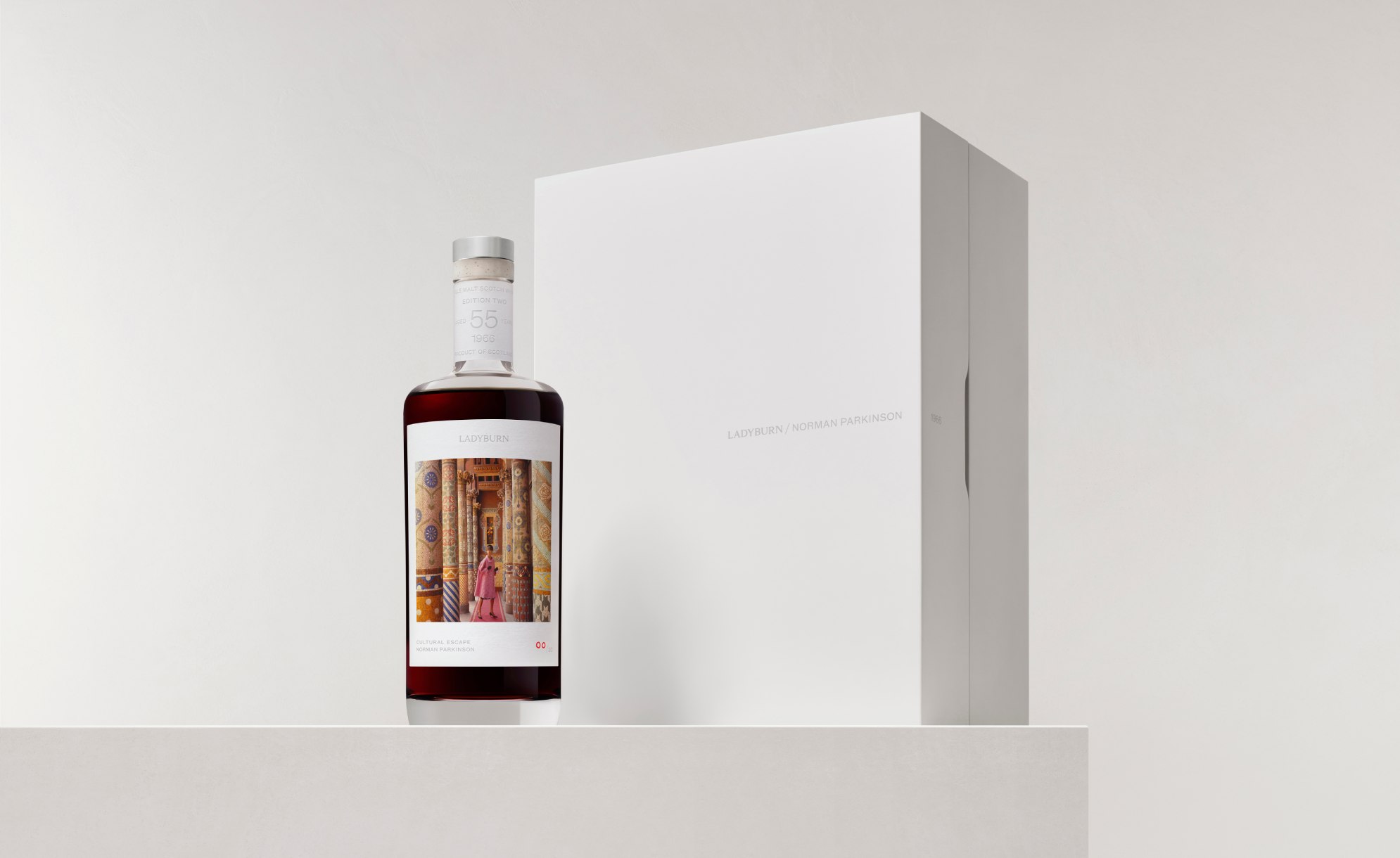 Precious bottled art that's full of life at 55
This precious liquid can now be yours. William Grant & Sons, the same company behind Glenfiddich and The Balvenie, has released the Ladyburn Edition Two. More than mere bottles of whisky, this collection is a snapshot of a moment in time that's never to be repeated. Distilled at a time of social transformation and left to age for 55 years, the selection comes paired with 10 different images of legendary lensman Norman Parkinson, who revolutionised fashion photography and captured the mood of the 'Swinging Sixties'. The three cultural trends that defined the era—independence, freedom of expression and the opening of horizons—aligned with the approach of the Grant family, when they built the Ladyburn distillery.
The whisky is full of life for a spirit at 55 years in age. The nose wavers between notes of anise and rose petals, and the palate makes way for all the stone fruit, smoked leather and tobacco. Brian Kinsman, William Grant & Son's long-serving malt master, hand-selected cask 102089 for Ladyburn Edition Two. According to him, it was one of only a handful Ladyburn 1966 sherry butts that stood out and exemplified the character of the 'lost gem', as well as having some of the typical profile of a single malt aged over 50 years in sherry butts. Its contents are a match to Norman Parkinson's enduring images that tell such a compelling story of the 1960s. "They come together to create an unseen wonder," he said.
Like the whisky you will be tasting, the photos were left unseen for decades, only to be rediscovered during the making of Ladyburn Edition Two. Strictly limited to 210 hand-numbered bottles, exceptional 55-year-old spirit is housed in unique art-labelled decanters and designed to be admired as precious oeuvre d'art. Each bottle features one of 10 individual Parkinson photographs taken between 1960 and 1969, reproduced in luxuriant colour that evokes the era's creative mood of boldness, exploration and empowerment, and spirit of transformation. Curated by former Vogue editor and global fashion authority Suzy Menkes, the rarely seen images were rediscovered by renowned photo historian Terence Pepper, OBE. For completists, there are 10 limited-edition sets featuring an 11th 'black swan' bottle.
The highly collectible release follows the success of Edition One, a collection adorned with the seminal works of yet another luminary of the photography world, David Bailey. So sought-after was the collaboration that a single bottle featuring Bailey's portrait of John Lennon sold for just over £81,250 at the Sotheby's Distillers One of One auction on 3 December 2021. Think of how proud an owner you will be of an entire collection.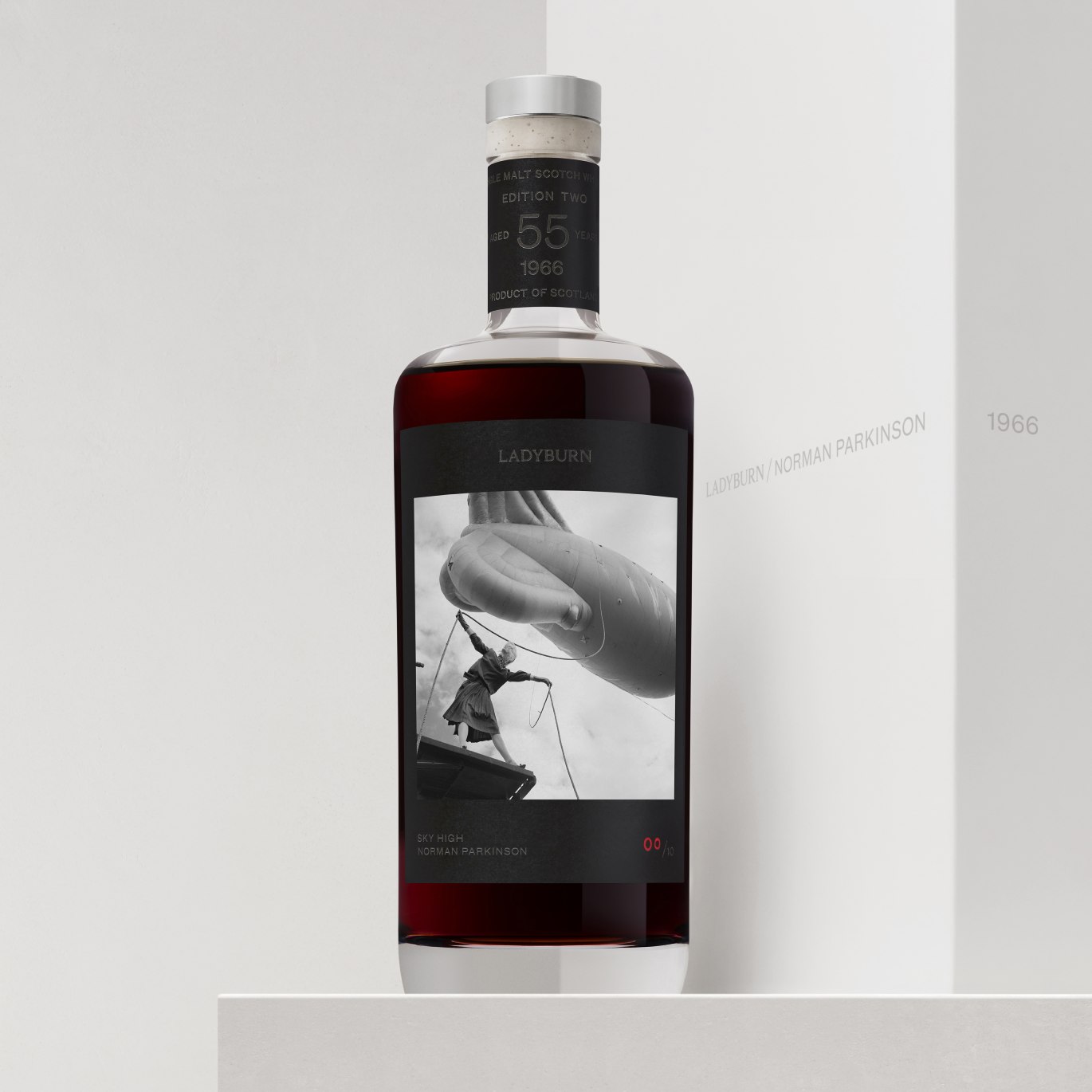 Jonathan Driver, the man who leads the William Grant & Sons Private Clients division, added, "What was such a conceptual, exploration project holds such tremendous legacy today. Less than 200 Ladyburn casks remain in our care, so when we release one, it is special. Norman Parkinson's work is the most fitting partner. We have combined the rarest liquid with the mood of the time—until now, this had not been done."
Ladyburn Edition Two is available only for purchase through special appointment with the William Grant & Sons Private Clients team, at The Distillers Library in Singapore, Bangkok and Ho Chi Minh City. For more information on this unseen wonder, contact thedistillerslibrary.sg@wgrant.com.