With the holidays, comes stress, especially when it comes to meal prep. But let Lawry's The Prime Rib help with the looming fete with four festive menus starting this Christmas Eve
It was a Wednesday evening at the Mandarin Gallery outlet. It was 6pm and already, the interior is bustling with a modest dinner crowd. The decoration signals the upcoming holidays and if that wasn't overt enough, the Christmas playlist crooning from the speakers will do it for you.
Our tasting for the evening is the Christmas Eve menu (S$189); a six-course to kick off The Lawry's holiday campaign. We begin with an amuse-bouche of Golden Stuffed Mushroom with Smoked Salmon. Originally, in two orbs, the dish has four halves presented to us, exposing its moist middle, where two pieces had salmon and the other two with mushrooms. Pinch them and pop them, and savour that satisfying crunch between the teeth.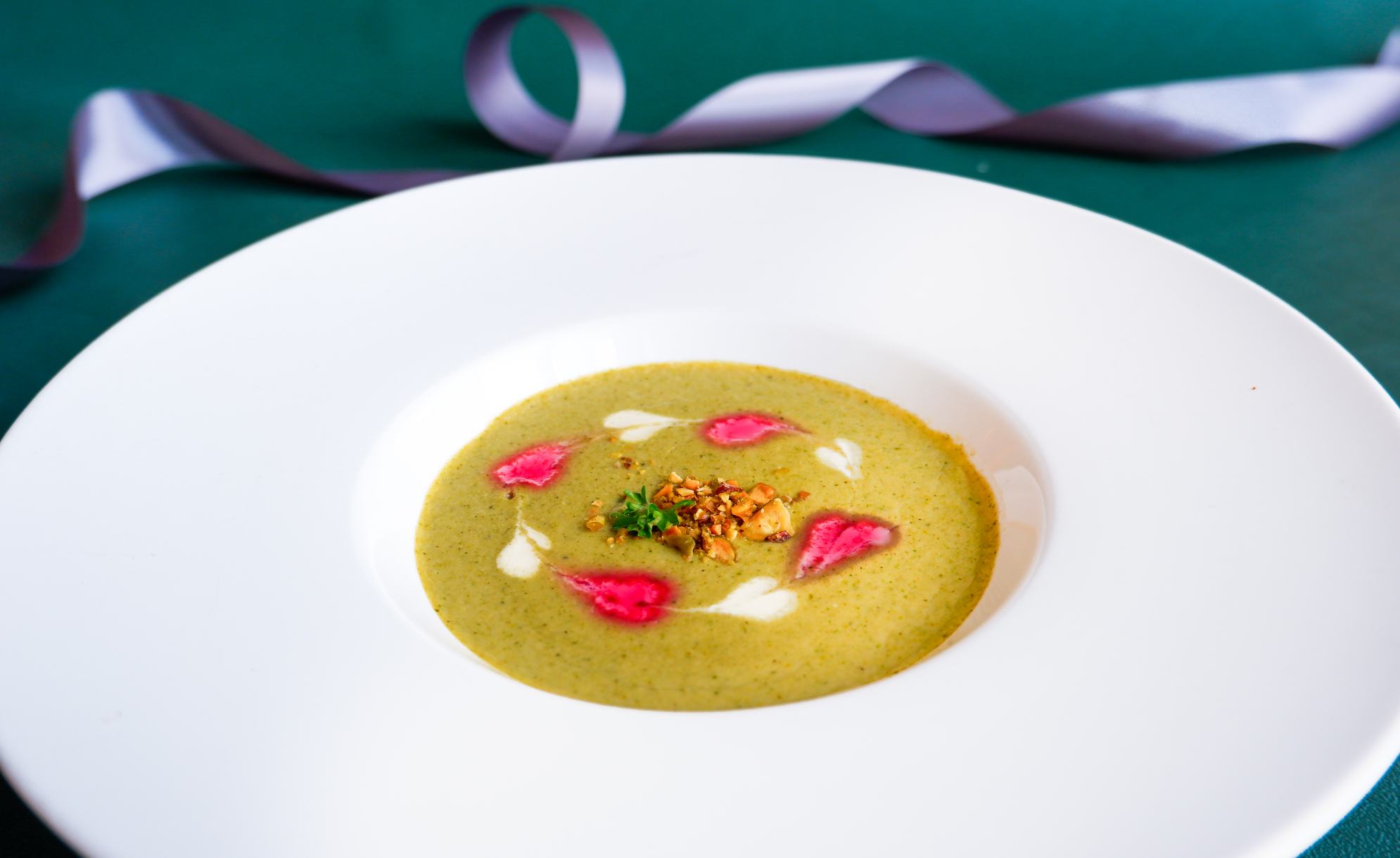 If you want to trick someone into eating their vegetables, the homemade Cream of Broccoli Soup should do the trick. Don't be deterred by the gloopy appearance. It's rather hearty and blended to a point where you still have that mouthfeel of granulated florets in each spoonful. This is followed by the decadent and pan-seared Goose Foie Gras with Port Wine Raisin Sauce and Poached Egg. Imagine eating fat-flavoured butter that's dripping with rich yellow protein goodness. Each bite is like the feeling of a tired body melting into a bed—it's pure bliss.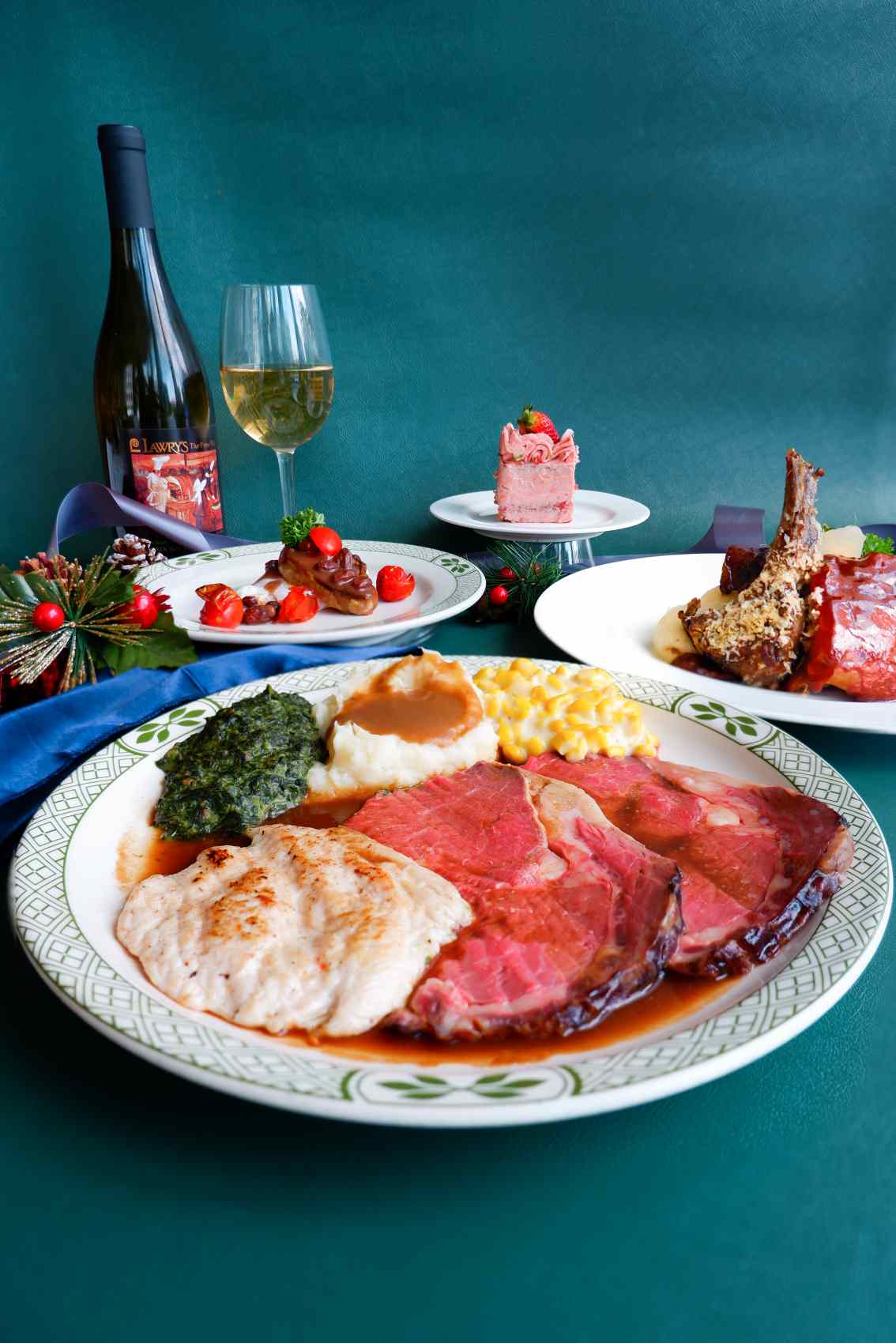 And if dinner was a theatre production, then the Lime Sorbet would be the intermission. Tart and refreshing, this is a palate cleanser to reset your tastebuds for the highlight: Lawry's Signature Roasted USDA Prime Rib of Beef, this time with turkey strips. Lawry's iconic silver cart will wheel itself over to your table, where Master Carver Eric will dole out slices of prime rib at the preferred doneness (if you're interested, it's medium-rare). US Idaho mashed potatoes accompany the dish, along with a choice of either creamed corn, creamed spinach or buttered peas (again, if you're interested, it's creamed spinach).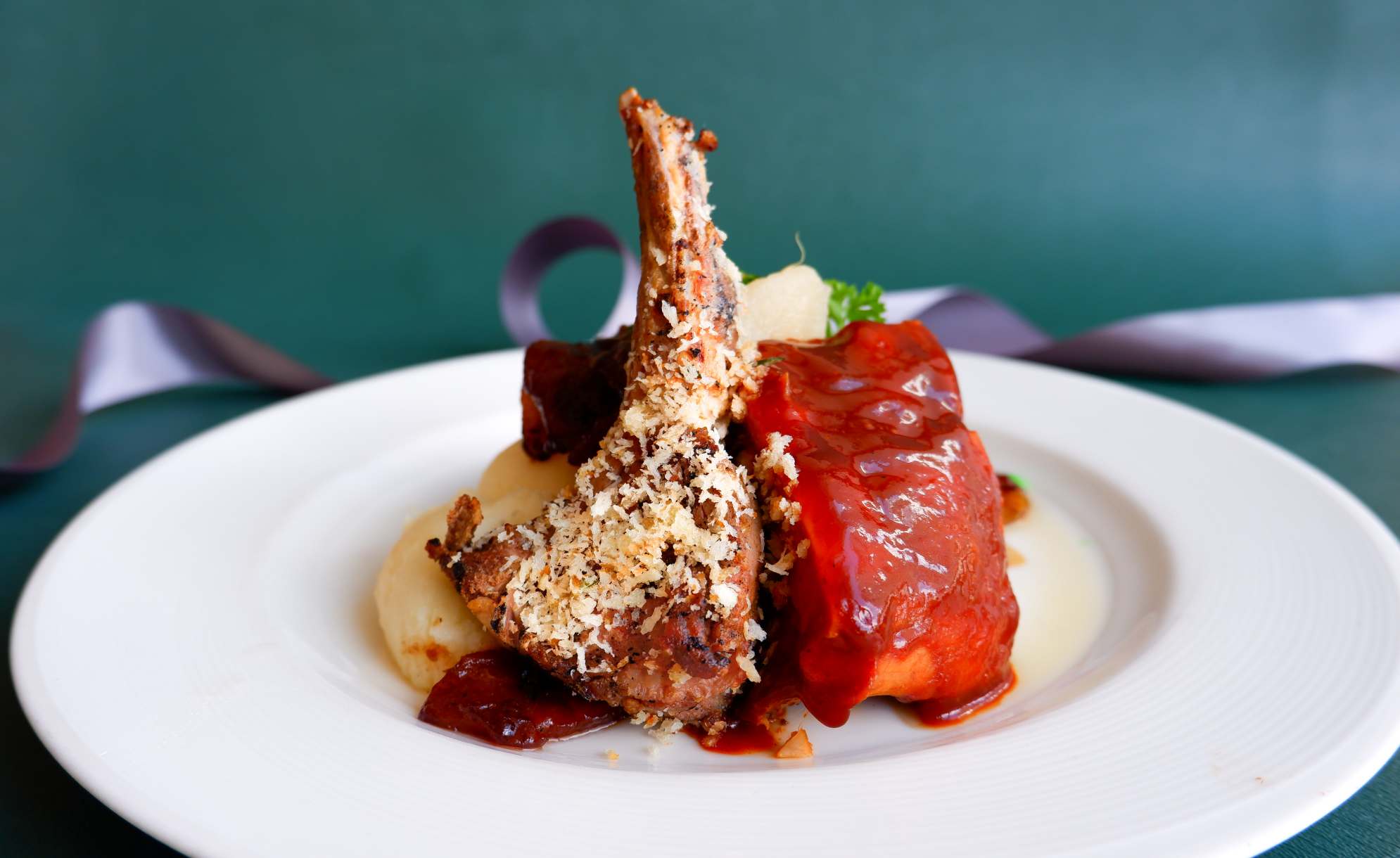 If beef isn't your thing, there are two other mains that you can choose from. The Hearty Meat Feast of grilled lamb rack, slow-braised pork ribs and pan-seared chicken, comes drizzled with truffle oil, barbecue sauce and caramelised pear slices. Seafood lovers, on the other hand, will enjoy Bountiful Catches—pan-fried Ōra King Salmon, baked oyster and slipper lobster. Then finish off dinner with a Holly Jolly Dark Chocolate Cake (the other option being a Berry Merry Strawberry Cake), a spongey and nice denouement to the evening's proceedings.
Even if you can't make it on Christmas Eve for this, there are three other festive menus to pick from:
Christmas Day
A six-course meal (S$169) consisting of a Golden Chicken Roulade stuffed with spinach and béchamel sauce; Chicken Consommé with Japanese gyoza;  Hokkaido Scallops and a Lime Sorbet palate cleanser. We resume with either the Signature Roasted USDA Prime Rib of Beef with Turkey Combo, the Ocean Delight of pan-fried Ōra king salmon and halibut or the Meat Lovers Platter of lamb ribs with grilled chicken before the denouement of either a Pineapple Cream Cheesecake or a Festive Chocolate Muffin.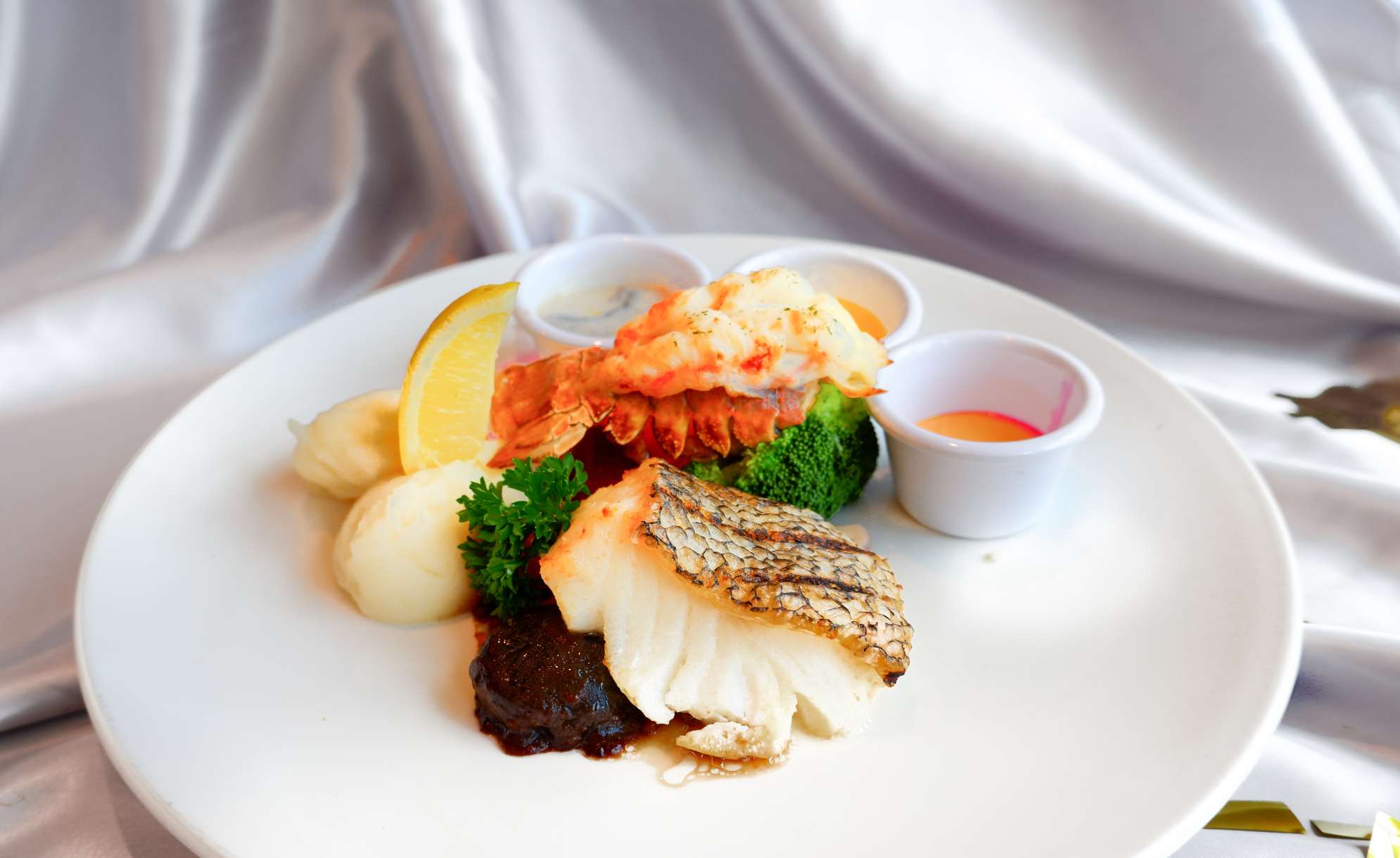 New Year's Eve
Another six-course set menu (S$199) that begins with Smoked Salmon with young mesclun leaves; Cream of Broccoli Soup; Baby Romaine with Sweet and Sour Chicken; the intermission of a Lime Sorbet palate cleaner. Three entreés to choose from—Cod Fish with Broiled Slipper Lobster Tail; Barbecue Kurobuta Baby Back Pork Ribs with Baby Lamb Ribs and the Signature Roasted USDA Prime Rib of Beef. The menu concludes with either an Oreo Chocolate Cream Cheesecake or a Pineapple Cream Sponge Cake.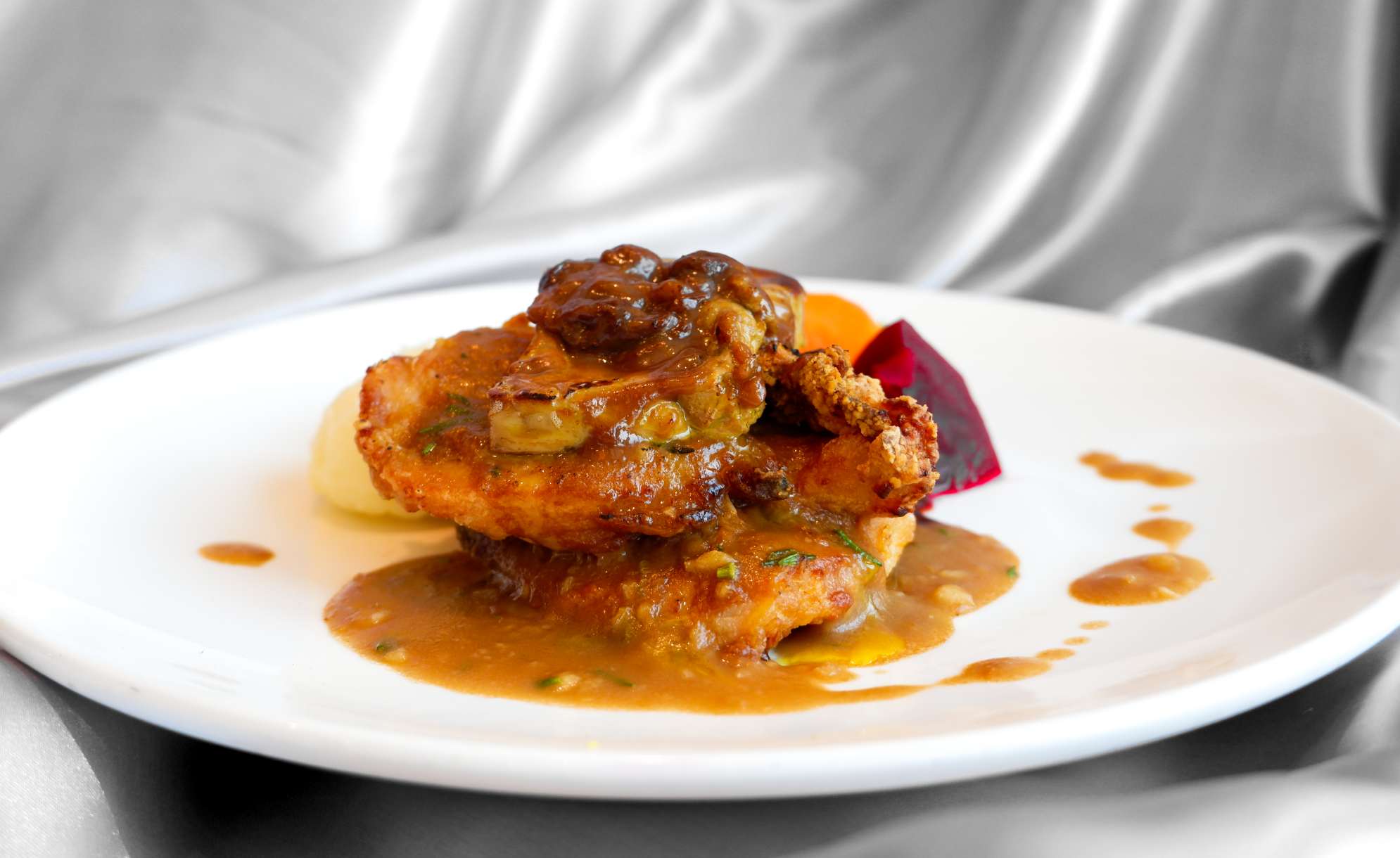 New Year's Day
Lastly, on this occasion, your five-course set menu (S$159) commences with the Chicken Consommé with Japanese gyoza; a Jumbo Tiger Prawn and Handmade Shrimp Gyoza, then Lime Sorbet palate cleaner. Choose among the Crispy Boneless Chicken with Goose Foie Gras; Dorado Fish Fillet with Pan Seared Hokkaido Scallop and the Signature Roasted USDA Prime Rib of Beef for your main. Close with either a Purple Tapioca Cream Cake or a Coconut Cream Cake.
Robb tip: Incur a bill of S$500 and leave with a bottle of Cocchi Piemonte Brut N.V. And if you're seated between 11.30am to 2.30pm, enjoy 10 per cent off the set menus. Call to book or drop them an email to save a seat.
Lawry's The Prime Rib
333A Orchard Road
Mandarin Gallery 04-01/31
Singapore 238897
Tel: +65 6836 3333