This iconic landmark is home to several stunning attractions, which are well worth checking off your travel bucket list
Featuring a myriad of top-tier Thai and international luxury brands, ICONSIAM is a blend of two retail complexes – the first is ICONSIAM and the second is ICONLUXE – that reflect the very best of Thai living and architecture. The brand's establishment marks the first time a concept like this has been successfully brought to life, blending a dramatic riverside location with art, culture, dining and shopping under one glorious roof. It's also redefining the standards of luxury in Thailand by melding the country's most notable features with the very best that the world has to offer.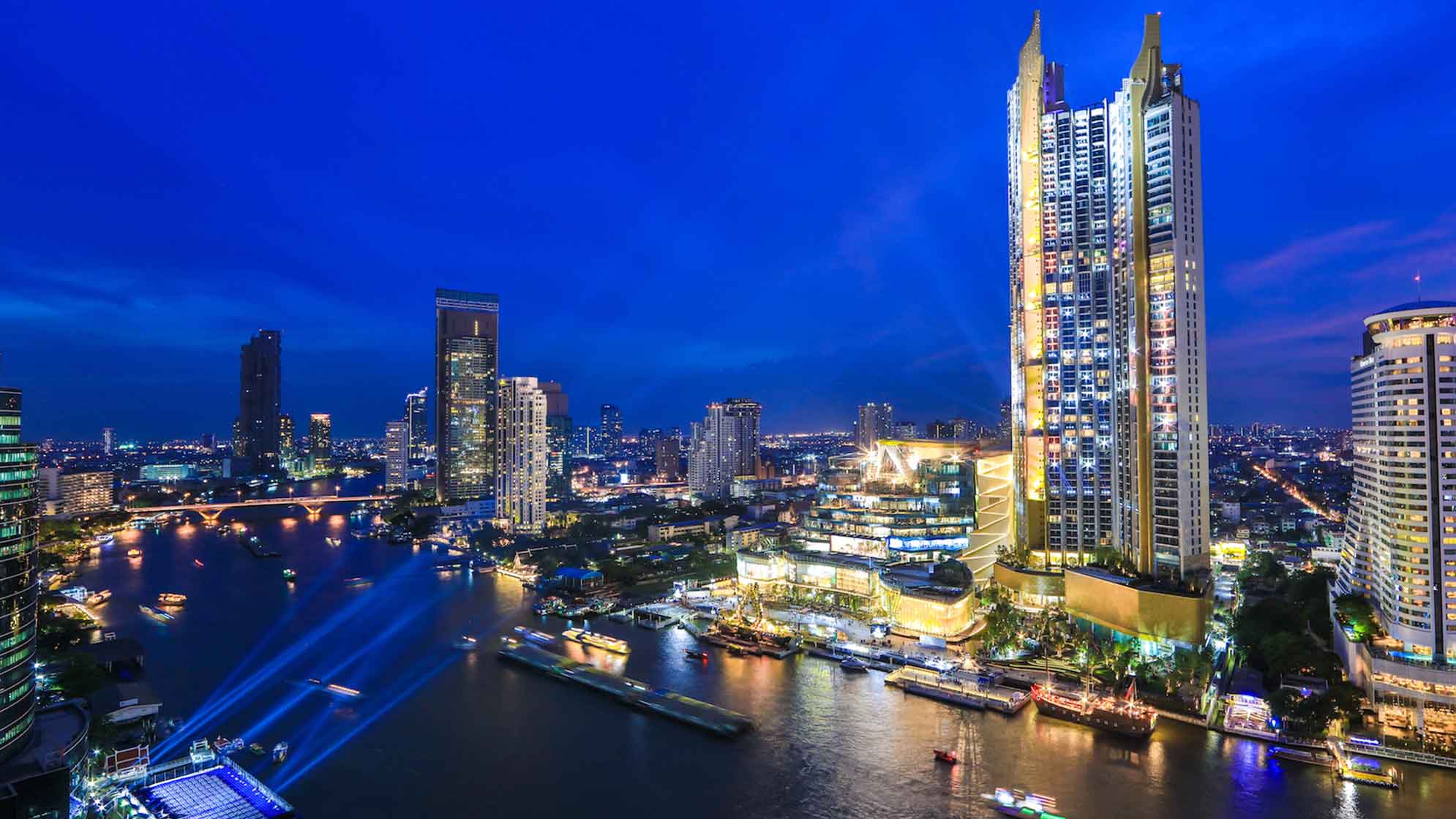 A Blend of Tradition and Modern Design
When it comes to design, ICONSIAM doesn't go far to look for inspiration, and draws heavily from Thai tradition and culture. The design of the krathong – a piece of banana trunk decorated with flowers, banana leaves, candle and incense sticks – plays a vital role in the overall facade of ICONSIAM and ICONLUXE.
While ICONSIAM's design is inspired by the way a krathong is folded, ICONLUXE's facade resembles three glass krathongs, stretching 300m along the river. A special type of glass is used to create the vertical pleats visible in its design – these pleats are inspired by a traditional Thai dress with a pleated shawl.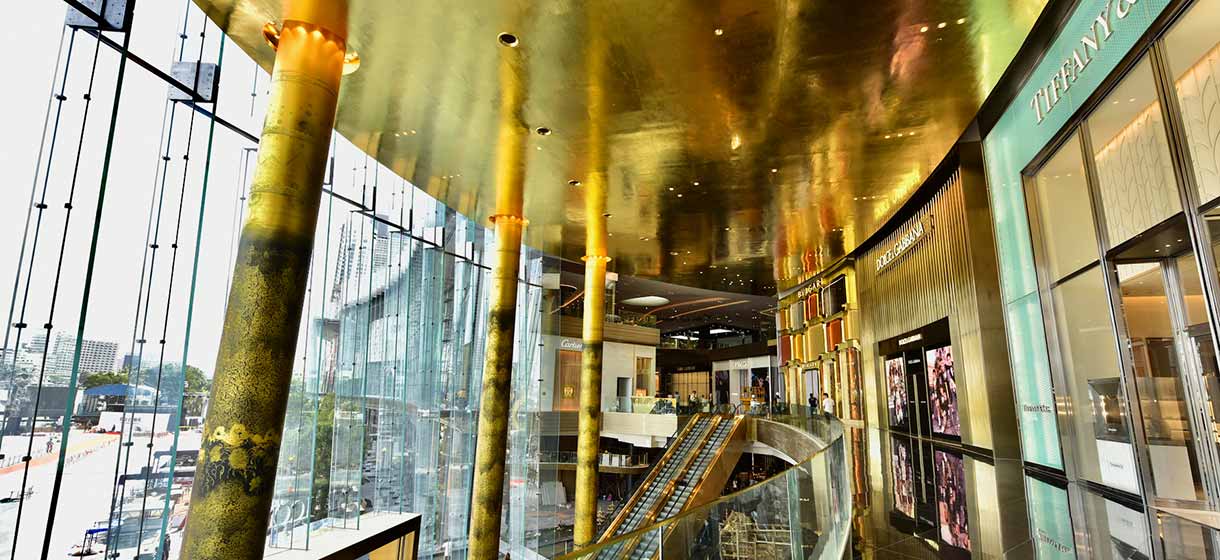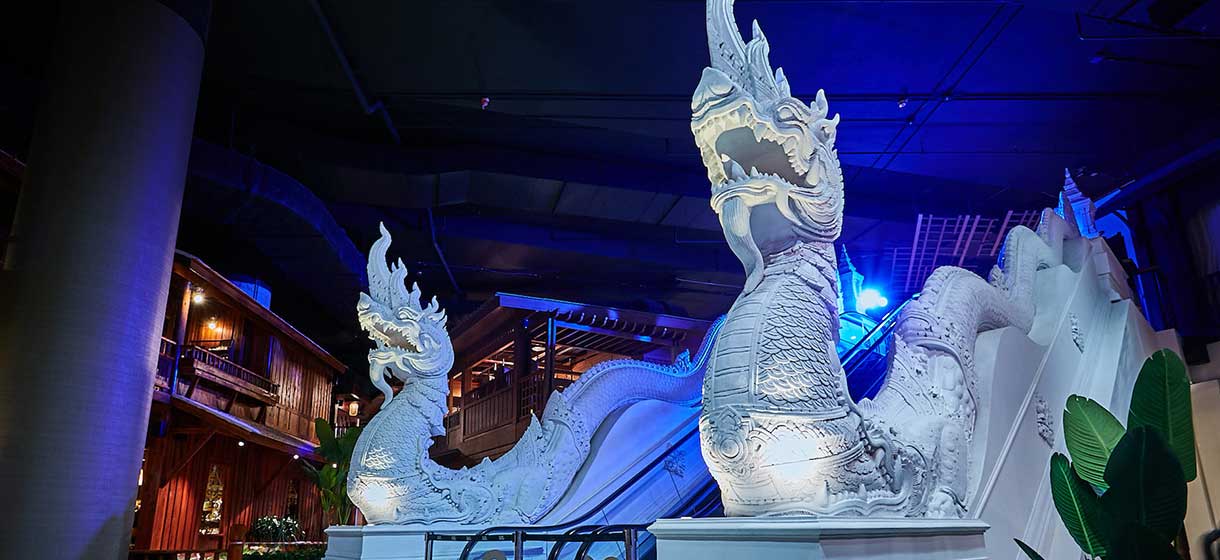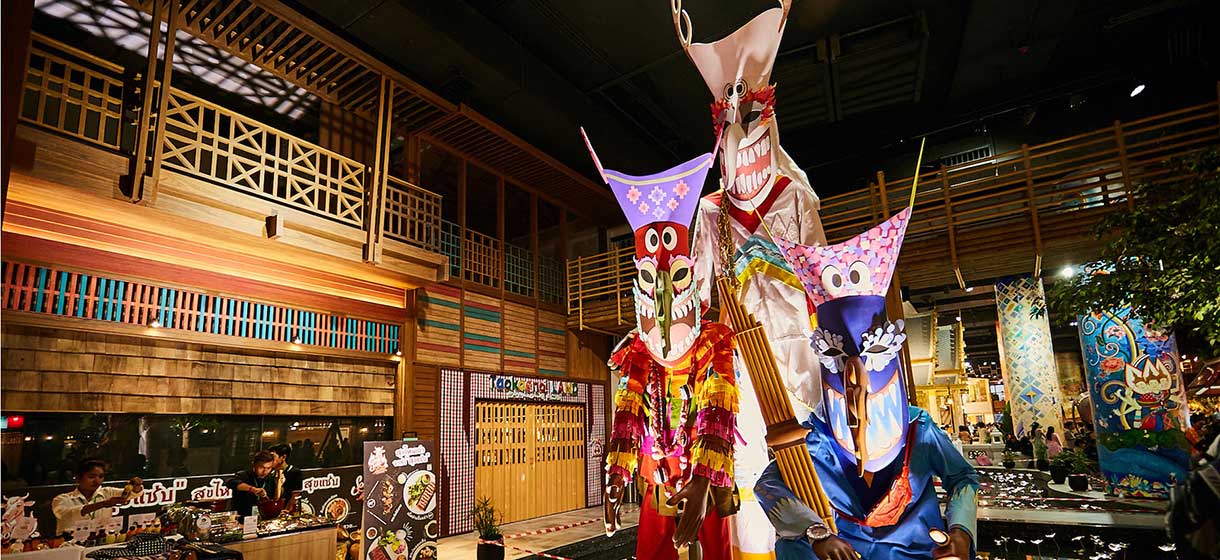 The development's interior decor is also made up of intricate artwork – a collaborative effort between 100 Thai and international artists. Largely inspired by traditional Thai beliefs, these masterpieces come in the form of statues, paintings, carvings and even chandeliers inspired by the shape of woven garlands.
Furthermore, art enthusiasts will get to enjoy more of Thailand's historical and cultural heritage once River Museum Bangkok opens in July 2019. Here, you'll get to visit international touring exhibitions, permanent displays and valuable artefacts, all protected by a state-of-the-art security system.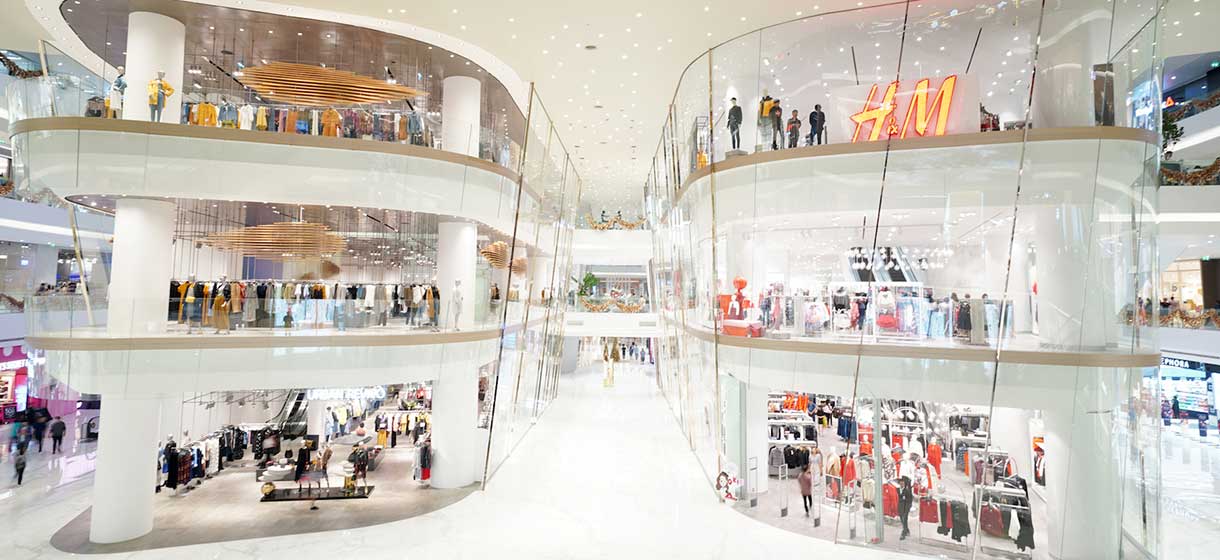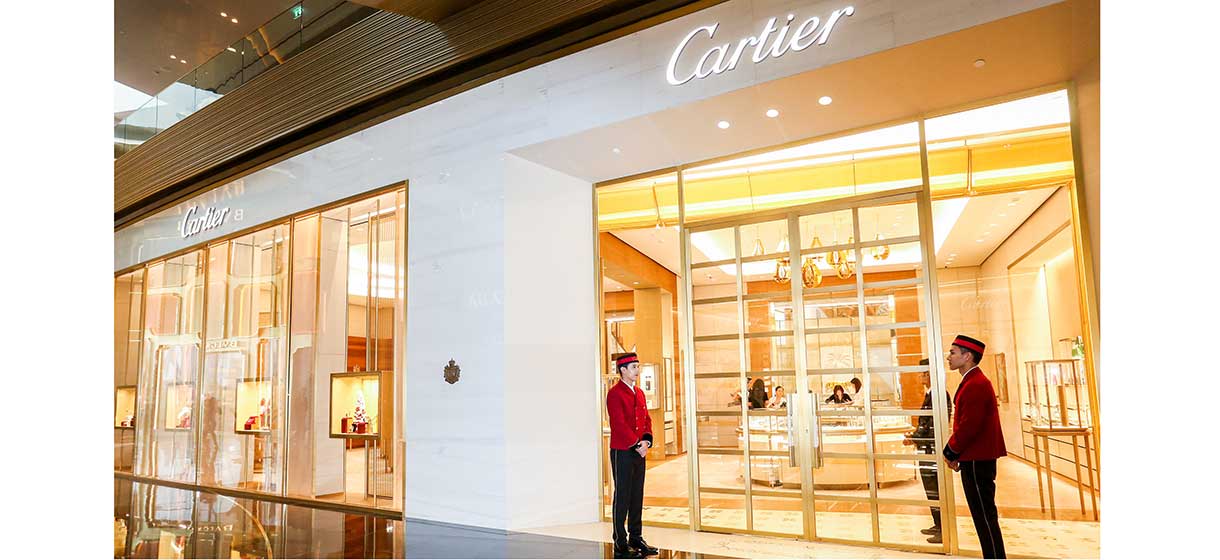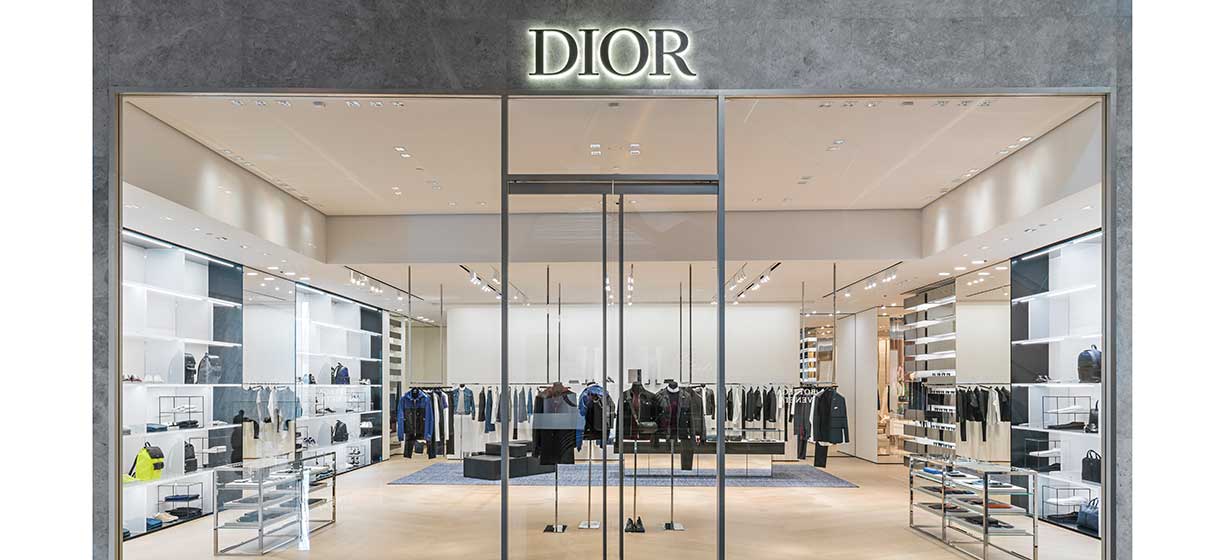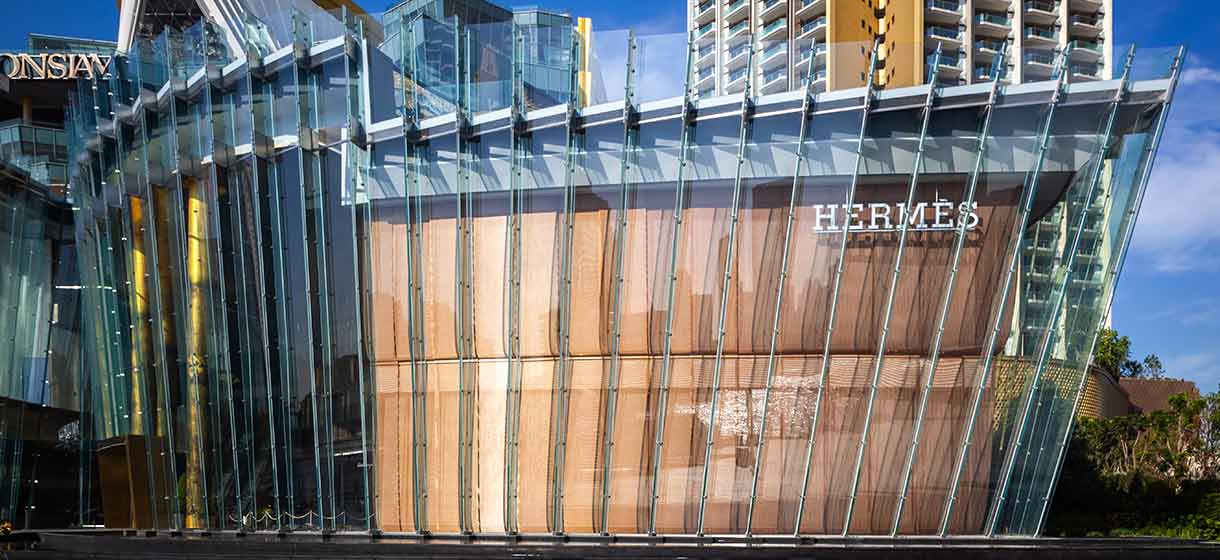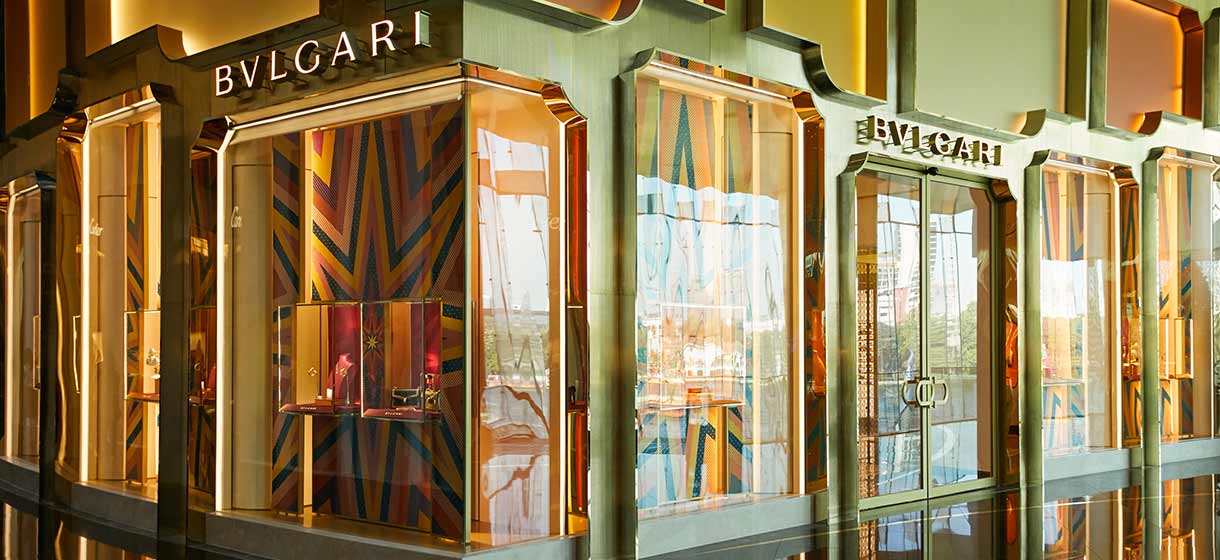 An Unmatched Shopping Destination
Expect nothing but the best in luxury at this glamorous outpost, thanks to the various iconic flagship stores that sit within. You'll find all things designer at ICONLUXE, with up-to-date offerings from luxury houses such as Prada, Bulgari, Fendi, Dior, Hermès, Louis Vuitton and more. Tip: There's more to these stores than just gorgeous goods; look around you to see how Thailand's heritage has inspired the decor in each of these stores.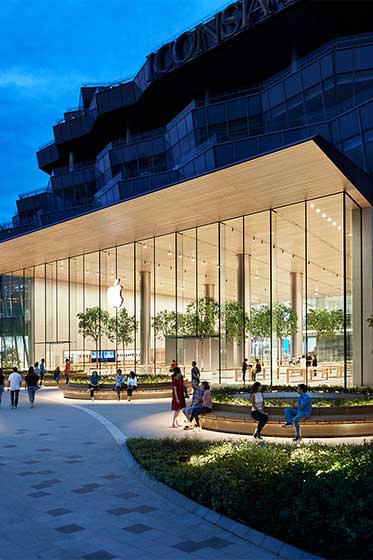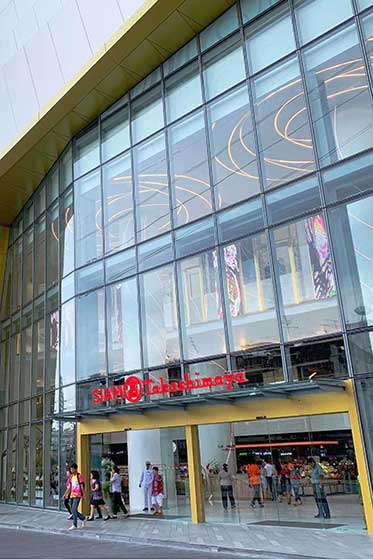 For some retailers such as Apple, venturing into ICONSIAM marks their very first venture into Thailand's vast retail landscape. The glitzy destination will also feature Siam Takashimaya by Takashimaya, which is the beloved Japanese brand's first full-scale store in the country.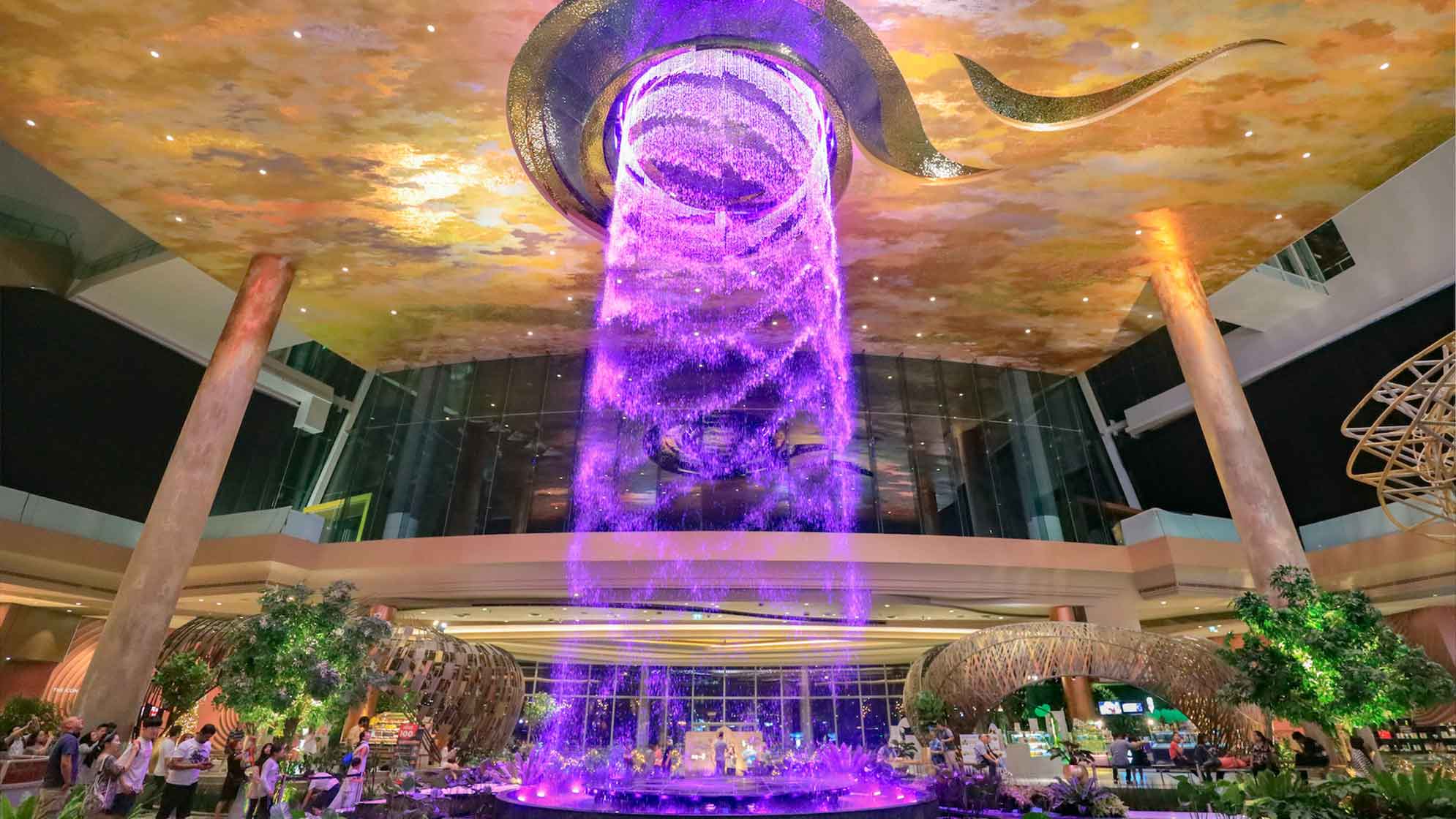 A Foodie-Friendly Paradise
When it comes to international cuisine, ICONSIAM is redefining the phrase 'spoilt for choice'. ICONSIAM comprises more than 100 famous restaurants from around the globe, each tucked away within its seven spacious zones.
Alangkarn on level 6 (pictured above) celebrates all things rice – the very heart of Thai culture. The space features rice paddies, waterfalls and pavilions inspired by Thai agricultural tools and has cafes, restaurants and international fine dining restaurants, offering Thai, Chinese, Japanese, Indian and French cuisine. Alternatively, dine under the stars at Tasana Nakorn Terrace; cosy and relaxing, it's the ultimate go-to for gastronomers, thanks to its semi-outdoor restaurants and bars with stunning sky views.
ICON Eats on level 4 is all about fun and comfort, and offers patrons popular street eats alongside top-tier restaurants from Bangkok. If you're bringing the kids, the family friendly ICON Dining Rooms on level 5 offers the ultimate view of the Chao Phraya river. Dine on Chinese delicacies, seafood and modern Thai cuisine at the seven restaurants in this zone, which include Kub Kao Kub Pla, Hong Bao, Nara, MK Live, Laem Charoen, Baan Ice, and Outback.
Japanese dining is fast becoming a popular go-to in Bangkok, as evidenced by the three Japanese food zones with ICONSIAM. The first is Siam Takashimaya Rose Dining on level 4, which comprises seven luxe restaurants such as Toku, Otaru Masa Sushi, Katsukura, Kissyan, Kamui, Takewaka, and ELLE Cafe. Not satisfied? The ground floor features a food court and more Japanese restaurants, while cafes and bakeries from across Japan are divided into three smaller zones on level UG, each named after the Japanese prefectures of Kyoto, Hokkaido and Nara.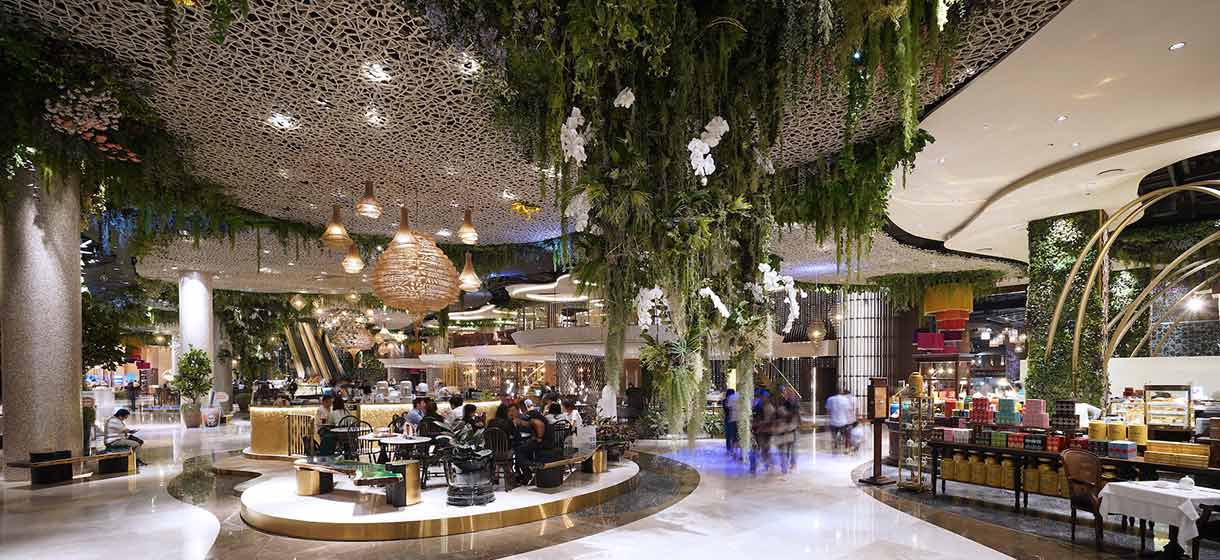 Gathering some of Asia's hottest chefs in one place, The Veranda (pictured above) on level G is a group of 16 food stores and eight sweet shops from around the globe. This zone also immerses visitors into its surroundings, thanks to the use of multiple levels, artificial waterfalls, vertical gardens, and natural lighting.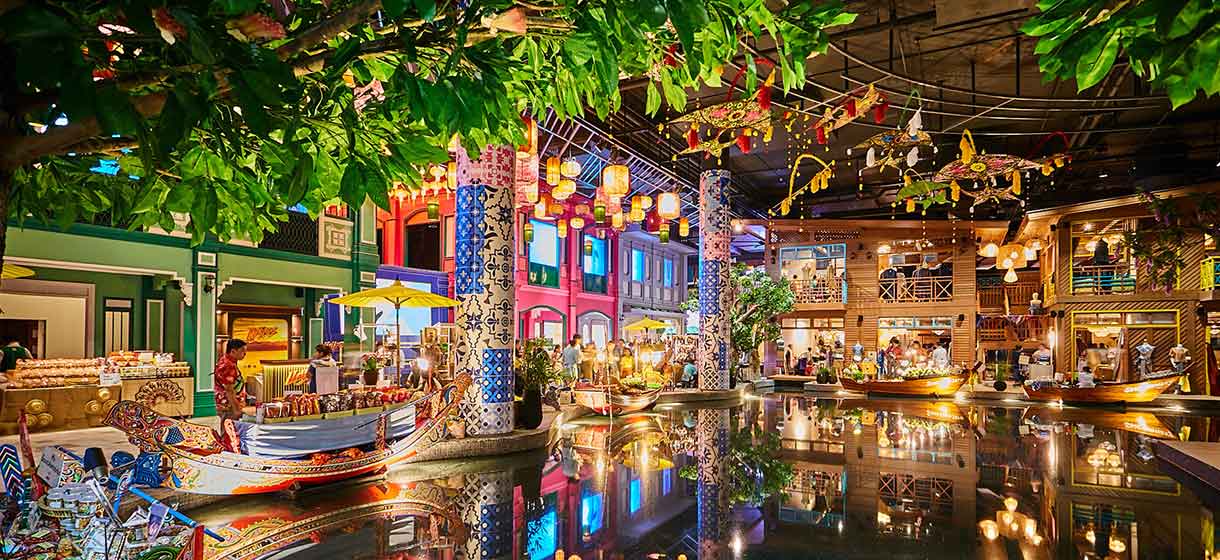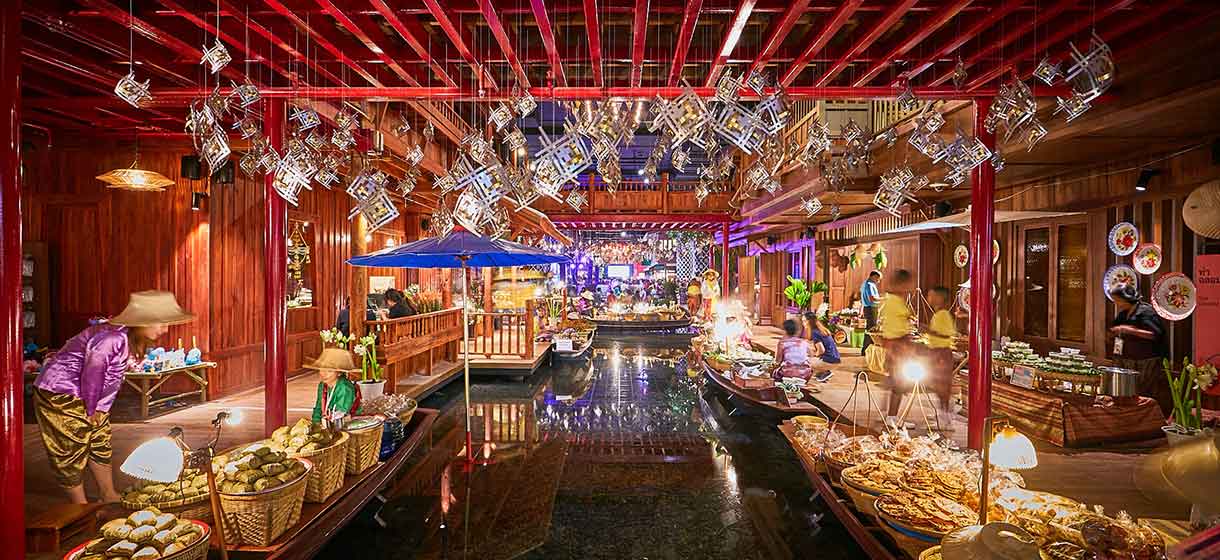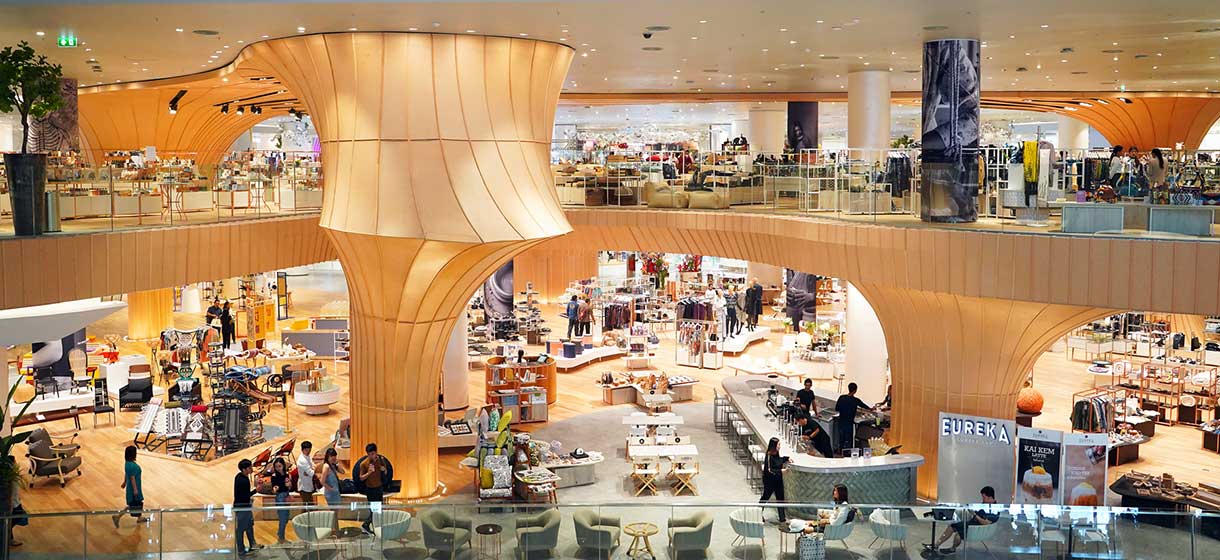 Handicraft Haven
The immersive SookSiam is designed to celebrate Thailand's cultural heritage, and highlights authentic cultural offerings from the country's four main geographic regions. It contains some of the country's best arts, handicrafts, products and services from Thailand's 77 provinces. Expect to find galamere sweets from Surin, exquisite accessories from Chiang Mai, clay pottery from Nonthaburi and goldware made with ancient techniques from Yala.
For a deeper glimpse into Thailand's creativity and craftsmanship, step into ICONCRAFT on levels 4 and 5, which assembles a grand collection of innovative art pieces and contemporary craftwork by local artists under one roof. Tailored for the younger generation, the objets d'art here seek to banish the myth that art is old-fashioned; rather, the collections are presented as practical items for everyday living.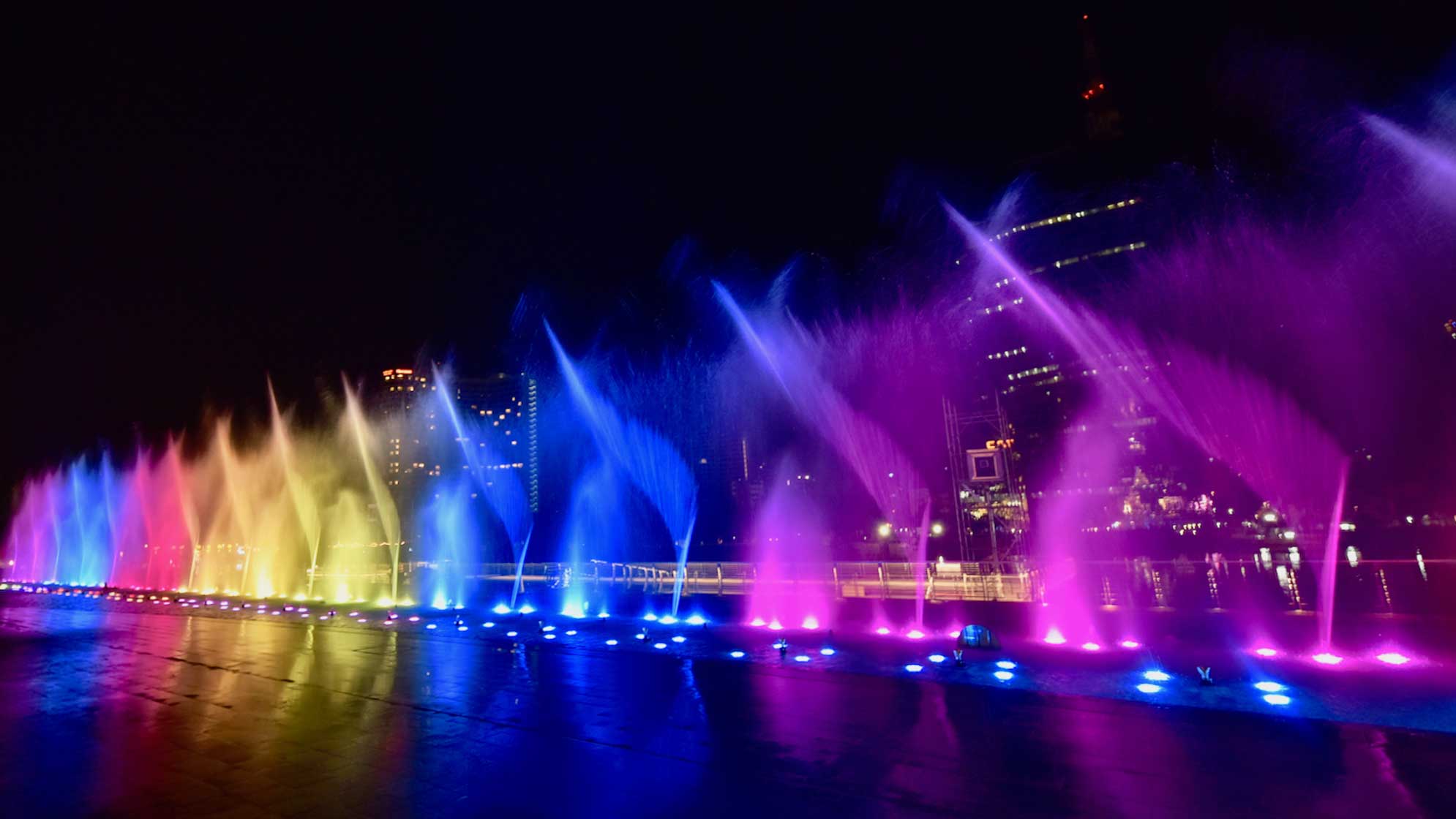 Water and Light Delights
After a sumptuous dinner, head to River Park Plaza to check out the new ICONIC Multimedia Water Features show in front of the beautiful vistas across the Chao Phraya river. At more than 400 metres, this dazzling feature combines water, light, colour, sound and various multimedia, and is designed to highlight the river's grandeur.
The water is shot using spinning 2D, 3D and 4D jets, which creates floral-shaped images and forms a water curtain upon which the projection is shown, accompanied by Thai music. Currently the longest water feature in Southeast Asia, the show is open to the public, and takes place at 6:30pm, 8pm and once more at 9pm.
ICONSIAM
299 Charoennakorn Road
Klong San District
Bangkok
Thailand