Specialized's Aethos Jet Fuel kicks off with radical customisation
When Californian-based bicycle manufacturer Specialized launched its range-topping S-Works Aethos last year, it threw out the rule book on bike design and laser-focussed its 46 years' of accumulated wisdom to design the purest expression of riding. Following a secretive one-year development, the resulting Aethos emerged. It was hailed as a high-performance bike which prioritises "The Perfect Ride". Boasting the world's lightest production disc-brake bicycle frameset (617 grams), the Aethos succeeds in its mission to confer utmost handling and ride quality through the ultralight carbon fibre structure. This was achieved through over 100,000 computer simulations on the frame shape, with Specialized deriving a structurally efficient road bike that is incredibly responsive, stimulated on climbs and evens out road imperfections. Perhaps most intriguingly, the Aethos frame didn't offer much by way of branding, eliminating the logos on the down tubes and other discernible brand signals. The Aethos Jet Fuel frameset (S$8,250) however, was sanded and pre-prepped for custom paint. All of that makes perfect sense with this month's launch which showcases the creative heights which owners can aspire to.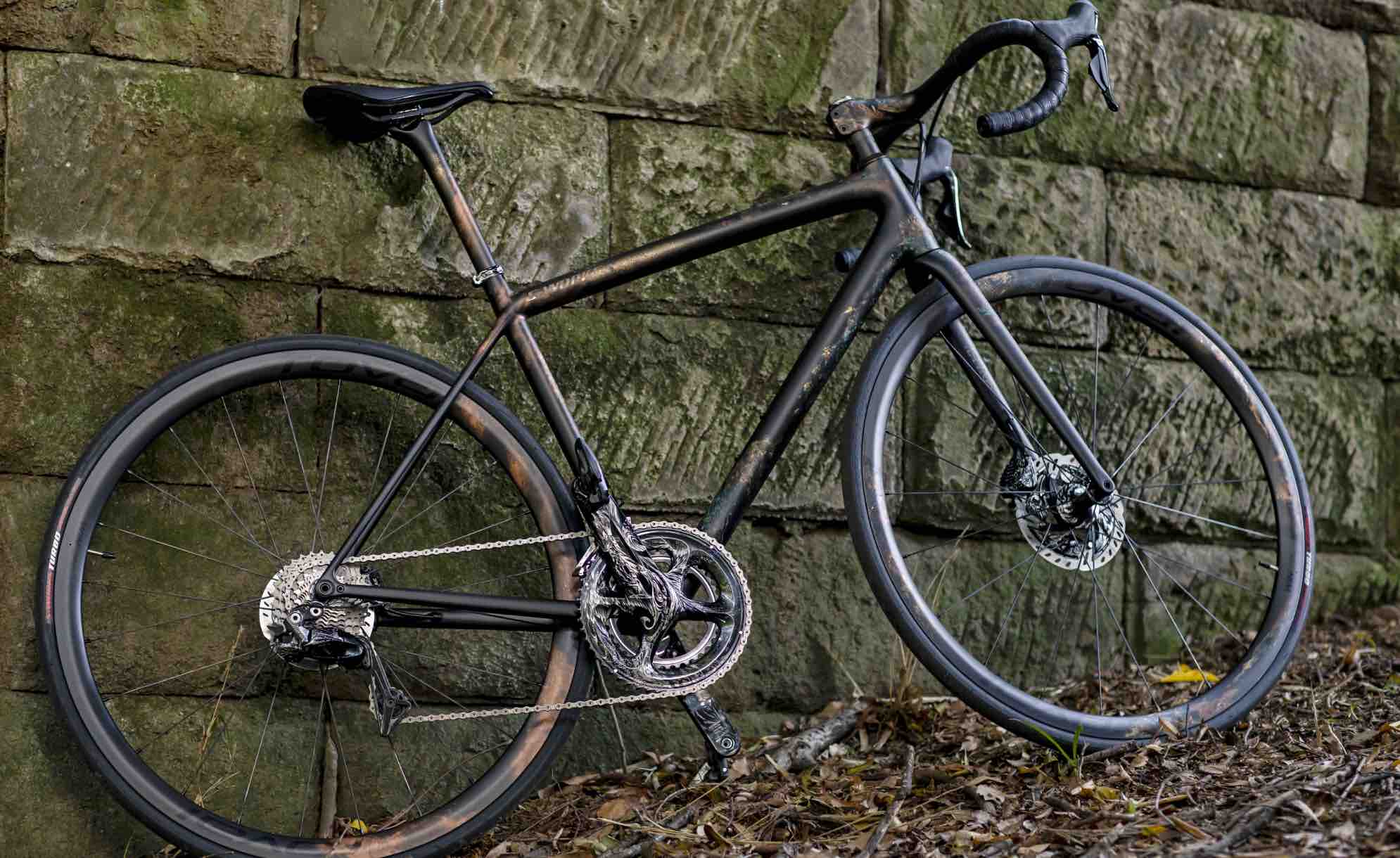 Enter Kosuke Masuda of Yokohama, a rider, Buddhist monk and artist who specialises in the art of delicate metal carving and painting with oxidised copper. To showcase the breadth of the Aethos Jet Fuel Project, Masuda and Specialized collaborated on a one-off execution on the artist's favourite subject – bicycles. Those familiar with Masuda's oeuvre will recall vivid pigments and suggestive imagery which morphs from abstract forms to materialise landscape fantasias within an ever-expanding universe. This unique Aethos Jet Fuel project will be presented in a travelling series of roadshows as well as through a virtual gallery this month. It will then be auctioned together with an NFT to support Outride foundation, a community outreach programme to provide disadvantaged children with bicycles and safe places to ride. Proceeds will also be channelled into local riding organisations to develop cycling in the Asian-Pacific region.
Spiritual well
Masuda, born at a temple in Yokohama in 1978, found art in his early years and later majored in it at the University of Auckland's Elam School of Fine Arts. In 2005, he followed the footsteps of his elder brother and father and trained to become a monk at Kōyasan in Wakayama. Today, he lives with his wife Kei Hompo – also an artist and photographer – whom he credits as awakening a deeper mindfulness.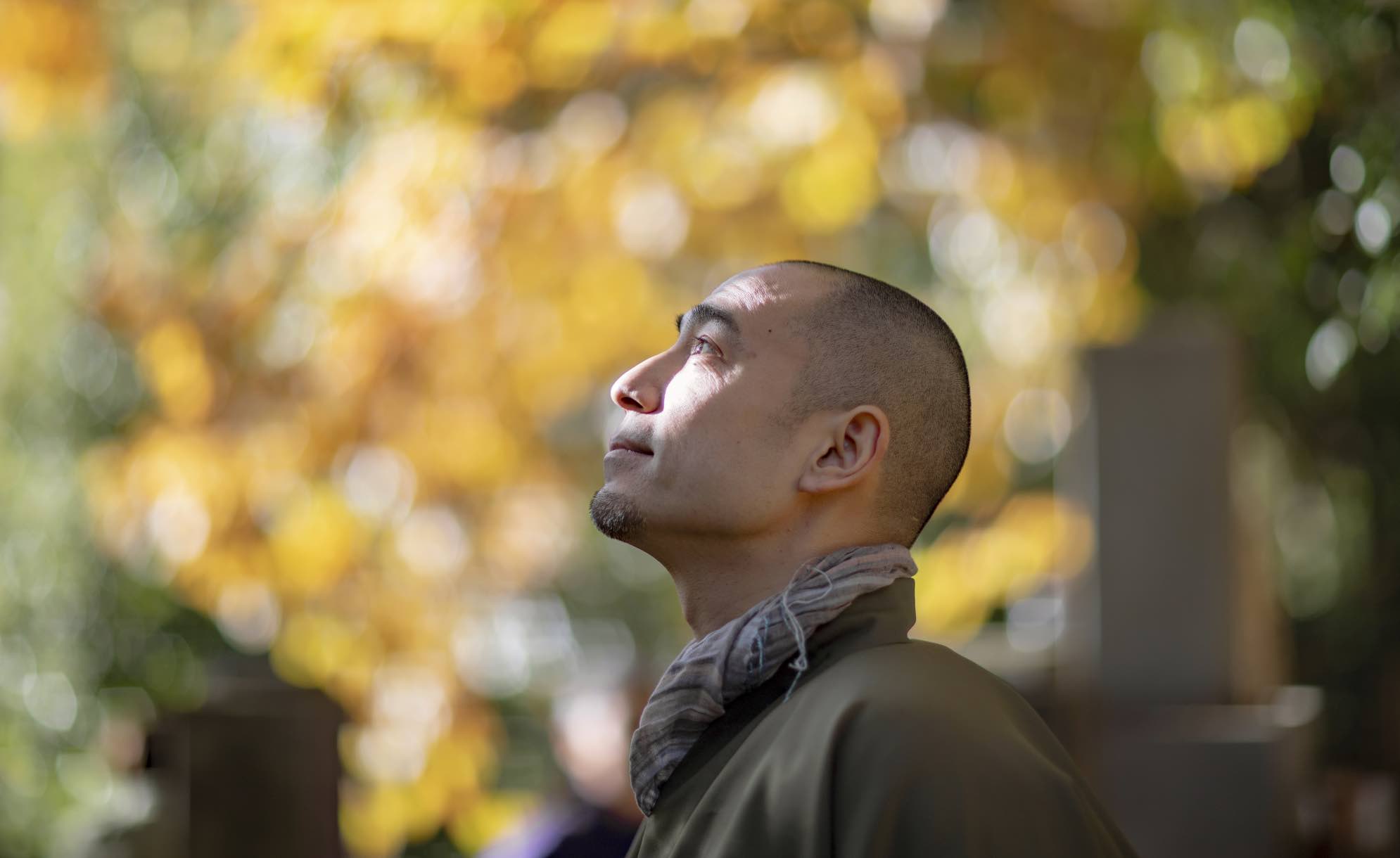 Enshrined meaning
Stones carry deep meaning for Masuda; "they have a weight, a shape and embody history". In the same way, he enjoys the smooth tactility of bicycle parts and the unexpected feeling when touching them.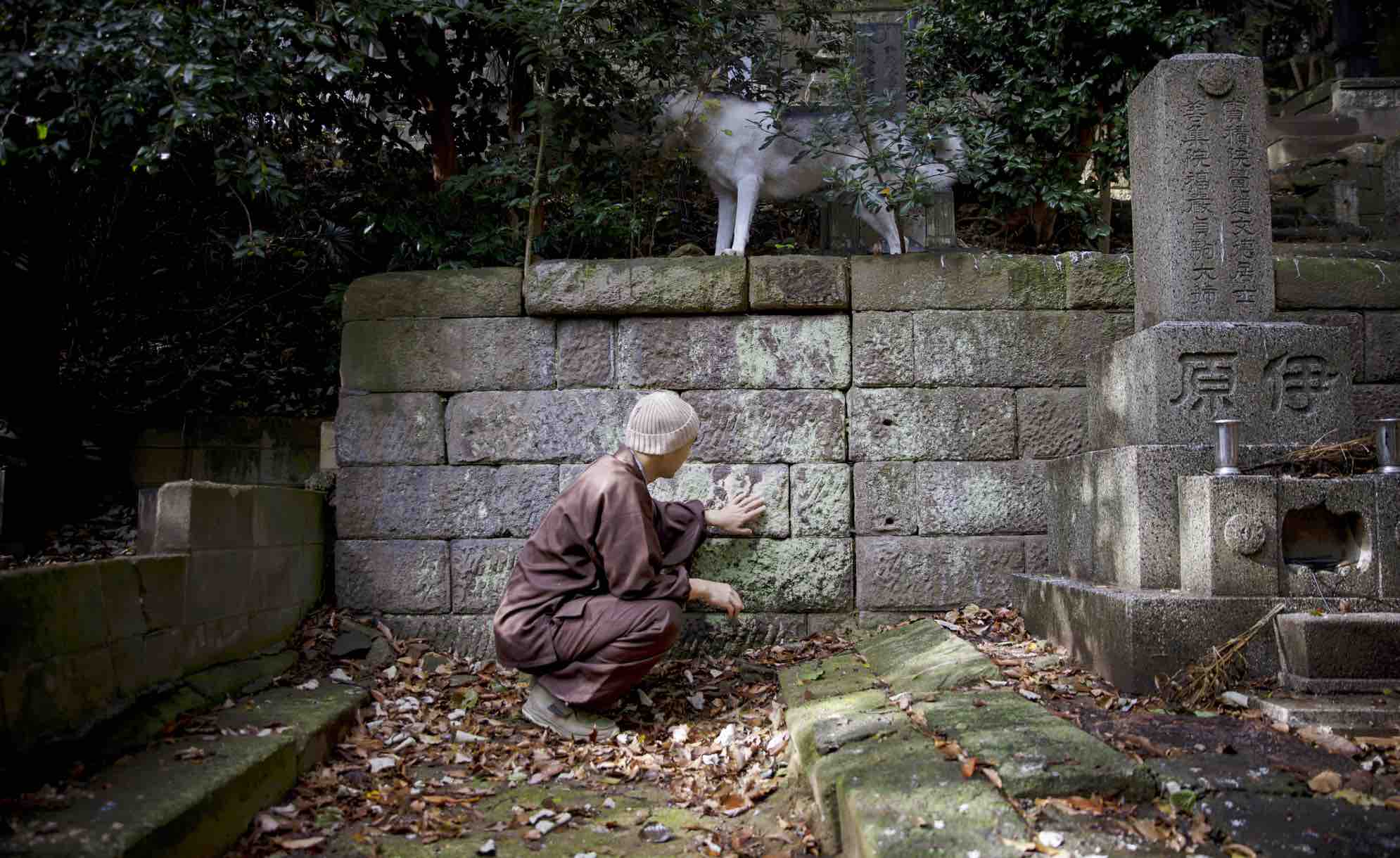 Life evocation
Masuda feels keenly about bicycles and is a big proponent – both as a rider and using it as a medium of expression. This Aethos Jet Fuel Project dovetails perfectly with Masuda's philosophy of bicycles being 'alive'. He expresses his intrigue at this state of being "aliveness" saying: "humans cannot live without any interactions with their surroundings. Bicycles also don't function without humans (being made and ridden by humans)."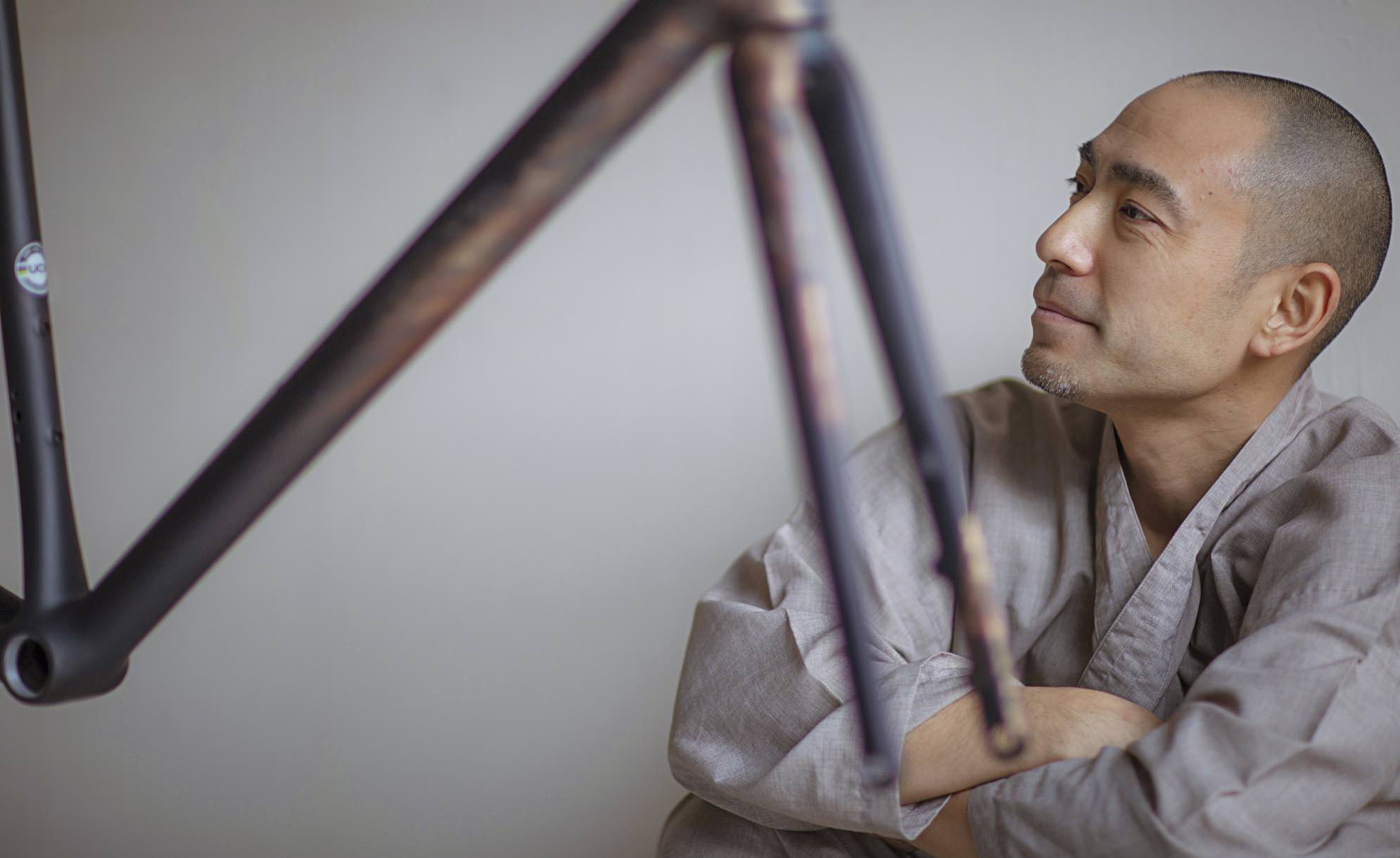 Function formed
Perhaps the most captivating aspect of Masuda's art is that his technique and application neither calls for drafts nor motifs. He actively embraces unintended outcomes and prefers his art be something usable – to retain that relationship between the art, and the people who behold it.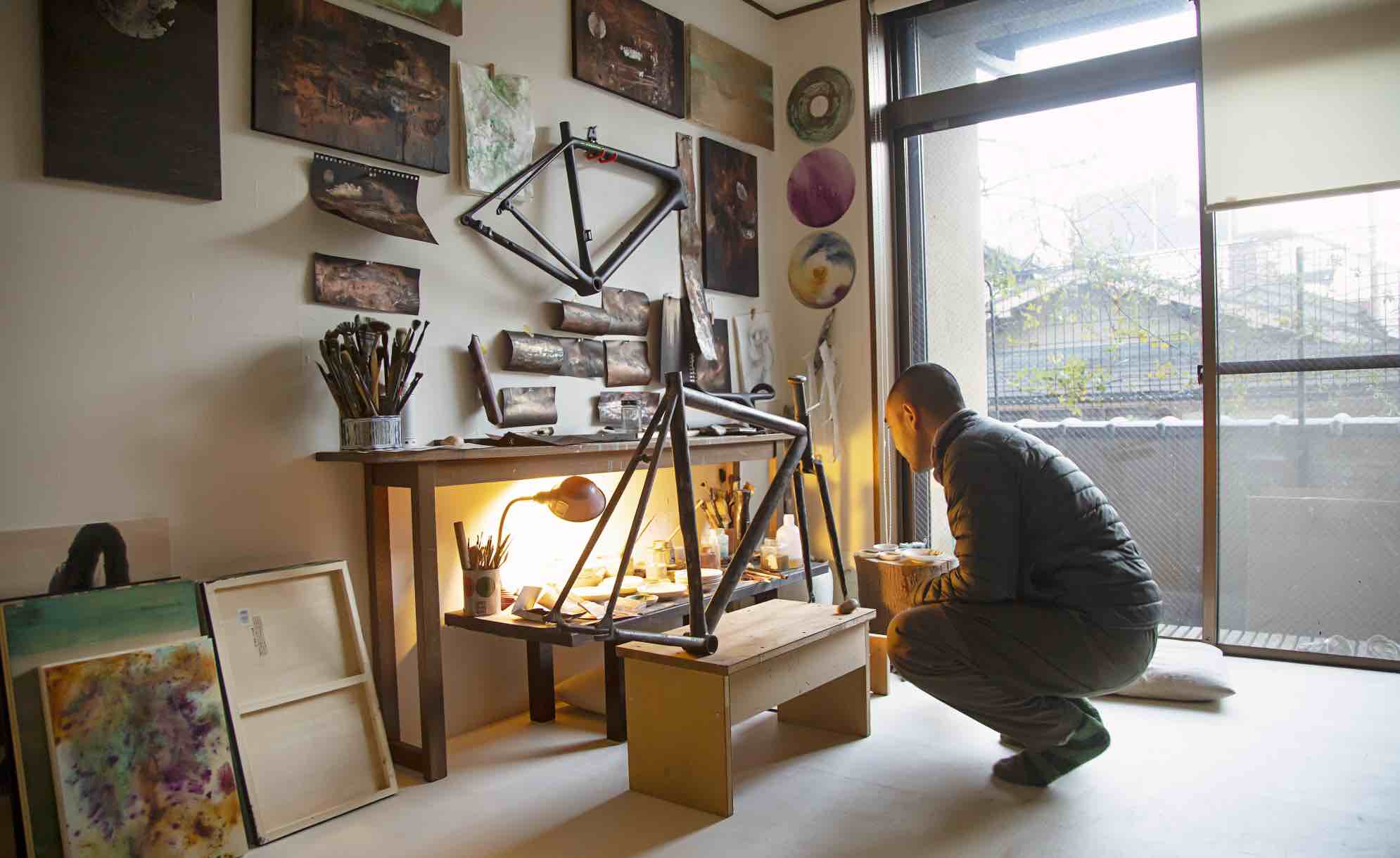 First breath
To give this Jet Fuel Project its first stirrings of life, Masuda curves metal by scratching surfaces and bringing forth his vision.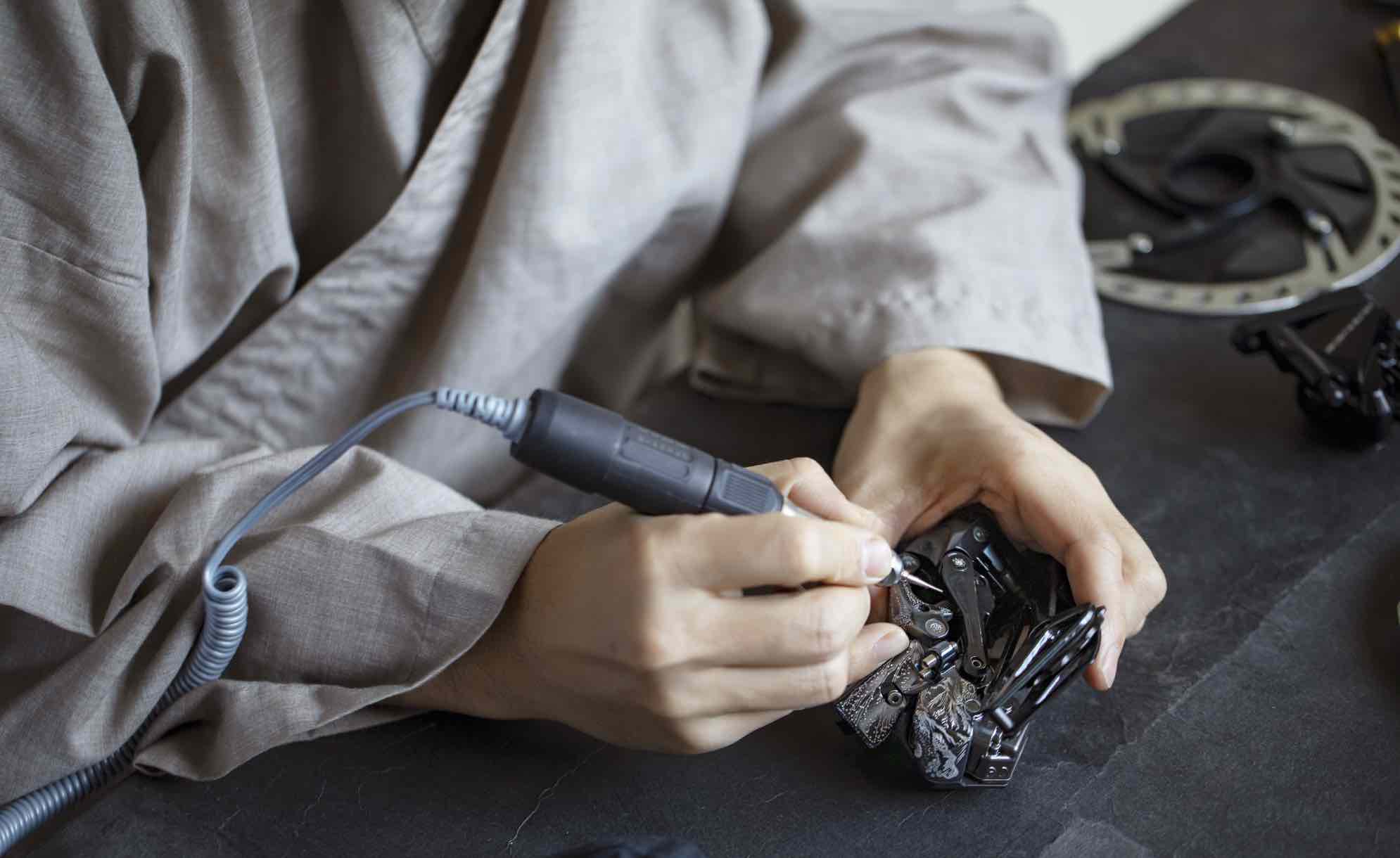 Daily sensei
As an artist, Masuda's works has been described as "a constantly evolving expansion of his intrinsically connected Buddhist and artistic practices". His wife Hompo has written an original text which describes Masuda's art as "a unification of his many roles in life, realised in his fluid and ever-evolving work – this reflecting an acceptance of changes in himself and others. By becoming mindful of that every day, he now draws inspiration from his own mind."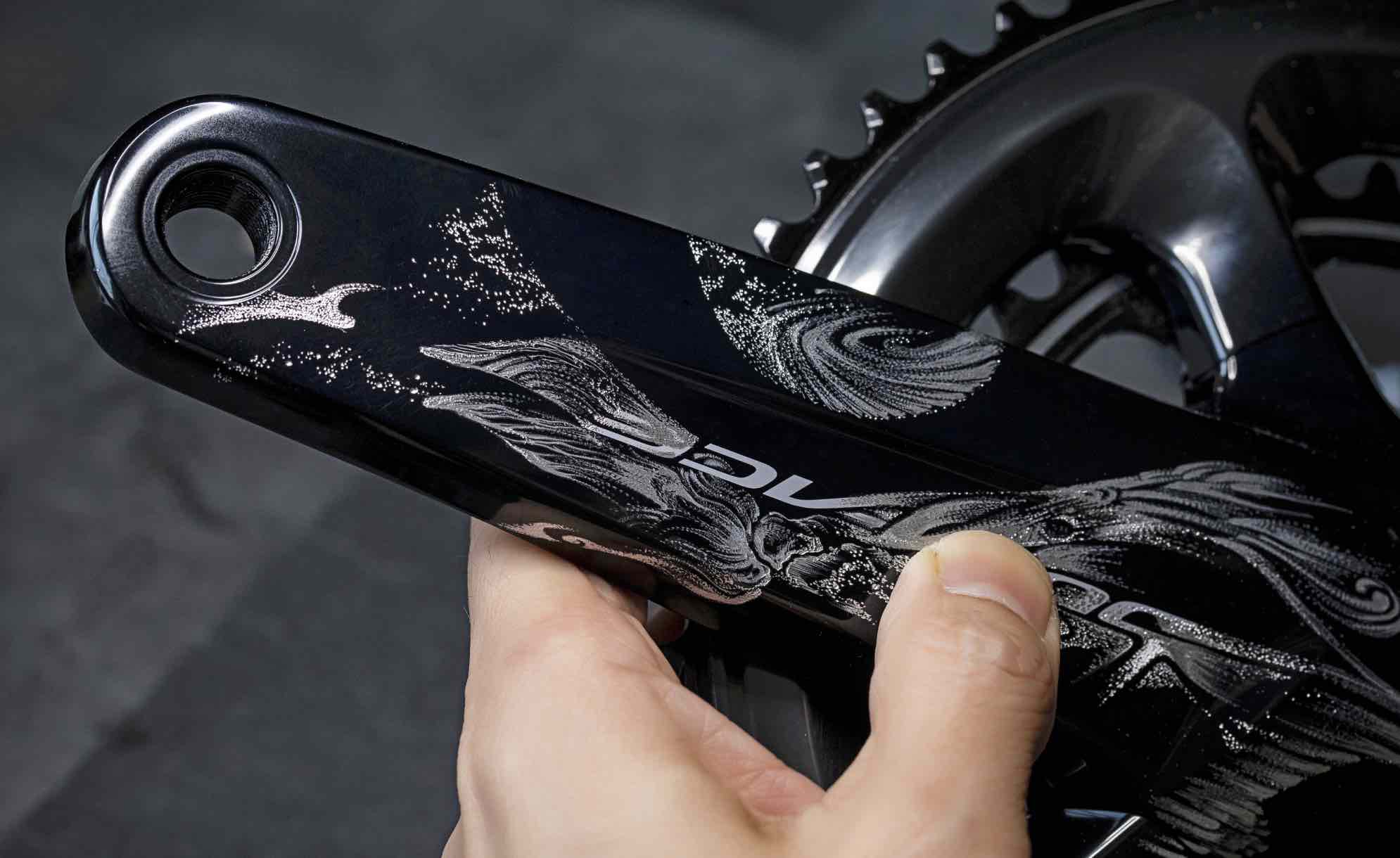 Patina progression
For his next step, copper is mixed in to create a unique metallic paint. Masuda says: "There is a word, 融通無碍 "yūzū-muge," which means to be flexible in Japanese. I understand it to mean that it has the potential to change depending on the situation."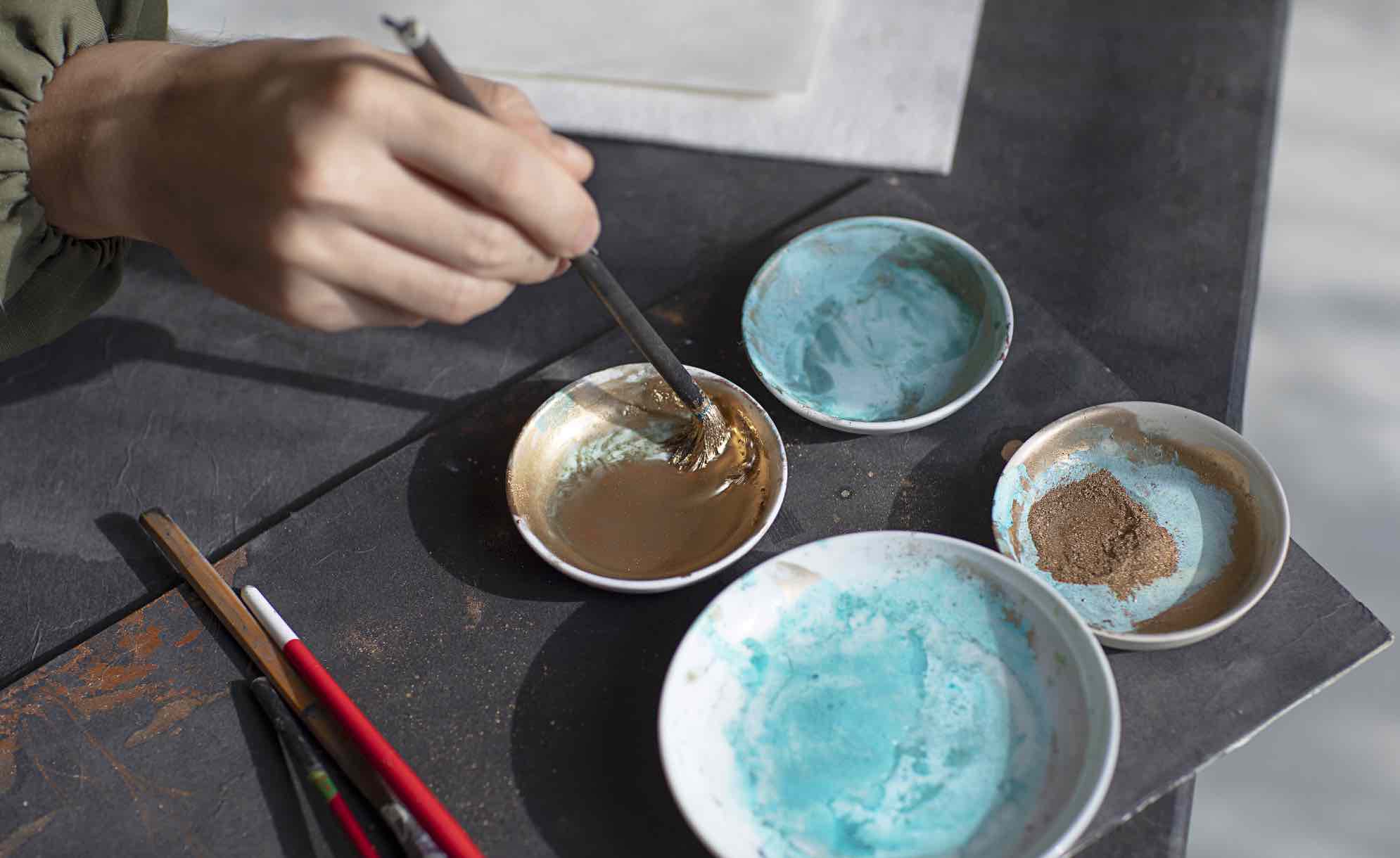 Japan redux
Perhaps the most incredible outcome of Masuda's work on this one-of-one Aethos Jet Fuel Project is the stunning art that materialises on the Aethos' austere carbon-fibre frameset. His painting techniques bring forth living rocks and patterns etched in nature as well as a recall of Japanese vistas; flowers, bamboo thickets and river rushes.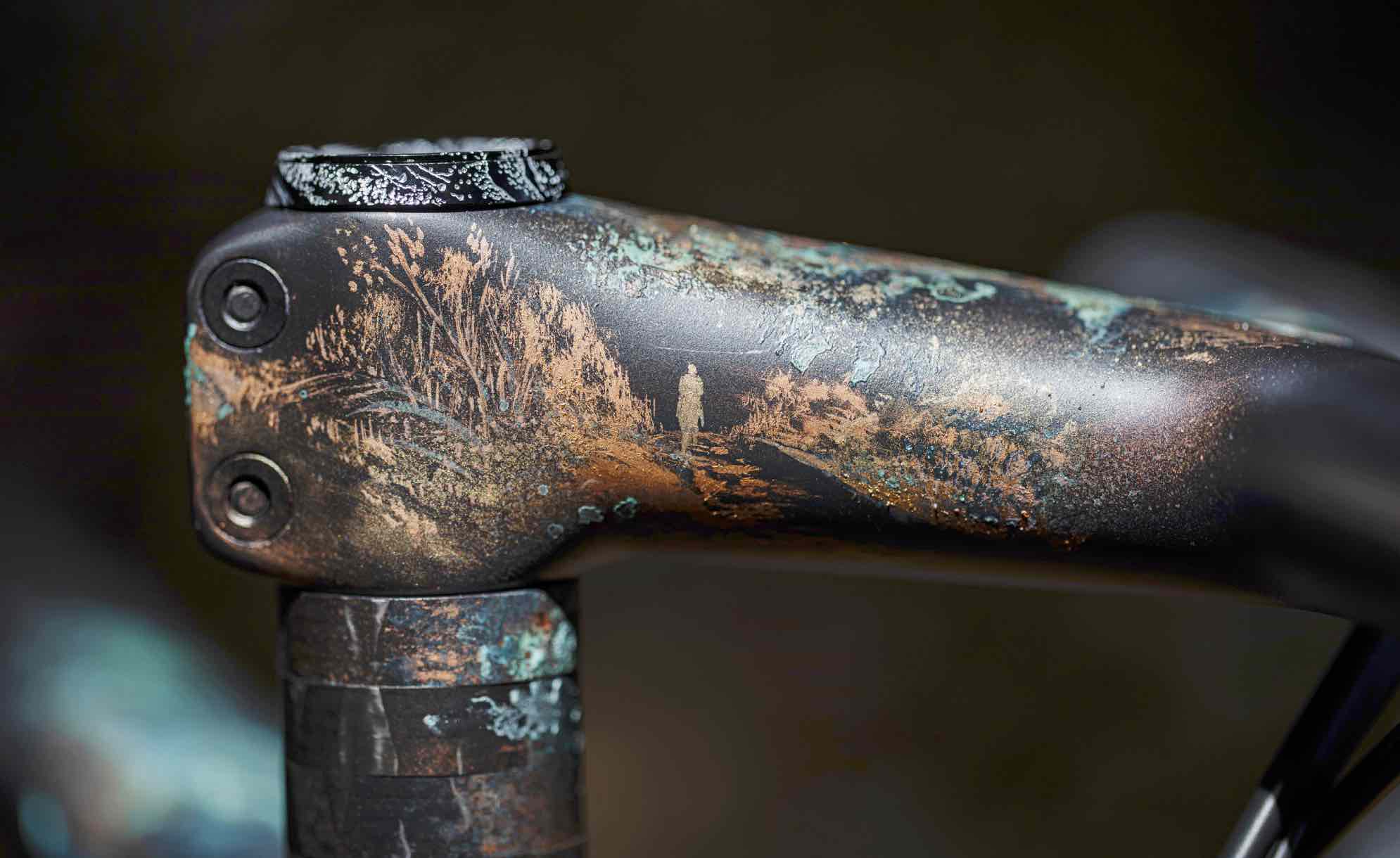 Constant change
The notion of change which Masuda embraces becomes the central tenet in the Aethos Jet Fuel Project. This is an artwork that is "alive", he articulates; and it will continue to attain a patina and burnish over time as oxidisation comes into play. He draws on the concept of ongoing project "enishi" meaning a (curious) turn of fate. "The philosophy of this Aethos also comes from "enishi" because it is in a constant state of transformation."
Final flourish
With this, Masuda merges the primary characteristics of the Aethos – its lively and responsive ride qualities – with his own painting and art. For Masuda, this Aethos Jet Fuel project is a work of art in perpetuity. "The two of us, Kei and I, were able to face this work not alone, but by interacting with each other and changing and responding to various situations. And so, "the Living Bicycle" was born. The greatest harvest is that we were able to show it to everyone and it will continue to live on as you continue to be involved with it."
To discover more of this unique Aethos Jet Fuel project by Kosuke Masuda and Kei Hompo, visit Specialized.com. The eventual auction of this one-of-a-kind Aethos Jet Fuel frameset together with its NFT is expected to start at a reserve price of US$30,000 (S$40,306.50).
Photos: Kei Hompo