The new Montblanc Meisterstück Collection is bound by understated elegance, timelessness and the enduring appeal of its most famous pen—the Meisterstück. With that, we write you three stories of three entrepreneurs, all tied by a similar desire to create real impact, value and meaningful change, without forgetting their roots
Understated elegance is a defining trait of the new Montblanc Meisterstück Collection, where its craftsmanship and quality are heightened by iconic design elements from Montblanc's illustrious past as well as the present. And yet, true sophistication never comes across as boisterous; somehow it is blindingly apparent to one who sees its worth, even from afar.
Iconic designs are perhaps timeless to us because they encapsulate ideals that transcend mere artistic expression. It's also why the most evocative art and music tend to rise above the shackles of the contemporary zeitgeist; an unspoken congruence of values shared by the creators and their audience, if you like. 
By the same token, Lincoln Yin, David Z Wang and Gillian Tee are bound by a single commonality—the importance of a cause behind their work. Much like how the most unforgettable historical figures are venerated or castigated for their contributions to society, these young entrepreneurs exemplify all that is good about startups that address the inadequacies of current systems. They share with us what drives them to go the extra mile.
The power of introspection: Lincoln Yin, founder and CEO of banco by RABC Group
Whatever the challenge, Lincoln Yin looks within for the answer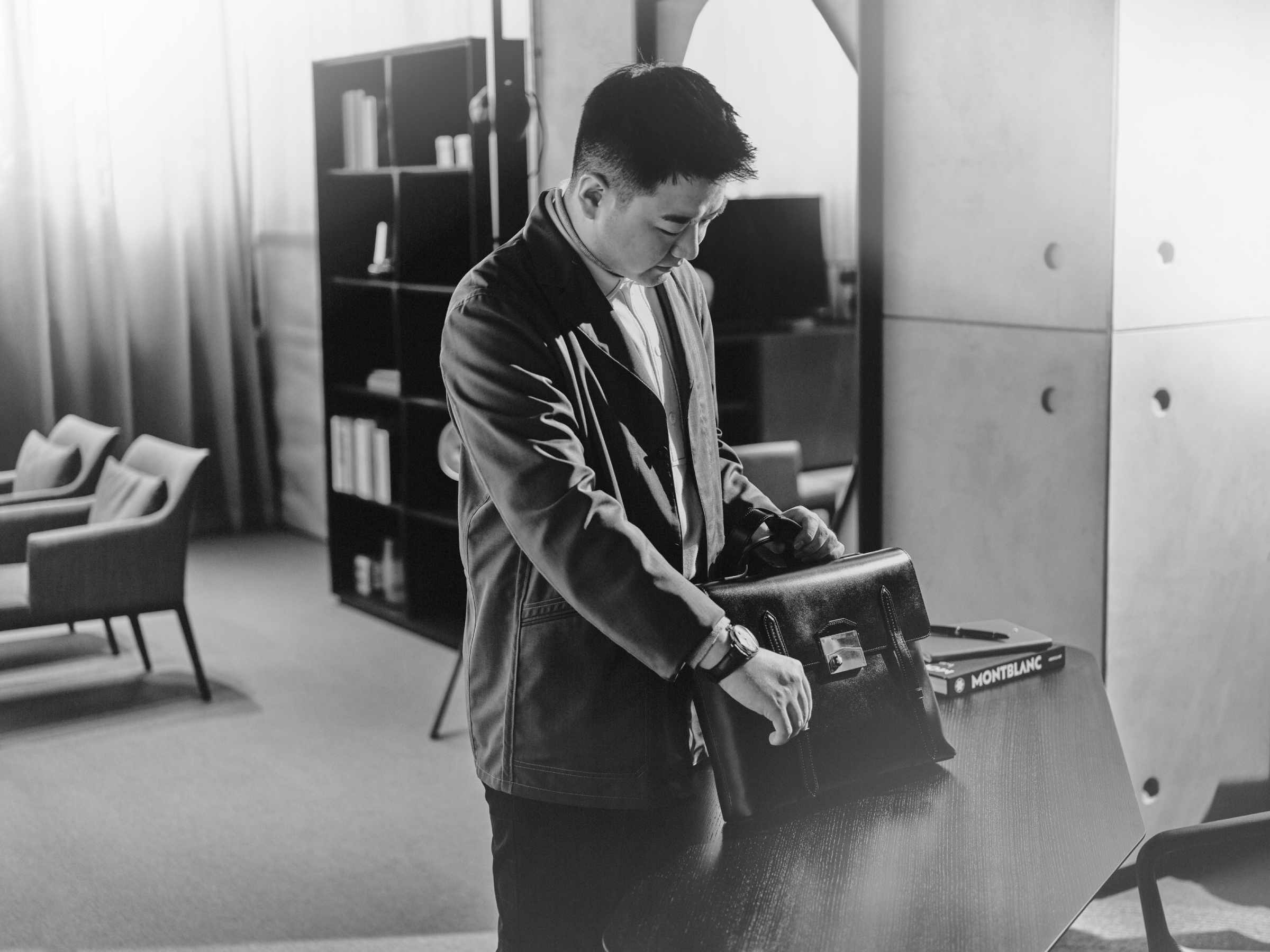 Also pictured: Montblanc Star Legacy Automatic Date; Meisterstück Gold-Coated 149 Fountain Pen; Briord desk by ligne roset; Eight Armchair by Conde House; Belize Mirror by ligne roset; Trepied Floor Lamp by ligne roset; Lapa Bookcase by ligne roset; full outfit by Ermenegildo Zegna; hair and makeup by Laura Mercier and L'Oréal
Destiny or happenstance? While many entrepreneurs have conquered all on the promise of big dreams, banco by RABC Group founder and CEO Lincoln Yin's introspective eye has always looked within. Yin is no stranger to sweeping changes, having pivoted from one industry to another in his short and hectic career. While the future is often uncertain, he draws strength and belief from the sole constant—his core values and the desire for meaningful work.
How did you get started?
I majored in engineering and transportation at university. I always had a passion for software and technology and I learnt to code. At university I was asked by a logistics and warehouse company if I could develop software for them, which led to my first start-up when I was 19 years old.  I'm interested in finance and I found that I really liked data. During my senior year at university (year three), we had an opportunity to work with a company that does trading engines. So in 2013 we shifted from a software company for logistics and moved to fintech.
Sometimes, the journey of life is not planned or designed; it just happens.
But surely it's not luck that got you this far.
I believe in the Japanese concept of ikigai. You have to find the passion, what you are good at, what the world needs, what you can be paid for and where the roads meet. I like the combination of finance, technology and supply chain industries.
The ikigai is like the North Star and a lighthouse which leads the direction to go far.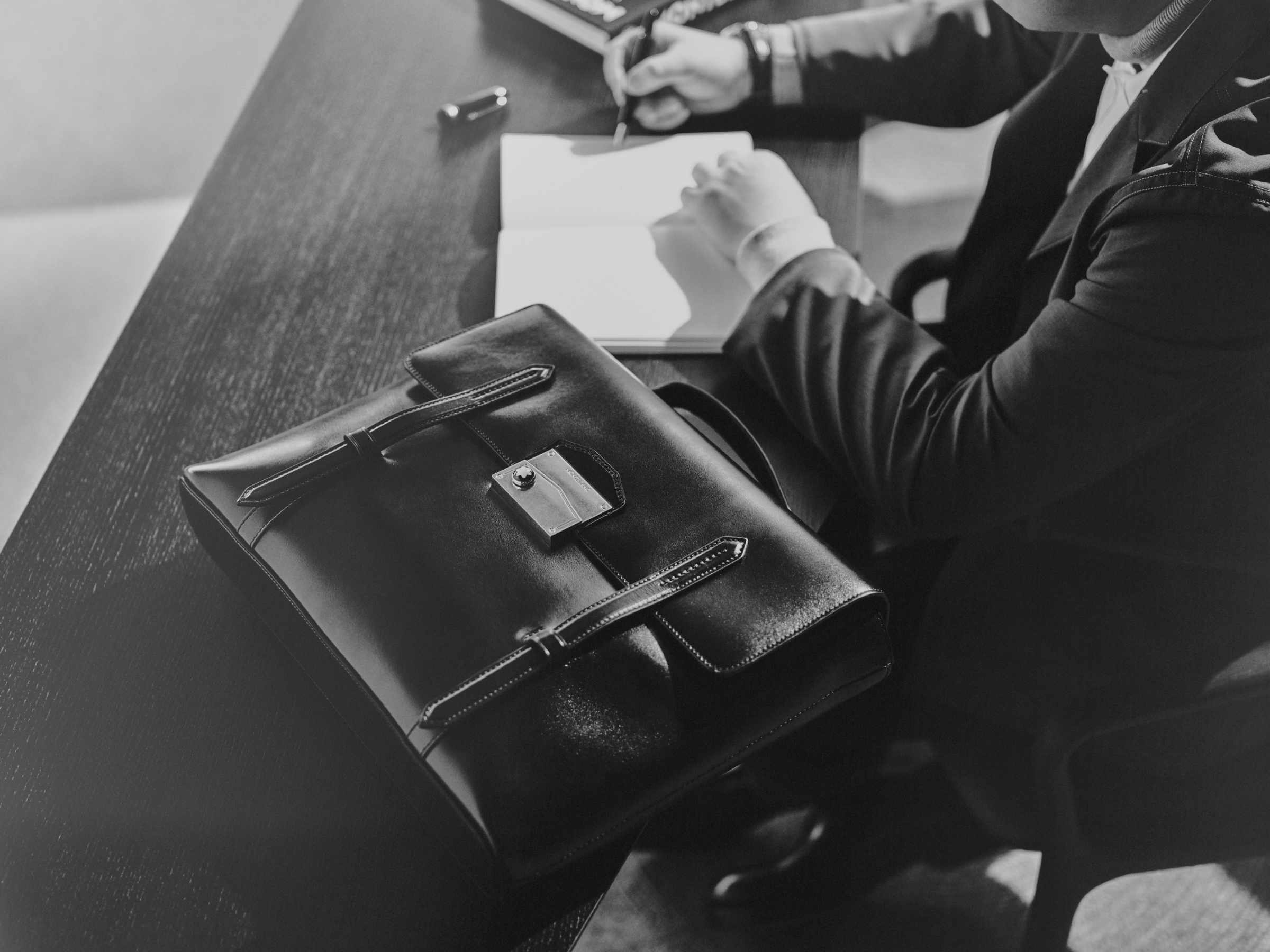 Also pictured: Montblanc Star Legacy Automatic Date; Meisterstück Gold-Coated 149 Fountain Pen; Briord desk by ligne roset; Eight Armchair by Conde House; full outfit by Ermenegildo Zegna
How has this philosophy helped you?
Some (people) know what they will do from day one, so their company name references what they do. I can't say I know exactly, which is why I look to my roots. Create more value and the company will grow. We started as a trading technology for exchanges and brokers, grew to have clients from overseas and in 2017 we got a chance to work in supply chain finance. Destiny is like a combination of passion and embracing opportunity.
I studied supply chain, crossed over to fintech, then supply chain finance, then a financier in a digital age. It wasn't a calculated business direction. We were too small and I was too young. It was more about how we can keep upgrading ourselves to do more things, bigger things, and create value for society.
At the very beginning, it's not always up to us to choose.
So what gives your company purpose?
Our mission is to make finance inclusive and green. We differ from banks and other non-bank financial institutions (NBFIs) because we design products for each sector. For example, we have a financing product for cleaning companies and security guard companies in Singapore that have difficulties in securing loans from traditional banks. We designed a product only for this sector where we do better risk management and as a result, the cost is much lower—somewhere in between bank rates and private lending peer-to-peer rates. It's been getting very good traction.
We also design products for green finance as there's a lot of demand from the government to push for green and sustainable finance.
Are you personally invested in the causes as well?
Because of my family education, I always feel less excited if it's only about making money alone. I look for self-fulfilment and the chance to create value for society.
In 2017 I was asked, as one of the G20 Young Entrepreneurs' Alliance delegates from China, to visit Germany. I was also selected as a Global Shaper, an initiative of the World Economic Forum, which encourages young leaders globally to create more value for society. In Israel, I saw how technology was used to address agricultural concerns. In Bangladesh, the local Global Shapers shared how they, as a country, make changes despite their lack of resources.
I was exposed to many global leaders at the Davos summit and these experiences had a big impact on me about creating real value. They served to make me feel that I need to do something to create impact.
Number crunching as a balancing act: David Z Wang, co-founder and group CEO of Helicap
David Z Wang shares how he balances life, work, profit and meaningful enterprise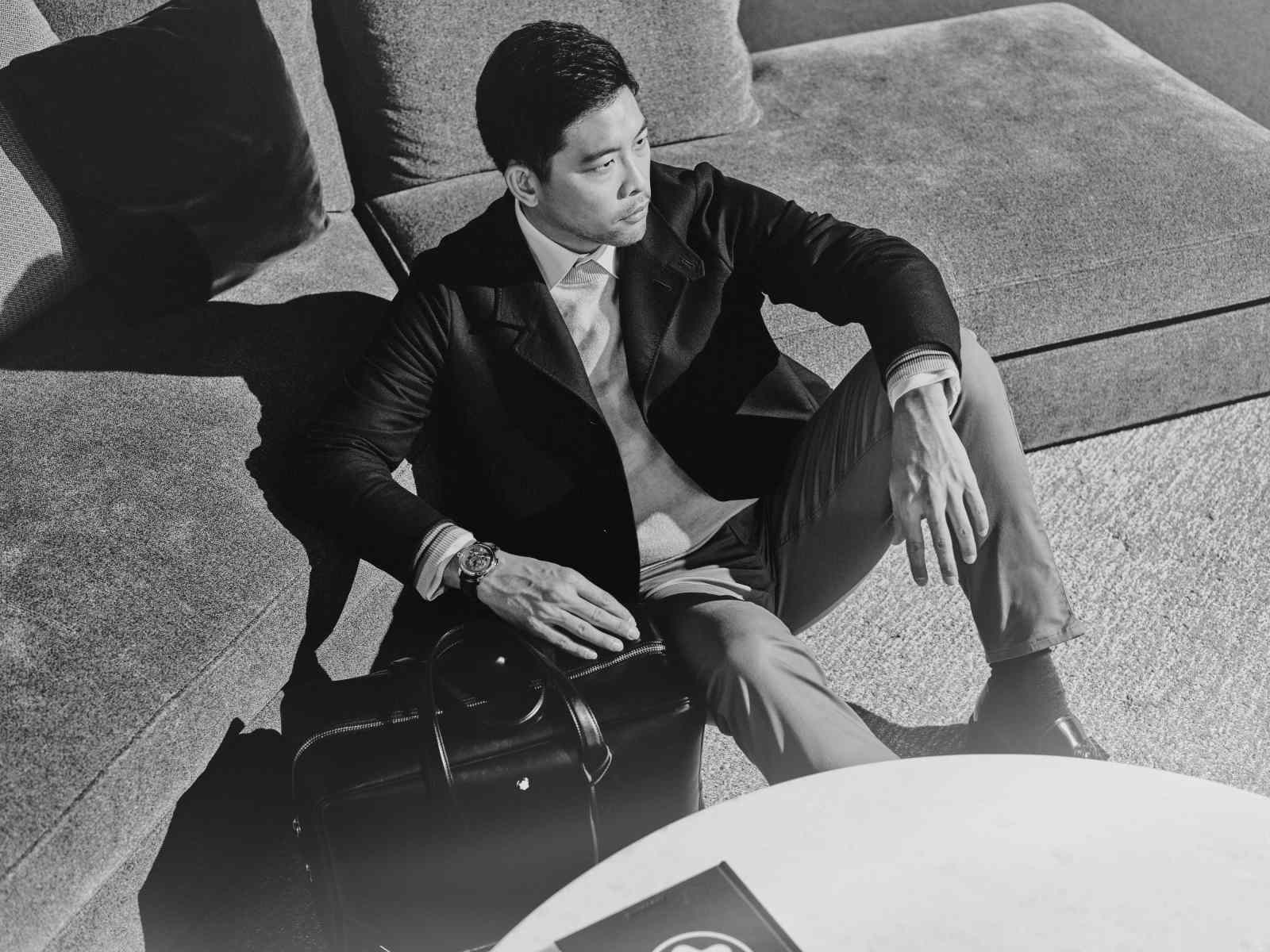 Also pictured: Montblanc Star Legacy Nicolas Rieussec Chronograph; Milan sofa by Hoshina; S.21 marble coffee table by Hoshina; full outfit by Loro Piana; hair and makeup by Laura Mercier and L'Oréal
"Take your work seriously but not yourself (seriously)," said David Z Wang, co-founder and group CEO of Helicap, reciting one of his favourite tenets laid out in the company's values. It's an ethic that establishes the importance of balance at Helicap, which was formed to help NBFIs better service the underbanked. 
The company's high-tech approach to finance is complemented by good old fashioned principles of trust, a work culture that cultivates a sustainable balance between work and life, and striving to make shareholders and underprivileged happy.
What clued you in on the credit gap problem?
We opened more than 20 accounts with Fintech peer-to-peer platforms globally to study their deals back in 2015 and 2016 to study how could we do this better. It was then we realised there were 35,000 NBFIs and a US$500 billion credit gap. It was a huge problem and a huge market and highlighted the need for financial inclusion.
What vindicated your business direction?
Some of the portfolio companies we backed with debt became huge—some unicorn stage—and examples include Kredivo (Indonesia), Funding Societies (SME loans) and Julo (salary financing) and Erudifi (Education loans, helps students secure funding for higher education). 
Is there anything else other than good numbers to start a partnership?
Before COVID-19, before the final approval for any partnership, I need to have coffee with the CEO, decision-maker, and sometimes with the equity investor. Either my co-founder or myself need to meet face to face and we are very strict on this. It's a handshake to sign things off and you can hold people accountable. It's a physical connection that would have some memory in your brain. There must be an essence of character and relationship in everything we do; if not you'd be replaced by someone who will pay a dollar more. It's a working relationship, so we put all the chips on the table. It's almost like signing a prenup.
What keeps you motivated?
People, progress, and our future potential. For us, teamwork is very important. We support each other because we have a lot of trust. You can only achieve that outside of the boardroom—breakfast on Mondays, drinks on Friday, quarterly activities, and so on. 
We start with a tough first 48 hours of the week and gradually wind down until our 6pm drinks every Friday. We try to keep weekends free to spend quality time with family or sleep.
The company has grown from managing US$1m to US$100m+ in deal volume in about three years and yet our headcount costs only doubled from 10 to 20. So I can see a super-efficient model shaping. Maybe we can go from 20 to 40. We're in a midst of a fundraising round, to bring us from US$100m to US$1 billion. Also, we see benefits of our investments in the form of over 200k underbanked in the region served with our tech and capital.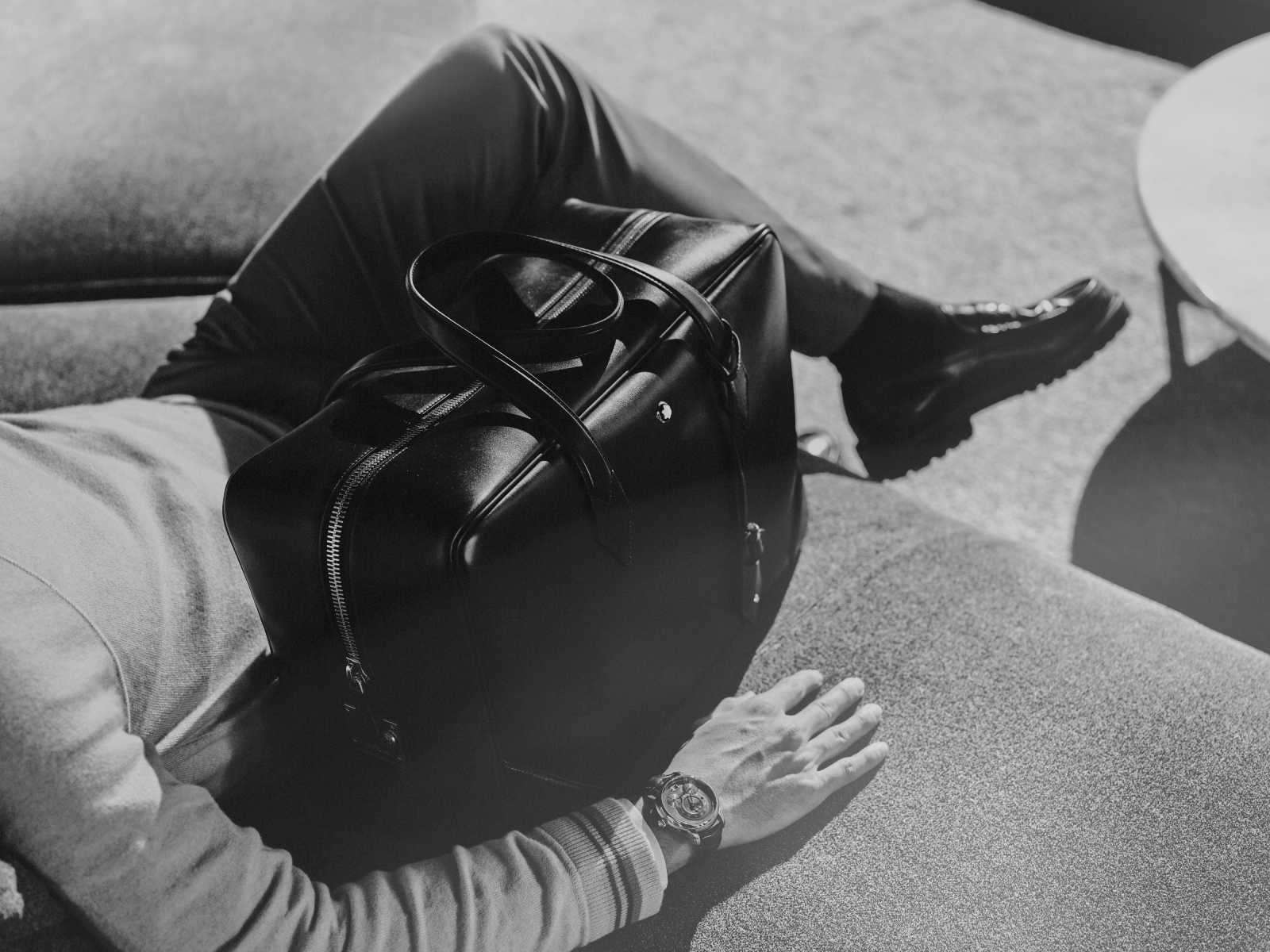 Also pictured: Montblanc Star Legacy Nicolas Rieussec Chronograph; Milan sofa by Hoshina; S.21 marble coffee table by Hoshina; full outfit by Loro Piana
What's next for Helicap?
We are moving to back tech startups with revenue-based financing. Companies have too much equity and need to optimise balance sheets with debt. It's a fairly sophisticated thing a lot of startups don't do because they're not investment bankers or financiers like us. So we build the tech to analyse how companies operate and spend and invest.
We've already solved for double-digit returns in the first three years, so now we can think about impact—investing for purpose. Morphing them together, the returns are not going to be mind-blowing. But it's going to be meaningful and I think you will get a lot of buyers at that level. So we're trying to solve this in the next three years. I will also be working on how to build a meaningful enterprise and give back to society.
In what area are you attempting to create an impact?
We are launching an impact credit business as we realised that half of our portfolio actually appeals to financial inclusion. If we give a company one million or five million dollars, how many people get to benefit? Our tech can actually profile where the money goes to. I think this is completely missing from the industry. We have tracked more than 200,00 individuals who have benefited from our loans. We're looking to get to a million very soon.
You have a bursary as well. Why?
The money actually is for them to do an exchange programme. It's a way to see the world from the country's perspective and it will make you learn and think more like a global citizen. I want to provide this opportunity because I benefitted a lot from my exchange programme. COVID-19 has disrupted this program but we'll start again this year.  
My passion is youth development. we've had 15 batches of interns at Helicap group as well. They contribute a lot and I hope that we taught them something; not just hard skills but how to look at life differently. 
Homage to a happy home: Gillian Tee, founder and CEO of Homage
Gillian Tee's lifelong journey of self discovery leads her back home on a caregiving crusade
Also pictured: Montblanc Star Legacy Moonphase; Ennéa dining table by ligne roset; Dahlem Chair by Arflex; Lithos Bookends by ligne roset; full outfit by Sacoor; hair and makeup by Laura Mercier and L'Oréal
Motivation has never been in short supply for Gillian Tee, founder and CEO of Homage. While the business of caregiving is a potentially burgeoning business given the ticking time bomb of a global ageing population, Tee's sense of purpose is far more personal. Having co-founded the award-winning behavioural change technology solution, Rocketrip, Tee realised that the next phase of her growth lay back home. It was a chance to reconcile with her personal struggles of her youth and use the experience to create meaningful change.
What set you on this path?
I want to be part of building something that can apply to people's lives in a way that is meaningful to me. Because you have limited time, I wanted to spend time building and creating and sustaining something positive. I get very motivated particularly with vulnerable groups.
Sometimes things have to happen in your life to have a huge impact. I had a caregiver who took care of me and she was someone I loved deeply and she passed on when I was 11. There were certain childhood troubles that I went through as my family was going through a tough time. 
Given your success overseas, what prompted you to come home?
A few things; my sister, who was the only one with my mother, moved back to Perth. Rocketrip was also stable and scaling well. I felt I had overcome a lot in the US and reached a stage where I felt ready. I realised something in my heart didn't sit right if I settled in New York. It will always be a second home but I knew it was not time yet. 
It was a self-defining journey in the US and after all the lessons I picked up I was ready to come full circle. I realised you can have both roots and wings and I wanted to commit to family and a community. I built a community in the US and I just felt it was important to build a community with my mum and my family. I travelled the world for 15 years—now it's time for me to come full circle. 
How did your struggles play a part in your personal growth?
It wasn't even called mental health issues at the time. You just didn't know what you were going through and you're trying to figure it out. My sisters and I can talk about it now because we're more mature and we understand what we went through but growing up we lacked the self-awareness and the avenues to deal with all of these and it leads to an inability to trust connect and trust people.
I defined myself through my time overseas and now I have recreated my relationship with my mother—it's the best it's been ever been. I'm proud of how far my family has come now and it's also the kind of world that I think you can build through intentionality. It's been a really good journey.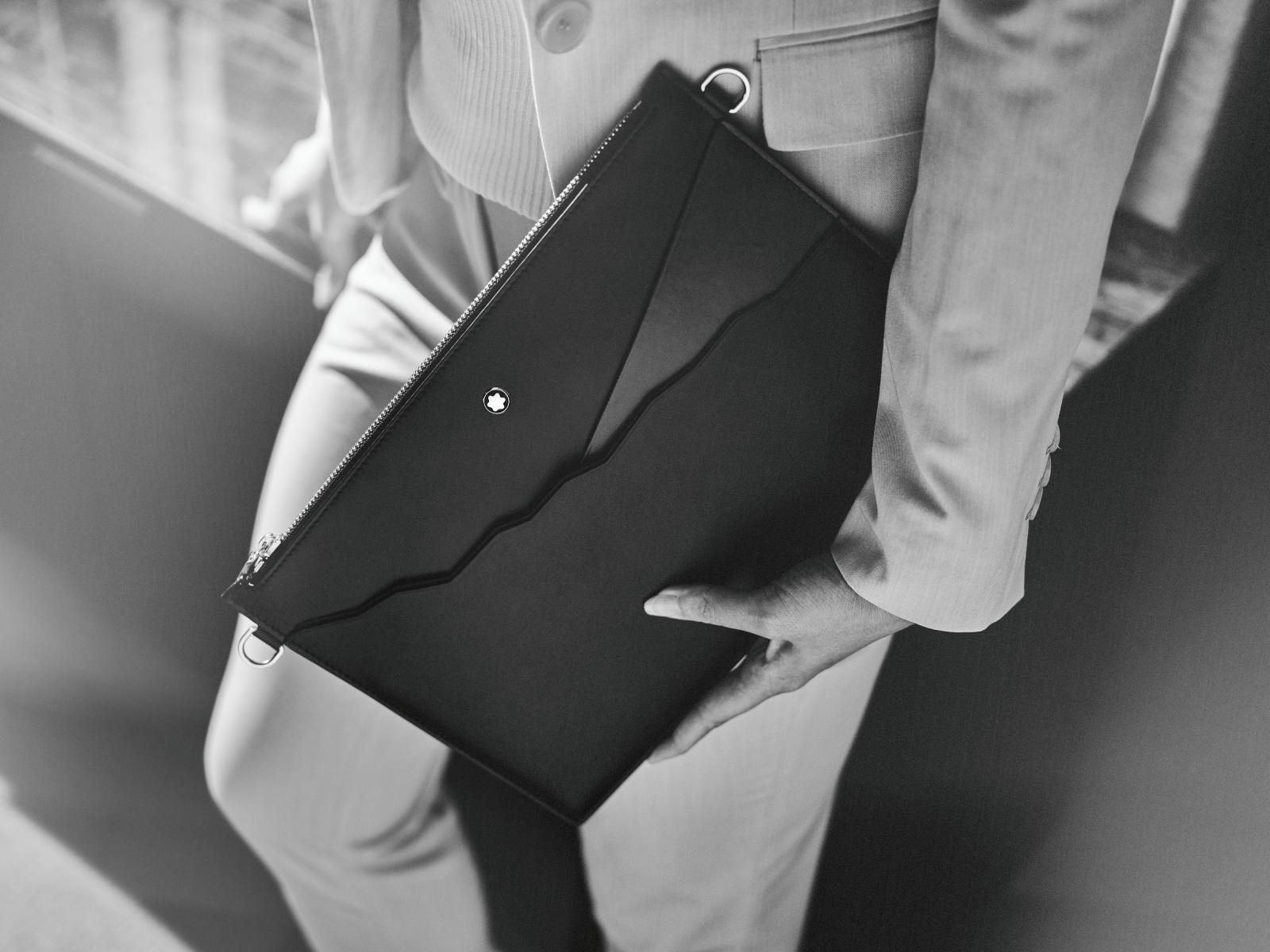 Also pictured: Selvans sideboard by ligne roset; full outfit by Sacoor
Is Homage strongly tied to your identity?
Yes, Homage is so tied to my identity in some ways. I think, more importantly, it's tied to my values. That's why I feel I want to amplify and scale and mobilise caregivers to deliver care.
And out of the pool of 9000 carers that we have, 70 per cent are women. So that motivates me further. We've delivered more than a million hours of caregiving using technology we've empowered everyday people like you and me to deliver care to someone and support them in the small things. 
What motivates you?
I think it's important to look at personal care and enabling people to take care of someone; helping them in the small moments. I won't impose my beliefs on anyone but I think that's what drives genuine fulfilment.
One of our caregivers—his name is Ash—would spend 45 minutes brushing an older gentleman's teeth just to help him start his day right. Just hearing stories like that makes me want to do this for another 20 years or 30 years. I think this connection in supporting someone during their vulnerable times is magical and a meaningful display of the human condition. I'm floored that this is empowered by the platform that Homage has created. 
What about the future?
Just faithfully building and scaling this impact—this part of the world needs long term care solutions. Nothing too sophisticated and sexy. Governmental infrastructure, financial infrastructure, social infrastructure for long term care needs to be improved. We're part of the national conversation around how to best shape support systems. 
We're mobilising the largest trained and curated pool of caregivers operating globally across APAC from a technology-driven care platform. We're defining a category and a whole generation of carers empowered by technology and ensuring that we're doing it across the various developed, middle income, and developing markets. 
What we need to do is scale ourselves; scale our solutions, scale our people. Inspire more people to join us. That's what's next, really.
More information on the Montblanc Meisterstück Collection here
Location by Studio Grafunkt
Photography by Studio Daydream
Styling by Josiah Chua
Hair and makeup by Angel Gwee