The Answers With… Formula 1 team owner Toto Wolff, who shares with us more about his approach to leadership, aspirations as Bombardier's new worldwide ambassador, and a quick glimpse into his personal life
Not everyone is a visionary, and not everyone can lead a formidable Formula 1 team either. Torger Christian "Toto" Wolff would know. From winning his first medal in the 24 Hours Nürburgring, to setting up two tech-focused venture capitalist firms, Wolff has dabbled deeply in both motorsports and business. Eventually going on to lead the Mercedes-AMG Petronas Formula 1 Team as Team Principal, CEO and co-owner, Wolff's career has been nothing short of dynamic, and of course, wildly successful. After all, he is the man behind seven-time world champion Lewis Hamilton.
Like Hamilton, he's both a visionary and driver of high-performance, and it comes as no surprise that Wolff is appointed the new face of Bombardier. The new brand ambassador will be supporting the jet manufacturer's latest eco-centric and sustainable innovations, including the Challenger 3500 super-midsize jet and Global 8000 flagship aircraft. Cool. Let's hear what Wolff has to say.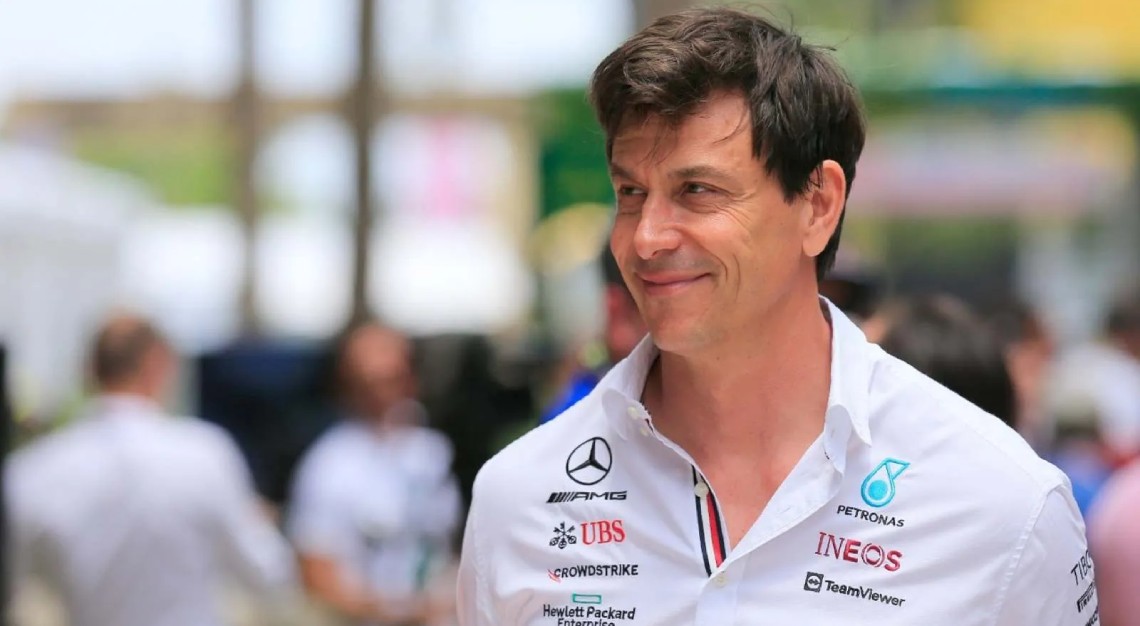 What is it like to be you?
Toto Wolff (TW): Not everything that shines is gold—there is so much beyond what you see on the racetrack. It's just the tip of the iceberg, owning a team and being at the races. The point is, you get used to yourself. That said, nothing in life is linear, it's a little bit like a share price; it goes up and down. As long as the trajectory is upwards, you're on the right path, and that's a bit of how my life has been with zig zags in both directions.
At the core of everything, it's about defining the right values. The most important is humility—I never have a sense of entitlement. It's also about keeping loyal, driven and ambitious.
Can you describe yourself in three words?
TW: Caring, honest and driven.
You're going to be a brand ambassador for Bombardier. How are you going from cars to planes?
TW: There are so many similarities: speed, innovation, seeking excellence, attention to detail and reliability. It's like a racing car. And of course, my job is travelling around the world to 24 races, 500 hours a year in an airplane. For more than 10 years, I've relied on Bombardier products from the smaller Learjet to the Global Series.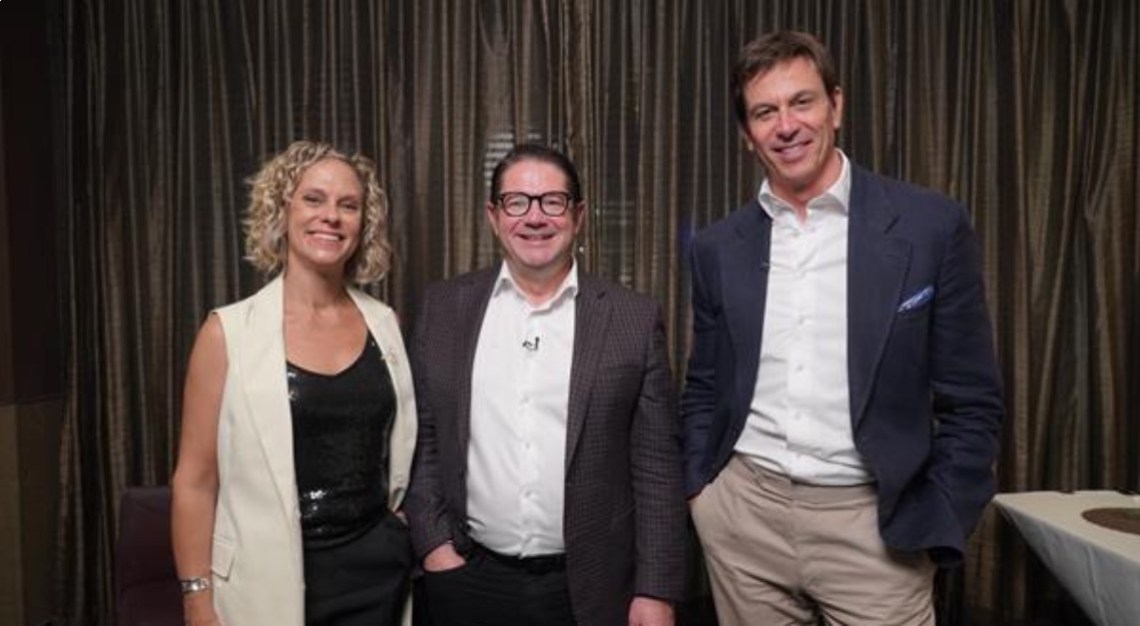 What are you looking forward to most in being Bombardier's brand ambassador?
TW: I can identify myself with the brand really well, because flying is a passion of mine and such an integral part of what I do. I have a lot of interest in the technology and comfort—everything that makes a plane perform as well as possible. So I can identify myself with the Bombardier products from the very small body ones to the large body ones. They're pushing boundaries: the sheer fact of an aircraft, the forming of Mach 1—it's what I do in racing.
What in your view is indispensable to leadership?
TW: Being caring. You need to look after the people around you.
How do you treat mistakes?
TW: One of the things we do is that we never blame the person, we blame the problem. If a mistake happens, it means there's a problem in the process, or that we haven't developed the person enough or that we did so in the wrong way. Fundamentally, all of the mistakes are my responsibility. If I haven't made sure the people reporting to me are as good as possible, then when you cascade down the organisation, any mistake being made is my problem, or it's my mistake.
Would you consider yourself a perfectionist?
TW: I'm aiming for perfection, but I know that it is not achievable. I think when you run F1 racing cars, the attention to detail is important. When it comes to seeking excellence and perfection, you're never going to achieve it.
Still, there are moments in time when it felt like we were close to perfection, but I have always been driven by the ambition of being good and doing as well as possible. It's a pressure I put on myself, it's not external, it's nobody else. I'm just trying to meet my own expectations.
There are these moments in my private life when I'm with my wife and children, and it feels like it doesn't get any better in terms of family achievements. And that is the most important feeling for me overall. For racing, there are seasons we have dominated over the last eight years. You would just climb onto the airplane, obviously Bombardier, and you sit down and have a long haul flight. There would be these moments when I'm thinking: that's pretty good today.
What's one trait you value in a racer or a team?
TW: Humility and drive.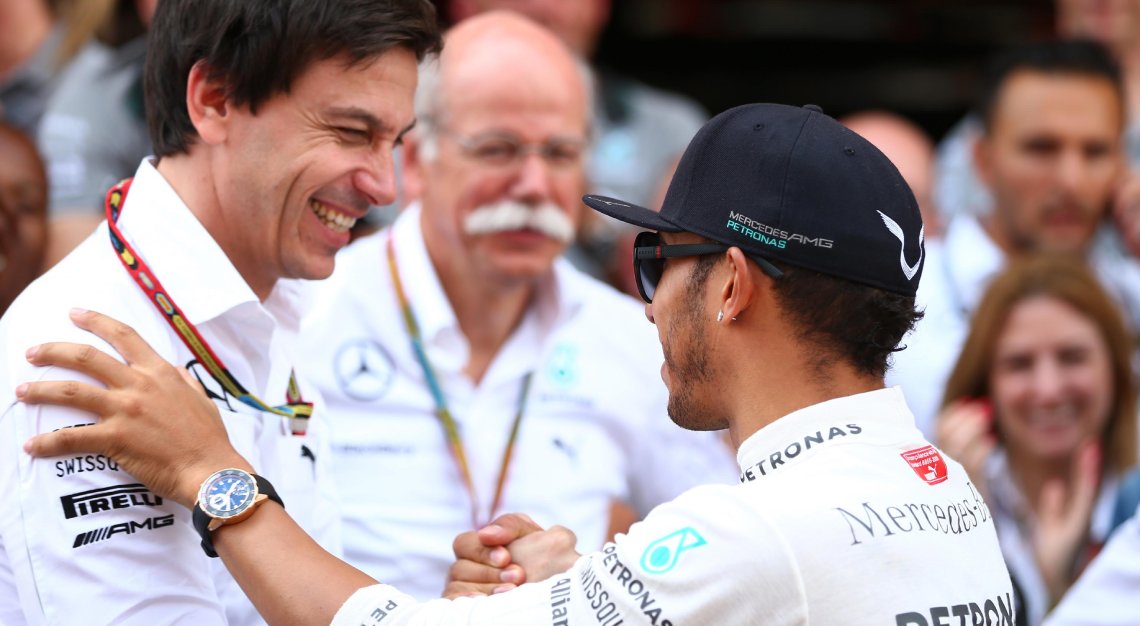 We noticed your first VC firm was called Marchfifteen. Did the date mean something to you?
TW: I'm really not creative with company names, I chose the name based on the date it was incorporated. Marchsixteen was just a continuation, and we had another called Next March. We kept to the topic.
Do you still race or take a spin on the tracks?
TW: Yes I do. We have lots of events and in the last one, George [Russell] and Lewis [Hamilton] were fooling around the track in AMG cars, that was great fun. I'm not racing anymore because you need to be focused in when you're doing, and my ambition has always been to be the best me and be professional. So now it's a hobby, and I refrain from taking myself too seriously with cars these days. But fooling around on the track taking cars for a spin? Yes.
We heard you can speak five languages, how did that come about?
TW: My mother comes from Poland. I was born in Vienna, went to a French school, and spent my holidays in Italy. In order to speak with the girls you would need to speak Italian, so that's how I speak five languages. 
What is your idea of success?
TW: My idea of success is that one day when this is finished and I'm closing my eyes forever, to say "it was good." The most important thing to have is happiness, and that happiness links to everything else, your private life and professional life. I'm not chasing happiness in pure professional success, I'm at a stage of life where I know how interdependent my private and professional lives are.
What do you do for fun?
TW: Being at home with Susie and the children. They're five, 18 and 21. I like to be a dad and a friend, this is my most important activity. Beyond that, I like fitness, going to the gym—it's quite a depressurising activity. I like to sleep, too.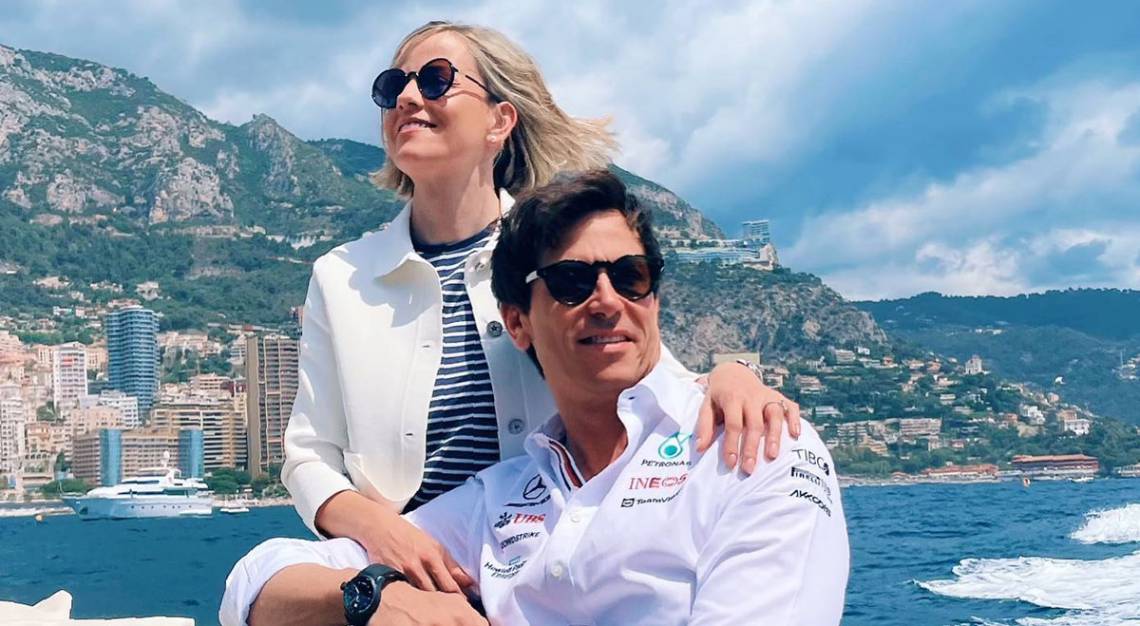 What do you do with your children?
TW: My five-year-old is just like his mother; he loves the outdoors and needs to be entertained all the time, he's really into all kinds of sports. I enjoy swimming with him, driving go-karts, even taking him to the gyms in the weekend mornings. He follows my exercises, the bench presses and the quads. He looks at his muscles in the mirror. So he's a sporty little thing.
With my daughter, she's 18 and an academic girl; very driven in sports, made it to some of the good teams, and she is in a way just a little mini me. So I have this closeness with her emotionally although we kind of live our own lives. She's in Vienna.
My 21-year-old studies the U.S. He's my son, my friend and my consultant. I get more life coaching feedback from him than the other way round. He's a compassionate, emotionally intelligent young man.
What's something about you that would surprise most people?
TW: I used to play rugby on an international level, and I'm also doing Pilates.
What's your go-to snack?
TW: It's this Austrian snack called Manner Schnitten. They're like pink biscuit squares.
Do you have any regrets?
TW: Lots and every single day. I've made so many mistakes in my life, it's part of who I am. Still, if I would rather have avoided them if I could. But I think for every human who has grown up in relationships, you would experience things that you could have done differently, and some things you would have wanted to do differently too. There are some decisions in my professional life that I regret, such as simple things where I could have had better judgement calls which would have led to great outcomes. Still, it wouldn't be normal if we didn't have these regrets.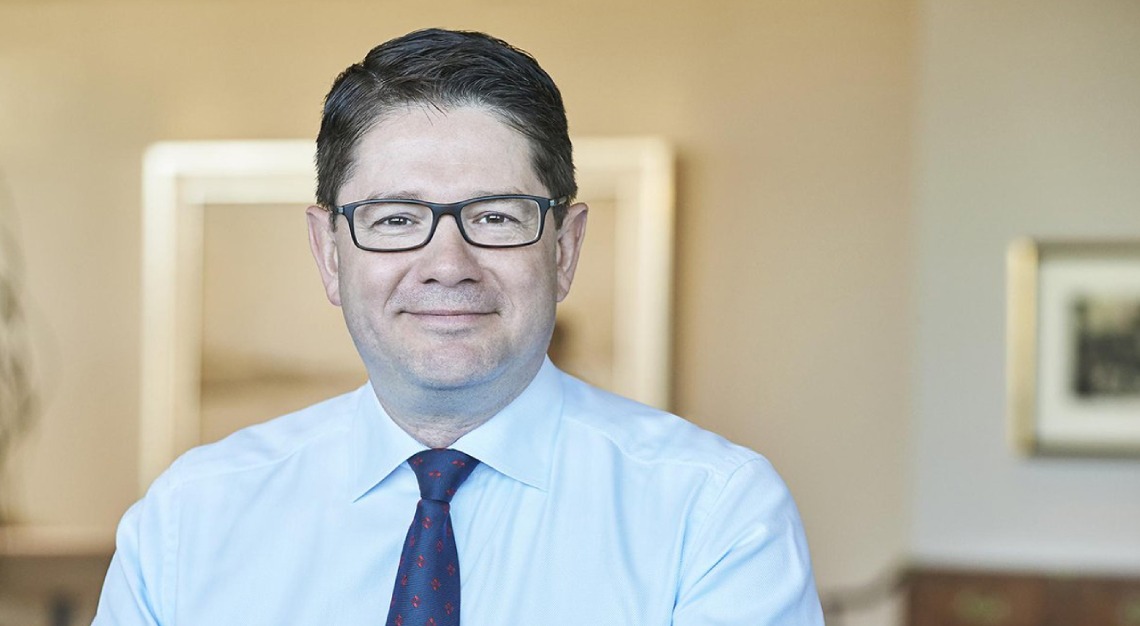 Five Minutes With Éric Martel
The CEO of Bombardier also tells us more about Toto's appointment, and shares his views on the industry.
What are you looking forward to most in having Toto be Bombardier's new worldwide brand ambassador?
Éric Martel (EM): Toto is a Bombardier customer, and he has been flying our products for a long time. Every chance he gets, he publicly affirms that our jets are the most reliable in the world. We've asked Toto to meet some of our clients in the past so they can share their passion for aviation together and hear his testimonials. I am always so impressed by his generosity, as well as the true authenticity in his conversations with our guests and employees. Toto cares about people. He has genuine interactions with them time after time. As the CEO of Bombardier, I have an immense respect for those who take time to share stories and truly engage with people and inspire them. I see Toto not only as a loyal customer, but also a leader in his field—both for his team and for the F1 community. All those attributes made us connect our brands, the connection is based on values beyond everything else, and we are very proud to have him as a global brand ambassador. 
What in your view is indispensable to leadership?
EM: Authenticity, integrity, passion, and a true devotion for perfection. Whether it's an F1 car or a Global jet, these machines are built with incredible precision. Every person that takes part of their development needs to be truly and fully dedicated to the task. To achieve this, I believe the leader must relentlessly show that they are accessible and ready to help. Being available to troubleshoot with the team and focused on the collective instead of individuals is key. As a CEO, my approach is to celebrate the wins together, and learn from failures together. We are equally accountable. In doing so, we foster a culture of trust and build a space for honest communication and immediate feedback. I have seen how Toto leads his team during an F1 race and there are so many similarities with how we conceive and manufacture the fastest and most amazing jets in the world. It's a fast-paced environment where, if the leader can master the art of harnessing the passion of the team members, the final product will be just amazing.
Where do you see your industry going in the future?
EM: Sustainability, sustainability, sustainability. We are absolutely committed to continuing our pursuit of lowering the carbon footprint of our operations. I am proud that we do so much already, from powering our plants with green hydroelectricity, to using sustainable aviation fuels and offering eco-responsible options to customers for the interior of their jets. We are leading the pack in this regard, but it's never enough. We ask ourselves every day, what else can be done and we put our money where our mouth is. In fact, over the past 15 years we have invested a large majority of our research and technology funds into the design of the Bombardier EcoJet Project. We are committed to continuing our efforts to minimise carbon emissions while maintaining the highest performance standards for of our aircraft.