Beauty At Every Turn
When so much of the Maldives is water, no trip to this beautiful country could be considered complete without experiencing the magic that dwells beneath the surface. But you don't have to be a diver to get up close to the oceanic marvels, especially when you're staying at the adults-only Hurawalhi Maldives.
Located on Lhaviyani Atoll, a 40-minute seaplane flight north of Male, Hurawalhi is designed to give you the best that the island has to offer.
The resort does not segregate its 90 villas into categories so the entire island is yours to explore. In place of a presidential suite you'll find the Champagne Pavilion that looks out to panoramic views of the Indian Ocean. As this is the westernmost point of the island, passing pods of wild dolphins are a common sight although there is one downside: Champagne is the only choice of tipple.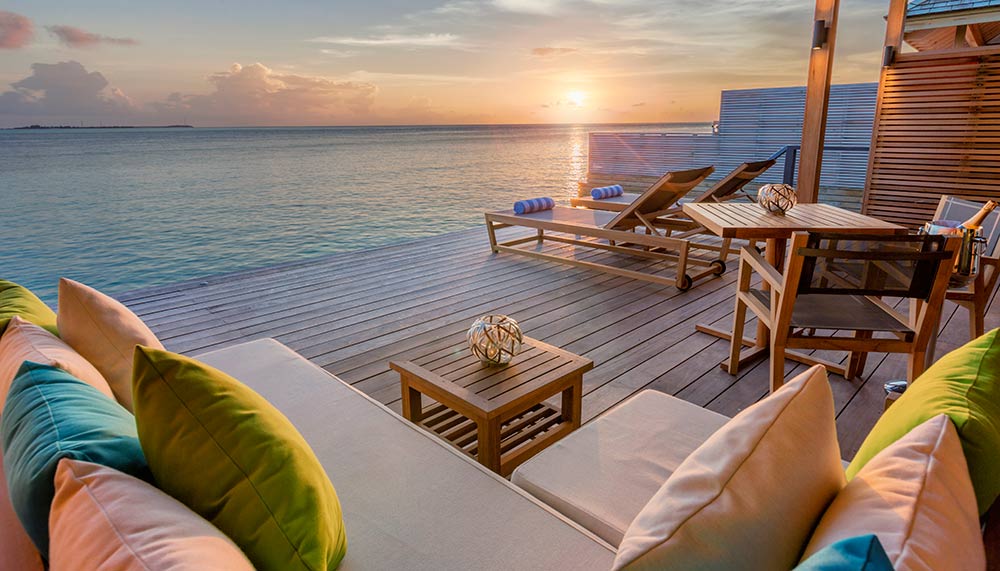 While the rooms are designed for maximum privacy, those looking for the bona fide castaway vibe may consider a romantic escape to Dream Island, an uninhabited sandbank just minutes away by speedboat. This is where you'll get your postcard-perfect selfie with a background framed by endless blue skies, blue ocean, white sand, the mandatory hammock and of course a seaside shack to complete the picture.
As beautiful as the landscape is, however, the main event is undoubtedly what lies beneath. The spectacular marine life includes large schools of colourful reef fish, turtles, sharks and rays. The island is a breeding site for green turtles and manta rays, while nurse and black tip reef sharks are a common sight even from the shore. Even rare creatures like mobula rays, which are the smaller cousin of manta rays, have been spotted.
Obviously there's no better way to take in the stunning underwater views than by plunging into the depths. Hurawalhi's on-site diving partner, Prodivers Maldives, can take you to any of the atoll's 50 dive sites depending on what you want to see. Experienced divers can also choose to hire an underwater scooter to explore sites where currents are strong or rebreathers to get closer to the marine animals.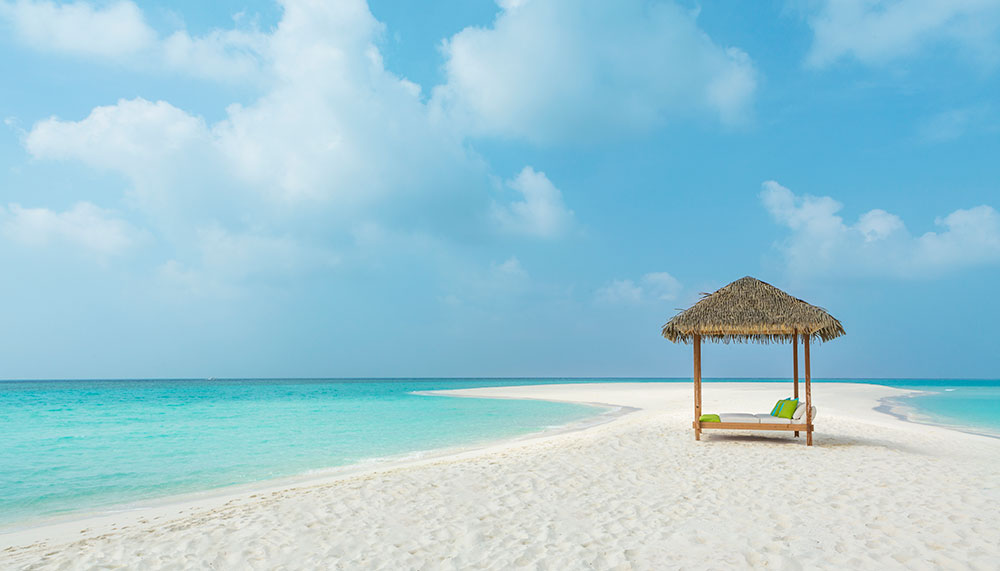 The large population of manta rays in these waters made sense for Manta Trust to set up an office at the resort. Guests who are interested in discovering more about these gentle giants can join daily guided dives to nearby reefs and shipwrecks to spot the animals.
Not into scuba? No problem. You could snorkel and still spot the occasional turtle, shark and ray. Actually, at Hurawalhi, you could see everything that goes on underwater without even getting wet because the resort is one of only four in the Maldives with an underwater restaurant (the others being at Niyama, Antara Kihavah and Conrad).
Submerged 5.8m under the sea, 5.8 Undersea Restaurant is essentially a gigantic sapphire crystal dome. A dining experience like no other, this intimate space seats no more than 10 couples at a time for lunch and dinner (two seatings).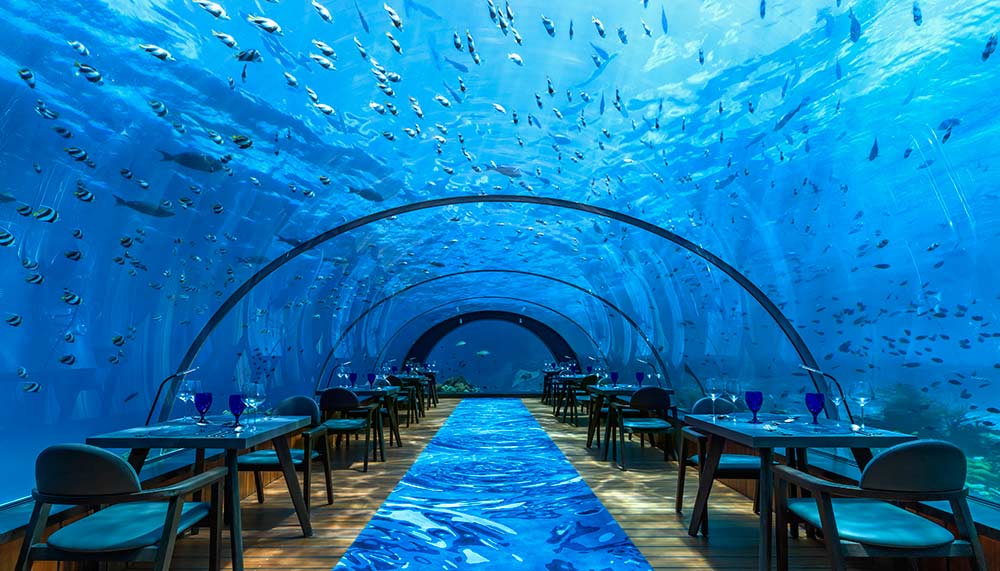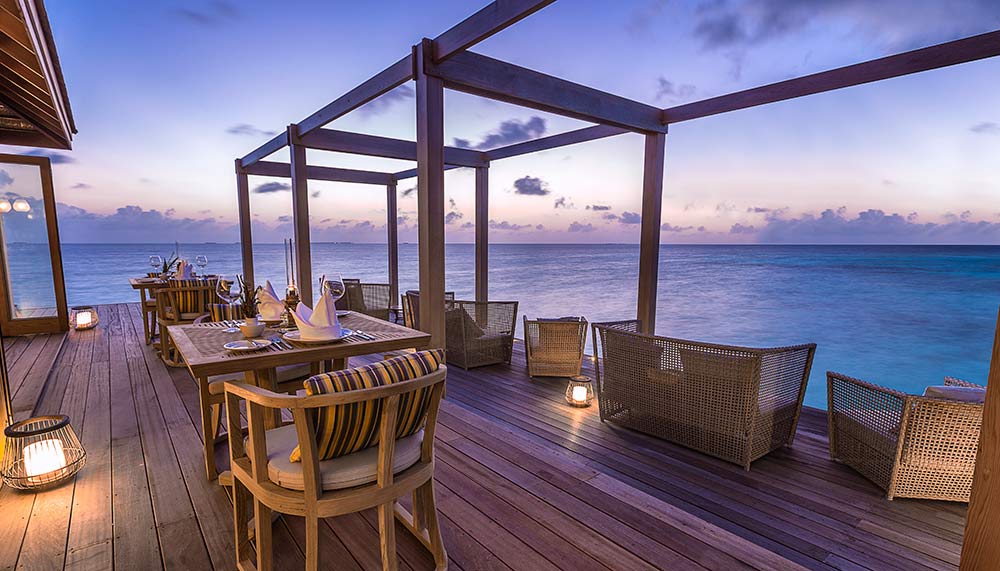 Chef de cuisine Bjoern van den Oever showcases his creativity with a carefully crafted five-course fine-dining menu preceded by an amuse bouche and finished with petits fours. If you have the luxury of choice, go for the first dinner seating, which starts a few minutes before sundown so the experience begins with the restaurant bathed in light and ends with the surroundings in darkness. The kinds of fish that appear in the night are dramatically different than those in the day; schools of larger pelagic species like tuna and giant trevallies come out to hunt, while the little ones hide away in nooks and crannies within the reefs.
The two other dining venues are Aquarium, a contemporary over-the-water restaurant offering fresh seafood and teppanyaki, as well as Canneli, the all-day dining hall serving modern international cuisine.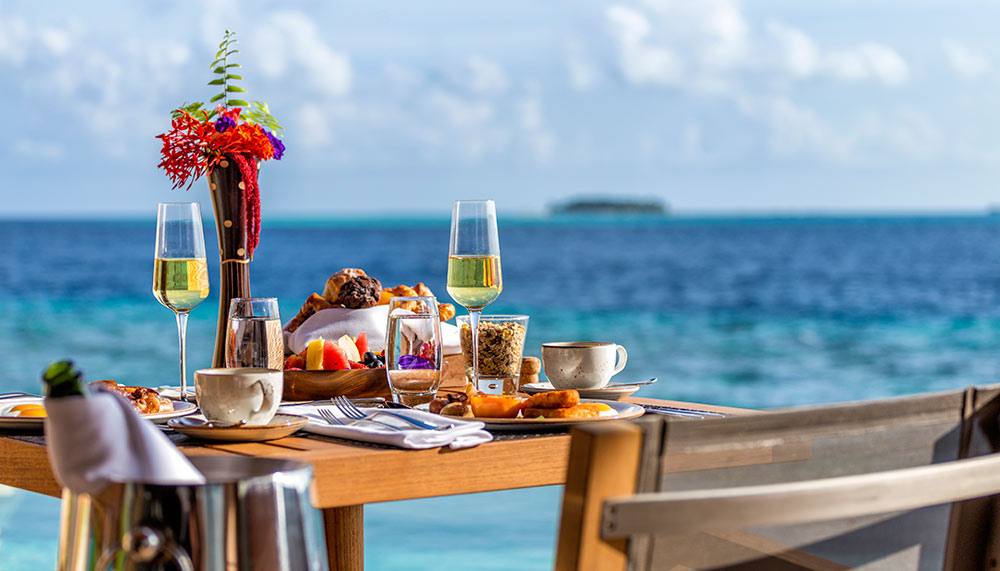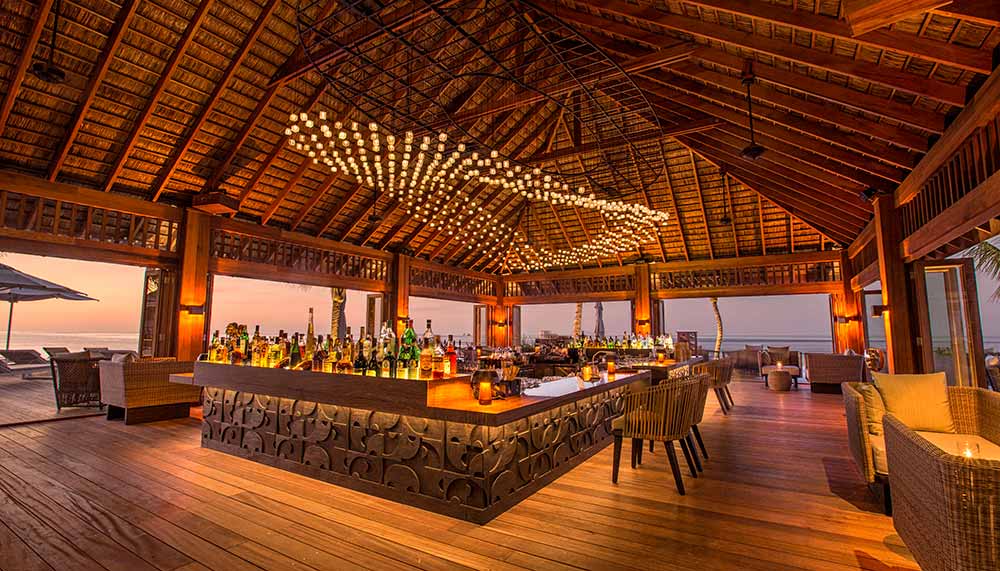 In search of a sundowner? Head over to the stylish Coco Bar to sample a mix of speciality and classic cocktails.
Everybody has their own ideals about the Maldives.
Hurawalhi's take is a simple one: to let nature's beauty speak for itself. With such spectacular undersea life and incredible sunsets, Hurawalhi is the kind of resort that you'll revisit over and over again.