Avoid the crowds and uncover another side to the famed holiday town in Queensland, Australia
Editor's note: See other Escape Plan stories here.
This afternoon Hastings Street is offering the usual brigade of carefully curated holidaymakers. Former Queensland rugby league star Wally Lewis typifies things, mock-perusing the window of a garish fashion boutique as his girlfriend browses inside.
Elsewhere, families drift like the tide along the leafy beachside street, blocking the paths of executives on weekend escapes from the capitals.
Since the early '80s, Noosa has been the destination for a fast and fancy retreat from the office. While Byron Bay might've blown Noosa out of the water in the celebrity stakes – cue the Hemsworths and seemingly half of Hollywood – Noosa's the spot to see those TV types you can't quite place. Here, it's still ageing morning-show hosts in short shorts and tight tees, celebrity chefs who came from the small screen and those aforementioned sports stars who once achieved greatness and remain on their descent to Earth.
Hastings Street, Noosa Heads' main retail and restaurant precinct, is where they gather – al fresco, in flattering dappled sunlight. A few metres beyond rests Main Beach, where they frolic in the sea or tan on the sand. If people-watching is your holiday hobby then this is a place to settle in and get comfortable – a human kaleidoscope on offer and one that prompts a few smiles.
There is, however, a different version of Noosa. An escape that avoids the crowds, aimed at those eager not to be seen but who still want to be wrapped by the warmth and general splendour of the Sunshine Coast.
The perfect base to access such is, ironically, on the sands of Noosa. First Point Apartments avoids the town's theatre yet you couldn't be closer to the beach (in fact, you'd struggle to stay closer to the sea anywhere on Australia's east coast). Built above the white sands of Noosa Heads' Little Cove, a narrow driveway runs from the road to a garage where you're advised to park and forget that your car exists for the remainder of your stay. In this town, it's about avoiding the obvious, letting Noosa come to you.
Built within the 2,883-hectare Noosa National Park, a 20-metre walk from the back gate lands you in the water at Little Cove – a tiny, horseshoe-shaped bay framed by volcanic rock and pandanus trees. A swimming pool is there for your convenience on the lower timber deck, metres above the beach, though the ocean proves a greater allure – older surfers on longboards weaving the slow-breaking waves, a solitary yacht bobbing at anchor and migrating humpbacks surfacing with a puff of air you can hear from the deck.
Facing north, there's views across the sea to the high coastal mountains of the 50,000-hectare Great Sandy National Park and boats negotiating the mouth of the Noosa River as the tide surges.
There's no better spot to experience the new Noosa, especially when a first visitor arrives by sea. Tropicsurf's owner/founder Ross Phillips is a true pioneer of the luxury surfing industry, and was voted by Conde Nast Traveller as one of the world's most influential people in travel.
Conveniently, he lives just around the corner. Phillips started teaching people to surf on Noosa's Main Beach three decades ago and now runs luxury surf experiences everywhere from the Maldives to Mexico.
But Noosa is the place he knows best. He arrives at First Point by jet ski, straight onto the sand at Little Cove. Through the breaking waves and "out the back" we go on a luxury, fully air-conditioned motor boat to look for rideable lumps of water across the Noosa National Park – one of the world's most famous surf locations. "There's no limit to what people can do here," offers Phillips. "There's no point giving people
an experience they can do themselves, it's about what they can't do." This charter isn't exclusively reserved for surfers – any client is able to opt for deep-sea fishing or some snorkelling around the secret coves of Noosa's enormous headland, with gourmet lunch supplied.
Tropicsurf can also organise private jet pick-ups and drop-offs from Sydney and Melbourne, and helicopter charters to remote locations nearby. Phillips knows of multiple spots otherwise impossible to get to – having accumulated a lifetime of wisdom from surfing the region.
One of his favourite locations is a wave rarely ridden, on the outer north-eastern reaches of Brisbane's Moreton Bay, where only sailors venture. "Anything is possible," he says. "I've had clients here who surf all day with access by helicopter, then take a private jet to Uluru for sunset cocktails. Others surf, then go diving on the Great Barrier Reef."
One of his most popular tours takes guests by private 4WD across the Noosa River via car ferry to Noosa's unheralded North Shore. From there it's a one-hour drive along the sand (note the 80km/hr speed limit) to Double Island Point. It's one of Queensland's best-kept secrets: a wide, sandy bay where soldier crabs dig in deep as you pass by and yachts shelter just off the beach. It's here, in an alluring blue lagoon that some of the best waves in Australia break alongside a tall, rocky headland. Chris Hemsworth camps here each year to surf these waves, while Angelina Jolie visits the offshore dive site, Wolf Rock, which is also home to one of the largest grey nurse shark colonies in the world.
You don't need to surf to enjoy these locations. It's only a short helicopter ride from Noosa to Fraser Island for a tour of the world's largest sand island. And it's a 20-minute flight from Noosa to the fishing town of Rainbow Beach, where it's a further 20-minute 4WD drive along the beach to Double Island Point, to enjoy private gourmet lunches and sea kayak adventures among migrating humpback whales.
Back at First Point Apartments, while the restaurants on Hastings Street and Main Beach are an easy five-minute meander, there's no better dinner location than your deck. Watch the sun sink into the Noosa Everglades (one of the world's two everglade systems and part of Queensland's first UNESCO Biosphere) while chef Ryan Fitzpatrick (The Ohana Group) provides a sumptuous four-course meal with paired wines. Fitzpatrick has worked the burners at some of Australia's most prestigious restaurants, including the Noosa institution that was Berardo's (before it shut its doors in 2015), as well as providing nourishment to various celebrity clients in the French Alps and the Mediterranean.
Served by candlelight to the sound of the ocean, Fitzpatrick prepares Fraser Island spanner crab on a crumpet with apple, before an entrée of heightened "surf and turf" – local grass-fed porterhouse steak with Moreton Bay bug. The main course is fresh-caught mahi-mahi with corn veloute, confit potato, finger lime and fennel.
A light breakfast next morning comes delivered by a yoga instructor who conducts a private session on the oceanside deck. But it's worth the walk into Hastings Street for a coffee – if only to see Noosa come to life and appreciate the appealing seclusion. Elderly swimmers do slow laps across the beach, while it seems the whole town jogs, walks or sips chai tea on the sand. There are iconic eateries here (like Season Restaurant, a known post of Sir Richard Branson), but it's best knowing you can bid a quick retreat to First Point when the crowds arrive.
It's possible to virtually avoid humanity by heading west to the Noosa Hinterland. It's just a 20-minute ride by helicopter to one of Queensland's newest private retreats and what is an appealing new perspective on the region.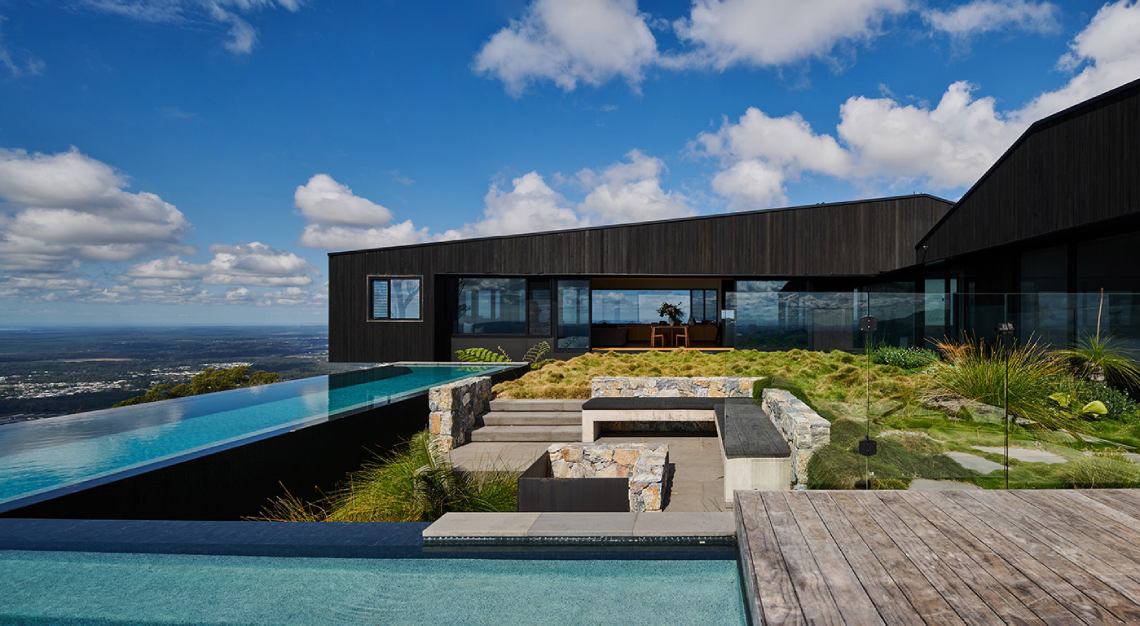 Asgard House rests besides the Glass House Mountains, part of a heritage-listed national park where mountains 500-plus-metres high shoot up at right angles from the flat coastal plains – plugs of trachyte and rhyolite from a 27 million-year-old volcano. At AU$7,500 (S$7,324.50) per night, the five-bedroom, four-bathroom mansion is the first property launched as part of the Private Collection by Spicers, a notable ascent in luxury for the Queensland-based company. "For us, it's not about the house, it's about the environment," chimes Spicers Retreats founder Jude Turner.
A floor-to-ceiling window runs the length of the mansion's expansive kitchen-diner and lounge, holding and presenting views across the park's 13 dramatic mountains. Chef Fitzpatrick is available to prepare meals here – with Spicers also offering two other retreats easily reached by helicopter within five minutes.
Spicers Clovelly Estate houses one of regional Queensland's top-rated restaurants, the two-hatted The Long Apron. Meals can be served within a French provincial garden beneath jacaranda and fig trees, beside groves of magnolia and lavender, overlooking a croquet and pétanque pitch. Head chef Andrew Birse – who came from Brisbane's highly rated Arc Dining – presents a menu drawn from French and Japanese cuisine, including Parisienne gnocchi with chestnut, greens and egg, as well as beef tartare with sunflower and pickled gooseberry.
Just across the valley near the village of Maleny, Spicers Tamarind Retreat lives within a rainforest and beside a running stream. It's a different offering to The Long Apron – plates here are made within a modern Asian framework. Head chef Dan Jarrett has earned the restaurant a chef's hat, with dishes using the freshest local ingredients – think crispy Mooloolaba prawns, snake beans and Thai basil with roasted chilli jam, or fresh-caught tuna sashimi with citrus wasabi dressing, furikake, yuzu and bonito cream.
The Flame Hill Vineyards are also a five-minute helicopter journey from Asgard House. Sat high on the Hinterland hills, it's a perfect long-lunch location, meals accompanied by impressive views and some estate-grown wines to match.
See, while Noosa's main squabble of sand and sun means the town is one of the country's most romanticised holiday locations, there's more here. You just have to let it come to you.
This story was first published on Robb Report Australia & New Zealand