In more ways than one, these three fathers embody The Macallan's dedication to unparalleled excellence and craftsmanship, both within and beyond the home—not by succumbing to mediocrity, but by relentlessly carving their own paths
It's often been said that "There are only two lasting bequests we can give our children—one is roots, the other wings." As any father will attest, this is easier said than done. It requires an unwavering devotion to inculcate the right values and principles, even as it demands the intuitive wisdom of bringing out the best in each child.
In the same vein, The Macallan has remained dedicated to its pursuit of uncompromised excellence, while upholding incomparable craftsmanship and creativity since its inception in 1824. Conceived on the same hallowed grounds that have been home to The Macallan Distillery from the time of its founding, each exquisite bottle of single malt whisky is matured in the finest oak casks, under the careful oversight of master whisky makers guided by the Six Pillars—a set of principles laying the foundation for the unrivalled quality of the Scottish distillery's whiskies.
Yet while the essence of fatherhood might be the same, the experience of being a father takes on starkly different shapes and forms; much like how The Macallan's diverse range of single malts each exhibit radically profound flavours and profiles. In the case of Adrian Pang, Will Tan and Ken Khoo, each individual account of fatherhood, though equally rich with meaning, are not one and the same. They are, however, bound by an irrefutable resolve to do the best by their children—and in doing so, count this unconditional labour of love their greatest reward and legacy.
Playing dad: Adrian Pang, co-founder and artistic director of Pangdemonium
For Adrian Pang, the satisfaction of being a father lies in embracing all its attendant highs and lows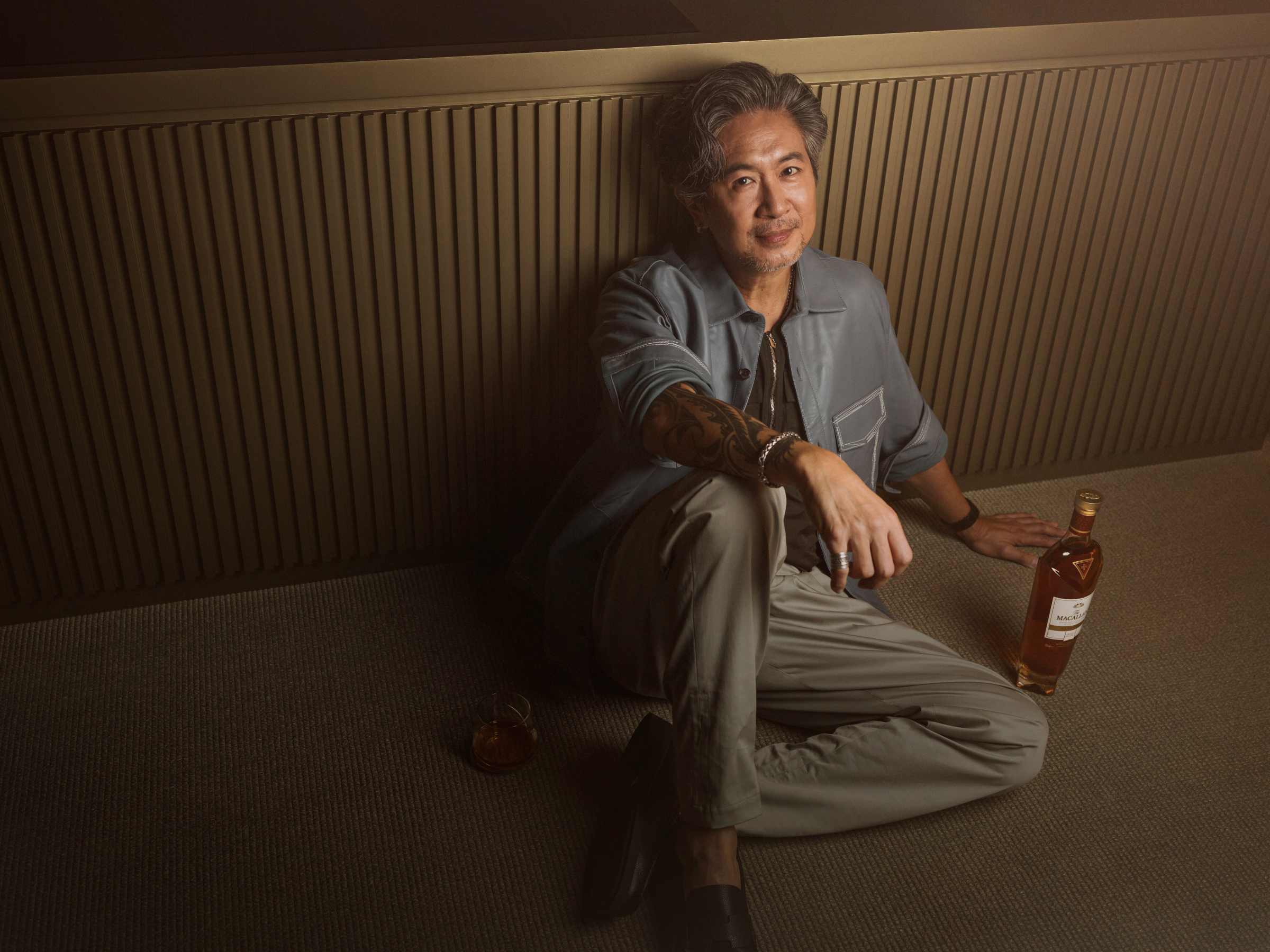 Also pictured: The Macallan Rare Cask, 2021 Release; full outfit by Hermès; jewellery, model's own
After working full time at a TV corporation for 10 years, Adrian Pang found himself stuck in the middle of a crossroad: renew his contract for financial security (but have zero fulfilment), or take a leap of faith to start the theatre company of his dreams. He decided to call it quits and the rest, as they say, is history. Hence, for the past 12 years, his two boys have been "proud brothers to their baby sister", Pangdemonium.
"Our mission is to tell stories on the stage which are enriching, inspiring and above all, of the highest artistic and production values, in a league with the very best of theatre internationally. I daresay we share this mission with The Macallan," Pang declares, evidently with a tinge of well-deserved pride.
What does fatherhood mean to you?
When I first became a dad, I literally said to myself, "Now I know my purpose in life." Suddenly, at age 33, my life made sense—and that has governed my existence for the past 23 years as dad to Zack and Xander. I'm invoicing them once they get their first jobs.
How does playing a father on stage complement or juxtapose being a father in the real world?
Being a dad is the best drama training, probably because there's so much drama to being a dad, and it really is life-long training. But seriously, being a father to my two boys is the most important role I will ever have the privilege to call mine. It's the most challenging, rewarding, infuriating, bewildering, gratifying, soul-sapping, heart-filling, life-affirming part of my little world.
Undeniably, that has informed the (fatherly) roles I play as an actor. The responsibility, duty, pain, pride, pressure, pleasure and the almost existential oneness of father-and-son: it all feeds into my work. I've had the joy of sharing the stage with both my boys on a few precious occasions, and each time it's been utterly enlightening and enriching—both as character and as real-life dad.
Pangdemonium, rather cheekily, seeks to "give us all a much-needed kick in the nether regions once in a while." How do you inculcate within your children the courage and curiosity to challenge the status quo and push boundaries?
I've grown up with an innate rebellious streak, and (for better or worse) have inadvertently led by example in that regard. But never for the sake of it, for self-serving attention, or to the detriment of anyone else. Though your actions may be frowned upon by the self-righteous majority, I firmly believe that if you can make some kind of positive impact on someone, then it's worth being seen as a bit of a shit-stirrer.
How have you evolved over the years as a father?
I used to be a bit of a 'martyr-type' dad, sacrificing my own needs for the sake of the family. However, I gradually realised that there was nothing heroic about that because it was turning me into an 'angry' dad instead. It's been an ongoing journey of discovery, juggling between fatherhood and my own needs as an individual—I'm self-aware enough to admit that actors are very, very needy individuals.
What's your proudest moment as a father?
The most recent moment of pride as a dad was when I FaceTimed my two boys in the UK, and they were both in bed together. Yes, my 21- and 23-year-old sons were having a brotherly sleepover. The fact that I have two grownup sons who love each other and are best friends—I must have done something right.
What's an important life lesson you hope to teach your children?
If you're able to find something in your life that 1) you love doing, 2) are reasonably good at, 3) can make a decent living doing, and 4) performs a positive service to others, hold on to that for dear life, because you are one of the luckiest people in the world.
More than words: Will Tan, managing director of Principle Partners
It's not a cliché when put to practice. At home and at the office, Will Tan seeks to lead by example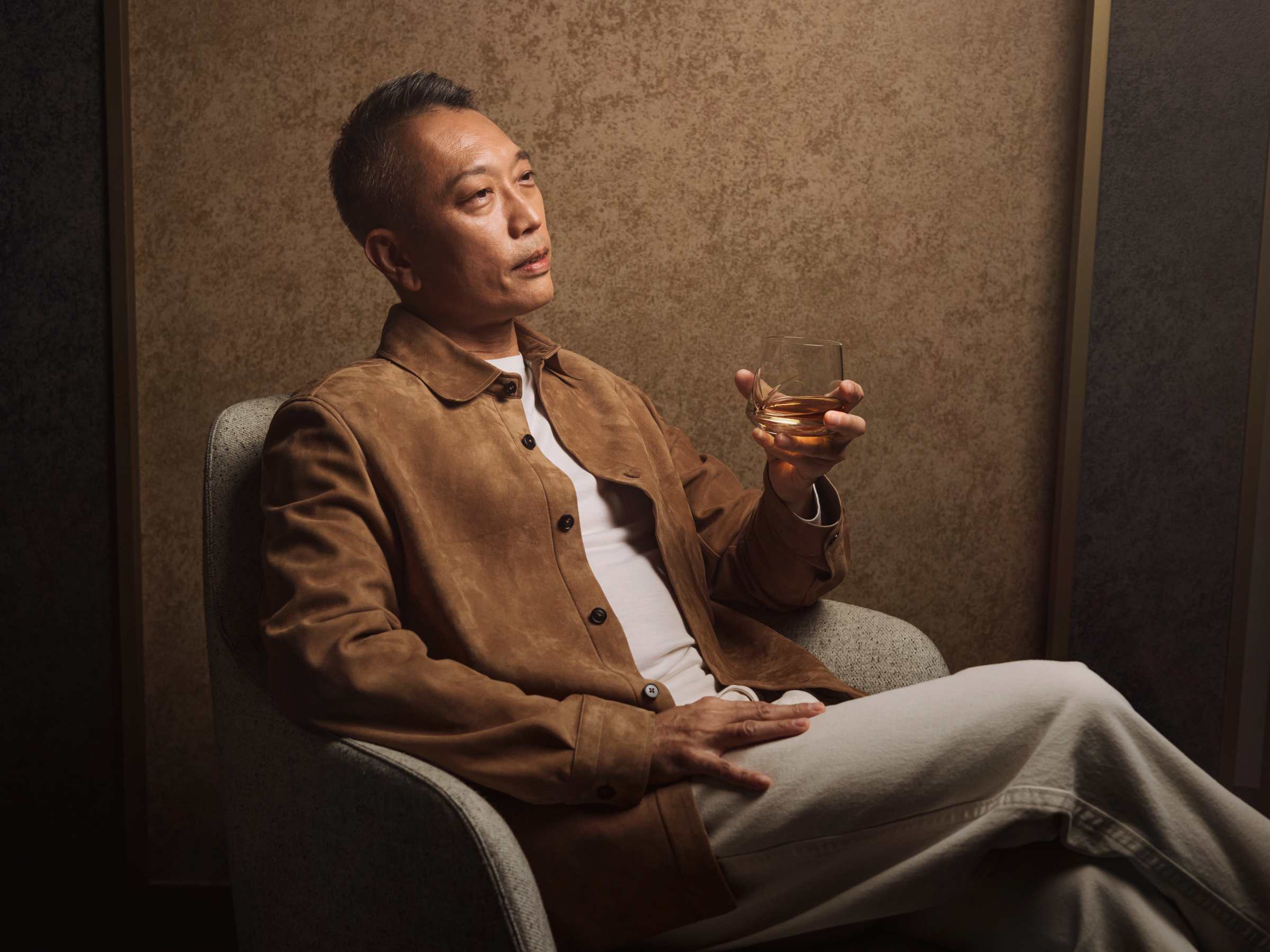 Also pictured: A seating area inside The Macallan Boutique; full outfit by Zegna
Will Tan, managing director of Principle Partners—a specialist financial service executive search firm headquartered in Singapore—credits his consistency and discipline in modelling ethical behaviour as the key to building a fundamental level of trust with clients. Naturally, the degree of integrity he's demonstrated throughout his career is also mirrored within the confines of the home. His personal mantra, "Always do the right thing", is one he hopes will be deeply ingrained in his son from a young age.
How would you describe your experience as a father?
It's one of the most beautiful and fulfilling things in life: to watch my son grow up and have a hand in nurturing him towards becoming his own person. Since the day he was born, I became a role model to someone who adores and looks up to me completely. That's prompted some serious reflection on my part. I dare say it's even made me a better version of myself. Of course, I'm still far from perfect, but it's important to me that I continue to set a good example and actually walk the talk.
The Macallan remains firmly rooted in its dedication to uncompromised excellence, as well as incomparable craftsmanship and creativity. As the managing director of Principle Partners, how do you embody these qualities?
By truly putting my heart and mind into delivering the best service possible, rather than taking short cuts. I make it a point to never take things for granted, especially since the reputation and trust I've built over the years can be lost in an instant if I'm not careful.
It's also crucial to stay open to alternative ideas, by having empathy and being a good listener—the strongest relationships (both at home and at work) are always based on openness and trust.
How have you managed to achieve your career goals while successfully raising a family?
There's really no hard-and-fast rule to raising a family. Regardless of how busy my schedule is, I always make time for my son. One of the things I deeply cherish is being able to drop him off at school every morning and chatting with him while walking to the school gate together. It's the accumulation of small moments like these that make all the difference in the world.
What do you enjoy doing most as a family?
We love to travel, to experience new cities, cultures and cuisines. The transformation in my son's maturity and confidence after just a few weeks away is remarkable. Children grow up so quickly and you have to be present with them as much as possible. Before you know it, they're out of the house for good.
Ultimately, what kind of a legacy do you hope to leave behind?
In business, I hope to have touched a few lives and helped some people along the way. In turn, they might be inspired to help others as well.
In my personal life, I hope my son will look back at our time together and think of me as a good role model and father. He's only nine years old, but he's already started talking about his future kids—that reassures me that I'm doing something right as a father.
Home is where the heart is—it's also where Ken Khoo believes the value of giving back is instilled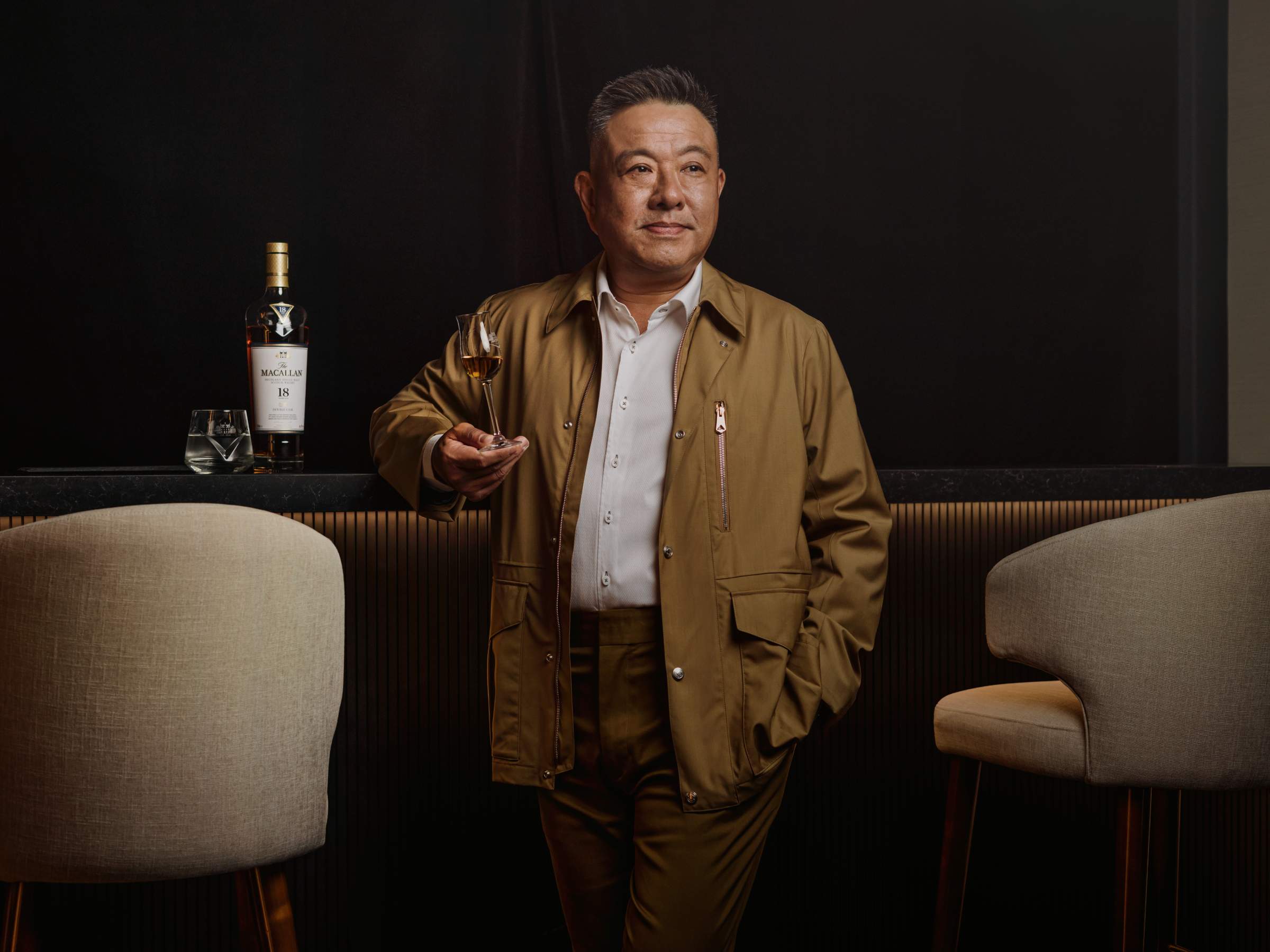 Also pictured: The Macallan Double Cask 18 Years Old; the bar at The Macallan Boutique; wool-blend jacket and cotton-blend pants by Paul Smith
It's almost immediately apparent whenever Ken Khoo steps into a room. His infectious laughter and warmth are a dead giveaway—an outward manifestation, perhaps, of a generous spirit of charity and compassion. An executive member of the Breast Cancer Foundation (BCF), Khoo engages actively in philanthropic endeavours, for the betterment of those around him. His source of joy, however, admittedly stems from moments in which his children emulate these same altruistic qualities, making past sacrifices and occasions of reprimanding worthwhile.
What kind of an impact are you trying to create in your capacity as executive member of the BCF?
My role in the BCF includes raising funds and awareness, such as through coming up with schemes that advocate the early detection of breast cancer. Recently, we held a golf fundraising event and opened a new Breast Cancer Centre in Sin Ming.
People often ask me, "You're a man, so why does the issue of breast cancer matter to you?" But they need to understand that it's not simply a 'woman's' problem. According to the statistics, one in 13 women in Singapore will get breast cancer in their lifetime. That's not a small number. If someone you know has breast cancer—it could be your wife, sister, mother, daughter or auntie etc.—you're going to have to get involved. It's important that the men in their lives function as pillars of support, so women diagnosed with breast cancer don't have to face it alone.
Amidst your busy schedule, how do you maintain a healthy relationship with your children?
I have five kids in total (four boys and a girl) ranging from the ages of 17 to 29. As the kids have grown up, it's been increasingly tough to get everyone together, especially since some of them are currently studying overseas. Still, I try to spend time with each of them, mostly going out for meals or playing golf, and flying out on weekends to see them.
What have your children taught you about yourself, and about life?
In the past, children were not allowed to talk back to their parents as a sign of respect—I'm old-fashioned in that regard. In the digital age, however, it's often the other way around. When I tell my children something, they might turn around and say, "Dad, actually you're wrong, because Google says… [this and that]." Of course, they do genuinely mean well. As a father, I would like to think that I'm always right, but I've learned to be more tolerant and accepting, in listening to what my children have to say.
Conversely, what values do you hope to impart to your children?
First and foremost, to instil harmony and unity within the family. It's not uncommon—especially amongst larger families—to see underlying animosity breed into infighting. There will come a time my wife and I won't be around, so all five of my kids will need to be able to look after and depend on each other.
Working with the BCF, I've actively shared with my kids about the philanthropic work I'm engaged in. I hope their upbringing translates into a keen understanding of the importance of giving back to society when we're in a position to. Regardless of financial status or social background, they must treat others around them with equality and be eager to lend a helping hand.
The Macallan is available for purchase in Singapore at the brand's boutique at Raffles Hotel Singapore. Refurbished last year, The Macallan Boutique features an archival gallery, whisky lounge, boutique and private salon. Guests can sample The Macallan's award-winning whiskies, while admiring some of the most revered, limited-edition expressions the distillery has produced to-date. In collaboration with Raffles Hotel Singapore, The Macallan's Private Dining Experience curates exclusive menus by the hotel's acclaimed chefs, paired impeccably with its finest whiskies. Make reservations here.
Location by The Macallan Boutique at Raffles Hotel Singapore
Photography by Studio Daydream
Styling by Wei Lun Tok
Hair and makeup by Angel Gwee, using L'Oréal and Anastasia
The Macallan
Raffles Hotel Singapore
328 North Bridge Road
01-07
Singapore 188719
Tel: +65 8351 3449