Treat your loved ones and yourself to an exquisite spread of flavours this Christmas and New Year's
'Tis the season of gifting and receiving—and, more importantly, celebrating the close of the year as well as welcoming the possibilities of the incoming new year with our nearest and dearest. For all the ensuing revelry that is bound to happen, the role of the lunch-and/or-dinner table in gathering friends and family for poignant moments of celebration and togetherness cannot be overstated. Fine food and drink are crucial ingredients for the season and Lawry's The Prime Rib Singapore, takes both very seriously, has you amply covered in both departments.
This festive season, the tastefully luxurious and inviting award-winning American cuisine institution fires on all cylinders once again, setting the stage for its MVP, the Signature Prime Rib of Beef, each cut of which is aged up to 28 days to both guarantee and maximise tenderness, and painstakingly roasted on beds of rock salt. Besides this star player, the restaurant boasts a wide array of offerings that would undoubtedly make the holidays that much more memorable—and delicious.
As anticipation for the festivities mounts, Lawry's lifts the veil on four festive menus, each packed with an exceptional spread, from start to finish.
Christmas Eve
As the herald of the holiday season Christmas Eve is one of the most important dates in the annual calendar, so it's only fitting that the meal you have this day reflects its significance. Priced at S$193+ per person, Lawry's six-course Christmas Eve menu is befittingly lavish and delectable. From this spread, the Prime Rib is an unquestionable highlight. It's one thing to be served the best cut of beef in the world. It's a whole other thing when it's uniformly juicy and succulent and lands on the palette with melt-in-mouth splendour.
Even if you don't eat beef, Lawry's has a stacked lineup of delights at the ready. In fact, the amuse-bouche, the Salmon Gravlax with Chips, is an instant impression-maker. Cured salmon, sweet, savoury and resting atop a bed of cheese crisps, is an irresistible start of a feast that also incudes creamy Onion Consommé and main-course options such as the Festive Roasted Poultry with Foie Gras and Yuletide Seafood Medley.
Christmas Day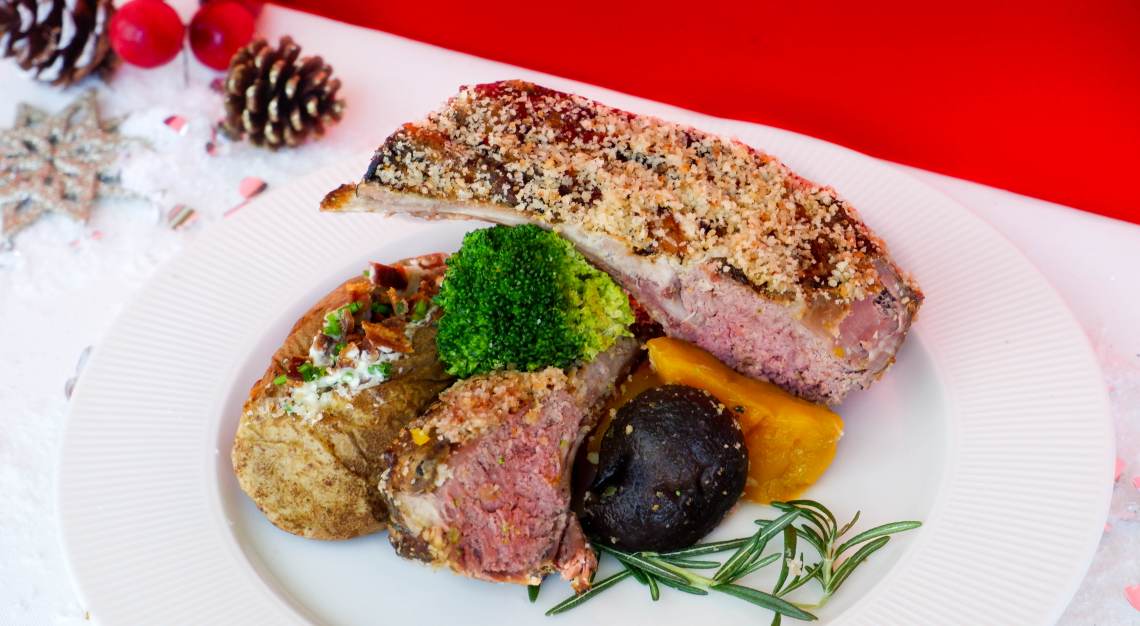 Yuletide wishes to all! We're full-swing into the holidays now. Lawry's tips its Santa hat to this special day with its magnificent six-course set menu. For S$173+ per head, you will experience a sumptuous meal that begins with fragrant, hearty Herb Crusted Mushroom, a luscious Jewel of the Sea Bisque wherein mussels, clams, tiger prawns, squid and scallops are enveloped by an enchanting broth of pomodoro and brandy. As with the Christmas Eve menu, the Turkey Prime Combo (two cuts of 80-gram USDA Prime Rib of beef and a 100-gram serve of sliced turkey), surfaces once again as a main course and you can choose between that and exquisite non-beef options such as the Duet Of Lobster Tail And Cod, a true deep-sea treat, and Royal Herb Crusted Lamb Rack, a formidably meaty offering of flavourful lamb accented by bacon, sour cream, chives, baked potato and pumpkin.
For dessert, tuck into one or both these vanilla sponge cake variants: the Festive Spiced Delight, made with chocolate fudge, and the lemon-sauce-drizzled Citrus Dream Cake.
New Year's Eve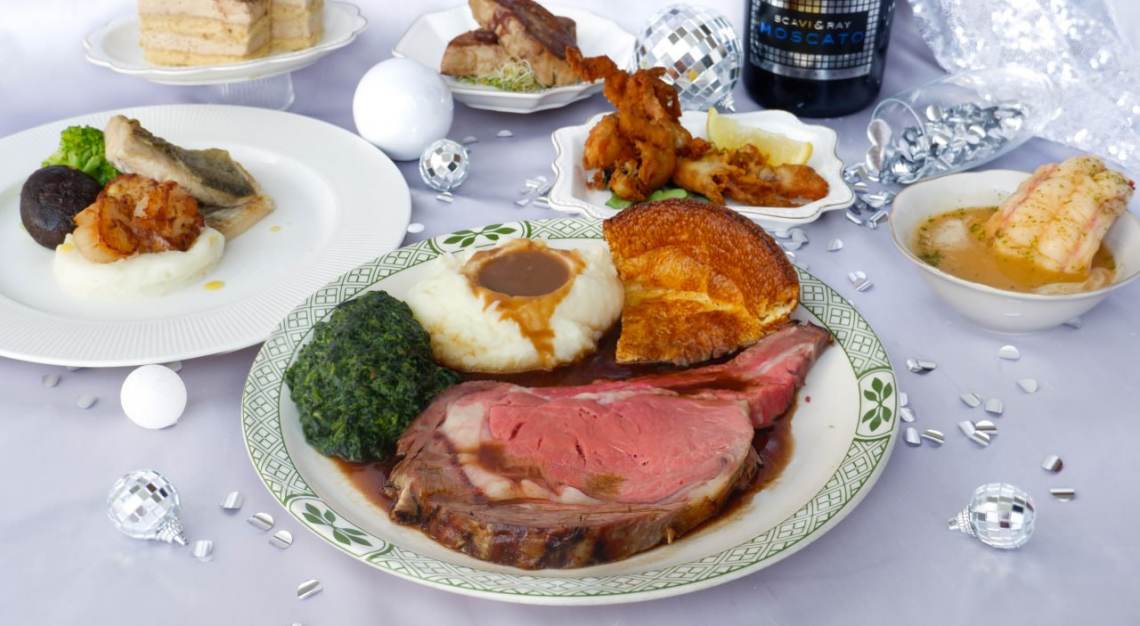 It's 31 December 2023—we're on the cusp of a new year and new beginnings. Usher in the promise of a new chapter with the NYE spread, priced at S$193+.
This is a six-course send-off for 2023 that starts with a perfectly crispy and juicy serve of Golden Soft-Shell Crab whose sea-borne savouriness is complemented by tangy chilli and Maraschino cherries. Once again, the riches of the sea resurface in the creamy Lobster Bisque thereafter, before the crispy-yet-tender revelation of Pan-Fried Foie Gras. When it comes to the big plates, Lawry's is in as fine a form as ever. Take your pick from a lineup of perennial favourites: the Signature Roasted USDA Prime Rib of Beef, the aptly named Oceanic Symphony of pan-fried Seabream and pan-seared Hokkaido scallop and the glorious Grillmaster's Holiday Feast, a grill-led affair of grilled barbecue pork ribs and herb-crusted lamb rack. To seal the deal with a bit of sweetness, choose between two vanilla sponge cake treatments, the Latte Lover's Dream and the New Year's Bliss Mango Cake.
New Year's Day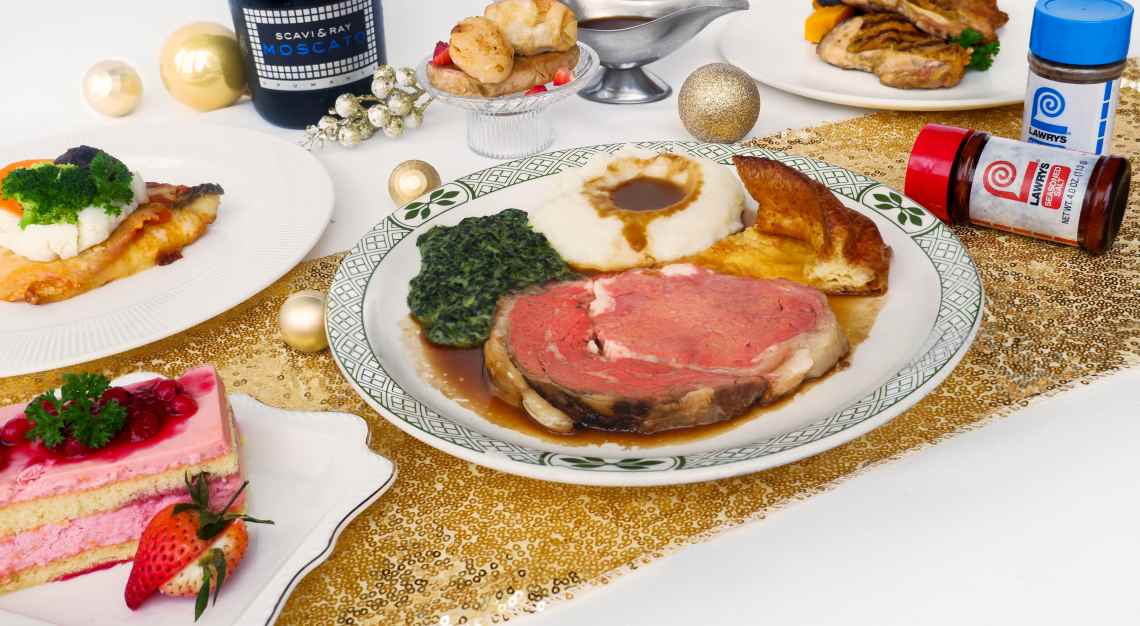 2024 is here! Let's usher in a joyous future by starting the year off with a sumptuous meal. At S$159+ per person, this five-course outing is a fantastic thesis on flavour. Things start off with The Famous Original Spinning Bowl Salad, in which Lawry's vintage dressing graces romaine lettuce, beetroot, baby spinach, eggs and croutons and progresses to seafood refinement in the Hokkaido Scallop with Foie Gras and Gyoza and entrée choices that include, as always, the Signature Roasted USDA Prime Rib of Beef and the seabass-showcasing Fisherman's New Year Blessings and the chicken-lover's favourite, Festive Poultry Delight. Welcome the new year with a sweet embrace from a duo of vanilla sponge cake options: Berry-Peachy and Caramel Pear.
Lawry's The Prime Rib
333A Orchard Road
Mandarin Gallery 04-01/31
Singapore 238897
Tel: +65 6836 3333