The Cortland's whimsical space was designed by architecture firm Olson Kundig
Shortly after the Cortland revealed its swanky residences, the West Chelsea condominium is now offering a glimpse into its ultra-chic Olson Kundig–designed playroom.
Dubbed the Beluga Pod, the space is only one of a few projects that the Seattle-based firm has tailored specifically to kids. Although, like everything else the award-winning architect has churned out, it balances functionality with aesthetics. For the design, it chose to take inspiration from the Big Apple's natural environment, especially one particular instance where New Yorkers spotted a whale swimming in the Hudson River. (You definitely don't see that every day.)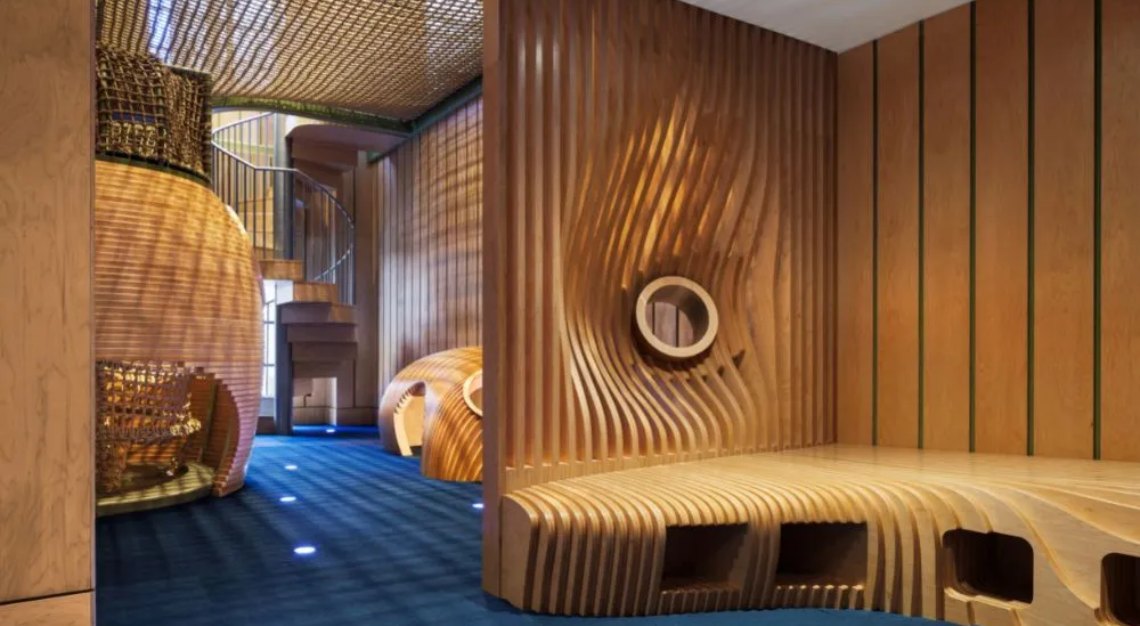 "The Cortland explores the essential heritage of a city, its layers of time and perspectives while juxtaposing that history with a new point of view," explains Kirsten R. Murray, Olson Kundig's principal, in a press statement. "The understated drama of the interior design evokes an experience that is both modern and timeless, unexpected and yet familiar."
Creating somewhat of an ecosystem within the Robert A. M. Stern tower, the whimsical playspace is divided into two floors with a rippled mirror on the ceiling that mimics the sunlight you'd see reflecting on top of the water. The lower level, which has been named the Barnacle, features porthole windows that continue to the marine theme. To keep the building's youngest residents busy, there's a rock wall and an abstract whale body made of plywood to climb on. In order to reach the upper mezzanine, they can opt for the stairs or ascend using a cargo net.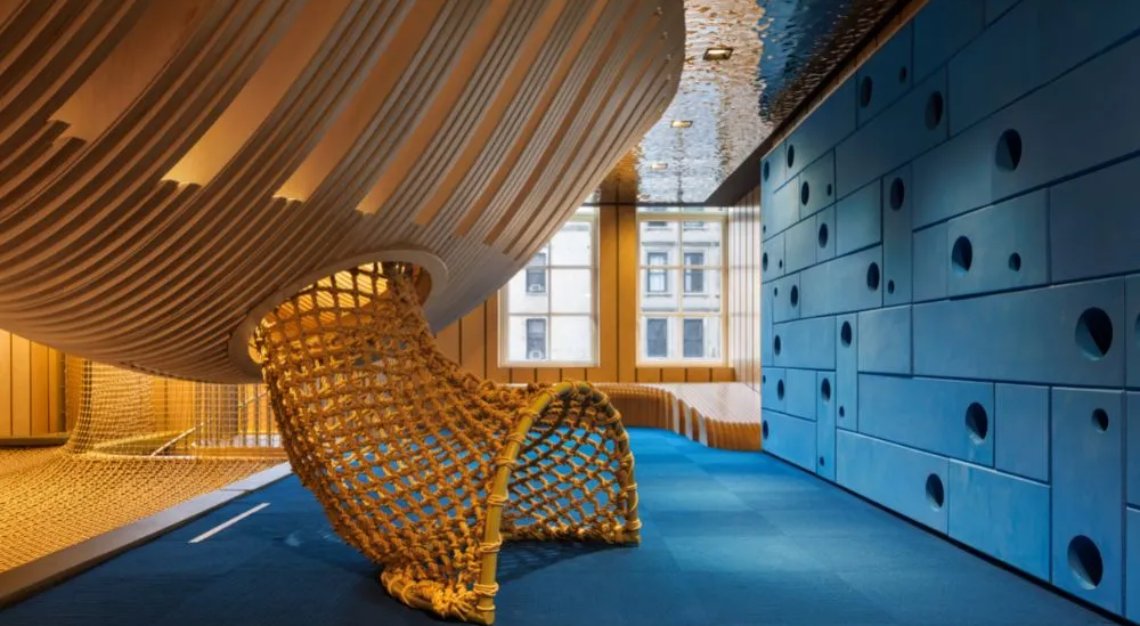 "With the Cortland, we wanted to introduce a relaxed, West Coast elegance to the established language of New York design," adds founder Tom Kundig. "The sophisticated interiors incorporate a material richness that users expect, while sculptural feature elements provide an intriguing contrast. The design plays with expectations of texture and scale."
The 25-story condo, which was completed in October 2022, marked the first collaboration between Olson Kundig and Robert A. M. Stern. The high-rise has 144 waterfront units in total, including one apartment that sports a massive terrace. In addition to the playroom, residents also have 1,858 square metres of additional amenities to enjoy—everything from a 22.8-metre indoor pool, a yoga and pilates studio and a basketball court to an infrared sauna, a screening room and shared outdoor space.
This article was first published on Robb Report USA