The gorgeous 4×4 is based on the 1986 280 GE
When a company has a history as rich as Mercedes-Benz, it's hard not to look back to the past from time to time. The German marque just announced production of the 500,000th G-Class at its factory in Graz, Austria, and, to celebrate the milestone, it's building a one-off SUV based on the classic 1986 280 GE.
The boxy 4×4 may be Mercedes's most utilitarian model, but it's also its most coveted. First introduced as a military vehicle back in 1979, it has become a go-to for the rich and famous in the decades since. The SUV is now such a status symbol that the luxury automaker sold 7,000 examples in the US alone last year, according to Road & Track. And some of those were marked up by as much as US$150,000, which is more than the vehicle's US$139,000 starting price.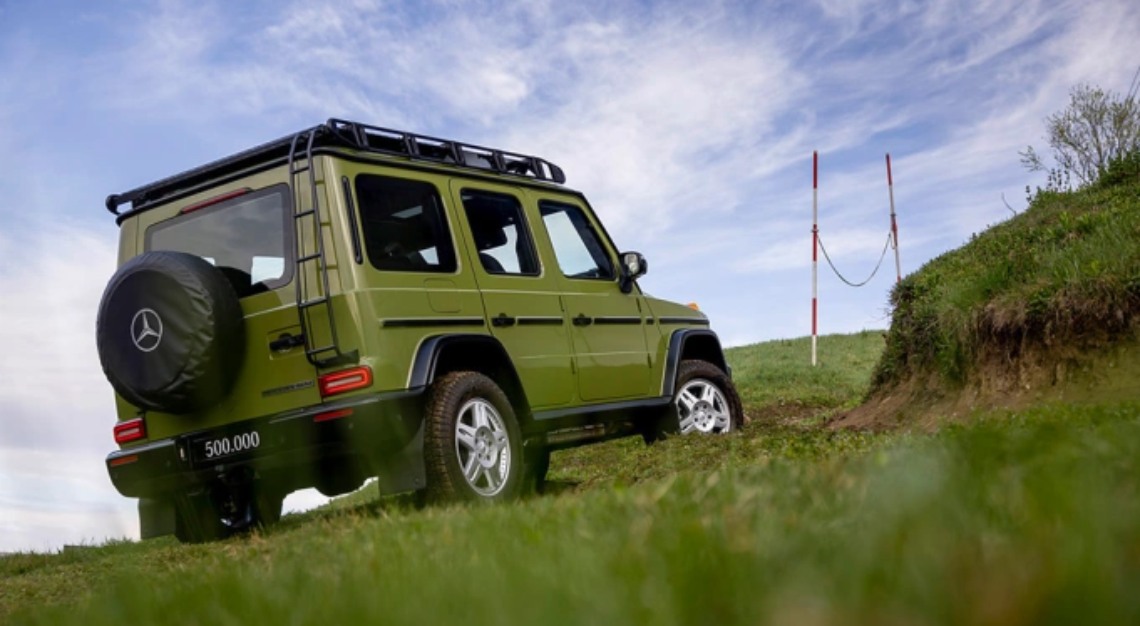 G-Wagen no. 500,000 won't disappoint fans of the original. The 4×4 has been finished in a rich coat of agave green, one of its first hues. It also comes equipped with a number of throwback details, including a black front fascia with grated headlamp guards, fender flares and a roof rack connected to a rear-mounted ladder. You'll also find amber turn signals, as well as a set of period-appropriate silver five-spoke wheels. Mercedes didn't provide photos of the interior but says the SUV's seats have checker-pattered inserts and the passenger-side grab handle that reads "No. 500,000." No details about the powertrain were made available, either, but the current G-Wagen comes with a twin-turbocharged 4.0-liter V-8 that can produce up to 577 hp and 627 ft lbs of torque.
The milestone model may have offered an opportunity for nostalgia—and it will doubt appeal collectors—but Mercedes is focused on future when it comes to the G-Wagen. The automaker is currently fine-tuning a battery-powered version of the SUV that will be called the EQG. Not much is known about the zero-emission 4×4, except that it will maintain the model's iconic shape, have an electric motor on each wheel and utilize new range-boosting battery technology. Expect more details as the EV's 2024 launch date draws nearer.