The marque returns to its C-111 concept from 1969, and reimagines it for tomorrow
The C-111 supercar was meant to be Mercedes-Benz's answer to the models from Lamborghini and Ferrari in the late 1960s and early '70s. First shown at the 1969 Frankfurt motor show, the C-111 comprised 16 examples that the marque used as test beds for a number of power trains, including a revolutionary 2.4-litre Wankel rotary engine that made 345 hp and 392Nm of torque. The fibreglass-bodied C-111s were stunning with their gullwing doors and Weissherbst metallic orange paint, and went on to break many performance records. But between concerns with the engine, body construction, and the subsequent fuel crisis of the 1970s, the dream of a production C-111 never came to be. 
Now Mercedes has reimagined the fabled car with the new Vision One-Eleven, an electric take on the classic that is not only a study in design, but, like its inspiration, is a showcase for emerging supercar technology.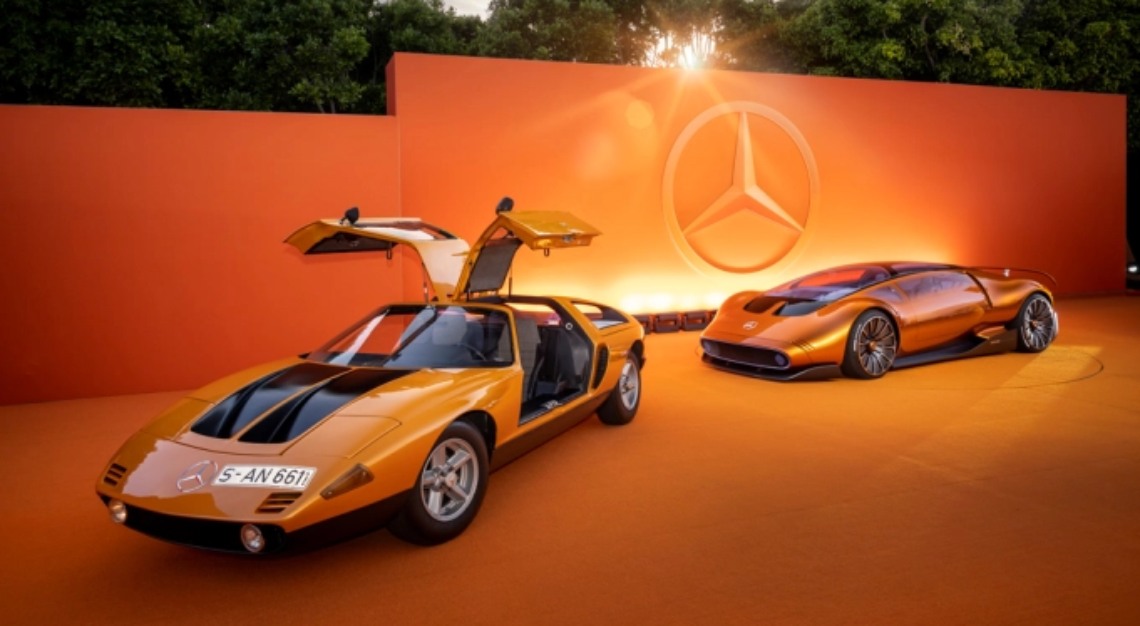 "We think a lot about what makes something iconic," says Gorden Wagener, chief design officer for Mercedes-Benz, during the reveal of the Vision One-Eleven. "Icons are outstanding, they are not mainstream. We want to create something extraordinary and bring that spirit into the future." 
Instead of the wedge shape that defined the original C-111 and other supercars of that era, the new concept starts with the signature, one-bow design that defines all modern Mercedes vehicles—a single, graceful line arching from hood to tail. "The bow, for us, is the perfect shape for an EV car, and for a sports car especially," says Steffen Köhl, director of advanced exterior design at Mercedes. "We had the idea very early that we would carry on with this shape. You could say this is the sports car for this generation."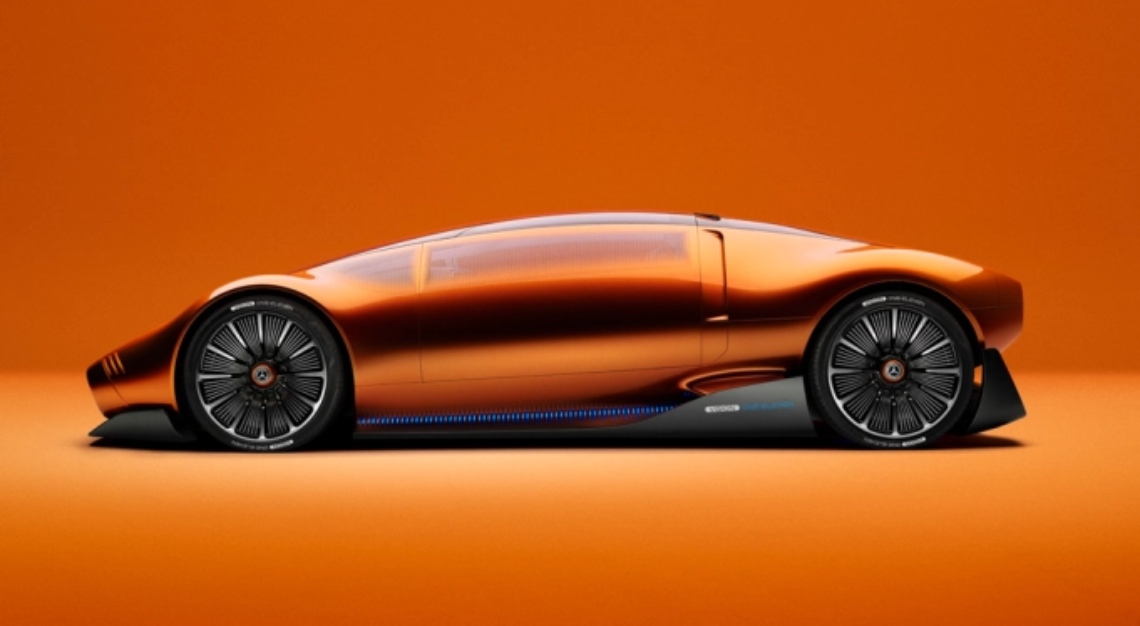 In the front and rear of the vehicle, pixelated displays are done digitally in an exaggerated, stretched oval that mimics the shape of the original. "These graphics, even though they come from a car that's 50 years old, are very modern in this very oblong, product-y shape," Wagener explains. And in a contemporary twist, the front and rear can display animated messages. A massive front windscreen evokes other notable cars from the same period as the C-111, including the Lancia Stratos Zero, done by Bertone and shown in 1970. "We kept several things from the original car, but we translated them," Köhl says of the new concept. "It's not a retro design." 
Part of the Vision One-Eleven's allure is the emotion that designers managed to evoke without elaborate styling elements. "It's so bloody simple," Köhl says. "Basically, it's like a flat cake with very precise shut lines." He adds that designers wanted the car to look like a shell holding a sculpture, supported by a lower half with carbon-fibre technical elements, including a massive rear spoiler. "It's all about contrast," he notes. "If this car would have a round rear or a round front, it would look like just a stylish thing. But by cutting the front and rear—like a salami—that creates tension." And it all sits on massive, 30-inch wheels, with a chrome-and-black, multi-spoke design optimized for aerodynamics. 
The striking interior is done in white with silver leather upholstery complemented by orange and bright-chrome accents. "It looks like something from Barbarella," Köhl muses. Compared with the black-and-houndstooth interior of the original car, the Vision One-Eleven appears bright and airy, with a low, reclined seating position that makes the cockpit feel like a lounge—or a Formula 1 car. An oval-shaped, pixelated display that stretches across the instrument panel takes the place of screens, while matching white and silver luggage sits behind, à la the 300 SL Gullwings of the 1950s.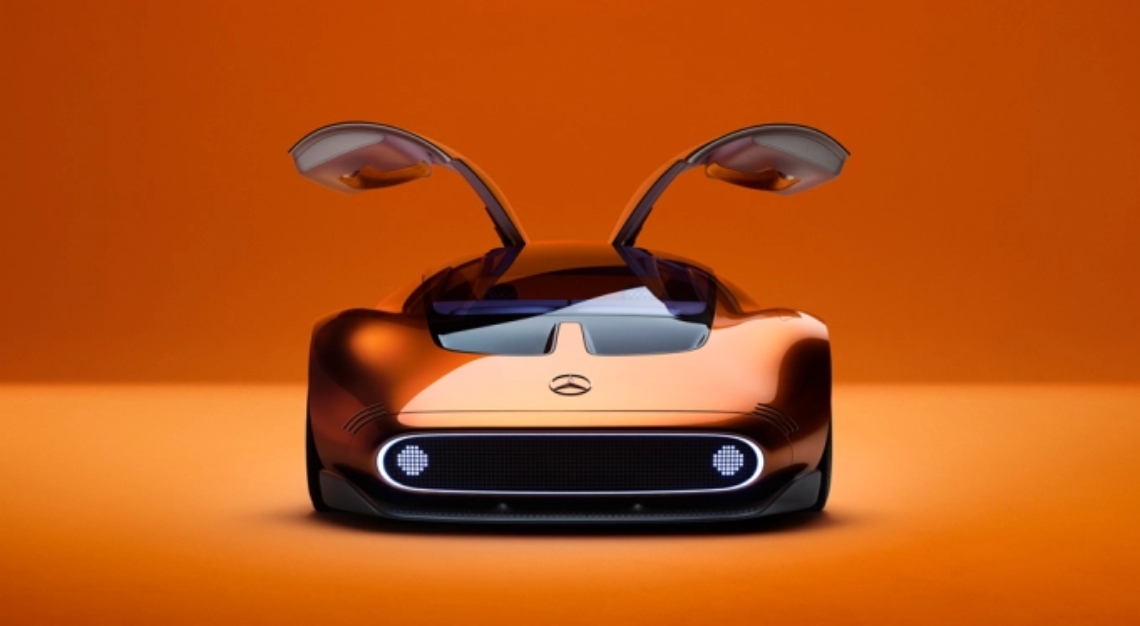 Notably, Mercedes-Benz executives stress that the Vision One-Eleven isn't a mere design study, but, like the original C-111, is also a testing ground for new power trains that could be used in future high-performance cars. "This is more than a concept car. We're calling it a tech program," says Markus Schäfer, chief technology officer for Mercedes-Benz. "In the past, some of these concepts were just only about design. Now we're going to the next step in terms of combining the proportions with technology." 
A crucial component of this testing ground is the use of smaller, lightweight electric motors manufactured by YASA, a U.K.-based company recently acquired by the automaker. Although executives haven't confirmed whether a version of the Vision One-Eleven will go into production, Schäfer says that much of the technology, including the YASA motors, will carry over to future high-performance AMG models. "The key is, [the motor] will enable us to do different vehicle designs, because of the volume reduction," he explains. 
This isn't the first show-car-meets-test-mule for Mercedes-Benz, however. The Vision EQXX concept, unveiled last year, set new bars for increased range, lightweight materials, and improved battery technology, much of which will also find their way into future production vehicles. "The EQXX is our study in efficiency, and the One-Eleven is our study in performance," Schäfer says. "Whatever we do with the orange car, it should be capable of chasing new records. It's too early to give you numbers, but we are working in that direction." 
On a bigger scale, this plays into the marque's overarching strategy to push the boundaries in multiple areas of the business, including performance, luxury, and technology (the company also previously announced it would develop its own operating system for future cars. On the same day we saw the Vision One-Eleven, we also got a shadowy glimpse of a limited-edition, future-production "Mythos" car with a long dash-to-axle configuration and no front windshield (think along the lines of the Ferrari Monza SP1 or SP2). The proportions suggest a large internal-combustion engine, which Schäfer confirmed—if not in specific detail.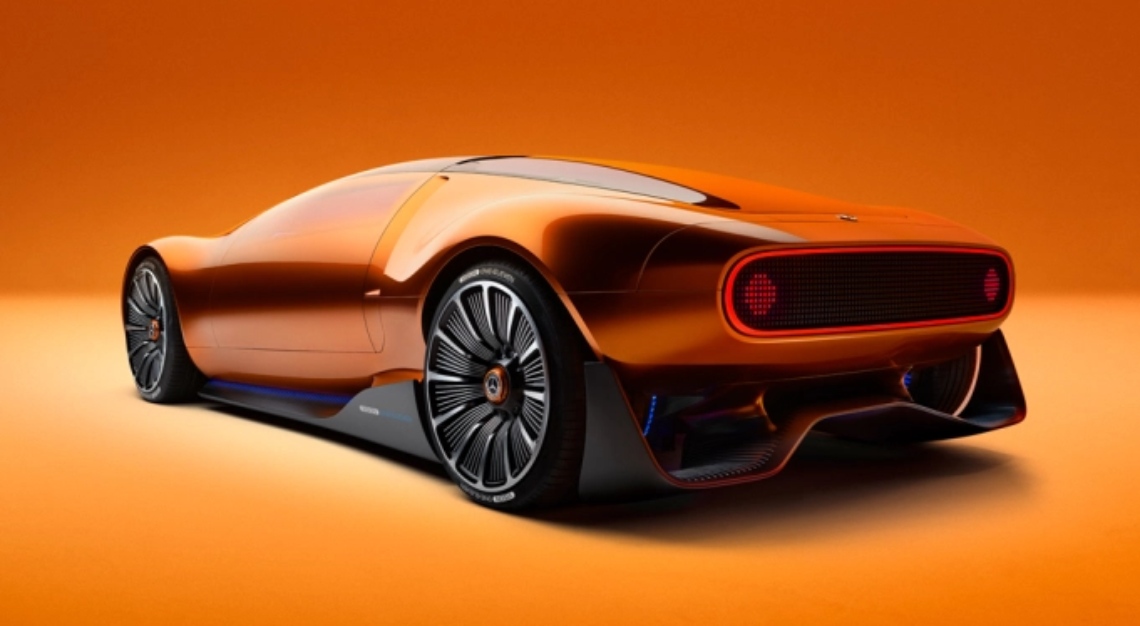 "I don't foresee that the [internal-combustion] engine will go away too quickly in the hypercar world, although there will be a component of electrification," Schäfer admits. "Yes, total electrification is coming, but it's still a couple of years out there. Meanwhile, we have these two tracks where we have the electric cars and the very emotional ICE cars. We will see both during this transition time, and eventually they will come together, and the zipper will close."