From Singapore and Hong Kong to London and the Hamptons, here are the priciest listings on the planet
Amid the economic downturn – COVID-19 aside, the stock market has also been rather volatile – which means it's probably not the best time to be selling a mega-priced mega-mansion. But on the flip side, those looking to add another property to their investment portfolio would enjoy incredible bargains. Not sure where to start looking? We've scoured the web for the best properties for sale all around the world.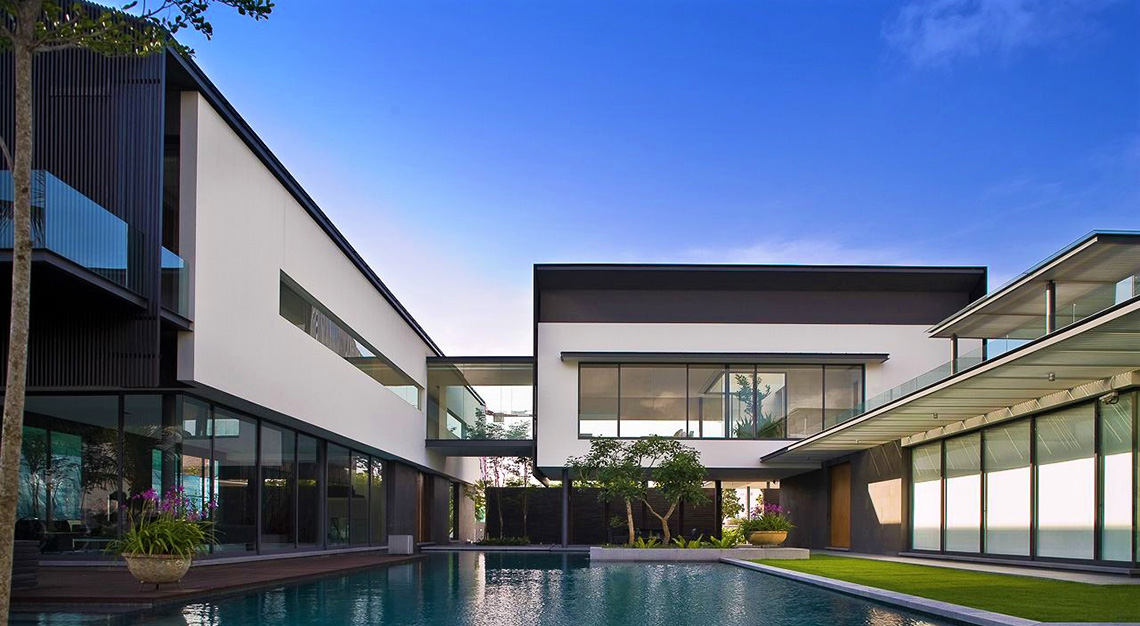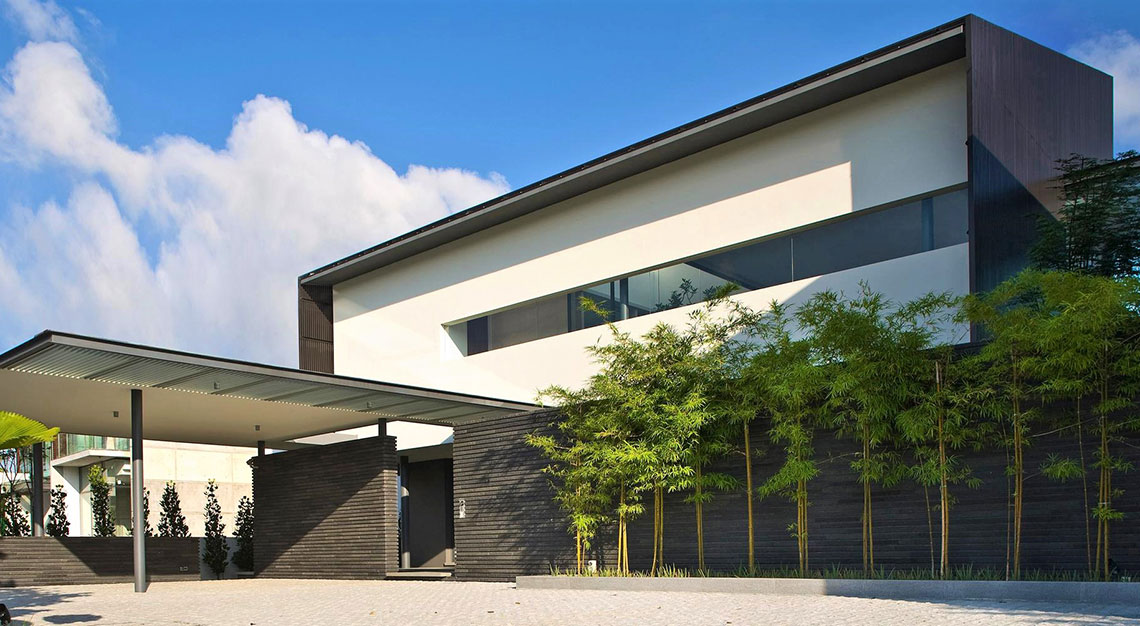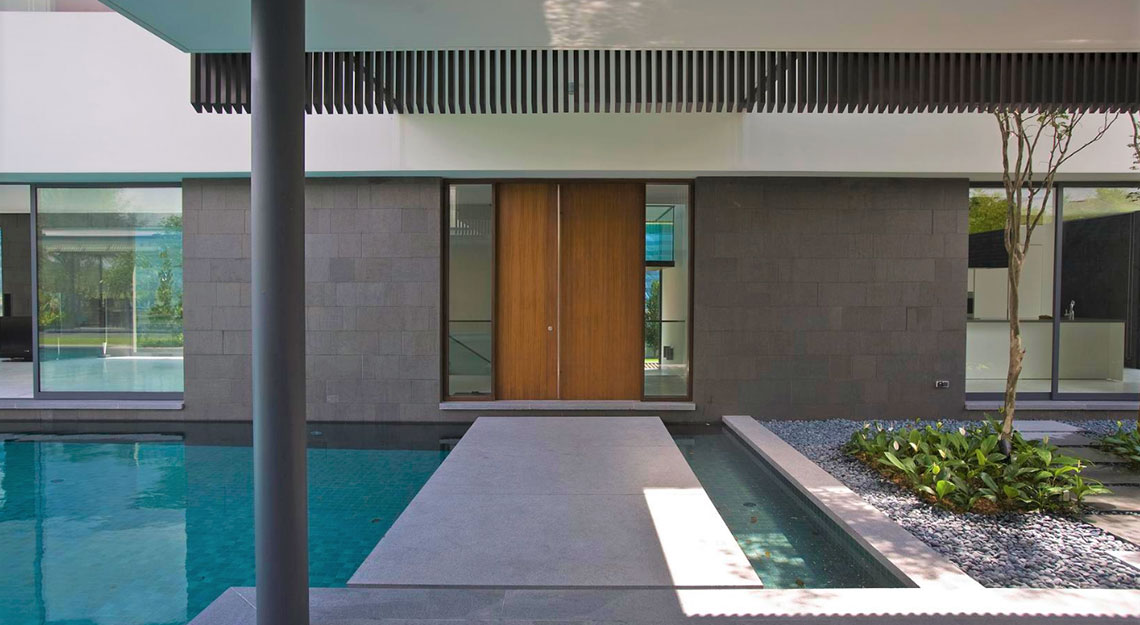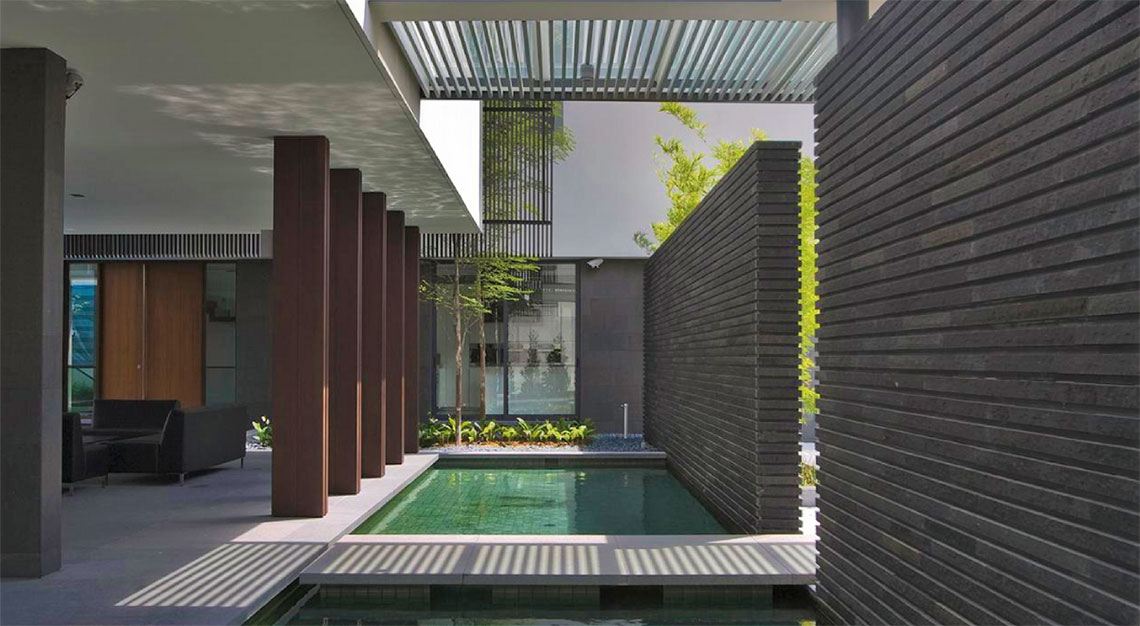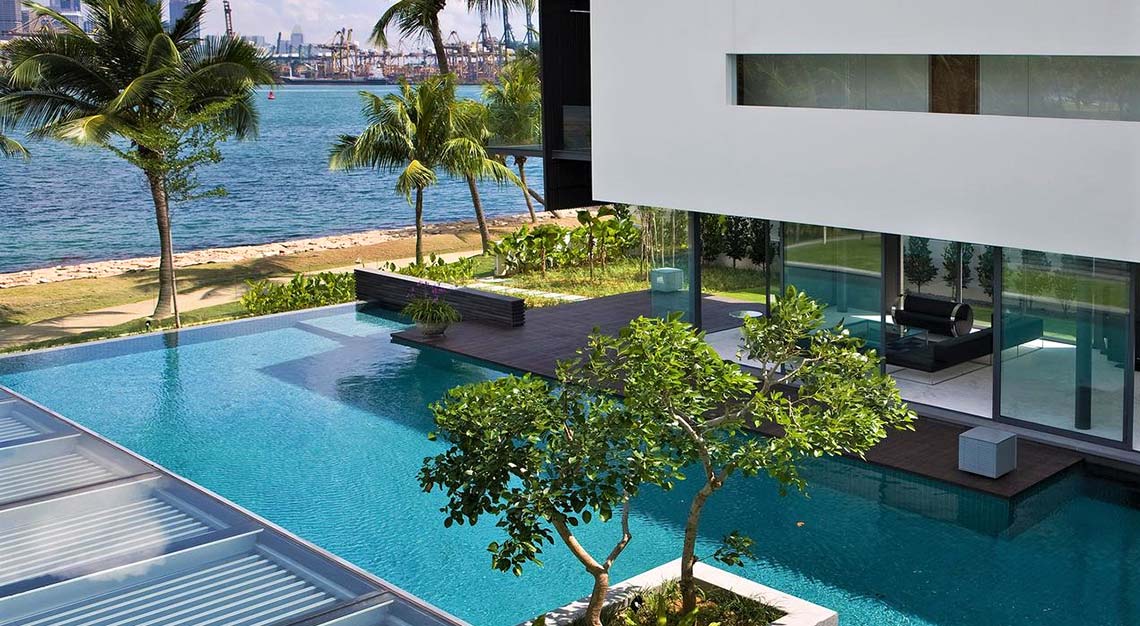 The Harbour View House, Sentosa Cove, Singapore
How much: S$78 million
What about: The Robb Report Singapore super penthouse may be listed for S$48 million and Sir James Dyson may have purchased his Wallich Residence super penthouse for S$73.8 million, but yet another property that has caught our eye is The Harbour View House on Sentosa Island in Singapore. This 1,161-sqm bungalow is located on the northeastern tip of Sentosa and offers views of the sea and Keppel on mainland Singapore, the latter is undergoing redevelopment and will be rebranded as the Greater Southern Waterfront.
Designed by Singapore's SCDA Architects, the property is neatly divided into two wings: East and West. Upon parking in the sheltered garage, you'll make your way to the East Wing, the 'main' wing of the house. Here, you'll find the living and dining rooms, along with a full kitchen, and a patio that leads to the sea-facing lap pool. Six bedrooms, including a sea-facing Master Suite, are located on the second storey.
Cross the stone pathway on the ground floor and you'll come to the West wing, which is dedicated to an office space, an entertainment room, and outside, a manicured lawn. Regardless of where you are, you're assured plenty of natural light. SCDA Architects has cleverly maximised the use of floor-to-ceiling windows and open airwells in its project. But above all facilities the bungalow offers, perhaps the greatest perk would be for foreigners. Sentosa Cove is the only district in Singapore that allows a non-permanent resident to purchase a landed property.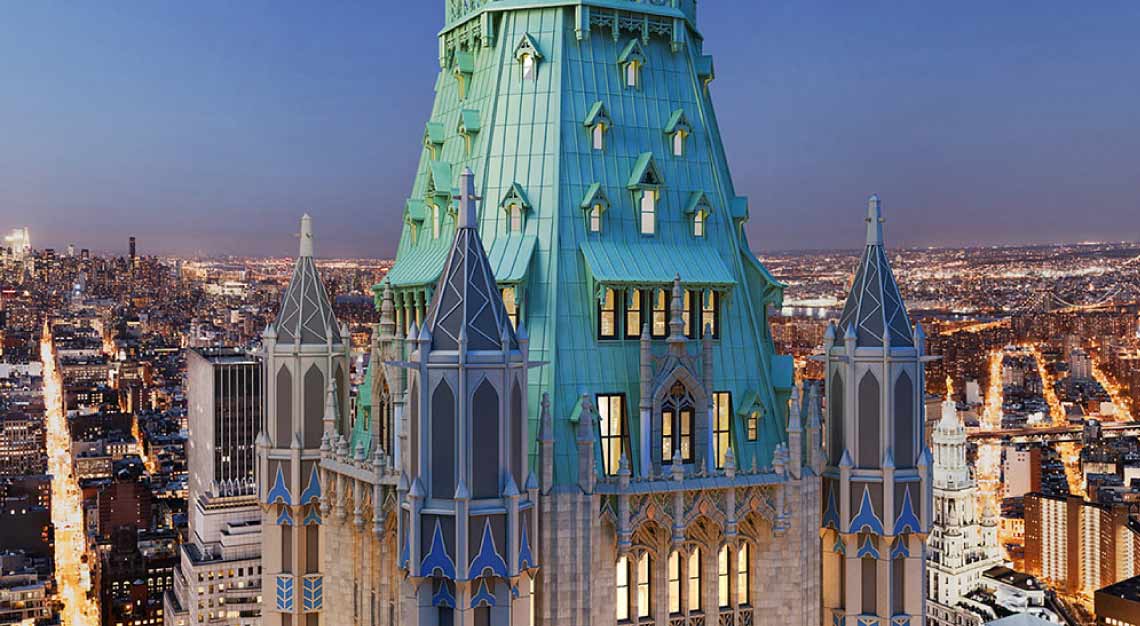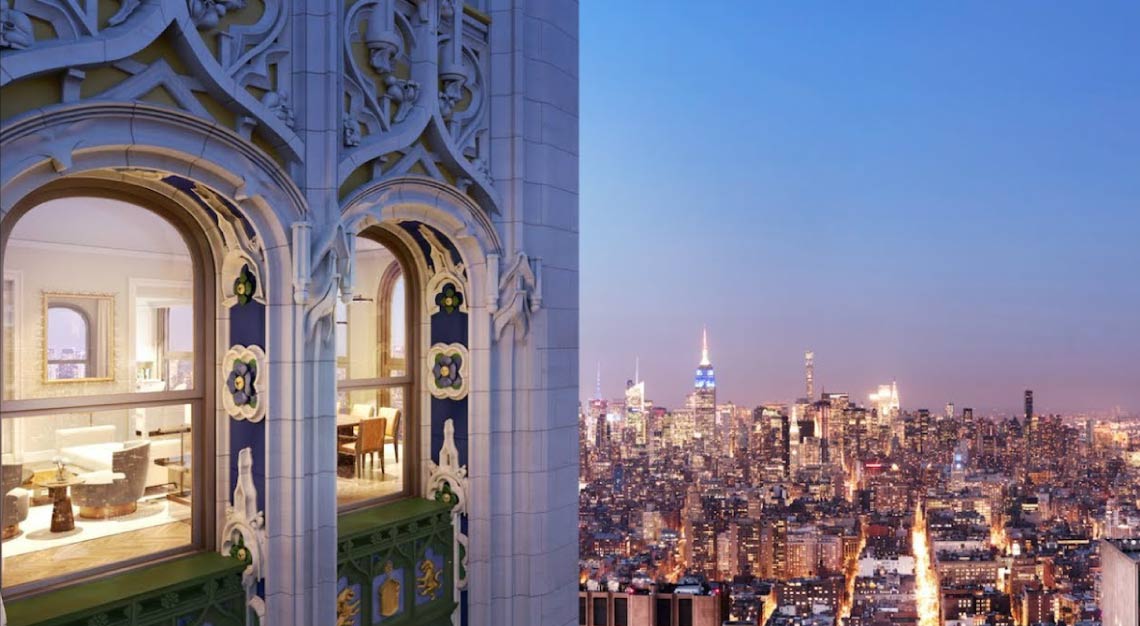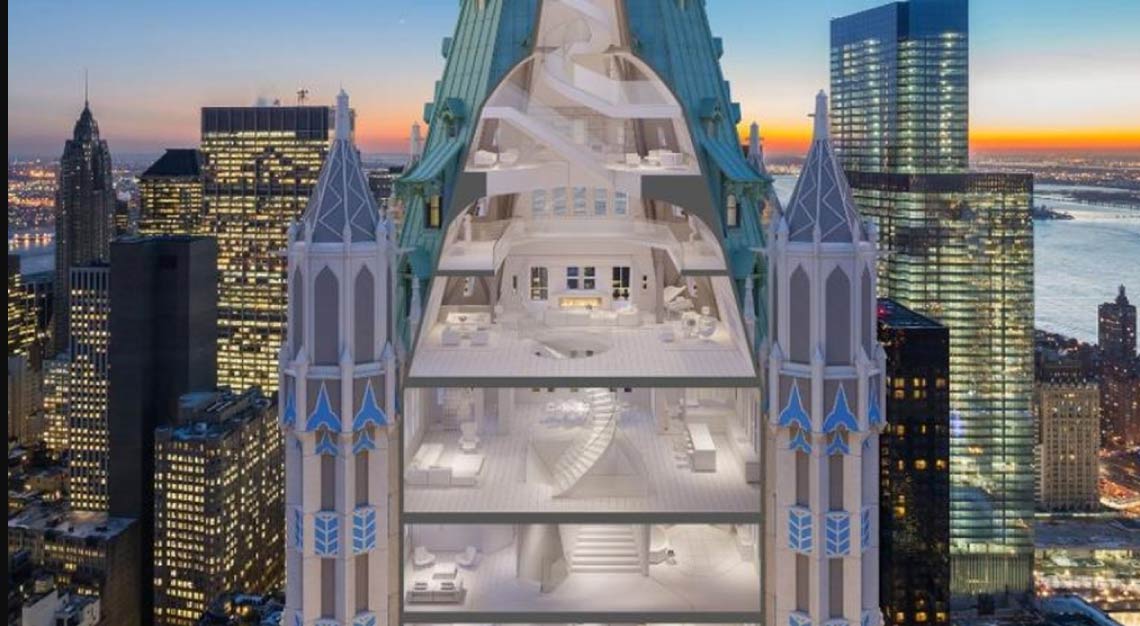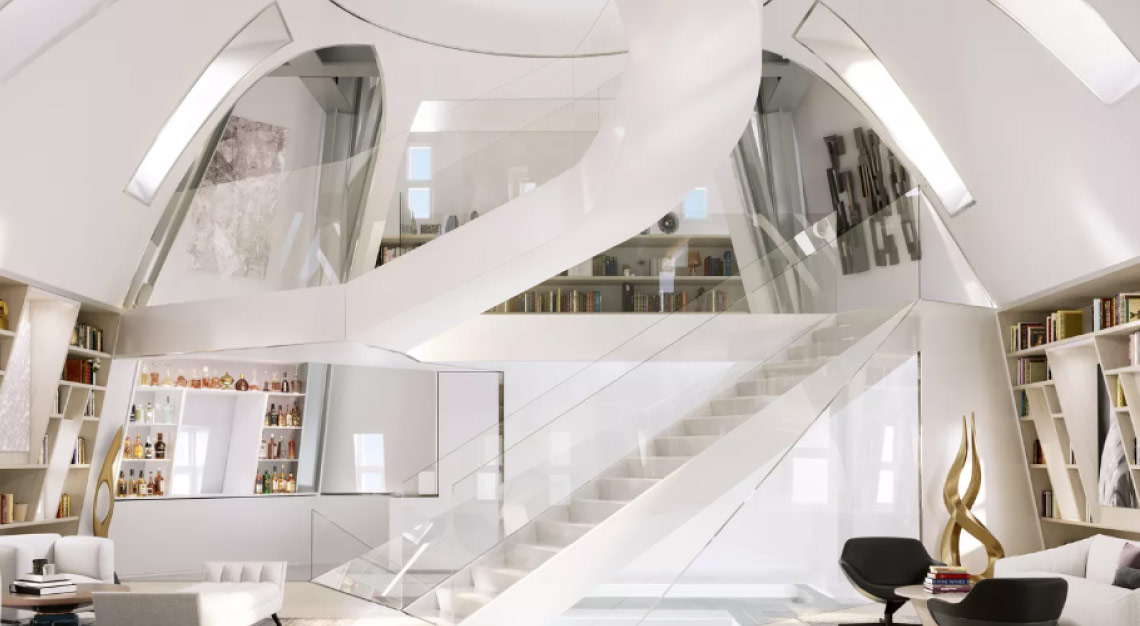 The Pinnacle, New York, The USA
How much: US$79 million (S$109 million)
What about: This is the crowning glory of the iconic Woolworth Building residential conversion in Manhattan. Housed in the neo-Gothic skyscraper's green, pointy, copper-clad peak 700 feet above bustling Broadway, this vast 902-sqm penthouse takes up the top five floors of the landmark building and features a 37.9-sqm, open-air observatory with 360-degree views of the city. There's a private elevator to whisk you between the five floors, or down to F.W. Woolworth's original basement swimming pool or to the building's 29th floor Gilbert Lounge entertainment suite, wine cellar and tasting room. Prices are negotiable, but given that it was first listed for US$110 million (S$109 million) in 2017, we won't be holding our breath for a huge discount.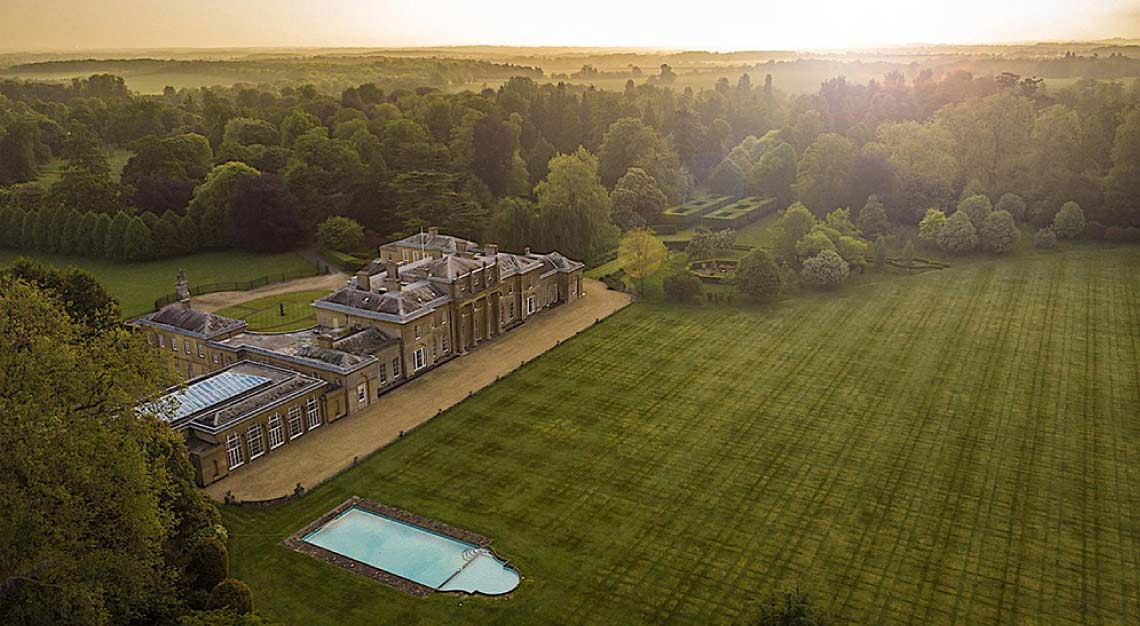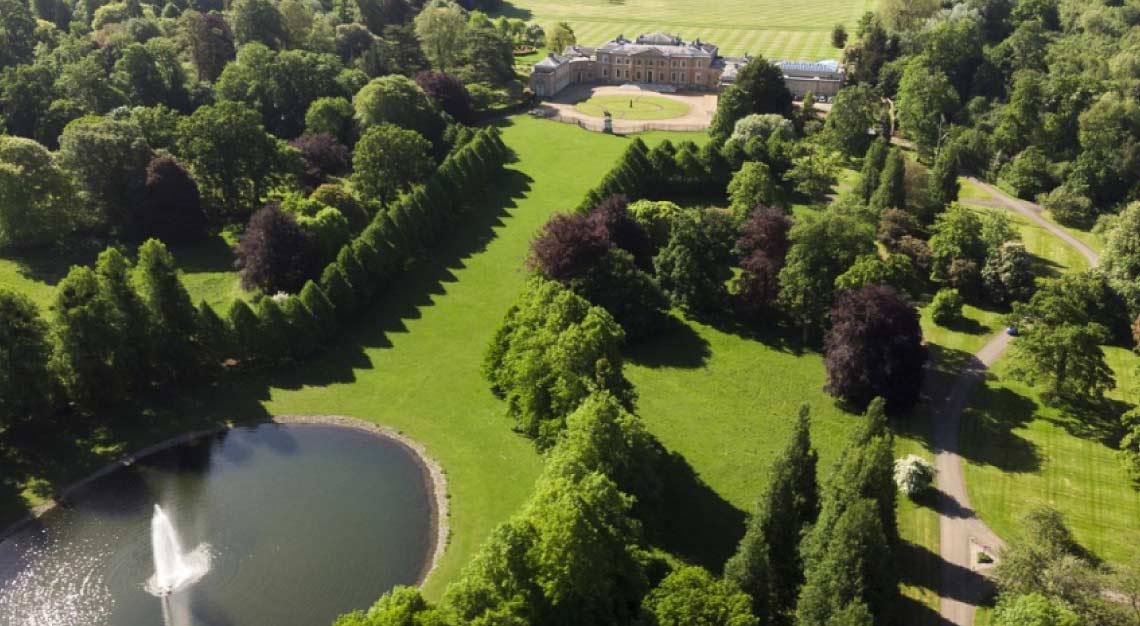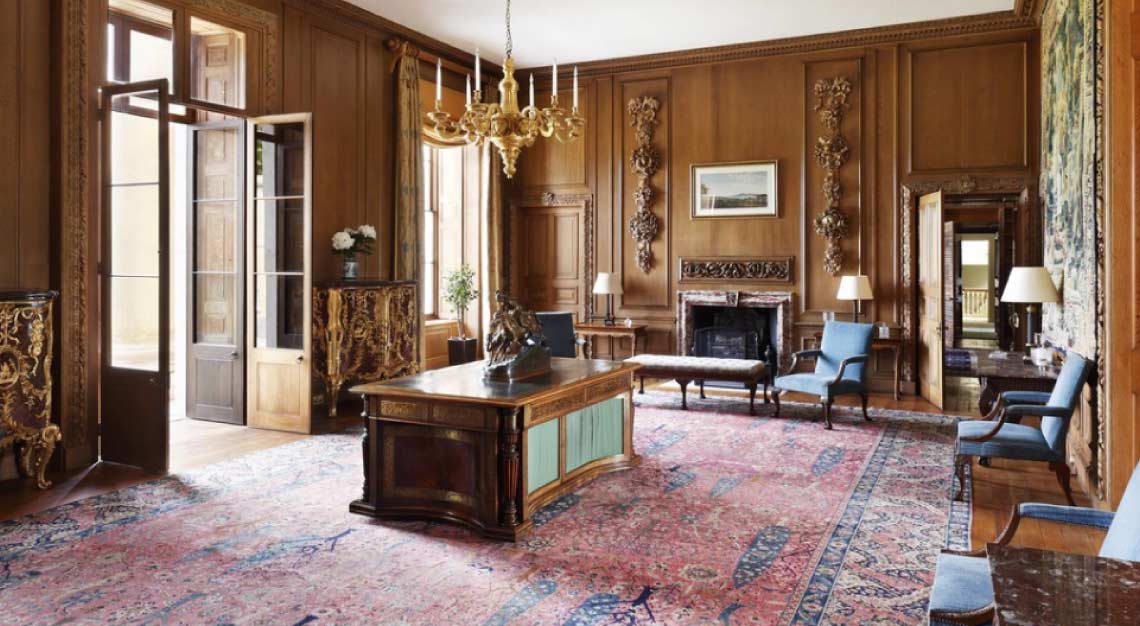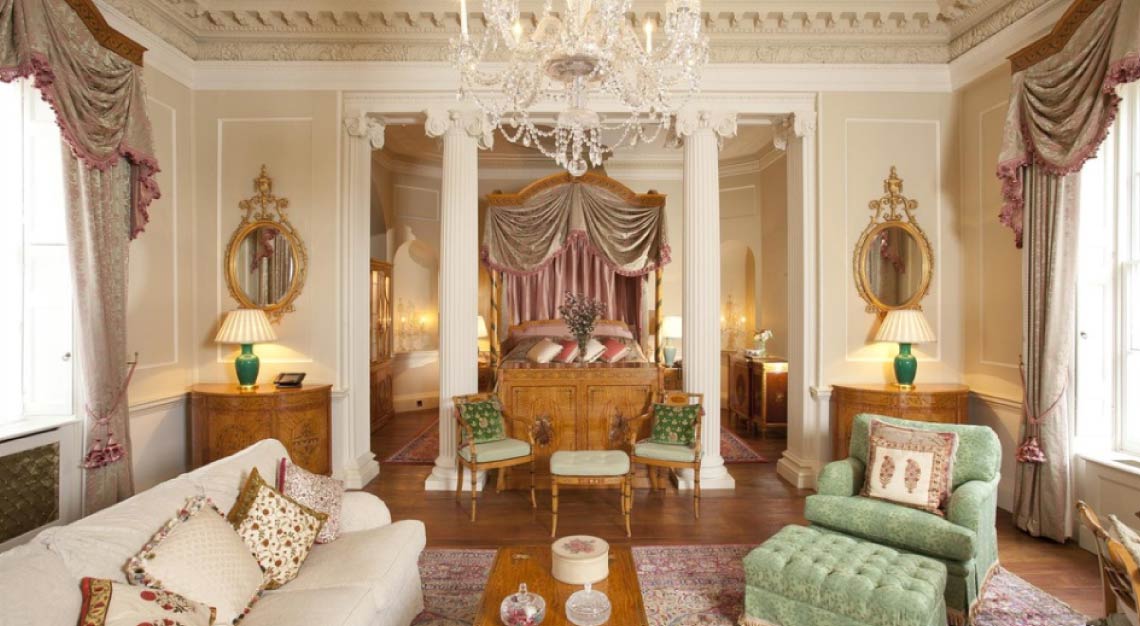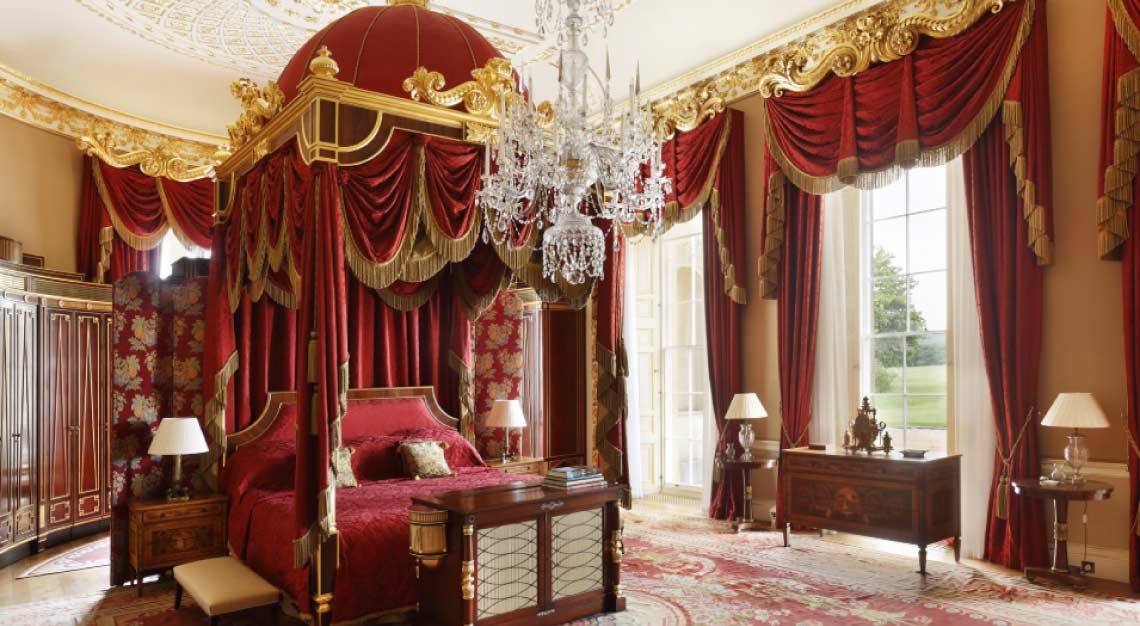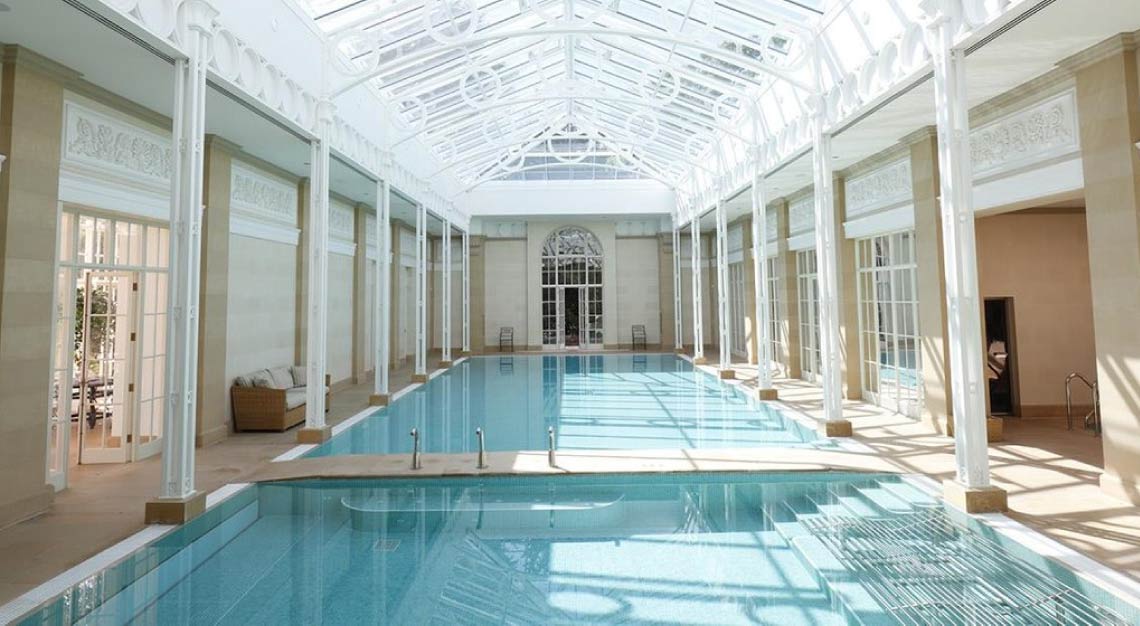 Hackwood Park, Hampshire, England
How much: £65 million (S$117 million)
What about: With Downtown Abbey – aka Highclere Castle – off the real estate market right now, your next best option of grabbing a slice of Merrie Olde England might well be handing over the estimated £65 million (S$117 million) – to buy the truly palatial Hackwood Park estate. Built in 1680, the main residence boasts 24 bedrooms and 20 bathrooms and is surrounded by 260 lush acres of Hampshire countryside, an 80km drive from central London. Secrecy surrounds the sale of the home: all that's known of the current owner is that it's a 'foreign billionaire' who has carried out a substantial restoration of the estate. And don't even dream of popping round for a walk-through. Potential buyers first have to prove their financial status and sign a confidentiality agreement before being allowed a viewing.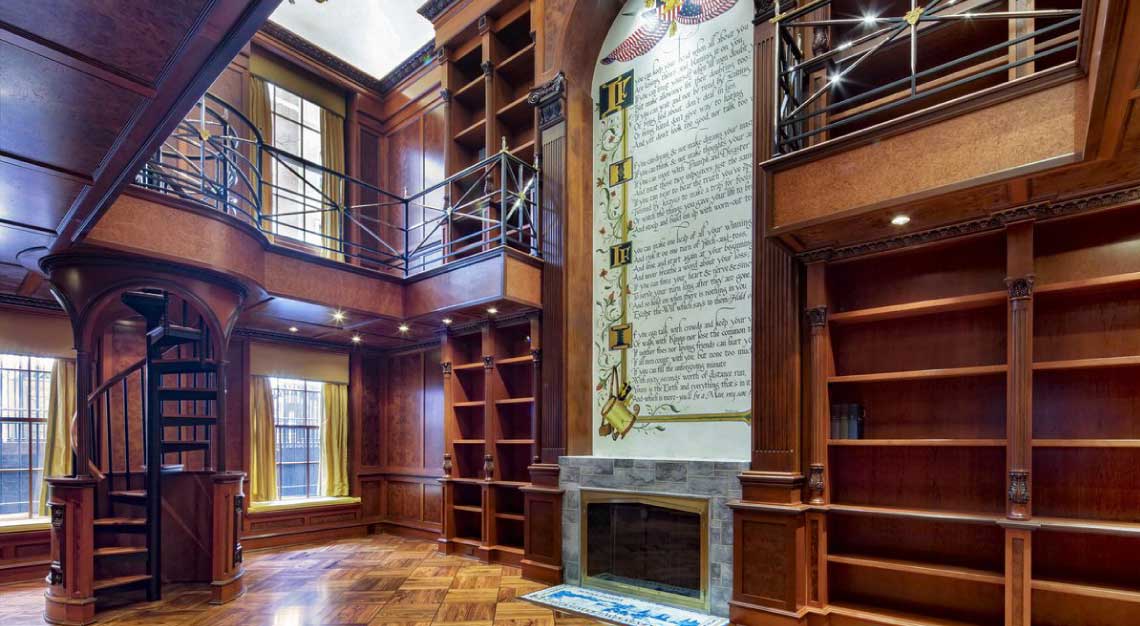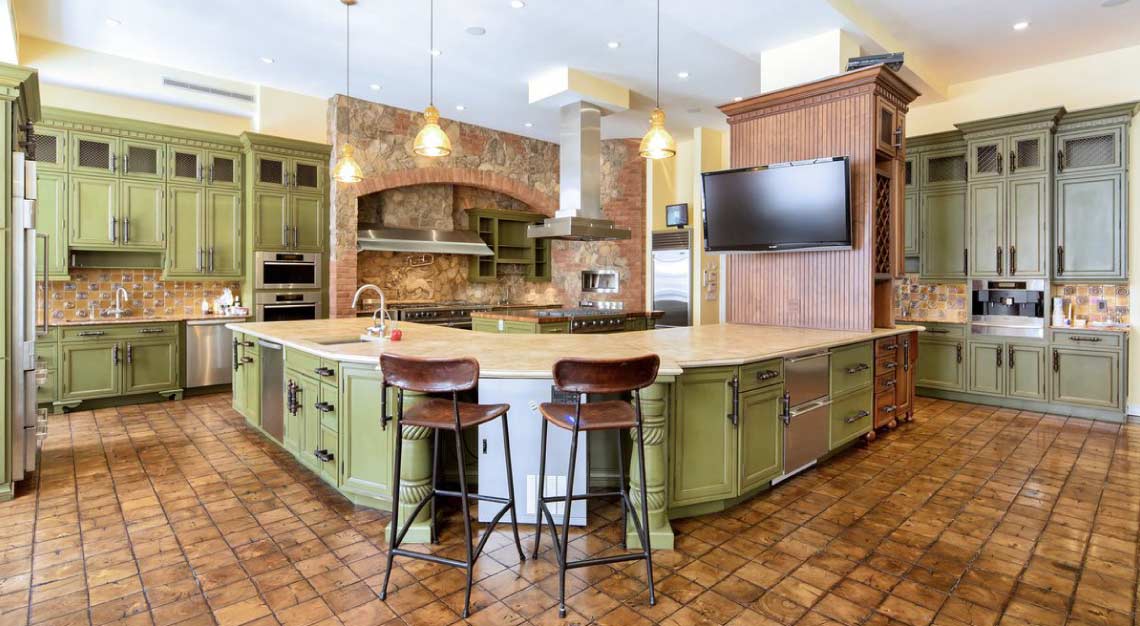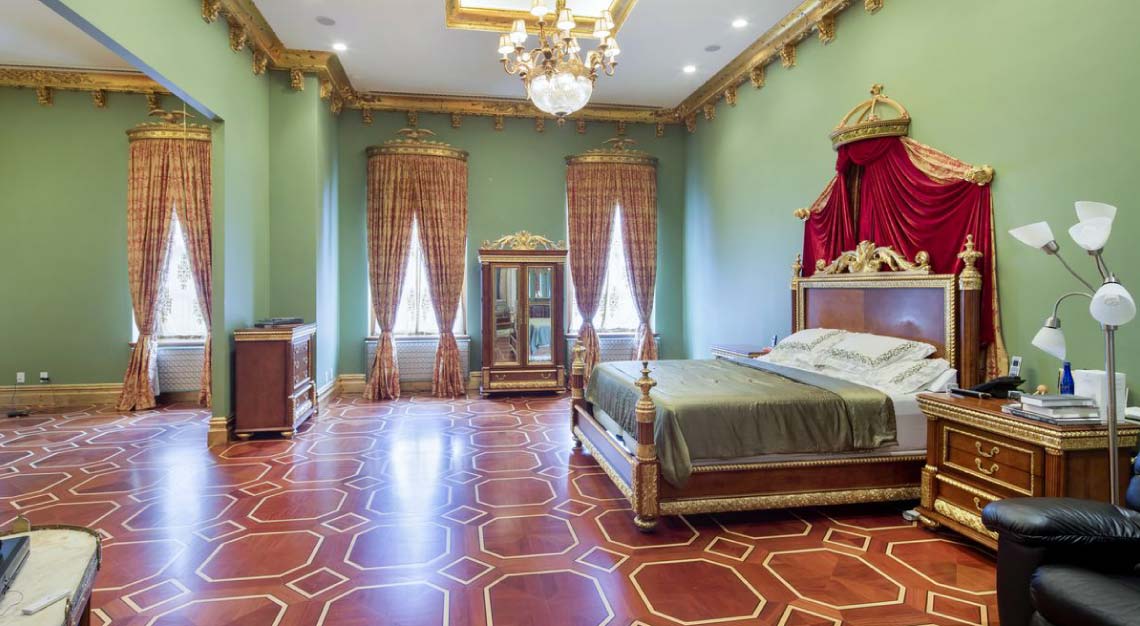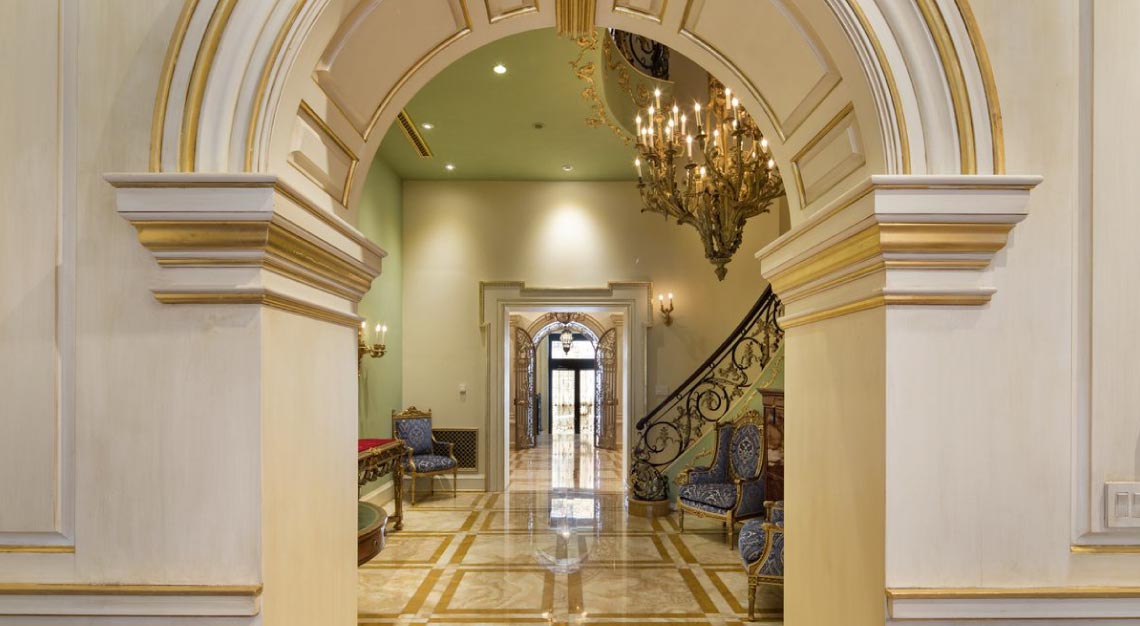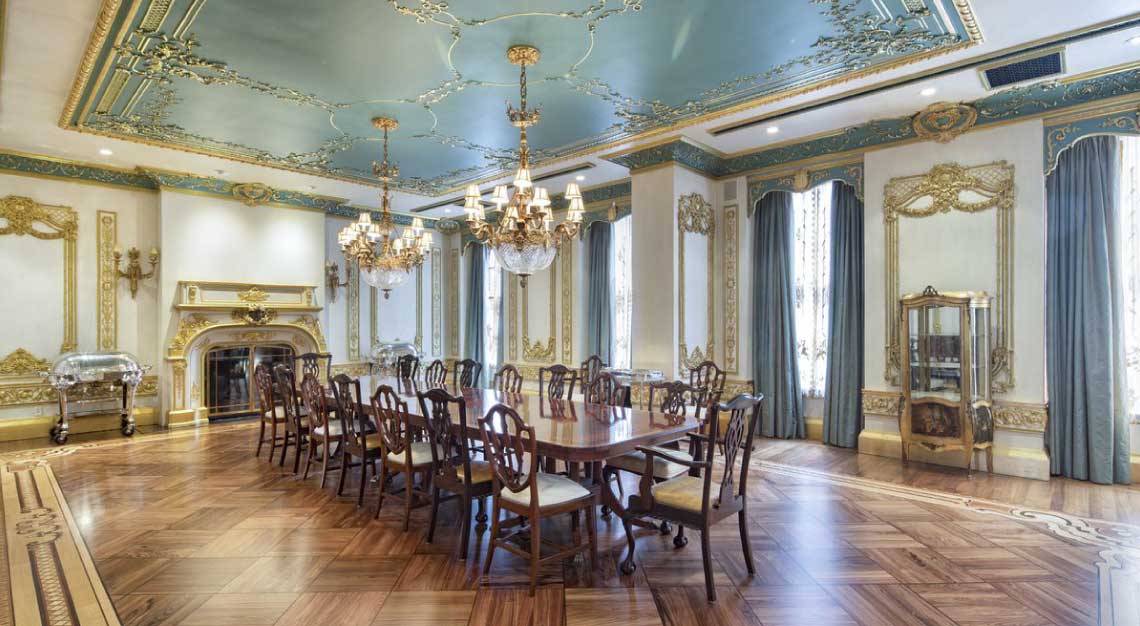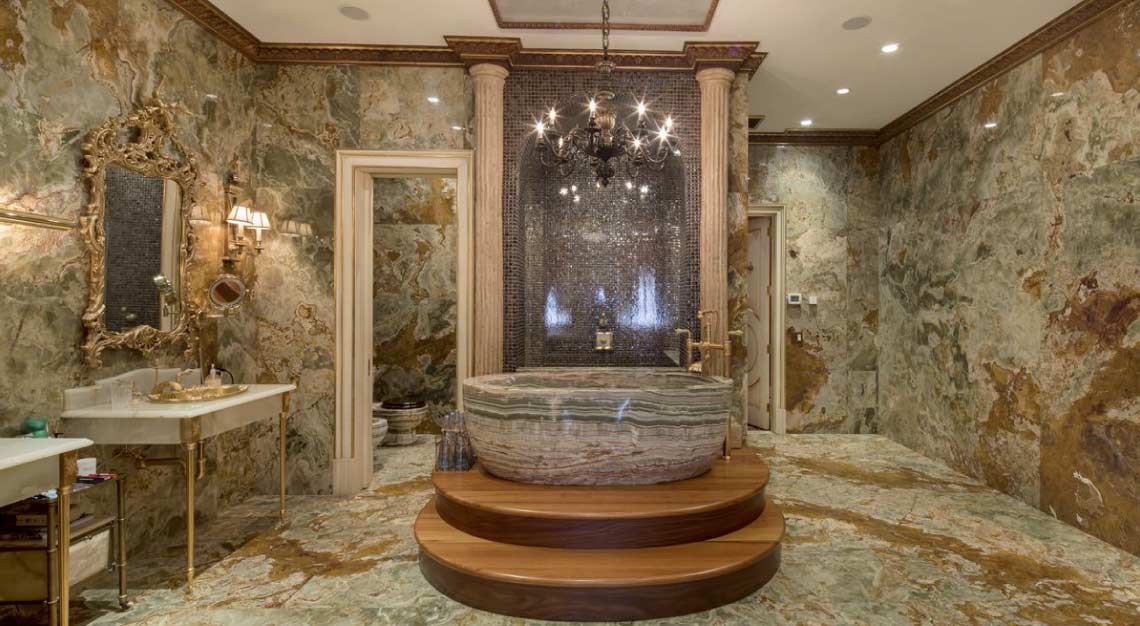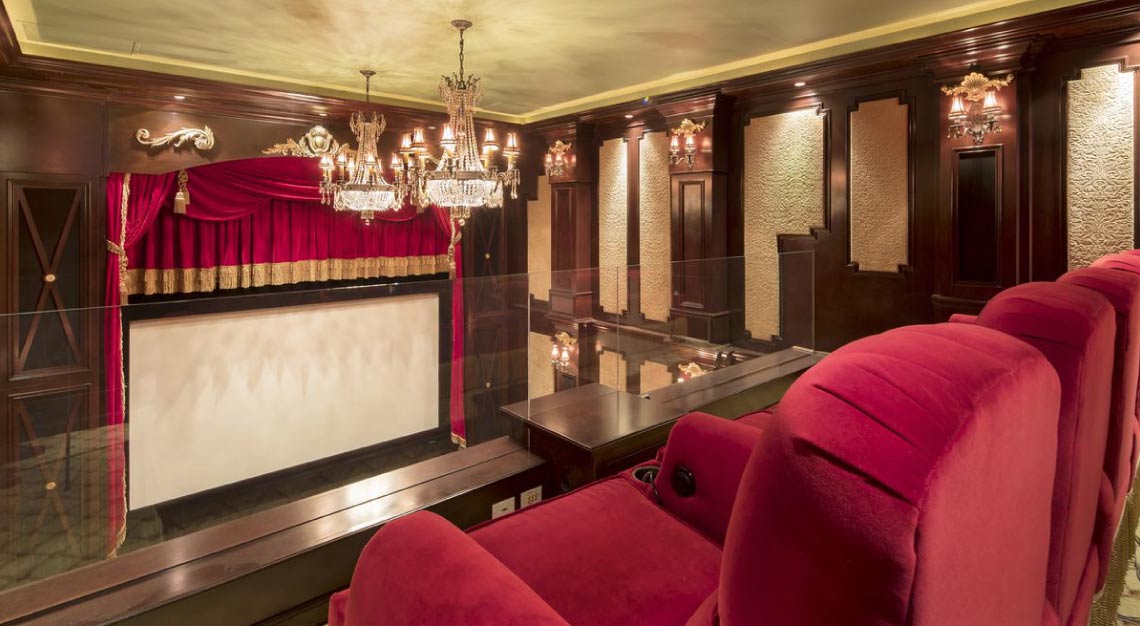 12 East 69th Street, New York, The USA
How much: US$88 million (S$121 million)
What about: Currently the second-most-expensive listing in New York City – after the US$98 million (S$135.6 million) Le Penthouse which you'll see below – this spectacular 18-room, 1,858-sqm Upper East Side Mansion is being sold by billionaire Vincent Viola, owner of the Florida Panthers. Originally commissioned in 1883 for a silk trader, the townhouse was bought by coal mining tycoon James Ellsworth in 1913 and redesigned by famed Golden Age architect William Bosworth. Its size is beyond expansive; covering five floors, it has a 316-sqm basement, a 246-sqm roof terrace and two 12.2-m long bedrooms. Jaw-dropping features include a saline swimming pool, a 12-seat movie theatre, a double-height library, a formal dining room with seats for 40, 8.5-m ceilings on a third-floor rotunda and, for those icy New York mornings, a heated sidewalk. Not so long ago, the mansion was listed for US$114 million (S$157 million).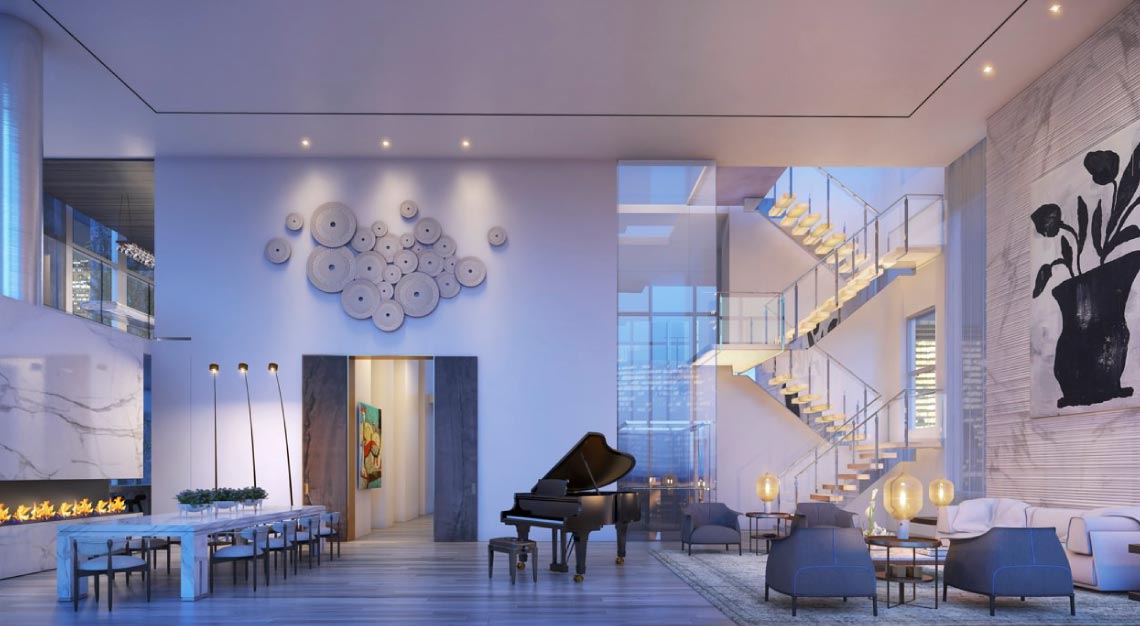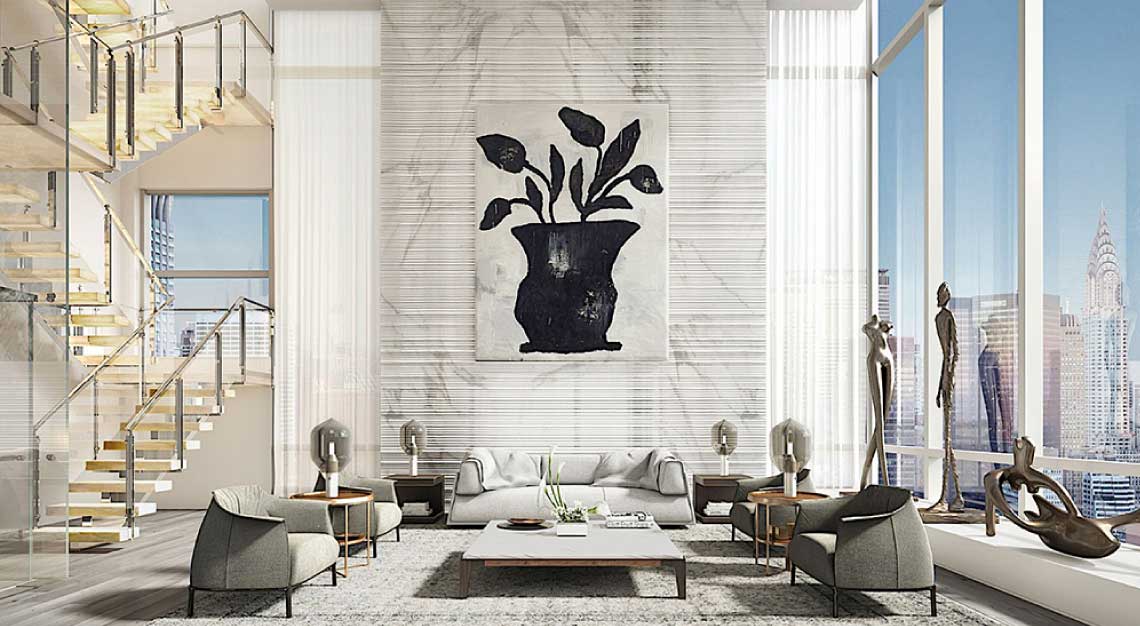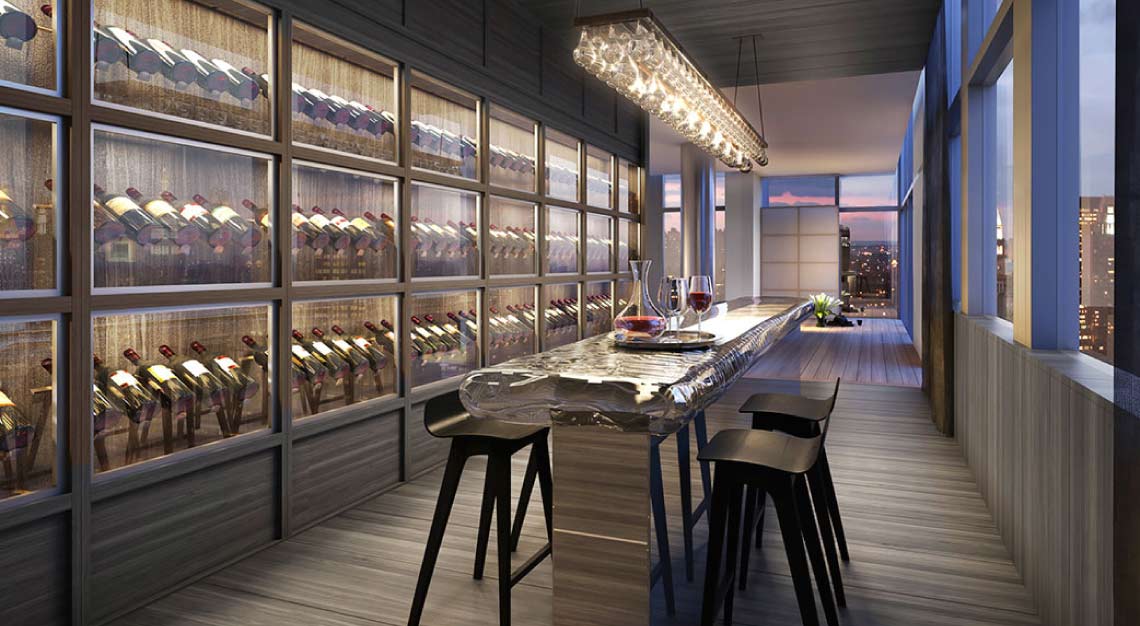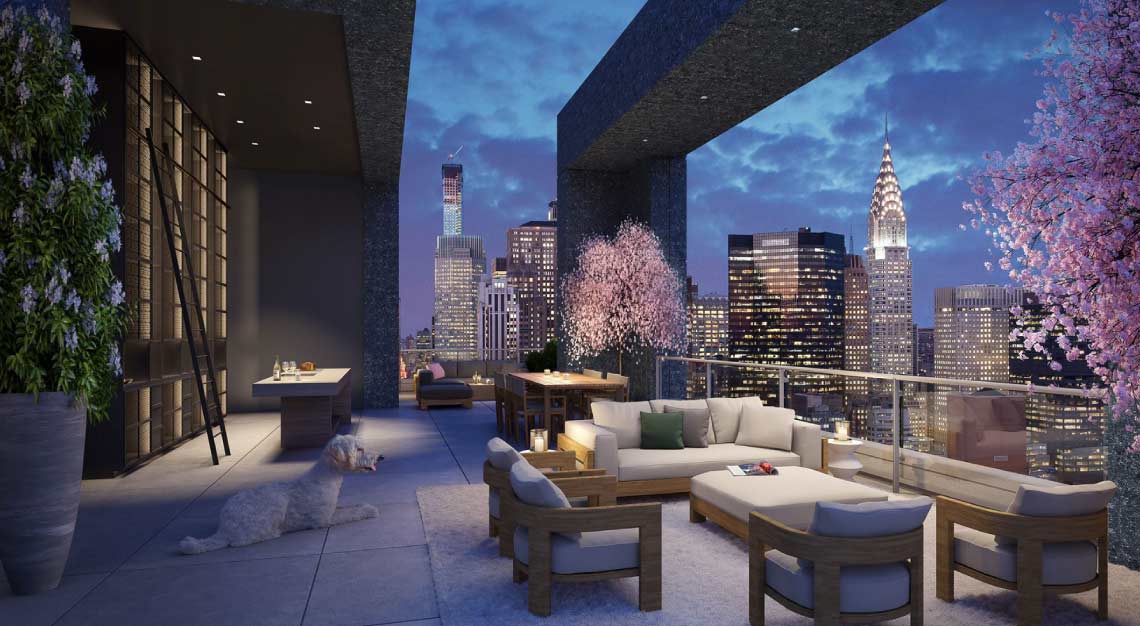 Le Penthouse, New York, The USA
How much: US$98 million (S$135 million)
What about: It doesn't really need a slightly pretentious, faux-French title to lift the appeal of this breathtaking, 1,839-sqm, five-floor apartment in the heart of Manhattan. Not when it's perched at the top of the 33-floor Karl Fischer-designed 172 Madison condo tower, comes with a rooftop infinity pool as part of 422-sqm of outdoor space, squeezes-in 11 bedrooms and 14 bathrooms, and has rooms with towering five- to seven-metre ceilings. And we won't even mention the heart-stopping views across the Manhattan skyline. Before you whip out your credit card, know that right now, the apartment comes as an unfinished 'white box', so bank on adding another US$5 million (S$6.92 million) to the total for things like kitchens and bathrooms. One word describes Le Penthouse: Magnifique.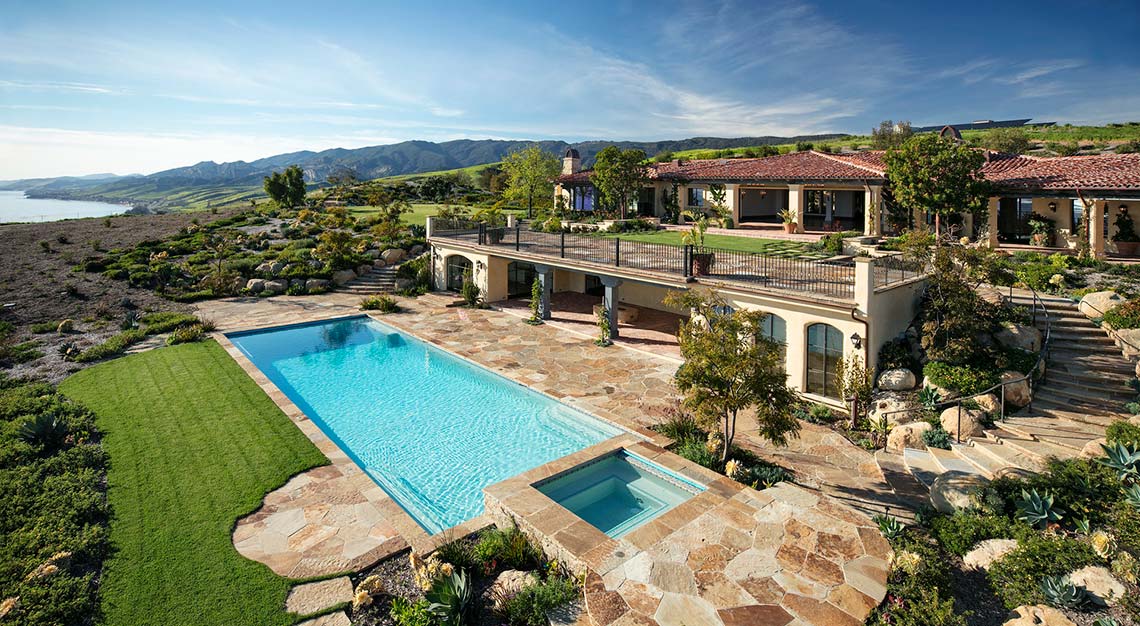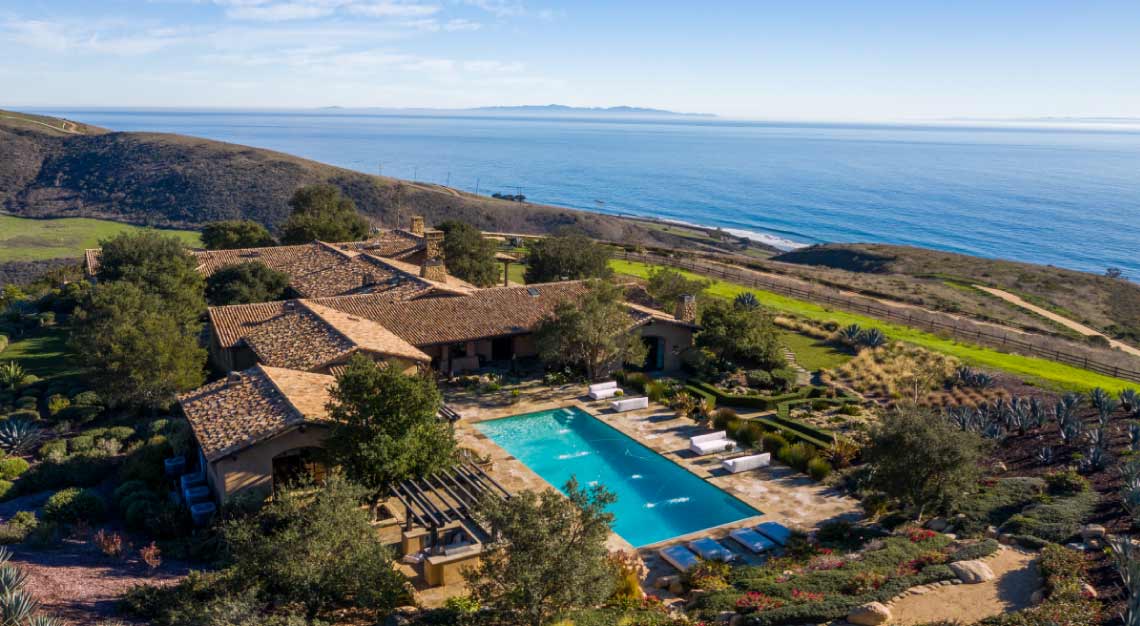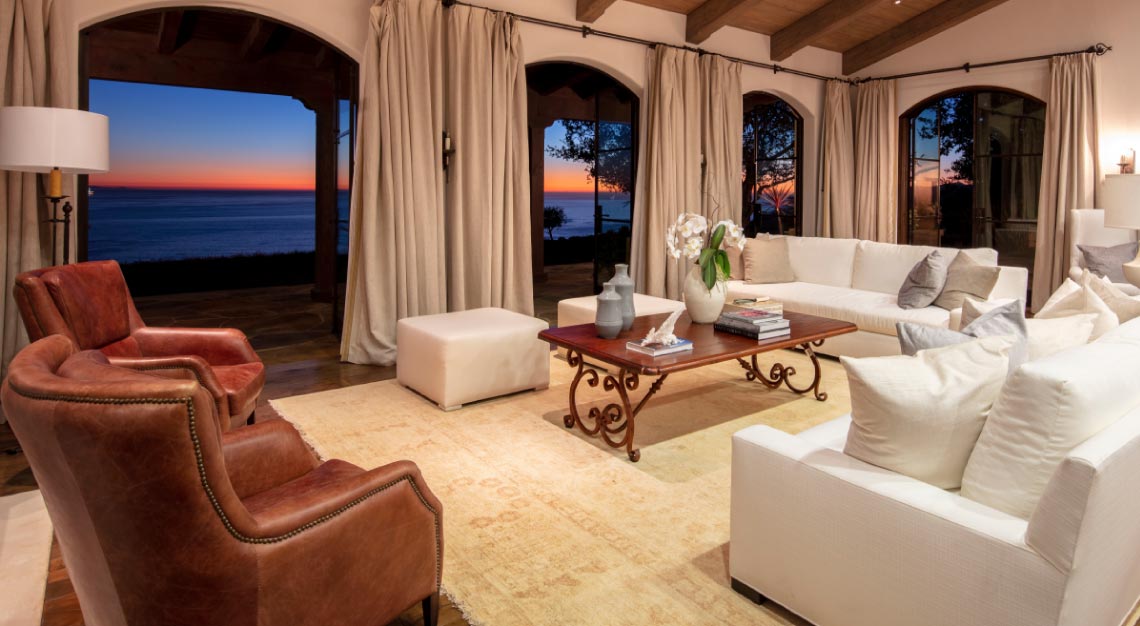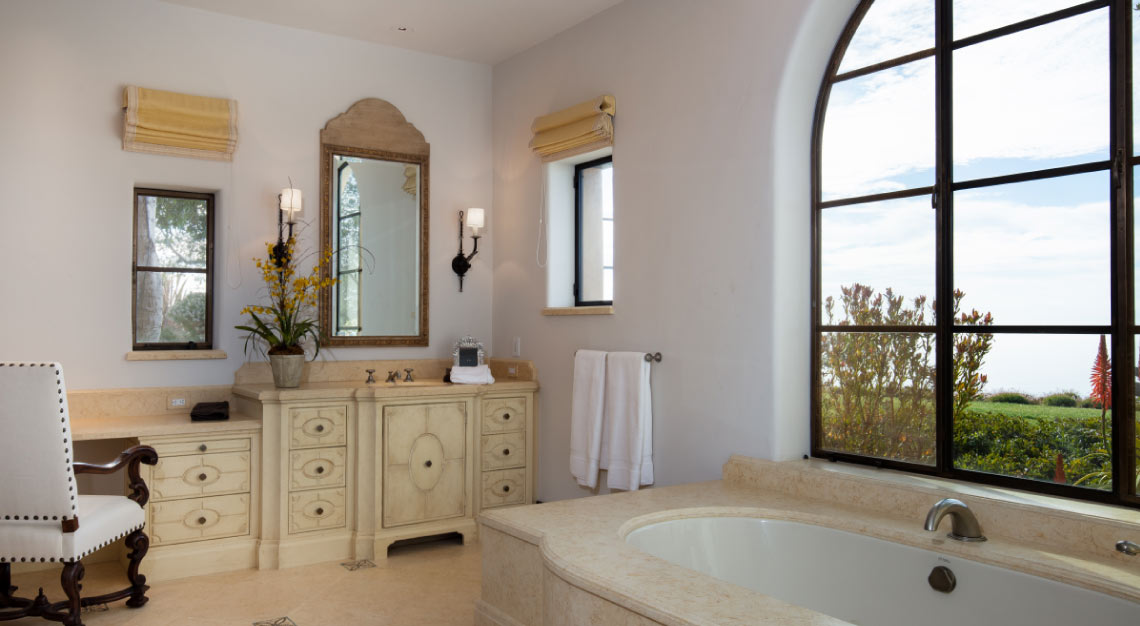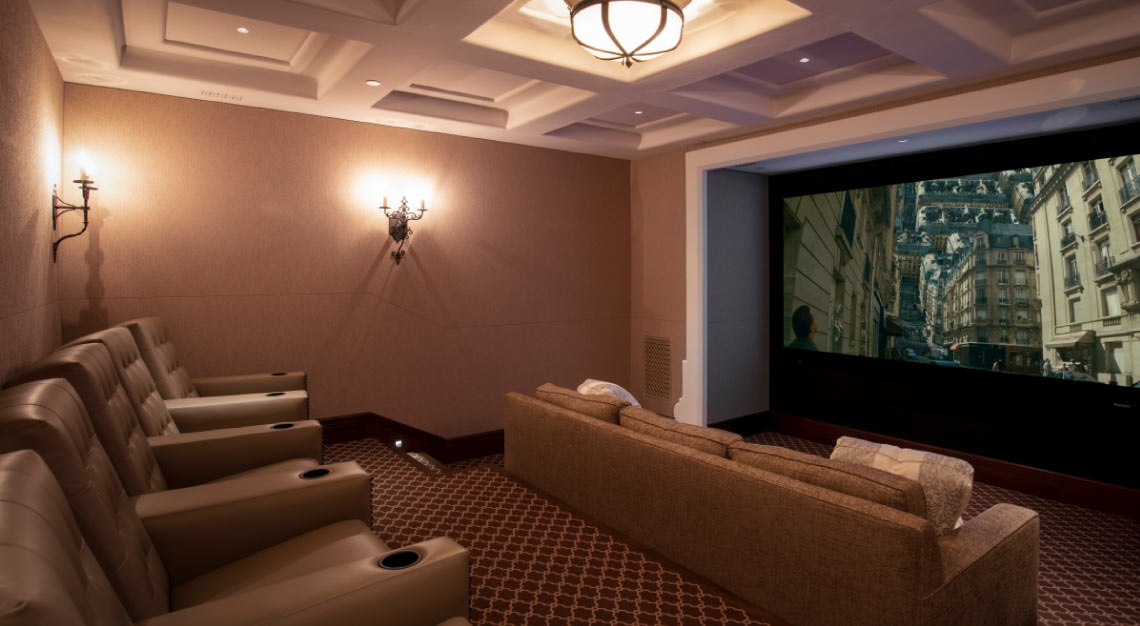 El Rancho Tajiguas, California, The USA
How much: US$110 million (S$152.47 million)
What about: Think of the potential. With the money comes a spectacular 1,416-hectare California ranch on the rugged Gaviota Coast, 40km west of Santa Barbara. And included in that admittedly lofty price tag is not one, but two 925-sqm homes on opposite sides of the property, each with breathtaking views of the Pacific across to the Channel Islands, and back to the Santa Ynez mountains. Add to those a fully working ranch with 120 head of cattle, around 20 other buildings for the staff and a farm planted with avocado, orange and persimmon trees. It's the first time this historic ranch has been offered since its owner, French-Saudi billionaire and Formula One racing powerhouse Mansour Ojjeh acquired the property almost 40 years ago.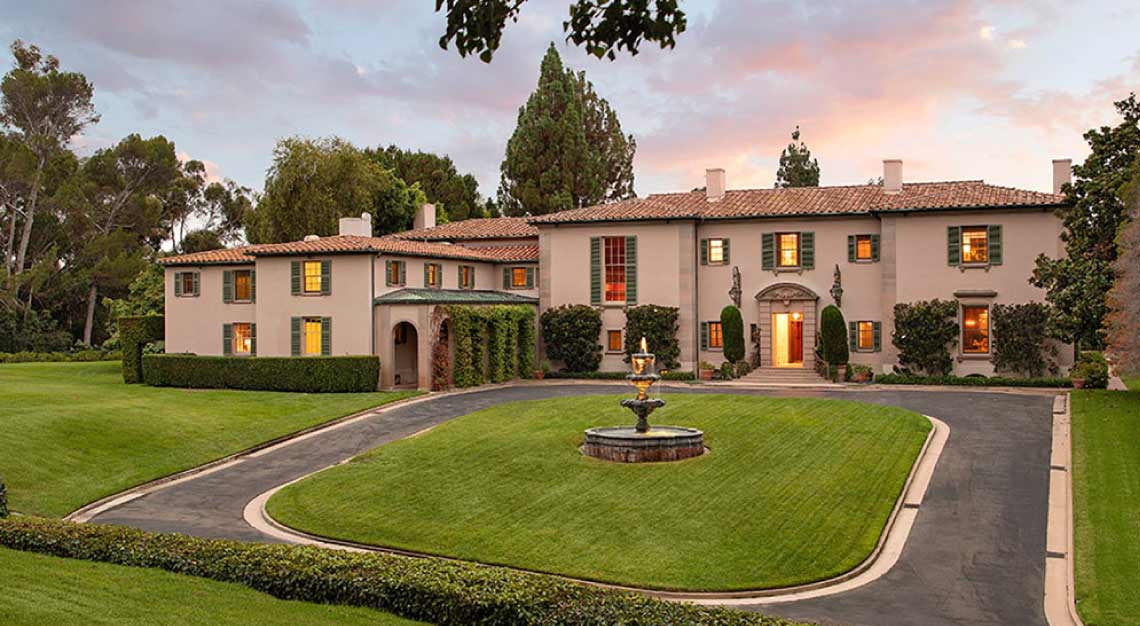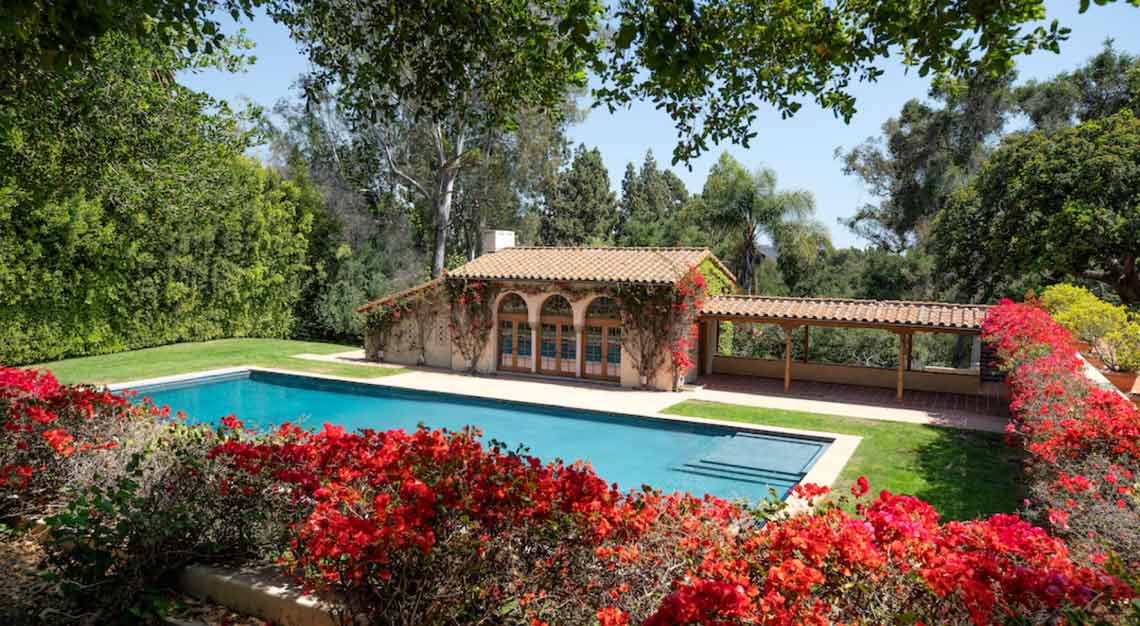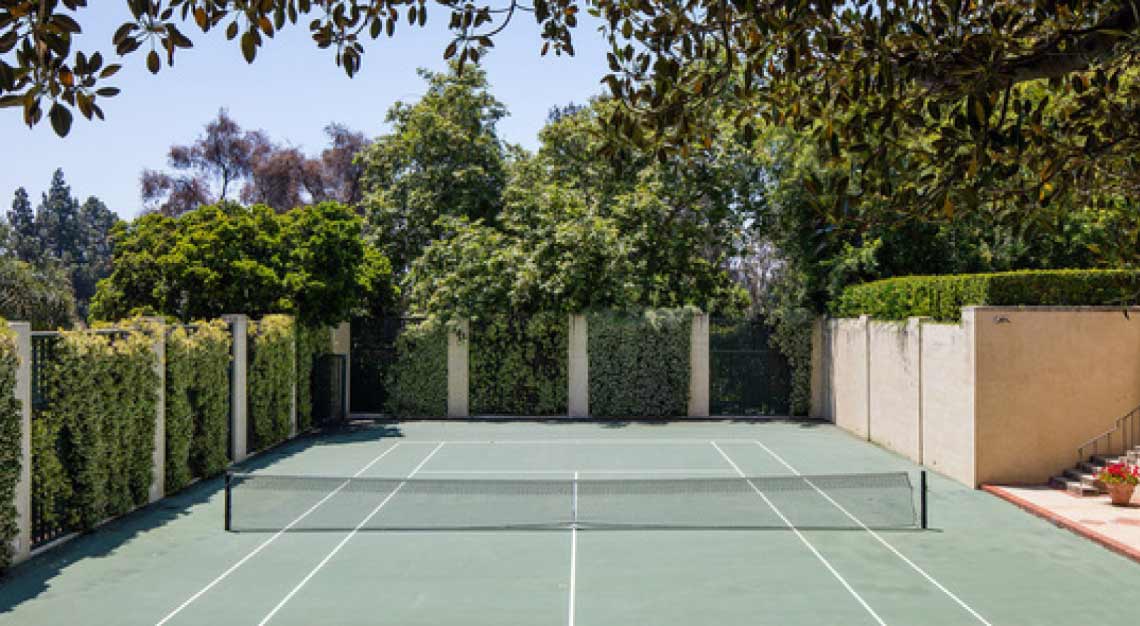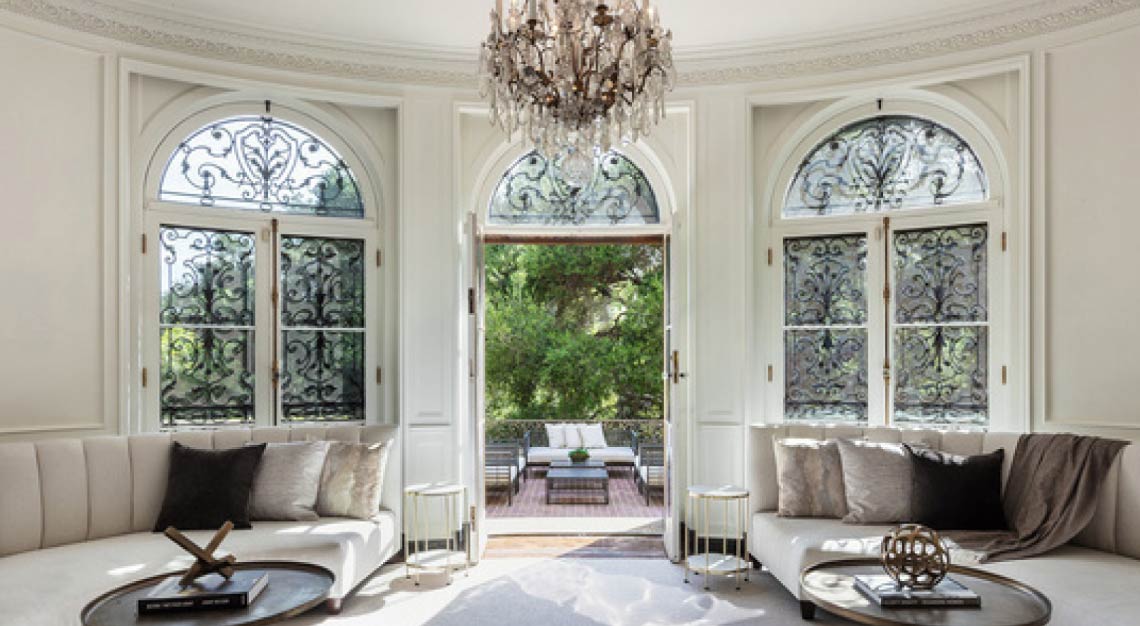 Owlwood Estate, California, The USA
How much: US$115 million (S$159 million)
What about: This is where Some Like It Hot star Tony Curtis, along with singing duo Sony and Cher, once called home. Before them, Joe Schenck, chairman of movie studio 20th Century Fox, owned it. Now this sprawling, 4.05-hectare slice of Old Hollywood, on South Carolwood Drive in ritzy Holmby Hills, is on market for US$115 million (S$159 million). That's well down from the original 2017 asking price of US$180 million (S$248 million). Built in 1936, the Italian Renaissance-style wood-panelled mansion features nine bedrooms and 10 baths spread over 1,133sqm. On the vast, beautifully secluded grounds there's a tennis court, an Olympic-sized pool with a spacious pool house and four garages. And with the compound being made up of three contiguous lots, there's plenty of room for development. Even for a small sub-division.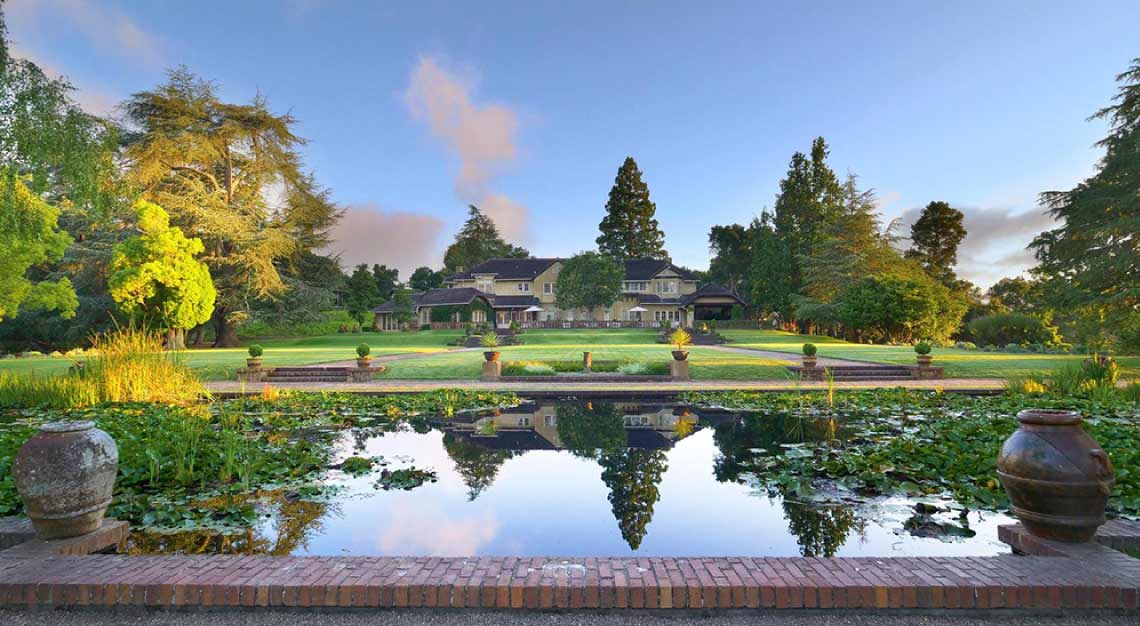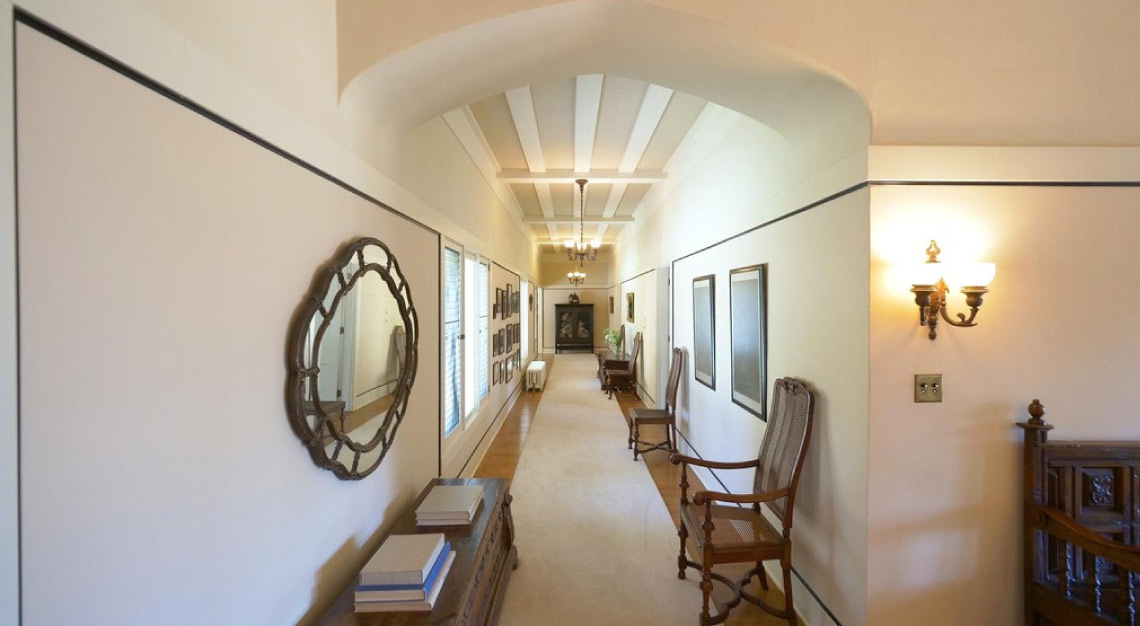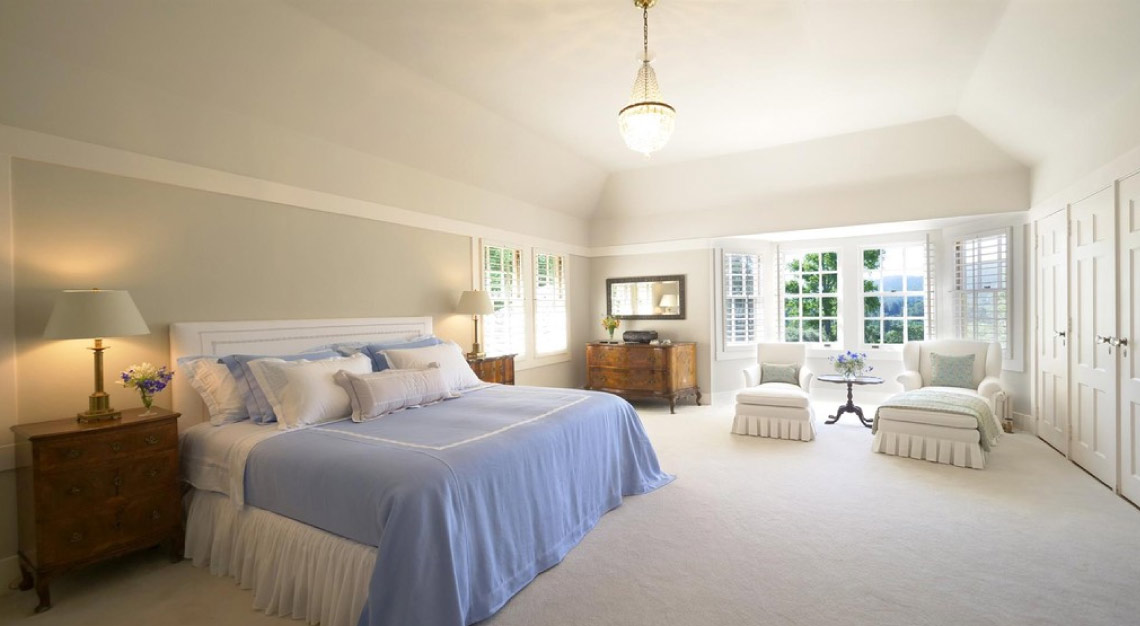 Green Gables, California, The USA
How much: US$120 Million (S$166 million)
What about: As the old adage goes, if you have to ask the price, you can't afford it. Though in the case of this massive 29.9-hectare retreat in Silicon Valley's Woodside, a 48-km drive south of San Francisco, it still applies today. So unique, and so vast is the compound that the Fleishhacker family that still owns it, is refusing to set a price and will wait for (sizeable) offers. All that everyone is pretty certain of, is that it will beat the previous Woodside record of US$117 million (S$161 million) set in 2012 for a 3.6-hectare estate. It was over a century ago when banker Mortimer Fleishhacker, Sr. accumulated nine parcels of land and built an English-style mansion. Today the estate includes seven different homes with a total of 32 bedrooms, world-class gardens and a Roman pool.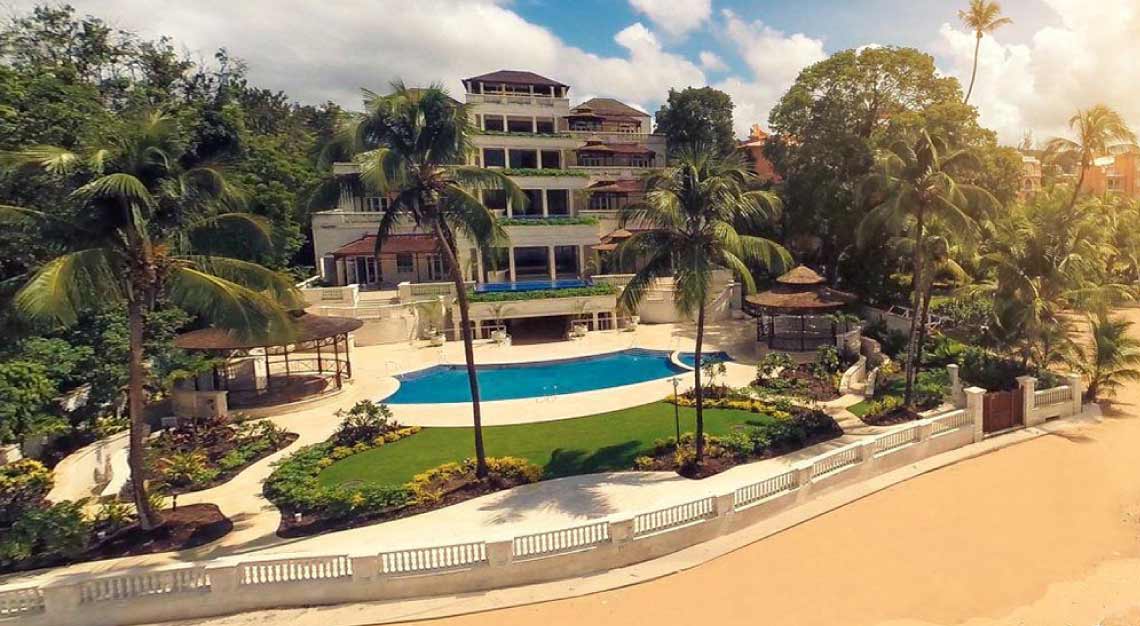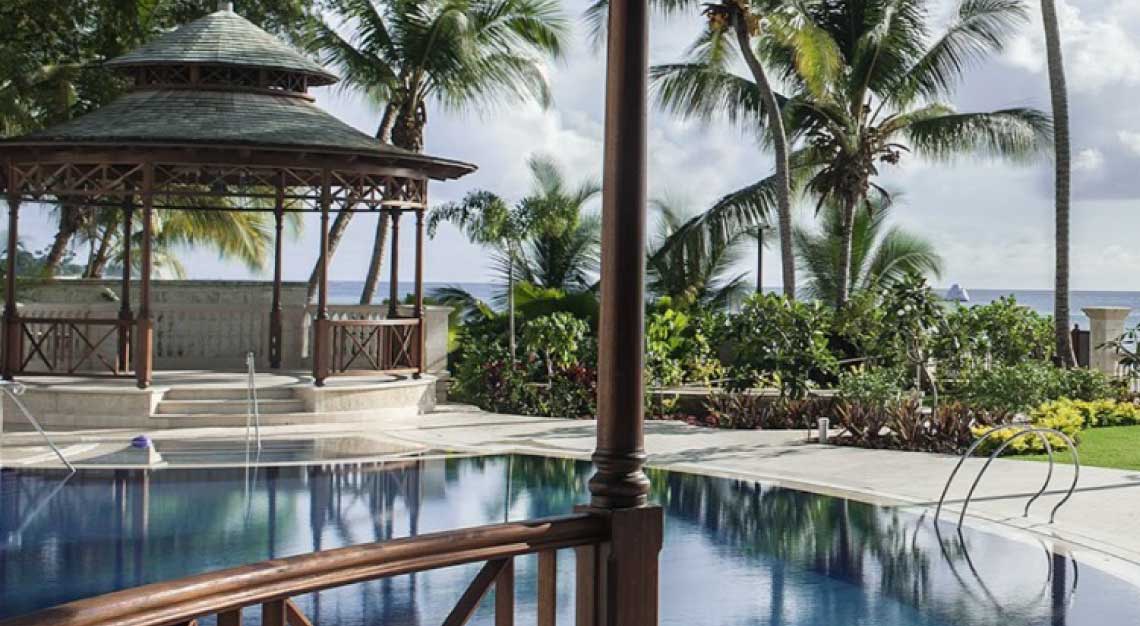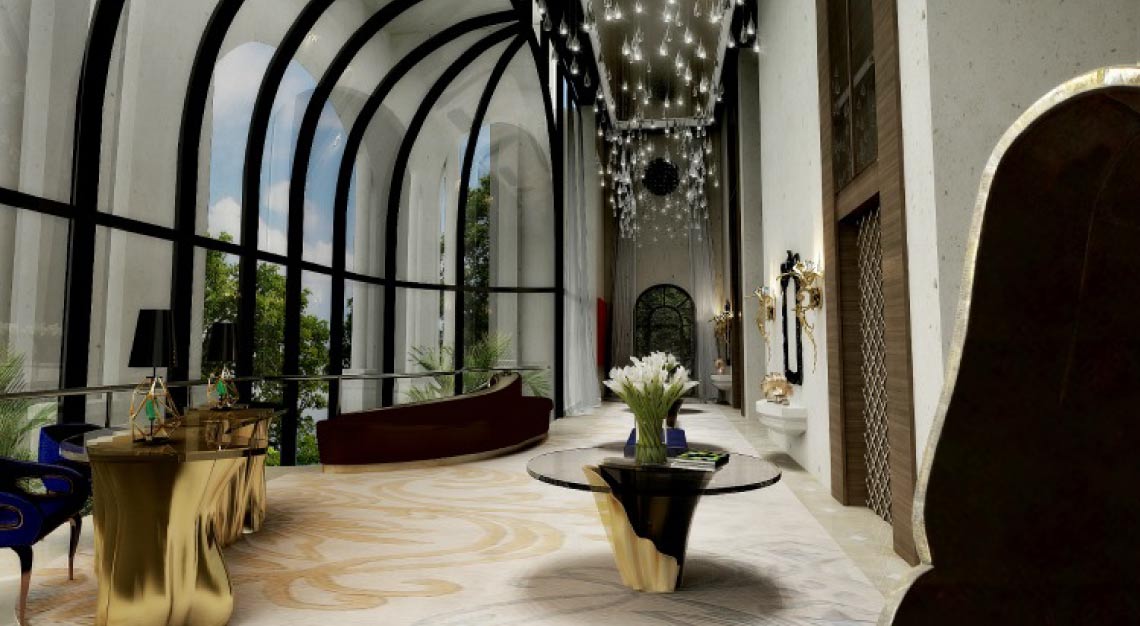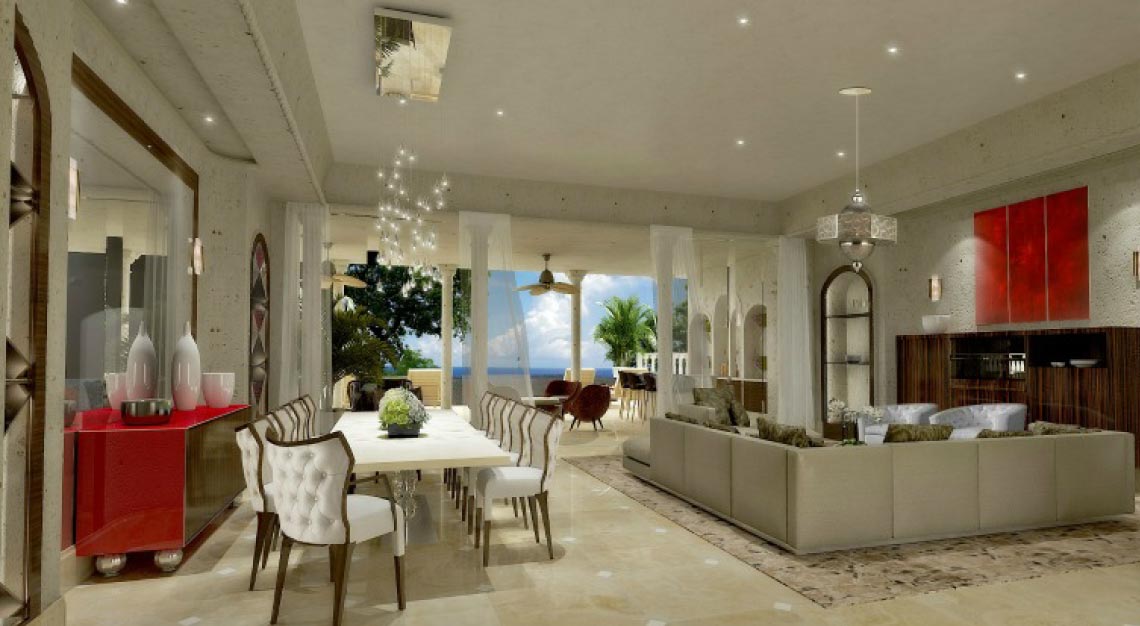 Palazzate, St. Peter, Barbados
How much: US$125 million (S$173 million)
What about: Choices, choices. You could keep this spectacular 6,967-sqm beachfront mansion, with its six floors, 20 bedrooms and five pools, as a palatial Caribbean single-family retreat. Or divide it up into four separate mini-mansions, one per floor and each with five bedrooms, six bathrooms and 1,114sqm of space. Palazzate was developed by Bjorn Bjerhamn, who created Barbados' St. Peter Bay Resort and Port Ferdinand Marina. The mansion took more than four years to build, and when it was completed in 2015 it was not only the most expensive in Barbados, but in all of the Caribbean. Set on a 0.8-hectare lot, the mansion is on the sugar-white-sandy beach of St. Peter on the so-called Barbados Riviera. Among its key features: a 232-sqm fitness center with steam room, a 113,562-litre aquarium, underground parking for 18 cars and slips at the nearby Port Ferdinand Marina.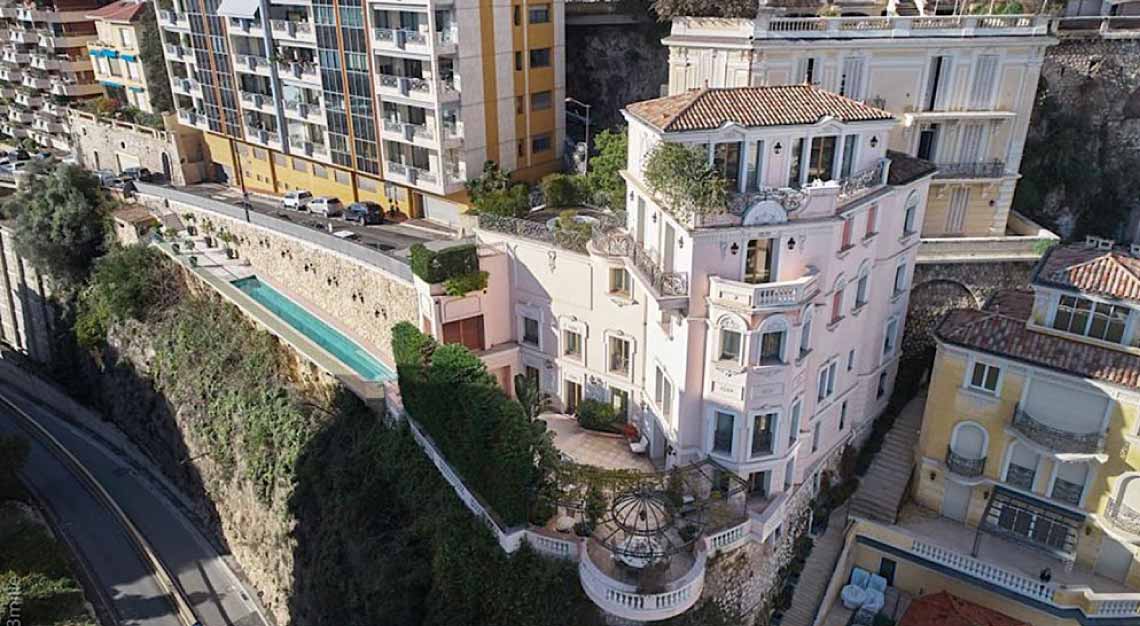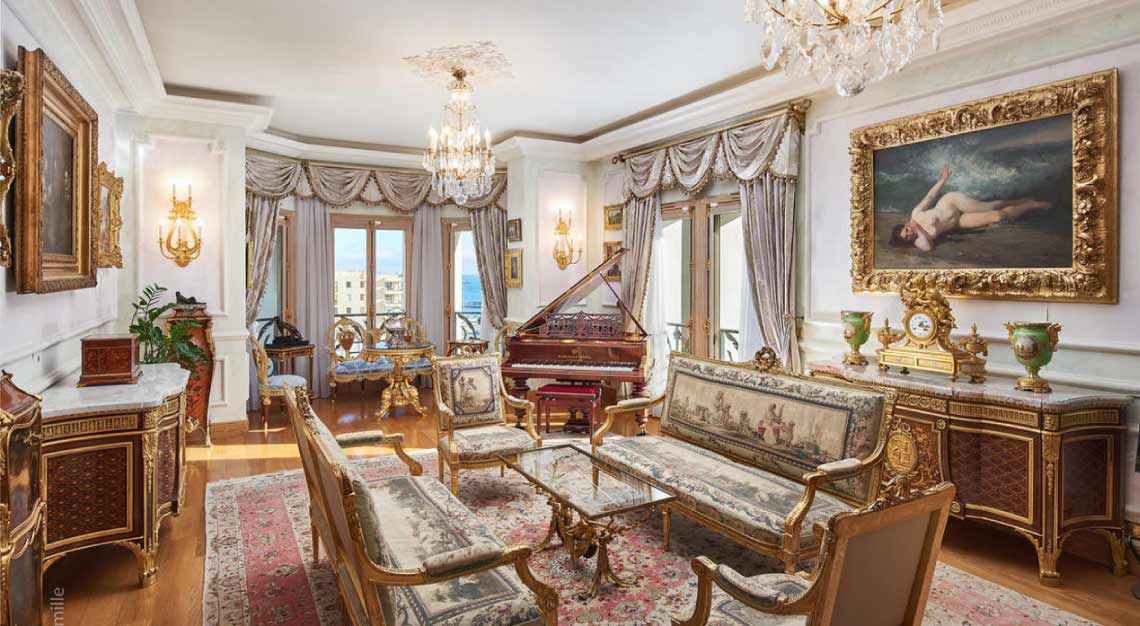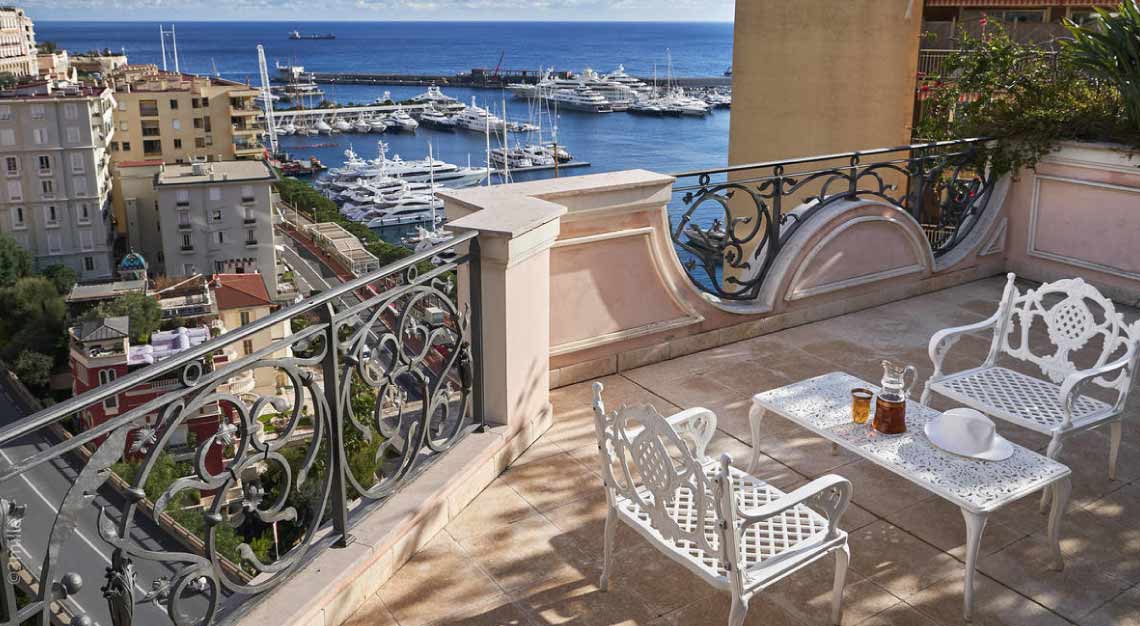 Villa l'Echauguette, Monaco
How much: €110 million (S$174 million)
What about: From its rooftop terrace, you can gaze down at the superyachts parked in Monaco's famous Port Hercule harbour. Or, during a weekend in May, get a million-dollar view of race cars blasting around the streets below during the prestigious Monaco Grand Prix. Built in the 1860s, Villa l'Echauguette was once home to casino developer Francois Blanc, who helped transform the formally sleepy Monte Carlo into a playground for the rich and famous it is today. Perched on a cliff overlooking the harbour, this pink Belle Epoque villa offers 761sqm of space over six floors. There are two elevators, and inside there are six bedrooms, a spacious living room that leads out on to a large private terrace, a wine cellar, a skinny 22-m lap pool, sauna, guest apartment and two-car garage.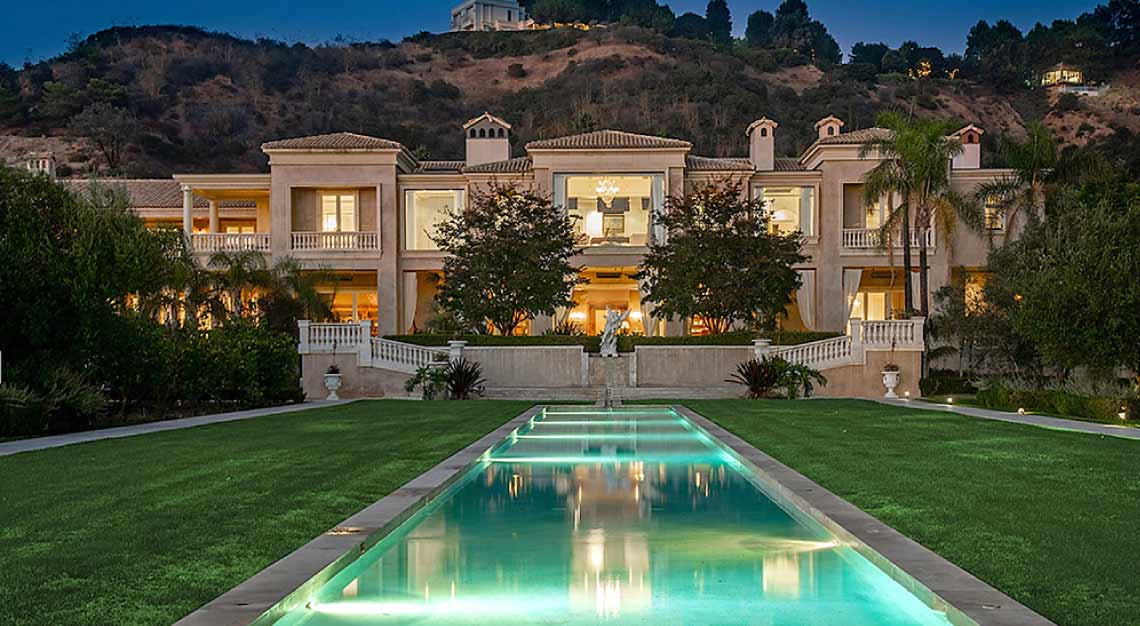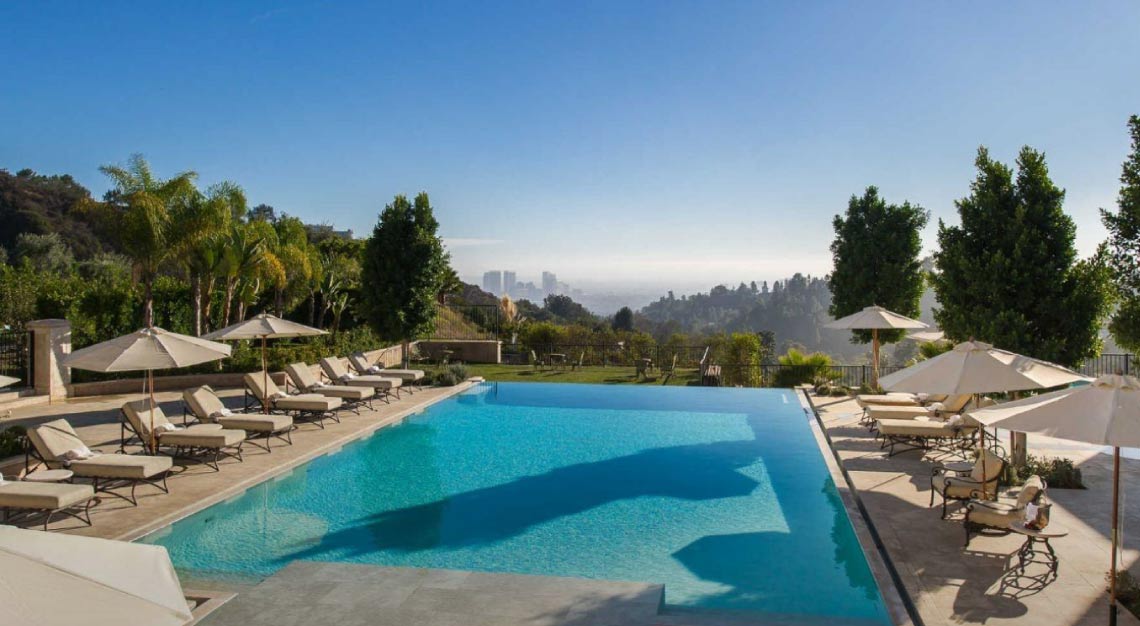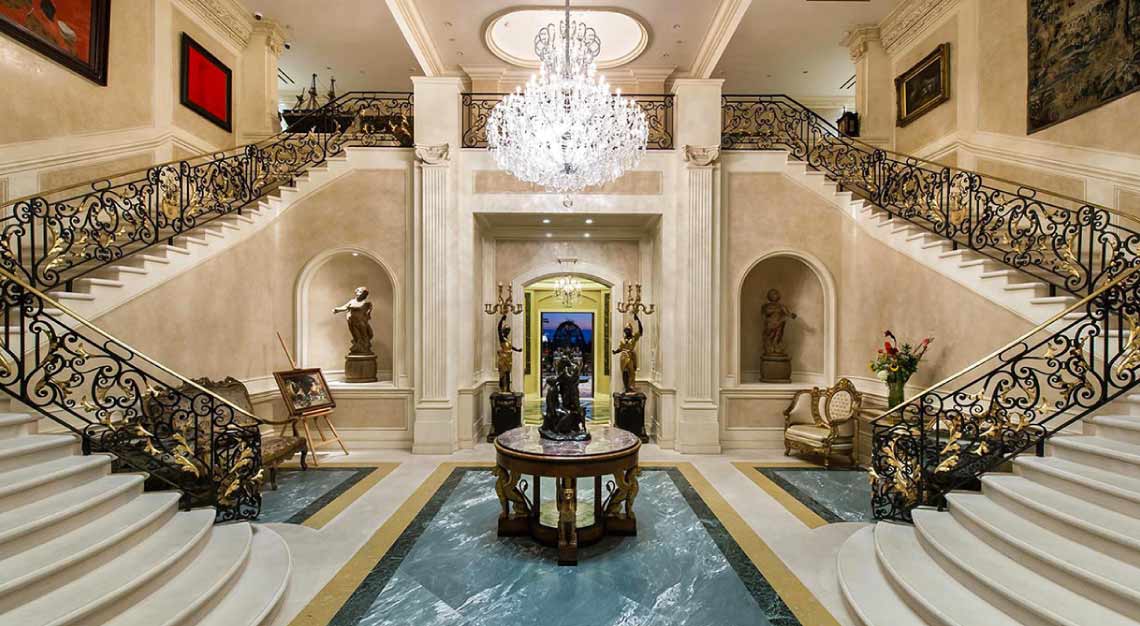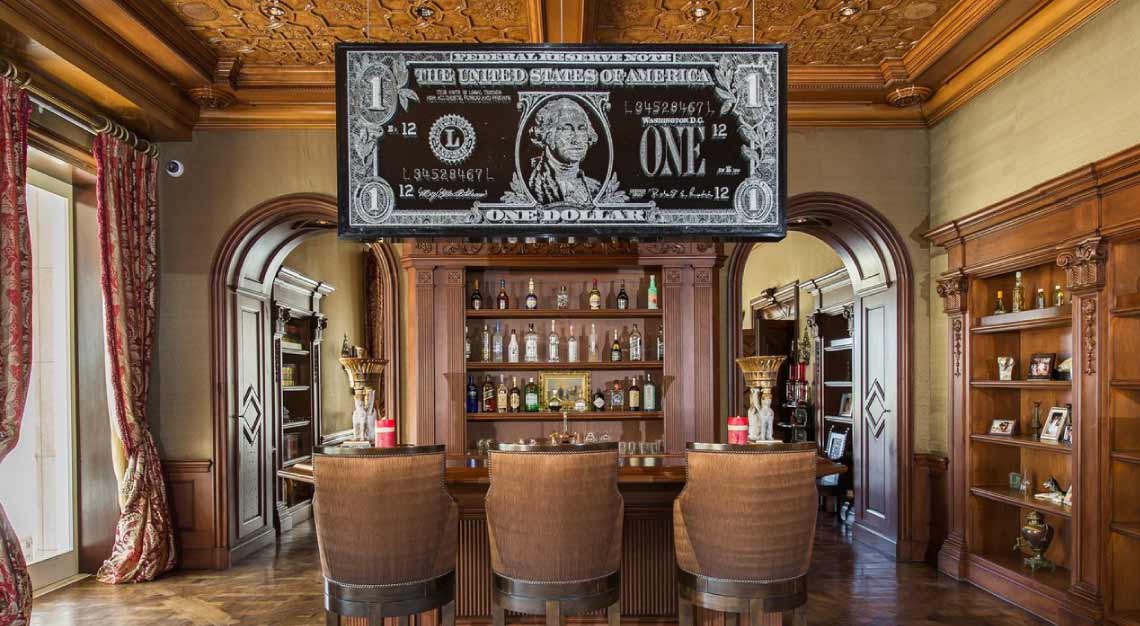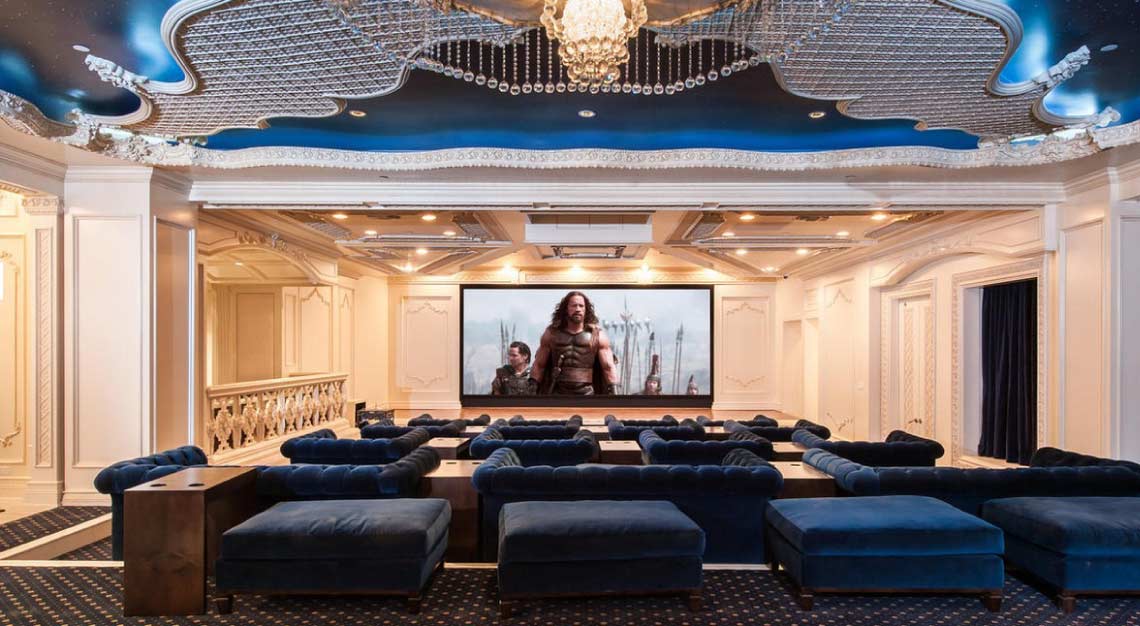 Palazzo di Amore, California, The USA
How much: US$129 million (S$178 million)
What about: Why buy a vineyard in Napa Valley when you can grow your own grapes right in the middle of Beverly Hills? That was real estate mogul Jeff Greene's thinking when he bought his spectacular, 10-hectare Palazzo di Amore – or Palace of Love – for US$35 million (S$48 million) in 2008 and spent many more millions renovating it and planting vines. In addition to the 2,322-sqm main house with its 200-seat dining room, the Tuscan-style estate features a two-level, 1,393-sqm entertainment 'complex' with a bowling alley, 50-seat movie theatre, a ballroom with DJ booth and revolving dance floor and parking for 150 cars. Greene first listed the estate in 2014 for a jaw-descending US$195 million (S$269 million). After a year off the market, he re-listed in 2017 with a US$66 million (S$91 million) price cut.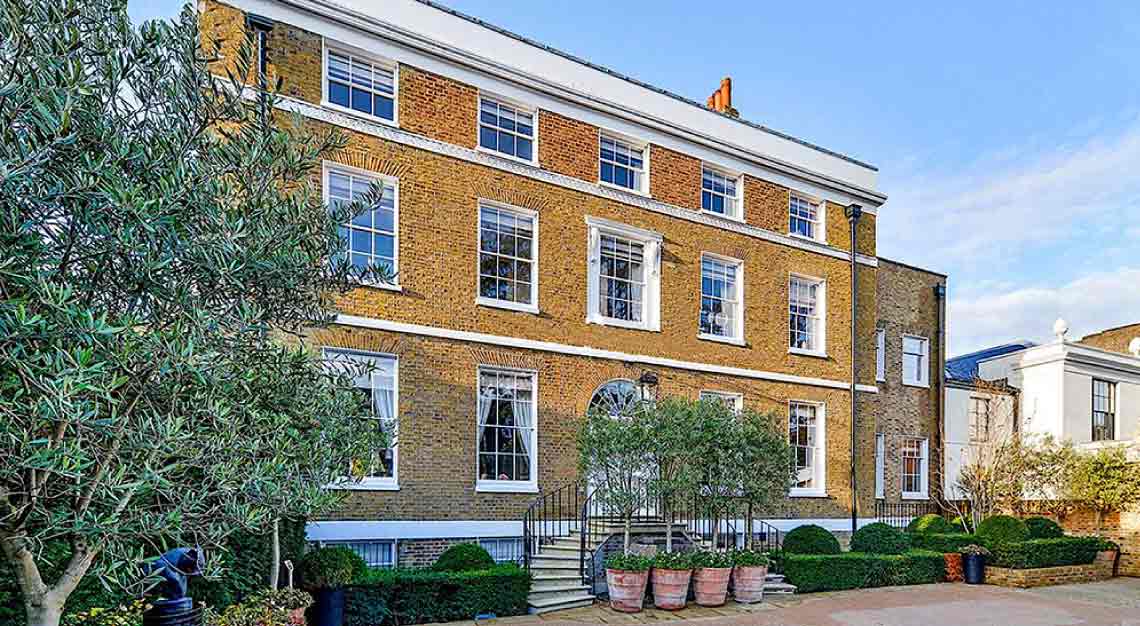 Sloane House, London, The UK
How much: £100 million (S$182 million)
What about: Formula One racing heiress Petra Ecclestone has listed her spectacular historic London mansion, Sloane House, for £100 million (S$182 million). Even with the price tag, the 14-bedroom mansion is something of a steal. The 31-year-old reportedly paid £65 million (S$117 million) to the previous owner, JCB earth-mover billionaire Lord Bamford, then spent another £25 million (S$45 million) on a makeover that included digging down to create one of the biggest private basement swimming pools in London. If Ms. Ecclestone's name sounds familiar, remember that last July she sold her 5,202-sqm LA estate, built for the late TV producer Aaron Spelling, for US$120 million (S$165 million).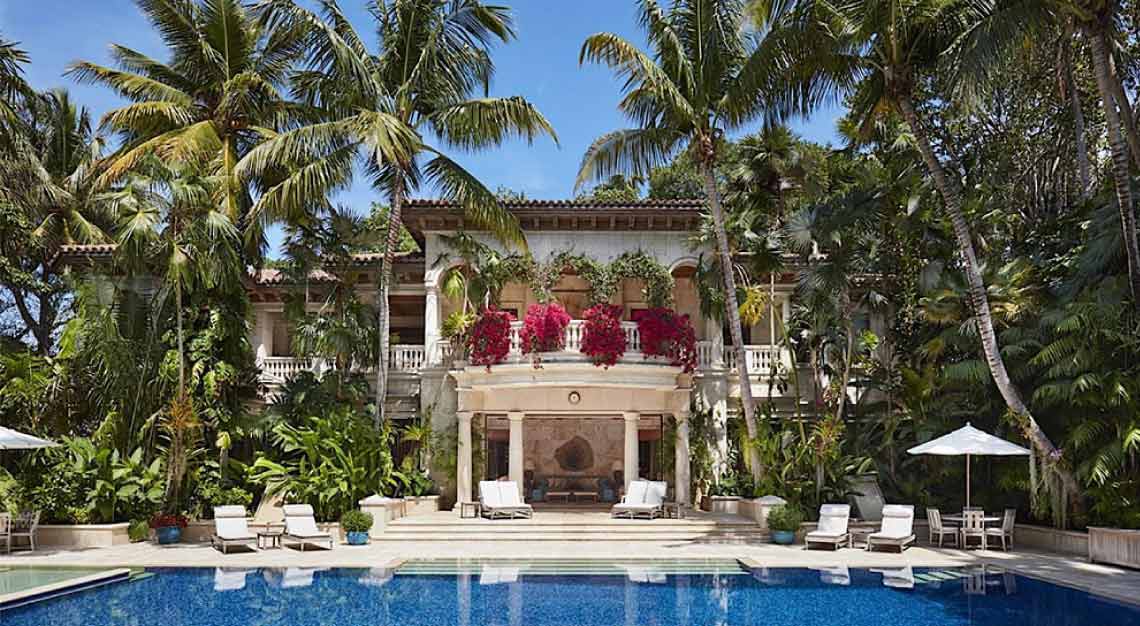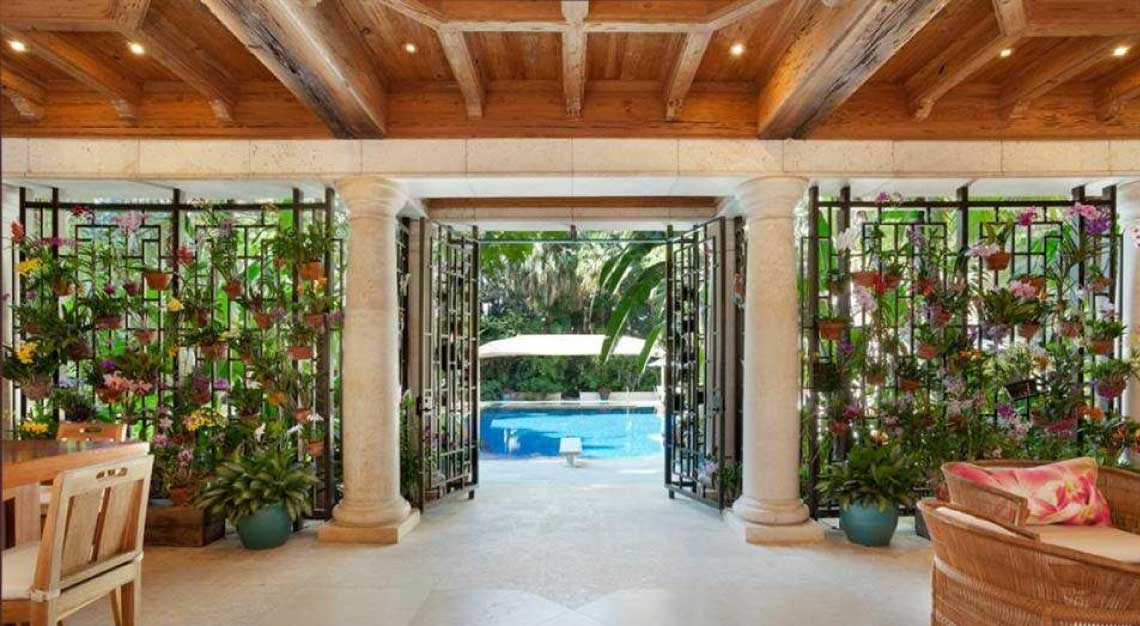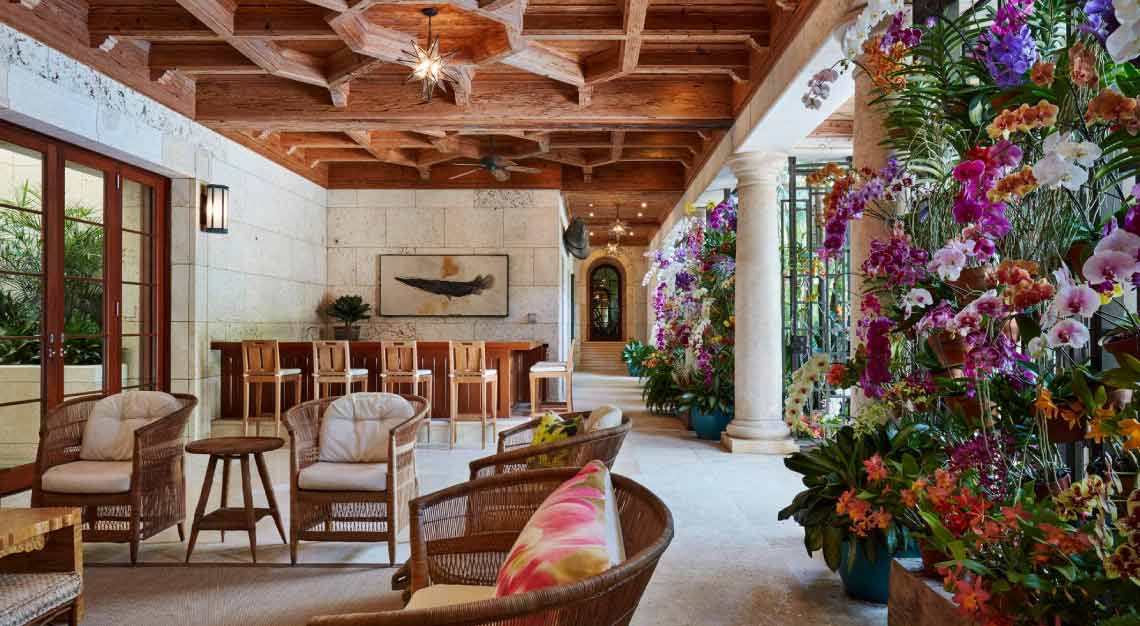 Gemini, Florida, The USA
How much: US$137.5 million (S$190 million)
What about: Talk about a return on investment. Back in 1985, media mogul William Ziff bought a six-hectare ocean-to-lake Palm Beach lot for US$5 million (S$6.92 million). He built a couple of houses on it, along with a nice pool and, 31 years later in 2016, listed it for a staggering US$195 million (S$269 million). Not surprisingly, it didn't sell. And today, even with a US$57 million (S$78.96 million) price cut – it's now listed at a still eye-watering US$137.5 million (S$190 million) – Gemini is still looking for a buyer. But everything about this seaside home on Manalapan island (just south of Palm Beach), is eye-watering. Its main house spans no less than 5,779sqm and comes with 12 vast bedrooms. There's also a seven-bedroom guest residence called Mango House, plus two four-bedroom beachside cottages and another guesthouse with seven studios. Even by Palm Beach standards, Gemini is unique.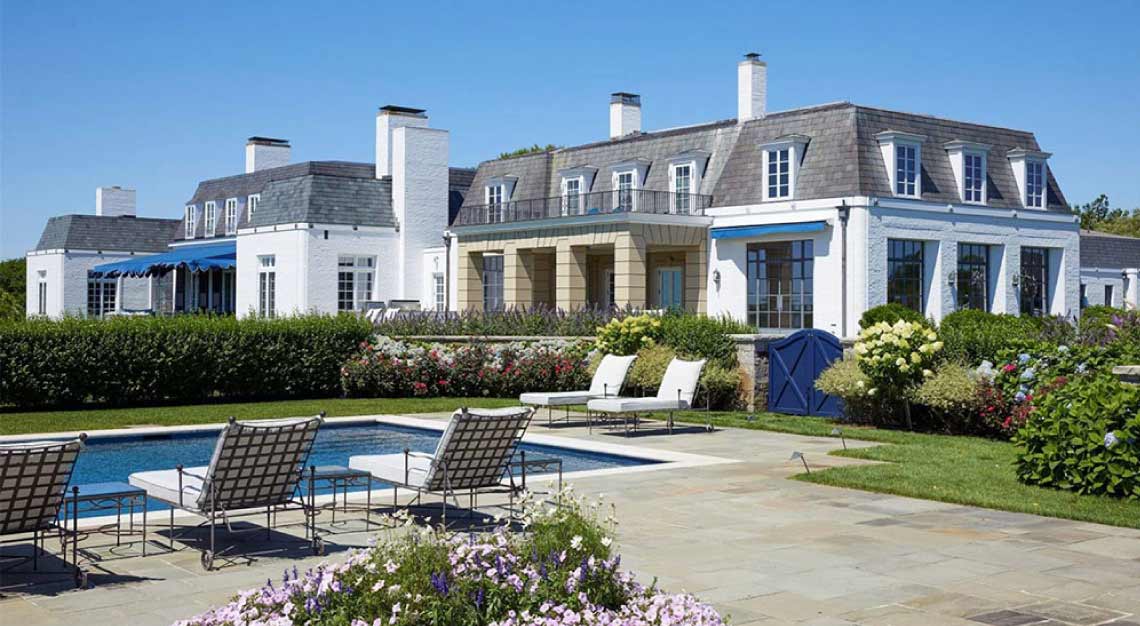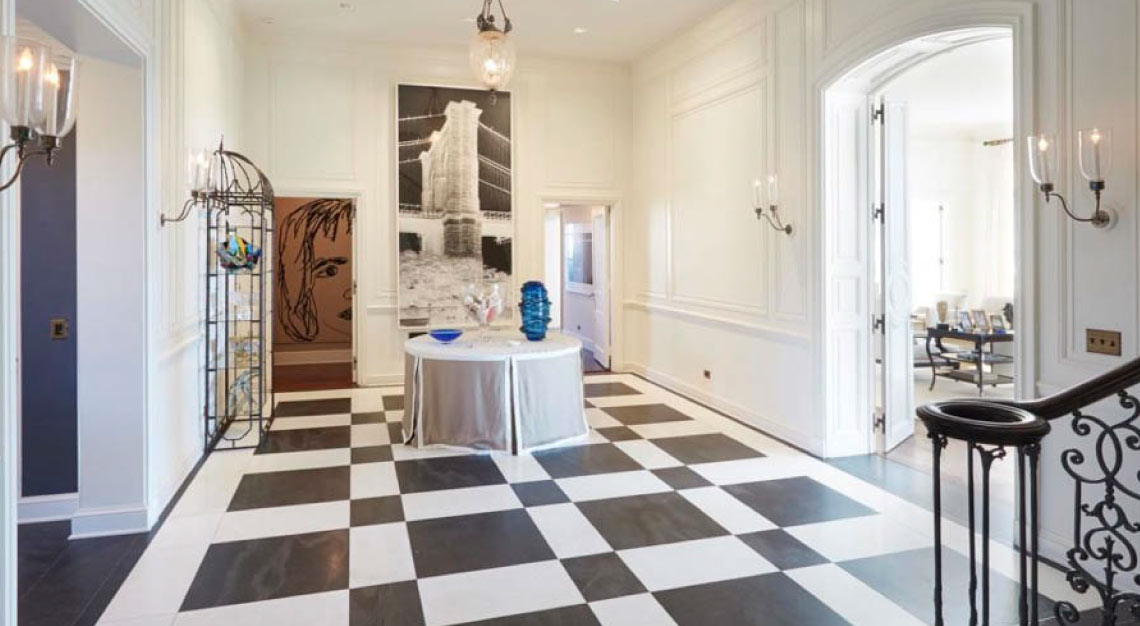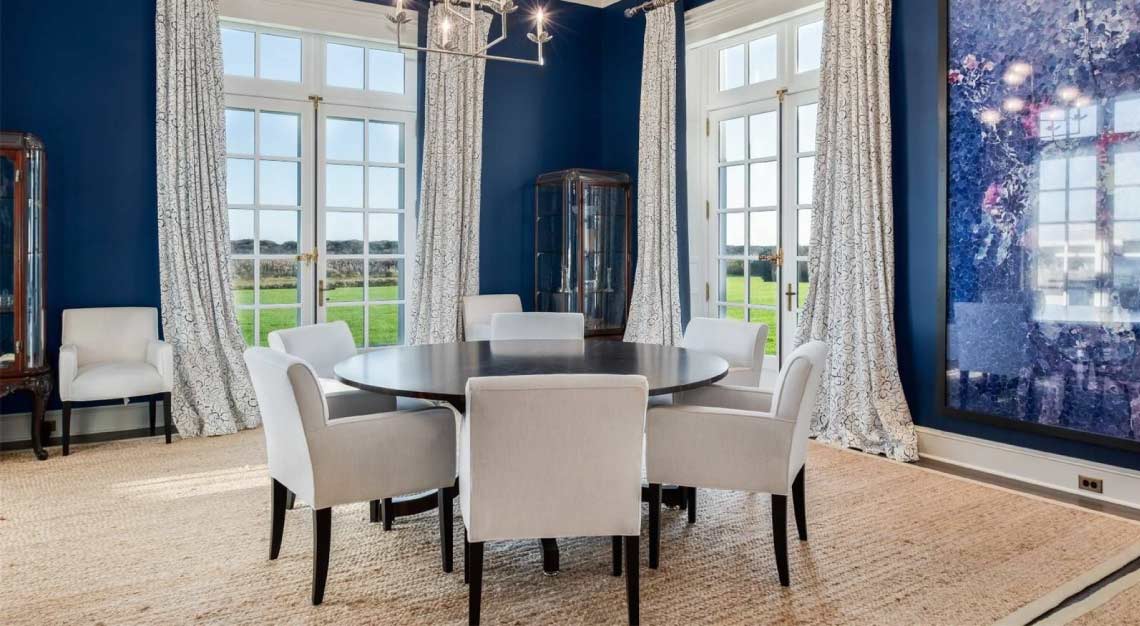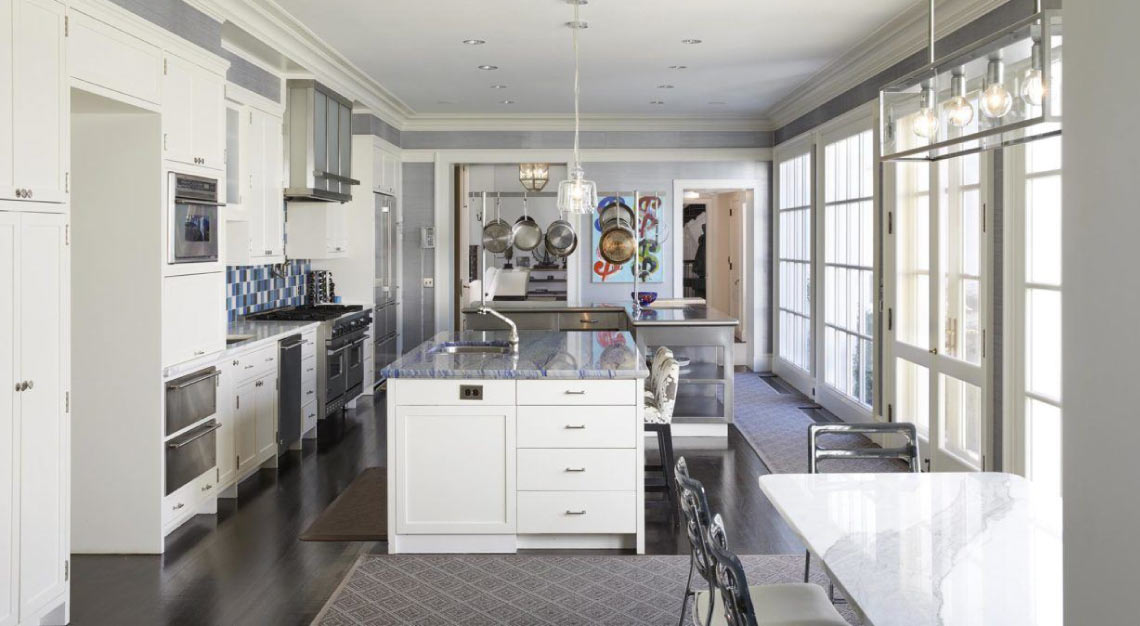 90 Jule Pond Drive, New York, The USA
How much: $145 million (S$200 million)
What about: Back in 2017, the asking price for this spectacular 16-hectare oceanfront compound on Jule Pond Drive, once owned by Henry Ford II, was US$175 million (S$242 million). Alas, not even a US$30 million (S$41 million) price 'realignment' has seen any serious hand-raisers materialise. In addition to its magnificent quarter-mile of beachfront – still the largest ocean frontage in the entire Hamptons – the estate features a cavernous 1,858-sqm main residence; renovated in 2008, that boasts a 14.6-m long living room and 12 bedrooms. In the expansive grounds, there's a tennis court, pool and pool house and two golf greens. The current owner is portfolio manager Brenda Earl, a former partner at equity fund Zweig-Dimenna. She bought the estate in 2002.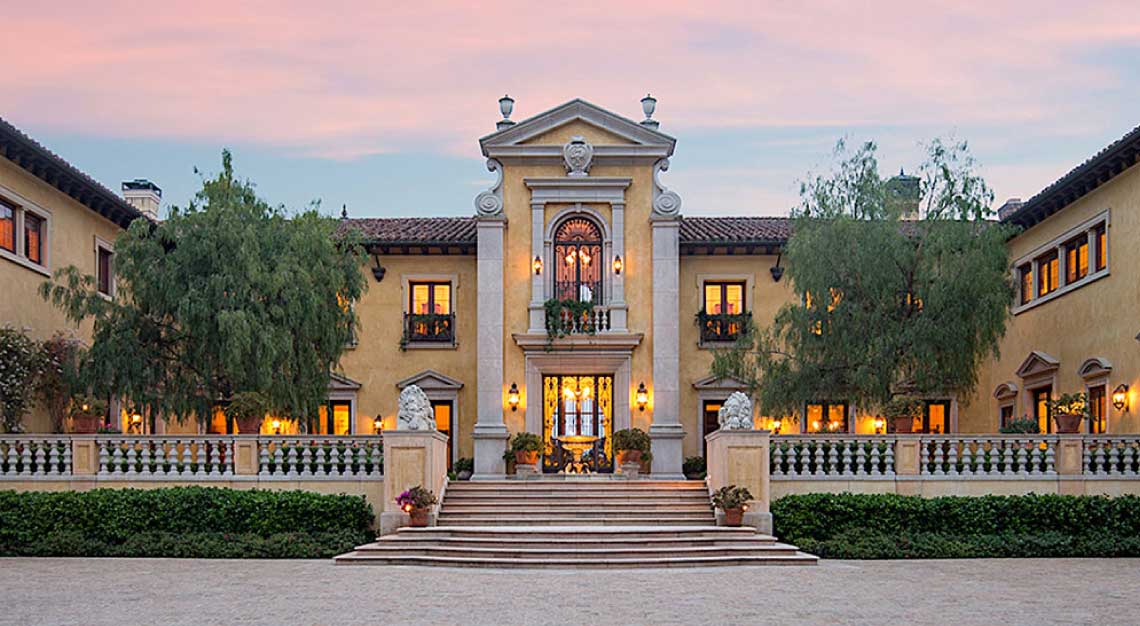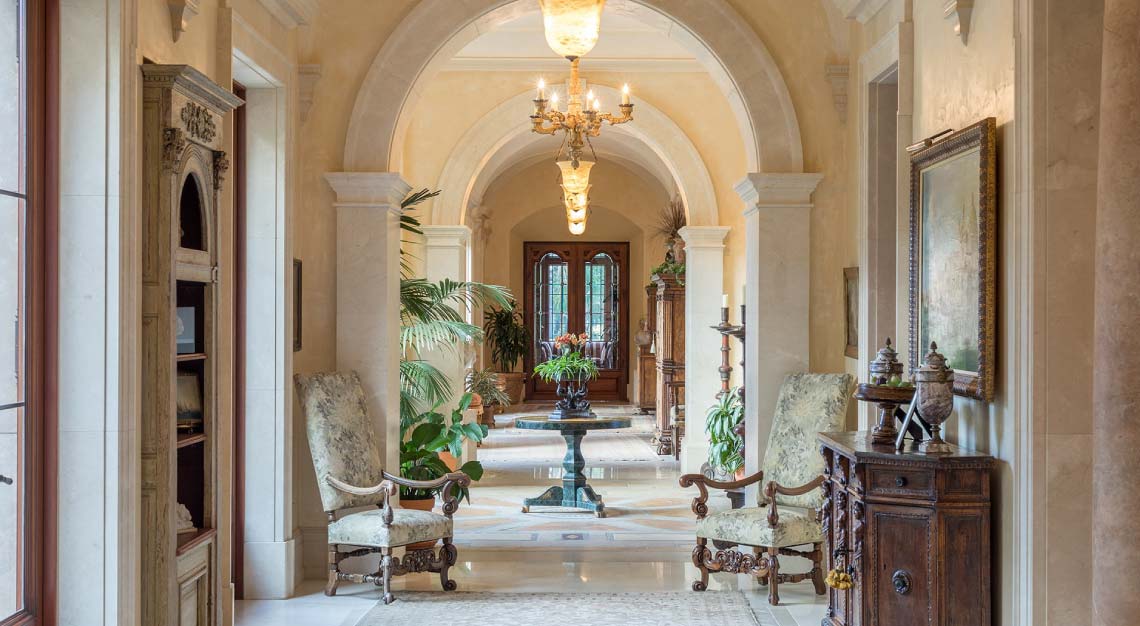 Villa Firenze, California, The USA
How much: US$165 million (S$228 million)
What about: Two years on the market and there are still no hand-raisers for the third most-pricey property in the City of Angels, Villa Firenze. Perched on seven prime acres of security-obsessed Beverly Park, high in the hills above Beverly Hills, this sprawling compound is home to American billionaire Steven Udvar-Hazy, CEO of aircraft leasing giant Air Lease Corporation. Styled like an Italian palazzo, the 1,858-sqm main house is complemented by a 464-m guest house, a pool house and two other guest houses, bringing the total living space to more than 2,601sqm. Other features include an additional one-hectare adjoining lot ripe for development, a huge swimming pool, tennis court and 30-car motor court.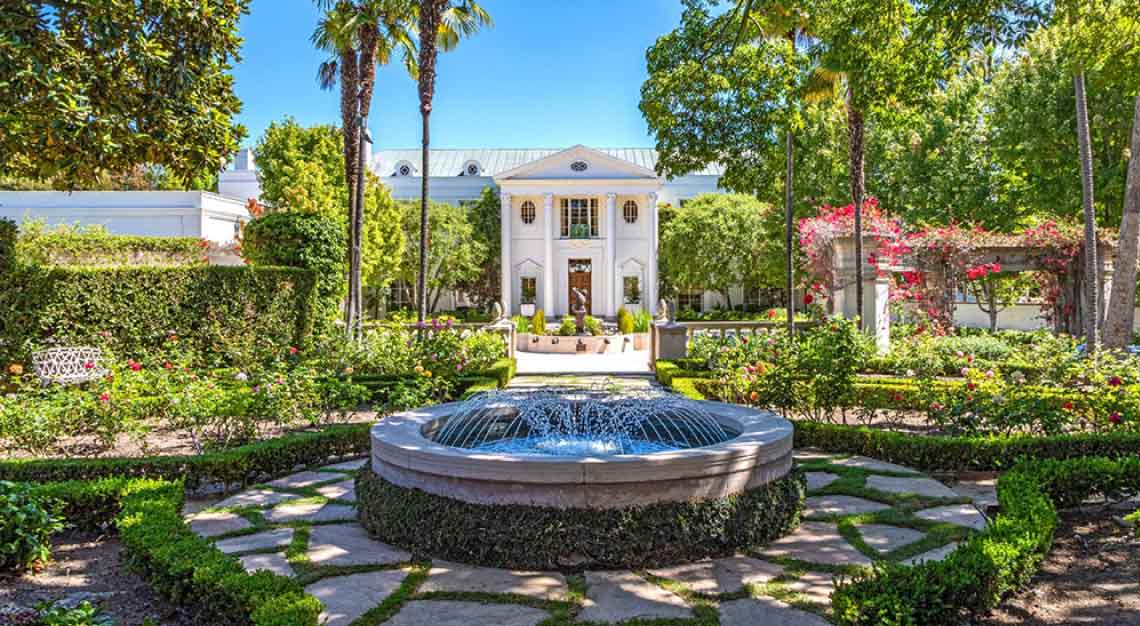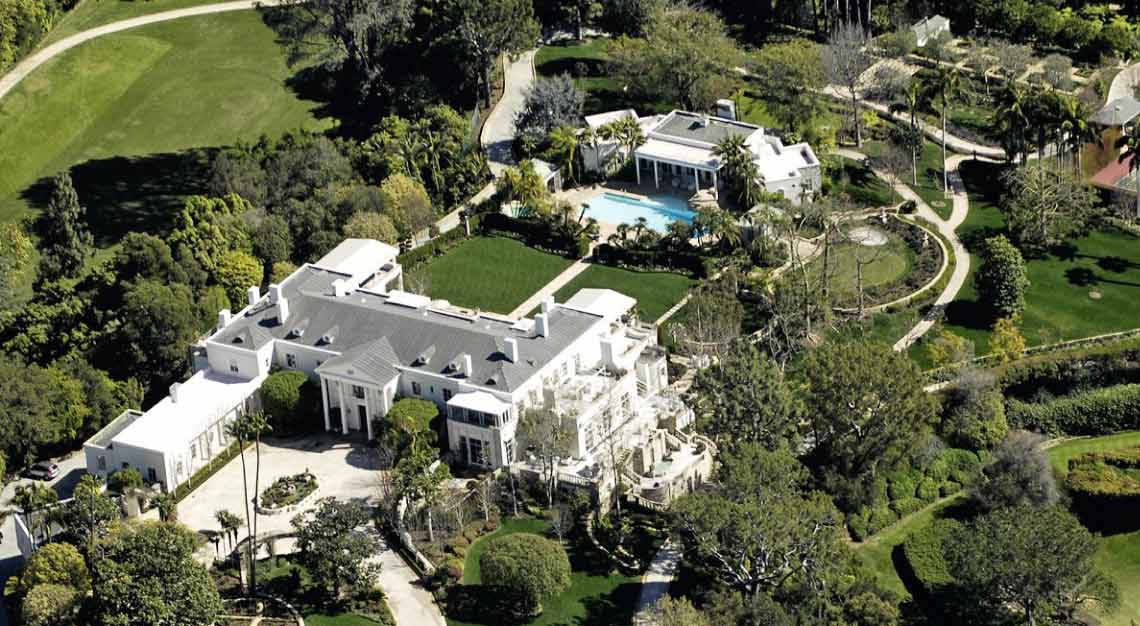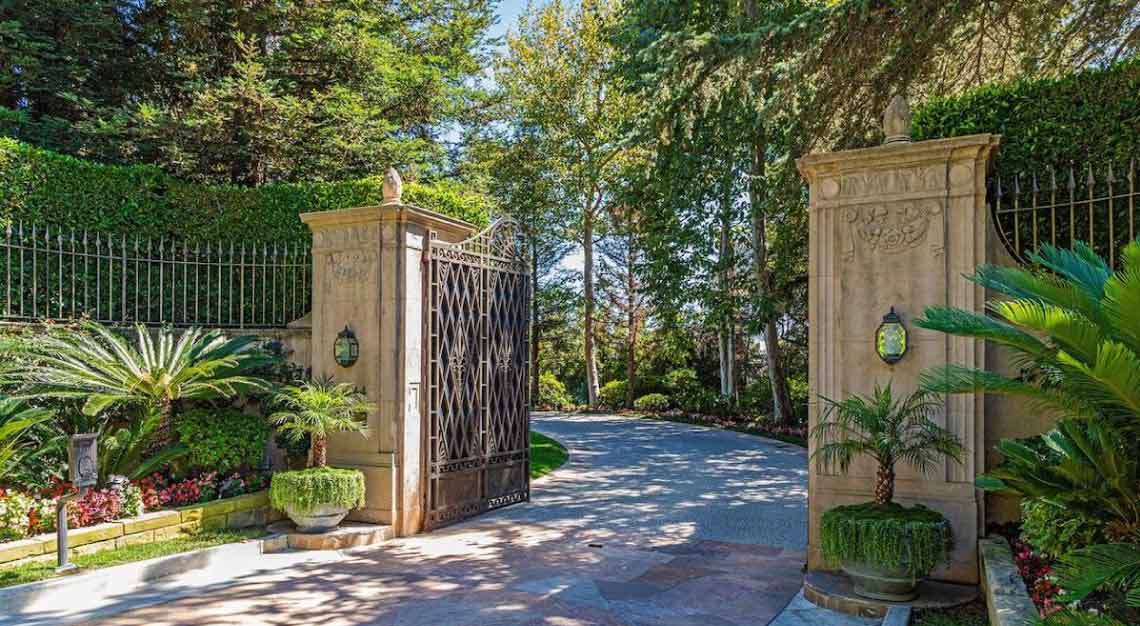 Casa Encantada, California, The USA
How much: US$225 million (S$311 million)
What about: When it quietly hit the market in October, the 60-room Casa Encantada, sprawling over 3.4 hectares of tony Bel-Air, became the most expensive piece of real estate on sale in the US. Dating back to the '30s, the estate was once owned by hotel magnate Conrad Hilton. Today it's home to financier Gary Winnick, whose company Global Crossing installed ocean-floor fibre-optic cable to connect four continents and 27 countries. Winnick paid a reported US$94 million (S$130 million) in 2000 for the Georgian masterpiece, and proceeded to spend another small fortune employing a team of 250 craftsmen to undertake an exhaustive two-year restoration.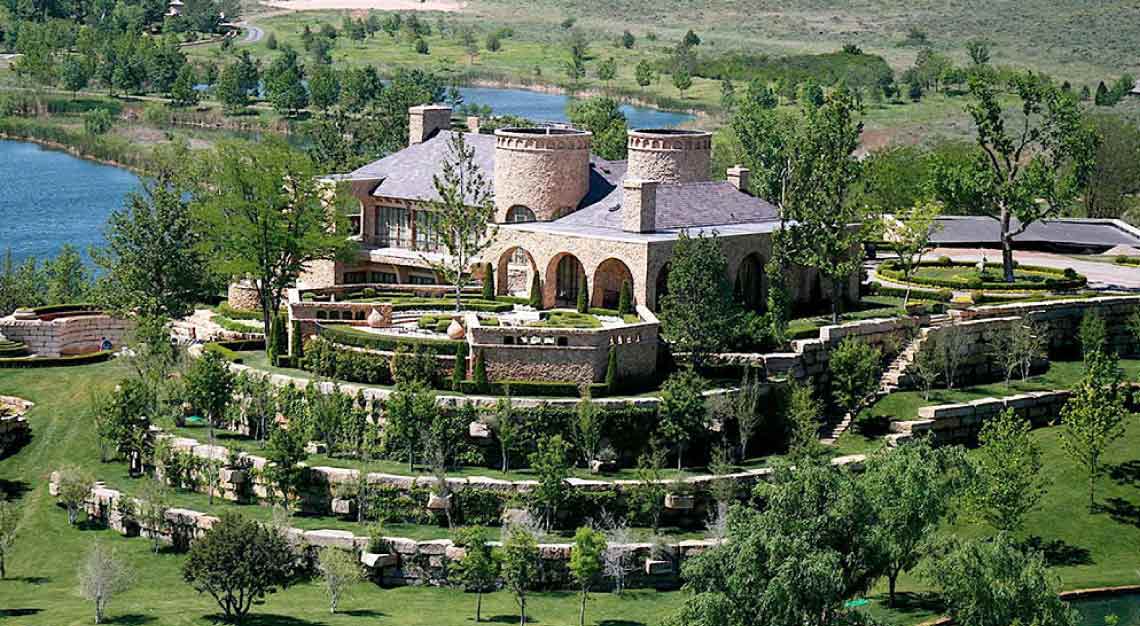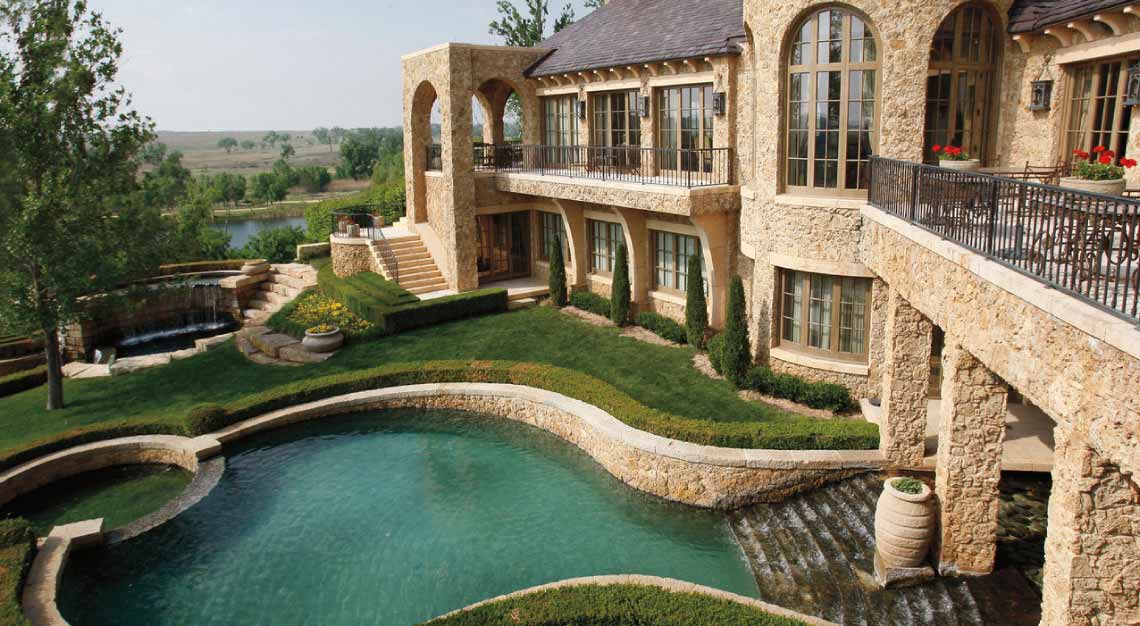 Mesa Vista Ranch, Texas, The USA
How much: US$250 million (S$346 million)
What about: You might have thought that the death last September of 91-year-old oil tycoon T. Boone Pickens might have had his heirs rethinking the price tag of his beloved Mesa Vista Ranch in the Texas Panhandle. Not so; it's still a nice, round quarter of a billion dollars. Take it or leave it. Boone Pickens spent close to 50 years assembling the property which today covers over 26,304 hectares. What it includes is miles of the rushing Canadian River, four homes including a 3,065-sqm main lodge, a private airport with 1,828-m runway and terminal building, a 30-seat home theatre, golf course, tennis course, and a two-story stone kennel with 40 bird dogs.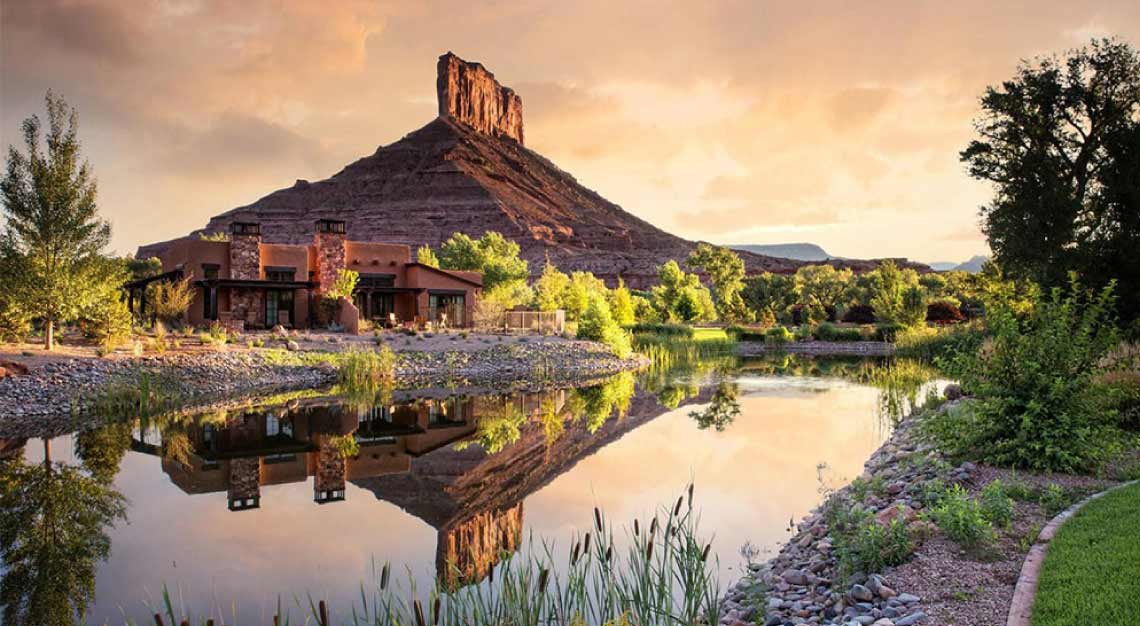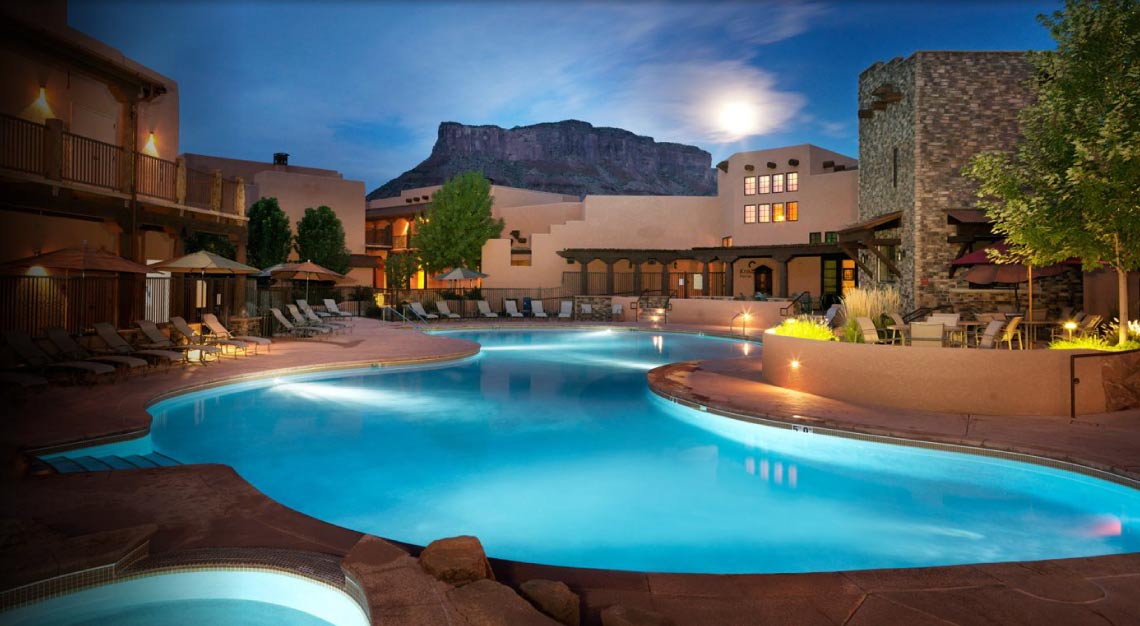 Gateways Canyons, Colorado, The US
How much: US$279 million (S$386 million)
What about: Discovery Channel founder John Hendricks is still waiting for that 'right' buyer to come along. The 3,520-hectare Gateways Canyons Ranches and Resort was the dream of Hendricks to build a massive compound in the teeny town of Gateway, Colorado about 289km west of Aspen. The billionaire bought his first parcel of land here in the '90s, and kept on buying till he reached today's massive acreage. The huge property includes a 2,043-sqm main house he calls West Creek Ranch Residence. Then there's the 72-room full-service Gateway Canyons Resort and Spa, and even a car museum, the Gateway Colorado Auto Museum, with around 55 classic cars from Hendricks' own collection. Add to all this a grass airstrip, airplane hangar and two helipads. With Hendricks and his wife Maureen spending less time at the ranch, he says it's time to sell. Just not at any price.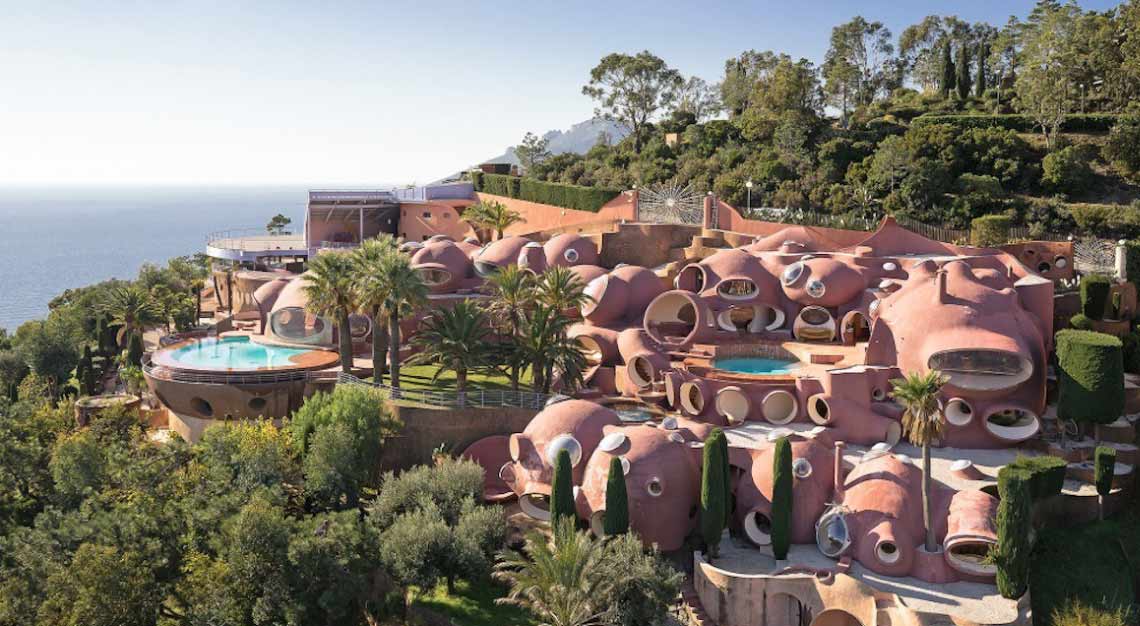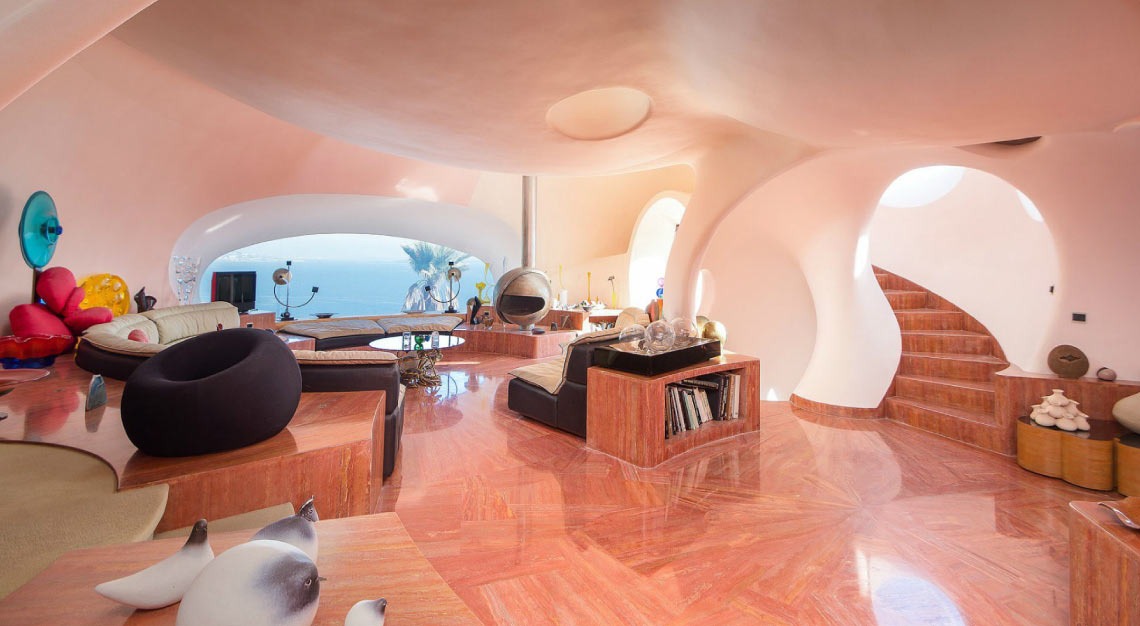 Pierre Cardin's Bubble Palace, France
How much: €350 million (S$553 million)
What about: Looking like a set from a shag-a-delic Austin Powers movie, fashion icon Pierre Cardin's wild Cote d'Azur vacation home, Le Palais Boules, or Bubble Palace, delivers total sensory overload. Designed in 1975 by Hungarian architect Antti Lovag, this cluster of pink upturned flower pots overlooking the shimmery Mediterranean close to Cannes, took 14 years to build. Cardin, now 97, bought the compound in 1992 and listed it for sale in 2017 after a five-year restoration. With 26 barnacle-like pods, 1,207-sqm of interior space, 10 bedrooms, several swimming pools, a 500-seat amphitheater and not a straight line in the place, this 'bubbalicious' compound (yup) is certainly an acquired taste.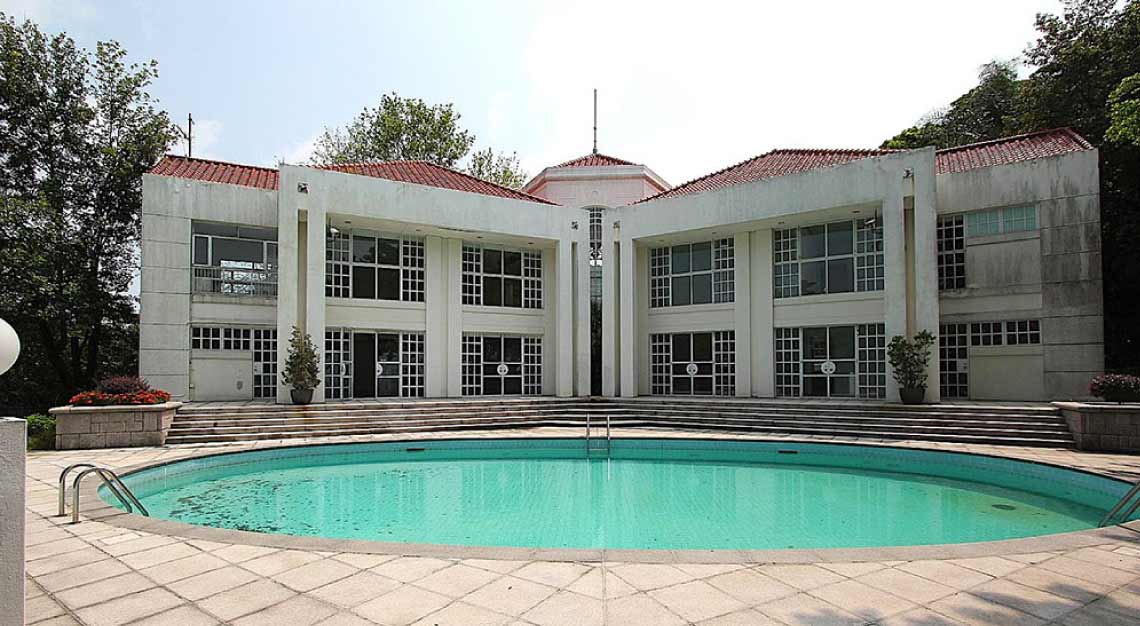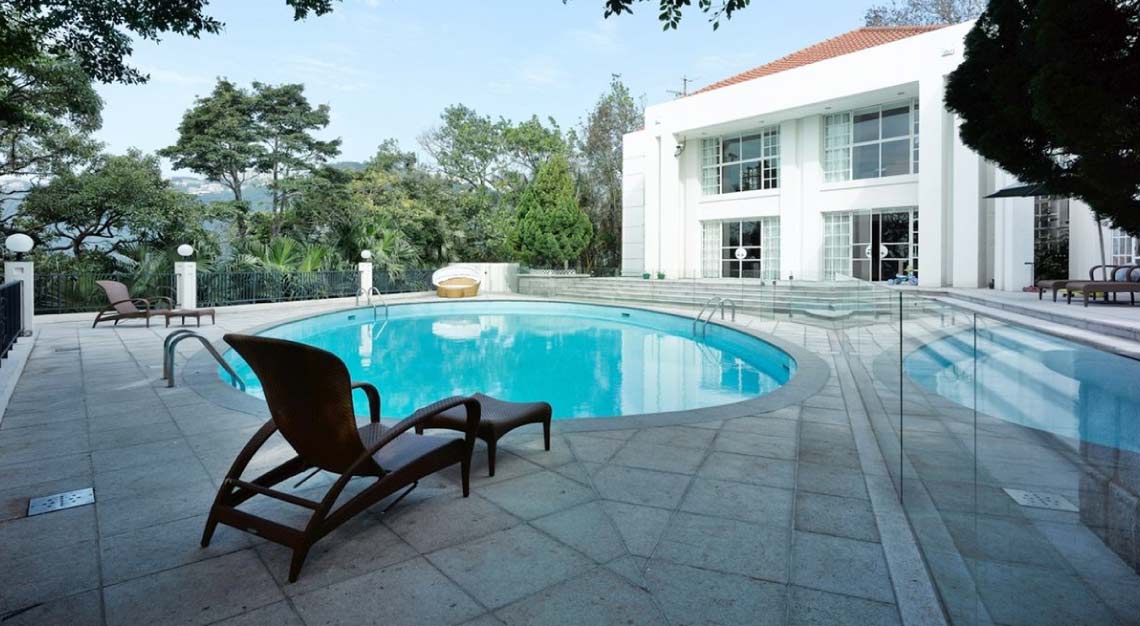 24 Middle Gap Road, Hong Kong
How much: HK$3.5 billion (S$623 million)
What about: A year on, and there are still no takers – and no price drop – for this run-down, dingy, four-bedroom fixer-upper on a 10th of a hectare in Hong Kong. But it's not because of the price. That's because the 529-sqm tear-down sits on arguably the priciest piece of real estate on the planet – the gated Middle Gap Road community that's part of Hong Kong Island's The Peak neighbourhood – short for Victoria Peak. Case in point; an empty lot on nearby 75 Peak Road sold, not so long ago, for a staggering HK$5.1 billion (S$910 million), according to The Real Deal Hong Kong. As they say in the property business: location, location, location. And locations don't come any more prestigious than the Peak, on Hong Kong Island. In most other posh parts of the planet, this unassuming, colonial-style 529-sqm, four-bedroom home built in 1991 wouldn't get a second glance. But because it's perched atop the Peak, comes with views of Deep Water Bay and is just a 10-minute drive from Hong Kong's Central Business District, it's listed for an unthinkable price. Of course, any buyer will probably have the house torn down and a shiny new mega-mansion built on this lot.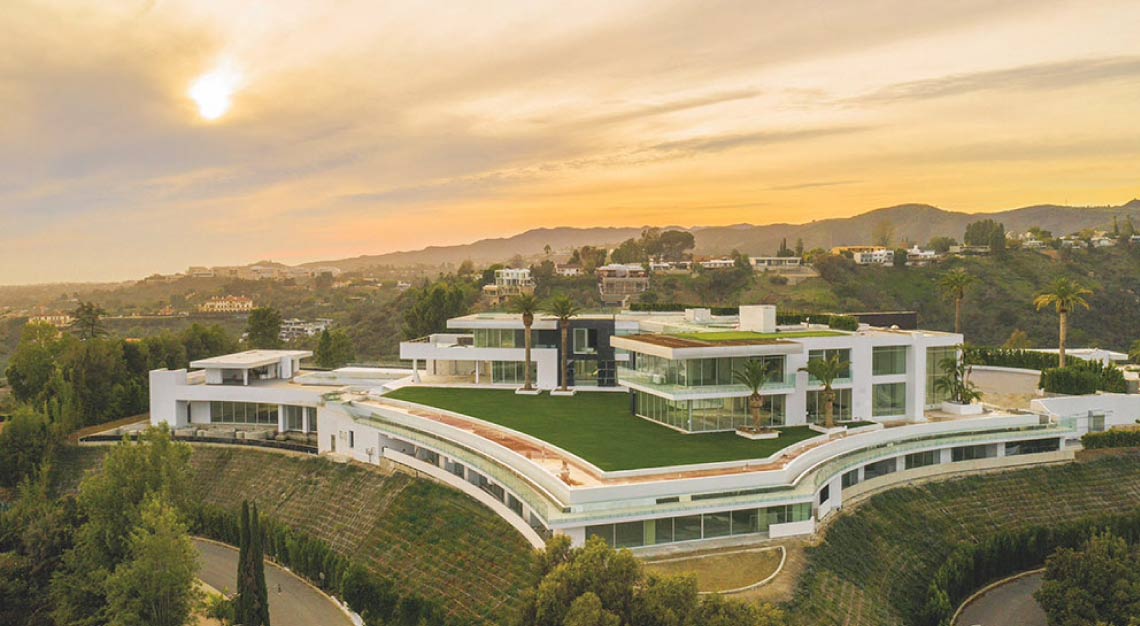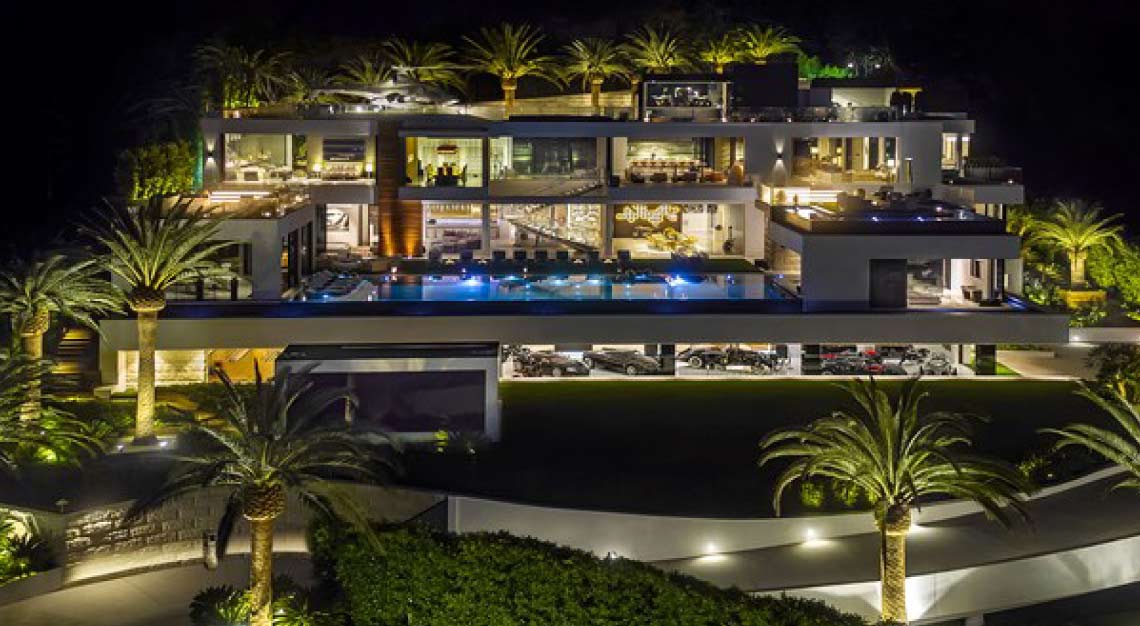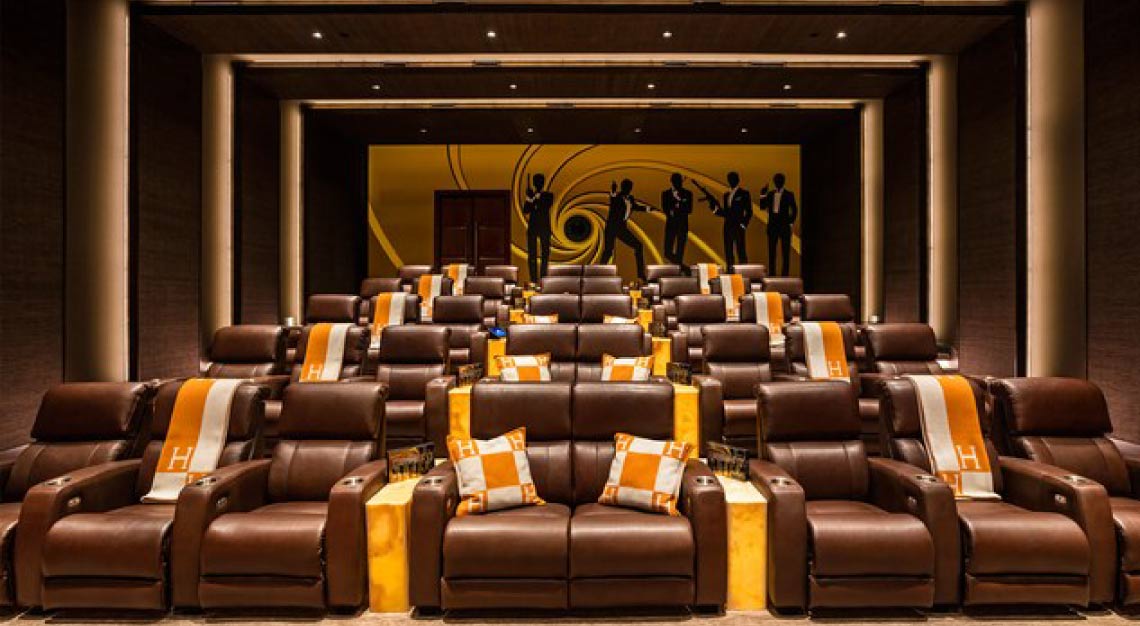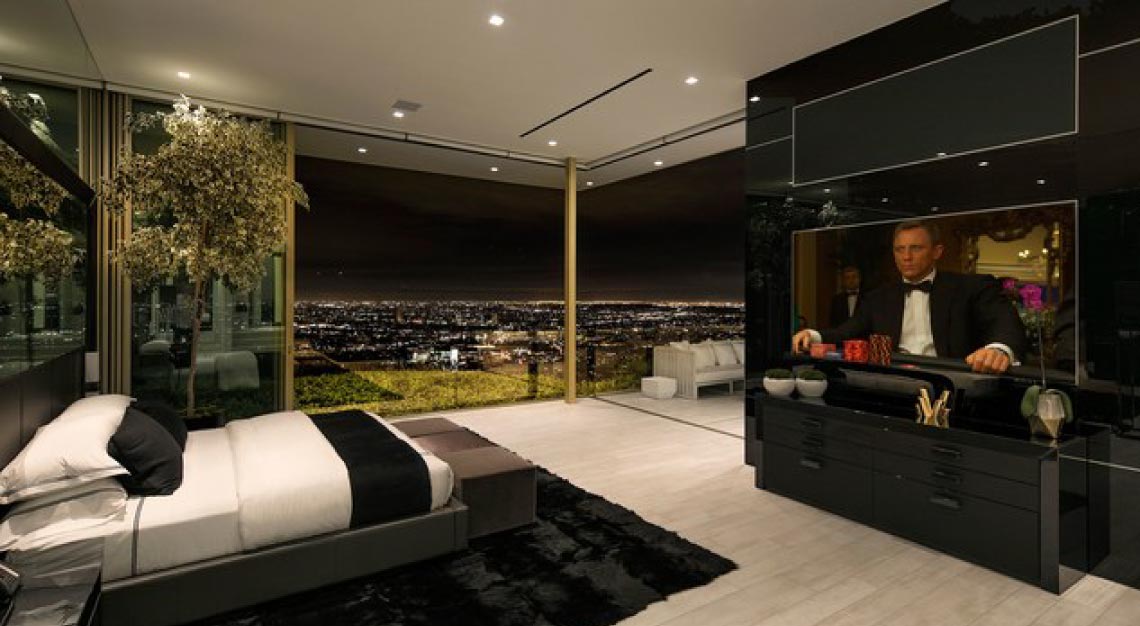 The ONE, California, The USA
How much: US$500 million (S$691 million)
What about: The paint is still drying, and the final landscaping is going in. But the world's first giga-mansion – The ONE on a Bel-Air hilltop – is finally nearing completion. What hasn't changed is that eye-watering price tag. What that impressive sum will buy you is a 9,290-sqm, 20-bedroom compound perched high above Bel Air on four acres, with spectacular 360-degree uninterrupted views. It's the creation of movie producer turned prolific real estate developer Nile Niami and architect Paul McClean, who have taken seven years to construct this ultimate spec-home. Among its multitude of jaw-dropping features; a 510-sqm master suite, 30 bathrooms, a 30-car auto 'gallery', five swimming pools, a 36-seat movie theatre, six-lane bowling alley, and naturally, a nightclub.