There's a new record for the world's most expensive hotel suite, and it's held by the Damien Hirst-designed Empathy Suite at Palms Casino Resort in Las Vegas
If you've ever stood in front of a Damien Hirst art piece and wondered what it must be like inside the artist's head, then here is your chance to officially find out. The British contemporary artist – famous for sensational, and often controversial, works like his animal carcasses suspended in vats of formaldehyde and glittering diamond-encrusted human skull – recently unveiled his Empathy Suite, an ultra-high-rolling addition to the Sky Villas collection at Las Vegas's Palms Casino Resort. This unique getaway isn't just a luxurious escape; there's also plenty of quirk to be found for mega fans of the artist.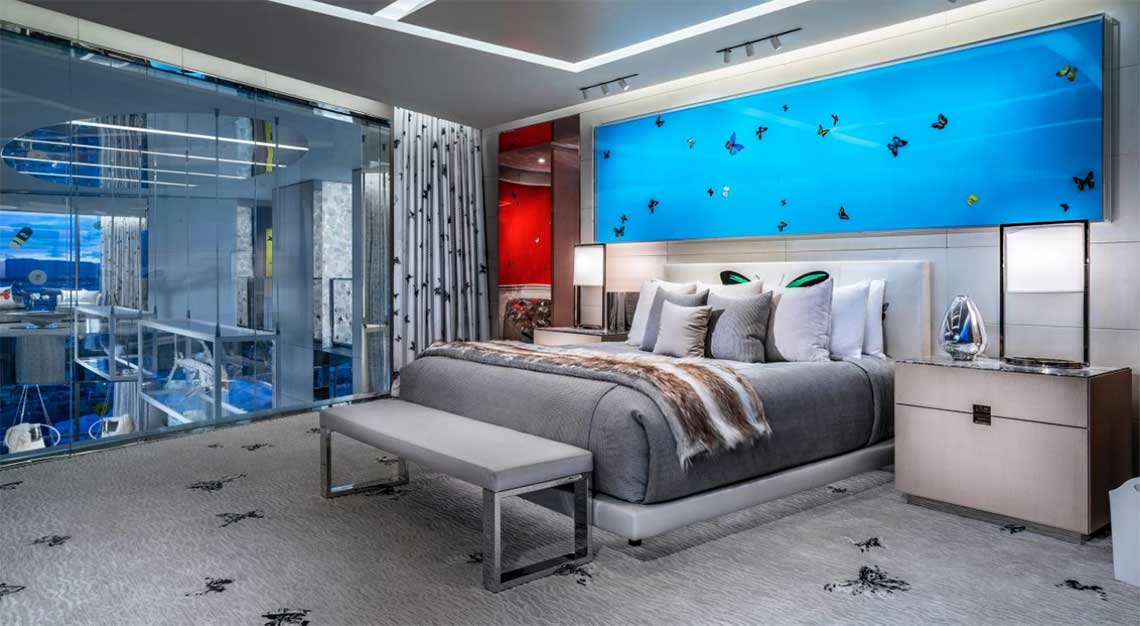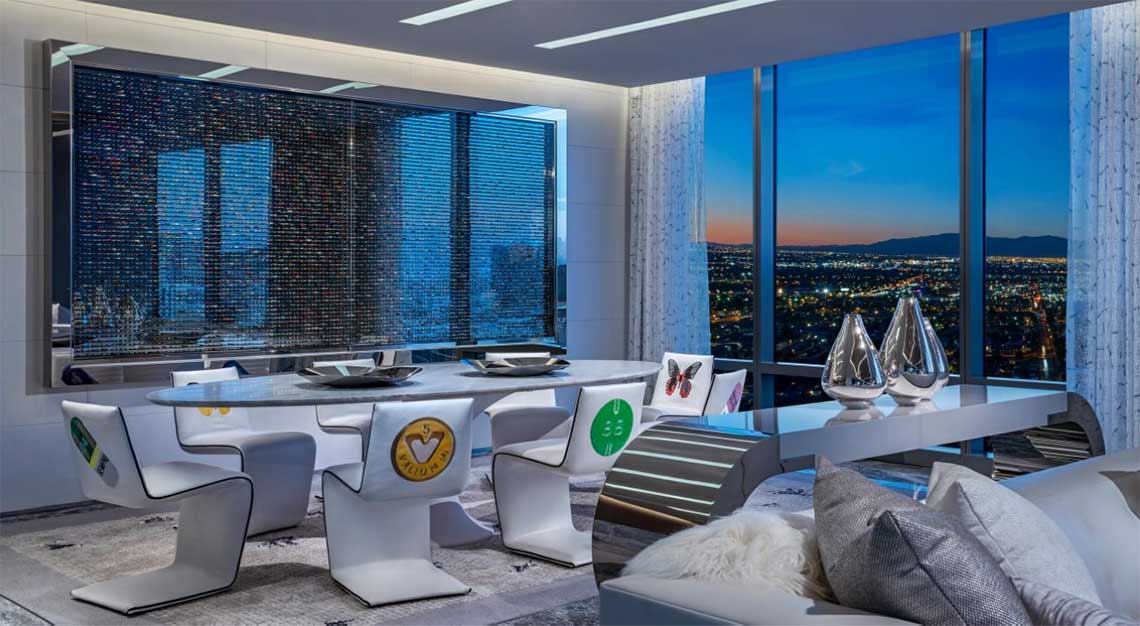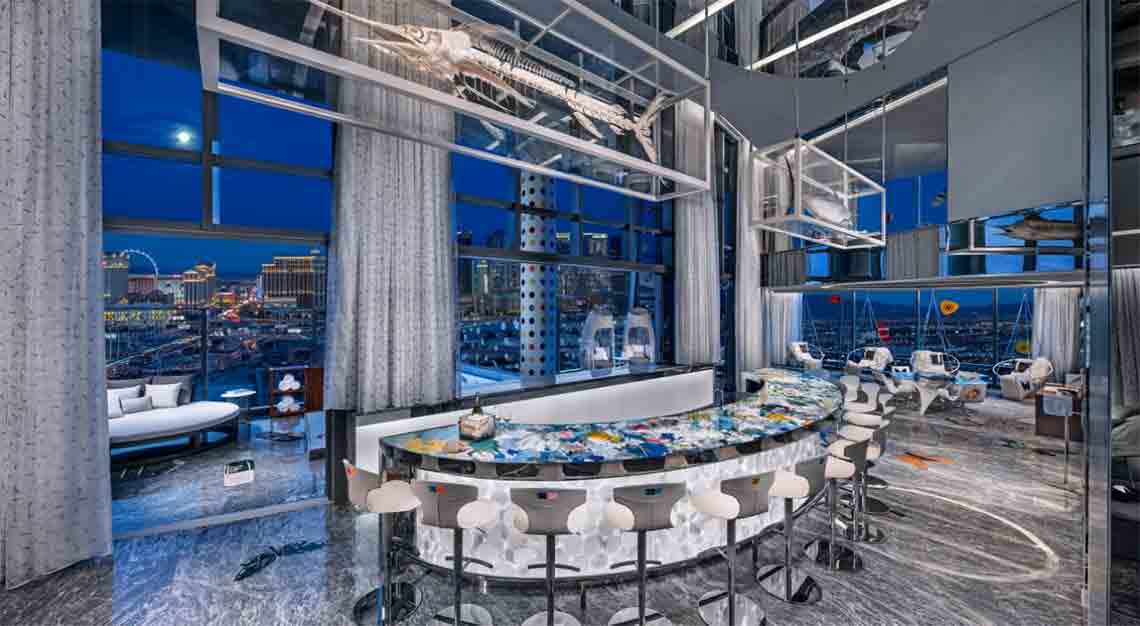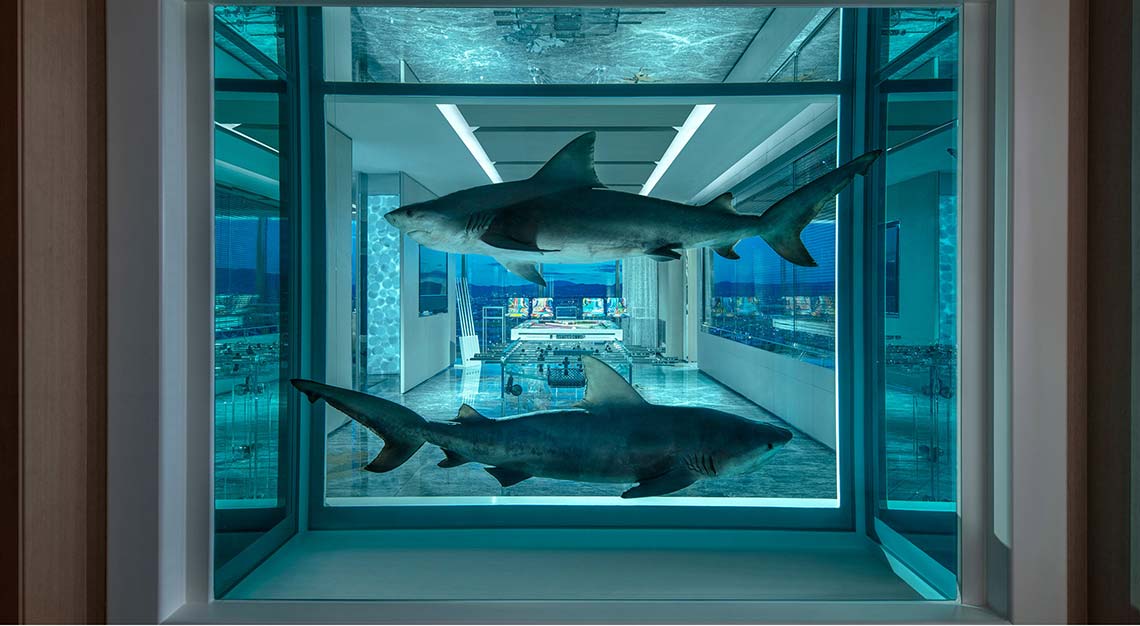 Anyone familiar with Hirst's work can imagine the details: medicine cabinets full of pills, kaleidoscopes of butterflies, dead animals. Yes, it's all there in the 9,000-square-foot suite, which makes its official debut today. And this being Vegas (not to mention Hirst), it's done in the most over-the-top way imaginable. Winner/Loser, a pair of sharks suspended in a formaldehyde-filled tank, has been set into a wall in the living room; a medicine cabinet called Vegas and dotted with diamonds graces the entry; and a ten-panel spread of the artist's butterfly motifs on gloss-painted canvasses easily place the value of the suite's art collection in the eight figures.
But Hirst didn't just toss a bunch of his art into the room and call it a day. He chose every material, designed every furnishing, and conceived every detail – in collaboration with Bentel & Bentel Architects – down to the carpet and the drapes. The butterfly designs continue on the terrace, which features an infinity-edge plunge pool that cantilevers high above Sin City, and in the ultra-luxe bathroom, which is covered wall-to-wall and floor-to-ceiling with Venus Gray marble.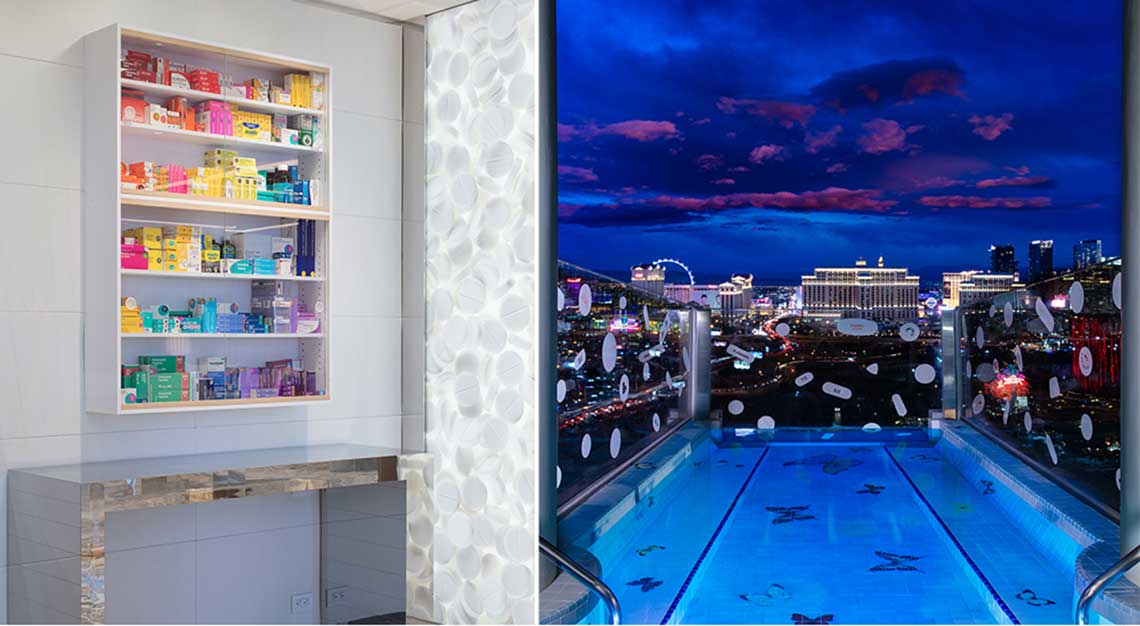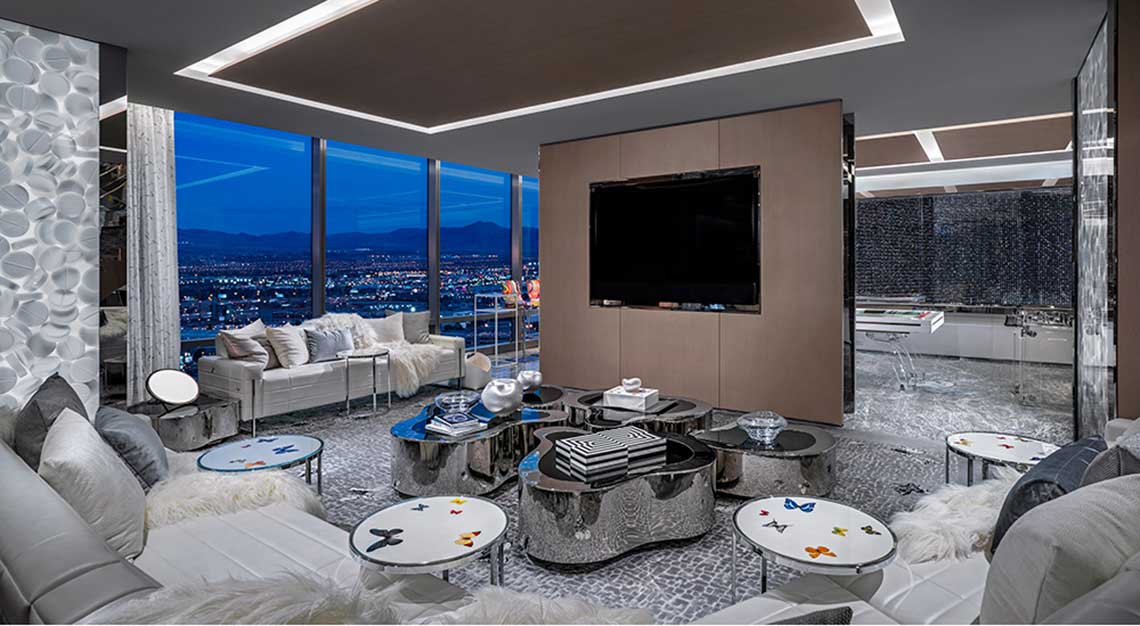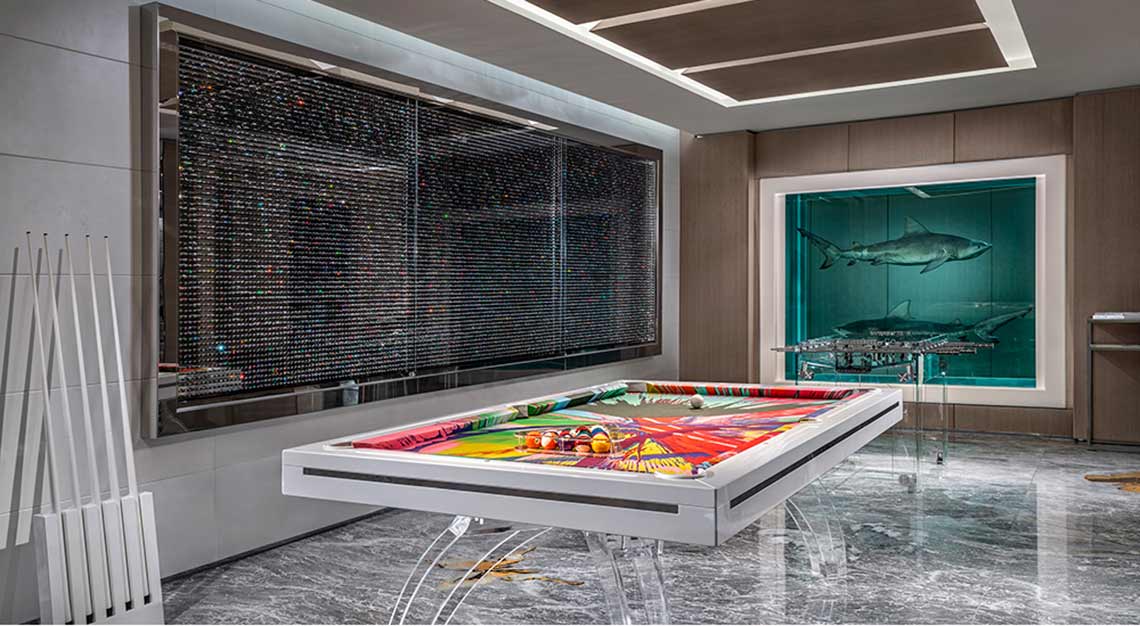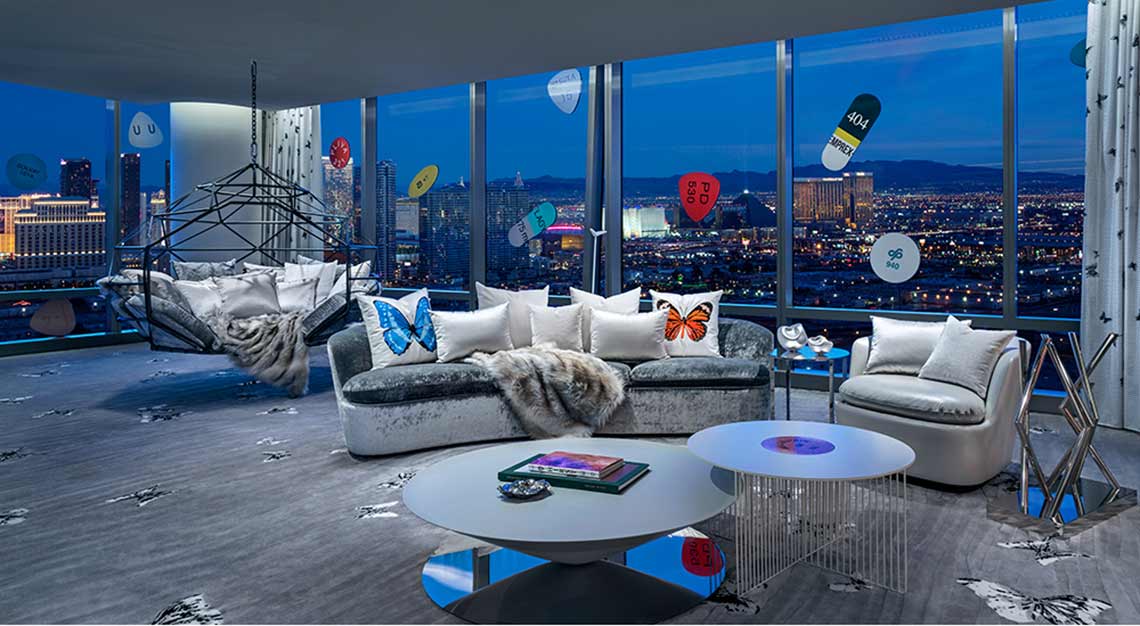 A 13-seat curved bar has been filled with medical waste – a nod to Hirst's early Medicine Cabinet series and an overt comment on our overmedicated modern society – and topped with Here for a Good Time, Not a Long Time, two vitrines containing a marlin skeleton and a taxidermy marlin. There are also Italian leather sofas draped, again, with Hirst's butterfly motif; a custom pool table covered in a replica of one of the artist's colourful spin paintings; and a movie theatre, where we suggest perhaps a screening of the art documentary The Price of Everything to put it all into perspective. Surprisingly, there's also a wellness theme (perhaps Hirst is on a health kick these days?) with a private healing salt room, two massage rooms, and a private fitness centre.
Hirst isn't just an artist, though. He's very much an entrepreneur – a fact that artworks like his mass-produced, yet no-less-high-priced spot paintings certainly attest to – and his partnership with the Palms has created North America's and, quite possibly, the world's most expensive suite. The rate – US$100,000 (S$135,610) per night with a two-night minimum – eclipses the Mark Hotel's Grand Penthouse in New York by an impressive US$25,000 (S$33,910) per night. There is one way around that price tag, though: Casino players with a US$1 million (S$1.35 million) line of credit at the resort can move in for free.