These incredible hotel bathrooms in Singapore are but a check-in away
There are plenty of ways to plan the perfect Valentine's Day for your better half. You can book a soothing massage for two, plan the perfect romantic dinner or even buy her a stunning gift. But this year, why not do things a little differently and indulge in a deep soak within a five-star bathroom with soaring views and luxury amenities? The best place to start is at these superstar hotels for a bath you simply won't forget.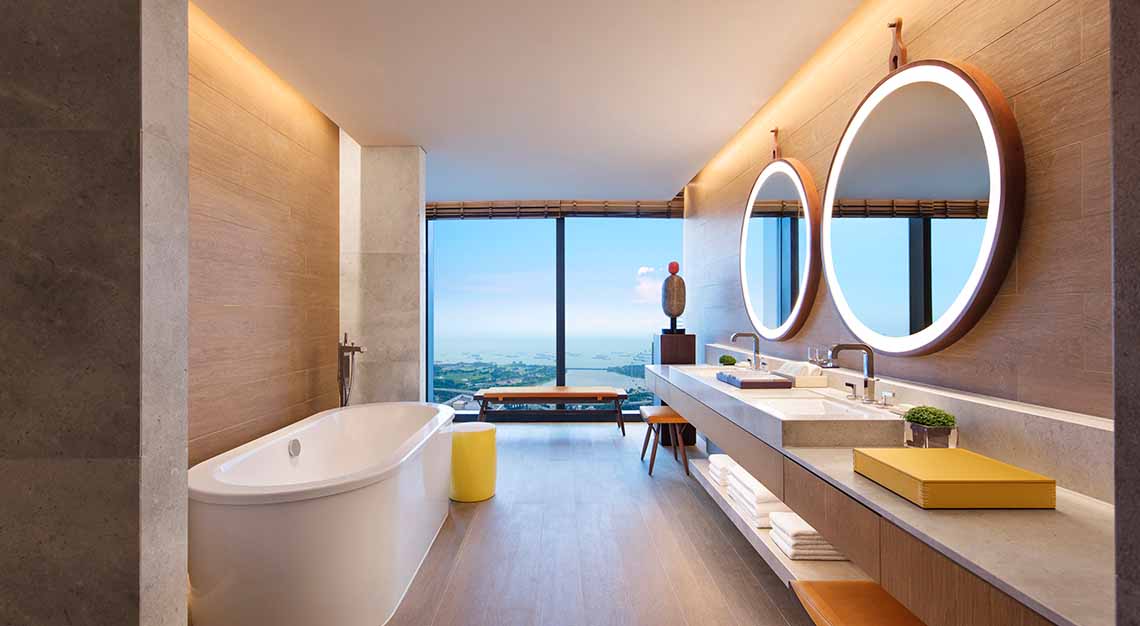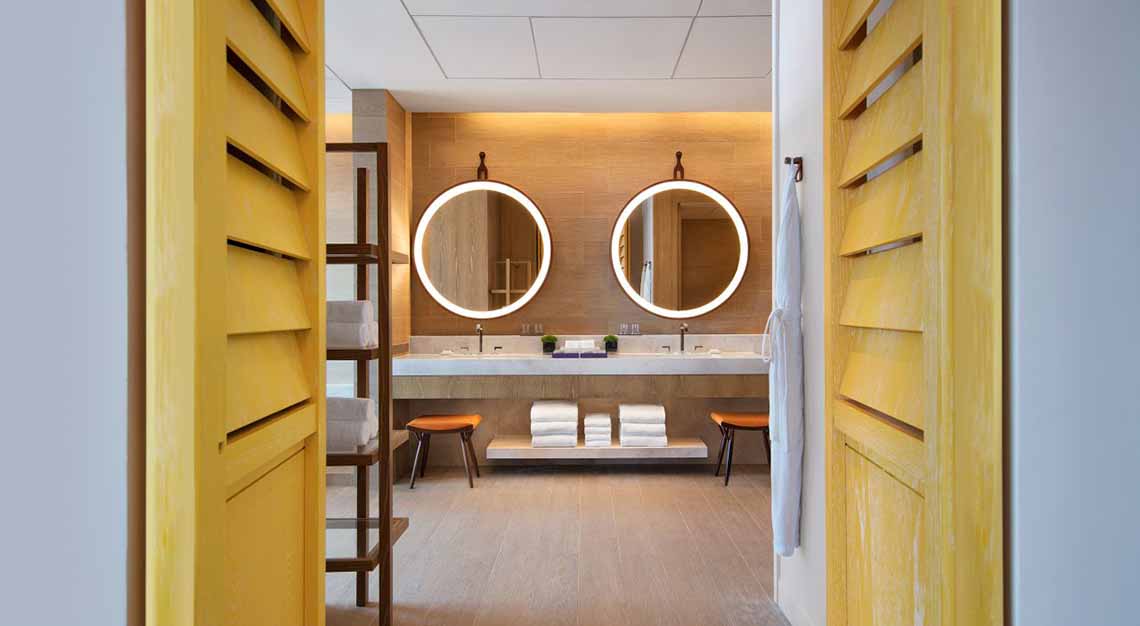 Andaz Singapore
The Presidential Suite bathroom at Andaz Singapore offers sensational harbour views from its white, standalone bathtub by Swiss brand Laufen, and the luxury bath products feature scents made exclusively for the hotel by perfumer Christophe Laudamiel. Our favourite is the Singapore Fusion #19, which Laudamiel based on his experiences with the flowers, trees and spices he encountered within the Kampong Glam neighbourhood. Should you want something a little cosier, the other rooms and suites will work just fine. Looking for a place to dine? 665 serves some good ole steak.
Andaz Singapore
5 Fraser Street
Singapore 189354
Tel: +65 6408 1234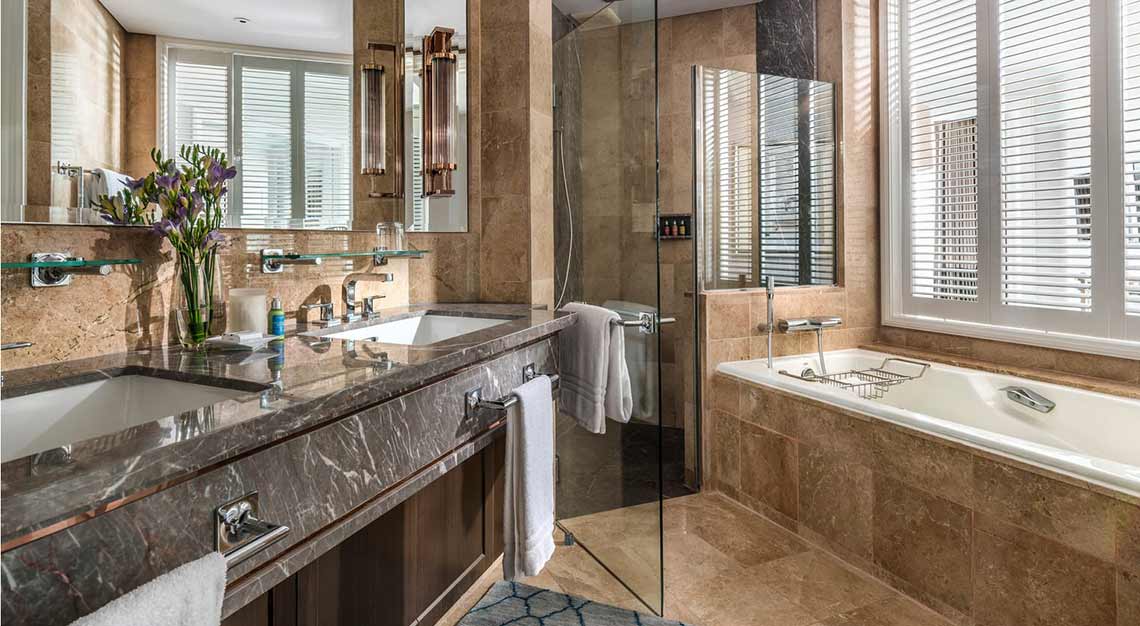 Four Seasons Hotel Singapore
The deep-soaking tubs at the Four Seasons Hotel Singapore are perfect for turning up the romance after a romantic dinner at one of the many restaurants in Orchard Road. Set the mood with lighted, magnifying mirrors and opulent marble furnishings, and then enjoy a lavish soak with L'occitane products. While not all bathtubs come with a view, the soothing interior tones of pink and brown will help set the mood right. There are also double vanity units in all the suites, so you don't have to share.
Four Seasons Hotel Singapore
190 Orchard Boulevard
Singapore 248646
Tel: +65 6734 1110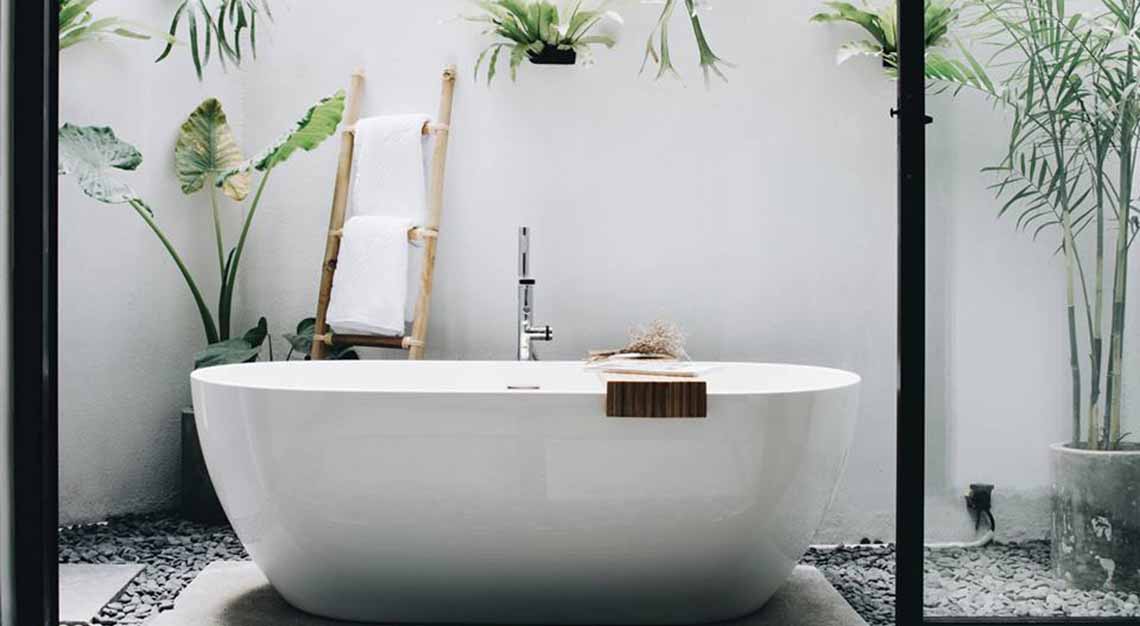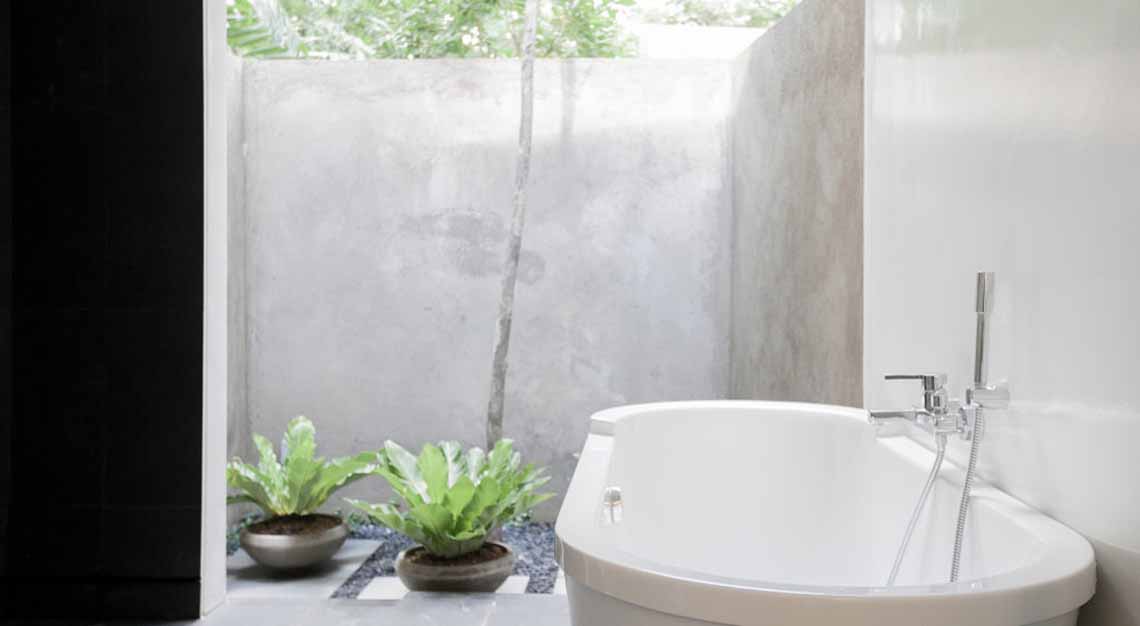 Lloyd's Inn
Minimalism is at the heart of this boutique hotel, which is said to have one of the most relaxing outdoor bathrooms on the island. Each room and suite has a private outdoor area that contains a large white tub, an adjoining shower and soothing, natural stone settings. Morning bathers will enjoy plenty of sunshine and the sound of birds chirping while night bathers can wind down under the twinkling starlight. Every room with a bathtub at Lloyd's Inn comes with a wooden caddy to hold room service delights.
Lloyd's Inn
2 Lloyd Road
Singapore 239091
Tel: +65 6737 7309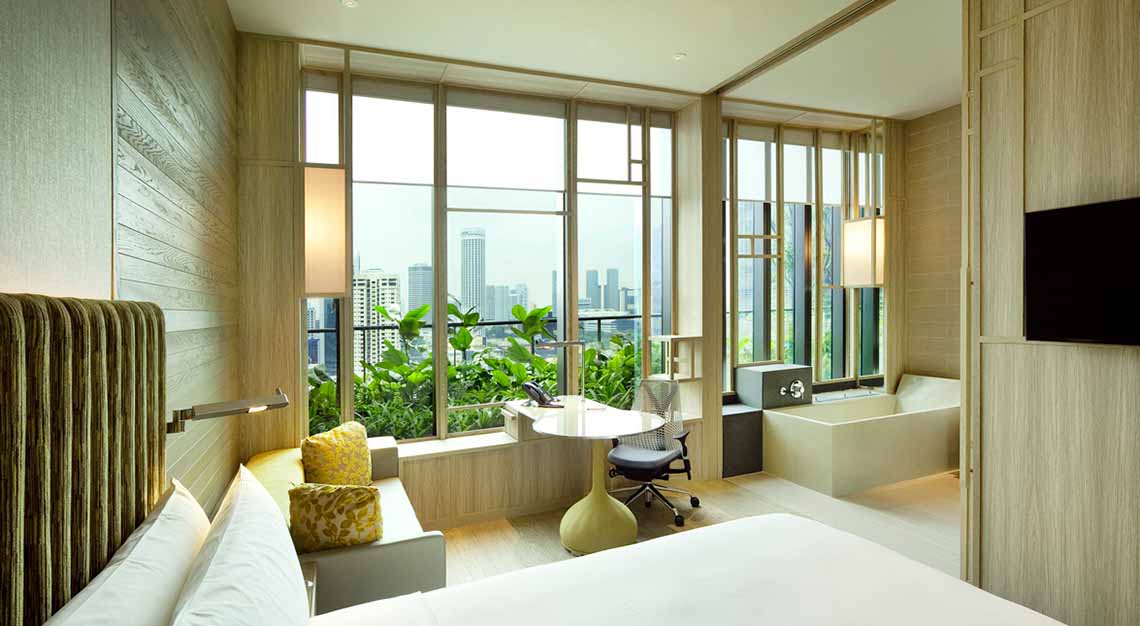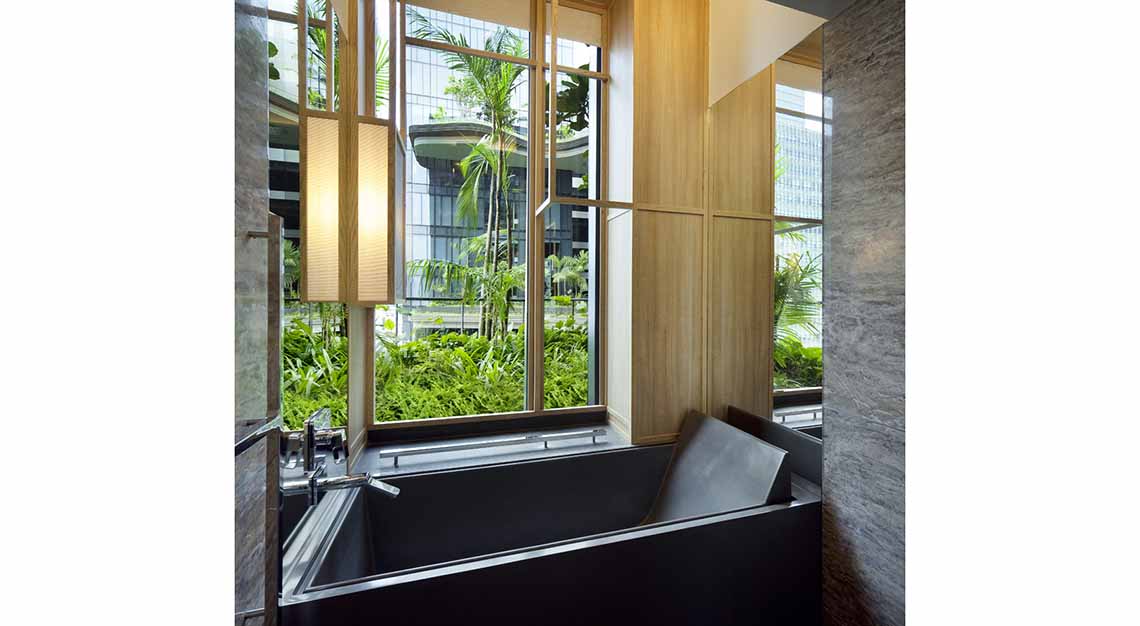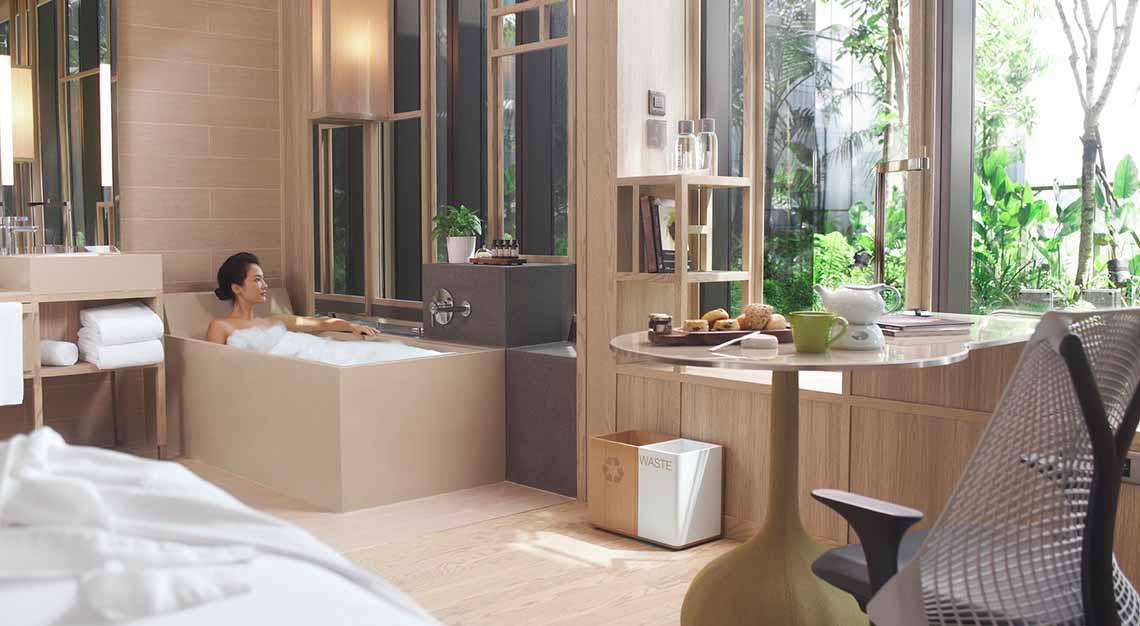 Parkroyal On Pickering
It's no secret that Parkroyal on Pickering is one of the island's most sustainable hotels, and this extends to its bathtubs, too, which are made from recycled composite granite. Carefully shaped to recline at an angle, it allows you to lean back comfortably without worrying about overflowing water. The tub sits within each open-plan bedroom next to windows that are bordered by plant life, allowing you to peep at views of Chinatown and Hong Lim Park while lathering up with Elemis products.
Parkroyal On Pickering
Upper Pickering Street
Singapore 058289
Tel: +65 6809 8888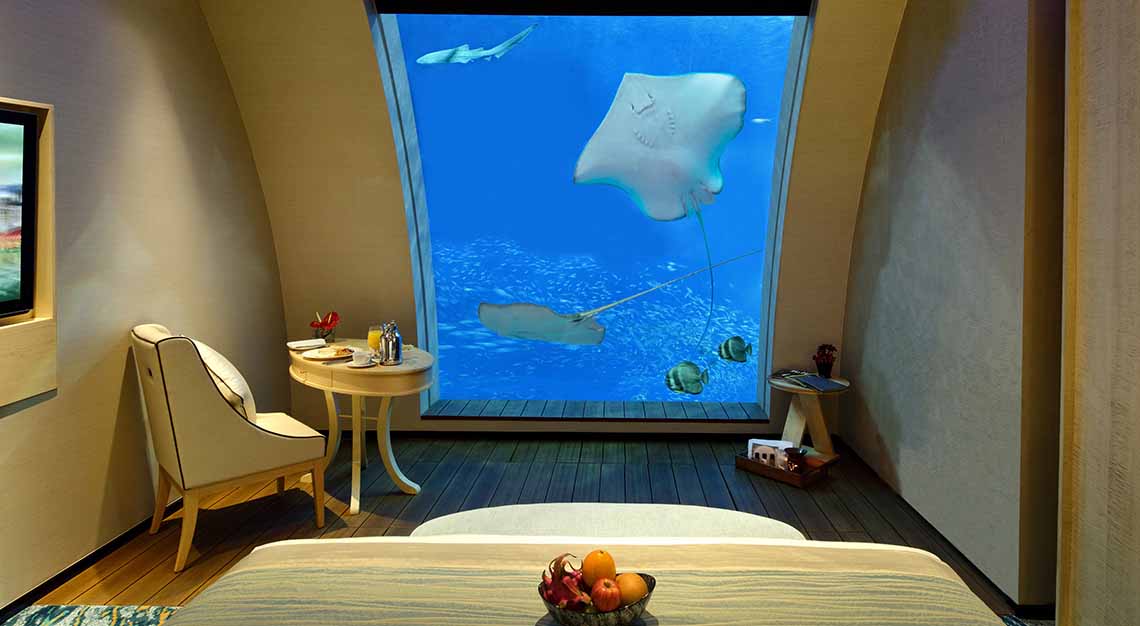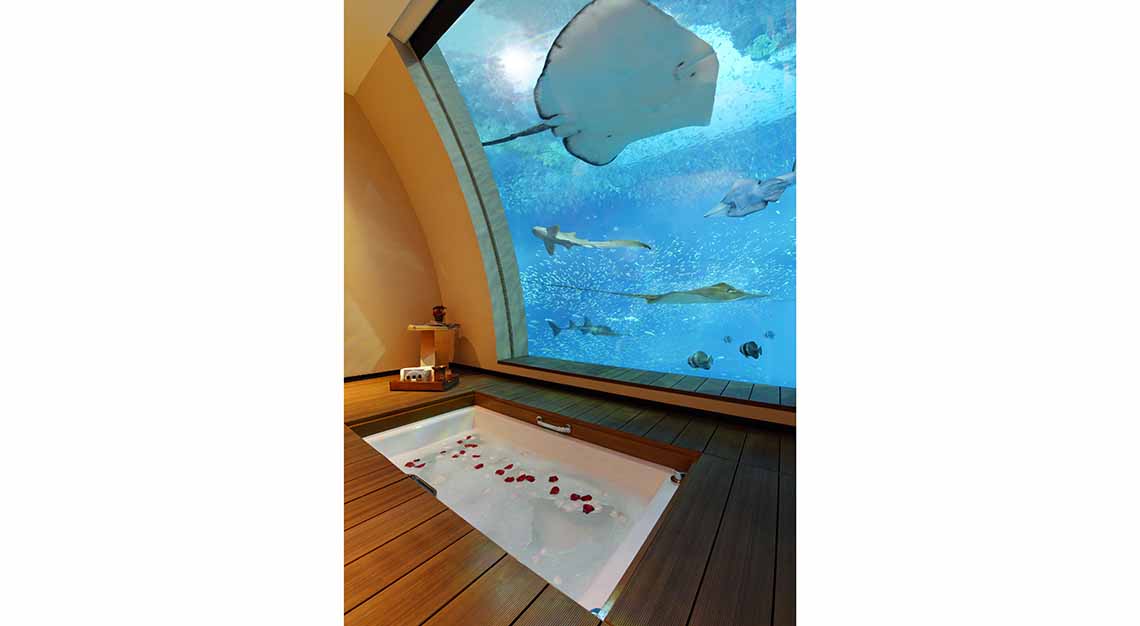 Resorts World Sentosa
Of the six uniquely themed hotel options at Resorts World Sentosa, choose the Ocean Suites for the ultimate underwater experience. Located on the side of one of the world's biggest aquariums, the suites offer an astonishing underwater view of more than 40,000 marine animals. The bed and bathroom sit on the lower deck, and the tub sinks into the wooden floor at the foot of the bed, with a floor-to-ceiling acrylic panel for an immersive, soothing experience.
Resorts World Sentosa
8 Sentosa Gateway
Sentosa Island
Singapore 098269
Tel: +65 6577 8899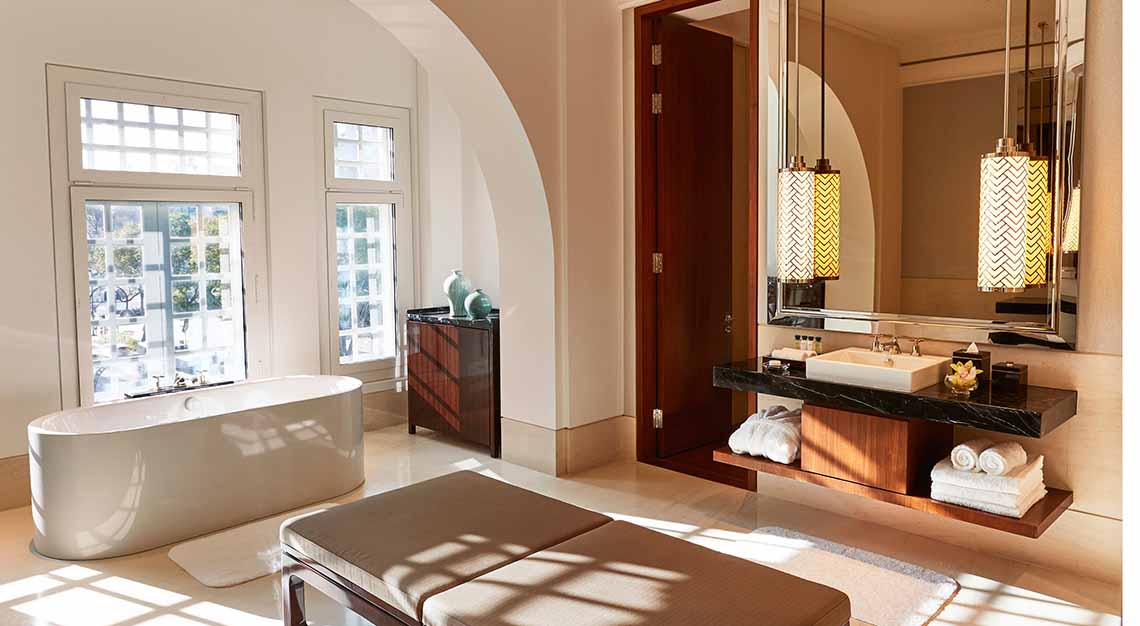 The Capitol Kempinski Hotel Singapore
Its Heritage Suite bathroom comes with colonial art deco themes and Victorian aesthetics with high ceilings and dramatic archways. A huge, freestanding Kaldewei tub sits under grand arched windows that overlook the gardens. Made from steel enamel with an oval contour, the anti-slip tub has an easy-to-clean surface that doesn't retain water or soap residue once you're done with your bath. There's also a walk-in wardrobe within the bathroom, making it easy to dress after.
The Capitol Kempinski Hotel Singapore
15 Stamford Road
Singapore 178906
Tel: +65 6368 8888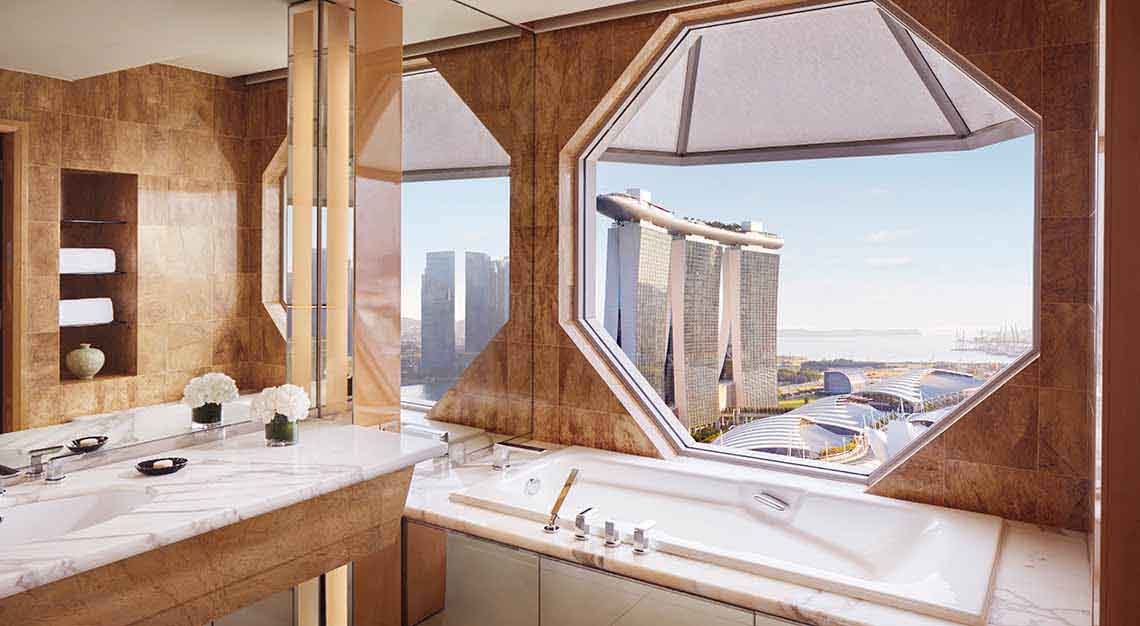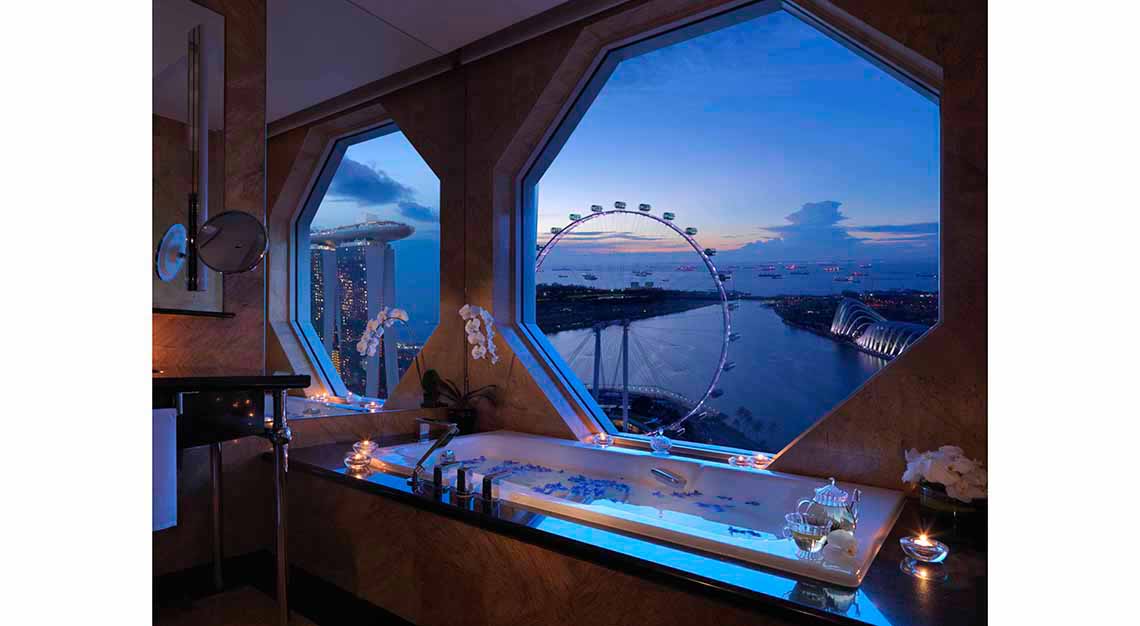 The Ritz-Carlton, Millenia Singapore
Arguably one of Singapore's most luxurious bathrooms, the Ritz Suite contains a two-metre-long marble Jacuzzi tub, marbled walls, double-sinks, a leather ottoman, automated bidet as well as a separate shower stall-cum-steam room. The curated menu of butler-drawn baths here are impressive, too, and includes the Jet Lag Bath featuring hot ginger and seaweed, Gentleman's Bath with musk and cedarwood as well as a romantic Rose Bath for couples. But if you really want to go luxe, opt for the Champagne Bath, where 135 litres of Moet & Chandon are poured into your tub – this is said to be good for your skin, as Champagne protects collagen from enduring oxidative damage while exfoliating skin at the same time. You'll also get a bottle of vintage Dom Perignon to sip on while the magic happens. Aren't able to book it? Its other rooms and suites also feature tubs with the same gorgeous view. And yes, a spa treatment while there is a must.
The Ritz-Carlton, Millenia Singapore
7 Raffles Avenue
Singapore 039799
Tel: +6563378888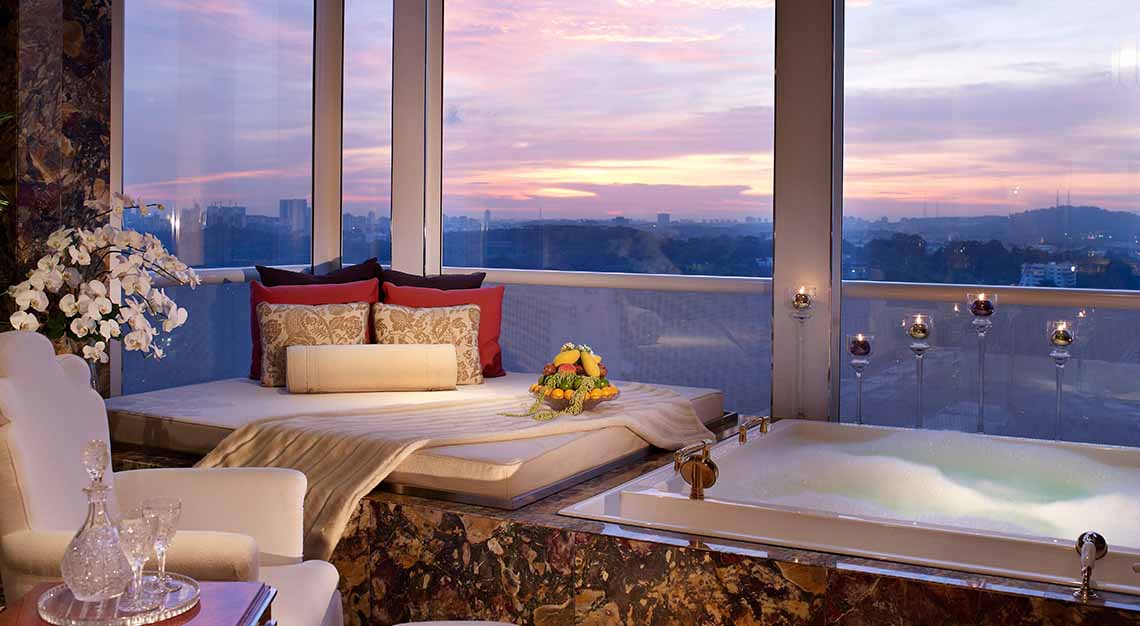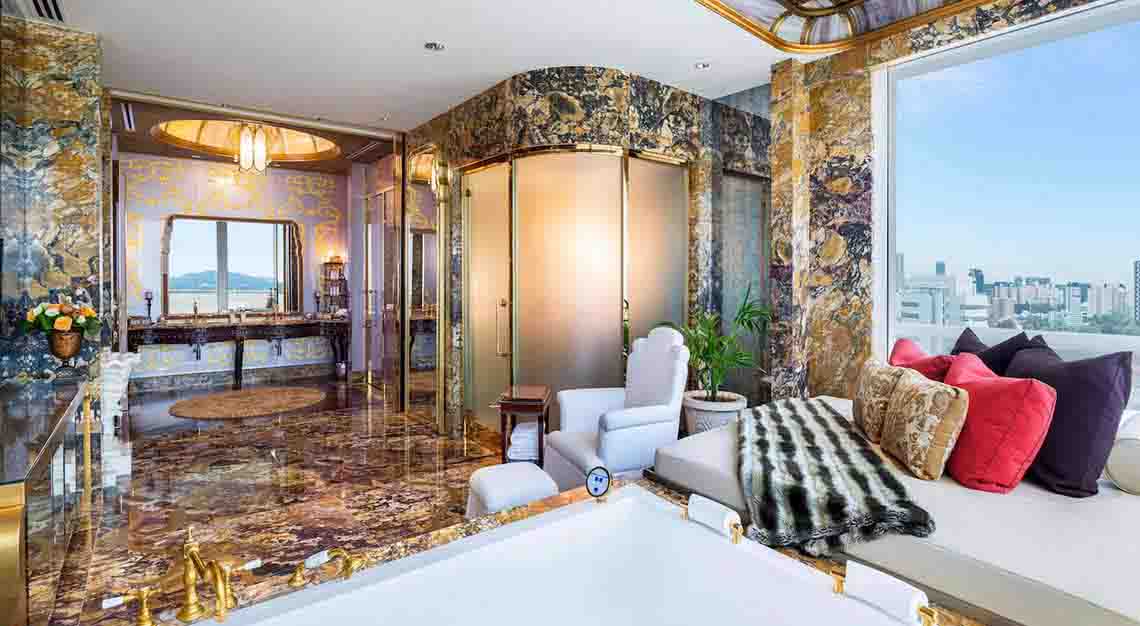 The St. Regis Singapore
Each bathroom at The St. Regis Singapore already comes with freestanding tubs, a self-defogging mirror, double basins, jet massage showers and a television, but the hotel's Presidential Suite takes things to a whole new level. Here, expect French Brechede Benou marble decor, a Jacuzzi-style tub, private steam room and an in-bathroom divan. Enjoy panoramic views of the city as you soak or unwind with your favourite shows on the 42-inch LCD television.
The St. Regis Singapore
29 Tanglin Road
Singapore 247911
Tel: +65 6506 6888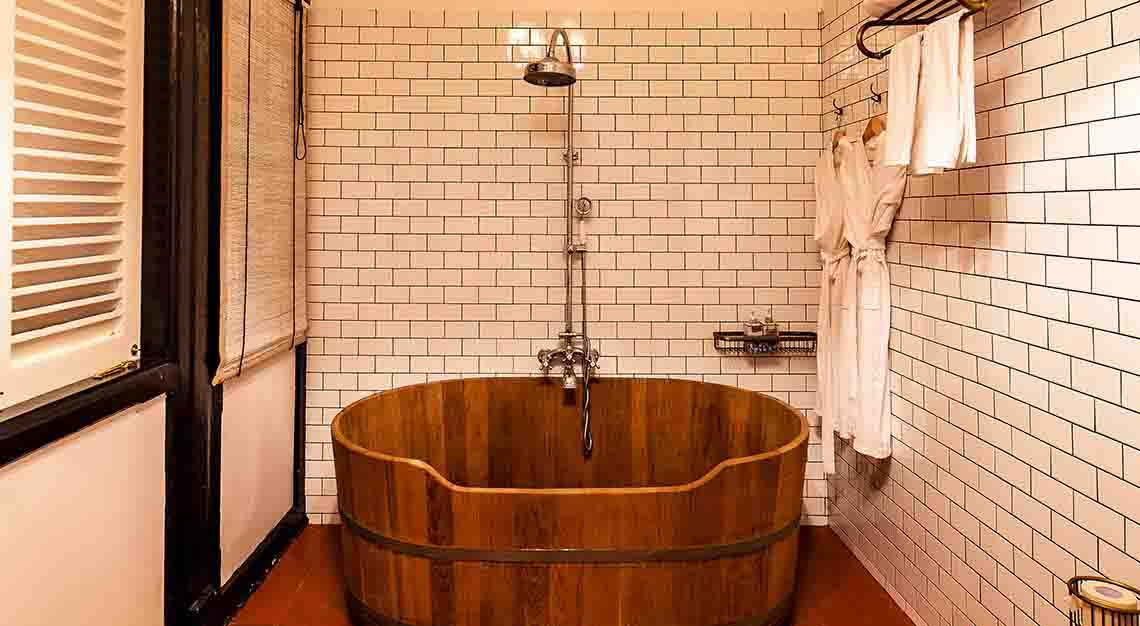 Villa Samadhi Singapore
The bathing quarters within this luxury boutique hotel's Crib rooms are designed with old Malayan charm and Singapore's colonial past in mind. White ceramic tiles are placed alongside rustic recycled wood and cement flooring, while shutter windows overlook the gorgeous lush nature reserve. Of course, the centrepiece is a vintage-inspired wooden tub, handcrafted in Kuala Lumpur, that naturally exudes a soothing aroma when filled with water. If you're in a rush, use its rain shower instead.
Villa Samadhi Singapore
20 Labrador Villa Road
Singapore 119193
Tel: +65 6274 5674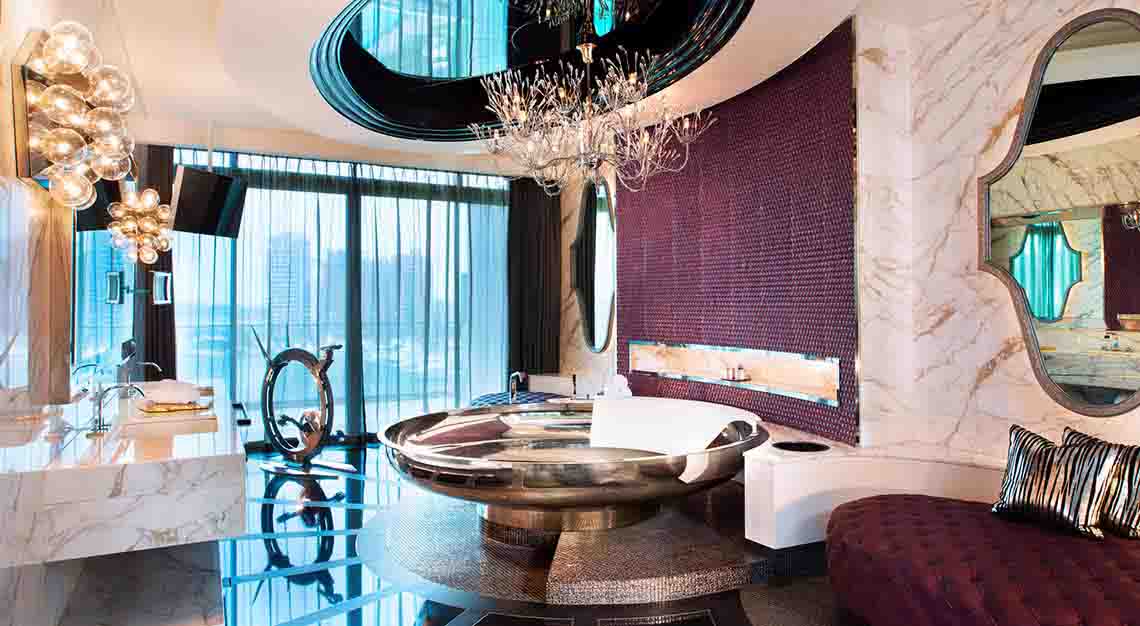 W Singapore Sentosa Cove
The W is known for loud luxury and its WOW Suite is the ultimate Vegas-style bathroom celebration. It's adorned with modern artwork, purple velvet sofas and icy marble walls, and a huge stainless steel oval tub sits under a grand chandelier. On one side, glass doors slide open to reveal a balcony that faces Sentosa's lively coastal setting. On the other, a frosted glass partition unveils the adjacent master bedroom, which has a private DJ booth that's fitted with two turntables and powerful Bang & Olufsen speakers so you can enjoy your music as you soak.
W Singapore Sentosa Cove
21 Ocean Way
Singapore 098374
Tel: +65 6808 7288