From beach resorts to skyscraper city hotels, put on your swimsuit, enjoy an incredible soak (and swim) with a stunning view to boot and watch the world go by
When it comes to luxury hotel stays, more likely than not, the pool is the number one attraction… for your camera phone. After all, research has down that the colour blue is at least 20 per cent more popular than other colours on Instagram, ensuring you the most amount of likes per post. All over the world from busy metropolis to breezy beachfronts, five-star accommodations strive to provide the most beautiful backdrops and exquisite swim experiences.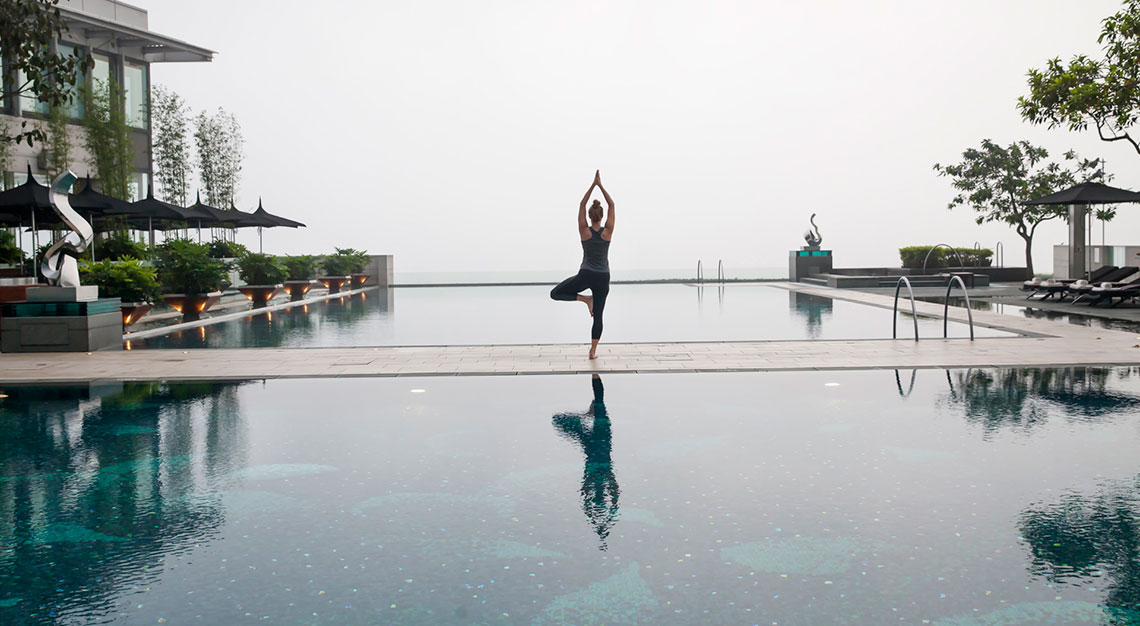 Four Seasons Hotel Hong Kong
Hong Kong may be a cluster of madness, but zoom up to the Four Seasons hotel and you'll find an oasis of calm in one of its two outdoor pools. The main infinity pool spills over the edge of the roof-deck with city and harbour views, while classical music pumps from underwater speakers below. Then there's the lap pool for those who want to get some exercise in, with a whirlpool at the end for reward. If you've ever questioned devoting an entire day to a pool, then question no more. Thanks to an adjacent bar and restaurant there is no need to venture downstairs at all.
Four Seasons Hotel Hong Kong
8 Finance Street
Central
Hong Kong
Tel: +852 3196 8888
Grace Santorini
Santorini is easily one of the most romantic destinations in the world, thanks to its serene landscapes and quaint blue-roofed buildings. With romance comes luxury accommodation and Grace certainly delivers in terms of facilities, namely its heated infinity pool. It's the largest of its kind on the entire Greek Island and waters flow over the famous Caldera, a half-moon shape bay of rock formations by the clear Aegean Sea. You'll sip bubbles, enjoy warm sunsets and fall in love with this gorgeous setting upon arrival.
Grace Santorini
Imerovigli
Santorini, 84700
Greece
Tel: +30 22 8602 1300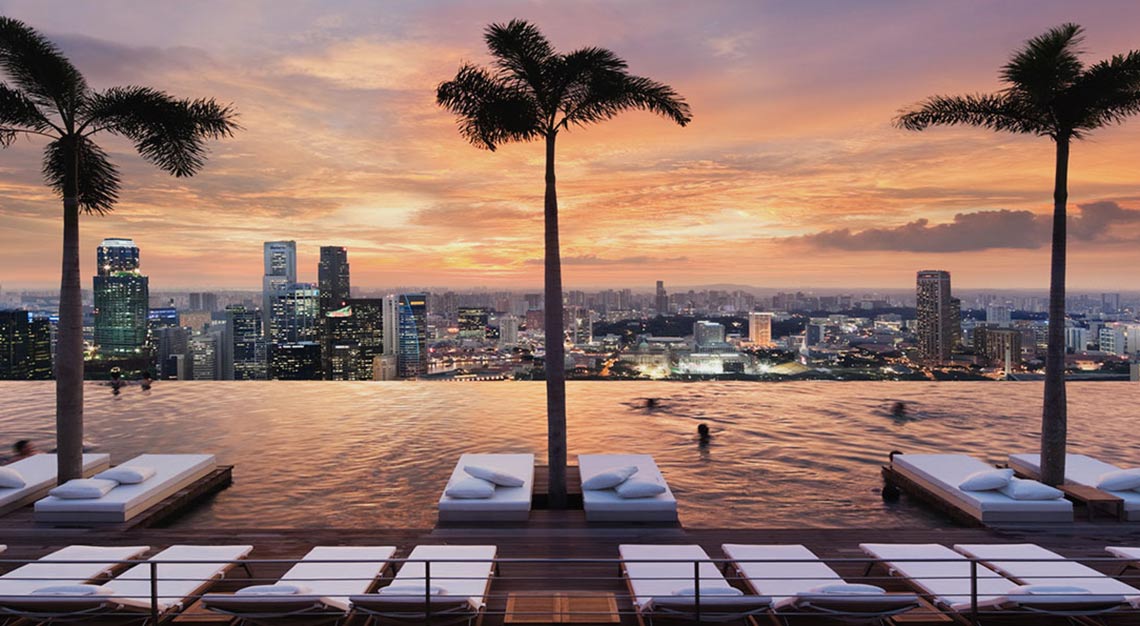 Marina Bay Sands, Singapore
No pool list is complete without a shout out to our very own Marina Bay Sands. The national treasure and icon boasts the world's largest rooftop infinity pool, 57 levels above ground level, so expect the best views in the city. It's one of the most photographed locations in the world, and with the success of blockbuster Crazy Rich Asians, which used MBS as a key backdrop of the movie at the end of the movie, things are about to get even snappier.
Marina Bay Sands
10 Bayfront Ave
Singapore 018956
Tel: +65 6688 8868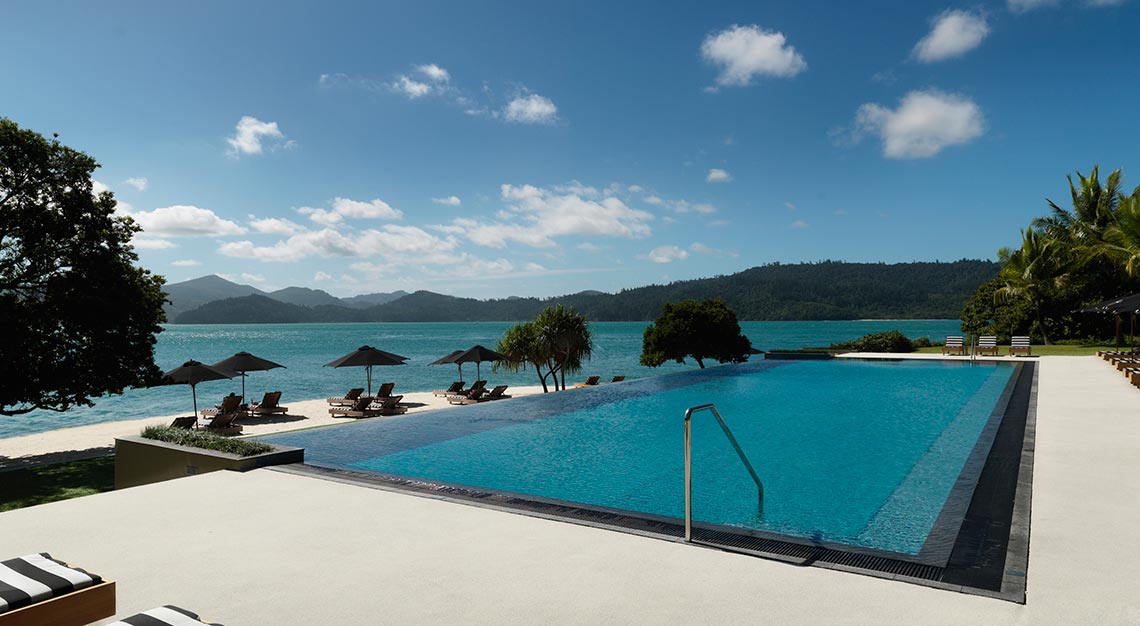 Qualia, Hamilton Island
Qualia (pronounced kwah-lee-ah) is an exclusive resort on the secluded northern tip of Hamilton Island in Australia. Expect total relaxation, a true sensory indulgence, and zen-style peace and quiet — children under 16 aren't allowed on the resort. The infinity pool is climate controlled for perfect temperatures through all seasons, with clear views of the Coral Sea and white sands of the Whitsunday Islands. Hamilton Island is renowned for excellent local wine too, which is available from the full poolside bar.
Qualia
Great Barrier Reef
20 Whitsunday Boulevard
Hamilton Island
Queensland 4803
Australia
Tel: +61 7 4948 9222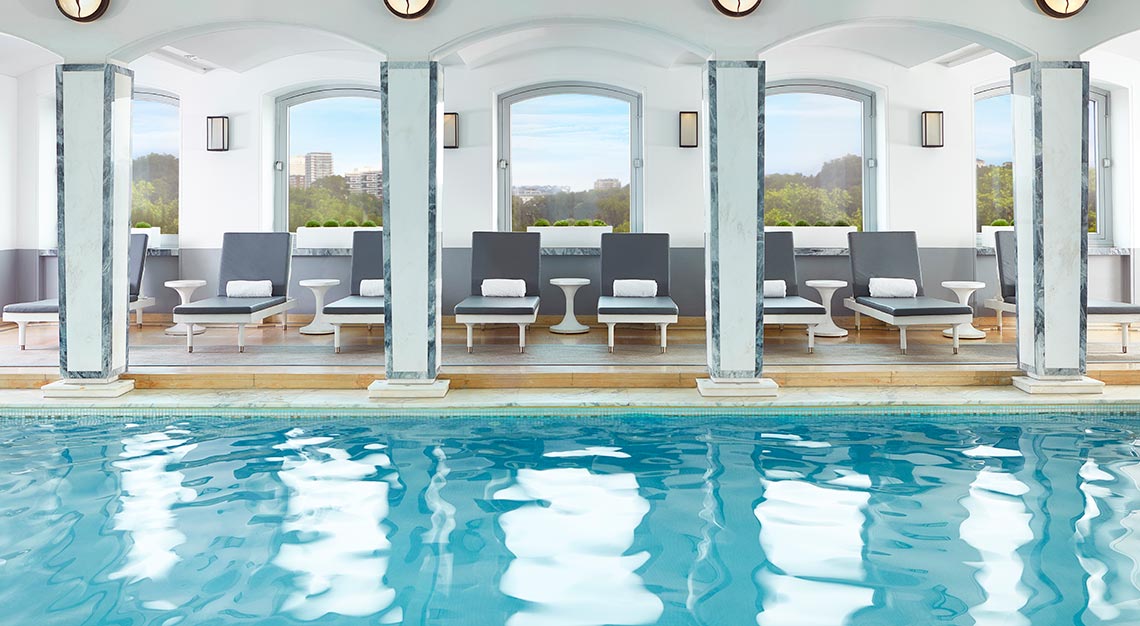 The Berkeley, London
It's always reassuring when you're in close proximity to fine British shopping establishments such as Harrods and Harvey Nichols, so The Berkeley's seventh-floor swimming pool will bring an air of calm and sophistication to your trip. The temple-like pool is adorned with white and gold mosaic tiling, with arched windows framing the boutique rooftops and Hyde Park greenery. Fluffy robes, luxury amenities and attentive staff add to the poolside experience.
The Berkeley
Wilton Place
Knightsbridge
London
SW1X 7RL
Tel: +44 (0) 20 7235 6000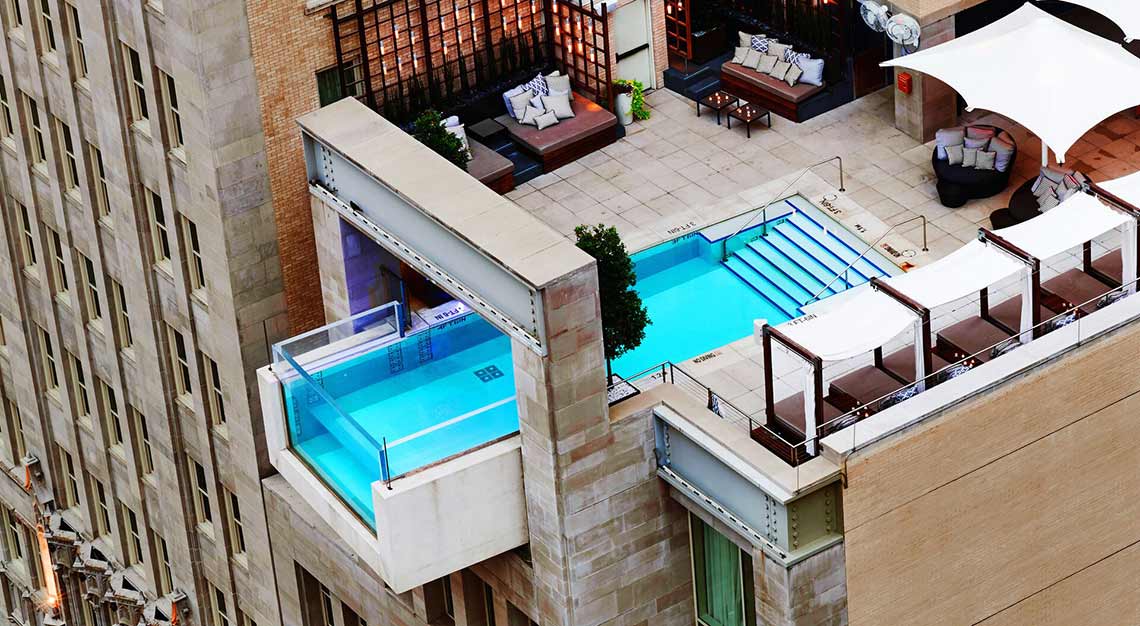 The Joule, Texas
Ever wondered how it feels to be in a human fish tank? We thought so. The Joule Dallas gives you the unique aquatic experience from its 8-ft heated cantilevered pool, giving you the sensation of swimming out beyond the hotel's edge. The Joule has a sleek modern design, and has been impressing Dallas darlings for years as a cultural epicentre of downtown.
The Joule
1530 Main Street
Dallas
Texas 75201
The US
Tel: +1 214 748 1300
The Norman, Tel Aviv
When you can't decide whether to hit the spa or the pool, the rooftop pool at The Norman takes out the fuss and lets you do both — you can order a massage from the comfort of your sun lounger. Come evening, when all that pampering leaves you too drained to make dinner plans downstairs, a gourmet meal and cocktails can also be delivered to your happy place. This infinity pool with top-notch service is the ultimate way to enjoy your day in luxury.
The Norman
Nahmani St 23-25
Tel Aviv-Yafo 6579441
Israel
Tel: +972 3 543 5555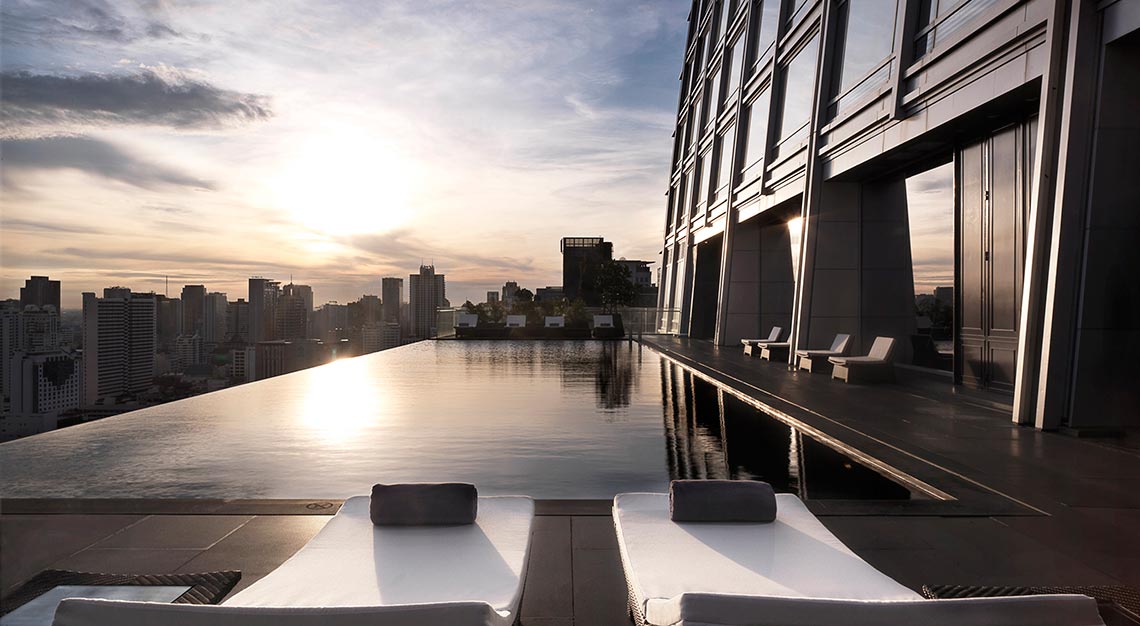 The Okura Prestige, Bangkok
Bangkok is fast becoming an international super city, and with high-risers popping up left, right and centre, standing out is a challenge for any building. A challenge met however, by The Okura Prestige whose 25th floor infinity pool offers sweeping views of the urban jungle and is widely heralded as the best spot to enjoy its views. It dramatically protrudes off the side of the hotel, so make sure your stomach can handle heights.
The Okura Prestige
Park Ventures Ecoplex
57 Wireless Road
Lumpini, Pathumwan
Bangkok 10330
Thailand
Tel: +66 (0) 2687 9000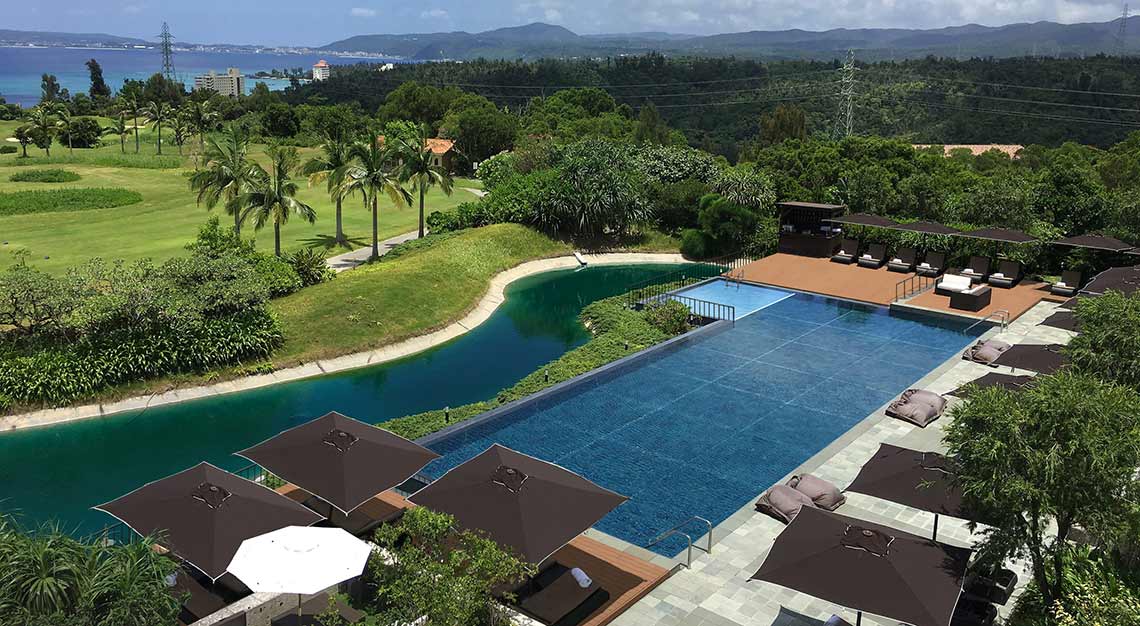 The Ritz-Carlton, Okinawa
For Japanese elite, Okinawa Island a go-to weekend getaway, bringing together tropical tastes and luxury experiences. The Ritz-Carlton, Okinawa resort has two pools; one indoor and one outdoor. If temperatures allow, opt for the outdoors waters. You'll do the backstroke beside the hotel's palm-tree lined private golf-course, by hilly greens under the year-round sunshine.
The Ritz-Carlton, Okinawa
1343-1 Kise
Nago
Okinawa 905-0026
Japan
Tel: +81 9 8043 5555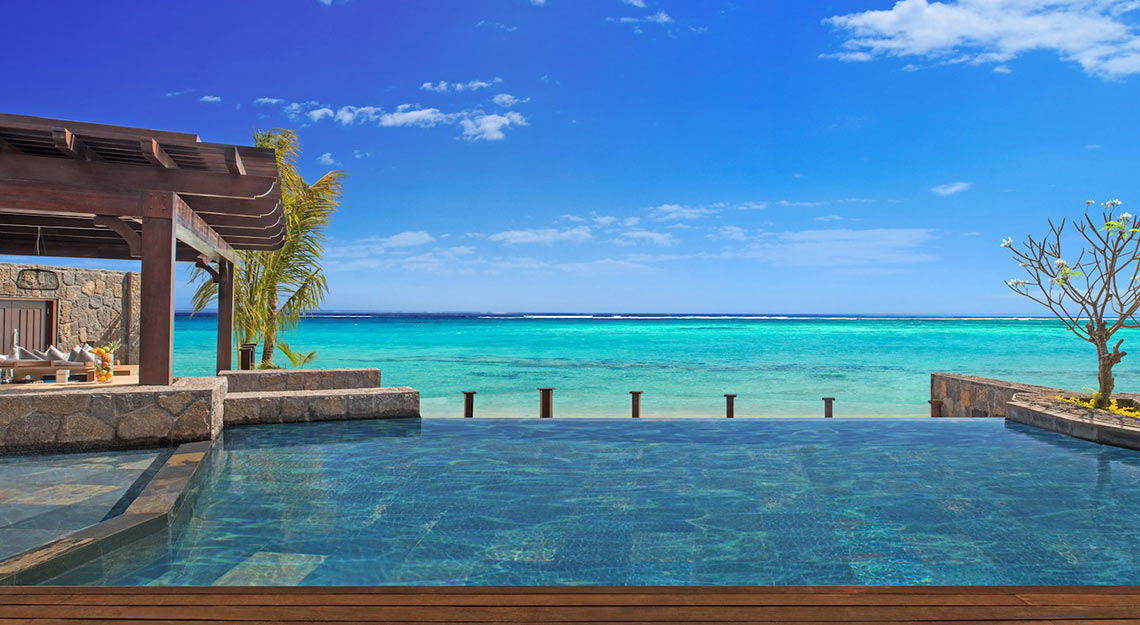 The St. Regis Mauritius Resort
The St. Regis Mauritius Resort exudes time-honoured luxury, with colonial design and opulent spaces. Check in to one of the exclusive villas for private infinity pools for the wow factor, including the St Regis Villa, which of course comes with 24-hour butler service for all poolside needs from pool party music to fresh fruit platters. It's what the Astor family would have approved of.
St Regis, Mauritius\
Le Morne Peninsula
Mauritius
Tel: +230 403 9000