Well Suited
The last time I had a suit tailored was more than a decade ago. I have found that I fit most off-the-rack suits well, with only minimal alterations necessary.
However, there comes a point when you crave the form-fitting perfection of a custom garment. Not to mention the indulgence that comes from having a craftsman lavish attention on you.
By coincidence, I learned that a new tailoring outfit had just been set up. They were called KayJen Dylan (KJD), an amalgam of Dylan Chong's studio – Dylan & Son – and Matthew Lai's Kay-Jen label.
Lai, who apprenticed under master tailor Thomas Wong, ran Kay-Jen up until 2016. But in 2017, he teamed up with Chong to start a new made-to-measure (MTM) line that would appeal to young professionals.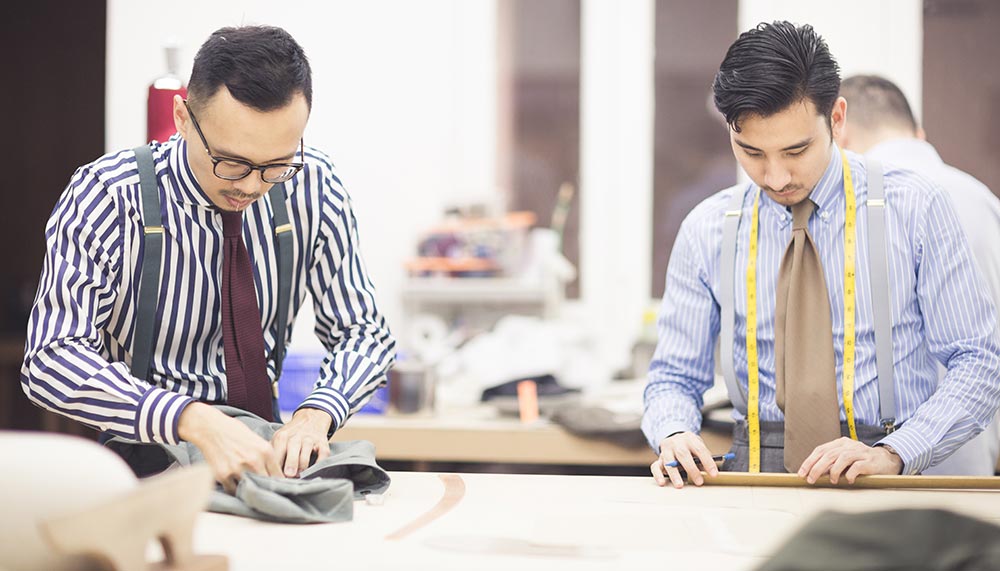 Admittedly, I found the partnership a little strange at first.
But then it dawned on me. Dylan & Son's bespoke suits are priced from $2,600 onwards, whereas KJD's MTM suits cost $1,500 and up. Lai would benefit from Dylan & Son's in-house workshop, a rarity among local tailors. The workshop comprises of an experienced team of cutters, pattern-makers and finishers. This allows both Dylan & Son and KJD to implement and maintain a certain level of quality. Meanwhile, Chong would be able to attract a new, wider clientele with a less expensive line.
Bespoke vs MTM
After a short consultation, Chong and Lai decreed that I was suitable for MTM. Apparently, they reasoned, I do not have a "challenging" frame that would require a bespoke suit to conceal or enhance.
Given my limited budget, this news was a godsend. But it also made me wonder how many criteria a customer needed to fulfil before such a decree is passed.
Lai explains, "We first make a visual observation. We can usually tell at this stage how good/bad a customer's posture is. Then we gauge the chest-waist-hip ratio, and the final deal is when we measure the collar height and armhole height. When the customer tries the fitting jacket on, any 'flaws' that he has would appear. It's then up to the customer's discretion whether he wants to continue with MTM or switch to bespoke.
"You only have a slight drop on your right shoulder of half an inch. The ratio of your chest, waist and hip is pretty standard. Your cross-front to cross-back (measurements across the chest and back) is pretty normal, as is your sleeve length. So we (only need to make adjustments) to the template."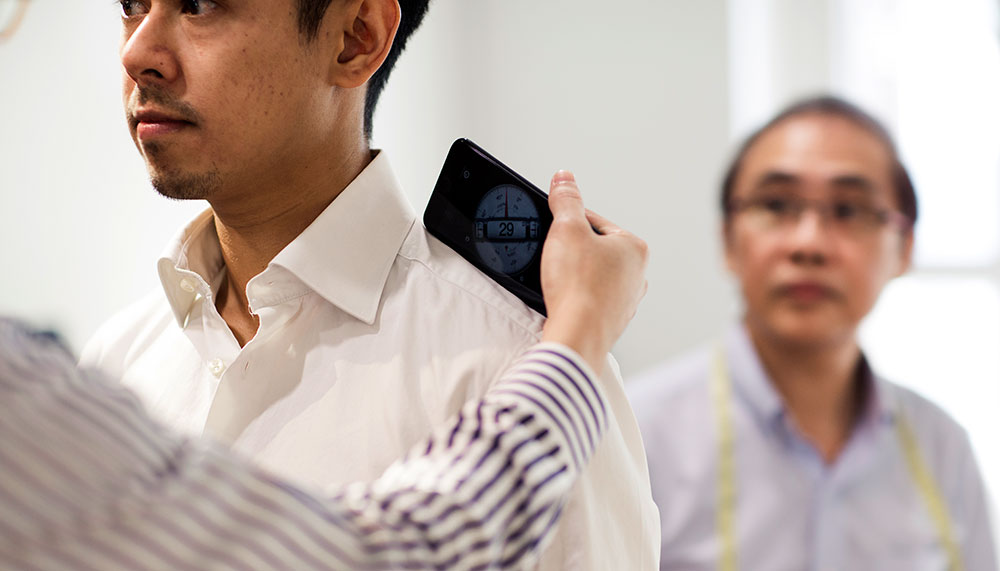 There are customers, Lai says, whose measurements are way off, so MTM would be a challenge. In such a case, Lai would recommend a bespoke suit.
One such customer, for example, has an ample chest. But his cross-front and cross-back measurements are small, meaning that he has a thick side. He is not overweight, however; it is just his body structure. Furthermore, his left and right sleeve length measurements are different, as are his shoulder and collar points.
Technically, says Lai, accommodating such a torso would be like drafting two different jackets.
Cut vs Fit
Would someone who is overweight be considered a challenge, then, I venture.
"No, we just have to cut a bigger size to make the jacket look nice," comes the reply. "What we find challenging is the balance of the body – the symmetry of left and right and front and back. Our job as tailors is to make garments that fit. So whether you're skinny or fat, we'll try our best to make the jacket fit and balance well on your body."
There is a difference between cut and fit, adds Lai. Fit refers to how well the garments fit on the body, whereas cut refers to the silhouette and how tailors distribute the measurements.
There are sharp or soft silhouettes, and the possibility of creating an illusion of a smaller waist, broader or narrower shoulders etc. Lai typically recommends a softer, Neapolitan-style silhouette because that is the house style.
Finally, are there commissions that KJD will not take?
"Yes, like if customers ask for cropped jackets, or jackets that are too tight, or sleeves that are so slim that when you flex, you can see your muscles," Lai replies. "We advise our customers that such jackets don't show that they're tailored. We encourage them to accept more fitted jackets."
So MTM it was for me.
My Suit
After mulling over a myriad fabric samples and some practical considerations, I opted for a two-piece, half-lined, single-breasted suit in a Prince of Wales fabric from Harrisons of Edinburgh.
Lai took 14 measurements for the jacket and seven for the trousers. "We go a bit more in-depth with our jackets compared to most tailors," he explains. "Trousers are quite straightforward, unless the customer has a nonstandard body shape."
Next came the design considerations.
"For your jacket, we'll do a notched lapel. Our house style is also to do a curved gorge line. It's a bit different from a straight gorge line; it frames the face better. We take inspiration from Neapolitan jackets, which always have curved gorge lines. In terms of buttons, we usually do a 'three-roll-two' (a jacket that features three buttonholes and three buttons, but with only the middle button intended to be used), which makes the lapel look nice. We do it because it forms a nice curve when the jacket is unbuttoned.
"I'll also give you four buttons on the sleeve, two vents in the back, slim shoulder pads, as well as a 3-and-3/4 inch-wide lapel, which is our house style. During the fitting, we can adjust it if you find it too wide."
Lai also proposed a shirt sleeve attachment for the jacket. This method of construction forms a small gather at the armhole joints, creating a soft silhouette. I was concerned about my sloping shoulders, but Lai reassured me that he would use shoulder pads to compensate.
For my trousers, he suggested a single pleat, 1-3/4-inch cuffed hems, side adjusters and an overlapped waistband. "And then we'll try to let the button sit in the middle so that it gives a nice line," says Lai.
Trial and Error
A month later, at the first fitting, I tried on a trial jacket to test the fit. Such garments are typically made of a lower quality fabric. This step was necessary because of the difficulty of matching the fabric's checked patterns, especially at the sleeve joins. If a customer chooses plain fabric, the actual fabric can be used straightaway.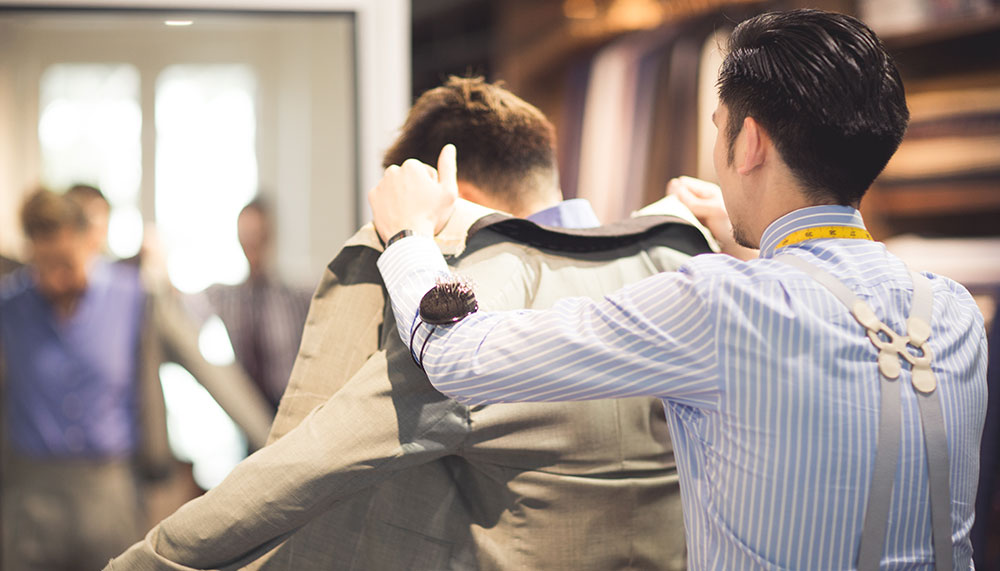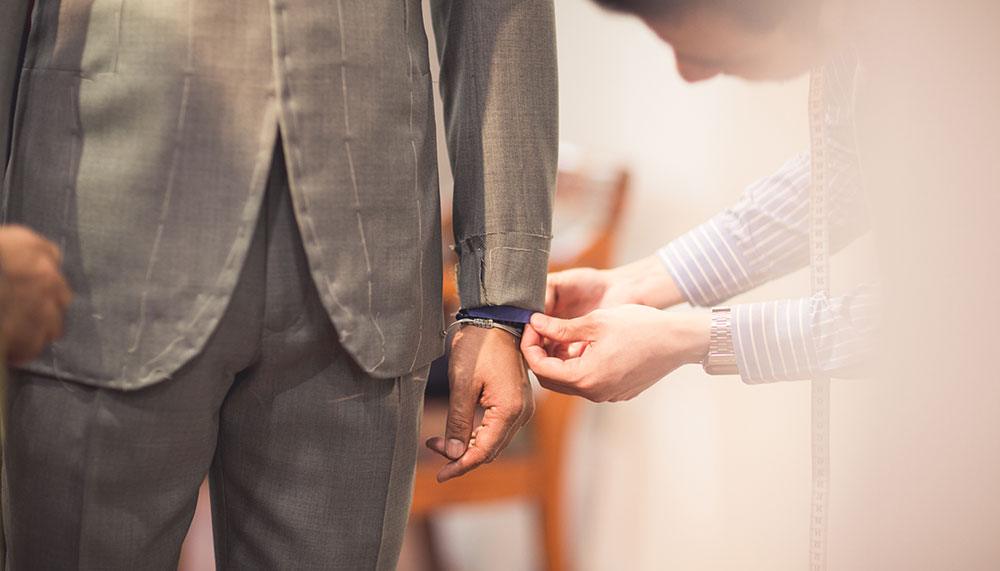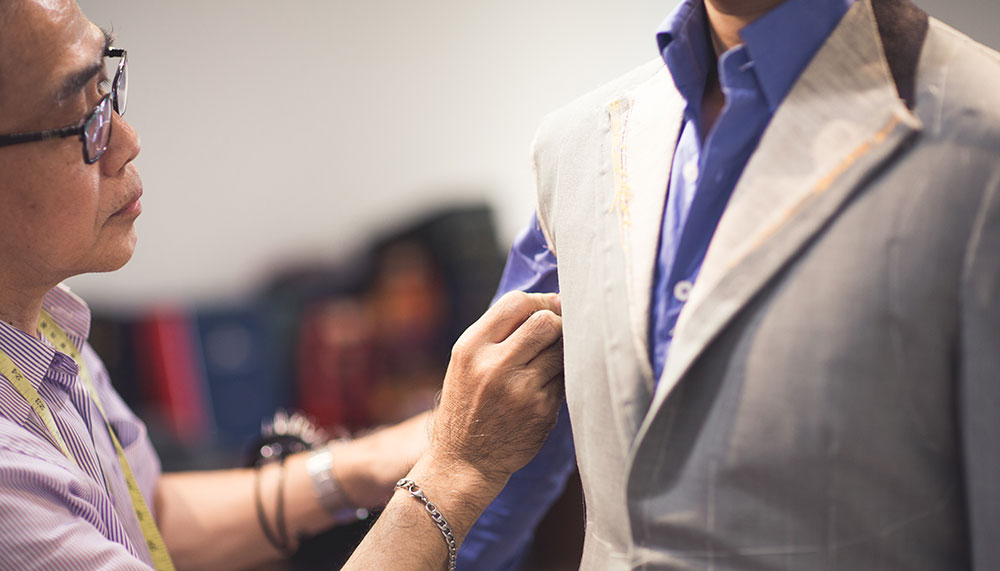 Lai uses a lower quality fabric as it is lighter and does not drape as well on the body. This allows him and the tailors to see the flaws. "If we can make a lousy fabric look good, then the real suit should look great," he reasons.
The actual fabric is used at the second fitting. "By then," says Lai, "The margin of error won't be so high, so it'll be easier to make any necessary adjustments. The complete suit will be ready by the third fitting."
One Step Closer
Another month went by, and it was time for the second fitting: one step closer to the final deal.
I liked the way the trousers looked. The seat was perfect, as was the break. In my opinion, the seat makes all the difference between an MTM pair of trousers and one that is bought off-the-rack.
The only thing I had an issue with was the fit of the waist – it was a bit snug.
Some customers like their trousers very fitted, says Lai. Perhaps these trousers needed some getting used to, being high-waisted. I am much more accustomed to the low-slung comfort of jeans.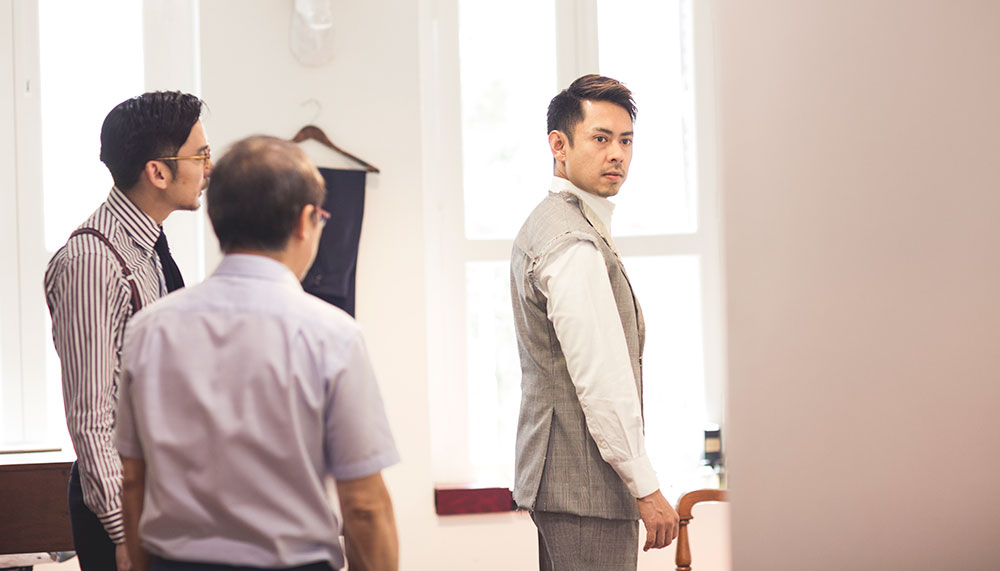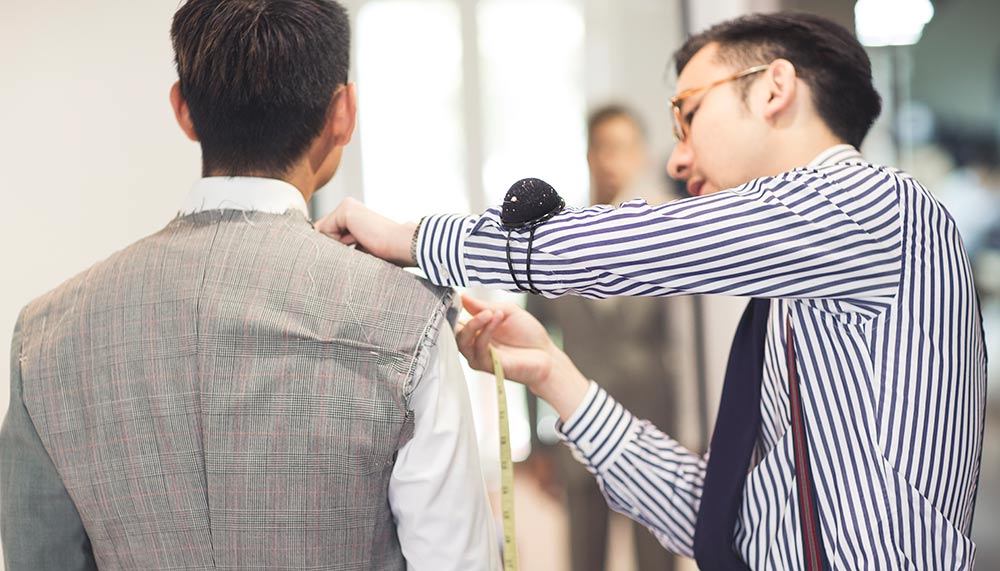 "It's very subjective when you wear high-waisted trousers, because your waistline doesn't stay constant throughout the day. Technically, the trousers should be cut to their widest, to give allowance after a full meal. But this means the trousers will be loose when you stand up. The only way (to fix this) is to pull the side adjusters to the maximum, or use suspenders or a belt. When I consult with customers, I always ask them which they prefer. I'm not a magician, I can't give both!"
I asked Lai to give my trousers more allowance. He agreed to give it an extra 1/2 to 3/4 of an inch.
As for my jacket, I was pleased with the overall silhouette and fit, and saw no major issues. Lai, however, did find some minor faults.
"We still find your shoulders a bit low, so we're going to adjust that. Originally, we put more padding on your right shoulder, but now we want to shift the angle of the jacket, so we'll remove the pads. This will give you a more natural shoulder. We'll also not proceed with the shirt sleeve attachment, because we want a perfect match for the checks. Other than that, I feel that the front and back silhouette is nice."
At Last
After a few more weeks, it was time for the moment of truth. If the results of the second fitting were anything to go by, my suit should be fine. Perfect, in fact.
And indeed, it was. The corrections that needed to be made were made. At the start of the process, I was not sure if I would take well to details like the wide jacket lapel, soft shoulders, high-waisted trousers and generous cuffs.
It turns out my fears were unfounded. I loved this new silhouette. That old cliche rang true – the suit maketh the man. I felt like a new man.