From its elegant exterior to posh interior furnishings, Seven is a beautiful sailing yacht, epitomising the best of Italian design
When Perini Navi successfully delivered Seven—the third in its 60m series—in 2017, it was evident that this was no ordinary ketch. As the owner (the late Italian billionaire, Ennio Doris) commented at the time: "Seven is not a simple yacht. In fact, it characterises the artistic, creative and aesthetic spirit of 'made in Italy'. The owner is Italian, the yard is Italian, as are the crew and the architect who designed it—even the flag is Italian."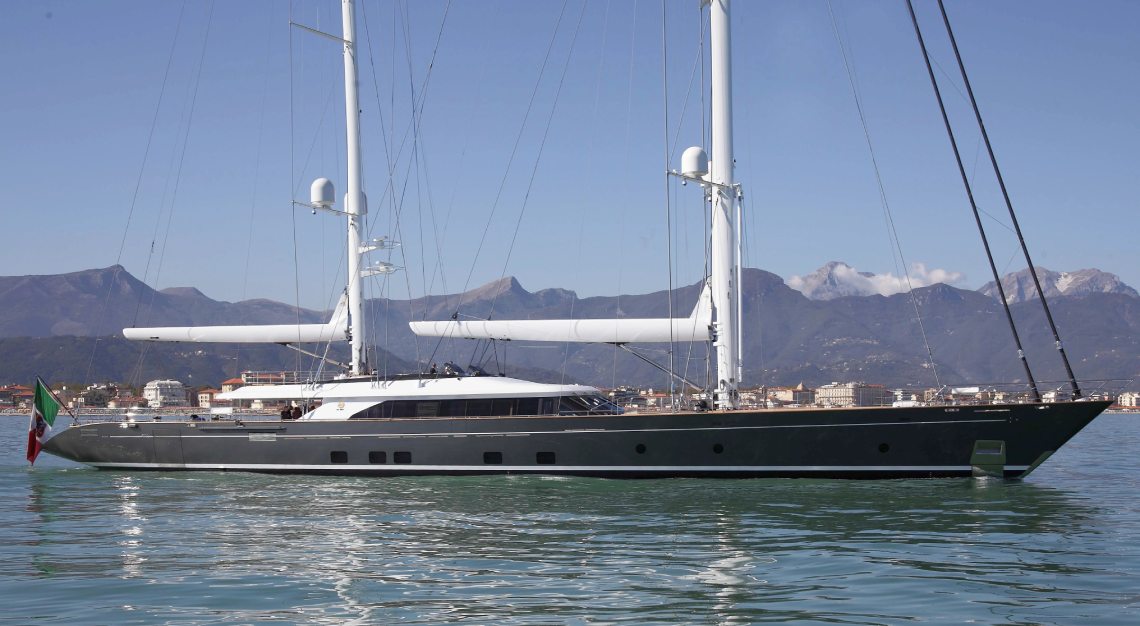 Intended as a family boat—its name is derived from the number of Doris's grandchildren—Seven's architect, Dante Benini, was entrusted with designing the interiors. A pervading sense of liveliness, coupled with ample communal spaces for three generations to mingle and bond over their shared love of the water, were thus non-negotiable factors.
Accordingly, a predominantly warm, neutral palette of white, beige and tan, accentuated by light-coloured sycamore woodwork and panelling, have been consistently adopted throughout. This includes two identical master suites—a rarity for a yacht—and four double guest cabins situated on the lower deck, elegantly furnished with exquisite throw pillows, cashmere blankets, hand-knotted rugs and plush ottomans from Armani Casa.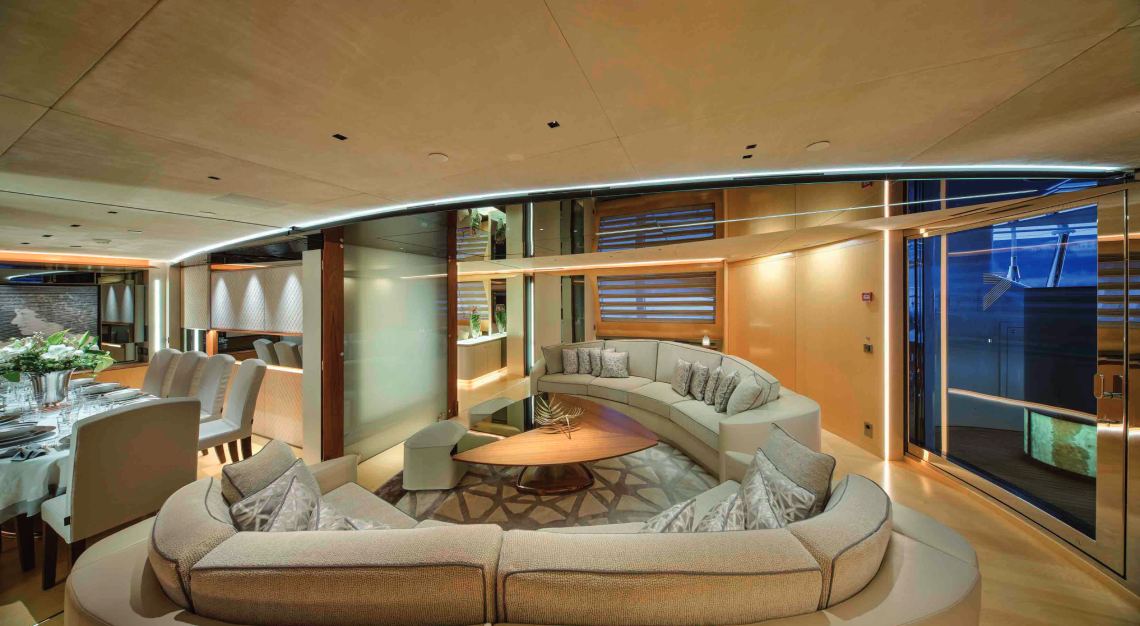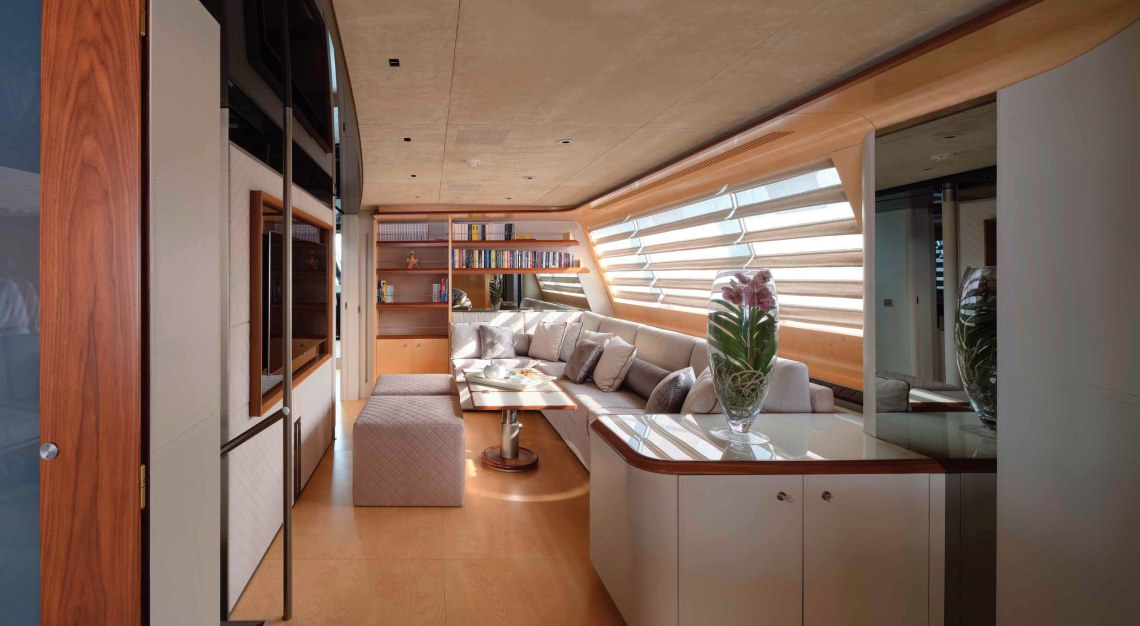 Long renowned for its rich heritage and impeccable craftsmanship, Italian furniture brand Giorgetti—with its acquisition of Battaglia, which specialises in creating high-end, bespoke pieces for large-scale projects—seemed a natural choice when it came to elevating Seven's living areas with a distinctive personality and flair. Each customised piece features intricate stitched leather work, from the well-appointed teak dining and coffee tables to the chairs and sleek outdoor bar counter.
"Nothing has been left to chance for this project," say Giorgetti's spokespeople. "Dante O Benini & Partners Architects revolutionised the interiors, while the family was closely involved at every stage of the design process. We interfaced with them on the furniture aspect and gradually refined the initial idea. The end result is unmistakably Giorgetti, foregoing the ordinary for exclusivity and versatility, to not only convey liveability but the irreplaceable feeling of home."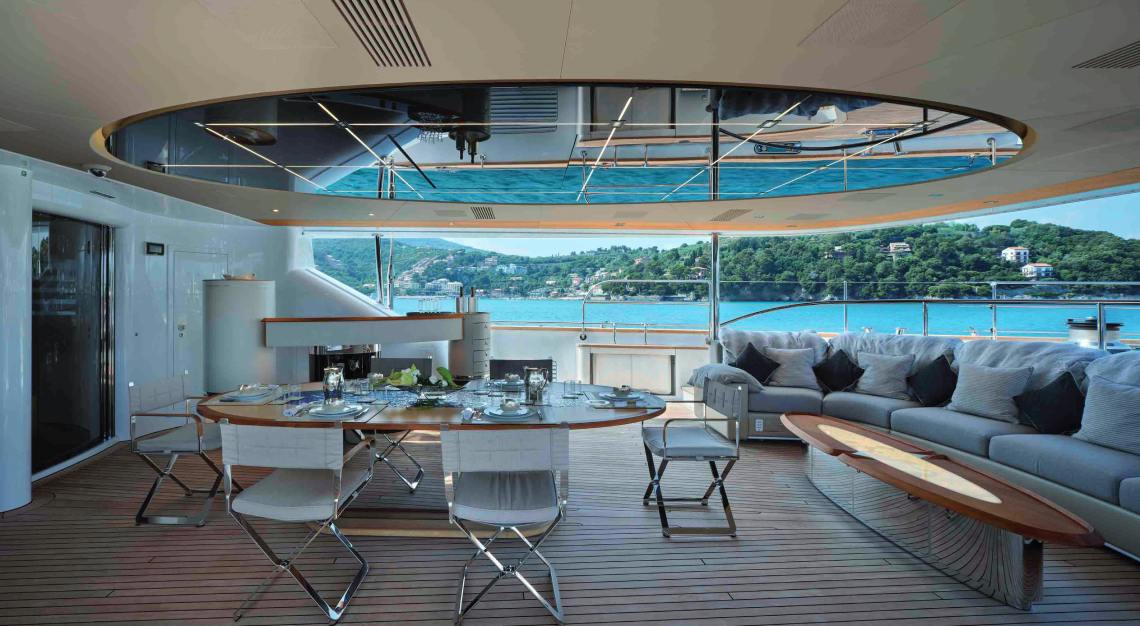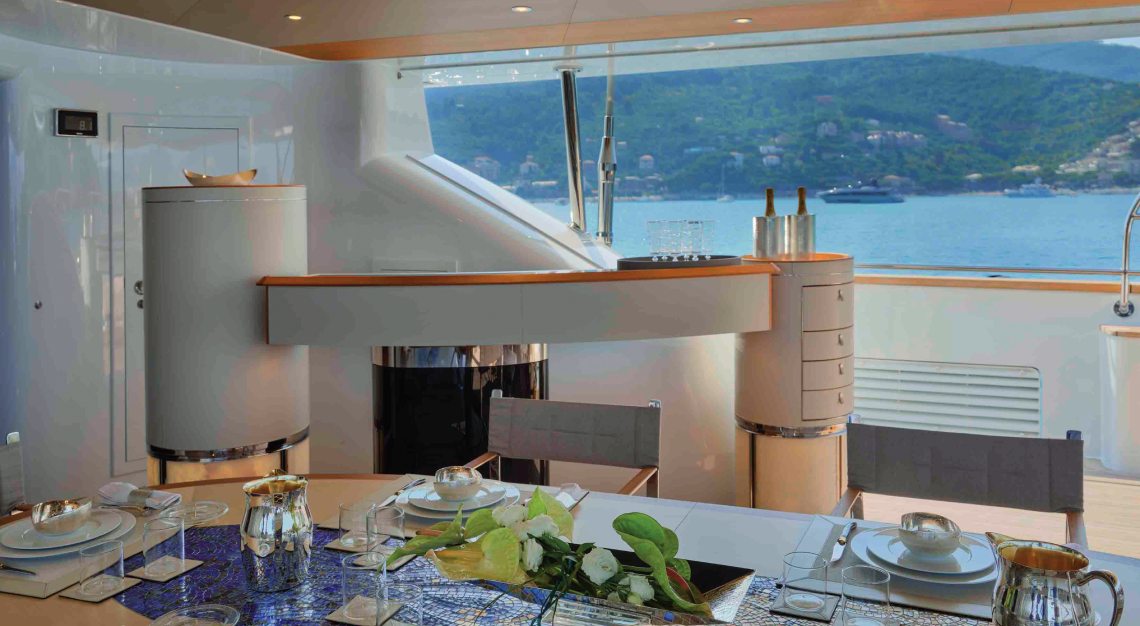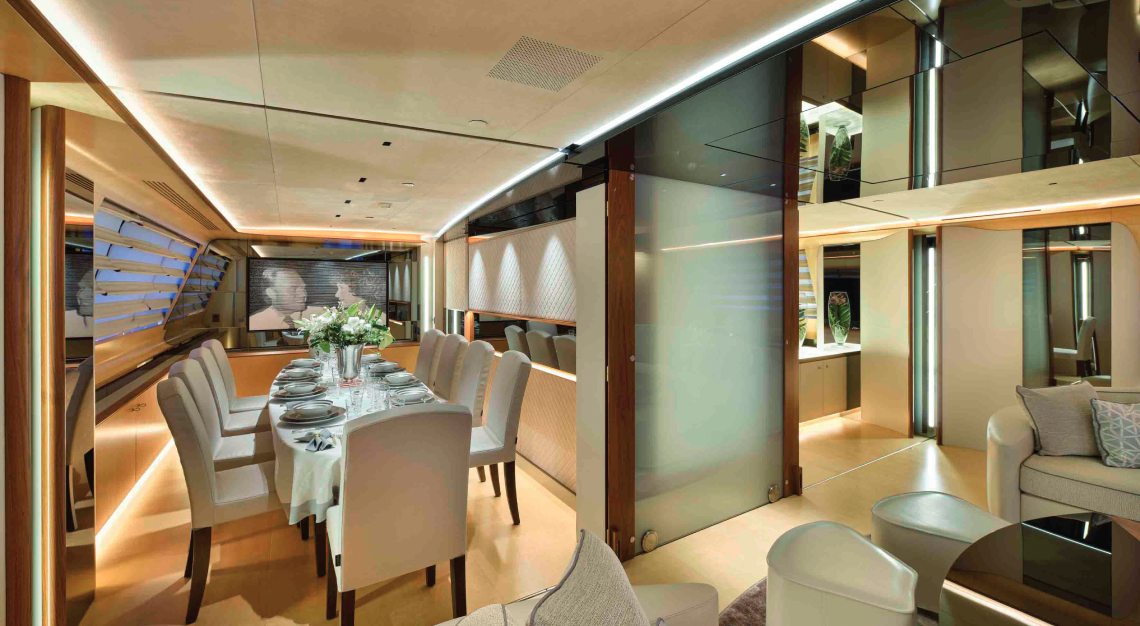 The brand's artisanal expertise culminates in the gorgeous set of curved sofas in the main saloon, tailormade to accommodate the spatial restrictions as well as the owner's preference for uninterrupted interaction. Rather than having the sofas built-in on both sides of the yacht as is usually done—where the heel is strongest and conversations tend to be easily disrupted—Giorgetti positioned them centrally instead, with harmonic steel bands installed in the back for optimum suspension as well as comfort.
Equally impressive is Seven's state-of-the-art LED lighting system and interface—a feat of innovative and technological prowess by Italian audiovisual company Videoworks. Emphasising user control and precision, the output of each light source – carefully engineered to emit tones and colours that complement the abundance of smooth, curved surfaces onboard—is entirely controllable. Easily accessible via a wall-mounted keypad or an iPad, specific mood and ambience presets are readily at hand for special occasions or events. The Night setting, for instance, is perhaps ideal for relaxing after a long day out at sea, together with family in the comfort of the posh cinema room. A fitting touch indeed for a vessel that is, in every sense of the word, bellisimo.