The Swedish Major champion was here in early January for the SMBC Singapore Open – his second visit to Singapore since 2011
Henrik Stenson finished 23rd at this year's SMBC Singapore Open. For someone who has a major championship trophy displayed on a shelf at home, it seems almost unthinkable. According to the Swede, he had a few really good shots in between some not-so-good ones, but for the most part, Stenson was struggling on the green.
And that's just the way it is with golf. "No matter how good you are or how well prepared, there's always a chance things will not go your way," he tells Robb Report Singapore.
Stenson was one of three superstar pro golfers – the other two being Justin Rose and Matt Kuchar – who swung by for the tournament. But before that, we met up at the Tanah Merah Country Club's Tampines Course where he was invited to conduct in a private golf clinic hosted by Audemars Piguet Singapore for its VIP customers.
Of course, Stenson is one of Audemars Piguet's many golf ambassadors. On that day, before tee off, he wore a beautiful classic Royal Oak in steel. His navy blue Hugo Boss polo shirt also has the AP logo neatly embroidered on the right sleeve.
Incidentally, he wears the timepiece on his right hand rather than the left. Because he's a natural left-hander, even though he golfs with his right hand. We sat down with the world champion to have a chat about that, plus a little bit more.
So how are things going for the 2020 season?
Yes, we are at the beginning of the new season, it's good to be back here in Singapore. I've played here before. Then I'll play in the Middle East, have a little break in February, and then I guess everything will really kick off in March for the Masters. Right now it's kind of in the back of my mind, still a bit further away. We're here to start off the season and see if we can get the 2020 campaign off to a good start.
Then there's the British Open as well. What do you think your chances are?
Well. (Laughs) It's always hard to predict your chances in any golf tournament no matter how well you play. And no matter how good of a season you have, you're going to lose more times than you win anyway. So much is on when you can be in your best form. If you can, you get your game ready for the weeks that you really want to perform your best.
What's your strategy?
For me, it's more about working on the game, working on the processes. If you do all those things well, hopefully well enough to put yourself in position, I know I'll have a long and successful career behind me. Of course I'd love to win another major championship. We've got a nice collection of trophies, and of course it's the biggest ones that everyone cherishes the most, so we'll see if we can make that happen once again.
Which would you rather be: the most successful or the best in golf?
I picked up the game as a young 11-, 12-year-old kid and I just fell in love with the game. I love to practice, love to play the game and compete. I didn't go into it for the fame or money, those things kind of come with it when you win. The drive is to prove as a player, and still enjoy the competition when it gets tied, or you're facing some of the best players in the world to win the tournament. That's what drives me, and makes me want to go back and work even harder on my game, so I come back better next time.
Don't you think about the prize money?
It's a very nice bonus to have but I think most people will agree it's not monetary things that make you happiest. Money makes life easier and better in certain ways but at the end of the day you've got to be happy yourself. And if you solely play for the money, then I don't think you're really going to be very successful.
Because there's no passion?
Yes. You're not going to have the drive to put all the extra work in, go the extra mile, be the best you can be. You could be a good player and make a good living, I know some players who are very happy like this, it's a great way to be in a good financial position. But the best players are driven by something different. It's the drive to become the best you can, reach the highest level possible. If you do that, all the other things will come as a consequence.
Level with us: Golfing is a leisure pursuit for us but for you, it's work, so what do you do for leisure? Do you ever golf for leisure or does it remind you too much of work?
I do, but not very often. Over Christmas and New Year I went with my family and family friends on an RV trip on the West Coast in California. We were in San Francisco, we rented an RV and drove along the Pacific Coast highway, then finished up in Las Vegas over New Year, saw some shows… On Boxing Day I played a few rounds at Pebble Beach with my wife and son and a good friend of mine. You know Pebble Beach, it's a gorgeous place, we were just out there enjoying time with family. Sometimes I play some fun rounds back home in Sweden or Florida but I never go on a golfing holiday per se. If I have time off, I'd rather be on the beach or go skiing.
Because you always win?
(Laughs) Yes, I tend to win most of the time.
What are three things you never leave home without?
When travelling, I tend to bring a book, my iPod and headphones just to block out [the] noise. Those are the times I tend to read, since I don't really read when I'm home. Also, I never leave without my watch.
What do you think a man's choice of watch says about him?
It shows his style. I've always enjoyed watches, and obviously Audemars Piguet makes some very special watches. I have a nice collection with different watches for different occasions.
Audemars Piguet's tagline says, "To break the rules, you must first master them." Do you think you're at a point where you're breaking the rules, or are you still mastering them?
Golf is a game we can never finish, you can always do better. There are some sports where you can get 10 out of 10. In bowling you can score 300, you can't get 301. In golf, if you shoot a fantastic score of 57, you can try for 56. We're always in the pursuit of mastering the game – and ourselves. But I guess you got to accept that you're probably never going to get there.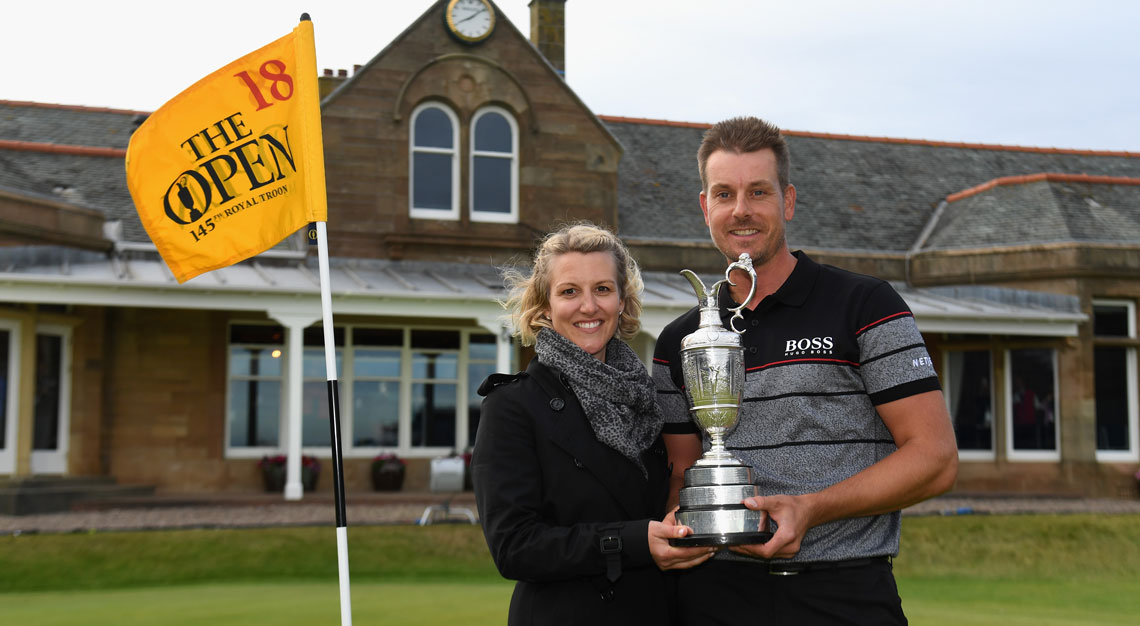 Tell us what your Code 1159 moment was at the 2016 Open Championship.
The most important moment was the long pass I made on 15th hole in the final round. The game wasn't by any means over but that shot was really the one that got me at least one hand on the trophy. That's always going to be with me as the most important shot of the week and of the tournament.
Why do people golf and why are golfers so passionate about the sport?
To be a very good professional golfer, you've got to be willing to practice for six to eight hours a day. That's a lot of repetition and a lot of time. You've got to be willing to put a big time commitment, you will have to practice a lot to become successful. For me it was a coincidence as to how I got into the game, because my family didn't play. I just followed one of my friends – his family plays – I was 11, they took me, I hit some swings and thought this is fun, then I was hooked. I went home, asked for some clubs, took some lessons, and that's how it all started.