The Stunning Colonial Mansion on Bintan Island's Lagoi Bay Makes A Picture Perfect Destination To Disconnect And Unwind
It's been four years since The Sanchaya Bintan started welcoming guests, and one may wonder if it's in need of a fresh coat of paint. Having paid a visit over a weekend, here's my verdict: the resort doesn't need it.
It's everything you see on its website and on its social media accounts. Let's face it, a picture paints a thousand words, and the team at Sanchaya has done a fantastic job in ensuring that the property always looks #pictureperfect and #instaworthy.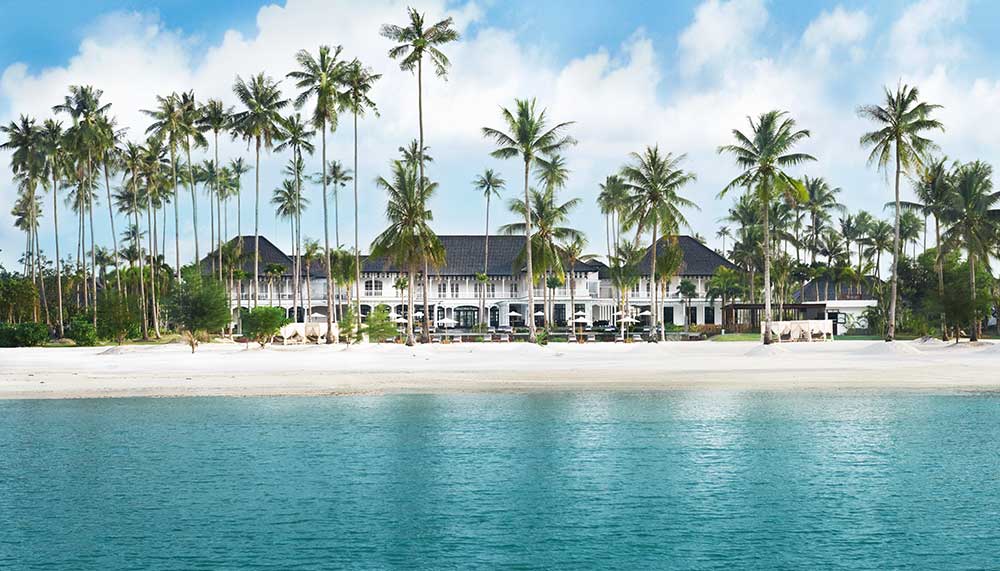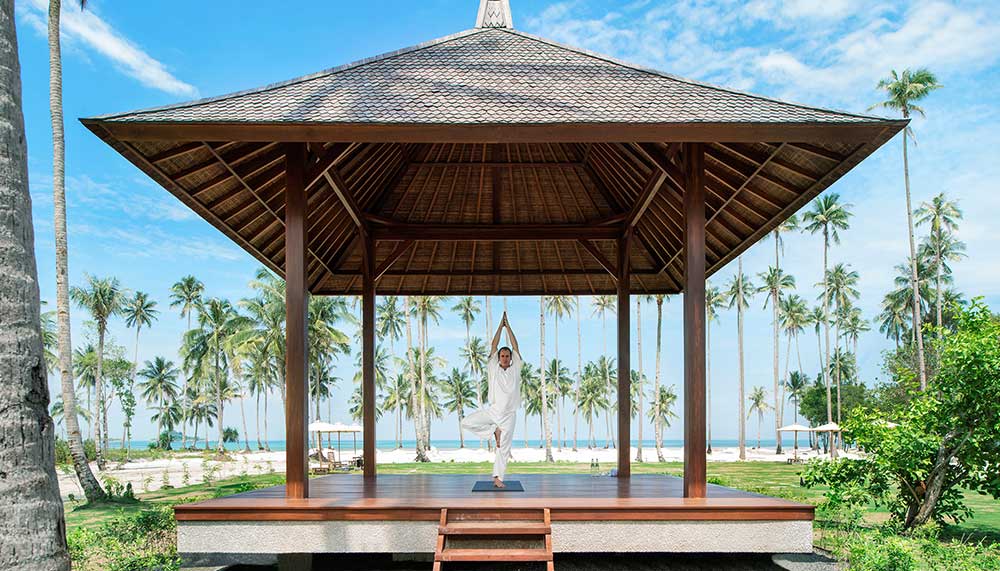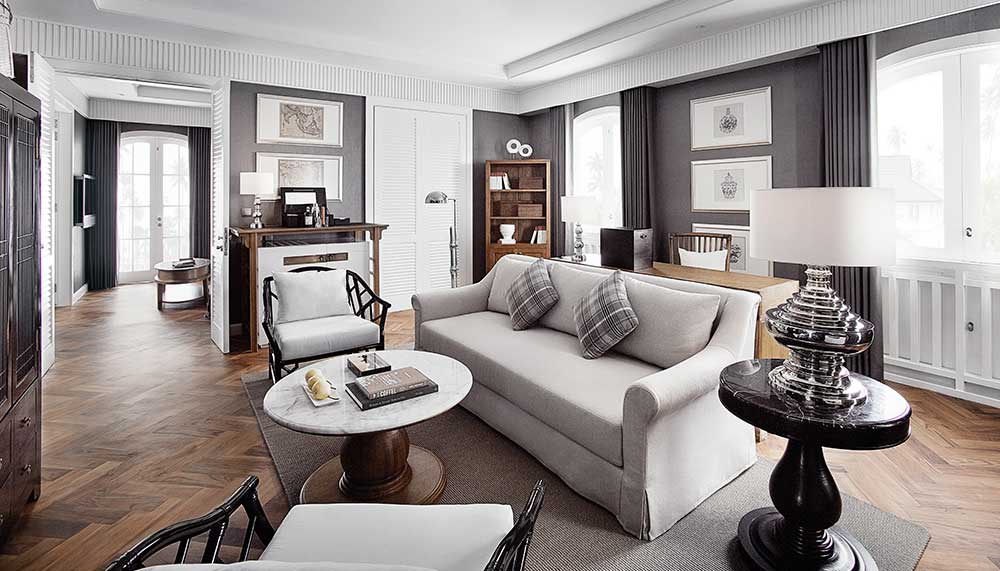 A manicured driveway and a central fountain lead to The Great House, the stunning centrepiece of the resort. The social areas — located on the ground floor of The Great House and aptly named Decanter, Bar, Library and Dining Room for ease of navigation — are decked in monochrome tiles, chandeliers, rugs, chesterfield sofas and artwork that speak of grand voyages at sea.
The same goes for the nine Junior and Sanchaya suites located on the second storey of The Great House. Everything has been immaculately placed, we recommend snapping a picture or two for future #roomgoals.
Both suites offer stunning pool-and-Singapore-Strait views (whoever knew our waters had the ability to reflect shades of turquoise and azure, instead of murky brown), which means you can lounge at the balcony with a cuppa and a great read in hand. Or maybe even imagine you're in The Maldives. If you want to be away from the madding crowd at The Great House, no matter, The Sanchaya Bintan offers other accommodation options.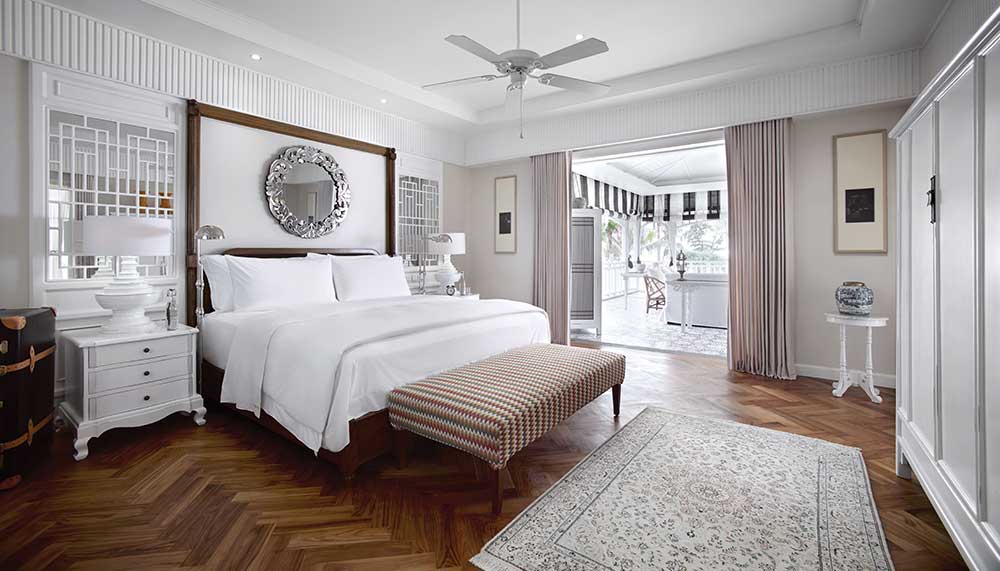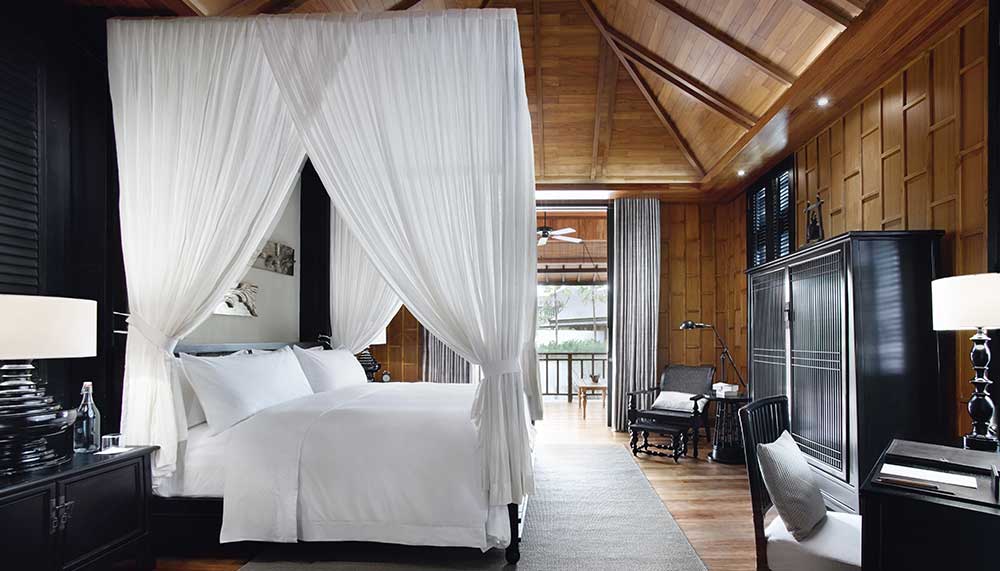 There are similarly-styled Sanchaya Suites stacked into four two-storey villas, each with its own private entrance. Families can opt for The Villas, available from one to four bedrooms with direct beach access. Then, there are Thai-styled Villas that overlook a man-made lily pond. Intending to throw a party? We recommend the four-bedroom Vanda Villa, or the Three-villa Leelawadee Thai Villa, both of which house a private pool.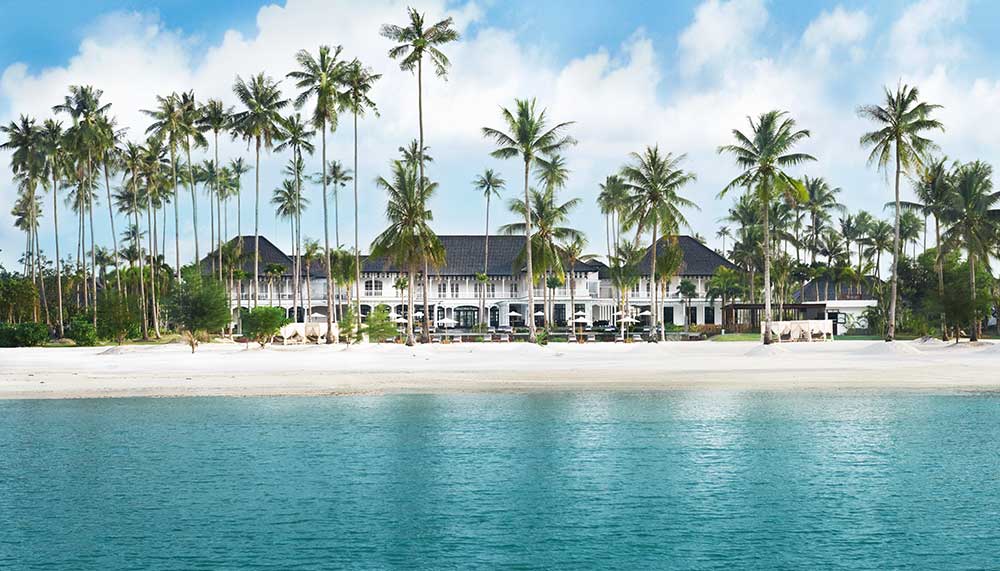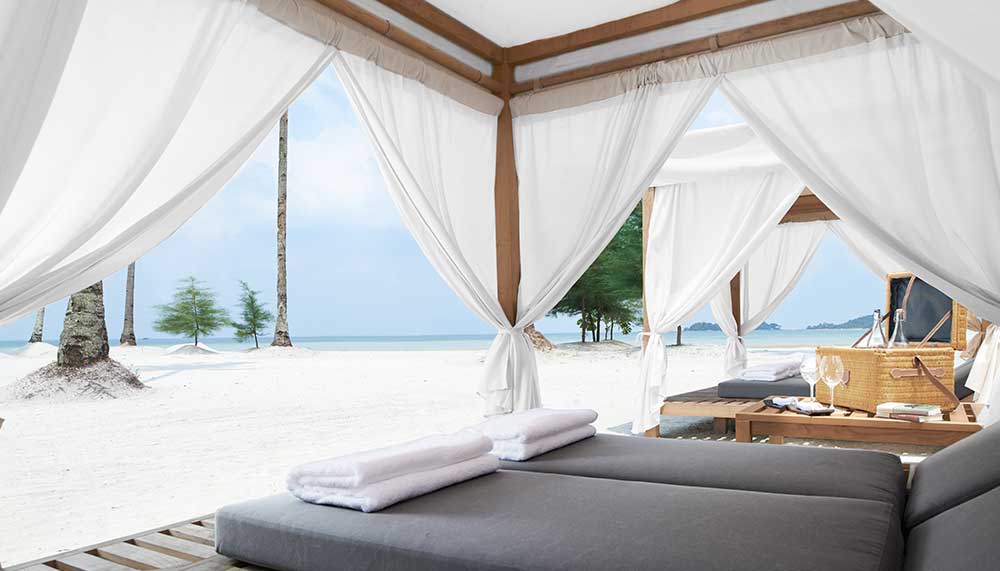 Given how I like to be in close proximity to the facilities, the Sanchaya Suite at The Great House makes a suitable choice. Somehow, stepping into the suite vaguely reminds me of a platypus. I hear warning bells in your head, but stay with me.
Some say that a platypus is one of the animal kingdom's jokes, (a duck's beak and webbed feet, a beaver's tail and fur of an otter) but take a step back, and you'll realise it's a fine specimen you'd easily remember in a forest of other creatures.
The same can be said of the Sanchaya Suite. Pass the modern grey-scale living room and a bathroom with a four-clawed tub, white shuttered doors, Moroccan tiles and a Chinese ceramic stool await. The bedroom comes with B&O sound systems, an extensive selection of music and movies stored on an iPad and a flat screen television…but all that's stored behind a wooden cabinet with creaky retractable doors. And outside, and a modern monochrome lounge beckons. But ignore all the little bits as individuals and you'll enjoy a really beautiful room with character.
The key to this resort is attention to detail, and by most measures, it has got it right. Heading to the pool? A staff will spread a bath towel over the sun bed, and leave a beach basket, or a care pack, as I call it. The basket is filled with both still and sparkling water, lemon slices, cold towels, sun screen and even an after-sun cucumber gel.
Intending to spend some me-time at the resort? Given that the resort sits on nearly 10 hectares of land, it's not too difficult to find a place to call your own.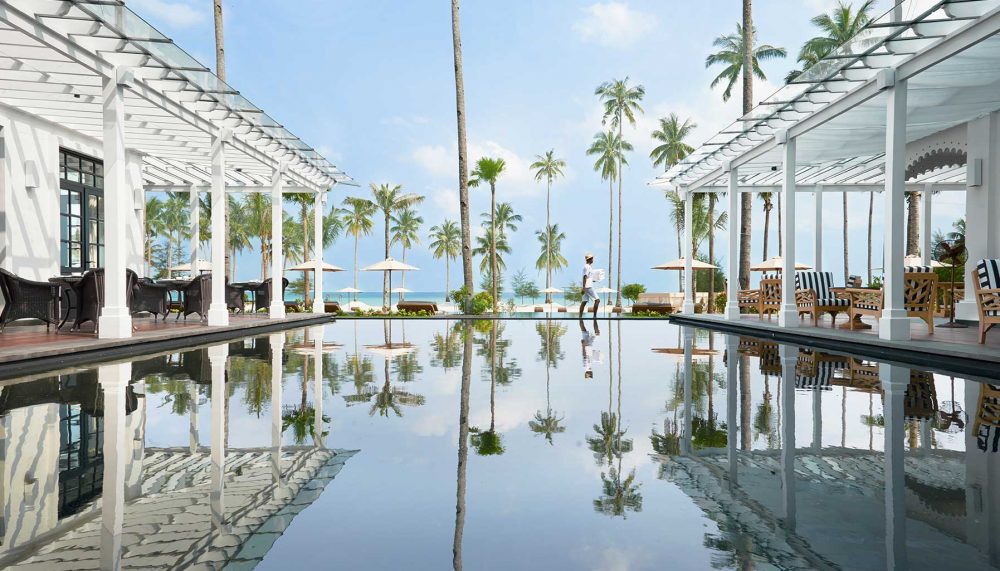 The Decanter, Library and Salon make great air-conditioned hideouts, where you'll find nary another soul. Nurse a glass of wine, read a book, or enjoy the view of the infinity pool. The Decanter is also fairly well stocked (it just placed a US$24,000 (S$31,800) order recently), and with names like Dom Perignon, Krug Grand Cuvee, Armand de Brignac, you're in good company.
While the trip was by and large enjoyable and memorable, there were some bits that I found lacking. During the cheese tasting, I was repeatedly coaxed to start with Roquefort (unsurprisingly the strongest flavoured) on a board of taleggio, manchego, comte and reypenaer. My alcohol allergies aside, surely the rule 'start with the mildest flavours first' should still apply?
And while the gym has all the necessities for a basic workout, it lacks a full-length mirror to monitor one's posture and movement. In its place were half-length mirrors that hid beneath wooden panels. Ironically, the gym's bathroom boasts a full-length mirror, which says a lot about the designer's priorities.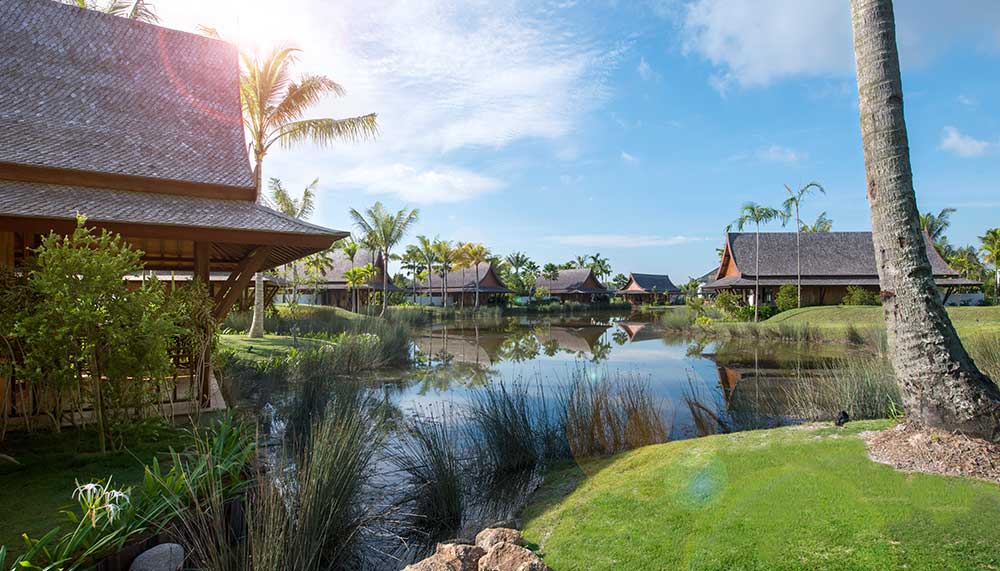 Meals wise, breakfast at The Dining Room is most definitely the highlight, where you can choose an unlimited number of sweet and savoury options including eggs and caviar, cold pressed juices and waffles with fresh berries. There's also a bread and cereal bar in the restaurant, but I suggest ordering from the menu. The saying "to have eyes bigger than one's stomach" certainly rings true for me, as I had a hard time deciding each morning. Given that breakfast starts at 7am and goes on until 11am (you are on holiday after all), you may find yourself skipping lunch.
Where breakfast shines though, you'll see lunch and dinner fighting to keep up with the pace. The lunch menu at The Dining Room sorely lacks inspiration; but thankfully, its dinner menu makes up for it. And given the price points (IDR30,000 for soup), the portions at Tasanee Grill — the resort's Thai restaurant that's only open for dinner — are shockingly small, and aren't for sharing. Safe to say, chewing on chunks of ice in your ice cream (IDR12,000 a scoop) doesn't make for a memorable dinner either.
That being said, the small misgivings above do little to deter me from making a repeated visit. After all, The Sanchaya Bintan ticks most of the boxes for a restful weekend getaway. I'm recharged, I feel like I'm home and most importantly, I don't look forward to my departure.
Sure, slight tweaks need to be made, but I think The Sanchaya Bintan has a recipe that'll see it through, dare I say, the next 40 years.