Thoughtfulness and purpose – two essential characteristics of a good restaurant. Pollen has them both, along with a dynamic young chef bent on culinary mischief
Pollen is pretty good. It's not great, yet, but it's pretty good. Chef Michael Wilson displays all the hallmarks of being a creative soul with a sense of fun when it comes to combining ingredients and displaying them on a plate, but as we all know, the errors are just as important as the trials, and there are one or two that have to be ironed out before Pollen can take its place in Singapore's restaurant pantheon.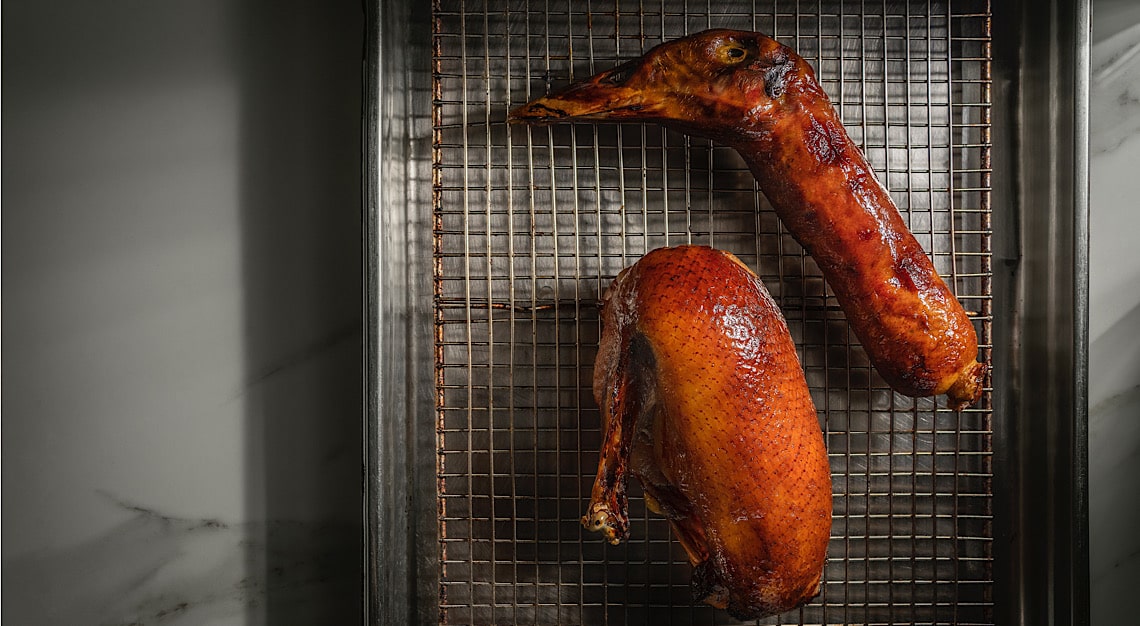 Let's take the Duck Neck and Foie Gras Sausage as a prime example. It's the signature dish on Wilson's latest degustation menu and it sounds delicious. My criticism would be that it is far too rich to inhabit (happily) the relevant juncture in the meal.
It's quirky – the entire duck's neck is displayed for the diner prior to consumption -and it looks splendid. The idea of using the skin for sausage encasement is a sound one, but the filling is fulsome, and somewhat difficult to negotiate after just a few mouthfuls. The foie gras filament in the sausage makes the ensemble even richer, while the parsnip and apple don't do nearly enough to counteract the almost suppurating nature of the dish. This is just my opinion, of course. Others will love its engorged meatiness and the playful approach – you get to interview the duck's head before eating. But for me, it was just all a little bit too much. The accompanying aged duck breast was just fine, and excellently prepared.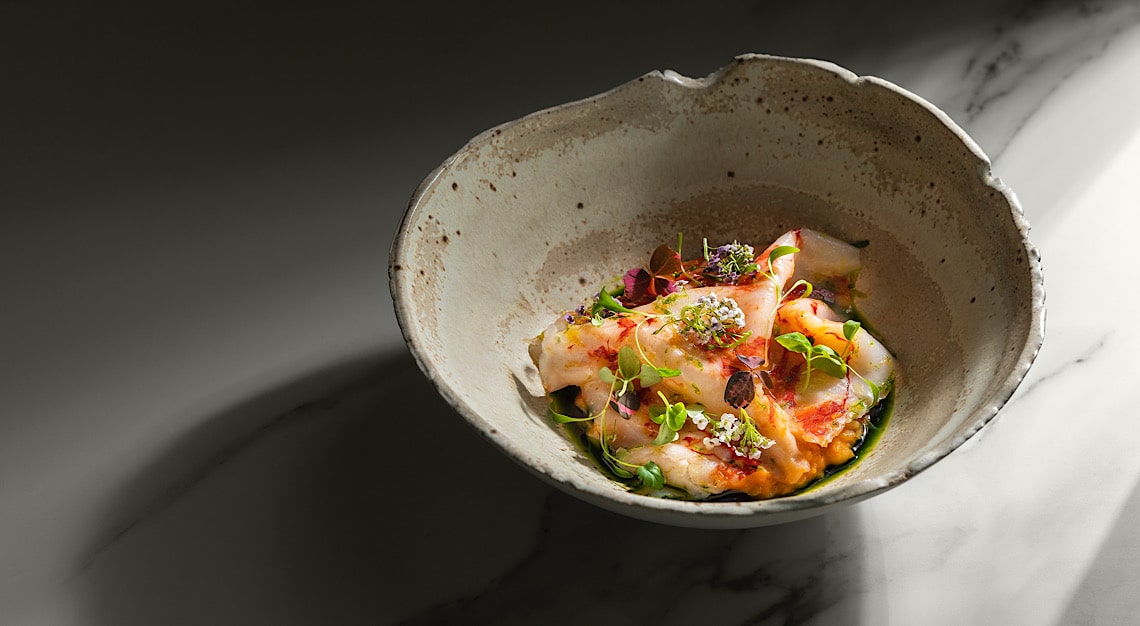 Much more successful are the smaller dishes that display exceptional technique and great imagination. The Ebro Delta Smoked Eel (seaweed vinegar, sea succulents and squid ink fish net) is quite superb, with the eel exuding a balance of salinity and nuttiness, while the acidic seaweed breaks everything up and the succulents provide just the right amount of vegetality. Playful (again) in appearance, this would make my 'Dishes of the Year' list. 
Wonderful, too, is the Scarlet Prawn (Acquerello rice, coriander and lime). The carabineros are sliced wafer-thin and are utterly delicious, while the rice – perfectly al dente – provides a superb textural accompaniment. And then it's time for the Lettuce Gazpacho (spanner crab, whey granita, cucumber and Espelette pepper), which is as easy on the eye as it is on the palate. It's a wonderful combination of flavours and elevates the humble lettuce into the realm of fine-dining ingredients (if only ephemerally) and also proves the lively imaginations that are at work in the kitchen. Who would have thought of making a cold soup out of lettuce? Chef Wilson did, and it works really well. 'Soup' is too poor a term for this sapid, viscous treat that manages to engage a wide variety of taste receptors.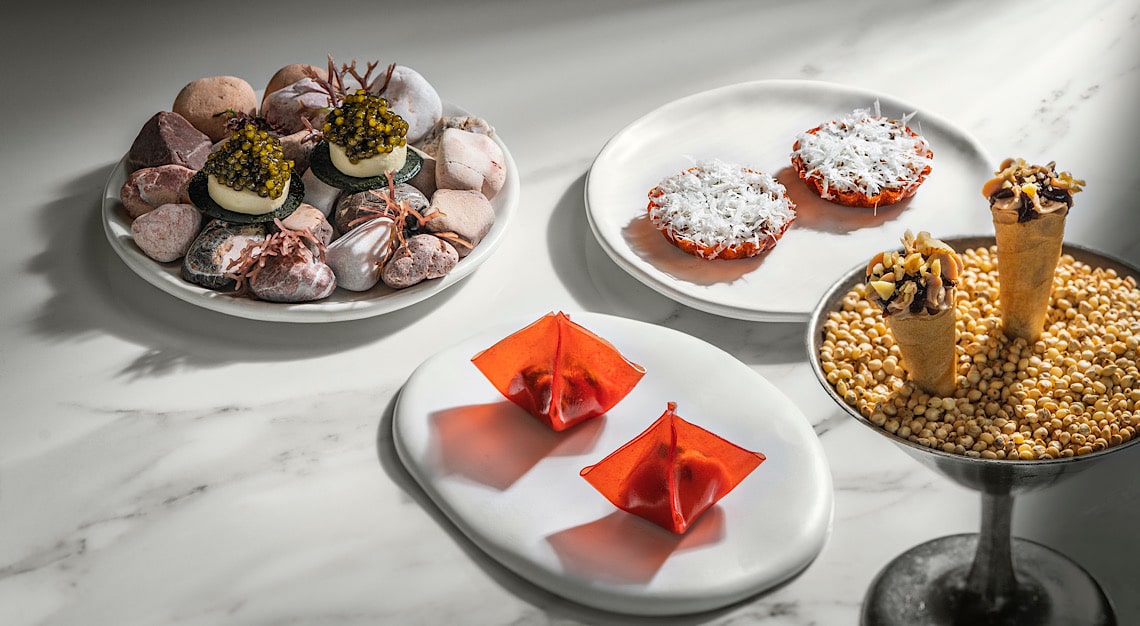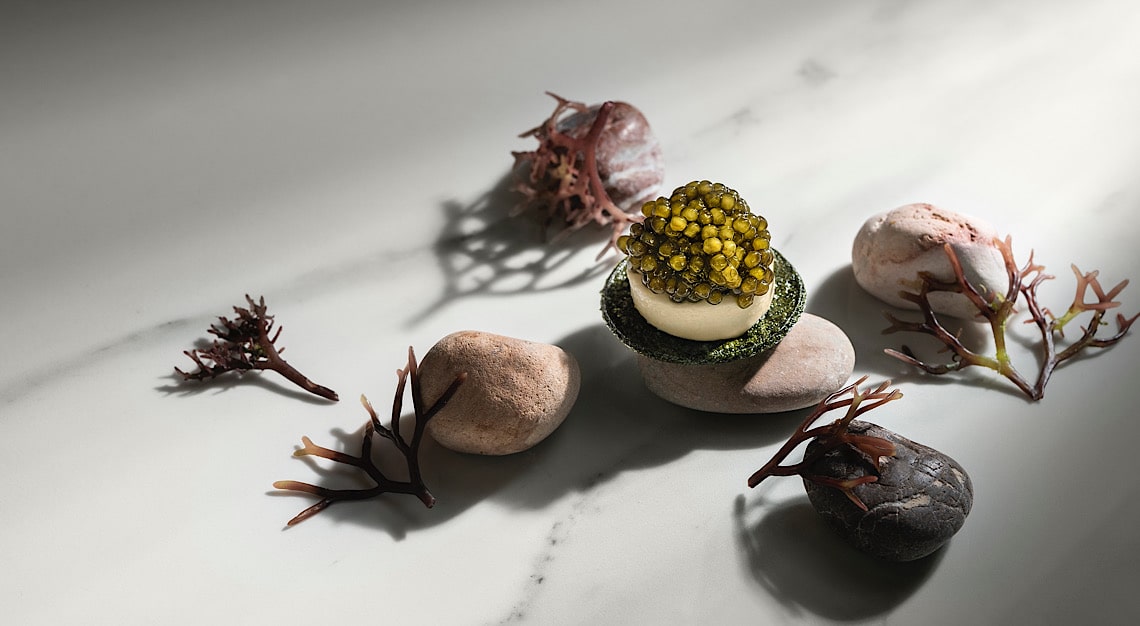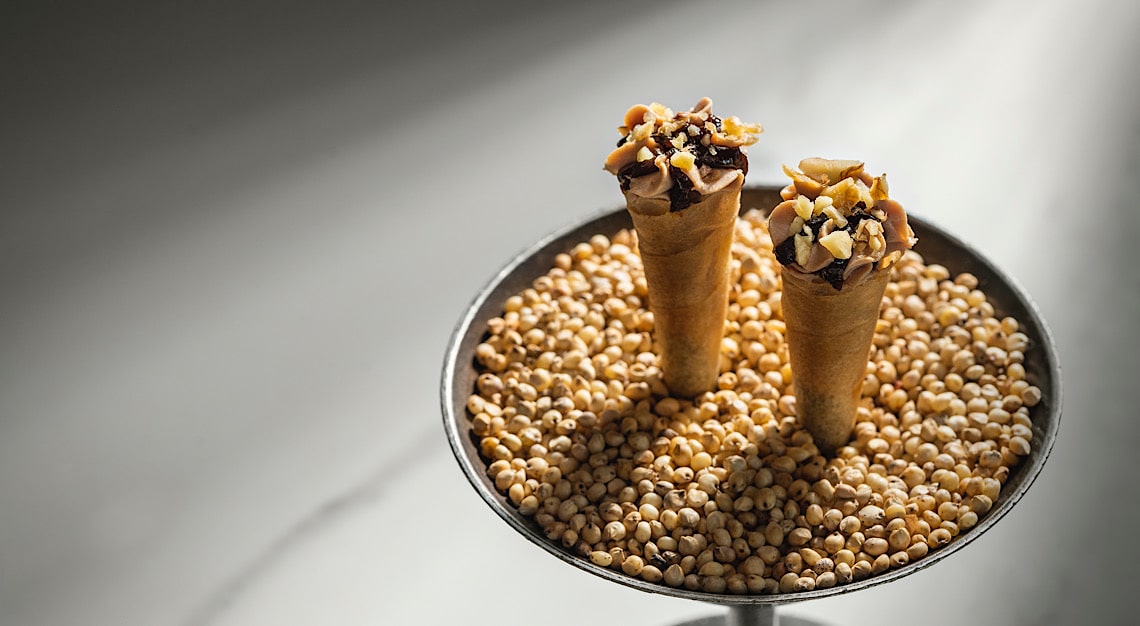 I must mention the opening salvos, or 'light bites' that everyone's doing these days and are beginning to become highlights of meals for me. The Amur Caviar (algae tuile and oyster cream) is very good, and the Cornetto (chicken liver parfait, chopped walnuts, port and sherry reduction) is heaven in a mouthful. The Shepherd's Pie fares less well, as I think there may be a problem with the pastry that's coming out of the kitchen at Pollen. Again, this is only my opinion, but that within which the bell peppers, lamb tartare and Pecorino Romano were encased was a tad dry and too 'short' – pastry chefs will understand the use of this word. It was also evident in the Wild Mushroom Tart – one of the mains (caramelised celeriac and pickled chanterelle) – that I didn't want to mention because it's not up to the standards set by much of the rest of the food. And I fear that it might be down to the pastry, once again.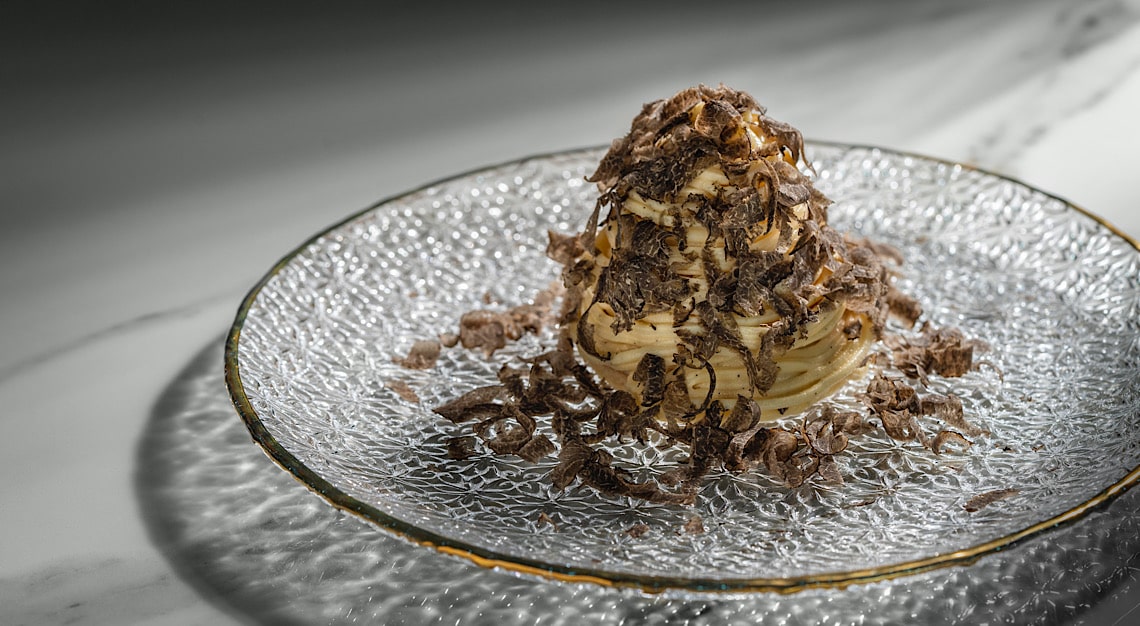 Ending on a much more positive note and proving that my taste buds seem to be heading off in very different directions these days, I would suggest that chef Wilson's take on the Mont Noir (Brillat-Savarin cheesecake, nutmeg frangipane and black winter truffle) is an absolute masterpiece. It is exceptionally good. It's also very brave since you have a number of quite big ingredients in the flavour stakes, so finding the necessary balance is quite a challenge. I will confess that I was a little uneasy approaching the dish. Brillat-Savarin is one of my all-time top 10 cheeses, and using it in a cheesecake seems sacrilegious. This dish, however, is so good that I almost had to genuflect to the reversal of my beliefs.  
It's sweet, it's salty; fragrant, floral, and earthy; tart and then mollifyingly sugary, before going into savoury and judiciously pungent when called on. It's a taste adventure that becomes even more exciting it you accompany the Mont Noir with a dry, white port which seems to bring out even more flavours and beautifully counterbalances the dessert's richness.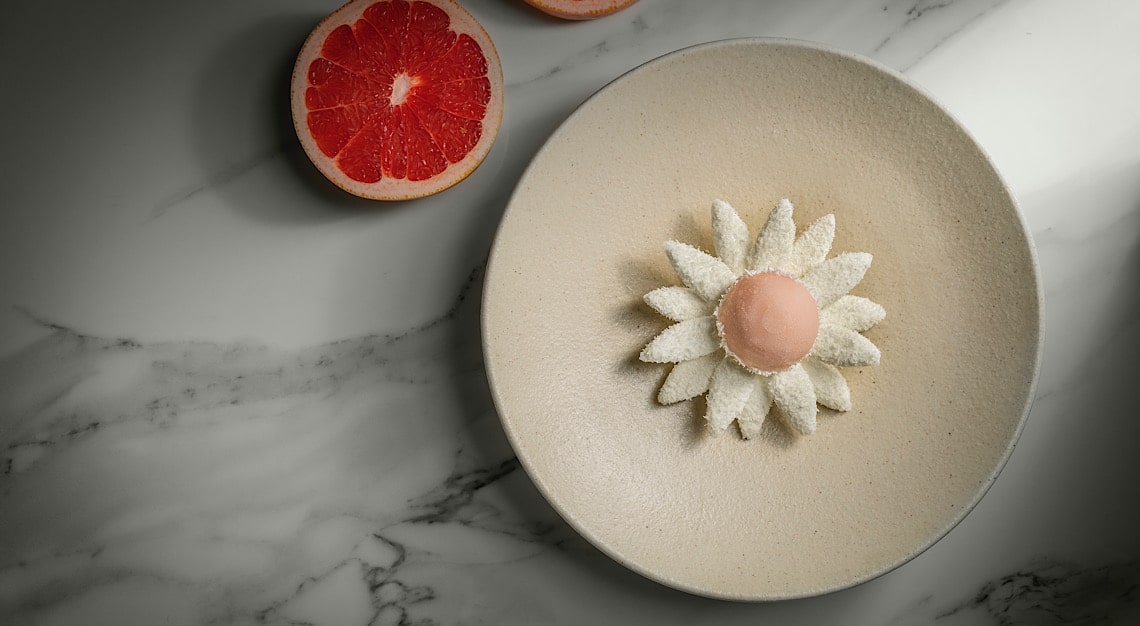 I'm not entirely sure what's happening to me. In review after review recently I have been lauding last courses, and this is really not my thang. Am I developing a sweeter tooth in old(er) age, or are chefs around the country upping the ante and trying to outdo each other in terms of the imagination and complexity that has become de rigueur for desserts these days? 
Honestly, who cares? Pollen's puddings are prodigious and the perfect end to a meal that wasn't always spot on, but will always engage the interest of people who know about food and recognise the importance of balance when it comes to the taste of a dish – irrespective of the ingredients.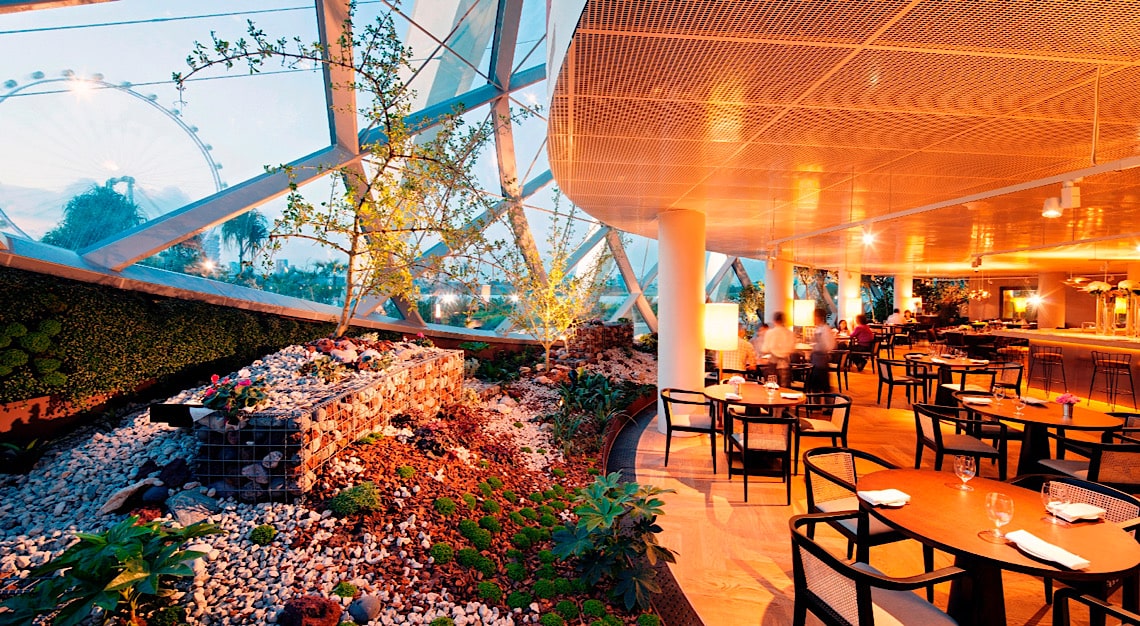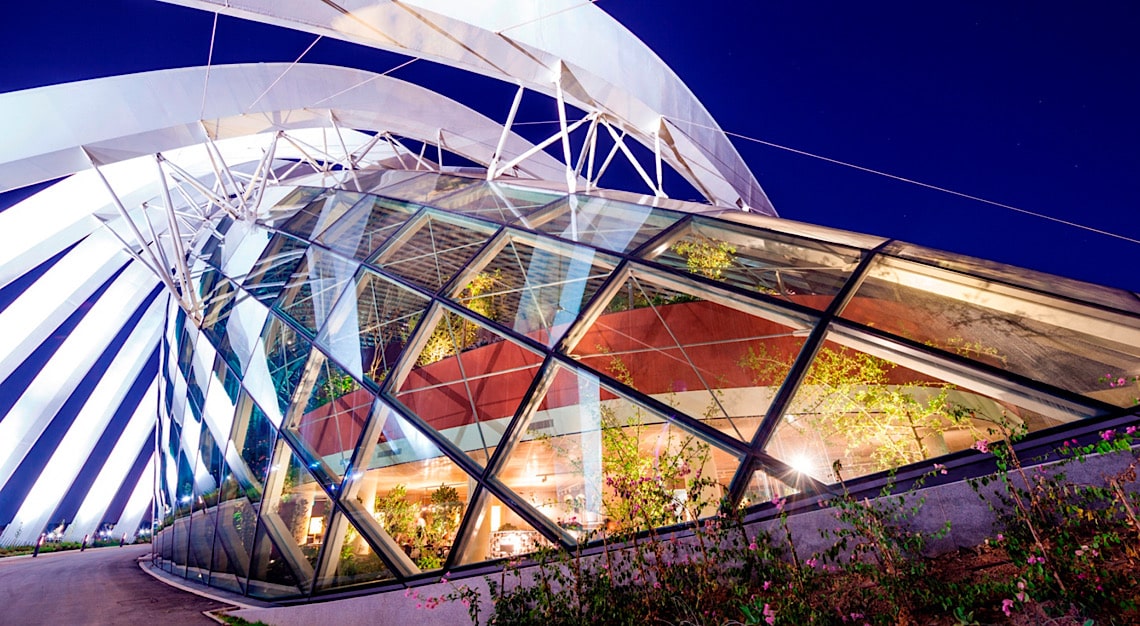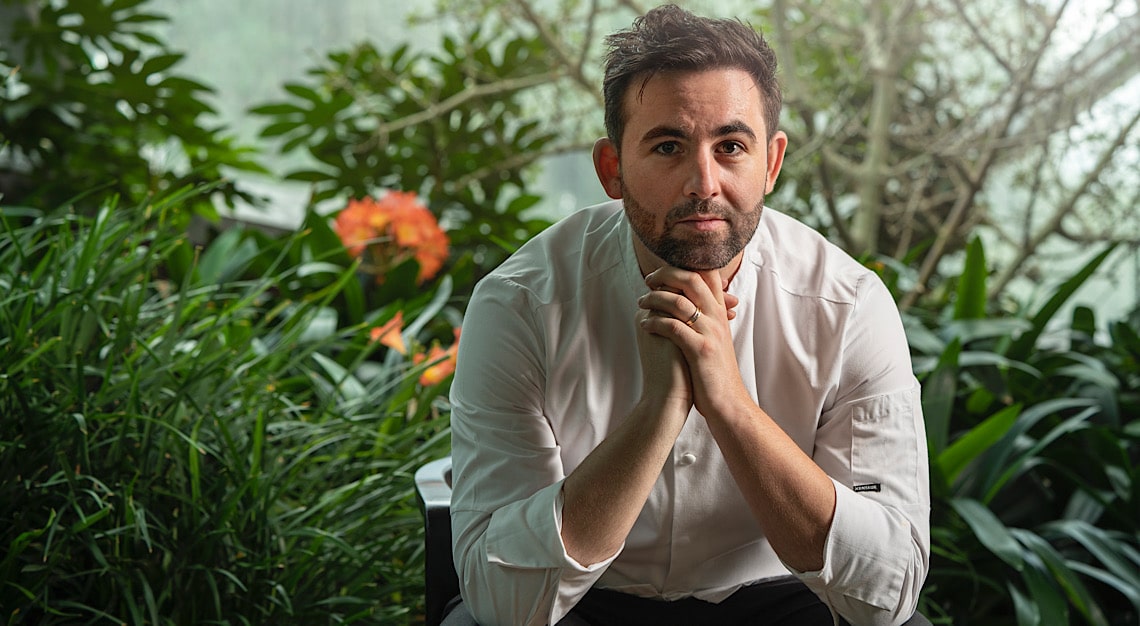 Chef Wilson has a great understanding of what goes with what, and is giving full rein to his culinary imagination, and that's something to applaud and savour. It's worth mentioning that Pollen's setting (within the Flower Dome itself) is exceptional. Even with the best ambience and the best food, however, the overall experience is not always guaranteed, and this is where Pollen's staff should take a bow. The service is impeccable. Not too much, not too little. Expert advice is forthcoming when sought, and in the background if not, waiting to be deployed. This can only be down to good training, and the right spirit, both front of house and in the cauldron of the kitchen.
I can't be Mozart, but I will be Bach. 
Pollen
18 Marina Gardens Dr
01-09, Flower Dome
Singapore 018953
Tel: +65 6604 9988