Paint the night green at Saint Pierre
Editor's note: For more Date Night stories, click here.
It seems unfathomable that it took Emmanuel Stroobant—chef, vegetarian, health enthusiast— this long to make a vegetarian menu a permanent fixture at Saint Pierre but there you go.
Given the gamut of dietary preferences, it makes sense. It's a lot of work but Stroobant, a decade-plus practising vegetarian, wants to place a plant-forward degustation on equal footing with the rest of his carnivore-leaning plates. (If you are vegan, he can even tailor the menu to that specific.)
As Stroobant elaborates, "My goal is twofold: to show that vegetables can take centre stage at any fine dining table and to ensure that plant-forward foodies do not miss out on the same gastronomic experience as other non-vegetarian diners."
That said, how does the Elegance menu—the six-course vegetarian menu—fare? In a word: 'magnificent'. In a review to fit SEO requirements, read the following:
We start with the environment: it is an intimate spot. Able to sit 24 diners in the main dining room, the restaurant looks out at the serene waters of the Singapore River. Dine at night and you'll witness the light show hosted by Marina Bay Sands which sits across from the restaurant.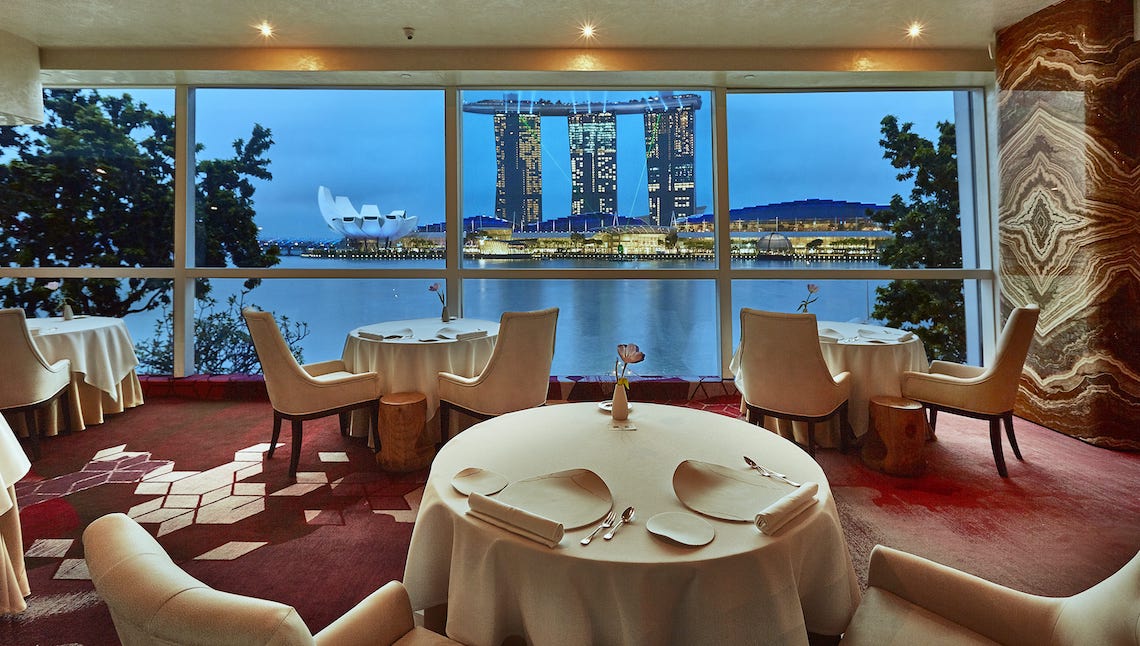 The service is excellent. The best sort of attention from the staff where they knew when to swoop in to answer queries and when to hang back. Take the freshest available seasonal vegetables sourced from organic farms in Provence, France; combine that with chef Stroobant's experience in the kitchen and there is no weak link to the degustation journey.
Out of the gate, we get an amuse-bouche of cauliflower cream layered with homemade preserved black winter truffle, tarragon gelée and lightly-smoked tonburi aka mountain caviar. Wait a minute, you ask as you clutch your pearls, 'caviar'? For a vegetarian menu? Before you swoon from the 'vapours', know that tonburi is a type of edible seed. The mouthfeel is like caviar but it still stays within the lane of your vegetarian sensibilities.
Brittany Purple Artichoke follows. A mix of Jerusalem artichoke and coconut tartare, topped with Périgord black winter truffle and a truffle ginger dressing. The tubers stick out like flowers as it sits in an artichoke cream.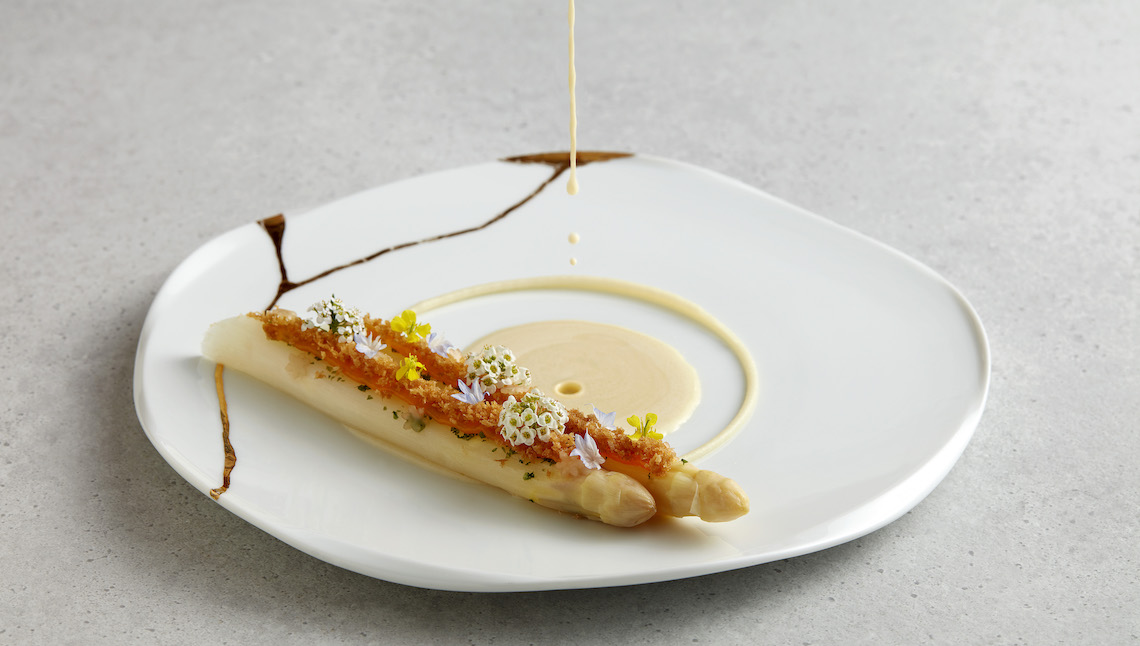 The fourth dish has morels stuffed with a green asparagus-morel filling. It's circled by pickled asparagus with a dusting of morel powder. Visually appealing, the charm transfer to the taste as you get an umami-ness thanks to the morels roasted in garlic butter.
By this time, the feeling that we were eating a vegetarian menu didn't cross our minds. You know the thought experiment of 'don't think of a pink elephant' but you will anyway. It's like that. For people like me not accustomed to eating full vegetarian courses, after a while, that label just flitters away and all that is impressed on my thoughts is that I'm eating food and it is a very tasty affair.
The conclusion of this is a choice between two desserts: the Kochi Dekopon and the Manjari Chocolate. The former is a citrus-forward dish infused with a German riesling brandy. It's furthered beautified by combava, Chantilly cream, citrus compote and bits of Japanese dekopon orange and Sicilian blood orange.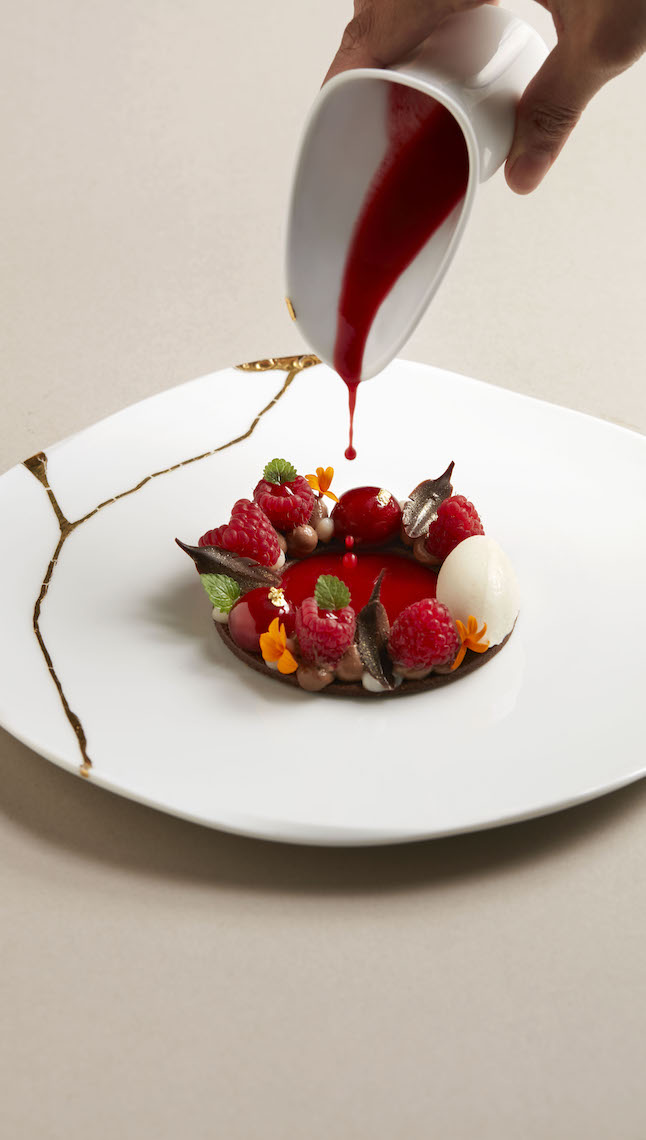 We did not have that. Instead, we chose the Manjari Chocolate, a chocolate sablé base ringed with raspberries, Manjari chocolate mousse and a raspberry coulis spherification. Breaking up the red-brown colour palette is a lychee gel quenelle. Sweet to the taste, indulgent even. A lovely punctuation to an already drawn-out afternoon. No notes.
Saint Pierre
1 Fullerton Road,
02-02B One Fullerton,
Singapore 049213
Tel.: +65 6438 0887