Madame Fan at the NCO Club is delectable and fun. No one needs an excuse to resort to alcohol at this point in history, but doing so in style and with great food is enough to create a special experience. And JW Marriott Hotel Singapore South Beach is the master of mischief on weekends
Dim. Sum. Brunch. Three lovely words in the culinary lexicon (for me, at least) now made manifest by a departure from tradition and an embracing of the notion that, on weekends, it's never too early to partake in an alcoholic tipple, get a buzz on, and eat great food.
Kudos to the peeps at JW Marriott for the marketing chops to think up something different. Congrats for paying reverence to the history that the NCO Club exudes. And genuflections before restauranteur Alan Yau for his vision, as well as chef Mike Tan for his creations in the dim sum department – respectful, but not afraid to have a tweak. All of these beautiful people with a passion for food have combined to put together an experience that could, potentially, be the start of a wonderful weekend… or the beginning of the end of one.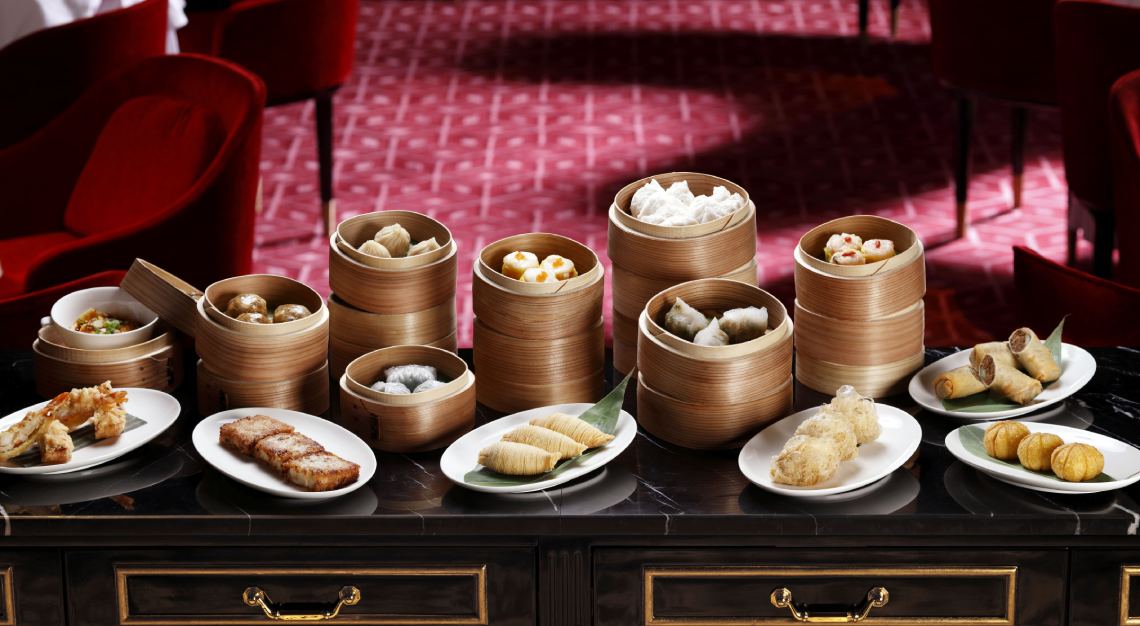 Let me explain.
Dim sum is almost invariably accompanied by tea. Dry, floral, aromatic tea that makes the palate receptive to flavours that are anything but the aforementioned. It's the contrast that maketh the meal, and it's what we all love. But imagine the idea of cocktails with dumplings, and we're in a different sphere of culinary influence. Is yum cha with tea sacrosanct, or can we change the landscape? By now, we should all recognise that nothing is 'wrong', as long as enough customers buy into the concept and it's carried through with sufficient gusto and expertise.
The Cocktail Dim Sum Brunch at the NCO Club, I would suggest, ticks three vital boxes in the restaurant experience questionnaire.
1) Is the food good? Tick. Tick. And half a tick more.
2) Does the ambience suggest that it's a place you wouldn't mind hanging out in for a few hours? Tick. Tick. Tock.
3) Does the concept work? Tick. 
You don't have to read between the lines. The single 'tick' for the concept is deliberate. It's great, and it's enormous fun, but the concept – serving cocktails with dim sum – isn't an unqualified success. The food is delicious. The cocktails are divine. But the big question is: should they be going together for any other reason than we all need an excuse to imbibe on a weekend? Not that we do. Need an excuse, I mean. I may have mentioned that.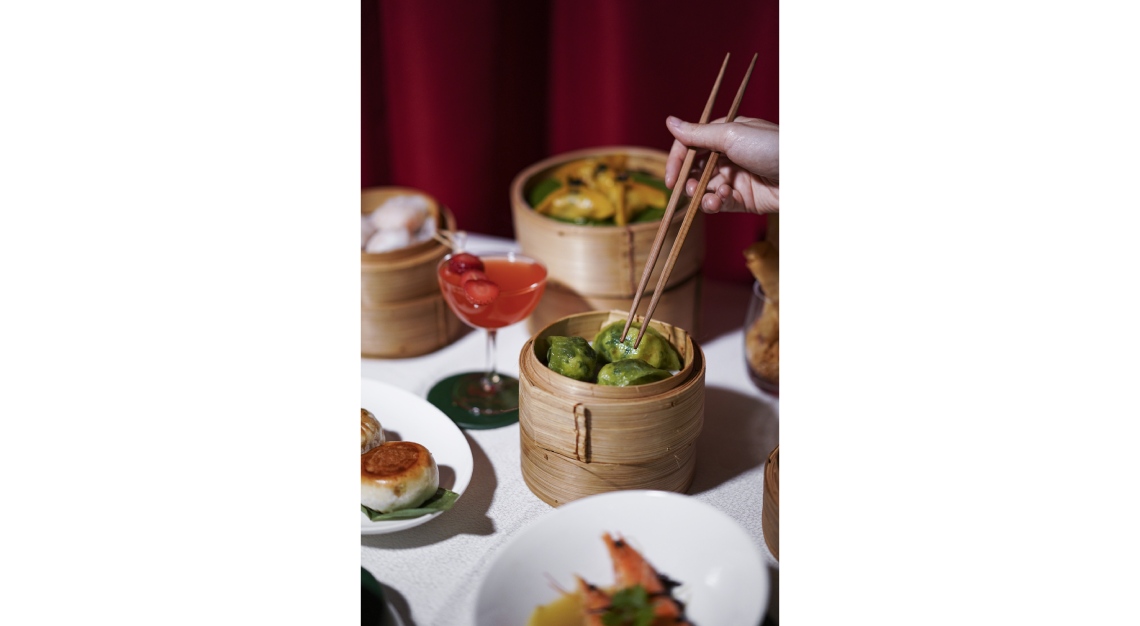 I have to return to my earlier point about taste buds' receptivity to the often delicate parcels of perfection that make dim sum such a delight. Tea is perfect. Complicated cocktails? Not so much. 
The Portofino that gets mixed at your table and trotted out is utterly delicious. Sweet, sour, umami (there's gin, cherry tomatoes, lemon juice and strawberry) flavours are abundant, and you could knock a few back before even contemplating how good the frozen strawberry 'garnish' is. What does it contribute to a greater appreciation of the Shumai, Bean Curd Skin with Parmesan Cheese, Har Gau and the Pan-Fried Minced Pork Bun? I'm not sure. 
The bottom line here is that it shouldn't matter, and… it really doesn't. The dim sum items are good enough to stand on their own three to four feet – depending on the portions – and chef Tan's 'tweaks' are controlled and judicious. The black truffle inclusion in the Wild Mushroom Dumpling is almost genius, and that's not even mentioning the carrot juice. 
There is preserved mui choi in the Pork Bun (delicately seared and with a beautiful 'char'), and kumquat and wasabi in the Seafood Spring Roll. This is not sabotage or sacrilege. This is innovation. Chef Tan sees the pleasure in slightly confounding expectations, and delivering unusual notes to diners, while retaining respect for traditional recipes. The results are almost invariably superb, and the Chinese Chive Dumpling (with crab and prawn) is nothing short of sensational – the skin gluey and receptive to the single bite; the encased ingredients, crisp and mulchy in equal measure; the overall effect, sumptuous.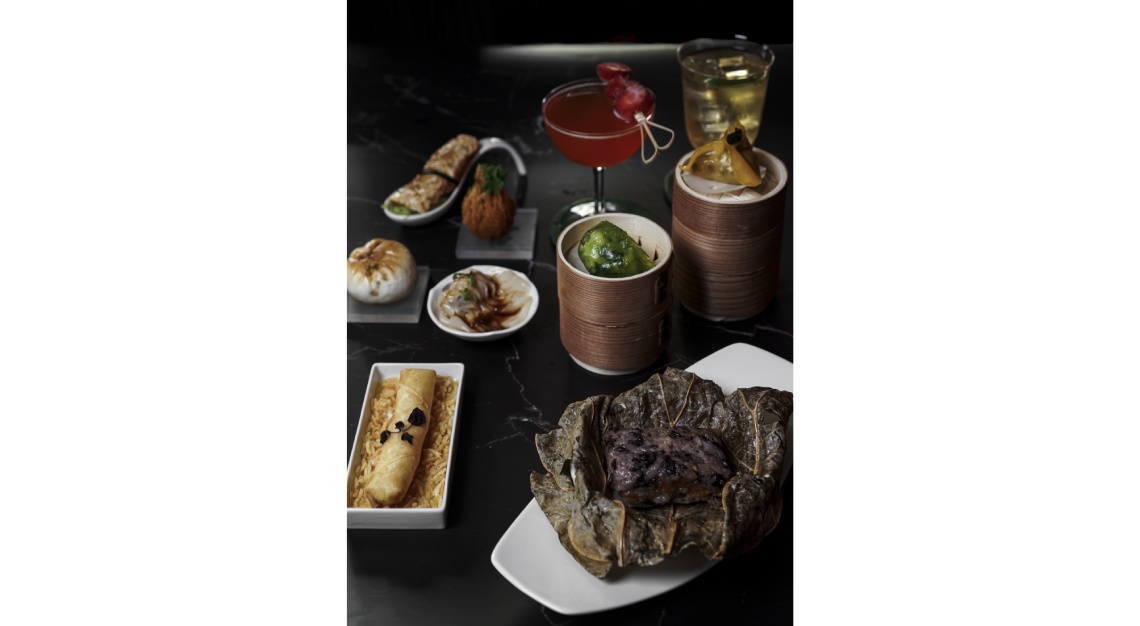 And there's plenty more to come, with a 'take' on Sesame Prawn Toast and a couple of Cantonese 'classics'  in the form of poached prawn, angelica root and Shaoxing wine (which will become an acquired taste), and braised vermicelli, wind-dried pork and clams – a dish good enough for a meal in itself and on its own. It had the perfect combination of sweetness from the clams, the softness of the noodles, and the saltiness of the bacon that makes you want to slurp through bowls and bowls of it – even after what has come before. 
A final word is in order for the dessert, which would be in the top 10 mango sago 'puddings' I have ever tasted. And I don't do desserts – I may have mentioned that. This is so, so good. Served at the perfect temperature, the texture in the dish always comes as something of a surprise despite the fact that we know what to expect. This version displays just the right proportions of starchiness from the sago, mild acid / sweetness from the mango, and tartness from the pomelo.
The concept may be a bit gimmicky, and that is to be expected these days – everyone is always trying to do something different, because everything else has already been done. While Madame Fan's weekend expression and experience may be a slightly different take on dim sum, it doesn't deviate from the fundamentals of good food and drink. The cocktails are wonderful, and the dim sum is utterly on point – even with the augmentation of a few unusual ingredients. Actually, especially with it, along with chef Tan's respectful innovations. He's stayed true to tradition – you don't have to reinvent the wheel when it comes to dim sum – but he's having a bit of fun in the process and while he's about it. It is a cocktail for success, because much is glorious, and the overall experience is thoroughly recommended as a culinary adventure that is, first and foremost, great fun.      
Madame Fan
32 Beach Road
The NCO Club
Singapore 189764
Tel: +65 6818 1921