Pay particular attention to the way the materials interact, and enjoy the delightful textural and colour contrasts
Ever the innovator, Richard Mille is constantly pushing boundaries in modern watchmaking, giving us glimpses of what horology will look like in the future, where watches grow increasingly distanced from their primary role as timekeepers. Cross-pollinating designs, materials and ideas from other technologically-charged industries, this intrepid watchmaker practically acts as the de facto R&D lab of haute horlogerie, where timepieces are never confined by rules and convention.
But something also has to be said about the way Richard Mille applies this intoxicating blend of creativity and savoir-faire across all its product categories, including women's timepieces, and its latest RM 07-01 models remind us once again on the importance of getting the small things right.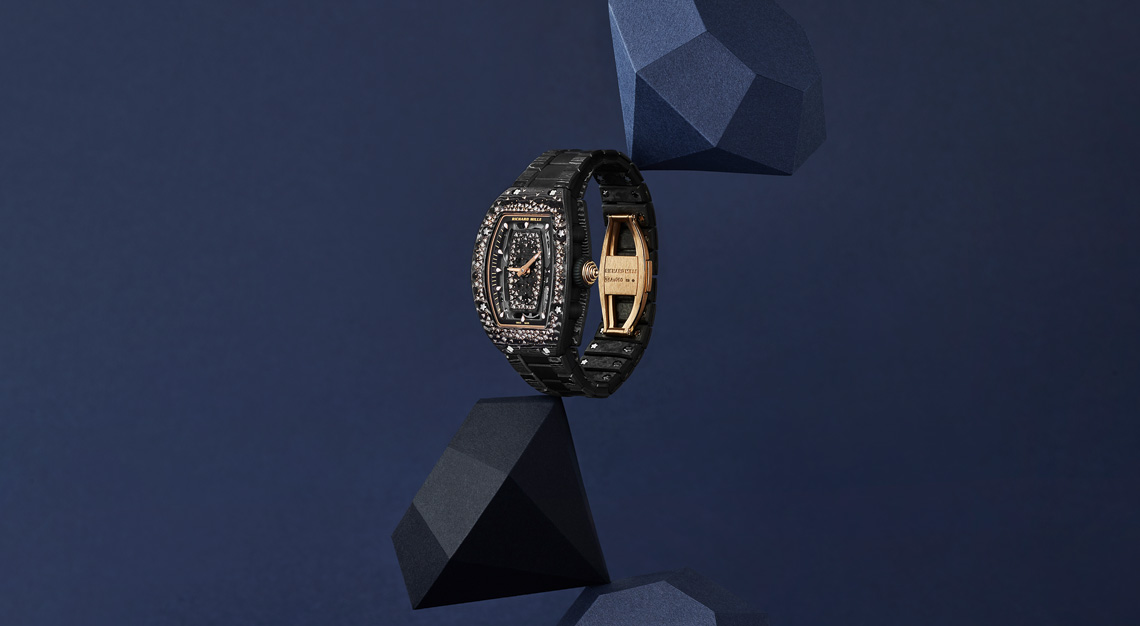 Technically, everything you see on this innovative duo already exists in Richard Mille's horological arsenal. Gold and diamonds are hardly surprising sights in luxury watchmaking, and Carbon TPT was introduced years ago in 2013. What was refreshing to discover, though, are the ways in which these three materials intermingle within a single timepiece.
Carbon TPT is, of course, the high-performance material distinguished by its damascene pattern and moiré sheen. Light yet strong, it is perfect for watch cases but Richard Mille famously went one step further last year, presenting Carbon TPT as a sporty three-link bracelet alongside another one with an oversized open-link design made in a decidedly more classical material, rose gold.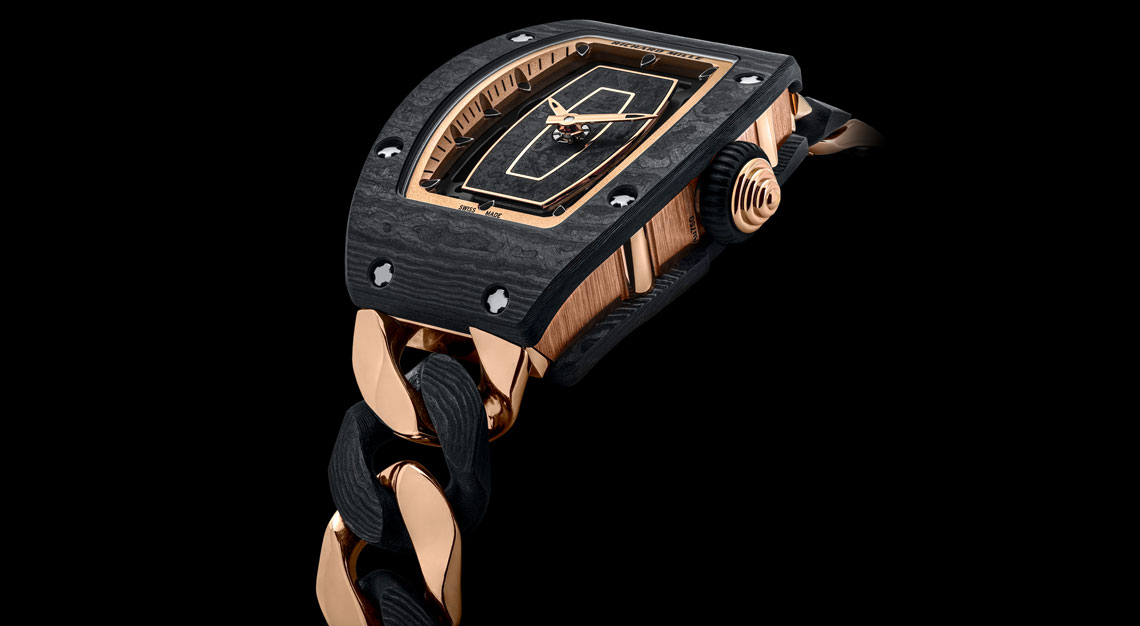 On seeing these bracelet designs, fans of Richard Mille should already know that more is to come, and we didn't even have to wait long to find out. This year, the watchmaker pulls back the curtains on the industry's first bracelet in Carbon TPT and rose gold. Based on the 2019 design featuring voluptuous links interwoven like a giant jewellery chain, this bi-colour bracelet is as memorable as it is disruptive – who knew that carbon and gold would come together this nicely?
Check out the brilliant contrast of finishes, colours, and textures, and just imagine this bracelet on the wrist. It's supple and elegant, yet you know it is also incredibly strong. Such a fitting metaphor, if we may add, of today's modern women.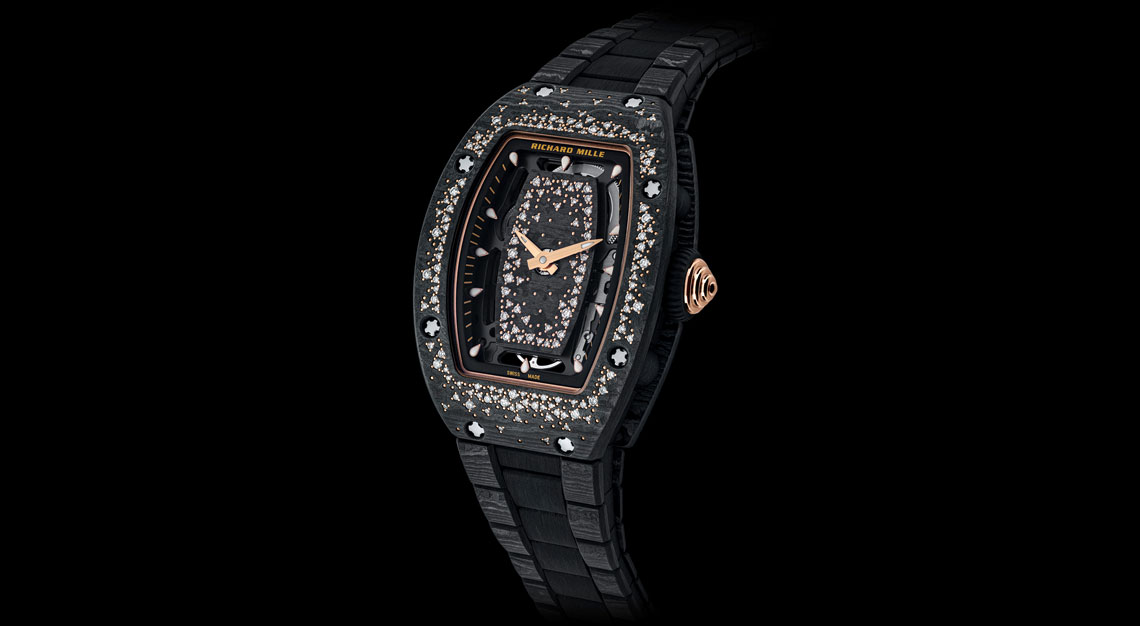 Likewise, the RM 07-01 Starry Night puts a new spin on the possible interactions between diamond, gold and Carbon TPT, serving up a generous heaping of sparkle in a most unconventional setting. For starters, you don't usually see diamonds embedded in carbon and the reason for this is because unlike gold, which is malleable, Carbon TPT is extremely resistant and hard. It requires specialist CNC machining using diamond bits to bore cavities into the material.
Obviously as an expert with Carbon TPT, Richard Mille has got all of that covered. Its bracelet in full Carbon TPT weighs just 29 grams. The watchmaker even managed to set hand-polished red gold prongs into the cavities – all 181 of them – each in varying diameters to hold diamonds of varying sizes.
The end result is a tapestry of diamonds and extra shimmer from red gold dots so it's truly deserving of the name Starry Night.
Both models are powered by an automatic skeletonised movement exposed beneath a tonneau shaped dial plate also made of Carbon TPT.