Highly Sought After
A Paul Newman Daytona is a relatively rare and sought after watch on its own. But the Paul Newman Daytona that belonged to the Hollywood actor himself, the very same timepiece he strapped to his wrist every day for 15 years? That's literally one of the watch collecting world's Holy Grails, if not the ultimate Grail.
No surprise, then, that the piece is expected to fetch more than US$1 million (S$1.36 million) at Phillips' upcoming autumn auction: Winning Icons – Legendary Watches of the 20th Century, taking place later this month in New York. It forms the top lot of the 50 pieces that will also be up for grabs. You can check out some of the other highlights here.
We spoke to Aurel Bacs, Phillips' Senior Consultant, to find out more about this storied timepiece.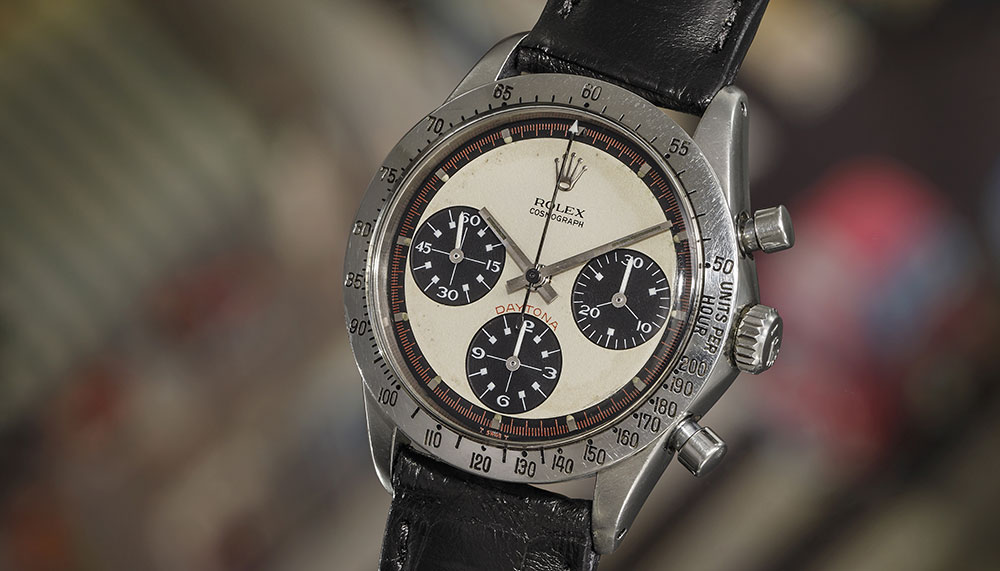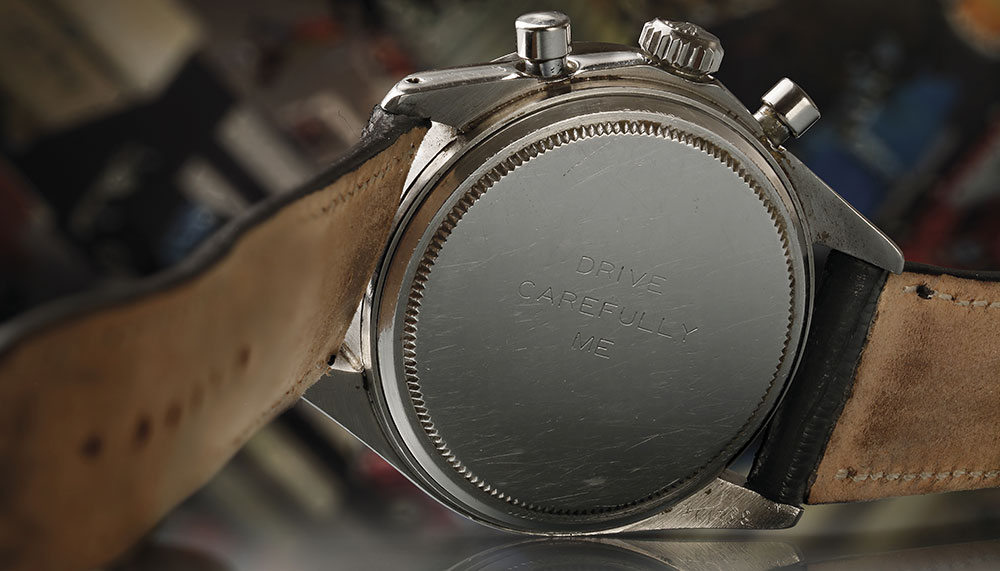 Please clarify, strictly speaking, what a Paul Newman Daytona is and what it isn't? For instance, white with black sub-dials versus black with white sub-dials, with or without screw down pushers, oyster sotto versus non-oyster sotto, etc.
I'll start by saying that the terminology of a Paul Newman (PN) dial does not come from Rolex but from the collecting community – meaning that it is, strictly speaking, not an official terminology. If I am not mistaken, what we call a PN dial today was described at Rolex as the exotic dial. Singer produced these dials between the second half of the 60s and early 70s, for five or so years. Consequently, they can only be found on half a dozen references, of course all with manual winding movements.
The so-called PN dials can be found with a white main colour and black sub-dials, as well as the opposite. They can be found either on the pump pushers' as well as the screw-down pushers' references; the latter also called the Oyster Paul Newman. Furthermore, such dials can be found on stainless steel and gold Cosmograph models, the latter in both 14K and 18K gold.
The difference between a regular and a so-called PN dial lies in the fact that sub-dials' numerals on the PN models have a different font. They are more stylised and almost art deco, compared to the regular Cosmograph models. For the intervals between the numerals, the regular Cosmograph dial features hash marks whereas PN's uses little squares on top of the hash marks (see photo). PN's have always an additional outer ring for the seconds and the 5th of the seconds printed, in the opposite colour to the main dial colour.
The regular dial features elongated indexes while the PN features little flat applied squares.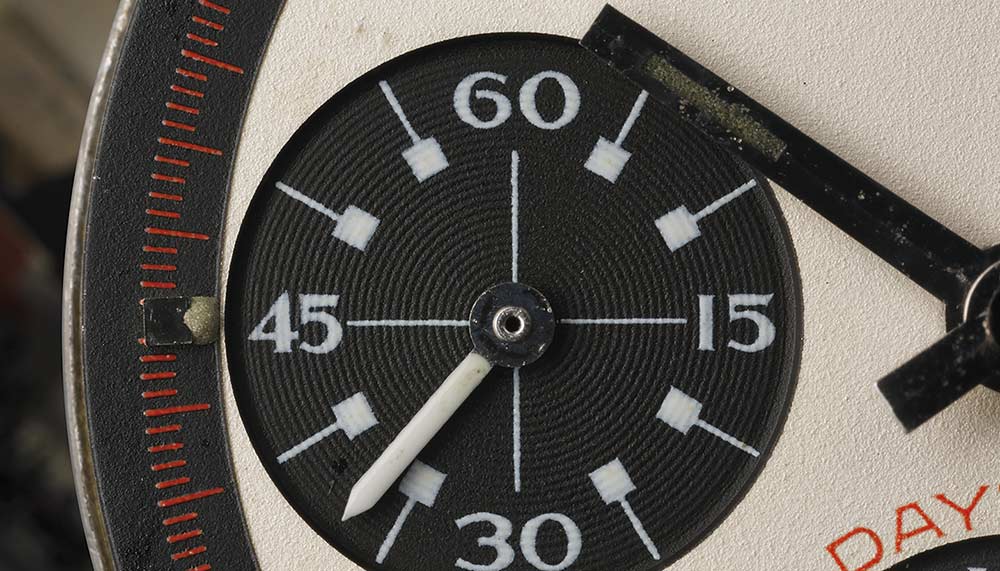 Why are PN Daytonas so sought after? Are they all that rare? Because they seem to appear at auctions quite a bit. 
Daytonas fitted with PN dials are indeed much rarer than their standard counterparts. It appears that their very refined design is more appealing and more captivating in the eyes of collectors, hence their popularity across the globe. But Paul Newman wore his Daytona for fifteen years of his life, day after day. I am sure this has a positive impact on its popularity.
And you are right, we do see them at nearly every international watch auction. Every auction house knows that they are popular – they will go into considerable efforts to secure, at least, one for every auction. They are simply must haves! To a trained eye, it is pretty easy to immediately spot a complete fake – but it is trickier to spot restorations and alterations that are not openly declared as such by the vendor. This is why it is so important to only buy from trusted sources, no matter if it is an auction house, a dealer or a private collector.
What are the key features to pay attention to in this specific reference?
Originality and condition! As you can imagine, with everything valuable there are always certain people that like to cut corners and to "come up" with PN dials to make a quick profit.
How much do you think it will sell for, seeing as the "Bao Dai" sold for over US$5 million (S$6.8 million) and a recent PN Daytona sold for over US$3 million?
In my point of view, there is no other watch in the world that can be realistically compared to this watch, hence the impossibility to predict its price.
Is it true that the Daytona wasn't a popular model when Rolex first launched it?
Yes, it is true; the Cosmograph was struggling for many years to deal with the competition, which was fierce at the time. I remember well in the 80s, when I became interested with watches, that one could buy a Daytona new from the shop with a considerable discount.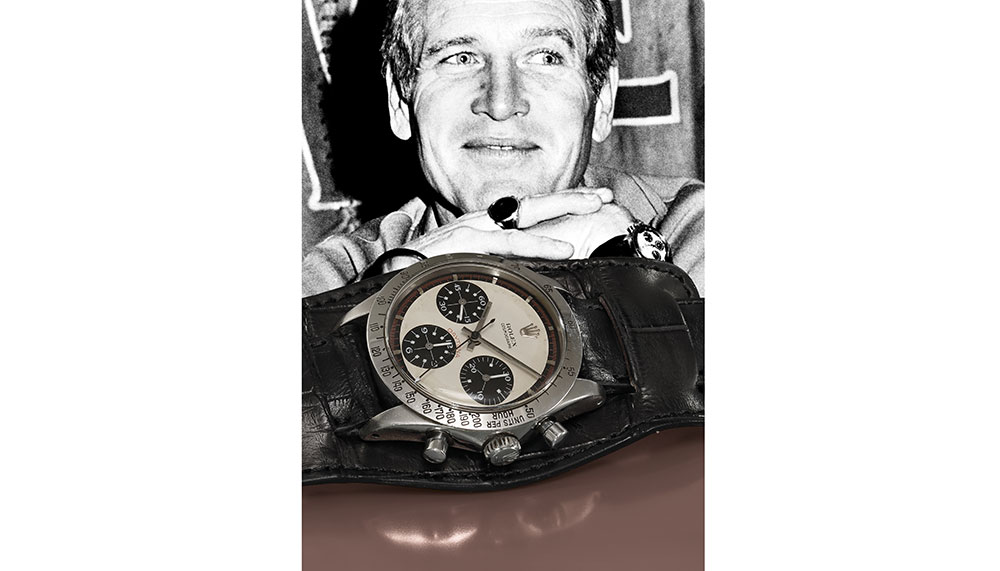 Without the Paul Newman association, do you think the Daytona would have become such a legendary watch?
Probably not, and potentially all Rolex sports watches wouldn't be as popular today if the Daytona didn't sail as the trial horse. And this is exactly why Paul Newman's Paul Newman Rolex Cosmograph Daytona has to be considered one of the world's most important collectors' watches of all times.
Do you believe such a watch should be worn and enjoyed on the wrist or kept safely in a vault?
I am pleased to report that the watch today, nearly 50 years after its making, is preserved in wonderful, all-original condition. This is remarkable, considering that Paul Newman wore it for fifteen years in a row, day after day, in all situations: be it on the red carpet or in a race car. This shows that one can very comfortably wear the watch without harming it, as long as one doesn't expose it to inappropriate impacts and other unfavourable treatments. All I wish for the watch and the horological world is that the next owner knows and respects its utmost importance and preserves it in the best possible conditions for the next generation.
Phillips
Auction: Thursday, 26 October, 6pm
Location: 450 Park Avenue, New York