French travel agency Safrans du Monde has turned an A340 into a flying five-star hotel, and it's taking off soon
The world's coolest booze cruise doesn't involve a boat.
Thanks to white-glove tour operator and travel agency Safrans du Monde, you can now cruise the entirety of planet Earth (at altitude) from the comfort of a well-appointed cabin in less time than it takes to remodel your kitchen.
The company recently rolled out a 22-day world tour (officially dubbed World Tour Grands Classiques 2023—last year's new journey was a Grand Tour of the Americas) inspired by Jules Verne's Around the World in 80 Days, which celebrates its 150th anniversary this year. But unlike the novel, this trip is boozy. Travellers on this abbreviated, elevated journey will be served only the finest wines and spirits handpicked and hand-poured by the plane's resident French sommelier.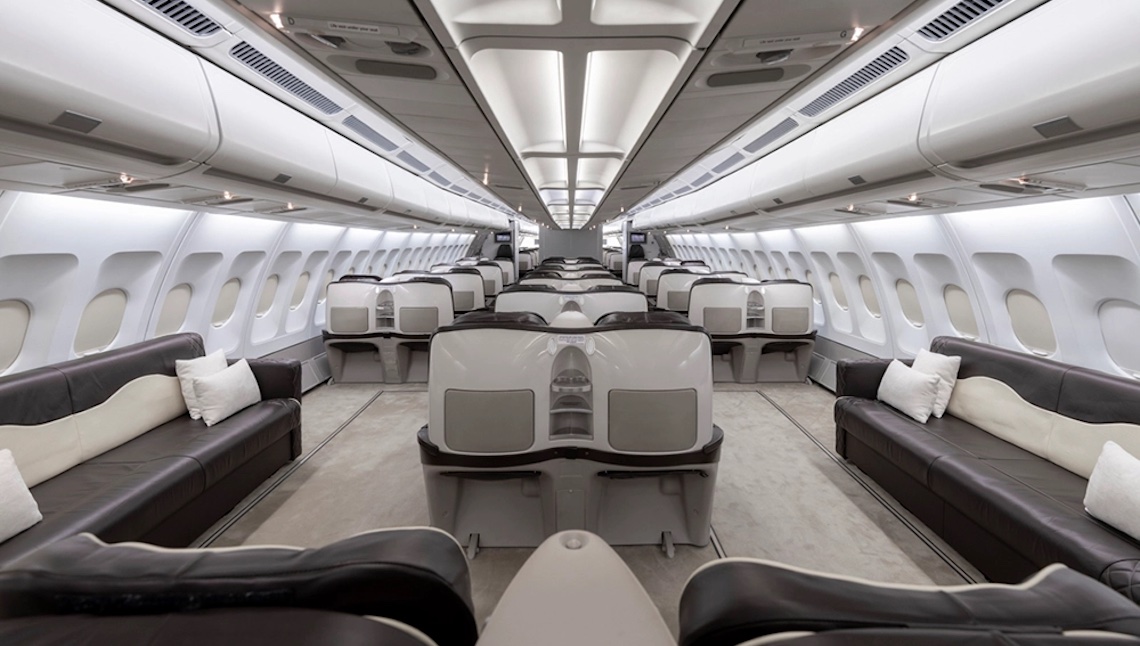 This year's nine ports of call are all bucket-list contenders: Easter Island, French Polynesia, Rio de Janeiro, Machu Picchu, Angkor Wat, Petra, the Taj Mahal, Sydney, and Paris, where this sky cruise begins and ends. In 2024, New York City will be added to the itinerary.
"I am permanently aiming to create the necessary 'wow effect,'" said Guy Bigiaoui, CEO of Safrans du Monde, a French "tailor-made travel agency" that specialises in private-jet travel.
In a past life, this retrofitted Airbus A340 carried more than 350 people, and the lavatories were anything but lavish. Today, this flying five-star hotel—complete with three pilots, seven flight attendants, a sommelier, and a chef—carries just 40. Each jet-setter gets a flatbed seat with two full meters of space in between them and their neighbour. The bathrooms are lush, and there's even a lounge area with leather sofas. 
Bigiaoui calls this roundup of destinations a "kaleidoscopic vision on the world." At each stop, guests will be treated to private small group tours and evening entertainment. Of course, all of this 'gram-worthy gallivanting comes at a cost, and this cruise only has two classes: business and first.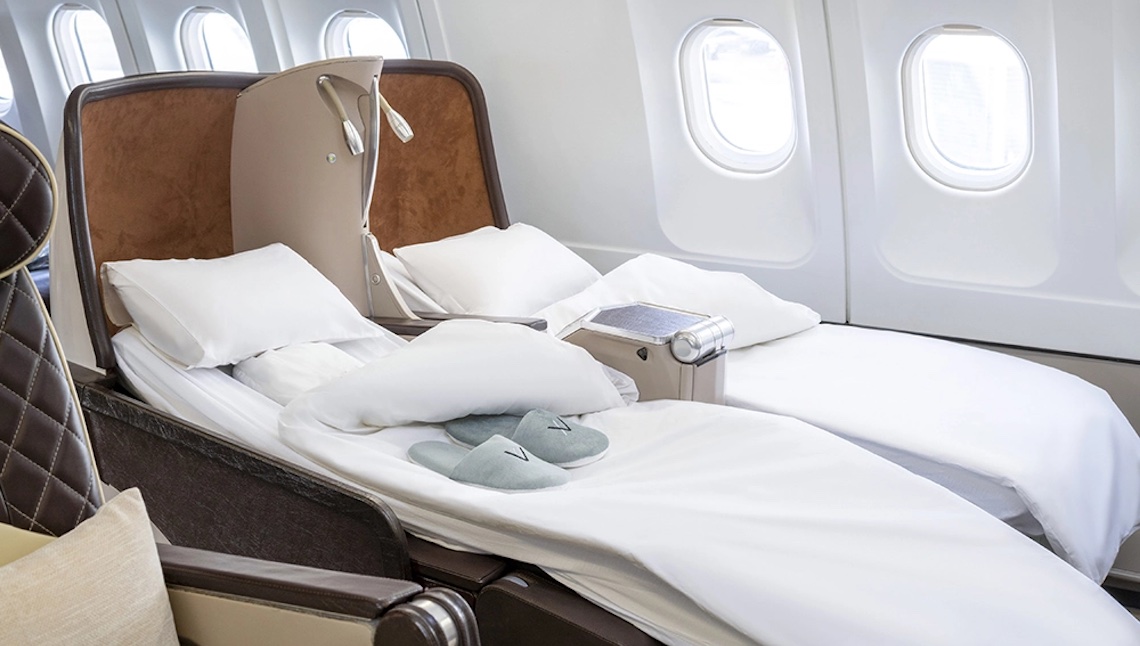 Safrans du Monde's business-class package, Club Safrans, starts at US$74,633 per person. It includes transfers, guided tours of 25 people or fewer, and a full board (not including mini bars and drinks outside of meals). For accommodations, also included, Club guests can room at five-star hotels or "equivalents." 
If that's not fancy enough for you, fly first class. Premiere Safrans, which starts at US$115,242 per person, includes all the above as well as a few more bells and whistles. Board the plane first, check twice as much luggage, enjoy enriched land programs (such as getting to overnight on a "junk" in Vietnam's Ha Long Bay), and stay in even bigger rooms at even more exclusive properties, such as Peru's Tambo del Inka, a Luxury Collection Resort & Spa and Australia's Four Seasons Hotel Sydney. 
According to Bigiaoui, the cruise, which takes off 24 October 2023, has received a "significant" number of new bookings recently. Fortunately, there are a few seats left, although you'll have to leave Fido at home.
"Unfortunately pets cannot join us because of the very dynamic quarantine conditions in the destinations," said Bigiaoui. 
And as for the million-dollar question? Yes, despite flying private, passengers may still be subjected to a TSA pat down. But Bigiaoui says you'll get to use a fast lane, so at least you won't have to wait in line with the plebes.