Just south of Italy, the archipelago that rose to wealth and power during the Crusades is modernising its offerings for visitors and locals alike
Editor's note: See other Escape Plan stories here.
They call them Aldo's fish. The brightly coloured, distinctly midcentury patterns on the plates at Villa Bologna Pottery in Malta were designed by Aldo Cremona, who worked there for more than 70 years. Born deaf to a poor family, he had limited schooling and never learnt to speak, communicating instead through his vibrant artwork. The facility's signature scroll design was his handiwork, too, as were a series of water jugs, jauntily daubed with splotches of paint to resemble women. "They were supposed to be saluting admirals, but Aldo didn't like painting men, so he made them ladies instead," says the pottery's owner, Sophie Edwards. Cremona died last year, but there's still a shelf full of those jugs in the workshop acting as templates for the designs. A small sticker indicates each of their names: Violetta with her bedroom eyes, for instance, or Delft-blue Flora.
The workshop itself is almost a century old, founded in 1924 as a philanthropic effort to help employ local women, but it has been reenergised in the three years since Edwards and her husband, Rowley, took over. "Everyone in Malta knows the pottery—the pineapple lamps are popular wedding gifts," she explains. Now, though, the couple hope to build a bigger audience; last year, they opened their first foreign store, in London's tony Holland Park, and launched e-commerce for America this spring. Every piece will continue to be handmade.
It's an unexpected story to those who are at all familiar with Malta. Mention the country and most will think of the military might wielded by the bygone Knights of Malta, and perhaps money, but not making things. Today, though, thanks to an influx of wealthy and design-focused new citizens, the tiny, rocky nation is starting to rebrand itself as a source of, and destination for, serious luxury.
Malta, at just 316 square kilometres, is composed of three islands: the namesake and largest, plus smaller, rural Gozo, and Comino, a shard wedged between the two. The trio sit squat in the centre of the Mediterranean and benefit from naturally deep harbours; such geography and geology made it a squabbled-over strategic possession for centuries, most recently held by the British. (The late Queen Elizabeth lived here as a young wife, and her one-time home will soon open as a museum.)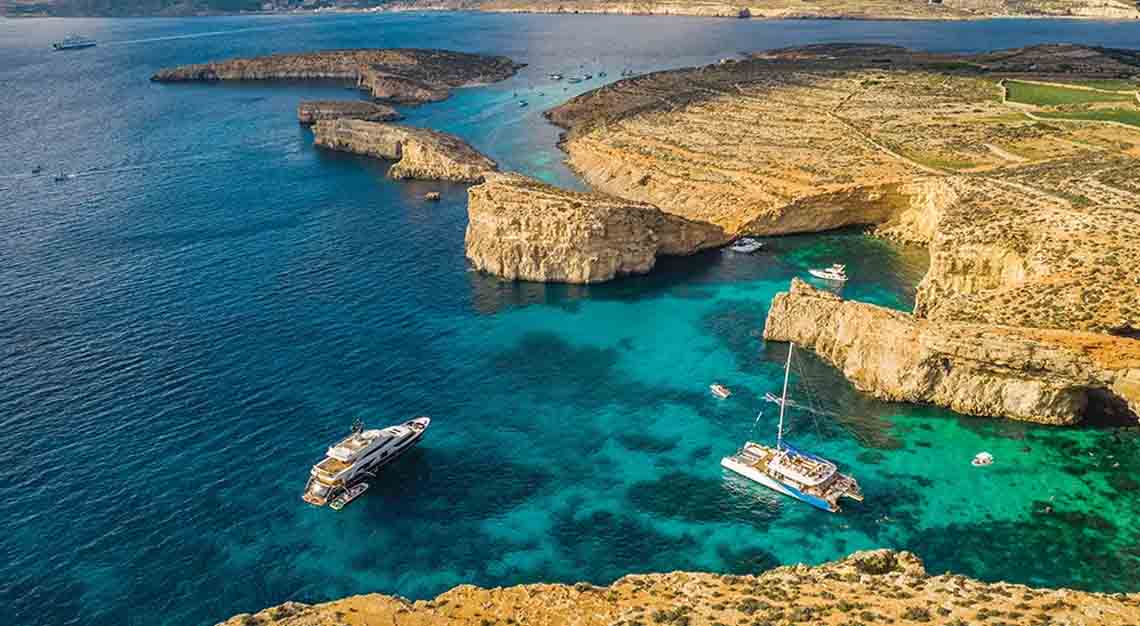 Malta's contemporary reputation has focused less on force than on finances, as the country has aimed to act as a Mediterranean answer to the Cayman Islands. Its favourable taxation regime burnished its appeal to wealthy Europeans, who can take up residency here and pay minimal taxes. A citizenship-by-investment programme, in which a passport is yours for a million or so euros, has increased the numbers of high-net-worth residents from other regions, too. The policy has not been without controversy since the government introduced it in 2013 under former premier Joseph Muscat—and that administration remains embroiled in the scandal around the murder of investigative journalist Daphne Caruana Galizia six years ago, which precipitated Muscat's resignation in early 2020 and continues to swirl.
There has been tourism in Malta over the years, but it's been mostly mass-market. Keen to rebuild after World War II, when the country underwent brutal bombardment by the Axis powers, the Maltese constructed cheap hotels that filled up with sun-seeking Britons and Germans, who provided much-needed economic stimulus in the 1960s and 1970s. But such package holidays are falling from favour, and locals are determined to lure a different calibre of client. "We can't sustain huge amounts of people like that anymore," says Maltese interior designer Francis Sultana, who's based in London and is a cultural ambassador for his homeland, where he has a spectacular house. "Malta has to reinvent itself as a place to live that's full of arts and culture and with a wonderful sea around it."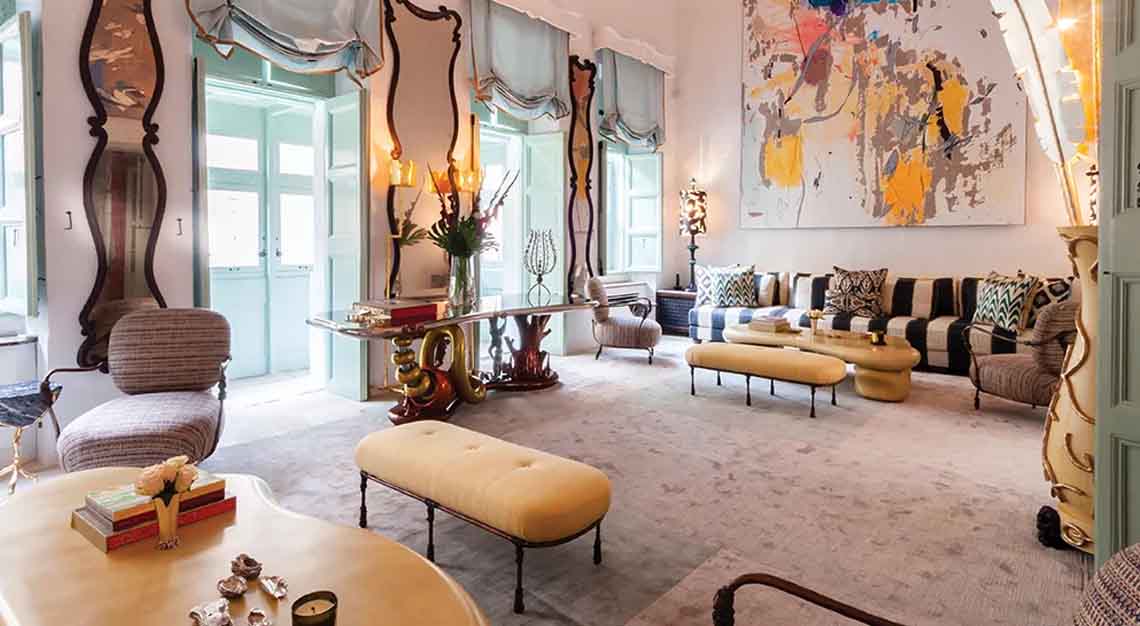 To that end, Malta is working to reposition itself via travel specialists, such as the luxury operator Red Savannah, which will introduce the country as a recommended destination this fall. Its interest reflects the rising profile for Malta among elite travellers, which is the hard-won product of the government's concerted efforts to transform its audience, whether by underwriting new cultural assets, tendering abandoned buildings for renovation, or continuing to expand the citizenship-by-investment scheme. When the first such programme filled its quota of 1,800 passports, the government simply launched a second one, slightly tweaked. The firm Latitude Residency and Citizenship helps interested would-be Maltese citizens navigate the red tape.
"Americans are the biggest market for Malta now—they're more than half of the applicants," says Jon Green, the firm's cofounder and global sales director, noting that political uncertainties stateside have driven this change. "In the last five or six years, demand for programmes like these has skyrocketed from the U.S. Before that, nobody thought it was a viable market for the industry."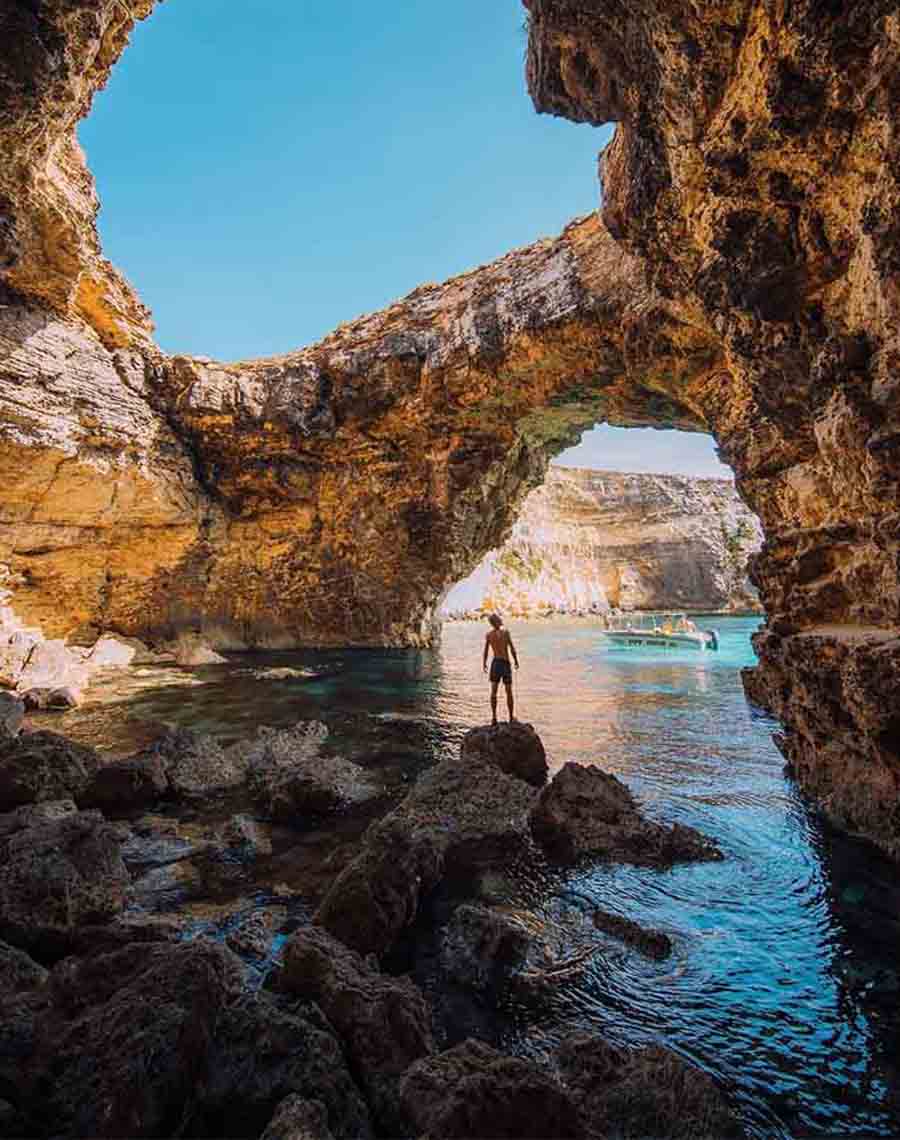 Those new, wealthy tourists and part-time residents are a crucial customer base for Sophie and Rowley Edwards. Sophie grew up partly on the island and had always mulled a return. They were married at Villa Bologna, the country house on whose estate the pottery sits. When she was pregnant with her first child, the now 4-year-old Rocco, the couple visited and found the ceramics workshop in a precarious state, operating with just three staff, including Aldo. "You'd rummage around in the basement and find old moulds and bits of pottery," she recalls. They set about relaunching the company, retaining its retro aesthetic but sharpening its approach to business. They're now working with interior designers and private clients on custom commissions, all while building a restaurant in the stable block next door to the workshop, an all-day upscale Italian-accented café with its own garden.
Villa Bologna is in the village of Attard, a smallish settlement in the centre of the island, but much of the new energy is focused on the country's capital, postcard-pretty Valletta. Sitting on a rocky outcrop next to the deepest harbour on the northern coast, it was built as a single project in the 1570s, which conferred a pleasing uniformity to its architecture. The aesthetic is the same Ottoman-influenced style seen throughout Venice. Valletta was cannily master-planned in a grid layout, allowing sea breezes to pass through downtown as natural air-conditioning; even today, the shadier streets remain surprisingly cool in midsummer.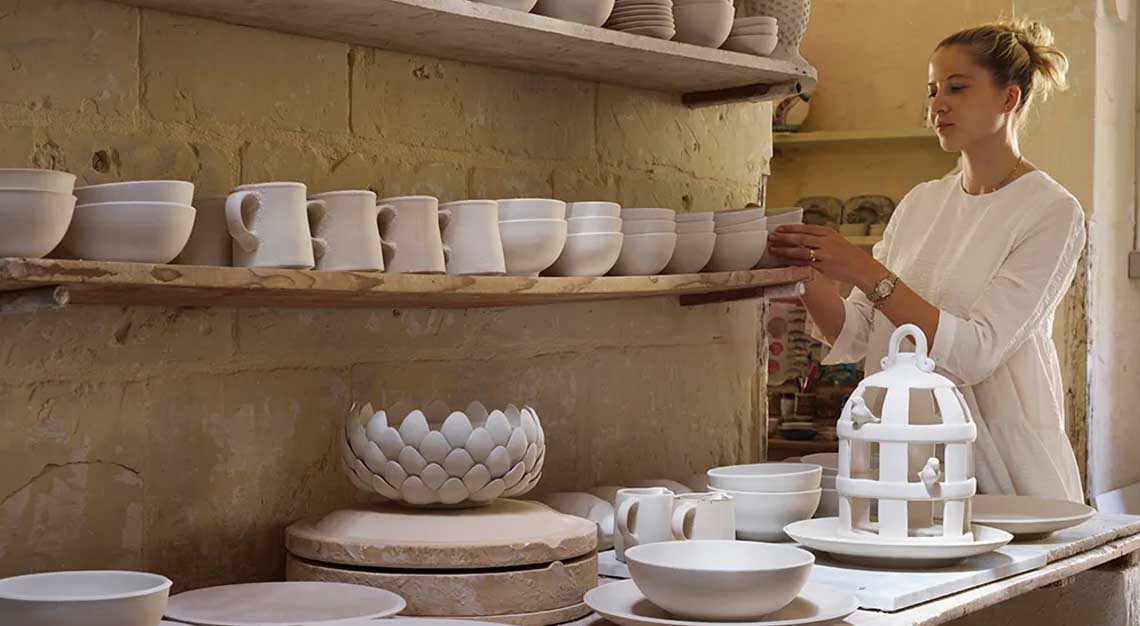 The old structures here are being artfully redeployed. Take Renzo Piano's 2015 parliament building, a rippled cube rendered in the same honeyed limestone used to erect its 16th-century neighbours. His initial plan to demolish the ruined former opera house next door proved controversial, so he instead repurposed the bomb-scarred site as an outdoor theatre that serves as both a memorial and an amenity. Then there's the one-time abattoir that reopened two years ago as the Valletta Design Cluster, a WeWork-meets-workshop complex aimed at creative startups whose primary-colour-painted doors and windows have a whiff of Dae Stijl. Local architect David Felice and his firm, AP Valletta, are working on a major new home for the various artworks and tapestries from the city's cathedral: a glass box grafted onto a series of old houses, earmarked for completion in 2024. And just outside the city walls is arguably the most ambitious creative project in the country: the Malta International Contemporary Art Space, or MICAS, which is set to open its 4,877 metres of galleries next year.
It's already a thrilling site to walk around. The iron-beamed skeleton for MICAS's huge glass-walled rooms sits bolted to the remnants of the Old Ospizio, a 17th-century fortress that stored gunpowder safely away from Valletta proper. The museum's modernist design, penned by the Florentine architecture firm IPO Studio, forms a stark contrast to those yellowish, weathered walls. Excavations unearthed ancient ruins—the Romans also saw the strategic value of these islands—and so forced the architects to rejigger their vision; another room now incorporates the big bricks into one of its walls.
On a sunny but brisk March day, the redoubtable chair of MICAS, Phyllis Muscat, picks her way through the site with curator and board member Georgina Portelli, proudly pointing to the rooftop sculpture garden, which will be home to temporary commissions and permanent pieces by the likes of Michele Oka Doner and Cristina Iglesias. They hope that MICAS will act as Malta's answer to London's Serpentine Galleries, a small but noteworthy space ideal for artistic takeovers, or the seaside Istanbul Modern. It's already attracting attention: Sculptor Conrad Shawcross has committed to a site-specific installation this October, before the venue is even complete.
"Malta is heavily branded as a baroque island, and Valletta was at the cutting edge of architecture like that when it was built," Portelli explains, calling the modernist metal additions a 21st-century continuation of that history.
Similarly, Sultana, the interior designer, stresses that Malta's move upscale is actually a return to its roots. Think back to the Knights of Malta, he suggests, the Christian order that combined chivalry, conquest, and care for the needy. Its aristocratic and international members, who helped take Jerusalem during the Crusades and ruled over parts of Greece, Italy, and, briefly, the Caribbean, in addition to Malta, left the island flush with their fortunes. "The Knights were very, very into luxury, so much gold leaf and great paintings," Sultana says. "So people are not afraid of maximalism here." He refers to the local aesthetic as "baroque and roll"—as much the Clash as Caravaggio. (Indeed, that serial rebel took refuge here in 1607, fleeing murder charges in Rome, and his largest work sits in the oratory of St. John's Co-Cathedral.)
"I think of Malta as Marrakech in the Moed," says John Cooney, comparing these islands to the city where Yves Saint Laurent and his entourage formed a chic outpost of creative expats. Cooney is a Swiss Italian entrepreneur who moved to the island with his husband, Kevin Schwasinger, three years ago. Among other ventures, Cooney's company Forbidden City designed and operated boutiques in Aman's hotels for several years. He and Schwasinger now live in a converted palazzo originally built for one of the Knights of Malta but are developing a new five-bedroom hotel in a 17th-century complex in what is known as the Three Cities, a trio of towns that share Valletta's harbour.
The hotel, called Cité Privée Maison Malte, is the first of an intended chain and will open in 18 months' time alongside 20 residences located on nearby streets, also in old buildings that the couple are painstakingly restoring. Buyers can use the services of the hotel, and they can also deed the properties into the hotel's rental pool for guests to book. Cooney says the appeal of developing beyond Valletta's walls is that this part of the island hasn't yet seen intense, mass tourism, despite being just a short boat ride away—you can take one of the luzzu, or Maltese gondolas, and glide across the harbour in less than 10 minutes. "This part is like living in an old Maltese village, before there were cars—for me that's what is really enchanting," he says. "You might have an old lady down the street screaming at the top of her lungs at her daughter, but other than that, there's no noise."
Cooney's project will sit next to the Cospicua Super Yacht Marina, a new berth in the Three Cities with room for more than two dozen vessels at once. Malta has long been a destination for yacht repair—its yards jockey with Montenegro for primacy in the region—but there are now concerted efforts to encourage yachting tourism, too. Mike Mifsud runs Yachting Malta and has worked with the government on a new strategy. "The offering here is disjointed and not properly packaged, and it needs some polishing," he tells Robb Report. Mifsud points out that despite the deep waters surrounding the country where superyachts can easily stop, including a marina in the northeastern city of Msida, there's a missed opportunity along the rugged southern coast. The area has no marina, but all that's needed to accommodate large superyachts are a few ocean-floor moorings. The major dive sites lack moorings, too, though prime spots are plentiful; Malta's place at the centre of the Mediterranean means that ships have wrecked here since Phoenician times. The lack of luxury retail is a factor as well, while tendering across from the Three Cities to Valletta is complicated because there's nowhere to tie up upon arrival. By the middle of this year, though, Mifsud says that the government should have approved a full-scale superyacht strategy.
The other major issue for Malta's pivot to luxury tourism is even more critical: places to stay. Put simply, luxury accommodation is scarce. It's a legacy, in part, of the way the British treated this possession. Unlike Madeira, Malta became merely a depot rather than a destination, strategically important but rarely considered worth visiting. As a result, there's no grand Victorian-era hotel that would now be ready for a rebirth. The two best-known inns date back to the post-war boom: Corinthia Palace, in Attard, and the Phoenicia, just outside Valletta's main gates. Neither is a truly five-star property, though both have plans to upgrade. Sultana has been engaged to overhaul the former's public spaces and suites, while the latter has mulled adding a series of stand-alone luxury villas overlooking the local marina.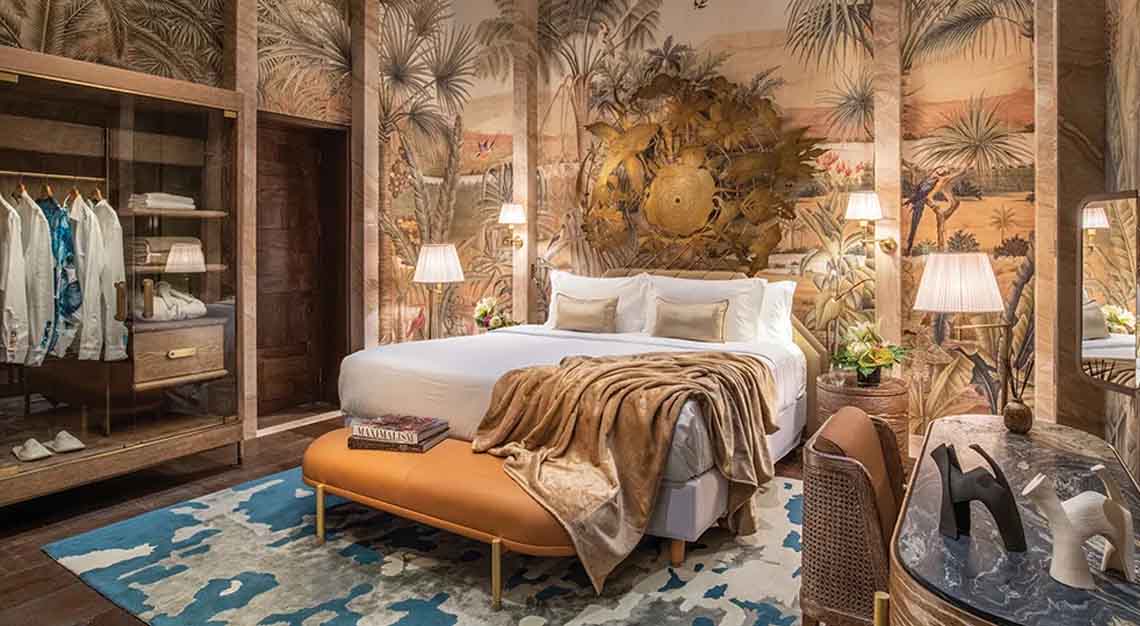 Most exciting, though, is the raft of new hotels that are set to open, such as Casa Bonavita, a project by Sophie Edwards's parents, Christopher and Suzanne Sharp, in a 1760 Baroque mansion they acquired about 12 years ago. The couple are the founders of interiors firm the Rug Company, and Suzanne is Maltese. "We've always had the problem that people say to us, 'Where should I stay in Malta?' And it's really difficult, so we started thinking about the house we bought—it's so large, it was a bit of a folly," Christopher says of the site, which they've since painstakingly repurposed into a 17-room hotel set to bow next spring.
The government is supporting such efforts. It has put a grand former office in central Valletta on the market, expressly for conversion into a high-end hotel; the winning bid will be announced this summer. One of those chasing the deal is British businessman Mark Weingard, who moved to Malta from Spain a decade ago for the financial upsides but quickly embraced the island and its culture. He opened the first truly upscale hotel here, Iniala, which straddles several historic townhomes overlooking that harbour. "When you walk around Valletta, you can get confused," Weingard says. "It's this fusion of East and West, a mix of Jerusalem and Venice." Another mark of his confidence in the destination's uptick: He has just installed L'Enclume's three-Michelin-starred chef, Simon Rogan, at the Michelin-starred Ion Harbour restaurant, only Rogan's second site outside England.
But the biggest project is far from Valletta—indeed, it's on another island entirely: Comino. Barely 3.6 square kilometres in size, Comino is mostly a protected habitat now, having once been farmland. Just one resident remains, a man in his 70s who lives self-sufficiently on a small plot. There is modern construction on Comino, though, and it's yet another legacy of that rush to mass tourism in the wake of World War II: two connected sites, on the island's northern coast, one a hotel complex and the other a series of hotel-operated villas. They'd slumped from their hey-day, booked mostly to package vacationers, and were shuttered four years ago. Malta's government hoped to hand the sites over to a new developer who would reimagine them entirely for luxury tourism—and that entity was Malta-based Hili Ventures.
Now surrounded by metal fencing, the abandoned buildings have an eerie quality, shabby but solidly constructed with little consideration for the surrounding countryside. The landscape is typical of Malta: low-lying brushland, free of trees, with clusters of shrubs huddled together against the winds. Hili hopes that a recently announced deal with luxury hotelier Six Senses to operate the property will single-handedly draw luxury travellers from around the world to Malta. Only time will tell."
The lowdown
GETTING THERE No airlines offer long-haul flights to Valletta, so most North American visitors arrive via a European hub. For charters within Europe, the Maltese private-jet facility is located at the main airport but has its own stand-alone terminal; try Hans Jet for reasonable options. La Valette Club can handle VIP customs and arrival.
GETTING AROUND The archipelago's roads can be chaotic. It's smartest to hire a driver to scoot around the islands without white knuckles; Dacoby has the best chauffeurs.
ACCOMMODATIONS The top choice is Valletta's Iniala Harbour House, with 23 rooms and suites. There are five penthouse-suite-style options—the best, dubbed the Lucija, boasts a private plunge pool. The four-bedroom Hideaway, an annexed property a few doors down from the main hotel, is available for buyouts, too. From about US$382 per night.
RESTAURANTS In Valletta, try the Harbour Club for sundowners. Gracy's, owned and operated by British businessman Greg Nasmyth and his wife, Samantha Rowe-Beddoe, is a members' club whose brasserie is open to the public: Come on a Sunday for a buzzy afternoon scene or book the plush private karaoke room downstairs. Noni is one of the city's six restaurants with Michelin stars, run by local chef Jonathan Brincat and his sister and maître d', Ritienne. The food is playful and unstuffy: Order the superb, deconstructed prawn cocktail.
Outside the city, try Carmen's, a waterfront bar and restaurant on Għar Lapsi on the south coast—casual but disarmingly delicious, especially on a warm spring day. Il Corsaro, in the historic town of Żurrieq, is owned and run by an old Italian; think freshly made pasta, menus on chalkboards, and a room full of hungry locals.
ACTIVITIES Malta doesn't have many appealing sandy beaches; instead, expect craggy edges at the waters. Head down to the southern coast for the quietest perches: The swimming holes at Wied iz-Zurrieq are reachable from the rocks, as is the Blue Grotto arch there; the sea off Ghar Lapsi is easily swimmable, too. The walks in and around Dingli Cliffs are spectacular in the late afternoon. For diving, the oldest local club is Atlam SAC; standout sites include the Bristol Beaufighter World War II wreck at 38 metres or the SS Polynesian, a French liner sunk during World War I that lies at 68 metres.
OPERATORS Fischer Travel and Red Savannah, both Robb Report Travel Masters, have expertise in the islands. Note that weather is mostly pleasant year-round, but try to avoid January and February, which can be rainy and cold; December is often surprisingly balmy, while midsummer will be brutally hot.
This story was first published on Robb Report USA