With coloured diamonds consistently hitting record prices on the auction block, there's no better time than now to start investing in them. Tamara Moussaieff of Moussaieff Jewellers tells us more
Moussaieff Jewellers' devotion to coloured diamonds is no secret, and because it is a family business, this passion is carefully transmitted from one generation to the next. Tamara Moussaieff, who has been in charge of selecting and buying stones for more than 30 years, sheds some light on this small but rarefied segment of the diamond industry.
How did the house build up such prestige in the coloured diamond market? 
Moussaieff's enduring prestige in the coloured diamond world and its unique place in the world of haute joaillerie is the result of an enduring commitment to excellence, rarity and supreme quality. Mr Moussaieff's family originated from Bukhara located right at the heart of the fabled Silk Route through which all top specimens of precious stones and diamonds passed.
Thus, Mr Moussaieff in a sense inherited his highly selective and knowledgeable vision. When Mr and Mrs Moussaieff opened their shop on Park Lane in 1963, coloured diamonds were not in the investor category in London. But Mr Moussaieff would not relinquish his instinctive passion for them. Then in 1982, prices suddenly shot up in the West as appreciation of coloured diamonds took hold. Thus, Moussaieff was firmly 'on the map'.
What's the difference between buying coloured diamonds for beauty and for investment?
Brown, grey, cinnamon, cognac, light yellow and the other cheaper colours should be bought for visual pleasure, decorative value and the 'fun' elements.
Investment diamond purchase has to be taken a lot more seriously. Here, the prospective investor must be prepared to invest large amounts of money and mobilise his psyche and emotional resources. Similarly, the returns and rewards are not only about it being worth more money or the resale factor, but also about the satisfaction of being able to bequeath to grandchildren an easily transportable small object of highly concentrated value. 
What are the most exciting investment diamonds of today? 
The most exciting diamonds for investment today are the reds, pinks and top-quality blues, greens and vivid yellows (preferably from the Zimmy mine).
Truly red has caused excitement among serious investors who sometimes are happy to pay three million per carat for smallish stones.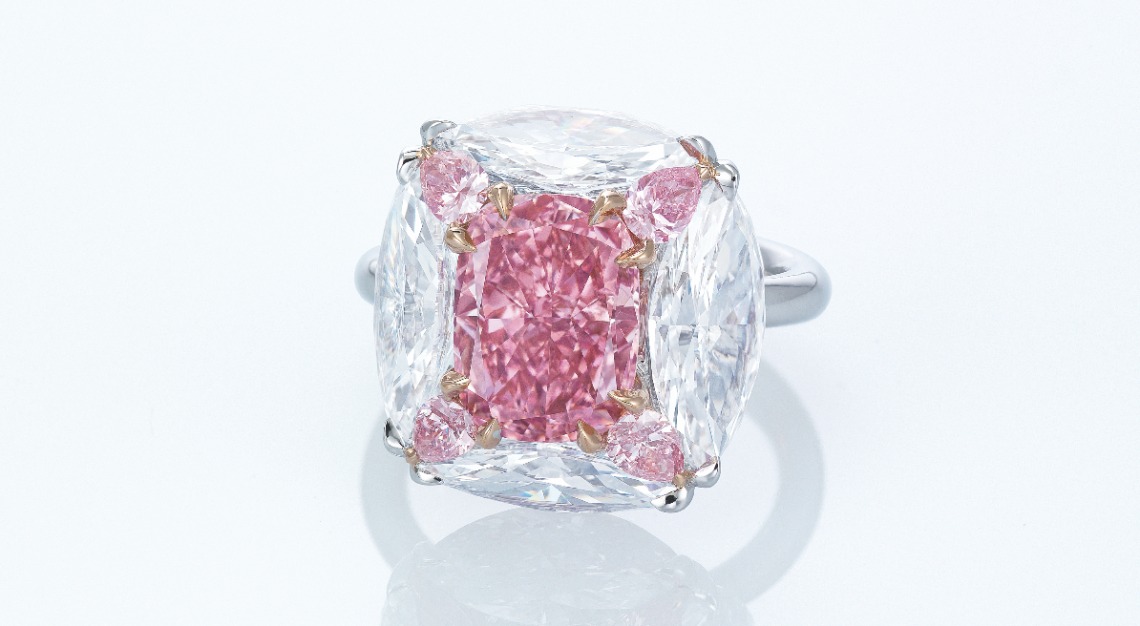 Pink has made headlines, specifically when aligned with historical colourful figures such as Marie Antoinette when sold at auction. Top-quality pink diamonds are a hot item for investment now because of the imminent closure of the Argyle mine in Australia, which to date has been an important source for them. Brazil is not producing much in gem quality, which leaves us with auction houses and estates. 
Blue diamonds never fail to create a buzz when those of a large size and top quality are sold at auction. For example the 14.62-carat Oppenheimer Blue fetched USD4 million (S$5.54 million) per carat.
Mrs Moussaieff's exemplary pioneering spirit is shown when in 2009 she payed USD1.3 million (S$1.8 million) for a 6.04-carat vivid blue emerald-cut diamond.  At the time this was regarded as outrageous, almost insane, but the market followed with a steady increase in prices since.
The 'method' in Mrs Moussaieff's 'madness' is this: she recognised the potential future value of the combination of the four superlatives embodied by the diamond: namely excellent cut, excellent symmetry, flawless clarity and vivid colour.
Moussaieff Jewellers will be taking part in The Masterpiece Pavilion from 4 to 7 October 2019. It will launch at Fine Art Asia 2019 and showcase exceptional works of art and antiques spanning different eras and styles