In this year's Best of the Best, we honour the brands and people behind the most covetable products. Here are the nine best flying experiences you should be a part of
Best Large-Cabin Jet
Gulfstream G800
With a range of 8,000 nautical miles at Mach 0.85 and a top speed of Mach 0.925, the G800 (US$72.5 million; pictured above) goes toe-to-toe with Bombardier's ultra-long-range Global 8000, but its cabin volume is roughly 14 cubic metres less than the Global, which slots it into the large- cabin category. The G800 made an impressive debut last June by completing its first nonstop international flight from Gulfstream's headquarters in Savannah, Georgia, to the UK's Farnborough Air Show. Beyond range and speed, it boasts other noteworthy statistics. The four-zone configuration in its 14.27m-long cabin can seat 17 and sleep seven, while 16 oversized windows provide exceptional natural light. The G800 shares multiple technologies introduced on the flagship G700, including its Symmetry Flight Deck with active side-stick controls, dual head-up displays with synthetic vision, low-cabin altitude—equivalent to approximately 3,000ft while flying at 41,000ft—and special ergonomic seating and lighting that adapt to time zones to mitigate jet lag.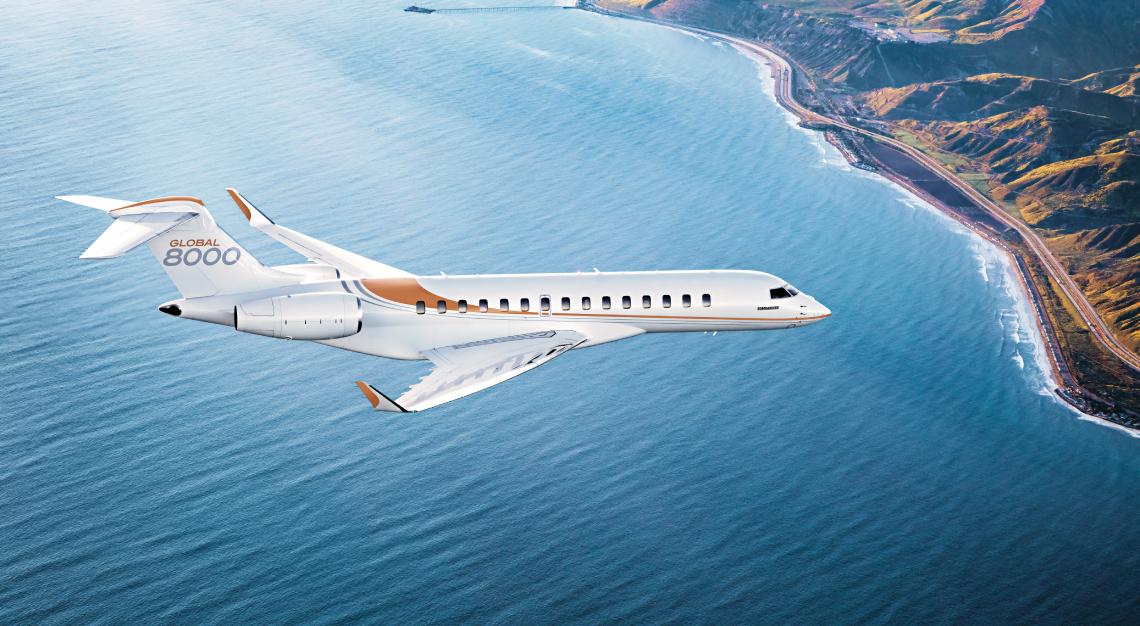 Best Ultra-Long-Range Business Jet
Bombardier Global 8000
If there's a single metric that defines an ultra-long-range business jet, Bombardier's Global 8000 (US$78 million) flaunts it right there in the model name. Its 8,000-nautical-mile range delivers impressive city pairings such as Houston-Dubai, Los Angeles–Singapore and London-Perth. Unveiled last year, the Global 8000 was engineered with the goal of becoming not just the long-distance leader but also the fastest and most comfortable. Although its official top speed is Mach 0.94, the 8000 flew at Mach 1.015 during tests, making it the fastest civil aircraft since the supersonic Concorde. Inside, the cabin offers amenities including Pür Air advanced high-efficiency particulate air filters and Soleil circadian lighting to combat jet lag. Because passengers spend long hours seated, Bombardier's Nuage seats feature thoughtful ergonomic details and a zero-gravity position for restful sleep when crossing date lines. Cabin pressurisation, which feels like 2,900ft when the plane is cruising at 41,000ft, undercuts the competition by a hair but still enables Bombardier to claim the industry's lowest figure. The Global 8000 is expected to enter the market in 2025.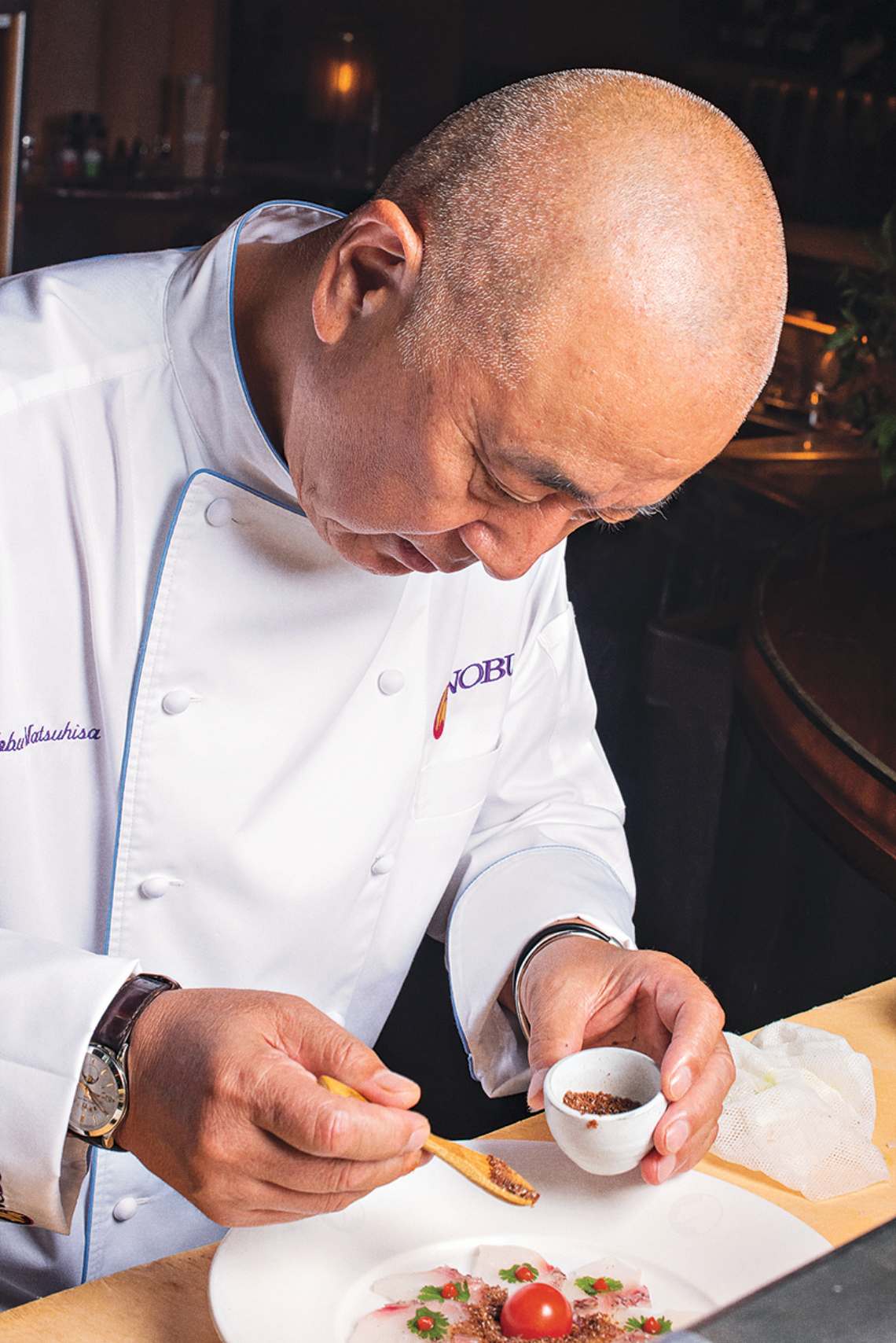 Best In-Flight Cuisine
VistaJet
The art and craft of food preparation is very different at 40,000ft. Onboard humidity drops to 20 per cent compared to 45 per cent on the ground, desensitising taste buds so that the perceptions of salinity and sweetness decrease by 30 per cent. To rectify this, most food providers overcompensate with extra sodium, sugar and fat. VistaJet realised that haute cuisine can retain its appeal at altitude by using fresh, flavourful, high-quality ingredients—and by enlisting top-tier chefs to create signature menus for its flights.
The company recently extended its partnership with chef Nobu Matsuhisa, creating a signature dish—steamed salmon miso—for VistaJet clients. That supplements existing Matsuhisa-conceived dishes such as yellowtail jalapeno, black cod with miso, and prime beef tenderloin, as well as sushi and vegan options that clients can order prior to their travels.
Although the Matsuhisa moniker is great for name-dropping, what differentiates VistaJet from its competitors is its obsessive focus on upscale cuisine. Seasonal offerings feature recipes from a dozen other chefs and restaurants around the world specifically designed for high-altitude dining while tailoring the menus to the routes and cultures of its clients. The ethos extends to the cabin attendants, who are certified by the British Butler Institute in wines and spirits, with additional training in food preparation and service.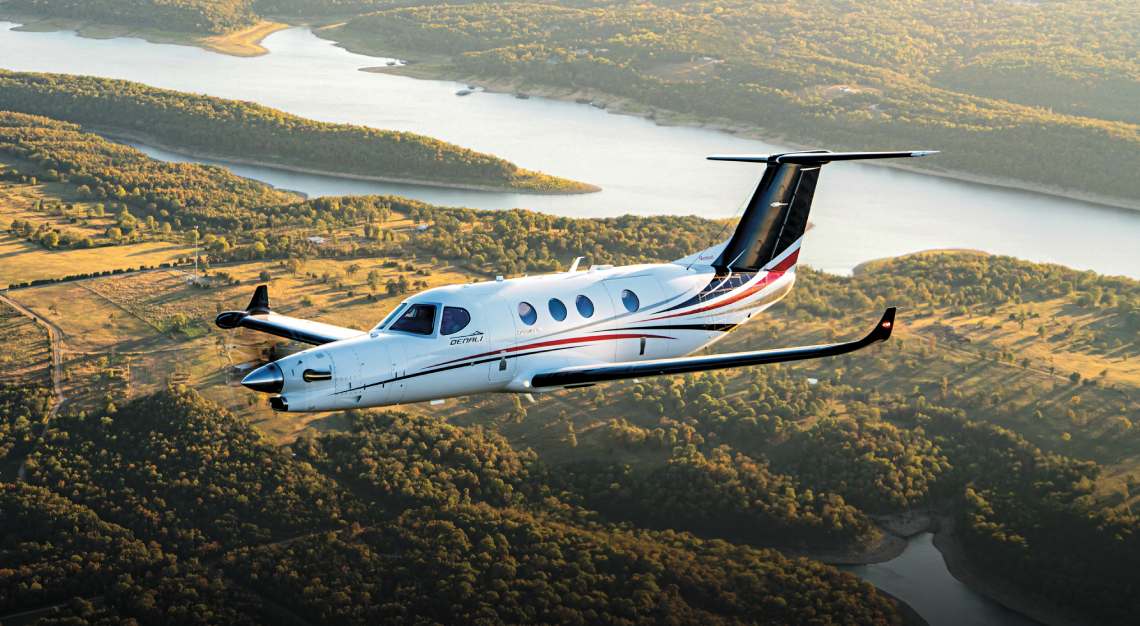 Best Turboprop
Beechcraft Denali
Compared with private jets, turboprops offer advantages such as greater flexibility via short runways and quieter, more economical operation. Rising to the top of that category's fleet is the Beechcraft Denali (from US$6.45 million), a clean-sheet answer to those who dismiss prop planes as inadequate or uncool. Powered by a 1,300hp Catalyst engine, Denali can transport six to nine passengers up to 1,600 nautical miles in a plush cabin that's billed as the largest in its class. Pilots will appreciate the Garmin 3000-equipped cockpit, including a standard Garmin Emergency Autoland system, and the ability to fly on sustainable aviation fuel. Travellers are treated to large windows, executive-style seating and midsized-jet levels of room at speeds up to 528km/h. Expected to enter service in 2025, Denali arrives at a significant price point for a single-engine turboprop, thanks mostly to the luxe accommodations and technology-focused details that give it serious credibility in the jet-turboprop debate.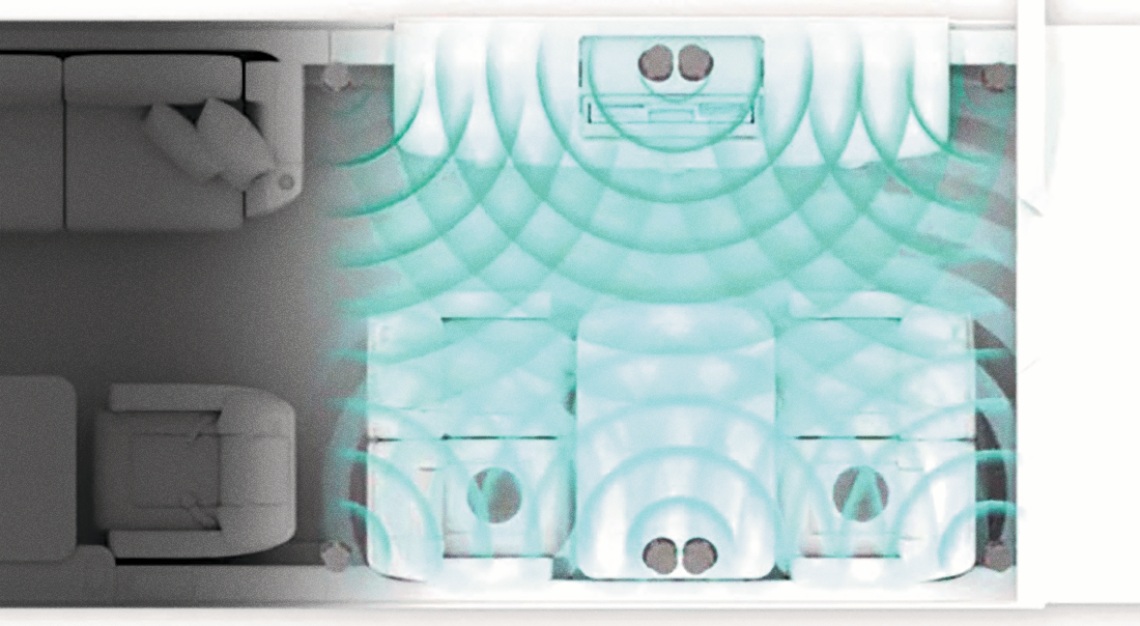 Best Audio System
Alto Soundstage 25th Anniversary Special Edition
Having accepted vibration and turbulence as a given, most commercial flyers likely can't fathom the potential for crystal-clear, immersive sound at 45,000ft. But Alto Aviation can. The Massachusetts-based audio and entertainment- centre specialist has been designing home-theatre setups for business jets for a quarter century and recently pulled out all the stops with its new Alto Soundstage 25th Anniversary Special Edition. Already being incorporated into Gulfstream, Falcon, Boeing and Challenger aircraft, the system provides audiophile-quality sound for seats within the media zone using six concealed loudspeakers and two light but powerful subwoofers. Class-D digital amplifier outputs, Sinewatch distortion elimination and dynamic signal compensation are combined to produce concert-hall-quality sound levels up to 105dB—on par with a rock concert—while soft-spoken movie dialogue comes through just as clearly. That's quite a trick aboard a jet, where components must be powerful but also lightweight.
"All the energy produces clear audio with no wasted power," says Steve Scarlata, vice president of engineering and R&D. "The focus is on sound output, not the power input."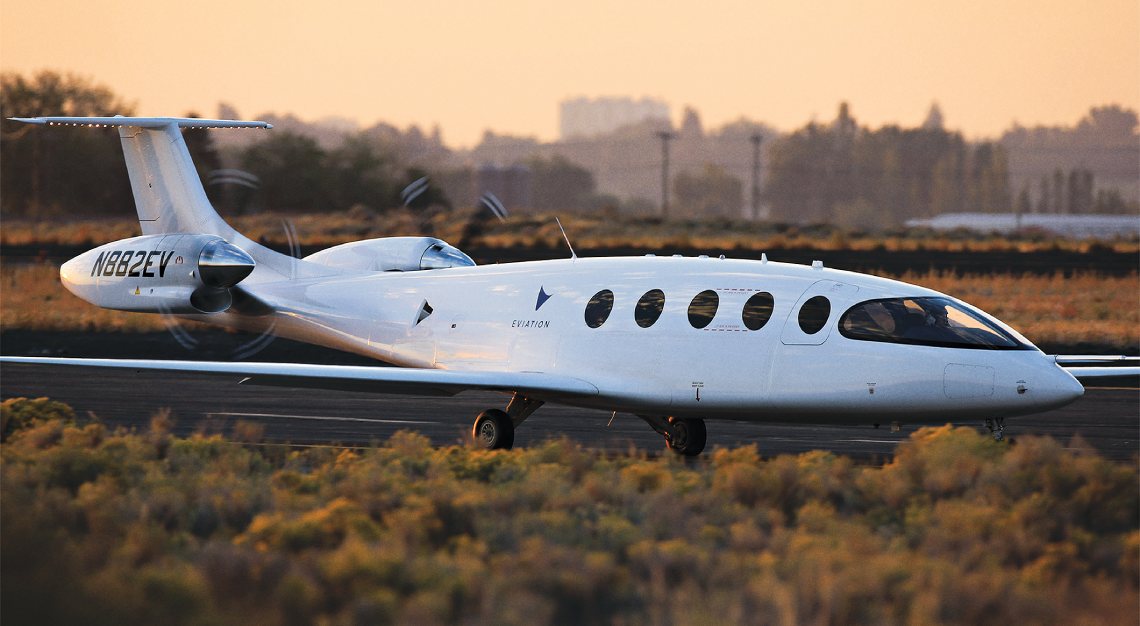 Best Electric Aircraft
Eviation Alice
Sceptics have been quick to dismiss battery-powered aircraft with the same gusto that naysayers pooh-poohed electric vehicle start-ups. Now that electrons are a widely accepted energy source in the automotive space, it's prime time to take the transition to the skies. Eviation's nine- passenger Alice (US$4 million for the nine-seat commercial model) makes a potent case for electric aircraft to be the next generation of zero-carbon regional carriers. Considering that half the world's air travel spans 500 miles or less, Alice's 250-nautical-mile range makes it ideal for short-range commercial travel. Eviation has also released a six-seat executive cabin for private flyers. The modular battery system promises to be both eco-friendly and futureproof, since battery formulations can be upgraded as new technologies are introduced. Following the aircraft's first successful flight in September 2022, the order books have soared with letters of intent for more than 300 aircraft—the equivalent of US$3 billion in sales—making the targeted entry into the market in 2027 seem like the future is already here.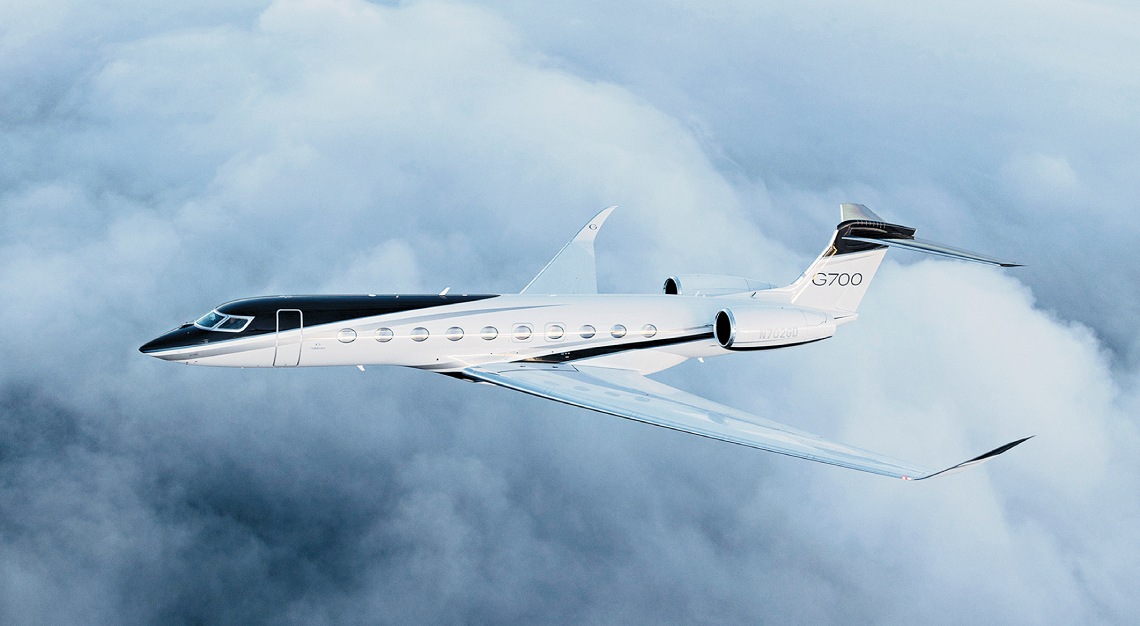 Best Bespoke Membership Programme
TAG Aviation One Account
TAG Aviation's One Account is one of the most flexible charter service membership programmes in private aviation. Fuss-free and transparent, it allows customers to fly as often and as desired to their needs, such as choosing when and where to fly to, and the type and size of jet required. Instead of buying hours with pre-paid charter services, One Account presents a clear and cost-effective solution: eradicating surcharges and expiration dates, while allowing for refundable deposits with no strings attached.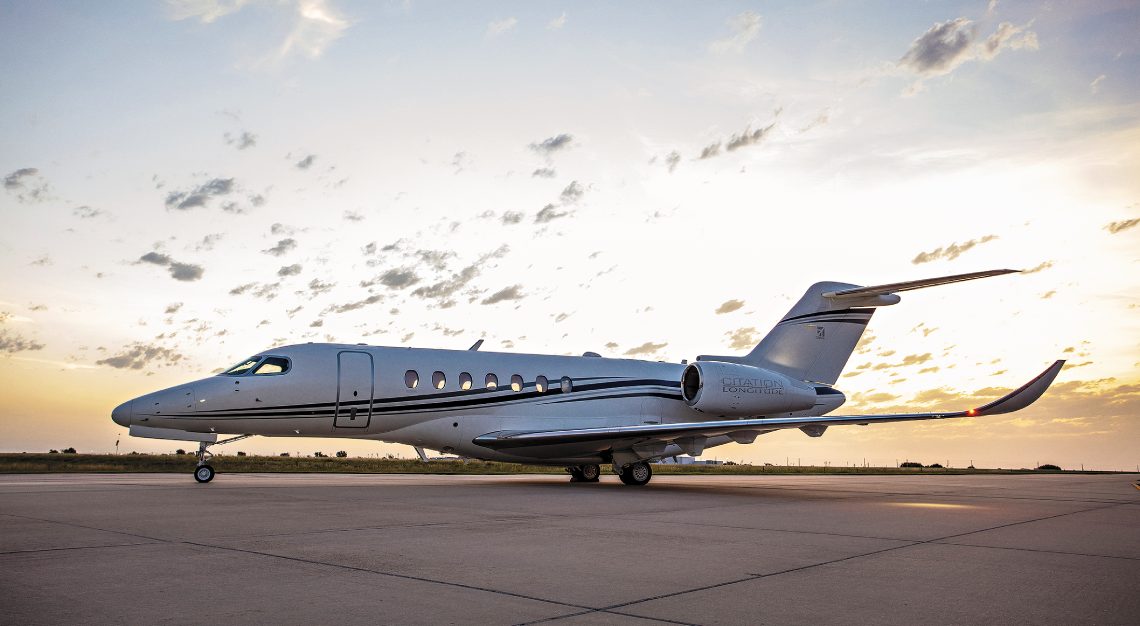 Best Pre-Owned Service
Textron Aviation
Whether you are eyeing the versatile Beechcraft King Air 350 twin turboprop or the sleek and swift Cessna Citation Latitude aircraft—both with hours on them and the promise of capital savings—Textron Aviation's pre-owned programme lets you decide with peace of mind. The company's pre-owned service boasts an impressive track record, claiming that it sells more pre-owned aircraft than any of its competitors.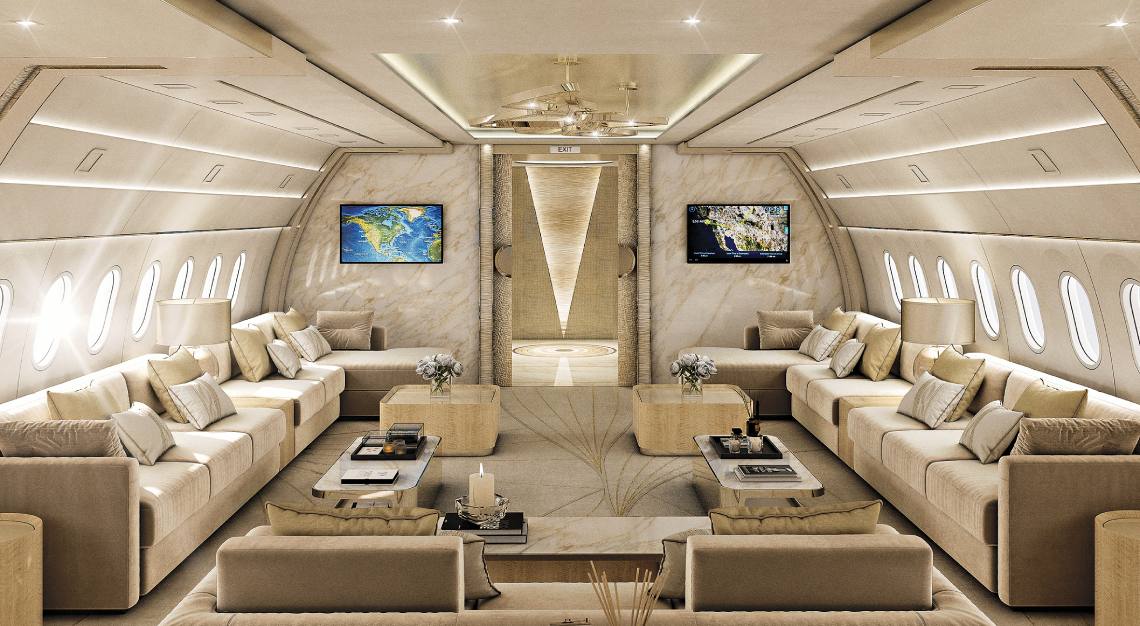 Best Interior Concept
Boeing 787-800 by Massari Design
Transforming the interior of a jet—even one as voluminous as the wide-bodied Boeing 787-800, which can carry 330 passengers in its commercial form—into a luxury suite requires both artistic and technical prowess. Massari Design's contemporary take, including a marble-floor entrance and central-mosaic inlay with four columns, is the most inventive aviation interior concept in the past year. Even better news: the client is so pleased with the drawings that the fantasy promises to soon become reality.
The Italian studio used a rich but understated palette of champagne and beige hues, without going too bright or too bold. Low credenzas, lamps and sculptures in front of oblong aircraft windows make it feel more like an apartment than a jet, while the back-to-back flat-screen televisions form a subtle barrier between the social and dining areas. Back-lit valance panels and the judicious use of leather, metal, woods and fabrics bolster the refined ambience. The underlying genius of this interior is that every material was engineered to meet strict Federal Aviation Administration weight and flammability requirements but still performs as sumptuously as those found in a superyacht. The only man-behind-the- curtain moment happens when you turn around in the foyer and see the door, unmistakably that of a 787. Otherwise, the illusion of a penthouse in the sky is perfect.