Whipping out a decanter often seems like a fancy habit of the beau monde, but it's not all about the glitz and glamour
A decent decanter carries a functional purpose as well, one that enhances the flavour and experience of each wine varietal. Just like the cardinal rule of cooking to always crack eggs in a separate bowl before adding them into the pan, the decanter serves as an essential middleman between bottle and glass.
In short, it enhances the flavour and experience. It filters the sediments (the more mature the red, the more the sediment), and it helps aerate. That benefits the younger and full-bodied varieties, which tend to need to release the tension.
Decanters come in a multitude of sizes that fit anywhere from a single glass to two bottles of wine. Depending on the number of people you're serving, the most practical and common option is one that holds a single bottle. If you love wine, you'll love what we have picked out for you.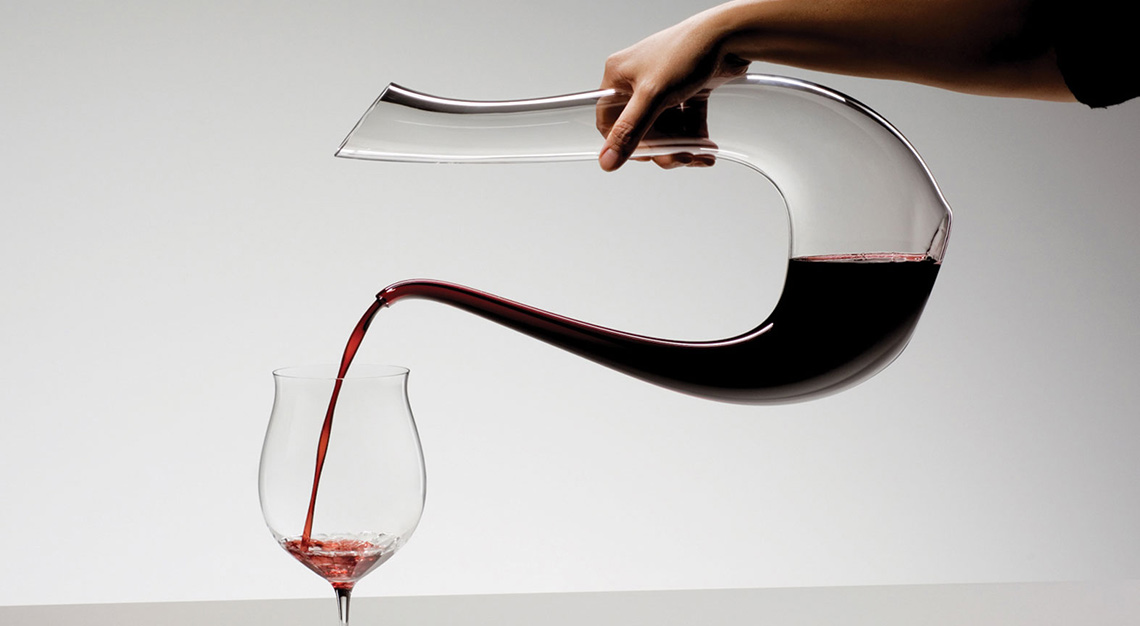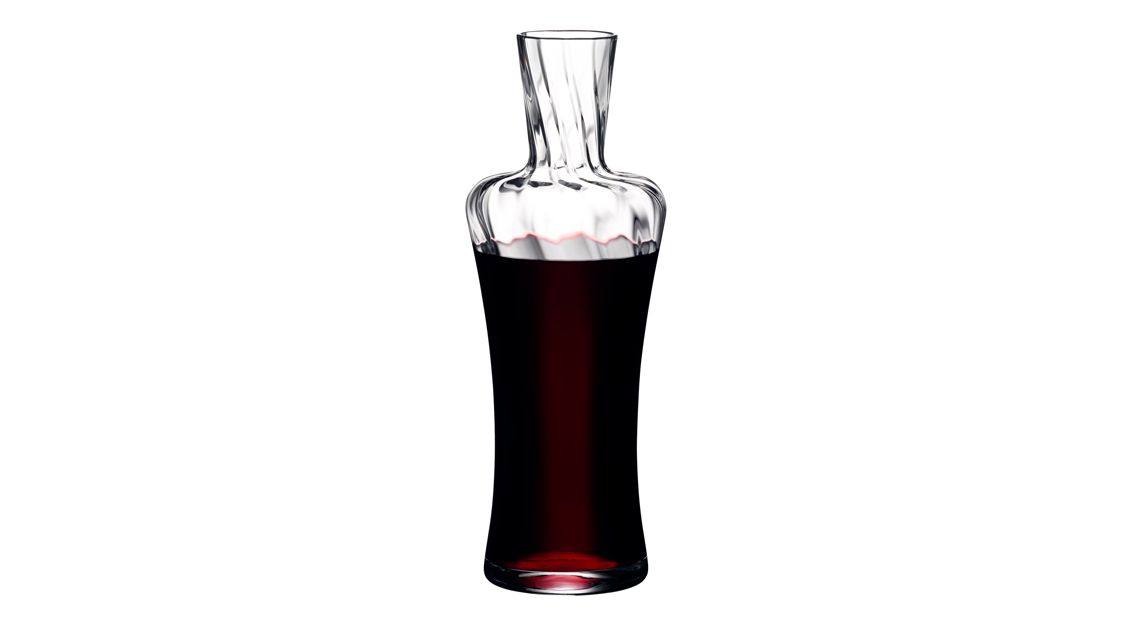 Riedel
Riedel, one of the biggest name in luxury wine glassware, is known for continually producing and innovating a diversity of decanters that run the gamut from minimalist to experimental. A classic signature that fits any modern interior is the Riedel Decanter Syrah with its elegant silhouette.
The handblown Amadeo crystal decanter, on the other hand, boasts a more avant-garde form. Unveiled in 2006, the iconic, harp-inspired design elevates your average wine decanter into a sculptural work of art. The Double Magnum edition of the model was also created for the Elton John AIDS Foundation. Among the brand's newest additions are the Medoc and Mosel decanters, made specifically for mature red wines, young white wines, champagne and orange wine.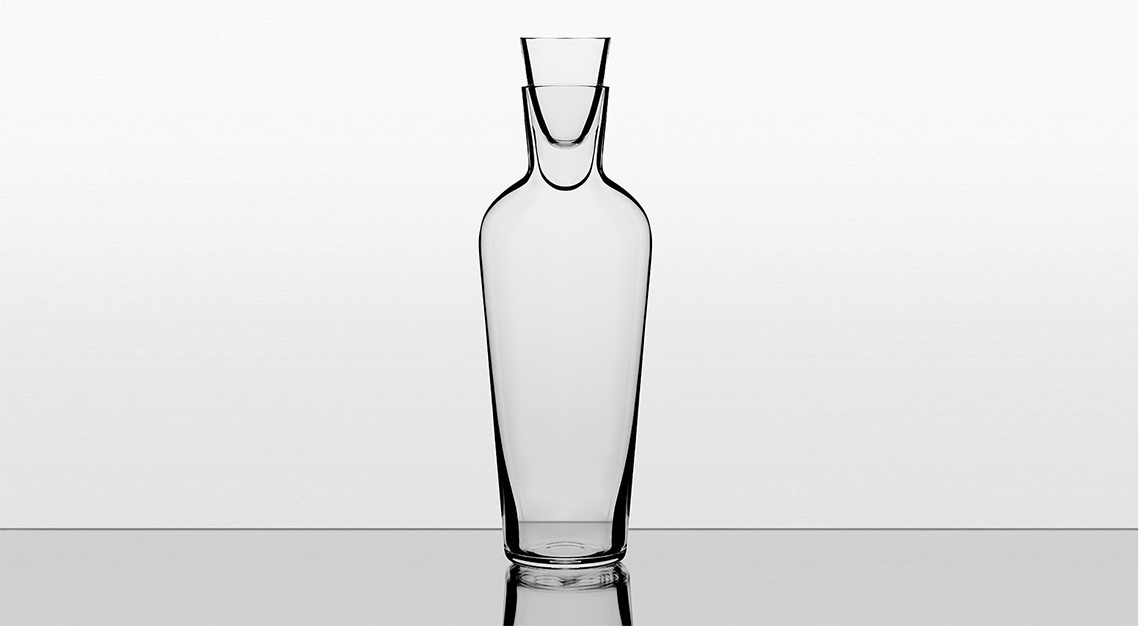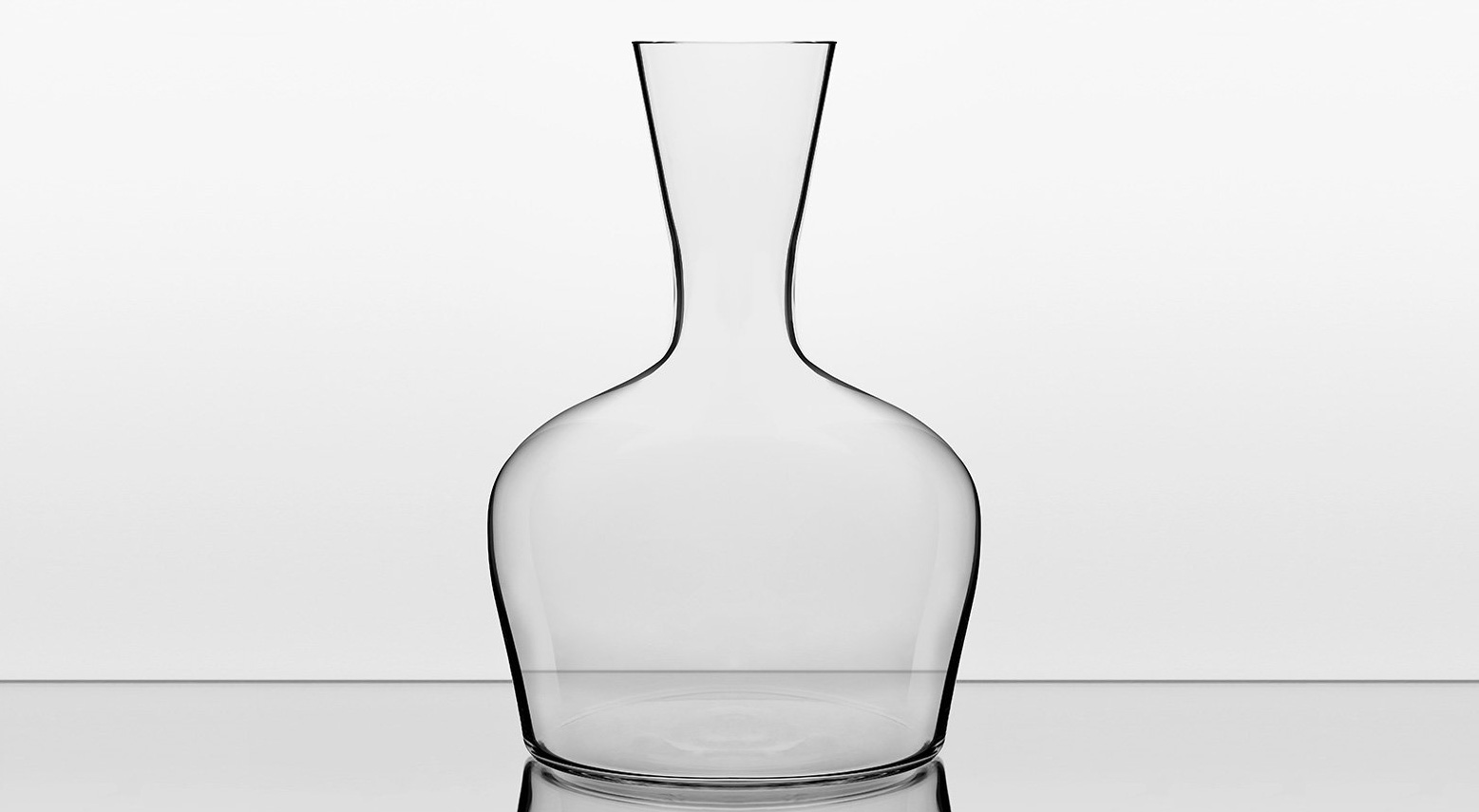 Richard Brendon
Established by London-based designer Richard Brendon in 2013, the eponymous brand specialises in hand-crafting contemporary crystal and bone china tableware, many of which are used in high-end hotels such as Rosewood and Four Seasons. Richard Brendon also offers a collection of wine accessories, designed in collaboration with highly lauded British wine pundit Jancis Robinson.
A stunning yet simple signature is The Old Wine Decanter, shaped like a bottle with a mouth-blown crystal stopper, which enables you to decant mature wines without too much exposure to oxygen. The Young Wine Decanter, as its name suggests, is made for young wines, featuring a more bulbous bottom to allow for more vigorous swirling and aeration.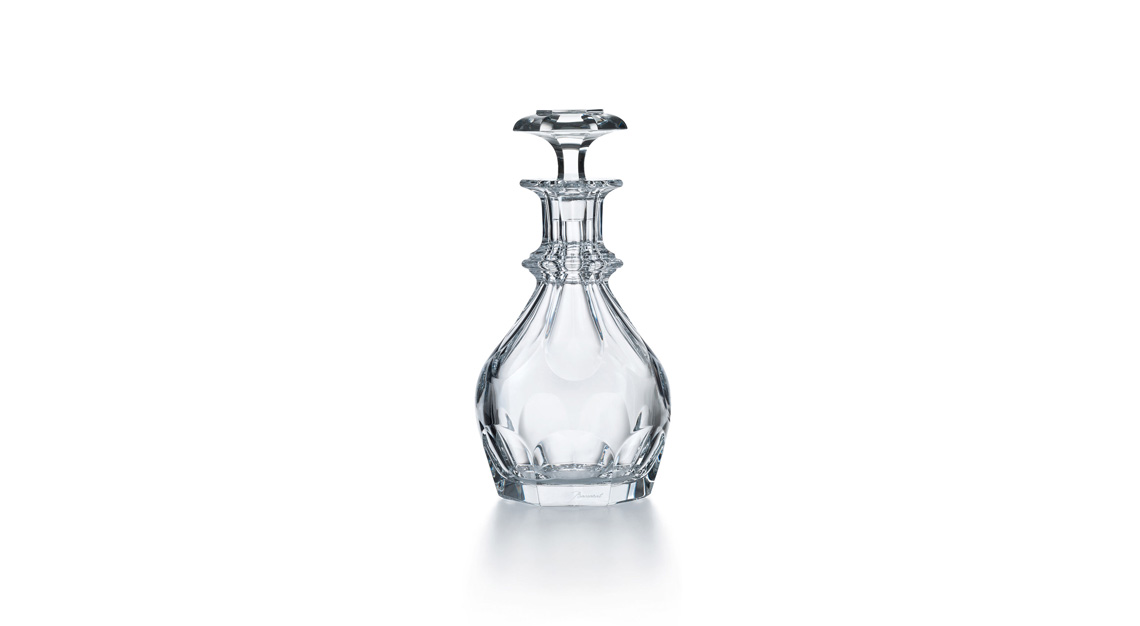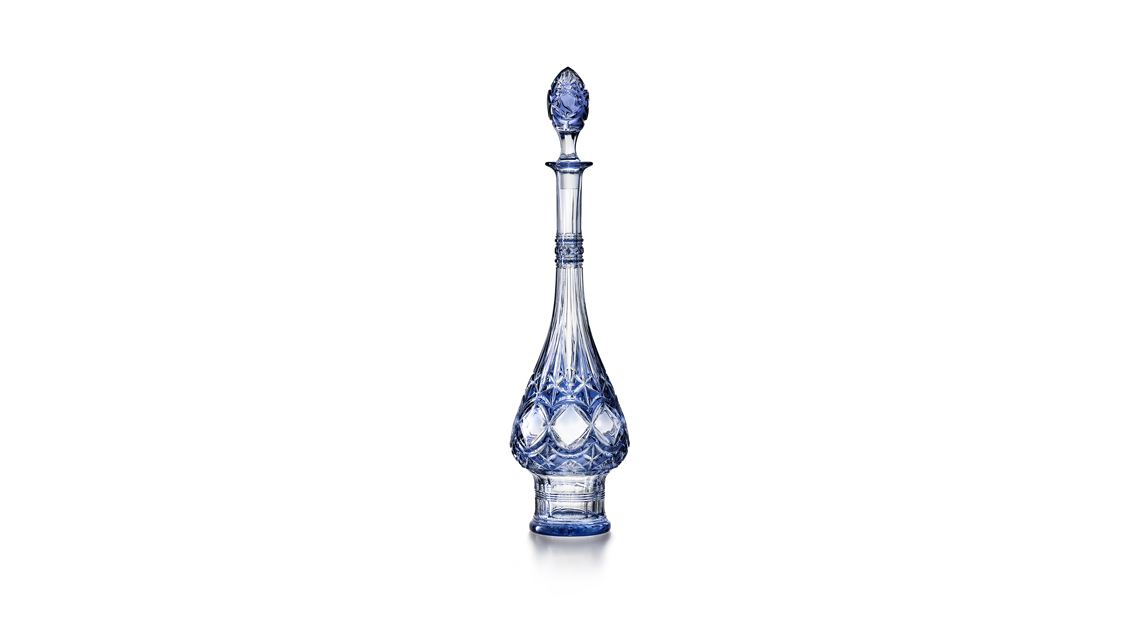 Baccarat
A high-end French crystal specialist with a steep heritage dating back to 1764, Baccarat reflects the French art de vivre through its extravagant collection of jewellery and crystal ware. Even a simple wine decanter is given a haute couture twist, giving birth to a range of luxury handmade decanters with detailed engravings, tasteful inlays and glittering hues. One of the latest additions is the Haute Couture Saint Petersbourg decanter in an imperial midnight blue with a tall, slim outline, a vintage 1905 design that's limited to 18 pieces.
For a more classic, yet equally regal alternative, the clear crystal Harcourt 1841 Decanter has been a favourite of prominent personages such as the Queen of Thailand, the King of Morocco and Pope John-Paul II. With a unique hexagonal base and subtle bevelled cuts, Baccarat's oldest design remains a work of artistic finesse.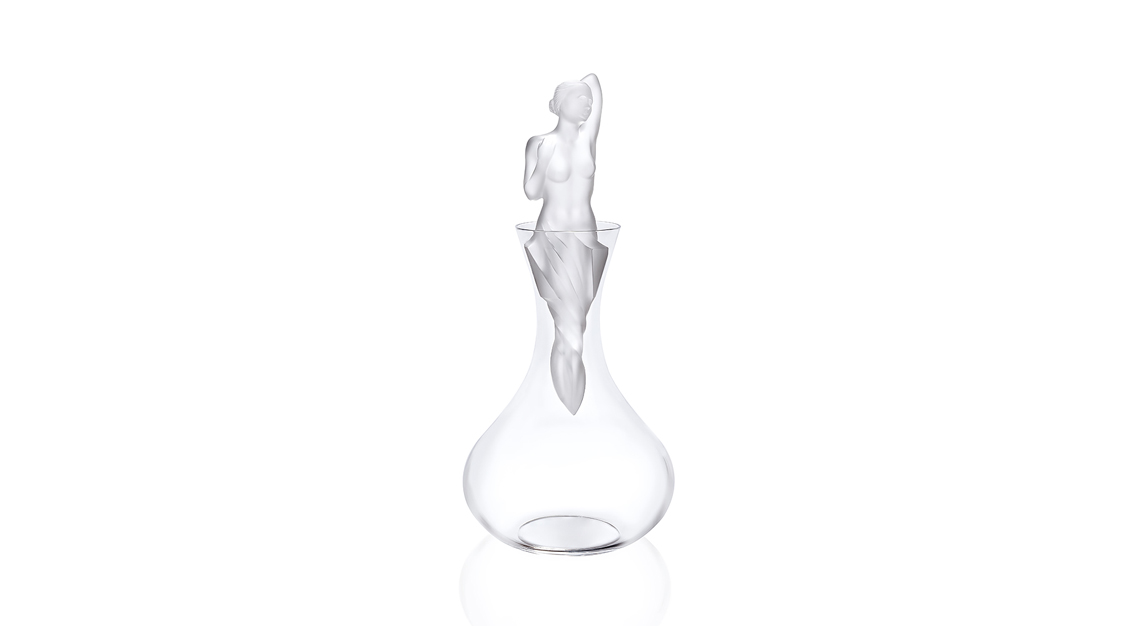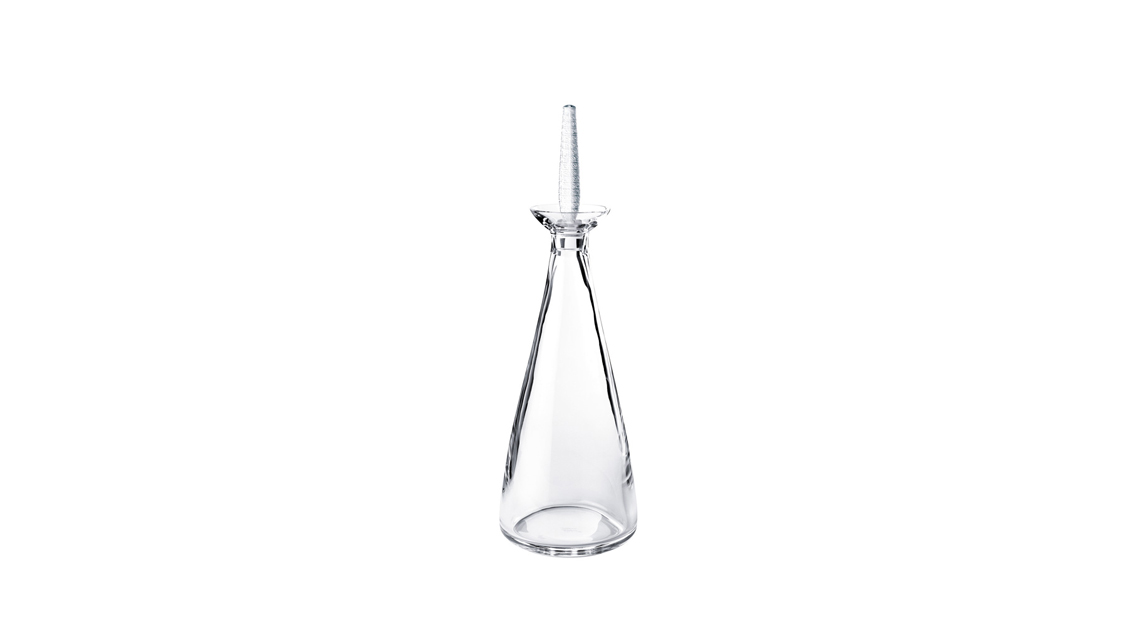 Lalique
From art to perfumery, Lalique's catalogue of offerings is diverse, but demonstrates at its core the same principle of timeless design. The French glassmaker has been considered the epitome of high craftsmanship, refinement and innovation since its inception in 1888 when it produced finely wrought gold jewels influenced by antiquity and Japonism, breaking away from tradition with new materials.
The Aphrodite Vintage Decanter, for instance, is exemplary of Lalique's distinct style. Boasting a satin-finished crystal sculpture of the Greek goddess of love for a stopper, it makes for a grandiose centrepiece that will capture the hearts of all who gaze upon it. While the Louvre Wine Decanter carries more clean-cut, tapering features, its slender cap embellished with fine etchings of Egyptian hieroglyphs is undoubtedly a show-stopper.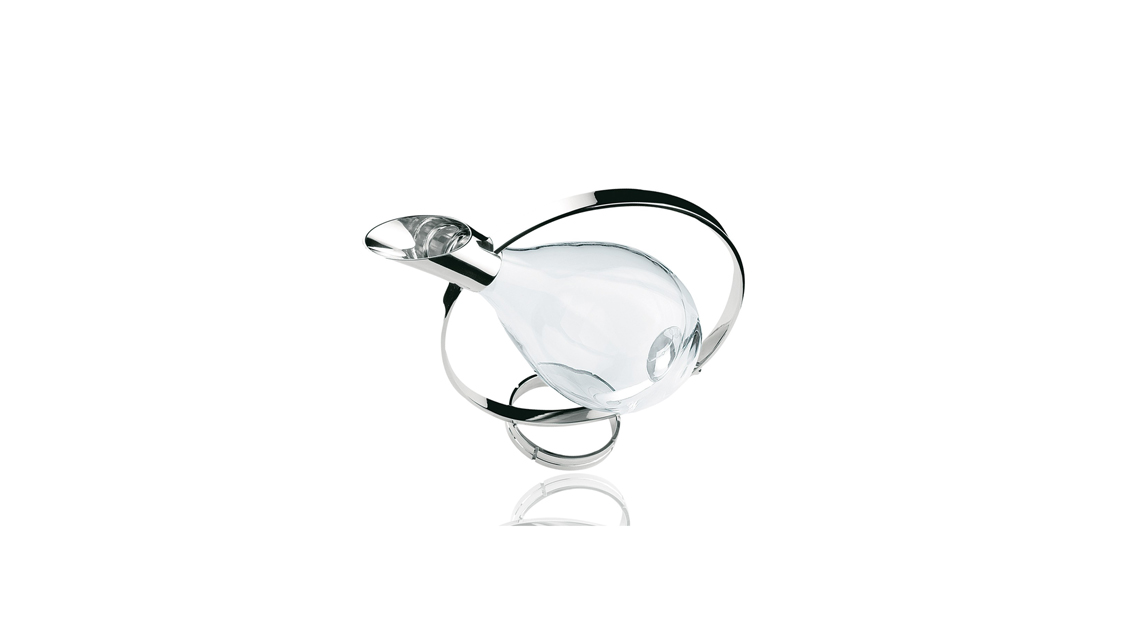 Christofle
 Another French maker of fine silver born in the 19th century, Christofle began as a jewellery company when founder Charles Christofle took over his in-law's jewellery workshop. Today, its line of products has expanded into flatware and barware with no shortage of decanters.
One that has caught our eye is Fidelio, an unconventional take on the traditional wine decanter. For one, it doesn't stand upright, but lies at an inclined angle, seemingly suspended in mid-air in an orbital design. The hand-cut Graphik decanter also features a contemporary form, albeit with a simpler silhouette, designed to maximise aeration.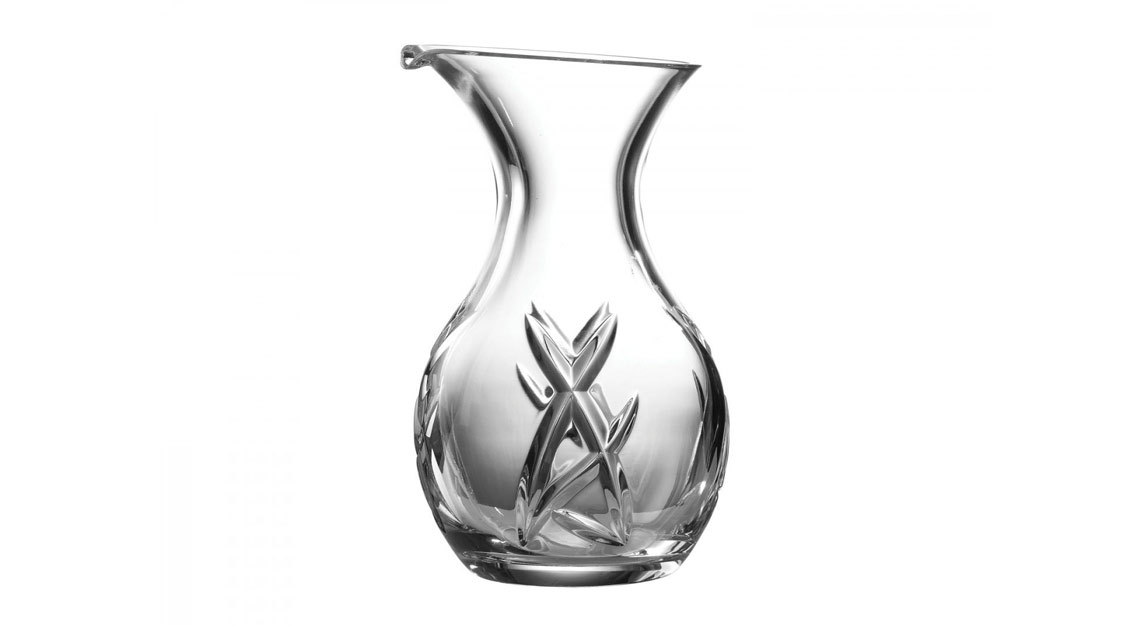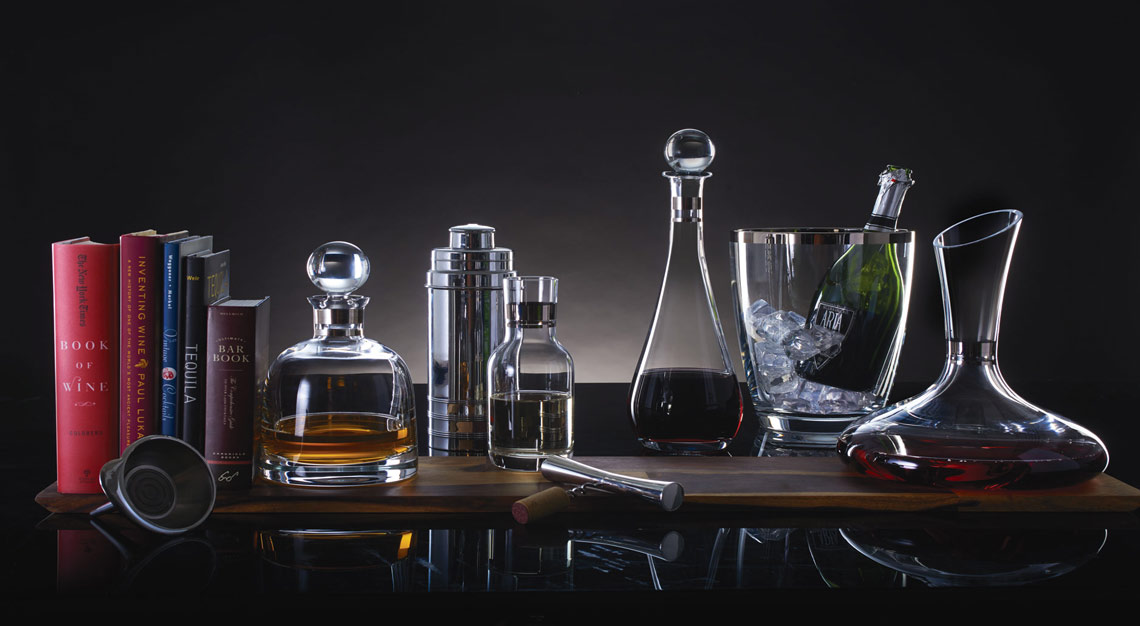 Waterford
Waterford, established in Ireland by two brothers more than two centuries ago, is a purveyor of luxury glassware of both classic and contemporary cuts. Opt for the tall, lean and modern decanter, featuring a streamlined profile and a round stopper, from the Elegance collection–an effortless design that doesn't scream for attention, yet gets it anyway.
In partnership with John Rocha, a famed Hong Kong-born, British fashion designer, the Irish label produced the John Rocha Signature Carafe, which can also be used to decant wines. Its hourglass shape and ornamental flourishes amplify the beauty of crystal, allowing you to pour your vin du pays in style.