The first four-door to come from Mercedes' performance arm AMG has a complicated name and an even more complicated relationship with the CLS
If you haven't already noticed by now, Mercedes-Benz is a master of sub-segmenting product lines in bewilderingly granular ways. Remember, this is a company whose entry-level A-Class has two separate saloon body styles, the more conventional A-Class Saloon and the sportier CLA Coupe.
But one has racier styling and the other is an upright saloon, you might be saying. And in all fairness, you do have a point, they are aimed at different people. However, near the top of the sprawling Mercedes-Benz product tree, it has a pair of models that are for all intents and purposes identical. Both fulfil their respective roles as a flagship four-door, though one carries a price premium of some S$100,000 and the prestige of having an AMG-exclusive body style – only the third to come out of Affalterbach and the first to have four doors and seats.
So, what then, is the Mercedes-AMG GT53 Four-Door Coupe and more importantly, does it justify the greatly inflated expense over its effective doppelganger, the CLS53?
It does, at least, offer a different experience from just about any way you might look at it. To begin with, you feel a lot more snug in the GT53 Four-Door Coupe, with its high shoulder line and tall centre tunnel.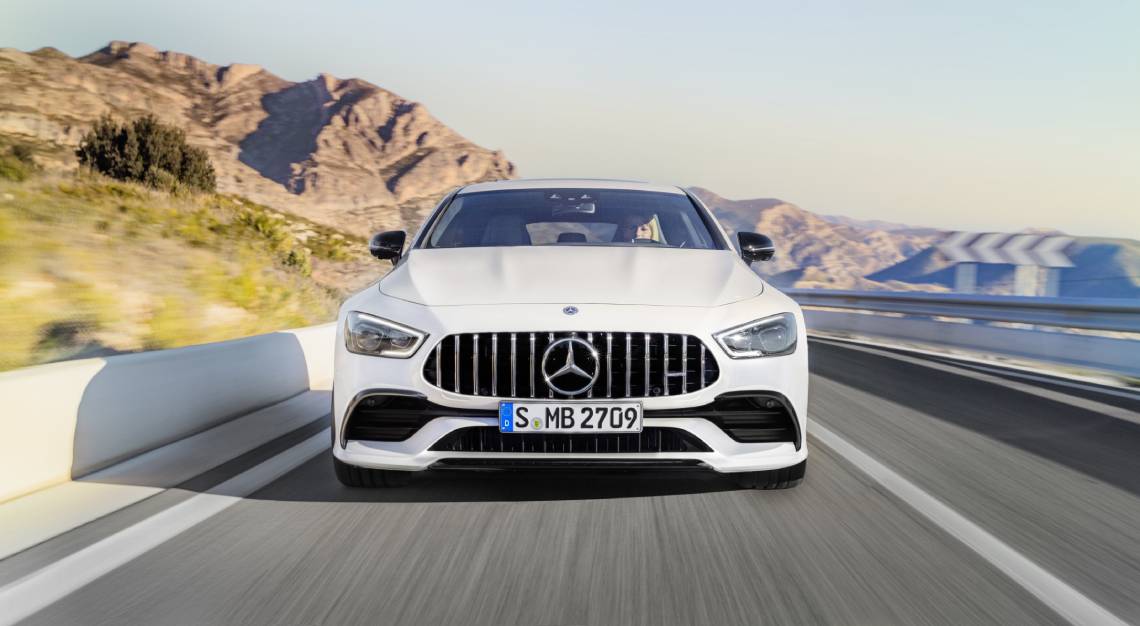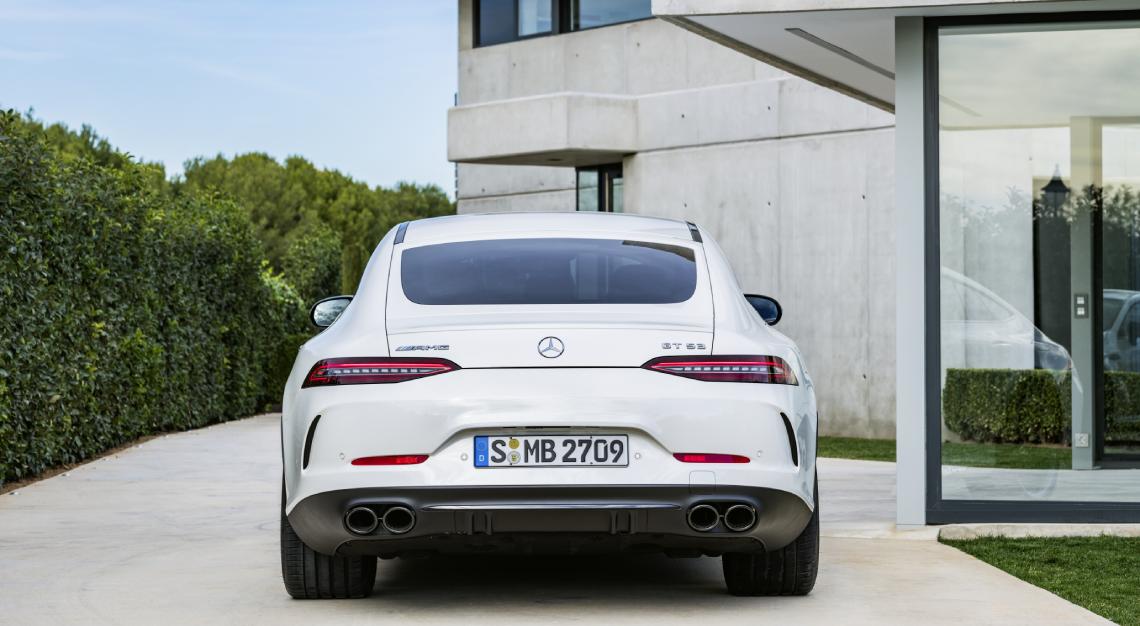 It screams 'sports car' and it should. After all, it's supposed to be the counterpart of the two-door GT, though that car is built on a fancy aluminium space frame, while the Four-Door Coupe rests on a platform shared with a plethora of Mercedes-Benz models. Anyway, speaking of that centre tunnel, it's completely different to the one used in the CLS, with two vertically arranged rows of eight buttons controlling various vehicular functions that are supposed to recall the V8 engines Mercedes-AMG is so famed for.
Except the GT53 variant, being the entry point to the Four-Door Coupe line-up, doesn't have a V8 engine. It has a three-litre twin-turbo inline-six, which packs 435hp and a century sprint time of 4.5 seconds. The six-cylinder variant's 48v electrical system allows it to use an electrical supercharger, giving it near lag-free performance. It can also scavenge energy from braking, feeding it back into batteries that grants the GT53 extended start-stop capabilities. Not that you'd feel all that technology working, it just does.
All you'll be able to feel from behind the wheel is a seemingly bottomless pit of thrust, thrust that the car develops from just about anywhere in the rev range and aided by the nine-speed automatic transmission.
The one in the GT53 is a conventional torque converter automatic, unlike the funky multi-clutch unit used on the GT63, but its responsiveness – on take-up, upshifts and downshifts – is immense. And you also get less low-speed jerkiness than with the multi-clutch transmission.
But in spite of the surefootedness and stellar drivetrain of the all-wheel drive, what the four-door GT isn't is a sports car. Don't fully believe what AMG says about the car being a "four-door variant of (the) AMG GT Coupe", its straight-line speed flatters to deceive.
That's because the Four-Door Coupe is big. Its kerb weight is just short of two tonnes, with an overall length exceeding five metres. But it's the width of the car that you feel the most, at high and low speeds.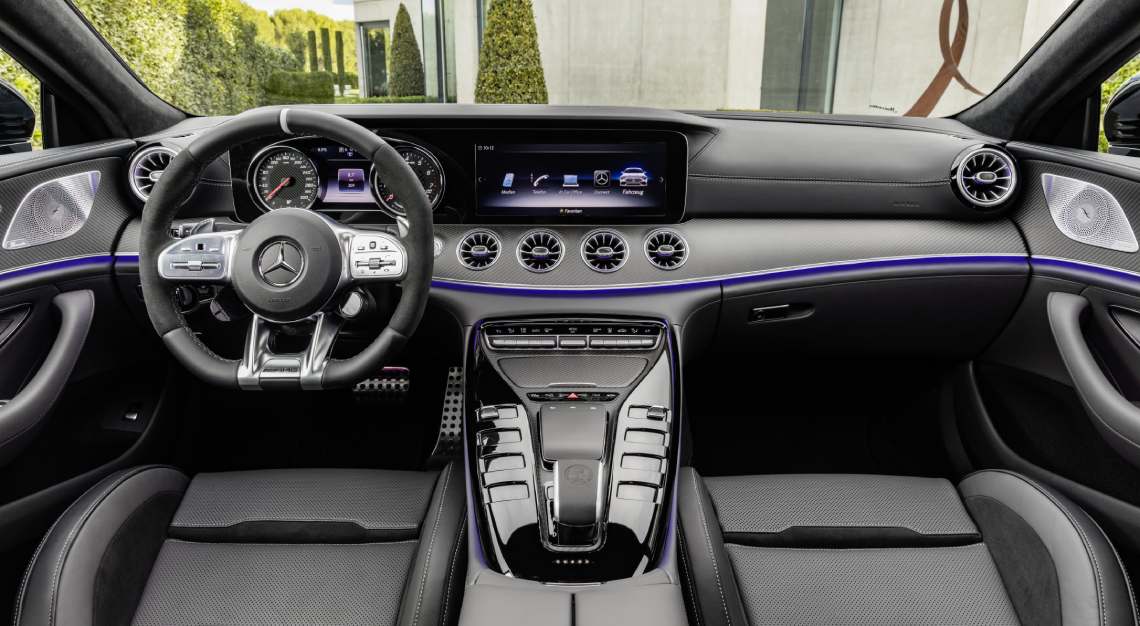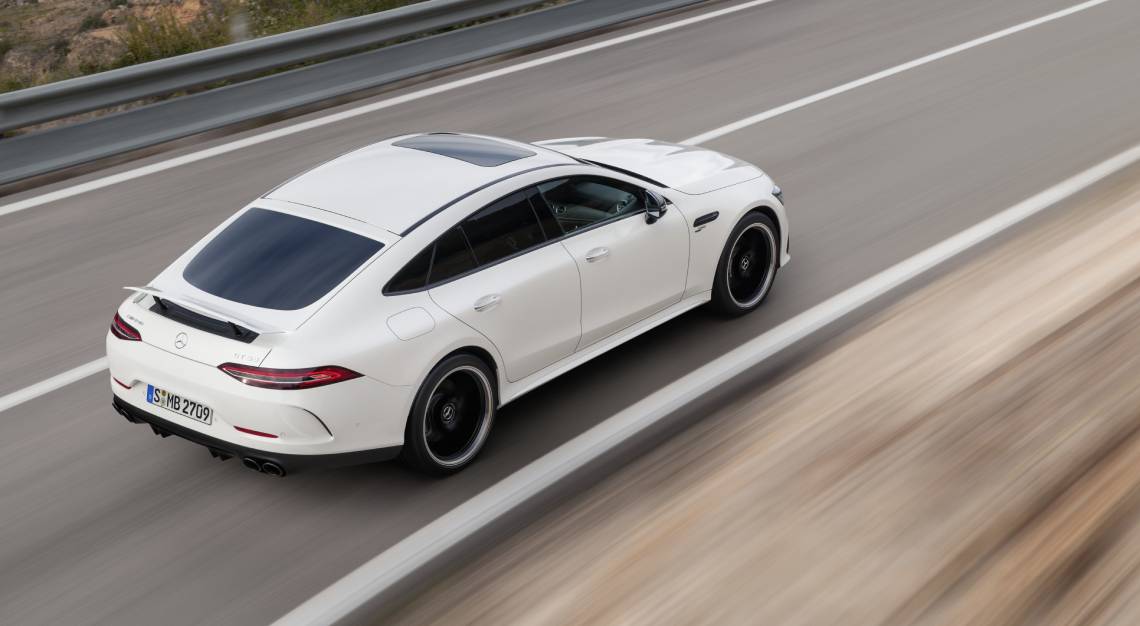 At 1,871mm, it's 21mm narrower than the CLS, but the Four-Door Coupe's taller shoulders, more compact greenhouse and more pronounced wedge-shaped profile make placing the car through tight corners an iffy affair at best. You're constantly aware of how broad-shouldered the car is, especially with its meaty rear haunches.
What the car lives for is long stretches of open road, where it can deploy its tall top gears and devastating in-gear acceleration to maximum effect. Cruising refinement is, unsurprisingly, phenomenally good, and even if it weren't, you can drown out pretty much anything short of a jet taking off with the Burmester sound system which is fitted as standard.
But crucially – and this needs to be stated again – all that power, refinement and long-haul touring ability is also something you can find in the CLS53, a car that costs far less money. However, price and value are two completely different things. While the former is objective, the latter is subjective and very much so.
The CLS shares its body with a host of variants and nobody will know you splashed out on an AMG unless they check the badge or open the bonnet. 
On the other hand, the Four-Door Coupe is unequivocally an AMG product and is a body style unique to Mercedes-Benz's performance arm. Is that prestige worth an extra S$100,000? Well, that's a question only you can answer.
And it's probably an investment that will only reap dividends when you see your neighbour pulling into the garage with his new CLS, your eyes meet, both of you nod in acknowledgement and know in your hearts that you have bought the more special product.
Specifications
Engine: 2,999cc, 24 valves, inline-six, turbocharged
Power: 435hp at 6,100rpm
Torque: 520Nm at 1,800-5,800rpm
0-100km/hr: 4.5 seconds
Top speed: 285km/hr
Transmission: nine-speed automatic
Fuel consumption: 9.4 litres/100km
Ves band C2: (S$20,000 surcharge)
Price: S$556,888 (including coe, excluding options)