It comes with a stylus and a screen that has been designed to feel just like paper when you write on it
The first iteration of the Kindle, which hit the shelves 15 years ago in 2007, was a clunky device with a built-in keyboard. In the five years following its launch, the e-reader saw regular updates, progressively becoming sleeker, lighter, offering more storage, and higher resolution.
These updates came to a grinding halt in 2012. The debut of the Kindle Paperwhite that year was the device's last major redesign; the removal of the keyboard transformed it into the version that most are familiar with today. Unfortunately, the fact that users in 2022 wouldn't find the 2012 Kindle foreign is also testament to the stagnation in Amazon's product development in the last decade – until now.
The recent launch of Kindle Scribe brings a significant functional update to the e-reader that is hinted by its name: writing. Kevin Keith, the vice president of Amazon Devices, claims that it is the "best Kindle" Amazon has ever built, and that it offers "a reading and writing experience that feels like real paper".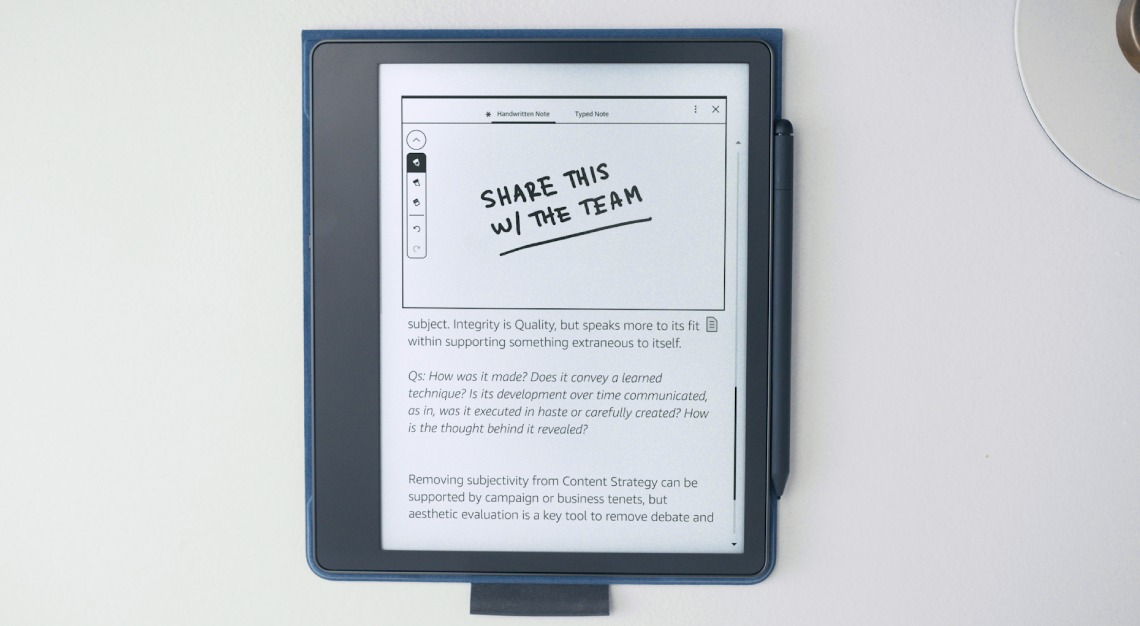 The real paper feel is achieved by a 300 ppi crisp glare-free display with a slightly rough surface to mimic the drag you'd feel when writing with pen on paper. The screen size has been increased to 10.2 inches (compared to the non-Scribe Kindle's 6.8 inches) so that there's more space for enlarging the font, and for viewing images, charts and documents.
The larger screen also comes in handy when writing on the Scribe. Using the device's Notebook function, readers can now jot down notes or highlight what they are reading – although, disappointingly, not directly on the e-books, but on sticky notes.
Where you can write directly is on PDF documents, which you can import from your phone or computer to the Scribe using the Send-to-Kindle feature. Come early 2023, this functionality will be expanded to Microsoft Word documents as well. Sharing notes you've made on the Scribe with other devices is a simple matter of exporting via email.
Besides sticky notes, there are a variety of notebook templates to choose from with lined, grid, or dotted pages, and optimised for different tasks, including journaling and making to-do lists. There's even a weekly planner and a daily planner complete with time boxes. All notebooks are automatically saved so that they are accessible via the Kindle app and will be backed up for free on the cloud that Amazon is introducing in 2023.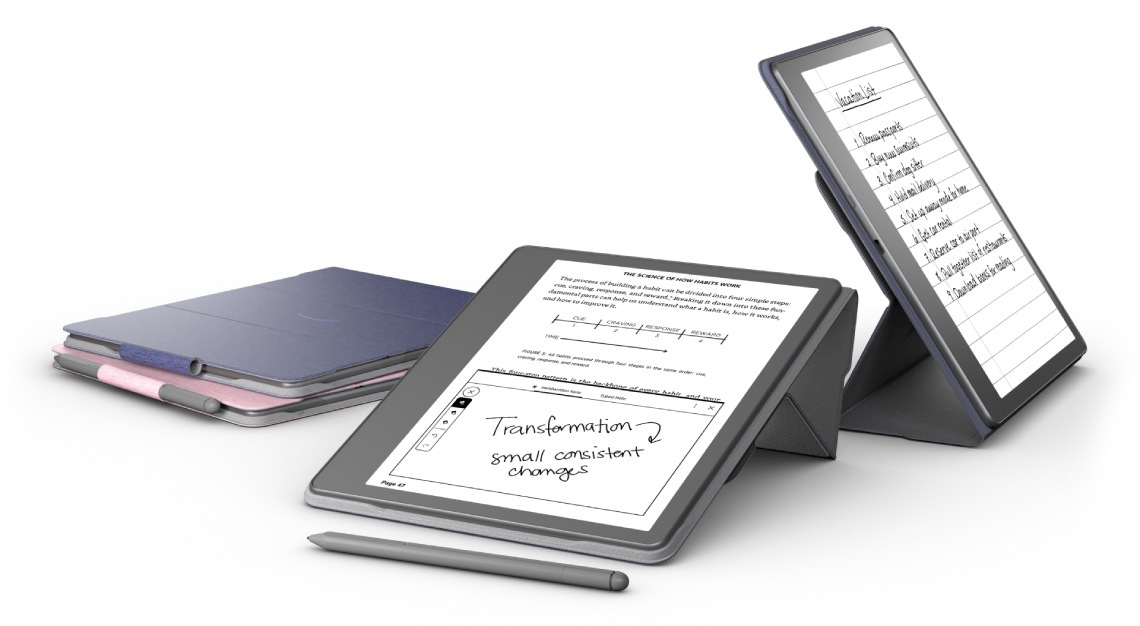 The Scribe comes with a stylus that's available in two versions, Basic or Premium. The Premium one includes an eraser on one end and a customisable shortcut button that allows you to switch between the pen, highlighter, or eraser settings and to open a new sticky note on the screen.
Like every Kindle, the Scribe's screen come with a light or dark mode. The latter turns the background black and the words white. But what it has that the other Kindles don't is an adjustable warm light option that purportedly makes reading in dim conditions at night more pleasant.
As an Amazon Climate Pledge Friendly product, the Scribe is made from 100 per cent recycled aluminium and 48 per cent post-consumer recycled plastics. It comes with options for 16, 32, or 64 GB of storage. It comes in only one colour, Tungsten, but can easily be spruced up with a comprehensive collection of leather and fabric covers available various colours.