luxury takes new heights as celebrity interior designer celia sawyer reveals her work for a middle eastern royal

You know you're in for a treat when your client tells you a project has to have the 'wow factor'. The project in this case is an Airbus A340 meant for the private use of a Middle Eastern royal who wanted 'a stylish residence in the sky' to be used by him and his family with spacious, private areas and options to entertain business guests. And you don't approach British interior designer Celia Sawyer — dubbed the 'Queen of Bling' — without knowing what you're getting into.
Opulence and glamour is Sawyer's beat and she has managed to transpose this into a narrow(ish) aeroplane body. To expand rather than elongate, the curvature of the salon and lounge areas has been traced by curved individual, 24k gold-plated sections, gently extending the space horizontally.
The theme of the area is gold, with furniture (in hand-stitched gold Tuscan leather, silk and velvet) stretched out linearly across the flanks to guard a marble-veneered centre table that was a pragmatic concession to safety on an aircraft; solid marble would be too heavy. A runner of gold leaf (with strip-lighting trim) runs down the middle of the floor leading towards a three-seat bar area, illuminated from beneath, and crowned with a Swarovski crystal chandelier with 24k gold accents, of course, because Sawyer declares that she "doesn't do beige".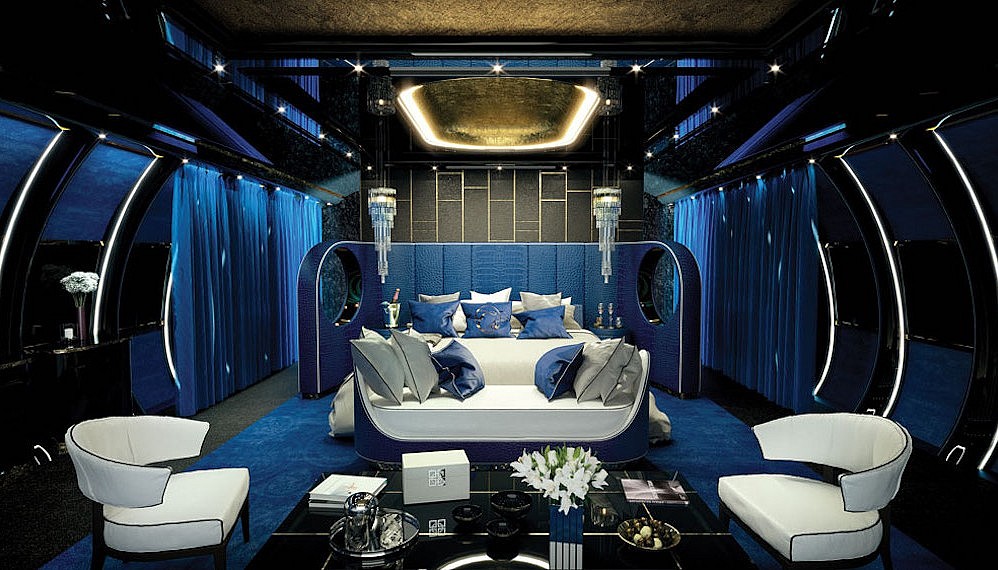 The master suite area takes a turn towards to a cooler and more intimate setting. The same curved panels widen the space visually, but the lighting has been designed to spotlight individual zones rather than flood the area, resulting in a cosier feel. Royal shades of midnight blue dominate here, with furniture done in white or black for a regal contrast.
The hand-stitched leather headboard of the bed is flanked by bespoke hanging crystal fixtures, engineered to prevent any swing during flight. Along with gold, crystal is a continuous theme in this A340, with the main bathroom featuring a Swarovski crystal-and-glass washbasin. The shower and bath alone cost some US$1 million (S$1.3 million) — it incorporates integrated television screens — with the sink and toilet seat in solid gold.