From virtual windows to advanced cooling systems, These airlines are keeping up with the times and helping us float effortlessly from one country to the next
As aviation technology continues to advance at dizzying speed, passengers in the pointy end of the plane are more and more spoilt with remarkable levels of comfort and opulence. The critical factor in any longhaul flight is, of course, a good night's sleep and hundreds of millions of dollars have been invested in trying to ensure that nothing is left to chance.
Here are some of the latest inflight tech developments by global carriers.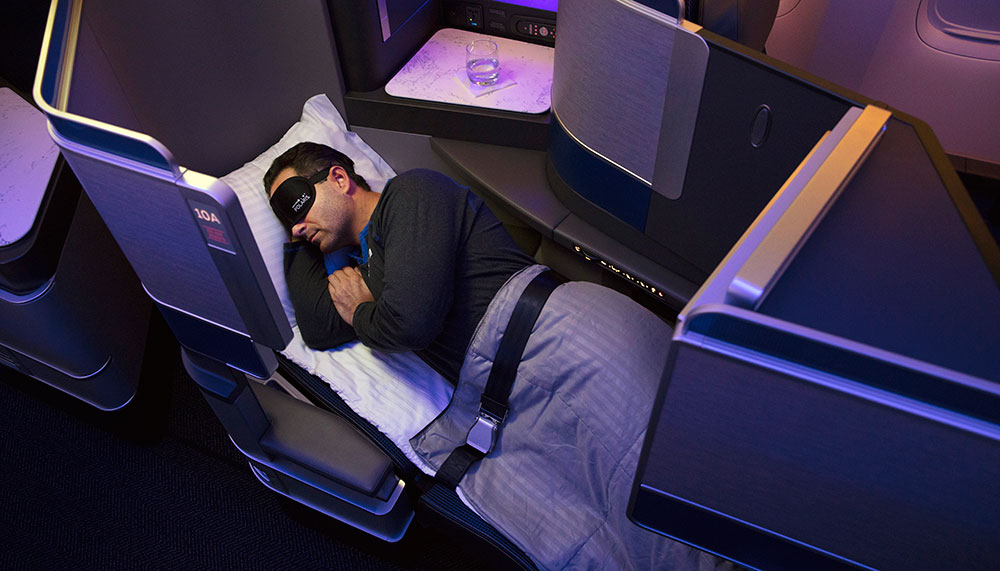 United Airlines
'Better sleep in the sky' is the simple but fundamental focus of United Airlines' Polaris premium cabin. Named after the North Star, Polaris delivers a self-proclaimed 'reinvention' of the experience that United offers its top-tier travellers, centering on the onboard suite, amenities and dining.
Pre-flight also plays a critical role as the United Polaris lounges offer newly styled rest spaces along with a number of impressive-looking dining options. The new cabins offer forward-facing seats, all with direct aisle access.
This already sounds like a significant improvement on a number of carriers where you need to climb over your unknown – and unsuspecting – sleeping neighbour just to use the facilities or stretch your legs. Mercifully, especially for this much-taller-than-average flyer, the seats also recline fully flat to an impressive-sounding six feet six inches, while they're almost two feet wide.
Menus have been created in partnership with chefs from The Trotter Project, the non-profit named after legendary chef Charlie Trotter. Saks Fifth Avenue provided the bedding, with a choice of two blankets as temperature plays a critical role in a good night's sleep.
For your nocturnal beauty routine, Soho House's Cowshed Spa offers 'sleep mist' and other skincare essentials. When you finally hit the hay, there's an ergonomic eye mask and pyjamas on flights over 12 hours.
Qantas
Qantas recently made headlines for its potentially game-changing direct route from Perth to London, but it also bought with it the need for further research into super longhaul travel. It collaborated with the University of Sydney's Charles Perkins Centre prior to the launch of the epic 787 Dreamliner flight.
This meant working with researchers and experts on everything from onboard exercise to the timing of menu service, cabin lighting and temperature as well as pre- and post-flight preparation. One result was a menu especially created for the Perth-London flight, featuring herbal teas and healthy, very on-trend poke bowls – both of which would potentially increase hydration and reduce jetlag.
Its signature Qantas Business Suites, set in a 1-2-1 configuration, offer a fully-flat bed, while those in first class on board its A380 aircraft feature new luxurious bedding from Sheridan.
Designer Marc Newson ensured that the innovative seats on board the A330 could be reclined and even fitted with a mattress from take-off all the way through to landing, meaning fliers get maximum time to sleep. The Vantage XL seats are arranged in a 1-2-1 layout, again ensuring direct aisle access.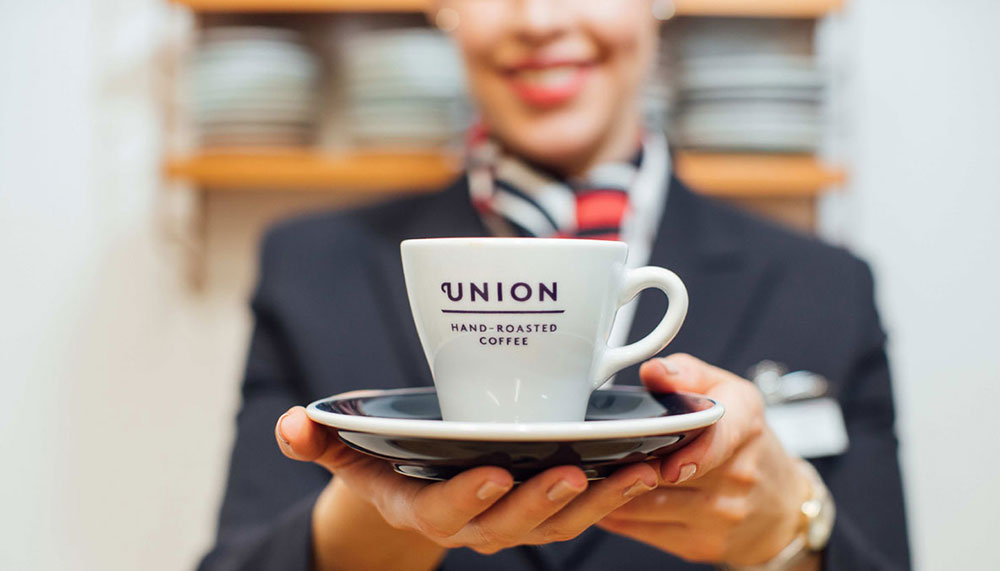 British Airways
Customers flying British Airways between London and Singapore enjoy the quietest cabin in the sky in the form of the Airbus A380, an aircraft which offers other features that help contribute to a good night's sleep. The plane's air conditioning is the most advanced in the aviation industry, with 15 separate temperature zones, while the air changes every three minutes.
BA's business class seats have had their critics, but it's worth remembering that the airline launched fully-flat way back in 1999, and was one of the first airlines to do so.
Also, the A380 features extensive storage options, new restaurant-style dining where you choose dishes from trolleys and – to the delight of frequent BA flyers – a new partnership with East London's Union Hand-Roasted Coffee. Available in Club World and First cabins, plus all UK lounges, the blend was launched in June and was specially developed to be enjoyed both on the ground and in the air.
If the caffeine keeps you from sleeping, when you do settle down for the night, there are new bedding items designed by London's The White Company, including soft pillows with proper pillowcases, a luxury duvet and blankets, while a padded mattress underneath you should make for a cosy cocoon.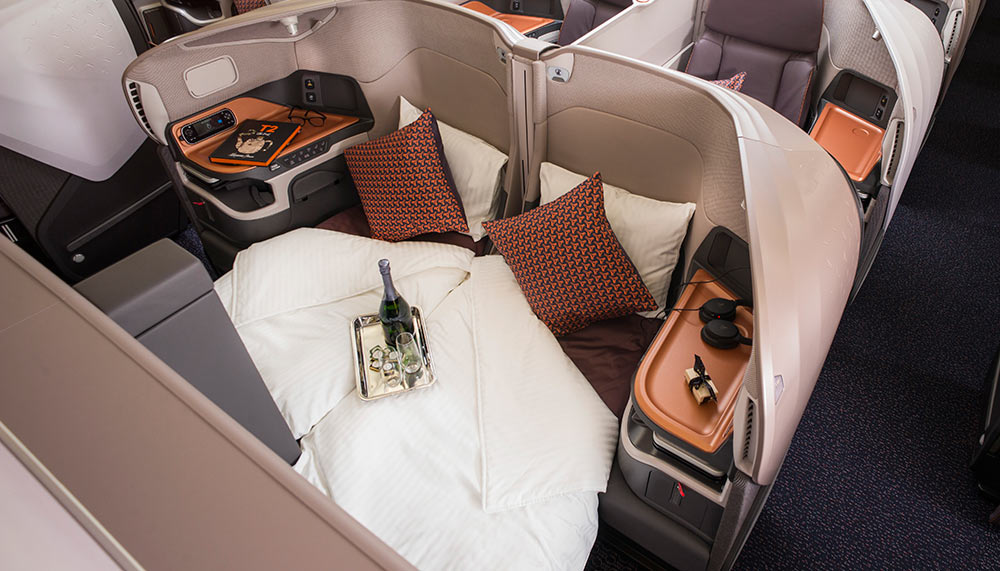 Singapore Airlines
If you're lucky enough to snag one of the six A380 suites in the front cabin of the upper deck, it makes for an exclusive and private hideaway to enjoy your separate full-flat bed.
The beds in the first two suites of each aisle can be converted to form a double bed. As you'd expect, they come with plush mattress bedding, pillows and a cotton duvet, with embroidery by Lalique. If you're in business class, the bulkhead seats in the first row are much-coveted for their extra space.
Besides the A380, Singapore Airlines also has the new 787-10 Dreamliner as its regional business class product. The national carrier has 49 of the planes on order from Boeing featuring 36 lie-flat seats at a generous six feet three inches when converted to beds. The formation is 1-2-1 with all seats forward facing.
The seats by Stelia Aerospace have been padded with Alcantara, a microfibre material similar in feel to suede, which SIA boasts is the same material "used to fit the interiors of luxury sports cars and yachts".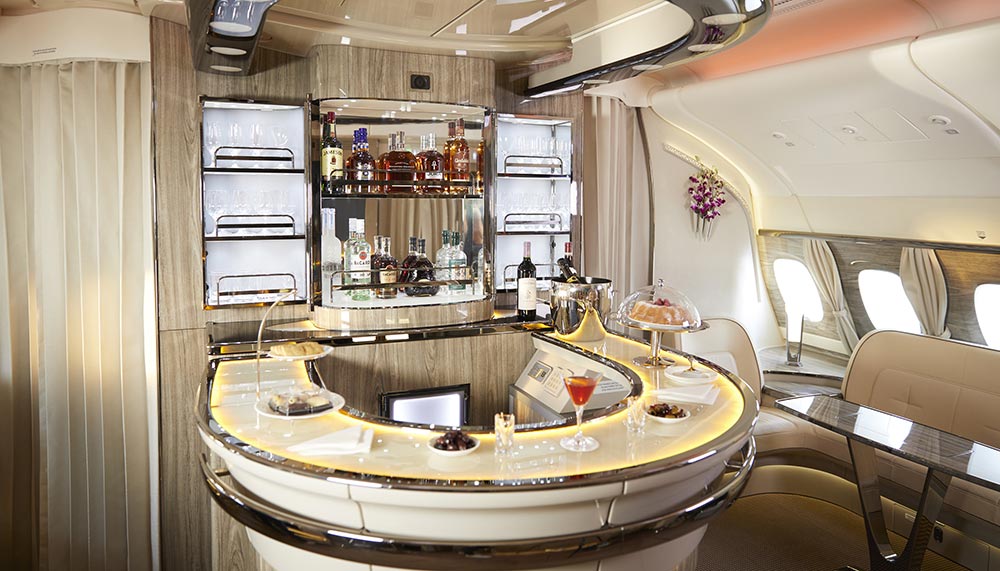 Emirates
Emirates also has a new product on offer aboard its 777 fleet, namely the first fully enclosed first class private suite. It's a tech-nerd's dream thanks to its cutting-edge design and a number of world-firsts – but importantly it also puts some of the fun back into flying.
That translates in a number of ways. 'Virtual windows' allow passengers in the window-less middle suites to enjoy the views outside through the use of real-time fibre-optic camera technology that projects HD views from outside. But if you've snagged a window seat and want to make the most of it, the crew will offer you binoculars to zoom in for greater detail.
Want to speak to the cabin crew but can't be bothered to press the call button and wait? Fear not as a video call function connects you directly. The suites even have a 'service window' where you can be served drinks and canapes without being disturbed.
The 12m square suite was inspired in part by luxury automotive brand Mercedes-Benz, while the leather seat can even be placed in a 'zero-gravity' position inspired by NASA, leaving you feeling relaxed through an impression of weightlessness. Presumably your drinks don't float around the cabin while you do so. There's so much room that you can even change clothes once your bed has been made.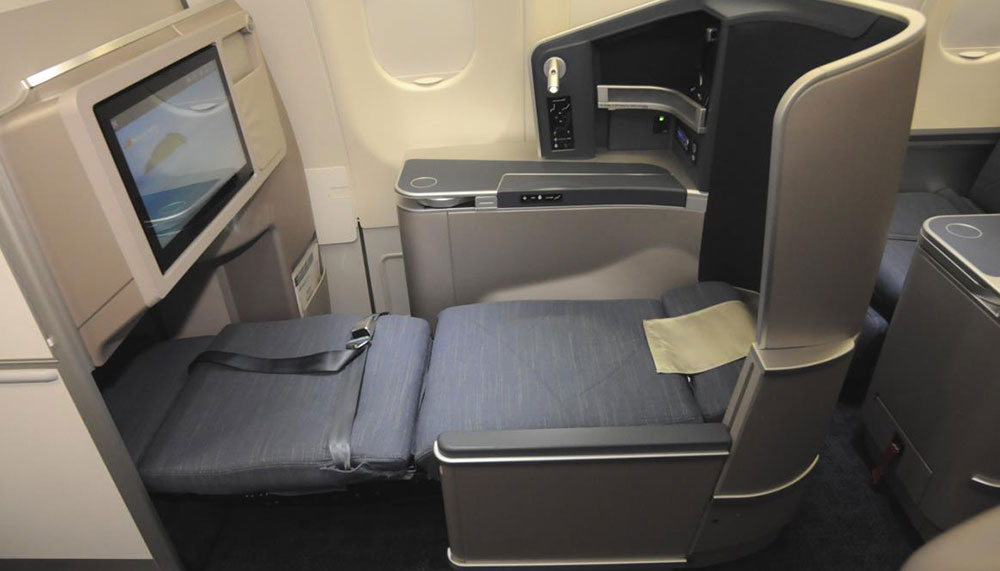 Philippine Airlines
Philippine Airlines has eight A330-300 that were reconfigured last summer to accommodate Vantage XL seats. They boast an adjustable Pneumatic Comfort System, which basically means that they are uniquely adjustable. That translates as the ability to modify the firmness of the Lantal cushions or select their massage function.
PAL was Asia's first airline to offer the system in business class and, at an impressive six feet five inches, they're also some of the longest flat beds in the sky. Elsewhere, air pressure is constantly monitored and adjusted to help ensure maximum rest, new 15-inch HD widescreens deliver impressive inflight entertainment, while full Wi-Fi access is a considerable boon too – unless you want to take a break from emails.
The A330 aircraft operate on routes from Manila including Hong Kong, Tokyo Narita and Haneda, Singapore, Sydney and Melbourne.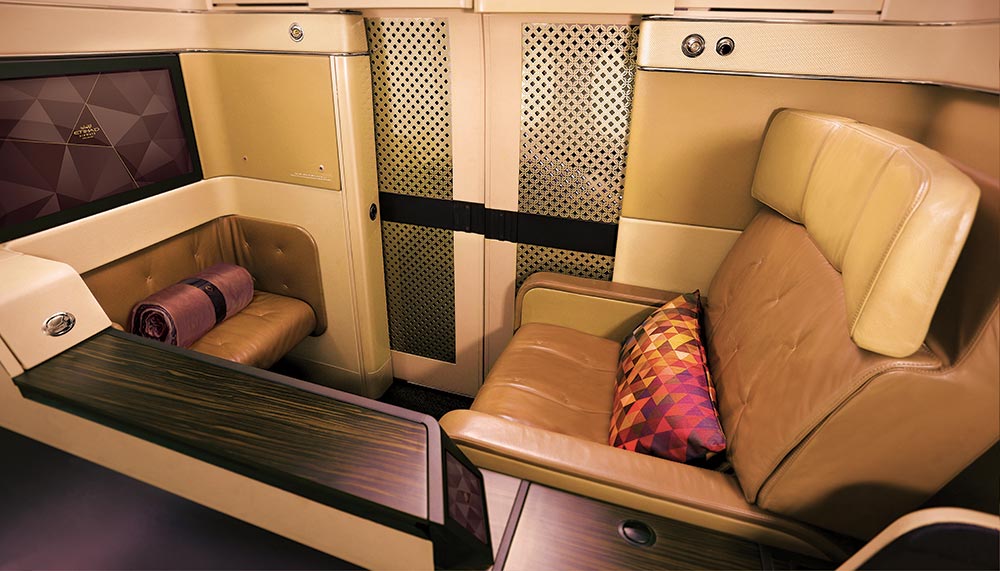 Etihad
Abu Dhabi's national carrier has a truly unique offering – The Residences. With an incredible three rooms in every suite, it has understandably claimed a genuine world first. In 11.6sqm you get a bedroom, lounge and even a personal bathroom with shower. The fit-out looks more like the interior of a hotel or superyacht – or, indeed, a private jet.
You're suitably pampered in 100 per cent Egyptian cotton-linen, while your pyjamas – or 'luxurious loungewear' – are the work of Emirati designer A Friend of Mine.
In first class aboard the A380, you're hardly roughing it either in 100 per cent Italian leather suites which convert to a whopping 81-inch bed – meaning even Kobe Bryant could stretch out in comfort. The curved aisle gives even more space behind your own sliding doors, while there's a separate leather armchair.
Turndown brings Cocomat bedding, a 'pillow mist' to help with a restful sleep and ambient feature lighting at the touch of a button.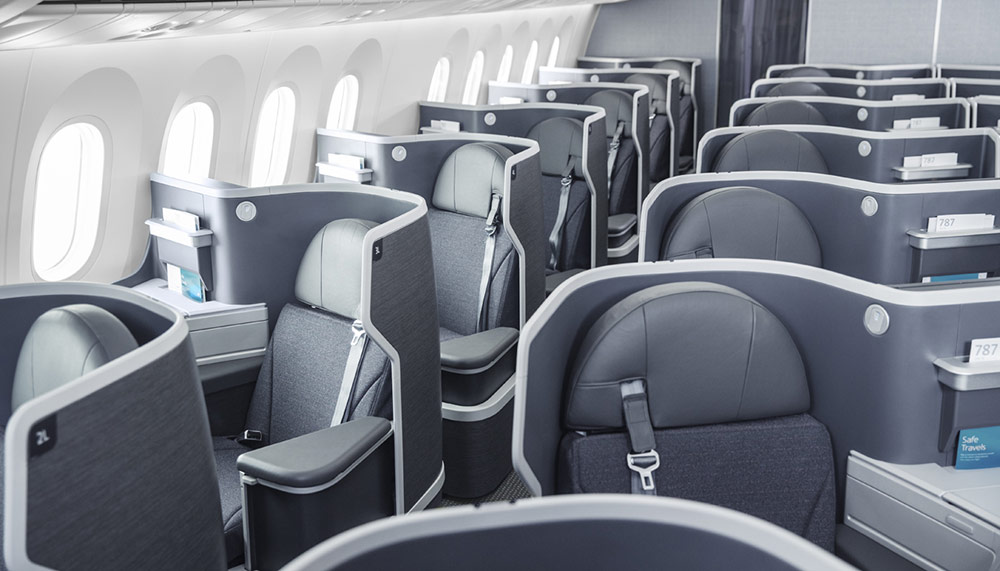 American Airlines
American Airlines' Super Diamond business product is available aboard the Boeing 777-200 and 787-9. In the latter there are 30 seats across the 1-2-1 layout, all with direct aisle access, and they lie flat fully, stretching out to six feet.
Cole Haan amenity kits contain CO Bigelow skincare products to keep you suitably lubed and moisturised at altitude, but it's on the sleep front that AA has raised the stakes.
Firstly it have some of the best noise-cancelling headphones in the business in the form of Bose. If you can master the skill of sleeping while wearing them, then combined with the super-quiet Dreamliner, you have almost total silence – a huge step towards a great night's sleep.
Then the new bedding and sleepwear from Casper including a plush pillow and a duvet, make for a cosy environment to kick back as you count sheep in the sky.